These Dark Chocolate Truffles with Sea Salt have a chocolate caramel ganache center, are enrobed in a layer of dark chocolate, then topped with flaky sea salt. They're a great gift — whether that gift is for yourself or someone else!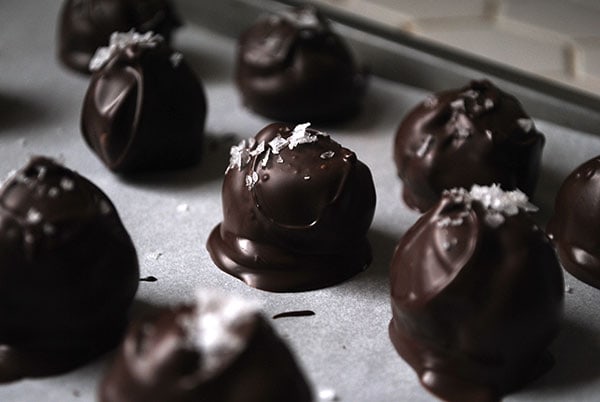 About ten years after I tried my first truffle, I set up a little baking company of my own and sold these Dark Chocolate Truffles with Sea Salt. The company no longer exists, but I wanted to share the chocolate truffle recipe with you so you can still enjoy them! They make great gifts and I found they're good for two to three weeks.
Just don't put the chocolate truffles in the fridge, because that will cause chocolate bloom. It doesn't effect the flavor, but doesn't look super appetizing either.
Oh and about that first truffle…whenever I think about chocolate, I think about how my opinion of chocolate changed in an instant when I first bit into one of La Maison du Chocolat's showstopping truffles. One bite not only transformed me from a chocolate hater to a chocolate lover — I'm really not exaggerating — and to this day, they are, by far, my favorite chocolate truffles in the world. I once had the joy of going to their main shop in Paris and had to keep myself from happy dancing all around the store. (I did plenty of it outside, don't worry.)
Looking for more chocolate recipes? Try these Chocolate Crinkle Cookies!
How to Make Chocolate Truffles with Caramel
To make these chocolate truffles, you first make the caramel.
Then you combine the molten caramel with dark chocolate, add a little salt, and let the mixture cool completely in the fridge.
Once the chocolate truffle mixture is cool, use a melon baller or size 50 disher to portion it into balls, roll them in cocoa powder, then let them cool in the fridge. (I tried this with a plastic tablespoon measure once and it broke.)
Then, temper your chocolate and dip the truffles into the tempered chocolate.
Retrieve them using a standard fork or, if you have it, a chocolate dipping fork and place on a parchment-lined baking sheet. Let cool for 1-2 minutes, then top with flaky sea salt, like Maldon. Store in an airtight container at room temperature for two to three weeks.
For this recipe, I'm consulting my old notes/the original post from seven years ago and, apparently, the first time I made the caramel for the chocolate truffles, I destroyed it by letting the cream curdle.
With the help of this video from Fine Cooking that illustrates the different caramel stages and what to do and not to do (you know, like curdle the dairy), I got the hang of it. If you're a visual learner at all, I highly recommend giving it a watch before making the chocolate truffle recipe.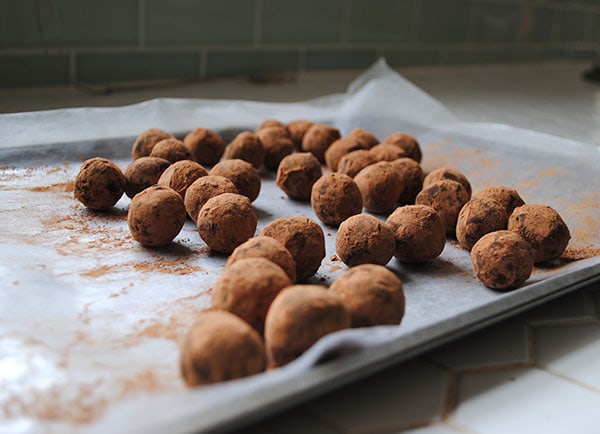 What Chocolate is Best for Chocolate Truffles?
It seems that back when I first worked on this chocolate truffle recipe, I had no idea where to find high-quality chocolate that wasn't in block form as my original post notes: "figure out a way to chop your block of chocolate into finely-chopped bits. The ones I tend to buy are about 2 inches thick and while to date, I've only used a great chef's knife and a cutting board but I'm always fearing the knife will slip and I'll have to call 911. Friends of mine have suggested various solutions: put it in a freezer bag and whack it with a hammer, use an ice pick, put a clean screwdriver on the chocolate and hit that with a hammer, or use a mezzaluna knife. But I prefer to stick with a knife so I have less to wash later."
When I'm working with chocolate, my go to is Callebaut. (This isn't a sponsored post. I just have always really liked Callebaut. They also just discovered ruby chocolate, so that's cool.)
I like Valhrona too, but I find it a little bitter for straight chocolate desserts, like these chocolate truffles. You can buy it as a block, but that does make it harder to work with. Or, you can buy it as callets (essentially, flattened chocolate chips) and that will make things infinitely easier. If you like making chocolate, I recommend buying it in bulk as it will save you money in the long run. These days, when I'm buying chocolate, I usually get this five-pound bag.
How to Temper Chocolate
The trickiest part of this chocolate truffle recipe is tempering the chocolate. You need to temper the chocolate for the outside of the truffles because that's what creates the firm shell around the ganache center. Without it, the chocolates will soften quickly at room temperature. If you really don't want to temper the chocolates, skip that step and just enjoy them without the outer chocolate shell. They'll still be delicious.
I need to create a whole post about how to temper chocolate, but the basics are thus: To temper chocolate, you melt the chocolate to a certain temperature, drop it to a certain temperature, then warm it back up to a certain "working" temperature. I'm being vague because the temperatures are specific to the type of chocolate you're working with and will vary depending on whether you're working with milk or dark chocolate. The ideal temperatures also vary by brand, but less so.
This tempering method is just one of many ways to temper dark chocolate. It's not necessarily "the best" but it's my go to.
First, weigh the amount of chocolate you want to use in grams.
Then, measure out 1% of that in Mycryo cocoa butter crystals and set that aside for later. For example, if you're using 300g of chocolate, use 3g of Mycryo.
Melt the chocolate using a double boiler. Fill a small saucepan with water, and place a metal bowl filled with the chocolate on top and let it melt on medium, stirring and checking the temperature until it's 104°-113°F.
With an oven mitt, remove the bowl from the heat and place it on your working surface. Let it cool to 93.2°-95°F.
Add the Mycryo and begin to work with the chocolate when it's between 87.8°-89.6°F.
Depending on how quickly I'm dipping the truffles, the chocolate will get too cool and stiff and then I'll have to warm it up again. To do this, I use my Wagner HT1000 heat gun. Is it overkill? Probably. Is it fun? Yes.
It also heats the mixture quickly and is less of a pain then running back and forth to the stove. Also, it reduces the chances I'll get water on the chocolate (see side note two). Just be careful because it does really heat it quickly and you don't want to heat the chocolate too much.
To check if your chocolate is tempered, drizzle a little on a piece of parchment and let it be for about five minutes. After five minutes, does it look shiny? Does it have a nice "snap" if you pick it up and crack it in half?
If it folds gently or doesn't have a shine, it's not tempered correctly and you'll need to start over. Put the chocolate back into the bowl, measure out more Mycryo, and melt the chocolate down again.
Dark Chocolate Tempering Temperatures:
These temperatures are to be used if you are using cocoa butter to temper chocolate.
1. Melt to 104°-113°F (40°-45°C).
2. Cool to 93.2°-95°F (34°-35°C). Add cocoa butter.
3. Use at working temperature of 87.8°-89.6°F (31°-32°C)
Side note: When I'm tempering, I don't use a candy thermometer. I use an infrared thermometer gun to check the temperature. It gives me an instant read and has the nice side effect of looking kind of badass.
Side note two: Don't let any water touch the chocolate because one drop will ruin all of your chocolate. I like to think of it this way: chocolate is allergic to water and it will have an unpleasant reaction if it comes into contact with it.
Side note three (heyo!): If you're totally intimidated by tempering, it's ok to just roll the chocolate truffles in cocoa powder and enjoy them that way!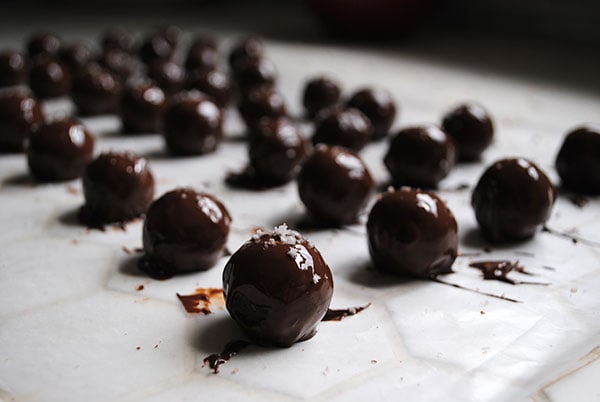 Dark Chocolate Caramel Truffles with Sea Salt
Print Recipe
These chocolate truffles are mixed with rich caramel, enrobed in dark chocolate, and topped with flaky sea salt.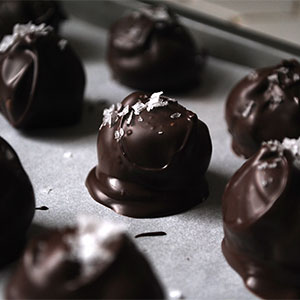 Servings: 35 truffles
Ingredients
20 ounces dark chocolate (divided)
1/3 cup sugar
2/3 cup heavy cream
2 Tbsp. water
¼ tsp. fleur de sel (optional)
½ cup cocoa powder
3 g Mycyro cocoa butter
3 Tbsp. flaky sea salt (such as Maldon)
Instructions
Place 8 ounces of chocolate in microwave-safe bowl and place in microwave.


Add sugar and water to small saucepan. Stir to combine. Turn the heat to medium. Do not continue to stir.


Melt the chocolate. Microwave for one minute at 50% power, then stir. Microwave for 30 seconds at 50%, then stir. Repeat until chocolate is fully melted.


Let caramel cook, without stirring, until mixture is a dark amber color.


Add heavy cream to the caramel mixture and begin to stir immediately and vigorously until fully combined. Remove from heat.


Pour caramel mixture into chocolate mixture and add optional fleur de sel. Stir to combine.


Place chocolate mixture in refrigerator until mixture has fully cooled (about 3 hours). If you don't let it cool enough, you can't shape it.


Remove chocolate caramel ganache from refrigerator and scoop into 35-40 truffles using melon baller, size 50 disher, or a small spoon. Roll them in your hands to create a ball. If they get too soft, put them in the fridge for 30 minutes.


Roll each truffle in cocoa powder and set on parchment-lined baking sheet. Place sheet in refrigerator for 30 minutes.


Temper remaining 12 ounces of chocolate using cocoa butter. (See video above.)


Dip prepared truffles into tempered chocolate using fork and place on parchment-lined baking sheet.


1 to 2 minutes after dipping, sprinkle flaky sea salt on top.

Notes
Store at room temperature in airtight container for two to three weeks. If you're intimidated by tempering, skip those steps and enjoy them without the chocolate shell.
Nutrition Facts
Dark Chocolate Caramel Truffles with Sea Salt
Amount Per Serving (1 truffle)
Calories 105 Calories from Fat 63
% Daily Value*
Fat 7g11%
Saturated Fat 5g31%
Monounsaturated Fat 1g
Cholesterol 7mg2%
Sodium 615mg27%
Potassium 22mg1%
Carbohydrates 13g4%
Fiber 2g8%
Sugar 9g10%
* Percent Daily Values are based on a 2000 calorie diet.
Did you make this recipe?
Leave a review below, then take a photo and tag @letseatcakeblog on Instagram so we can see it!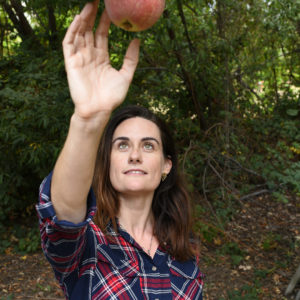 Latest posts by Rebecca Swanner
(see all)