Chocolate Crinkle Cookies are so perfect for Christmas. The rich, fudgy chocolate cookies are topped with snowy caps of powdered sugar that cracks — or crinkles — when they bake which gives them a wintry, snow-capped look.
If you're looking for more ideas for this holiday season, check out our full list of Christmas recipes!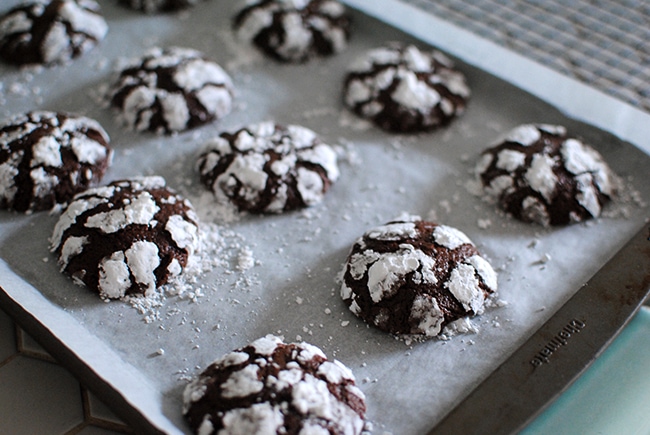 Tips for the Best Cookies
You can make these chocolate cookies with brownie or cake mix, the recipe is so simple you don't need to. To make them successfully, first gather all of your ingredients. You'll need: sugar, vegetable oil, eggs, vanilla extract, flour, baking powder, and salt.
Preheat your oven to 325°F. Some recipes suggest preheating your oven to 350°F, but I prefer the low and slow approach. (Or at least lower and slower.)
If your cookie dough isn't rolling nicely, place the dough in the fridge for 10 minutes to stiffen it and remove some of the moisture.
Don't press down on the cookies – they will naturally flatten and spread out. As they do, the top will dry faster then the center and will create their classic crackled appearance.
To keep the cookies chewy, place them in an airtight container with a small piece of bread. When you're ready to enjoy them, heat them in the oven at 425°F for 4 to 5 minutes.
For the best flavor, enjoy within three days of baking.
If you really want to up the chocolate factor, add a few handfuls of chocolate chips to the dough.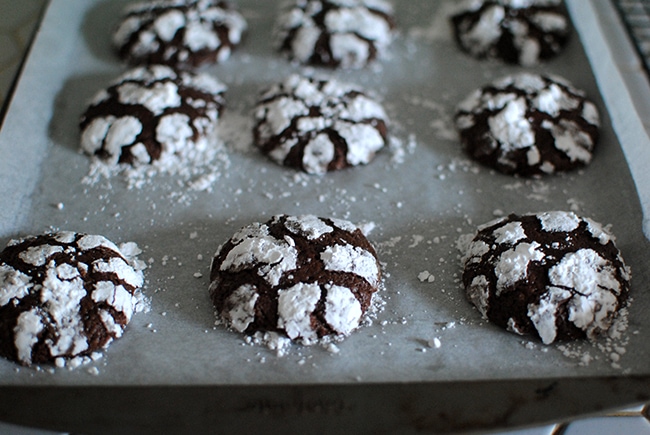 Who Invented Chocolate Crinkle Cookies?

It appears that the recipe originated in the first half of the 20 century in the home of Helen Fredell of St. Paul, Minnesota. In the Betty Crocker "Cooky Carnival" (which features Molasses Crinkles), Ms. Crocker writes, "When served at Mrs. Fred Fredell's in St. Paul, Minnesota, they were so delicious I begged the recipe. Thanks to her, thousands of home have enjoyed these spicy cookies." Yes, yes we have.
That original Molasses Crinkle recipe calls for: sugar, shortening, egg, molasses, flour, baking soda, salt, cloves, cinnamon, and ginger.
And, it's pretty easy to see how we got from Molasses Crinkles to these with just a few tweaks.
Swap the shortening for oil, the spices for (a lot more) cocoa, the molasses for vanilla, and roll them powdered sugar. I'm not sure who thought of that, but they were clearly a genius.
You can also make red velvet, eggnog, or even gingerbread versions. Once you've got the hang of the basic recipe, your creative options are practically endless.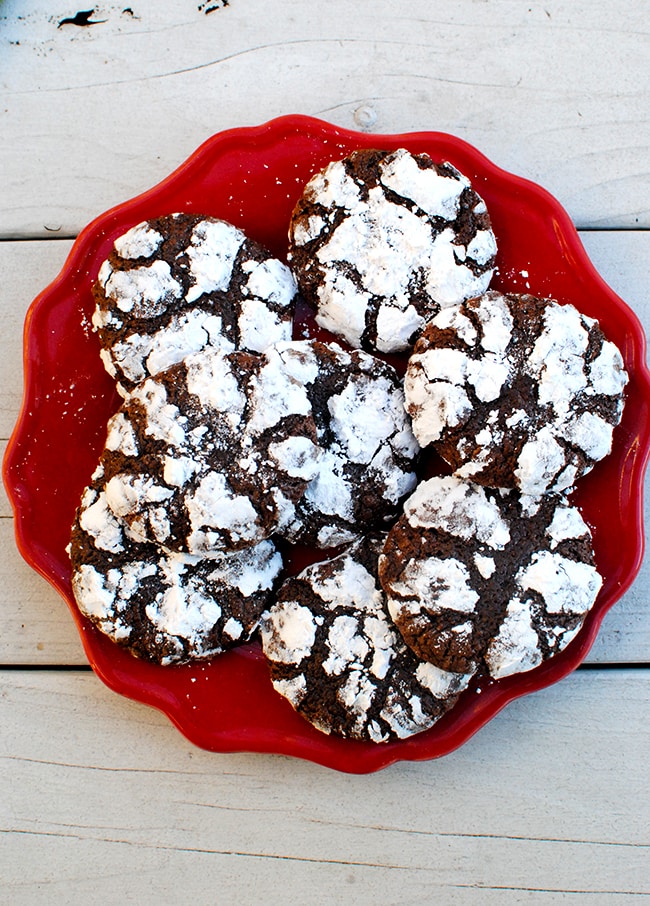 Chocolate Crinkle Cookies
Print Recipe
These fudgy, delicious holiday cookies are topped with powdered sugar before baking to give them their snow-capped look.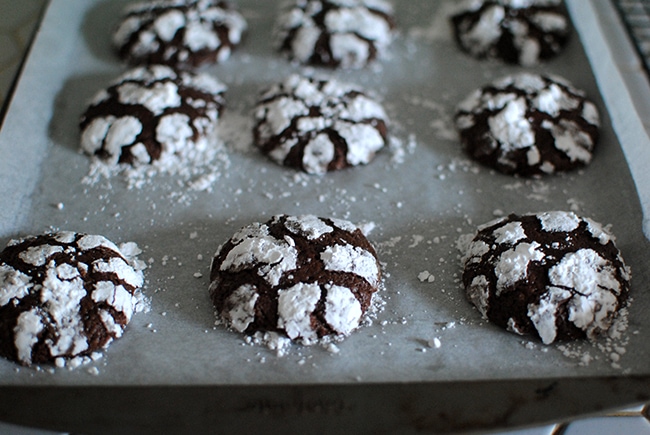 Servings: 24 cookies
Ingredients
1¾ cups all-purpose flour
¼ cup cocoa powder
2 tsp. baking powder
½ tsp. kosher salt
4 large eggs
1½ cups + ¼ cup granulated sugar (divided)
½ cup vegetable oil
2 tsp. vanilla extract
4 oz. baking chocolate (roughly chopped, or dark chocolate chips)
½ cup confectioners' sugar (sifted)
Instructions
Preheat oven to 325°F and line two cookie sheets with parchment paper.

Whisk flour, cocoa powder, baking powder, and salt in medium bowl. Set aside.

Place eggs, vanilla extract, 1½ cups sugar, and vegetable oil in large bowl. Stir together until fully combined.

Heat chocolate in microwave-safe bowl for 2 minutes or until fully melted. Stop to stir every 30 seconds.


Add chocolate to egg mixture. Mix for 30 seconds.

Add flour mixture to egg mixture. Mix on low until fully combined.

Cover and refrigerate for at least 45 minutes.

Roll into 1" balls.

Roll balls in ¼ cup granulated sugar, then in powdered sugar, and place on cookie sheet.

Bake cookies for 12-14 minutes until they are crinkled. Place the pan on a wire rack and let cool.
Notes
If you live in the U.K., use the darkest chocolate you can find or use dark chocolate chips. The Chocolate Crinkle Cookies will be a little sweeter. If you find the batter is too sweet, add 1 Tbsp. espresso powder. * It's ok if they're still a little soft in the middle. 
Nutrition Facts
Chocolate Crinkle Cookies
Amount Per Serving (1 cookie)
Calories 180 Calories from Fat 72
% Daily Value*
Fat 8g12%
Saturated Fat 3g19%
Polyunsaturated Fat 3g
Monounsaturated Fat 2g
Cholesterol 31mg10%
Sodium 42mg2%
Potassium 66mg2%
Carbohydrates 25g8%
Fiber 1g4%
Sugar 17g19%
Protein 3g6%
* Percent Daily Values are based on a 2000 calorie diet.
Did you make this recipe?
Leave a review below, then take a photo and tag @letseatcakeblog on Instagram so we can see it!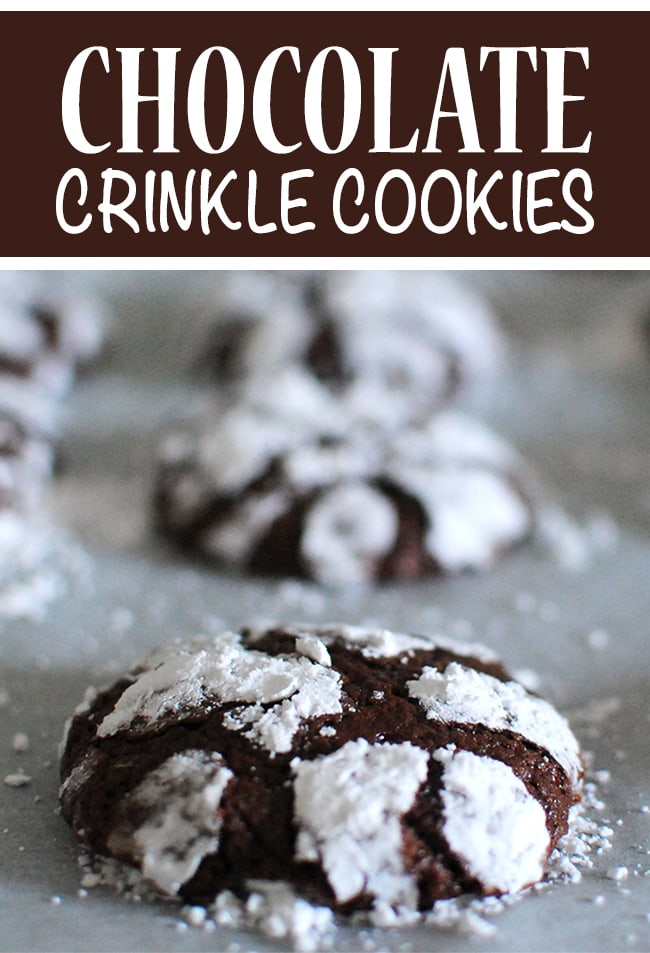 Save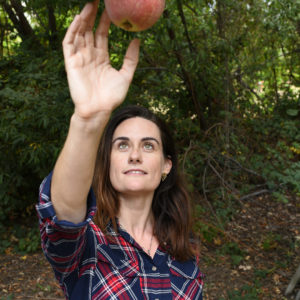 Latest posts by Rebecca Swanner
(see all)