Make s'mores anytime of the year in the form of these rich, delicious s'mores cookie cups topped with marshmallow frosting.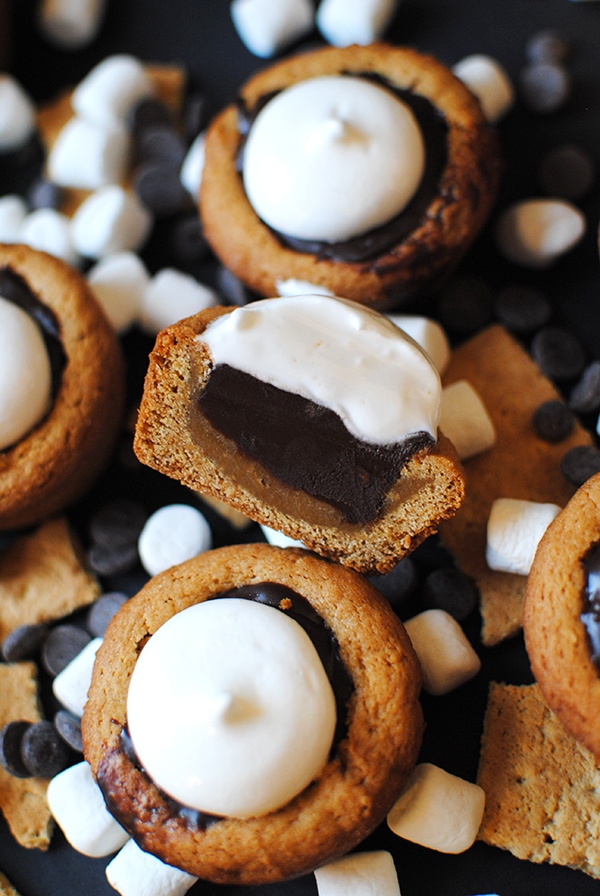 It's been raining a lot here in LA lately, and though it's not "cold," it feels an awful lot like winter. And, for me, winter means snow and coziness and comfort foods like s'mores.
Perhaps that's because, I am, without a doubt, the biggest fan of s'mores I know. Put a s'mores recipe in front of me and I'm going to have a hard time not making it. If you've ever made s'mores, you know they're easy. All you have to do is make a sandwich from two graham crackers, some chocolate, and a toasted marshmallow and enjoy.
But, what if it's raining?
What if you don't have access to a fire pit?
What if you don't want to go outside? Because, brrrr!
That's why this indoor s'mores recipe is awesome.
I mean, just look at this marshmallow frosting.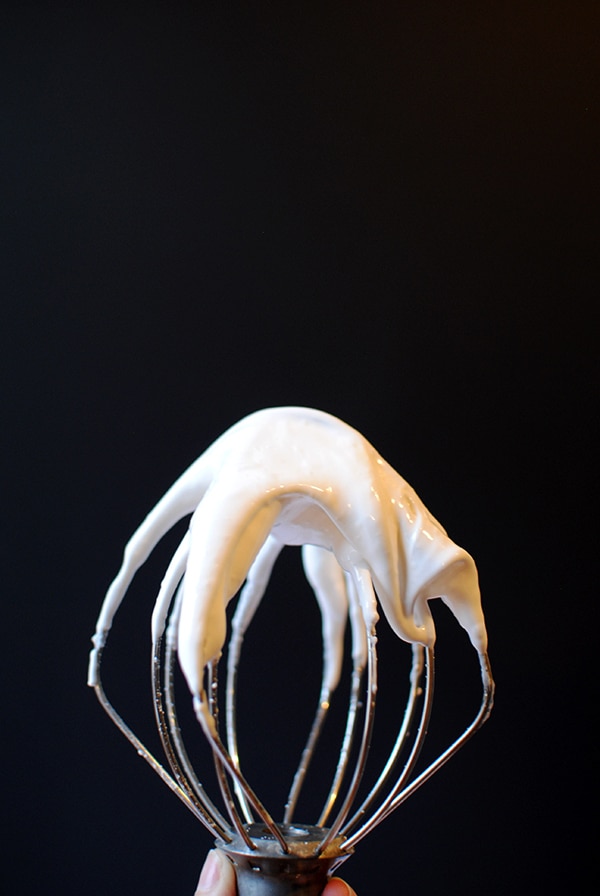 How to Make S'mores Cookie Cups
There are three parts to creating these s'mores cookie cups. First, you'll create the cookie cups. Then, you'll make the ganache. Then you'll make the frosting. Easy! Unless your frosting turns into egg soup. Uh, more on that later.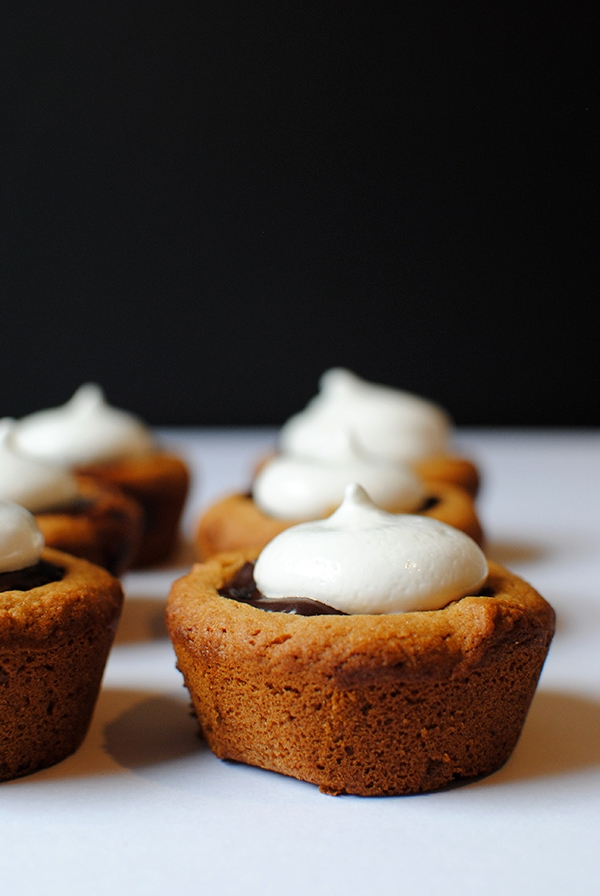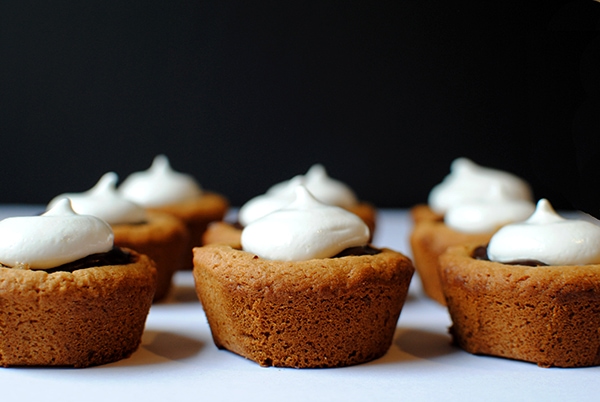 First up, the s'mores cookie cups. For these, you'll create a graham cracker cookie. I adapted the recipe I used from this yummy one by My Kitchen Addiction. As a baker, I usually want to cream the butter and sugar and then add the egg, the vanilla, and the dry ingredients. But this recipe lets you add everything (well, almost everything) all at once. AND IT WORKS! I know. I kind of didn't want to believe it either at first.
Once you've made the dough, spray a muffin tin with nonstick spray and scoop the dough into each cup with a #16 disher/cookie scoop (they hold about 3 Tbsp. of dough) or just fill each about halfway. Press the dough down and bake them at 375°F for 10 minutes.
At this point, the edges will be browned, but the middles will still be soft. Use something to push the centers down (I used a cork) and then let them cool. While they're cooling, make the ganache! Heat the heavy cream on the stovetop or in the microwave until very hot and then pour on top of the chocolate chips and let sit for 20 seconds. Then, whisk until the ganache is created. For a little while, it'll look like nothing is happening, and then magic! Ganache.
Once the s'mores cookies are cool, pour in the chocolate ganache. The ganache will take some time to set, but to speed up the process you can totally pop them in the fridge. While they're chilling (literally), make the marshmallow frosting.
Now, I'm going to be honest. This frosting is easy-ish. However, it is not foolproof. The first time I made it, I made egg white soup. Which I don't think anyone wants. It went down the drain. Sad face. The second time, it turned out super fluffy and delicious!
Marshmallow Frosting Tips
Here is what I did wrong the first time I made the marshmallow frosting and here's what you want to avoid:
– Don't add the cream of tartar and the salt and the eggs all to the mixing bowl at once.
– Don't whisk the eggs on medium the whole time you're making the sugar syrup because they won't get stiff enough.
– Don't scrape down the crystals on the side of the saucepan. I'm a completist (I am still just a little bit irked that I finished Castlevania: Dawn of Sorrow at 99.5% complete) and so I wanted all of the sugar to be the same consistency. Like the Frozen song goes, let it go.
– Don't heat the sugar mixture on high so that it starts to turn into caramel and then you're just sort of sitting there mixing caramel and trying not to let it heat up further and then you're taking the pot off the stove and walking over to the mixer with it and then just standing there hoping it's ready like you used to wait for your mom when she'd come pick you up at a friend's house and then would stand there talking to your friend's mom forever. Yeah, don't do that.
– Also, don't add water to the mixture while you're just standing there hanging out with the saucepan next to the mixer because well hey it looks like it could use some. Nopeity nope.
I know.
With some help from The Kitchn, I got back on track. I still used the initial recipe I had been working with, but I found the additional direction extremely helpful. Once the marshmallow frosting is done, spoon it into a piping bag, pipe into the ganache, and enjoy!
Smores Cookie Cups
Print Recipe
These easy s'mores cookie cups are great when you're craving s'mores but want to make them indoors!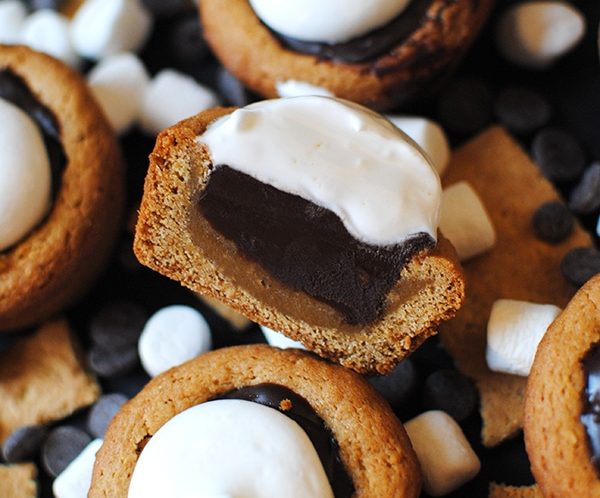 Servings: 10 cookie cups
Ingredients
Graham Cracker Cookie Base
1 cup graham cracker crumbs
6 Tbsp. unsalted butter
1/3 cup sugar
¼ cup dark brown sugar (packed)
2 Tbsp. honey
½ tsp. baking soda
¾ tsp. baking powder
¼ tsp. salt
1 large egg
1¼ cup all-purpose flour
Chocolate Ganache
½ cup heavy cream
1 cup chocolate chips
Marshmallow Frosting
1 cup sugar
3 Tbsp. water
2 large egg whites
¼ tsp. cream of tartar
1 pinch salt
Instructions
Graham Cracker Cookie Base
Preheat oven to 375°F.


Spray muffin tin with cooking spray.


Place graham crackers, butter, sugar, brown sugar, honey, baking soda, baking powder, and salt in bowl of standing mixer fitted with paddle attachment.


Turn to medium speed and blend until combined. Add egg and blend for 30 seconds.


Add flour, mix until combined.


Using large cookie scoop (#16) scoop into muffin cups. Press to flatten.


Bake for 9 minutes or until edges are just browned.


Use cork or small jar to press centers down. Let cool for 15 minutes.

Chocolate Ganache
Place chocolate chips in a bowl. Heat heavy cream in saucepan or microwave until hot. Pour over chocolate chips and let sit for 20 seconds.


Whisk until fully combined, about one minute.


Pour into cookie cups and place in fridge to set.

Marshmallow Frosting
Put sugar and water in small saucepan and set on stove.

Put egg whites in standing mixer fitted with whisk attachment and turn on medium.


Fill a small bowl with very cold water and place on stove next to working area.

Heat sugar mixture, stirring continually, until heat reaches 240°F or "soft ball" stage (about 2 to 3 minutes).


Simultaneously, once egg whites are foamy, add cream of tartar and salt and turn to high to form soft peaks.

Turn speed on mixer back to medium and carefully pour hot sugar mixture into egg white mixture.


Whisk at medium speed until bowl is cool to the touch. Then, turn speed to high until firm peaks form.

Place frosting in piping bag fitted with a large round tip and pipe onto cooled ganache.
Did you make this recipe?
Leave a review below, then take a photo and tag @letseatcakeblog on Instagram so we can see it!
Tip: Here's a great guide from The Kitchn on how to tell the difference between soft, firm, and stiff peaks.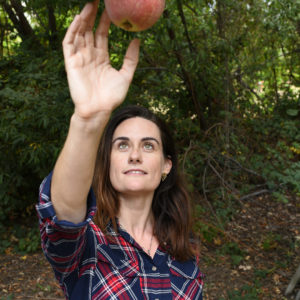 Latest posts by Rebecca Swanner
(see all)