I could use some comfort food. You too? I'm going to share with you how to make chocolate babka. It's one of my favorite bread recipes and while it can be hard to find great babka outside of New York, it's not too hard to make your own chocolate babka at home.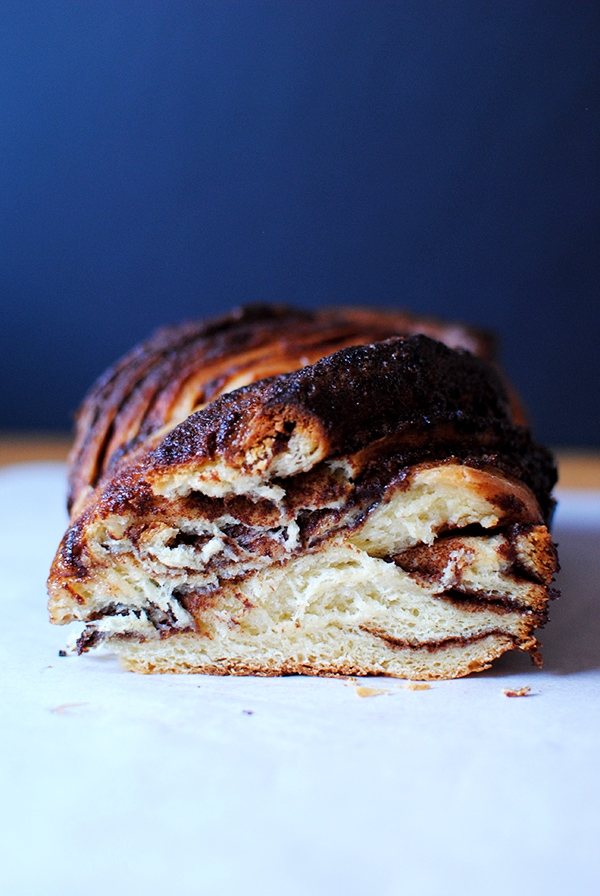 For years now, chocolate babka has been the primary image on my Mornings board on Pinterest. It kept beckoning me to make it, but if you've ever made bread before, then you know: bread takes time. It's not hard, but the waiting period can make timing when to make it a little challenging. Last weekend, that opportunity arose, and I leapt at the chance to try a chocolate babka recipe.
What is Babka?
Babka — which means little grandmother in Polish — is a filled bread made from a yeasted dough that you roll, spread with a delicious filling, cut, braid, tuck into a loaf pan, and bake. Bon Appetit describes babka "somewhere between challah and coffee cake."
In Ari Weinzweig's love letter to babka in The Atlantic, he writes that while some believe babka — chocolate babka or otherwise — originated in the Ukraine as an ancient fertility symbol, others think babka originated in Italy as it used to look similar to panettone.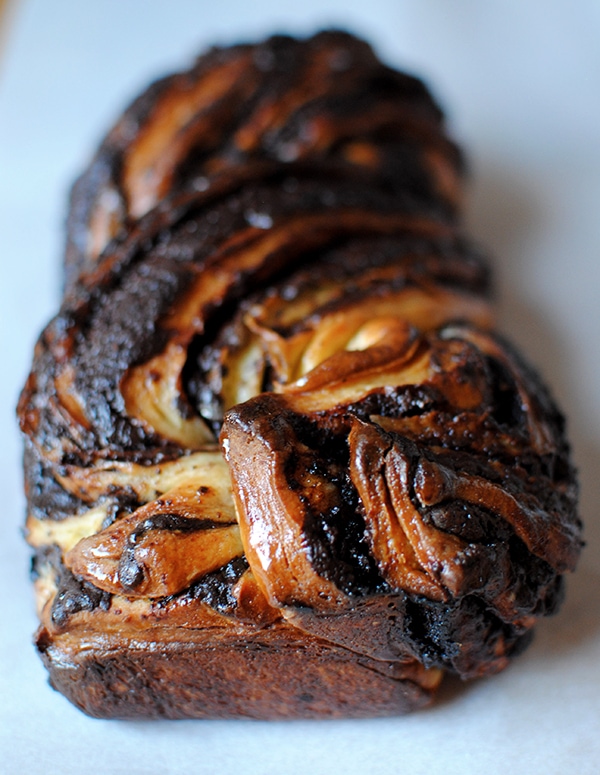 But, it's postulated that it wasn't until Eastern European Jews arrived in New York that babka got its beloved chocolate swirl. In Eastern Europe, chocolate was much more expensive and according to The Nosher, grandmothers would braid seeds and nuts into leftover challah instead. But, in New York, chocolate was cheaper! So that made it into the recipe and became the chocolate babka as we know it today.
According to Seinfeld's Elaine, any babka that isn't chocolate babka is a lesser babka. I've made a few other babka recipes, one with cinnamon and cardamom filling and one with apple pie filling, but if you're looking for a classic babka recipe, this chocolate babka is it.
How to Make Chocolate Babka Bread
This Chocolate Babka recipe isn't hard to make. It just looks tricky. For this bread portion of the recipe, I use Smitten Kitchen's chocolate babka recipe adapted from the babka recipe featured in Yotam Ottolenghi's Jerusalem cookbook. It's a tested recipe that I've followed many times and can tell you 70 percent of the time it works all the time. Kidding. It works every time.
For the dough, I highly recommend using the dough hook on a stand mixer. I used my KitchenAid stand mixer fitted with a dough hook, but if you've got really strong forearms, you can do this part by hand.
To make the basic babka dough for this chocolate babka recipe and all of the other babka recipes on Let's Eat Cake, mix together flour, sugar, and yeast. Then, add the eggs and water until the mixture starts to come together. Turn the mixer speed to low and add the salt and room temperature butter. Scrape down the sides, and mix it on speed 4 (or medium) for about 10 minutes. You want to mix the babka dough until it's completely smooth, not raggedy.
Once your dough has achieved the correct consistency, place it in a bowl coated with unflavored oil like canola (i.e. not coconut oil), and cover the bowl with a tea towel. Let the dough rest at room temperature for eight hours or until it has about doubled. I like to find a warm place in my house to place the bowl because it helps it rise faster.
When the babka dough has doubled, spray two loaf pans with nonstick spray and line the bottoms with a folded piece of parchment paper.
Cut the dough into two halves and roll it out on a floured surface into a 10×12″ rectangle. Place dots of filling all the way down the babka dough rectangle and then spread the filling evenly all over the dough, leaving a 1/2″ to 1/4″ border. Then, wet the top with a bit of water and roll the rectangle from bottom to top to create a tight log.
Place the log in the freezer on a floured baking sheet and repeat this process with the second half.
Take the first log out from the freezer, and vertically slice it into two halves. Place these side by side, pinch the tops together (don't worry if they don't stay stuck) and then wrap them around each other. Do you best to keep the filling on the outside as pictured below and expect things to get a little messy.
Gently pick up each braided babka loaf and tuck it into a loaf pan. You might have to wiggle it around a little bit to get it to fit. Place a tea towel on top and let the loaves rise for 90 minutes.
Preheat your oven to 375°F and bake the loaves for 30 minutes. While the dough is baking, create the sugar syrup. The sugar syrup might seem like overkill (there is a lot of it), but the babka will soak it up and, as a result, will be soft and moist. Brush about half the sugar syrup on each loaf.
Is the Filing Just Chocolate?
No, not exactly. Most chocolate babka recipes call for a filling that's a mixture of chocolate, cocoa powder, butter, sugar, and cinnamon. Others add a hint of espresso powder, while others — like the Smitten Kitchen chocolate babka recipe — substitute powdered sugar for granulated sugar. This gives the filling a more frosting-like consistency.
Personally, I prefer my chocolate filling without espresso, cinnamon, or powdered sugar. Classic chocolate all the way, thank you. But, it's a reminder that there are so many ways to fill a babka (you could even do a savory babka!), that no one way is right. No matter what Elaine says.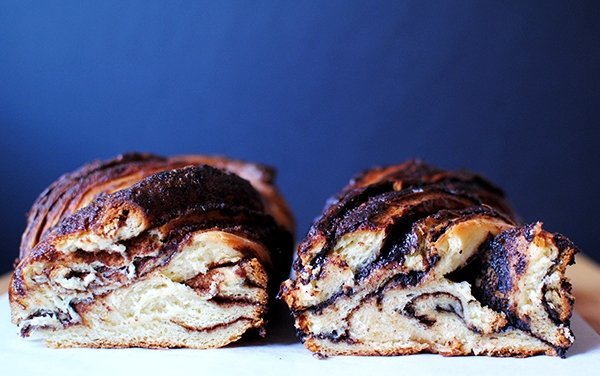 Chocolate Babka Recipe
Print Recipe
Chocolate babka isn't the only real babka, but it is delicious. Get the recipe!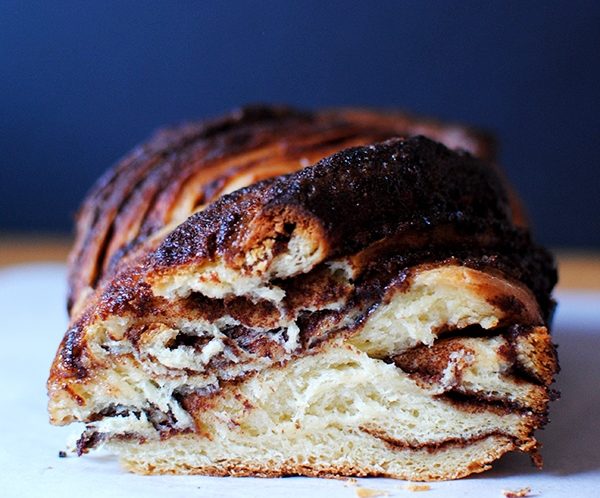 Prep Time: 10 hrs
Cook Time: 30 mins
Total Time: 10 hrs 30 mins
Servings: 16 slices (2 loaves, 8 slices per loaf)
Ingredients
Babka Dough
4¼ cups flour (plus more for rolling out dough)
½ cup sugar
2 tsp. instant yeast (like Rapid Rise)
3 large eggs
½ cup water
¾ tsp. salt
2/3 cup unsalted butter (room temperature)
Chocolate Babka Filling
1 cup chocolate chips
¼ cup unsalted butter (room temperature)
½ cup sugar
1/3 cup cocoa powder
Sugar Syrup
1/3 cup water
1/3 cup sugar
Instructions
Add flour, sugar, and yeast to the bowl of a stand mixer fitted with a dough hook. Mix until combined on low speed.

Add eggs, mixing for 30 seconds after each. Add water.

Add butter one tablespoon at a time. Add salt and scrape down sides.

Turn speed to medium and mix for 10 minutes until dough is smooth.

Coat large bowl with nonstick spray. Place dough inside. Place tea towel or plastic wrap on top and let rise at room temperature until doubled (up to 8 hours).

Spray two 9" x 4" loaf pans. Line bottoms with parchment paper. Set aside.

Flour baking sheet. Set aside.

Sprinkle counter with flour. Cut dough into two halves and roll first into 10x12" rectangle.


Make Chocolate Babka filling (see instructions below).


Spread Chocolate Babka filling on top of the dough, leaving a 1/4" to 1/2" border.


Wet top of the dough with water and roll from bottom to top to form a tight log.

Place log on floured baking sheet and place in freezer Repeat with other half of dough.


Remove first log from freezer and slice in half lengthwise. Pinch the top of each half together and wind the two halves around each other, keeping the filling on the outside. Tuck the twist inside the loaf pan. Repeat with other log.

Place a tea towel on top of each loaf pan and let dough rise for 90 minutes.

Preheat oven to 375°F. Bake Chocolate Babka loaves for 30 minutes.

Make the simple syrup (see instructions below).


Remove babka from oven. Brush each with one half of the sugar syrup. Let cool.
Chocolate Filling
Melt butter and chocolate in microwave or small saucepan and whisk together until smooth.


Add sugar and cocoa powder.
Simple Syrup
Combine sugar and water in a small saucepan and heat on medium heat until sugar has dissolved.

Nutrition Facts
Chocolate Babka Recipe
Amount Per Serving (1 slice)
Calories 238
* Percent Daily Values are based on a 2000 calorie diet.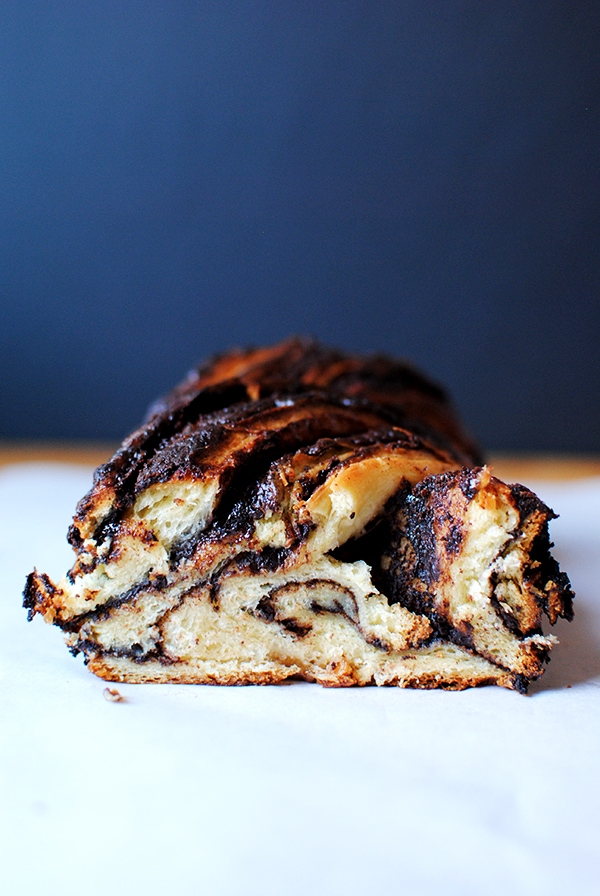 Save
Save
Save
Save
Save
Save
Save