This Healthy Banana Bread is lower in sugar and higher in protein than most banana bread recipes. We tried five different recipes to get here, so we hope you like it. If you don't, we'll just go back to crying into our pillow.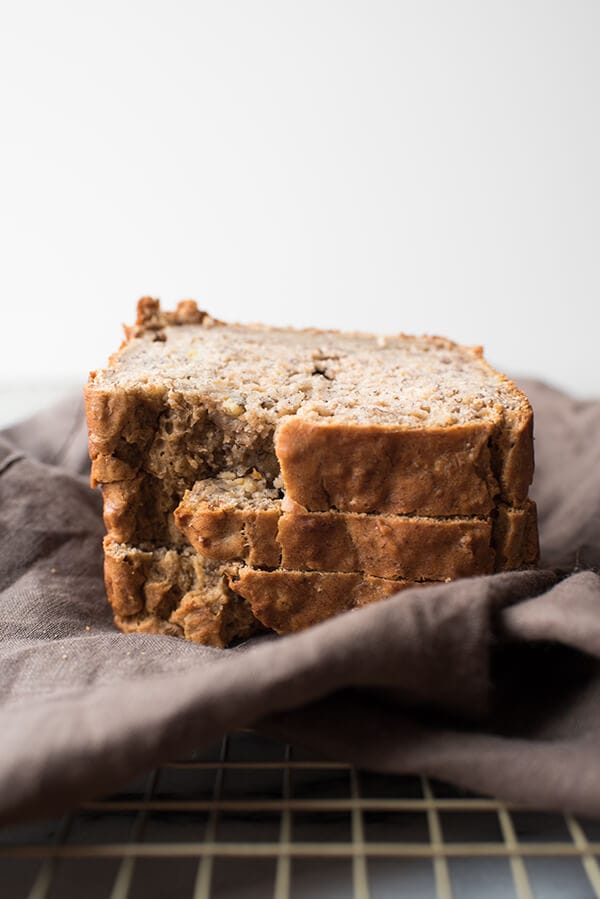 Why I Wanted to Make a No Sugar Banana Bread

I don't have any issue with sugar or butter, but I wanted to give myself the challenge to create a healthy banana bread recipe that didn't use either. Not even "healthier" refined sugar substitutes like honey or maple syrup. And, I wanted the banana bread to still taste moist and delicious. As I said, a challenge. (For a less healthy version, we like this one from Food52.)
You wouldn't think it would be all that hard to develop a recipe for a low sugar healthy banana bread. But it took five tries until I finally came up with something I think you'll love.
The final version of my super healthy banana bread incorporates caramelized bananas, Greek yogurt, applesauce, and just a touch of maple syrup to bring out the other flavors.
Healthy Banana Bread Ingredients

To make the final healthy banana bread recipe, I used the following ingredients:
spotted yellow bananas
coconut oil
maple syrup
cinnamon
fine salt
baking powder
all-purpose flour
applesauce (no sugar added)
Greek yogurt
vanilla extract
eggs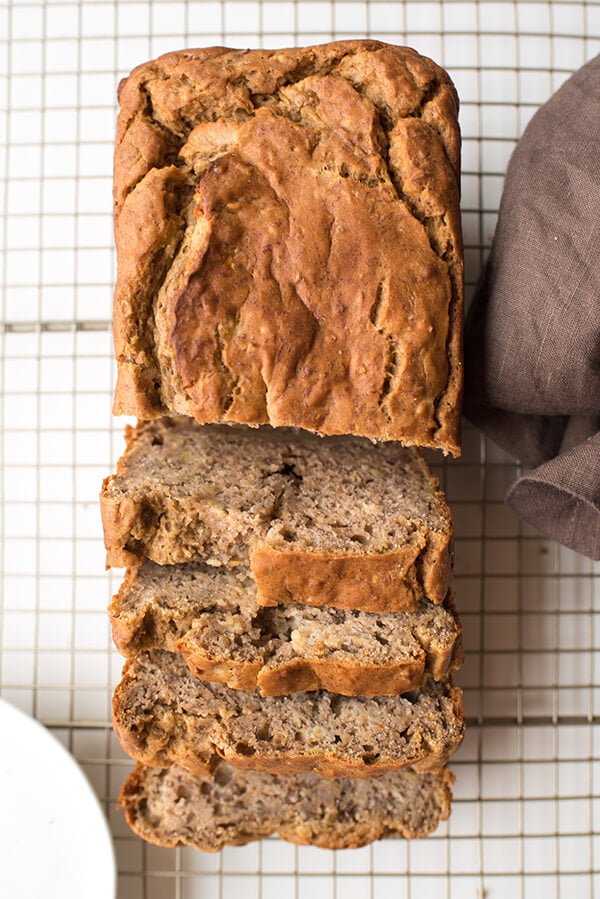 Testing Healthy Banana Bread Recipes

Healthy Banana Bread #1
I whisked the dry ingredients together, all the wet ingredients together, and combined them. It needed more cinnamon and more sweetness. It was fine. It was The Stone Temple Pilots of banana bread. Dense, not super flavorful, not sweet, basically like bread. It was good if you warmed it up and drizzled honey on top. Not the best, not the worst.
Grade: C
Healthy Banana Bread #2
Instead of using ripe, yellow, unspotted bananas, I used almost black bananas. These super spotted, super sugary bananas would certainly result in a sweeter loaf, right? Nope. Most of the bananas congealed together in a mass at the bottom of the loaf. It tasted undercooked and gummy, even though it was in the oven for-ev-er. Sad face.
Grade: F

Healthy Banana Bread #3
I went back to the original healthy banana bread recipe, used spotted yellow bananas that I warmed up for 30 seconds in the microwave, swapped the all-purpose flour for whole wheat flour (because that would ostensibly make banana bread loaf a bit healthier) and increased the flour to 319 grams (2¼ cups). I also stopped melting the coconut oil and started mixing it in after combining the wet and dry ingredients. I increased the cinnamon to 1 tsp. and added ¼ tsp. cloves. The whole wheat flour overwhelmed the other flavors and on balance, the bread still wasn't flavorful enough.
Grade: B-
Healthy Banana Bread #4
This version was the same as #3, but used all-purpose flour instead of whole wheat flour. But it tasted muted. Ugh. No one wants mime bread.
Grade: B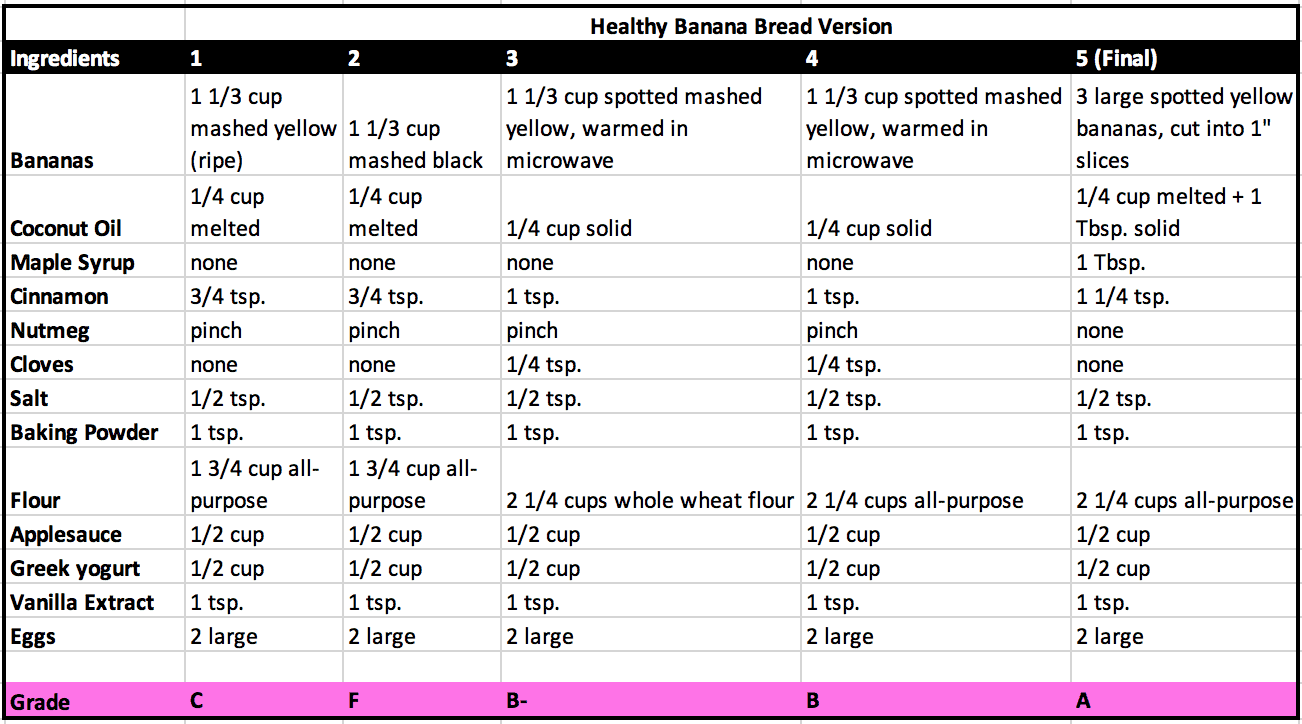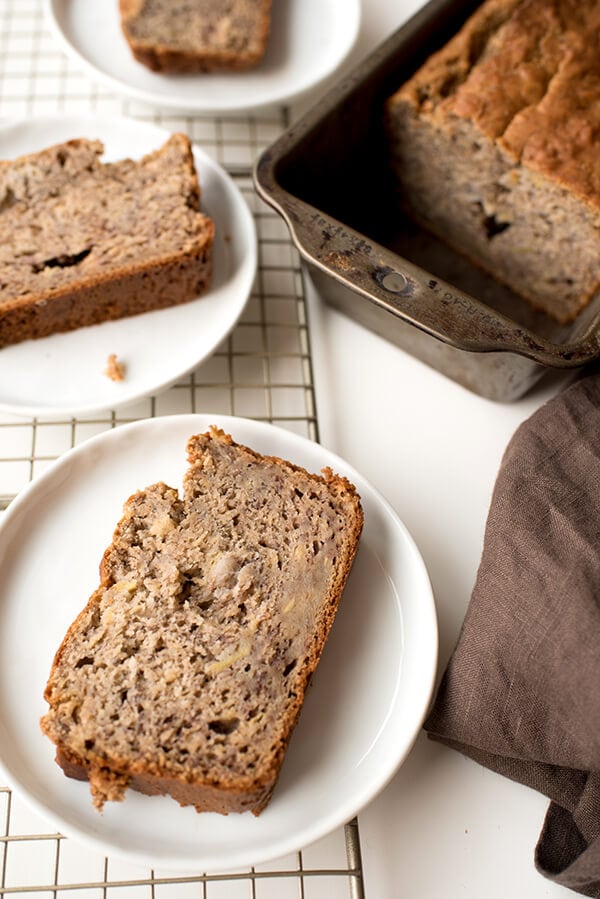 How to Make Healthy Banana Bread
After four attempts to make a healthy banana bread that was lower in sugar, I did a bit more investigating and found that while many recipes have so much sugar that it masks the taste of everything else, sugar, like salt, is a flavor enhancer. The trick is to add just enough.
To keep this healthy banana bread recipe still relatively low in sugar, I caramelized the bananas.
I sliced the just slightly spotted yellow bananas into 1″ medallions and placed them and 1 tablespoon of coconut oil into a nonstick skillet. I turned the heat to medium low, stirring the mixture until the bananas had caramelized.
I then added one tablespoon of maple syrup and cooked the mixture until the bananas were very soft. I added ¼ tsp. cinnamon and cooked the mixture for one more minute.
I poured the banana bread batter into a bowl, added the other wet ingredients and the remaining cinnamon.
For kicks, I toasted ½ cup of walnuts and added those to the dry mixture. I combined everything and poured the final mixture into a nonstick loaf pan and baked it for 55 minutes at 350° F. When I stuck a knife inside, it came back mostly clean, and the internal temp read 170°F.
This healthy banana bread was moist, light, and super flavorful. It tasted of bananas and cinnamon and the crust was just ever so crunchy. And, despite having tested multiple other loaves over the week, it was devoured quickly by my taste testers.
Grade: A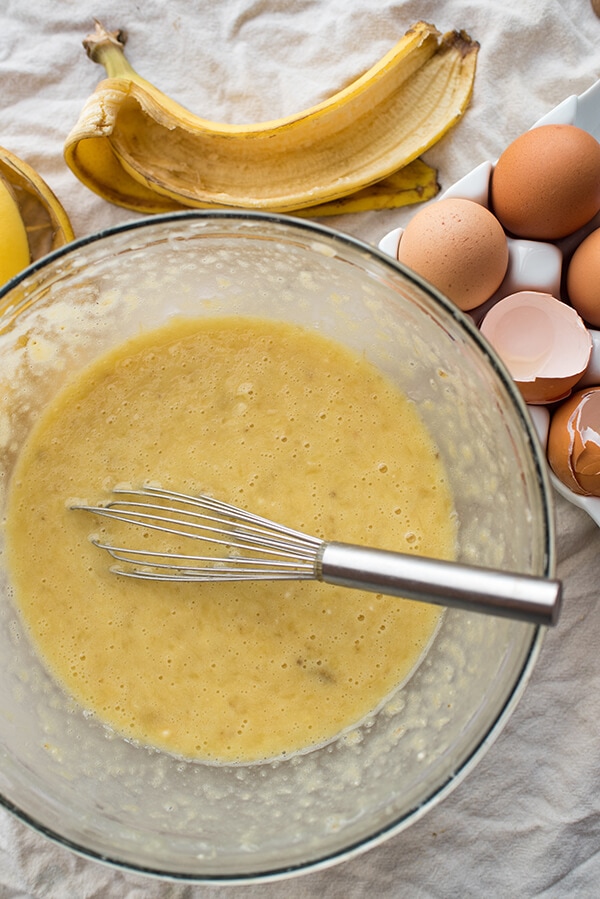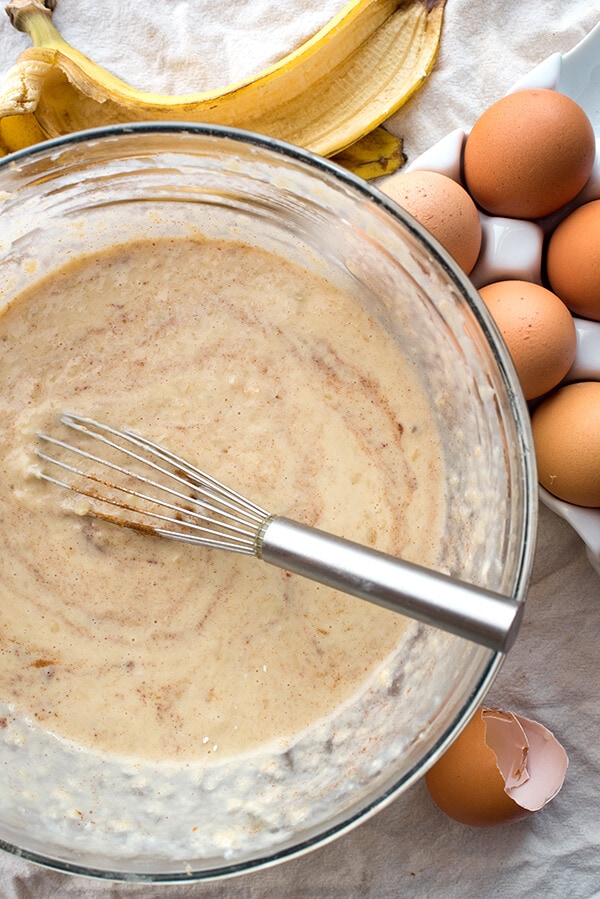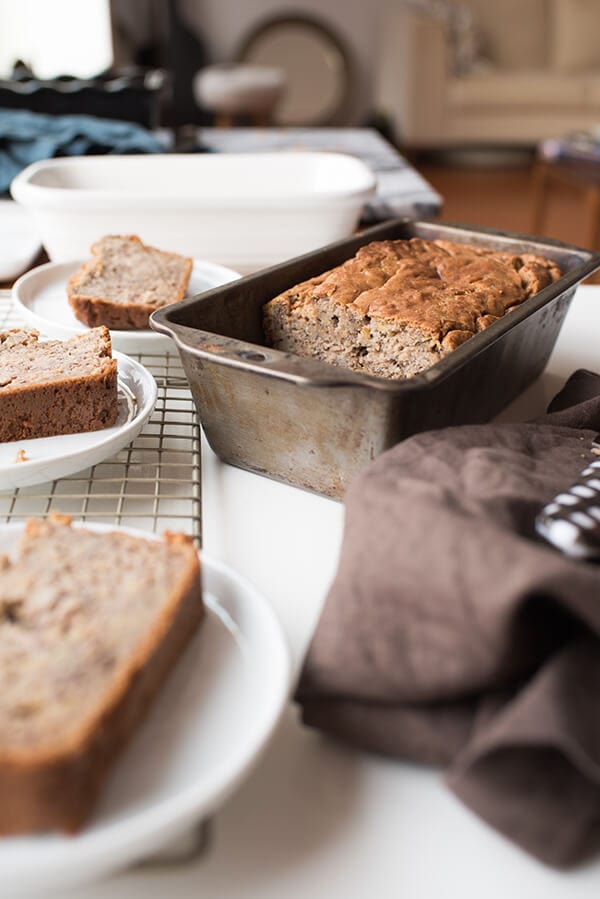 If You Enjoyed This Healthy Banana Bread, Check Out:
Healthy Banana Bread Recipe
Print Recipe
This healthy banana bread recipe is lower in sugar than most banana bread recipes.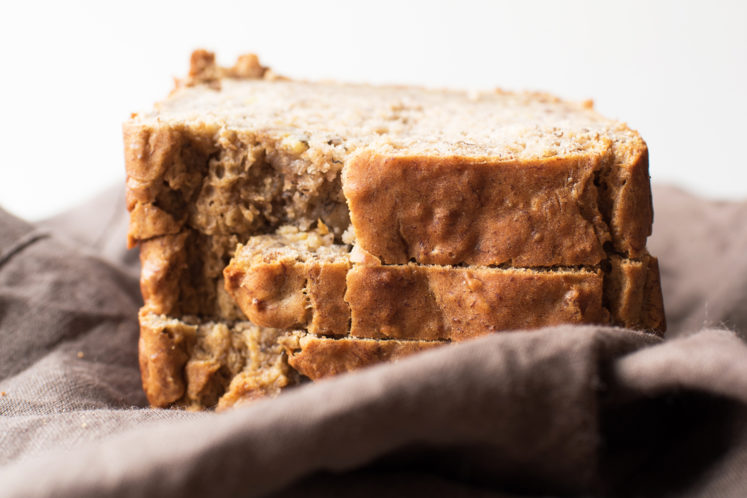 Servings: 1 slice
Ingredients
3 large spotted bananas (cut into 1" slices)
¼ cup + 1 Tbsp. coconut oil (divided)
1 Tbsp. maple syrup
1¼ tsp. ground cinnamon (divided)
½ tsp. fine salt
1 tsp. baking powder
2¼ cups all-purpose flour (319 grams)
½ cup applesauce (no sugar added)
½ cup plain Greek yogurt
1 tsp. vanilla extract
2 large eggs
½ cup walnuts (toasted, optional)
Nonstick spray
Instructions
Preheat oven to 350°F. Spray 9x5 loaf pan with nonstick spray.


Place sliced bananas and coconut oil in nonstick skillet and turn heat to medium-low.


Heat, stirring continually, until coconut oil has melted and is mostly absorbed. About 3-5 minutes.


Add maple syrup. Cook, stirring continually, until absorbed. Add ¼ tsp. cinnamon mix until mixture is very soft and no longer sticking to pan.

Remove pan from heat and pour banana mixture into large bowl. Set aside.


Combine salt, baking powder, and flour in medium mixing bowl. Set aside.


Add applesauce, yogurt, vanilla, and cinnamon to bananas. Mix until fully combined.


Add eggs. Mix until fully combined.

Add flour mixture to banana mixture. Stir until combined and no dry flour remains. Add walnuts if desired.


Add remaining ¼ cup of coconut oil to mixture, one tablespoon at a time. Mix until combined.


Pour banana mixture into prepared loaf pan. Bake until knife comes out clean or internal temp is 200°F. (Approx. 50-55 minutes).
Notes
You can swap all-purpose flour for whole wheat flour. 319 grams of either will work.
I usually bake with coarse kosher salt. I don't recommend that for this recipe. Use fine salt instead.
Nutrition Facts
Healthy Banana Bread Recipe
Amount Per Serving (1 slice)
Calories 280 Calories from Fat 99
% Daily Value*
Fat 11g17%
Saturated Fat 8g50%
Cholesterol 47mg16%
Sodium 182mg8%
Potassium 219mg6%
Carbohydrates 40g13%
Fiber 3g13%
Sugar 9g10%
Protein 7g14%
Vitamin A 100IU2%
Vitamin C 15.7mg19%
Calcium 20mg2%
Iron 0.4mg2%
* Percent Daily Values are based on a 2000 calorie diet.
Did you make this recipe?
Leave a review below, then take a photo and tag @letseatcakeblog on Instagram so we can see it!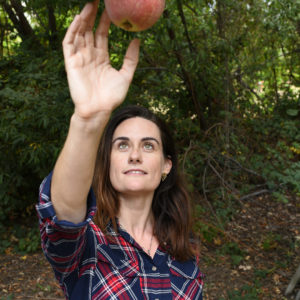 Latest posts by Rebecca Swanner
(see all)