Feeling stressed? Always tired? Don't go all Post Malone on us and get that inked on your face. Instead, sit down and have a mug of Moon Milk and watch as we gently swing this pocket watch back and forth.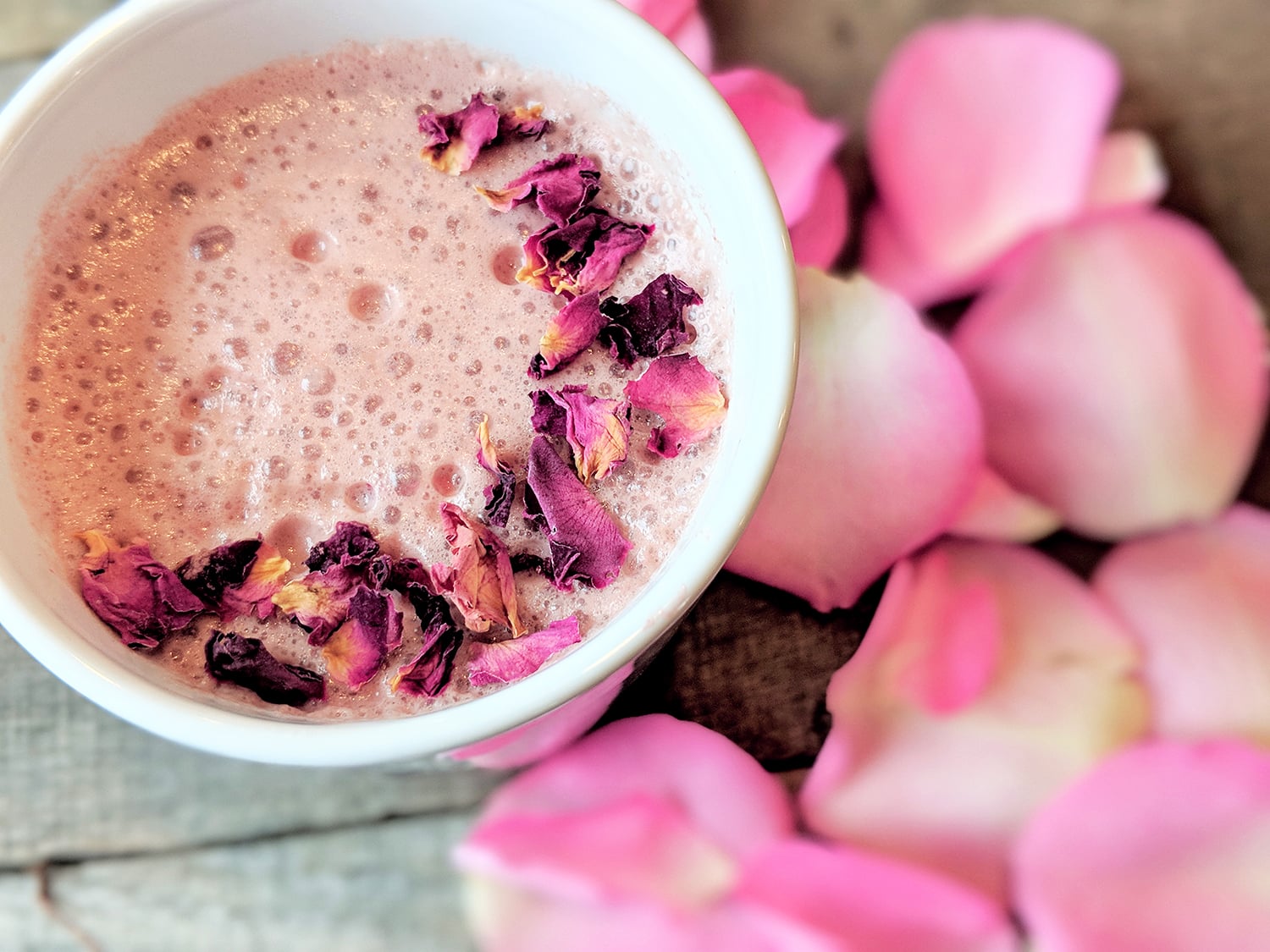 What Is Moon Milk?
Moon Milk is a warm drink made from milk and an adaptogen, such as ashwagandha.  It's inspired by the centuries-old Ayruvedic belief that warm milk helps induce restful, deep sleep.
Our Vanilla Rose Moon Milk recipe also includes dried rose, honey, tart cherry juice, but we've seen other versions that have cacao butter and raspberries or turmeric and cinnamon. Regardless of the add-ins, the whole point of the drink is the same: To make you chill the eff out.
Today's Moon Milk isn't the first drink of its name, though. In the 19th century, pharmacies sold a very different kind of "moonmilk." That version was a milky white substance found in caves that some believed was petrified moonlight. It was, actually, dried calcite, so it supposedly worked pretty well for heartburn before TUMS entered the market in 1930 and capitalized on the mass heartburn caused by the Great Depression.
Can Moon Milk Really Help Reduce Stress or Improve Sleep?
45% of Americans claim that lack of sleep – or at least lack of quality sleep – negatively impacts their life. It might finally be time for a centuries-old cure-all.  And while I try not to put too much stock in what Instagram claims is healthy, there really is something to this.
Yes, Virginia, Moon milk may help you sleep and may reduce your stress levels.
One reason is routines and rituals can help you fall asleep. Post a bedtime selfie. Wait for people to like selfie. Text your friends to like your selfie.
Taking the time to make and sip a cup of moon milk may help you wind down from your day in a healthy, stress-free way. Bonus points if you can put down your phone when doing so, since the blue light your cell phone emits convinces the  photoreceptors in your eyes that it's daytime. You can see how many likes your selfie got in the morning.
But Moon Milk's ingredients play a role too.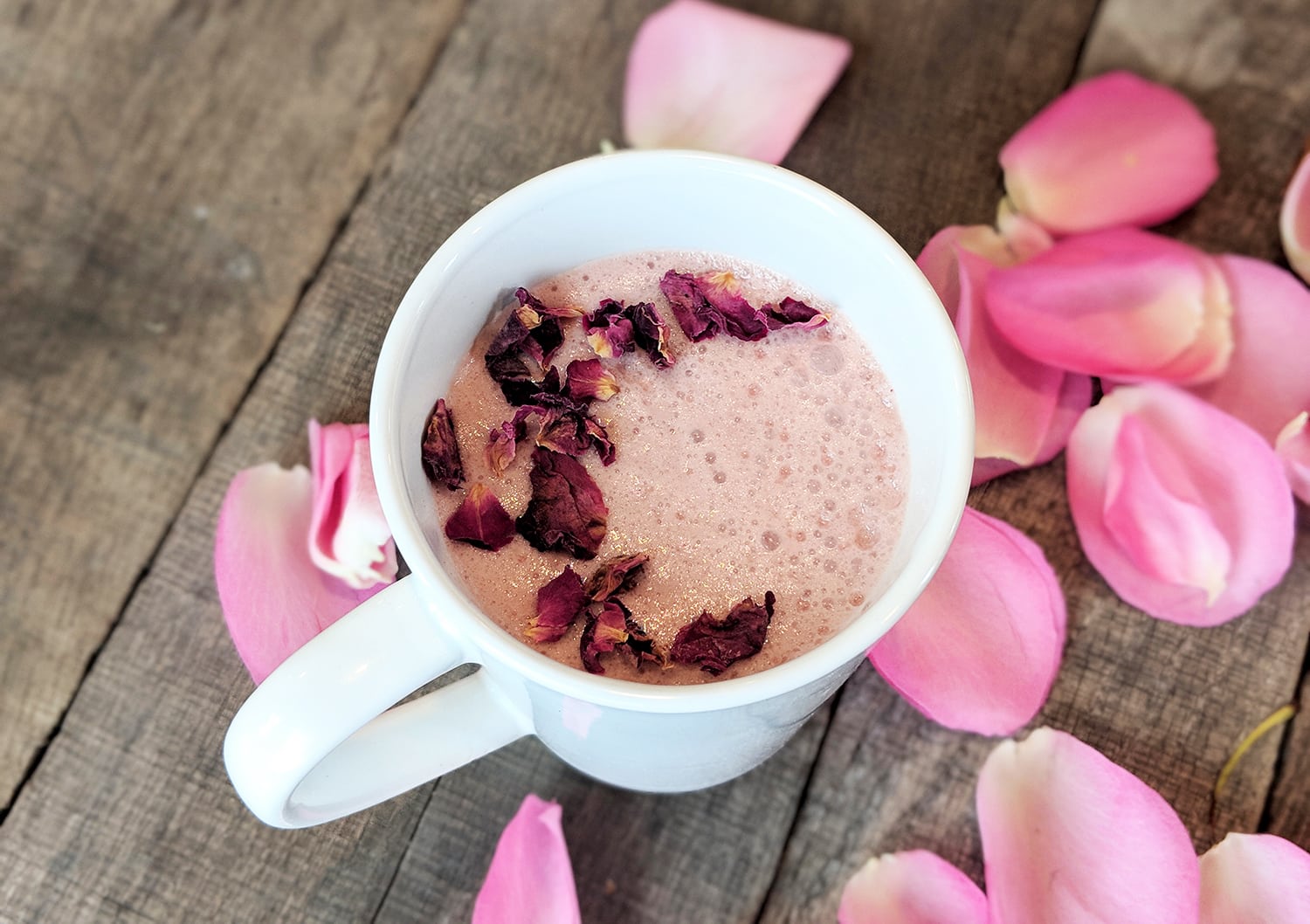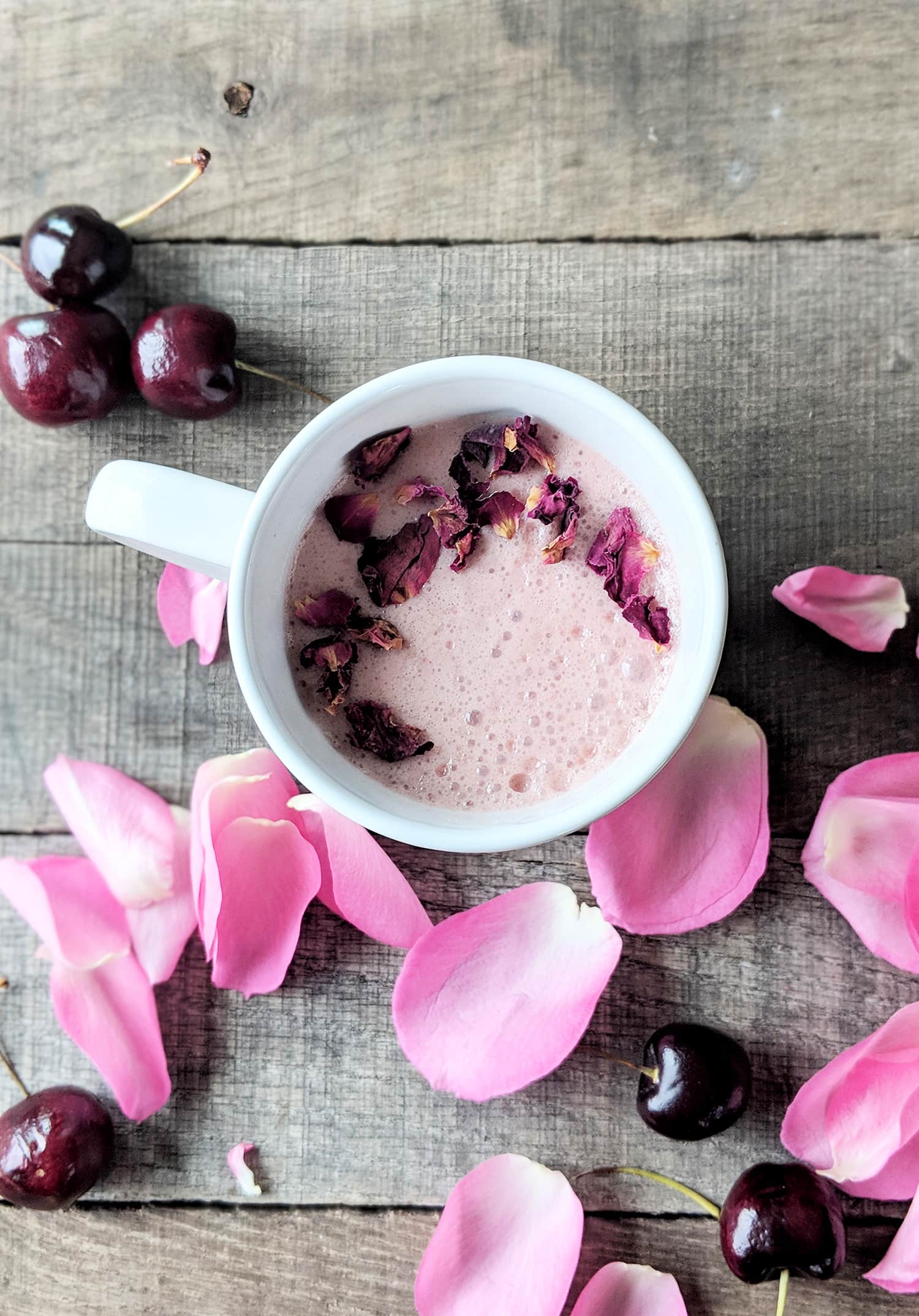 Moon Milk Ingredients
Milk
Cow milk and nut milk (specifically almond and walnut milk) contain melatonin, tryptophan, and magnesium, all of which help you get your z's. Need proof? Just take a peek in the family room after a tryptophan-turkey filled Thanksgiving dinner. Who wants pie?
Adaptogens
Thanks to our always busy oh god someone please cancel plans this week lifestyles, adaptogens —herbs that claim to reduce stress — are so hot right now. But, always check with your doc before adding a new supplement to your diet as it may have unwanted side effects.
A few common adaptogens include ashwagandha, rhodiola, and chaga and reishi mushrooms, and their impact can be as impressive as knowing how to correctly pronounce these words. In a 60-day double-blind study following 64 people, 600mg of ashwagandha reduced their perceived stress levels by 44 percent. You can check your stress level here if you're curious. An extra shot of moon juice for whomever scores the highest!
Tart Cherries
Tart cherry juice contains load of antioxidants and is also a good source of melatonin. In a small study focused on people suffering from insomnia, the participants who drank tart cherry juice saw an increase in sleep quality and the length they stayed asleep. Aunt Susan's special grape juice helps her fall asleep, but it also comes with a more unpleasant morning.
Rose
The light floral sent of rose is calming and comforting and edible rose petals can be found online or in your local spice shop. You could also use lavender, but I personally think lavender is gross and tastes like soap, while rose's floral flavor is soothing and pleasant.
Not sure what to do with your extra rose petals? Use them in my recipe for Advieh Zoodles or use them to create a rose simple syrup for cocktails or lattes.
Vanilla Rose Moon Milk
Print Recipe
Feeling stressed? Always tired? Sit down and have a glass of Vanilla Rose Moon Milk and watch as we gently swing this pocket watch back and forth.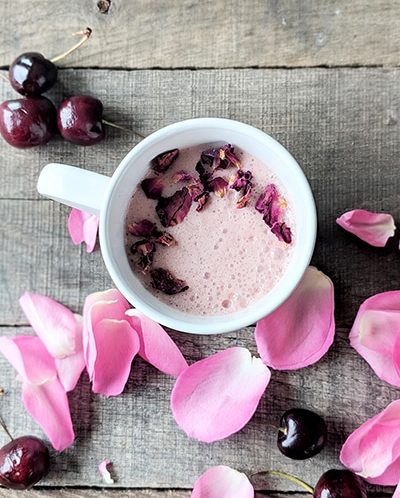 Prep Time: 5 mins
Cook Time: 5 mins
Total Time: 10 mins
Servings: 1 serving
Ingredients
6 oz. almond milk (or walnut milk)
4 oz. tart cherry juice
2 tsp. dried rose petals
1/8 tsp. vanilla extract
1 tsp. powdered ashwagandha (optional)
1 tsp. raw honey (to taste)
Instructions
Add milk, cherry juice, rose petals, vanilla extract, and ashwagandha to a small saucepan and gently warm over medium low heat until simmering.


Reduce heat and cooked until warmed through, about 5 minutes.

Strain out rose petals.

Stir in honey and enjoy.
Notes
Homemade almond or walnut milk is preferred, but not required. Different brands will be more or less chunky, but the cherry juice does not curdle the milk. Cherry juice will curdle cow's milk, however, so if cow's milk is preferred, leave out the cherry juice.
Nutrition Facts
Vanilla Rose Moon Milk
Amount Per Serving (1 serving)
Calories 245 Calories from Fat 54
% Daily Value*
Fat 6g9%
Saturated Fat 4g25%
Monounsaturated Fat 2g
Cholesterol 22mg7%
Sodium 116mg5%
Carbohydrates 41g14%
Fiber 2g8%
Sugar 37g41%
Protein 7g14%
* Percent Daily Values are based on a 2000 calorie diet.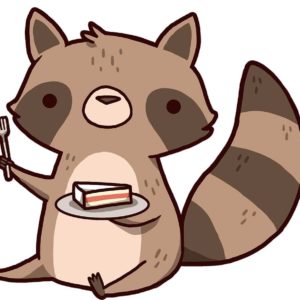 Gina Ciolkosz is a Personal Health Cook and American Council on Exercise (ACE) certified Health Coach located in Anchorage Alaska. Her background includes a Bachelor's of Science in Physiology from the University of Wyoming. For the past six years, she has lived in Alaska, where she can't get enough of the active Alaskan lifestyle that for her includes hunting, fishing, hiking, and the occasional weekend race.She loves to spend time in the backcountry with her husband, 2 young boys, weimaraner, and 2 packgoats.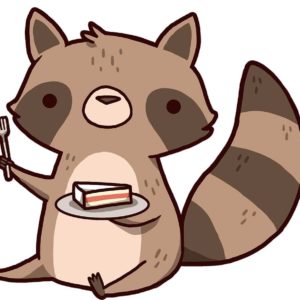 Latest posts by Gina Ciolkosz (see all)