If you want to reduce stress or sleep better, moon milk may help. This dairy-free Vanilla Rose Moon Milk recipe is made with ashwagandha, dried rose petals, honey, and tart cherry juice.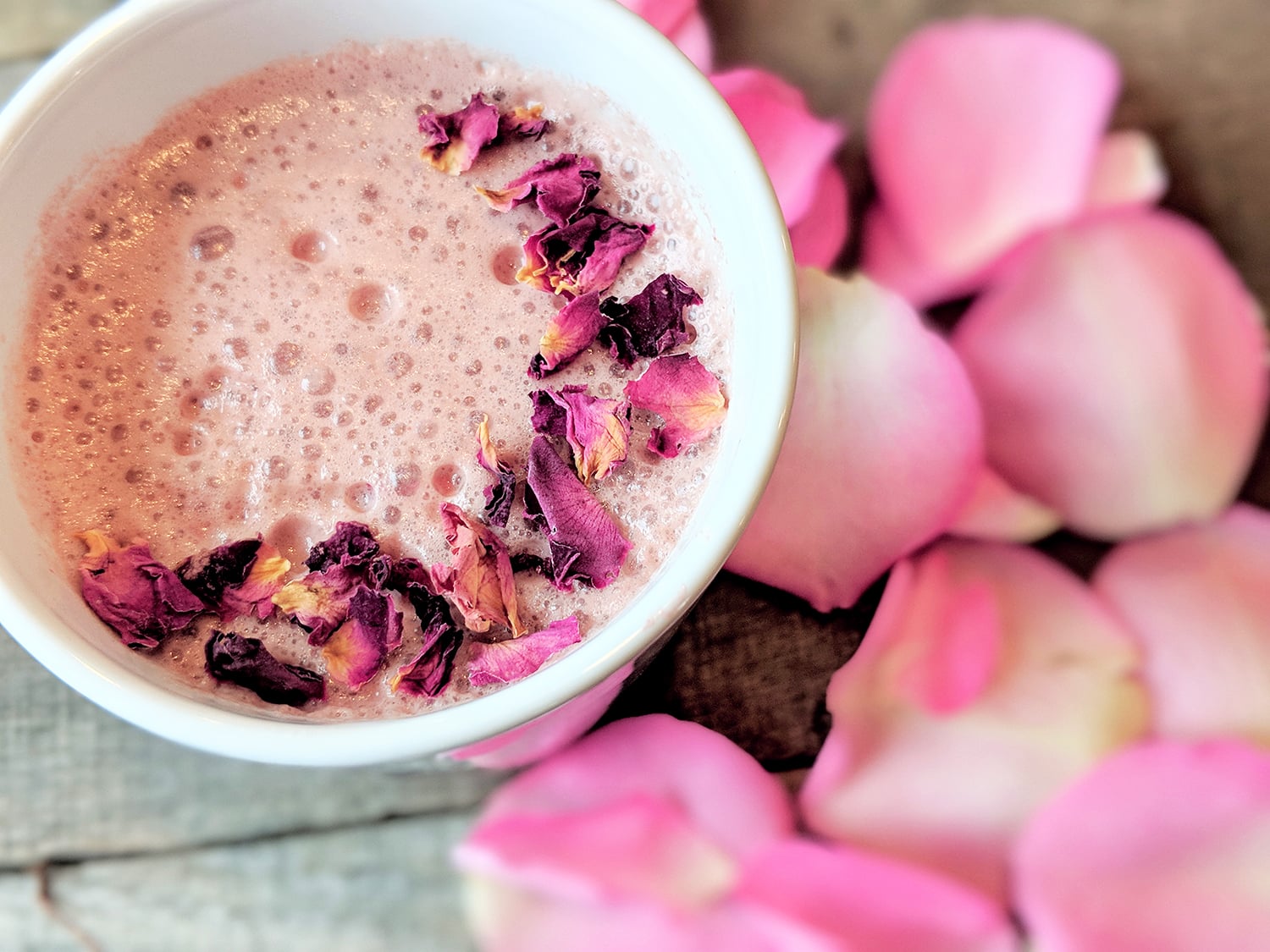 What Is Moon Milk and What Does It Do?
Moon Milk comes from the the 5,000 year-old Ayruvedic belief that drinking warm milk helps induce restful, deep sleep. So, while it might look like something invented just for Instagram, it's actually been around a lot longer.
Some traditional Ayruvedic recipes include spices, honey, and adaptogens (like ashwaganda) to increase the drink's stress-relieving properties, but they're not required. That's because some plant-based milks such as almond, oat, and walnut milk contain melatonin, tryptophan, and magnesium. All of these can help you get that deep sleep. If you drink dairy, cow milk has the same effect.
Moon Milk Flavors:
If you want to change up the moon milk recipe below by mixing and matching the spices and adaptogens, start with hot milk and add one of the following. (Before you add any supplement to your diet, we highly recommend checking with your doctor first. Unless your doc is Doctor Nick. Then just carry on.)
Ashwagahnda: Taking this adaptogen daily may improve anxiety and relieve stress.
Rose: The light, floral sent of rose is calming and comforting and edible rose petals can be found online or in your local spice shop. Use the extras in this zoodle recipe or make a rose simple syrup for future lattes.
Lavender: Lavender may help you sleep and reduce stress. We used this herb in our Lavender Earl Grey cookies, but you can infuse the milk with it in this recipe. Don't go overboard unless you need to wash your mouth out with soap.
Turmeric: To make a golden milk, use the yellow spice turmeric, which may also reduce inflammation.
Cardamom: Cardamom adds a little bit of sweetness and may aid digestion.
Ginger: In winter, ginger is a great flavor! We use it in our gingerbread latte to give it a spicy holiday kick but like cardamom, it may also help with digestion.
Tart Cherries: Tart cherry juice contains load of antioxidants and is also a good source of melatonin. In a small study focused on people suffering from insomnia, the participants slept better and stayed asleep for longer.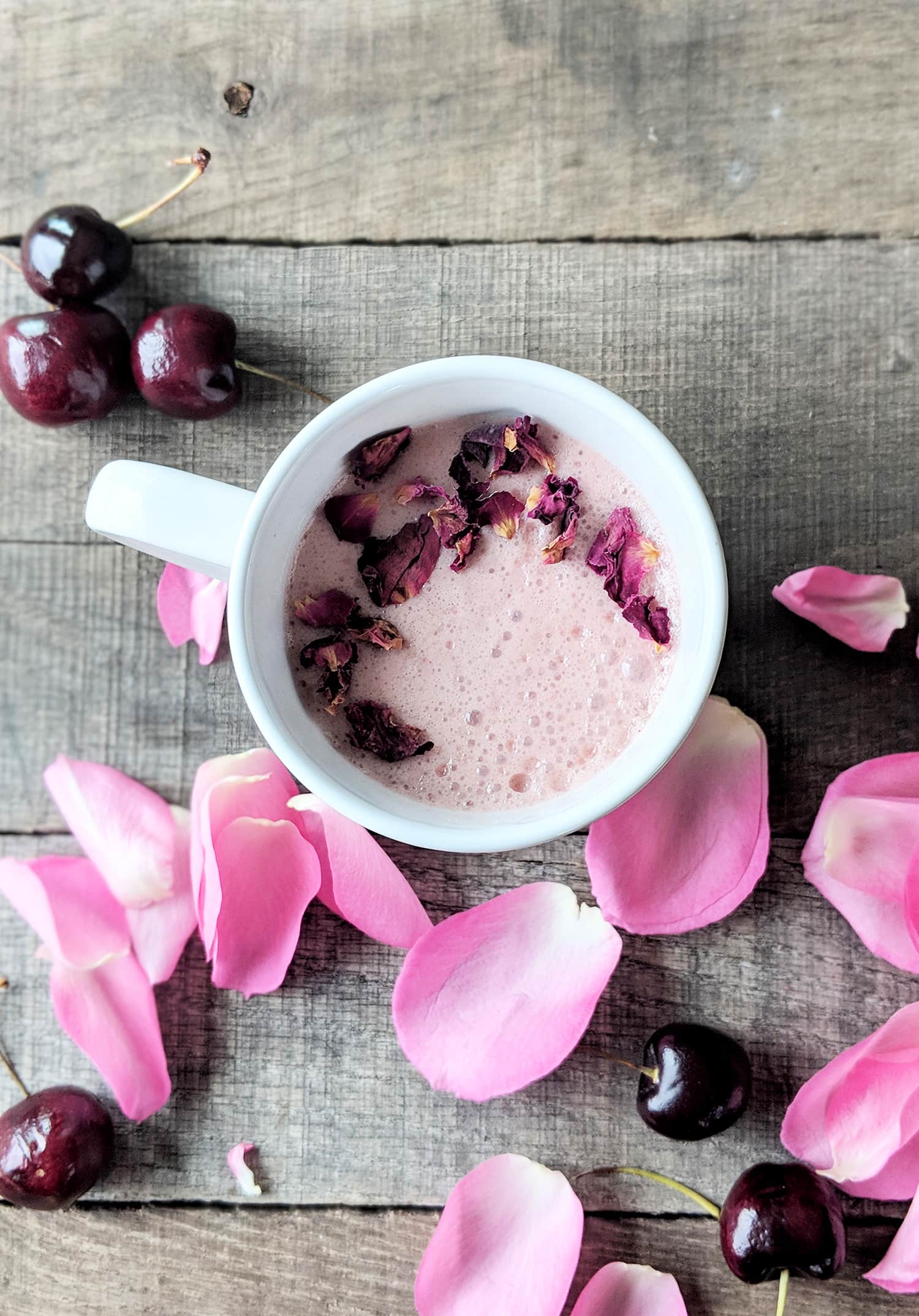 Where Can I Buy Moon Milk?
Many coffee shops make moon milk, usually in the form of a golden milk latte. Or, you could simply ask them to steam some milk and add cinnamon and honey to your drink. Or you could order a tub of the Vital Proteins pink moon milk collagen latte powder.
If you have a time machine and go back to the early 19th century, you'll also find a different kind a moon milk, one made from a substance found in caves that some believed was petrified moonlight. It was, actually, dried calcite. It supposedly worked pretty well for heartburn, but we don't recommend eating your crystals.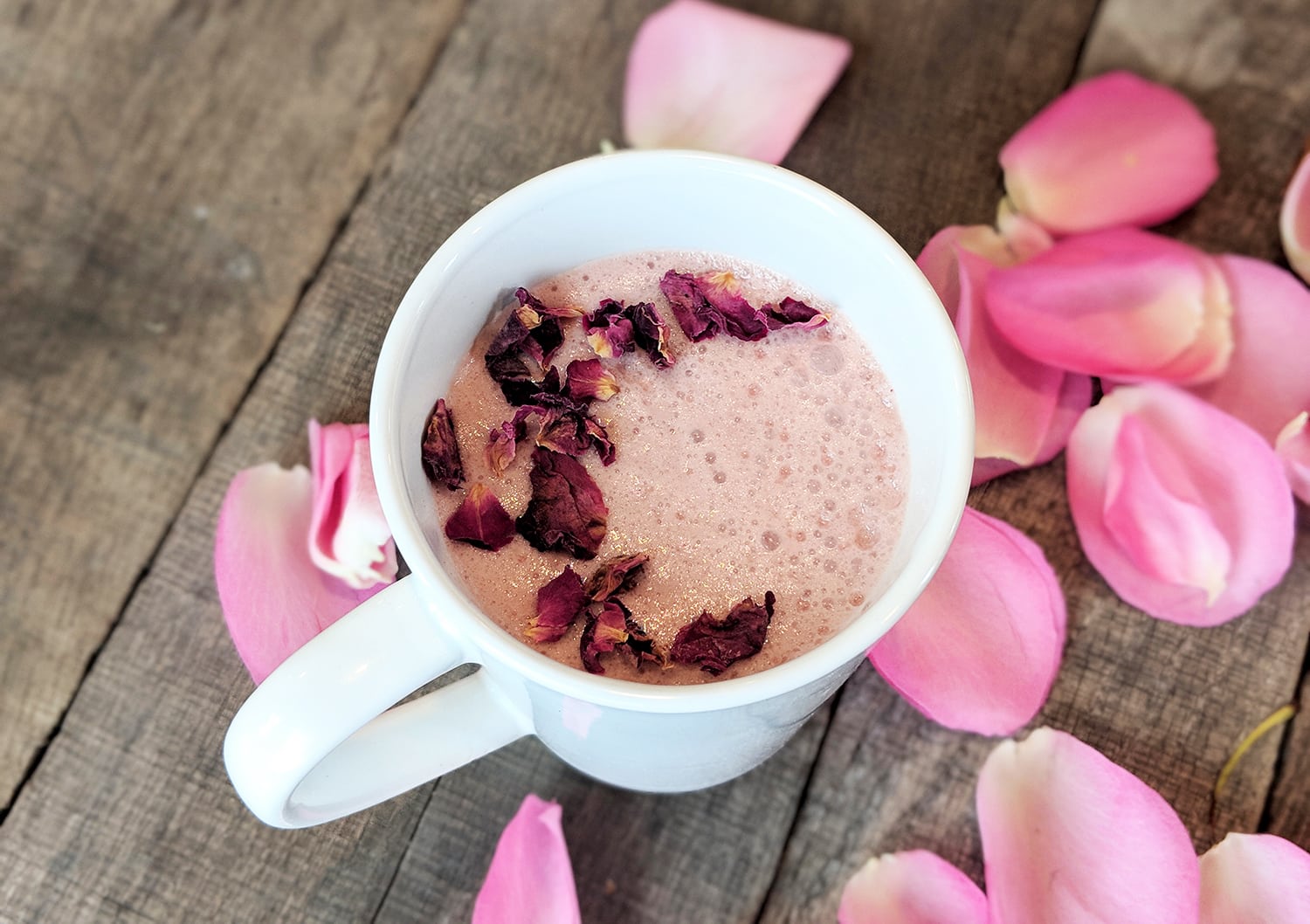 Vanilla Rose Moon Milk
Print Recipe
This dairy-free Vanilla Rose Moon Milk recipe is made with ashwagandha, dried rose petals, honey, and tart cherry juice.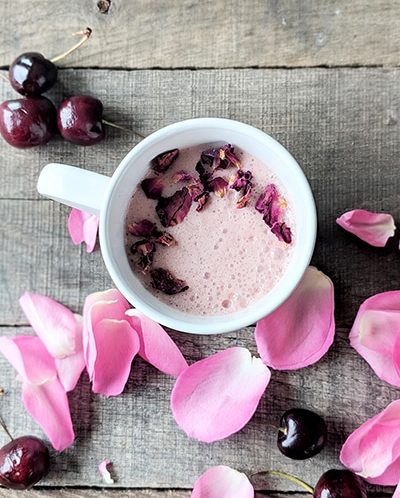 Servings: 1 serving
Instructions
Add milk, rose petals, vanilla extract, and ashwagandha to a small saucepan.

Bring milk mixture to a simmer over medium-low heat. Heat until warmed through.

Remove from heat and cover with lid for 5 minutes to steep.

Strain out rose petals. Add cherry juice.

Stir in honey. Pour into a mug, and enjoy.
Notes
If you want to use dairy milk, leave out the cherry juice as it will curdle. Calories were calculated using unsweetened almond milk.
Nutrition Facts
Vanilla Rose Moon Milk
Amount Per Serving (1 serving)
Calories 78 Calories from Fat 27
% Daily Value*
Fat 3g5%
Polyunsaturated Fat 1g
Monounsaturated Fat 2g
Sodium 160mg7%
Potassium 232mg7%
Carbohydrates 11g4%
Fiber 1g4%
Sugar 7g8%
Protein 1g2%
* Percent Daily Values are based on a 2000 calorie diet.
Did you make this recipe?
Leave a review below, then take a photo and tag @letseatcakeblog on Instagram so we can see it!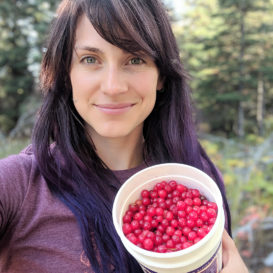 Latest posts by Gina Ciolkosz
(see all)