When you think of Nashville, you probably don't think of coffee first. But, maybe you should. After all, what else are going to drink after a night doing whiskey shots on Lower Broad with your girlfriends? Water?
Ok, fine. But first, how about some caffeine at one of Nashville's best coffee shops? Whether you want to sip lattes in a converted church or try your first coffee soda, Music City, U.S.A. has it all.
And, here's a handy map that shows you where to find all the coffee shops below!
The 10 Best Coffee Shops in Nashville
1. Crema
5 Hermitage Avenue, Nashville, TN 37204
(615) 988-4020
Located in downtown Nashville, Crema is a zero-waste coffee shop within stumbling — er, walking — distance of Lower Broadway. As expected, this airy, bright space has a wide selection of espresso drinks, teas, and breakfast fare on the menu.
But, don't sleep on their specialties, like the ZenZero ginger latte made with a molasses reduction instead of simple syrup. Or, spring for the Kashmiri Chai that blends spices, green tea, jaggery, roasted pistachios, and pink Himalayan salt (#millennialsforever).
Are you an aspiring barista? Take a coffee class, so you can "educate" your friends about brewing ratios while they're trying to enjoy their espresso in peace.
Crema coffee opens their Hemitage location at 6:30am M-F, 7am Saturday, and 9am Sunday. Their Duke Street location opens at 7am daily.
2. Falcon Coffee Bar
509 Houston Avenue, Nashville, TN 37203
(786) 942-8279
Falcon Coffee Bar is new on the scene. The former church is situated in the Wedgewood-Houston neighborhood, and we're not afraid to throw some elbows to snag a seat and order their locally-roasted coffee, Apple Lattes made with coconut milk, and plant-based sandwiches. (Sorry, that was us writing before we had our coffee. How many Hail Marys is that?)
If you stick around long enough, Falcon transforms into the Flamingo Cocktail Club. The universe really does provide.
Falcon Coffee Bar open at 7am M-F and 8am on the weekends.
3. dose.
3431 Murphy Road, Nashville, TN 37203
1400 McGavock Pike, Nashville, TN 37216
(615) 457-1300
When you're wandering around Nashville in a desperate quest for caffeine, this dose will do the trick.
At their two Nashville locations (and on their food truck), dose. brews Counter Culture Coffee daily. Food offerings vary by location, so check their website before you head out in case you're in the mood for Strawberry Almond Butter Toast or beignets (both available at their Riverside Village location on McGavock).
The West End outpost of dose. coffee opens at 6am M-F and 7am on the weekends. The Riverside Village opens at 7am daily.
4. Sump
8 City Blvd Ste 103, Nashville, TN 37209
(615) 678-1286
A sump usually collects undesirable liquids, but in this case, the liquid this gothy spot trades in coffee they roast in house. Sump's new Nashville location sports black interior walls and a wide selection of pour-over brews and teas, and has hipster cred in spades. Don't believe us? Their logo is a bearded hipster drawn in the likeness of owner Scott Carey.
Come for the single-origin coffees and seasonal offerings like Black Lattes and Coffee Palmers. Stick around to check out ONEC1TY, the sustainable community complete with a vegan restaurant, volleyball court, and CrossFit gym that Sump calls home. (Or work. Whatever.)
Sump opens at 7am M-F, 8am Saturday, and 9am Sunday.
5. Revelator
1817 21st Ave S, Nashville, TN 37212
(615) 457-3175
This coffee roaster and cafe has locations in six different states — including Tennessee. Plenty of Nashville restaurants serve Relevator coffee, and there's a reason: It's really really good. So, go straight to the source and get a cup of their eye-opening coffee on 21st street.
Revelator opens at 6:30am M-F and 8am on the weekends.
6. Slow Hand Coffee + Bakeshop
1010 Gallatin Ave, Nashville, TN 37206
(615) 730-8032
Last year, Slow Hand Coffee reopened their doors in a newer, bigger location, where they serve Counter Culture Coffee, freshly-baked donuts, and buttermilk biscuits.
Stick around long enough to sidle over to the bar at Pelican & Pig next door and order a Marriage on the Rocks now that you're leaving your significant other for the breakfast sandwich below.
Slow Hand Coffee opens at 7am daily.
7. Steadfast Coffee
603 Taylor St, Nashville, TN 37208
(615) 891-7424
Oat milk lattes, step aside. Nashville's here with a new trend: Coffee soda.
And, Steadfast was at the forefront, with Matchless Coffee Soda, a fizzy concoction made from locally roasted coffee. Fizzy iced coffee not your thing? Try their flash-chilled coffee, "rested" drinks, or the butterscotch latte.
Steadfast Coffee opens at 7am M-F and at 8am on weekends.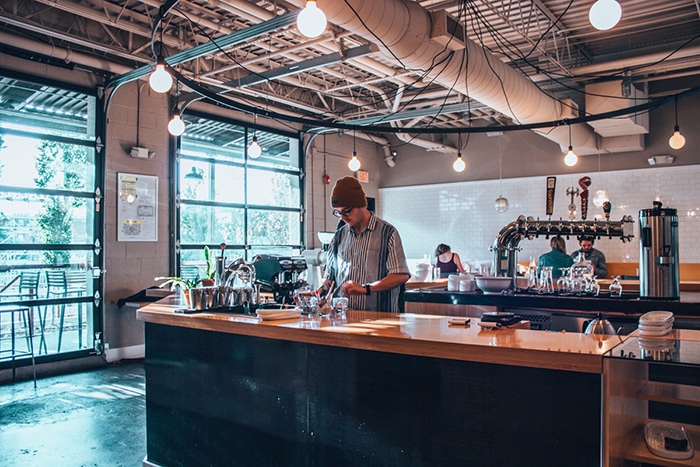 8. Three Brothers
2813 West End Ave, Nashville, TN 37203
(615) 835-2166
Three Brothers Coffee, located on the West End, is a hip coffee joint attached to Cumberland Transit — Nashville's oldest outdoors and bike shop.
The location is practically made for Instagram, so grab a speciality drink like the "Huntress," made with apple butter, clove, nutmeg, and orange. Then, follow my lead and strike your best pose in an alleyway adorned with funky, geometric designs.
Three Brothers opens at 6am M-F and at 8am on weekends.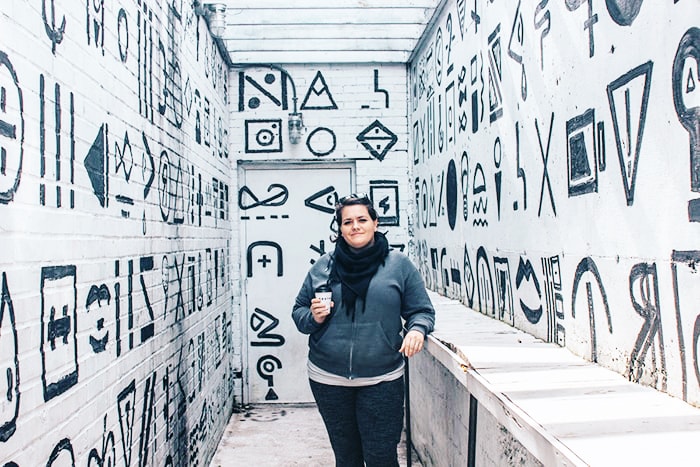 9. Bongo Java
2007 Belmont Blvd, Nashville, TN
(615) 385-5282
You can't mention the best coffee shops in Nashville without mentioning Bongo Java. They opened in Hillsboro Village in the early 1990s and have been going strong ever since, serving up their own organic, fair-trade roasted coffee… and the occasional morning bun shaped like Mother Teresa. After all, it's not every coffeehouse that gets a cease-and-desist letter from the world's most famous Nun. (Us, on the other hand…)
Bongo Java opens at 7am daily.
View this post on Instagram
10. Barista Parlor
610 Magazine St, Nashville, TN 37203 – (615) 227-4782
519 Gallatin Ave B, Nashville, TN 37206 – (615) 712-9766
1230 4th Ave N, Nashville, TN 37208 – (615) 401-9144
1200 Clinton St #25, Nashville, TN 37203 – (615) 227-4782
This is one of the most well-known coffee brands in Nashville. With locations in East Nashville, the Gulch, and Germantown — and three more opening in 2020. — Barista Parlor is the trusty coffee shop that keeps everyone in Nashville humming. Bright interiors, large open spaces, and plenty of seating makes Barista Parlor one of the best Nashville coffee shops for securing a spot and getting work done. Order a Headless Horseman — it's the sinister cousin to your friend's basic Pumpkin Spice Latte.
All Barista Parlor locations open at 7am daily, except the Clinton Street location, which opens at 8.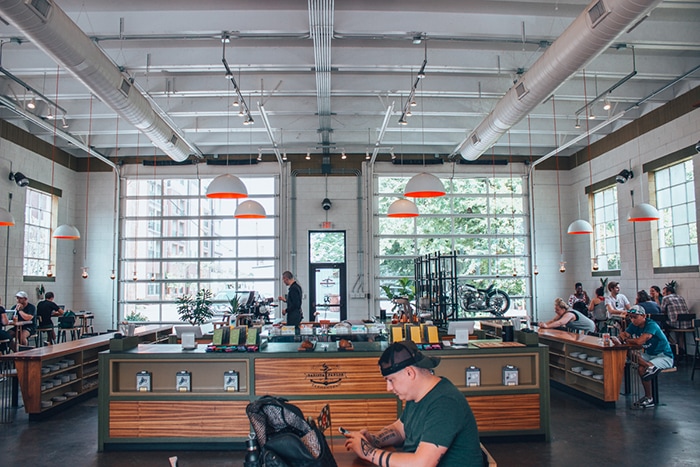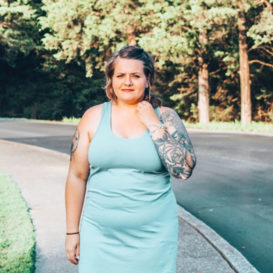 Latest posts by Ashley Hubbard
(see all)