What is Oat Milk? What are oat milk's nutrition facts? And, where can you find this new, popular plant milk? We tackle it all, and even provide a recipe on how to make homemade oat milk.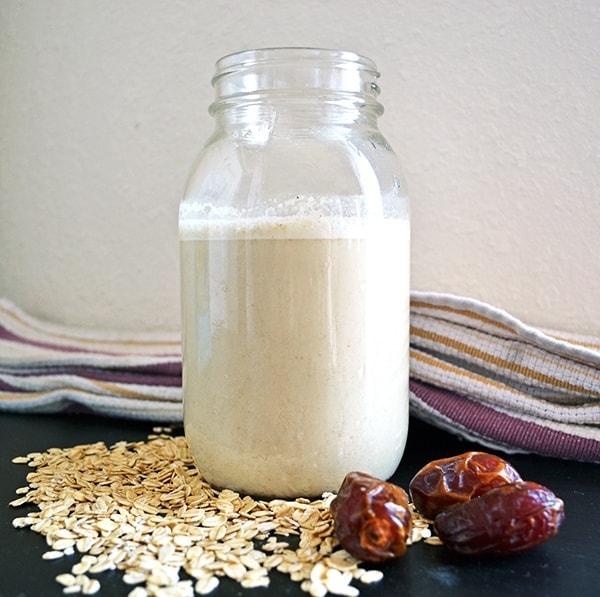 We live in the future now, and the future includes milk that comes from oats. That's right. The grain that creates mushy breakfasts now goes in your coffee. And, sure that might sound gross, but it's actually delicious. Just like French fries dipped in a chocolate milkshake. (No? Just me?)
Gone are the days when milk just came from cows. Hell, gone are the days when milk came from soybeans, or even nuts. But let's be real, soy milk hasn't been trendy since Finding Nemo was in theaters.
Starbucks has yet to jump on the oat milk trend, but it's becoming so popular at local coffee shops that they can't seem to keep it in stock (unlike their "Haha Good Luck Buying A House Avocado Toast" toast). So pick up a box of Pacific or Oatly online, or make it at home with the easy oat milk recipe below. Or, just wait until the coffee mermaid deems it trendy enough to start serving.
What is Oat Milk?
Oat milk is milk…made from oats. We'll give you a moment to collect yourself after that groundbreaking information. When you blend oats and water together, then strain the liquid, the result is something that really does resemble milk. It's a smooth, creamy, white liquid that goes well in coffee, cereal, or however you like to use milk. And, it's not called "nut milk" so that's a win all on its own.
What Does Oat Milk Taste Like?
Sweet, smooth, creamy tears from heaven. It tastes just enough like cereal milk to make you remember the joy of finding a toy in at the bottom of the box as a child, but not enough to remind you of the hideous bowl cut you had at the same age.
Oat milk is lighter than most nut milks (oh god, we had to say it), and it doesn't taste as bold as soy milk. It's like the middleweight of non-dairy milks. Think of it like this: When it comes to mixing plant milks into your coffee, overly-processed almond milk is like the cheap beer that college students love because they don't know any better and it's easy to get. Soy milk is like malt beer. It's thick, coats your taste buds, and ruins anything you put into your mouth afterwards. Oat milk is like wheat beer. It's flavorful without being overpowering.
Are There Any Benefits to Oat Milk?
Oat milk is an animal-loving best friend: it's lactose-free, gluten-free, soy-free, and vegan-friendly. And for all those poor souls who can't get within sniffing distance of nuts, oat milk is nut-free, too. And, it's hipster approved too. On Oatly's site, "Bicoastal Filmmaker Mom" writes, "I was told I couldn't buy it as a civilian, but just found it online and ordered a case tonight and cannot wait," so you know it's legit.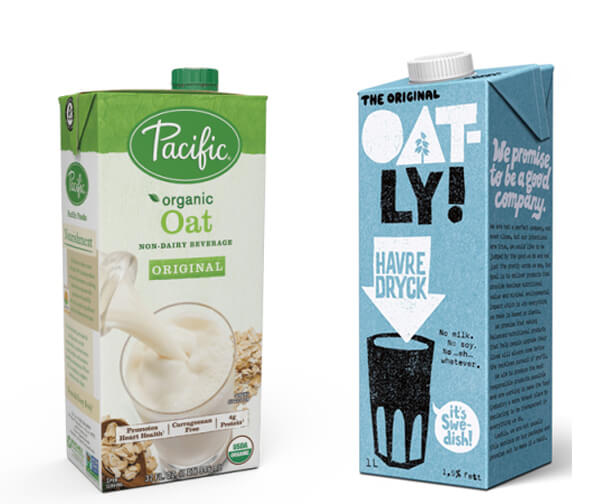 In terms of oat milk's nutrition, it's not that different from most plant milks. According to the nutrition labels, oat milk contains approximately 130 calories per cup, 3 g fat, 24 g carbs, 110 g sodium, 19 g sugar, 2 g of fiber, and 4 g of protein. It has no saturated fat or cholesterol.
But as its nutrition facts show, it does lack the protein that's found in cow's milk. "If you're trying to use use non-dairy alternatives to get protein, nut milk, or oat milk is not going to do it for you," explains Ashley Galloway Thomas, MS, RD, LDN. Nut milk and oat milk only have about one to two grams of protein per serving, whereas cow's milk clocks in around eight or nine grams per serving. Soy milk or pea milk on the other hand, have roughly the same amount of protein as cow's milk. Weirdly though, no coffeehouses are running out of pea milk.
Other nutritional aspects to be aware of when it comes to different kinds of milks involve calcium and Vitamin D. After all, aren't kids taught that they need to drink milk to grow strong bones?
But cow's milk isn't the end all be all for that. "You get both calcium and Vitamin d from other sources, and most brands of alternative dairy milk add them in," Thomas says. The popular oat milk brand, Oatly, does just that. Oatly's original flavor includes a total of 35 percent DV of calcium and and 40 percent DV of Vitamin D. Maybe vegans are actually onto something… but please don't ever tell them that.
Is Oat Milk Healthy?
Oatly is headquartered in Sweden, so oat milk can't be too bad for you. Have you ever seen a less-than angelic Swede? (Lookin' at you, Alexander Skarsgård and Alicia Vikander). But if we want to get technical, you'll really only run into nutritional problems with oat milk (or any milk alternative) is if you have an intolerance to additives put into the mix. But if you make oat milk yourself (using the super simple oat milk recipe below), then you know exactly what's going into it.
However, homemade oat milk won't have any added calcium or vitamin D that store-bought brands often include, and we don't advise crushing up supplements and muddling them in, either. Nice try, Walter White. So if you do buy oat milk (or other milk alternatives) at the store, it all comes down to reading the label.
Should You Try Oat Milk?
This really feels like a personal choice? Also, the waiter would like you to stop asking him what you should order for dinner.
But, if you need some validation for this big life choice, listen to Thomas' sage advice. "I think milk alternatives are a fun way to experiment with new flavors," she says. "If you have time and resources to make your own oat milk or nut milk, do that." Foodies probably consider themselves pretty fortunate that they don't have to settle for plain old cow juice like their ancestors from back in the 1990s. We hear those people didn't have Instagram then, either.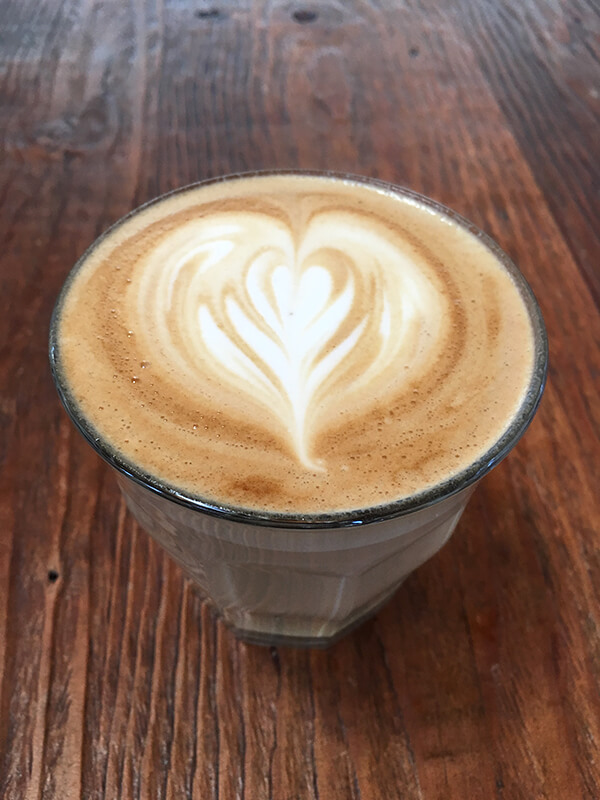 How to Make Oat Milk
I'm not one for DIYing things that I can buy at the store, but local shops are charging up to seventy-five cents to swap it for "regular" milk. And I'd rather put that money toward my avocado toast fund.
But oat milk is stupidly easy to make, no matter how little experience you have in the kitchen. While almonds have to be soaked for multiple hours and then peeled, oats can be blended right up with water, producing a finished product in five minutes or less. Plus, oats are a lot cheaper than almonds, so if you do manage to mess this recipe up, it's not as soul crushing.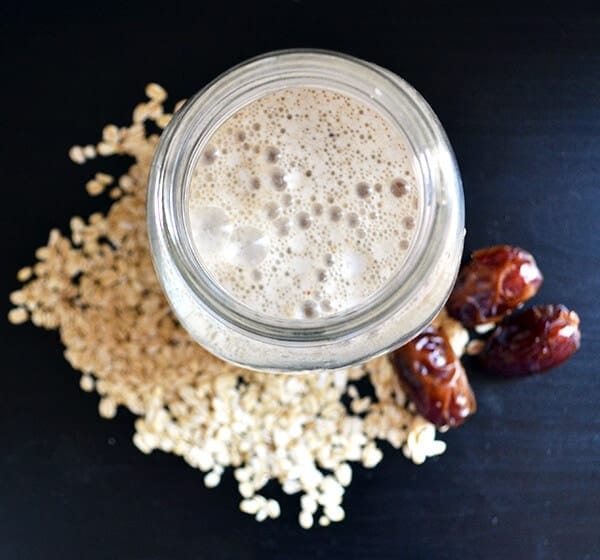 Homemade Oat Milk
Print Recipe
This oat milk recipe could not be easier! Just combine oats and water to make at milk and home. Add dates, vanilla, other other spices as desired.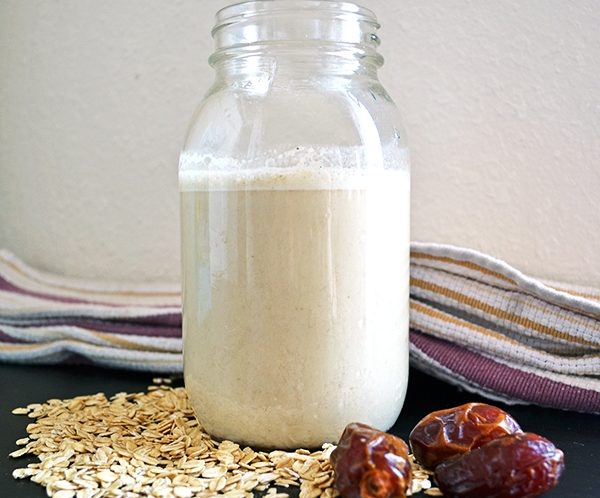 Servings: 3 servings
Ingredients
1 cup rolled oats
2¾ cups water
½ tsp. vanilla extract (optional)
2-3 dates (pitted (optional))
Instructions
Place oats, water, vanilla extract, and dates in blender.


Blend until oats are blended and mixture is an even consistency, approximately 30-60 seconds.


Place mesh strainer over bowl and pour oat mixture into strainer. Press down to strain all liquid from oats.


Transfer oat milk to sealable container such as a Mason jar and store in refrigerator.

Notes
Change the consistency of the oat milk by using more or less water
Adjust the recipe to your taste buds. For sweeter oat milk, add more dates, honey, or maple syrup. For chocolate oat milk, add cocoa powder.
You may use a nut bag instead of a mesh strainer to strain the mixture.
That's it. This is seriously the easiest recipe ever.
Nutrition Facts
Homemade Oat Milk
Amount Per Serving (1 cup)
Calories 100 Calories from Fat 18
% Daily Value*
Fat 2g3%
Polyunsaturated Fat 1g
Monounsaturated Fat 1g
Sodium 4mg0%
Potassium 93mg3%
Carbohydrates 18g6%
Fiber 3g13%
Sugar 1g1%
Protein 3g6%
Iron 1.3mg7%
* Percent Daily Values are based on a 2000 calorie diet.
Did you make this recipe?
Leave a review below, then take a photo and tag @letseatcakeblog on Instagram so we can see it!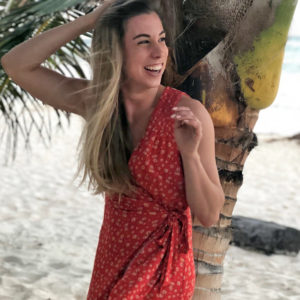 Latest posts by Hannah Rex
(see all)