Just when you thought you'd seen all the nut milks, here comes Pistachio Milk. This, surprisingly not really greenish nut juice (there, we said it), is made from a blend of… you guess it Sherlock, pistachios.
Now that you've cracked that case (and thrown your shells in the nearest receptacle), it's time to dig into what this "new" vegan dairy alternative is about. Will it unseat Oat Milk as the reigning non-dairy contender? Will it do our taxes? Is it actually tasty?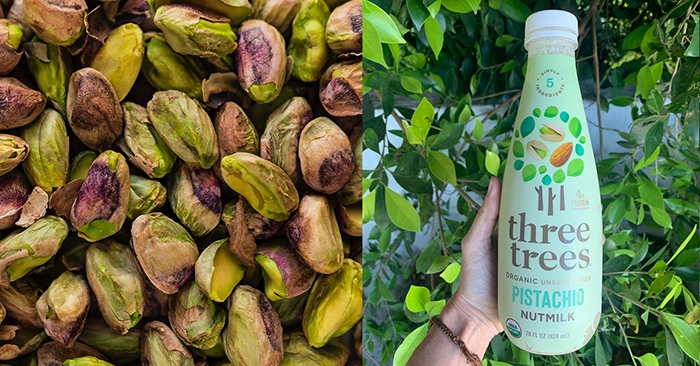 What Does Pistachio Milk Taste Like?
When it's cold and straight out of the carton, it's slightly sweet and tastes vaguely like butter mints and pistachio.
I frothed some up and mixed it with our morning espresso. It frothed up well, and despite the slight curdling that happened when it hit the hot coffee, I took a sip. That might have been a mistake. The rest of the latte went promptly down the drain.
But, the next morning, I headed over to Compelling Coffee, one of the few coffeshops in LA that currently carries the green juice, and ordered a vanilla latte with pistachio milk. It was surprisingly good! The flavor wasn't overpowering, and because of that, the vanilla stood out more than it usually does when I get a whole milk latte. I'm now curious how it would be with matcha or rosewater, two other flavors that are said to pair well with it.
So, I recommend trying it! I drink my morning lattes with whole milk. Not almond, not soy, not even oat (unless I'm having a cookie butter latte, then ok). And, usually, the only non-dairy milk I like in my latte is macadamia nut. So, if you're a regular non-dairy drinker, go try it and tell us what you think of it in the comments.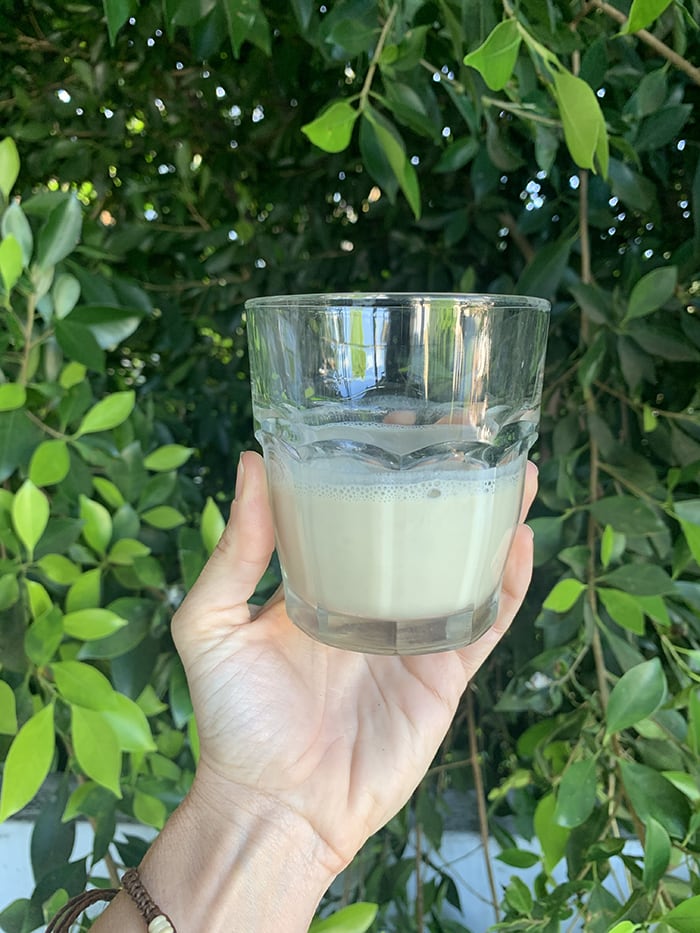 Where Can I Get Pistachio Milk?
You can make some! Just scroll down, because there's a pistachio milk recipe at the bottom. Everyone else, keep reading.
There are two brands currently producing pistachio milk: Three Trees and Táche. If the trend follows oat or almond milk's trajectory, Starbucks should have it in three years.
Táche
Founder and CEO Roaxana Saldi launched Táche in November 2019. Their branding reminds us of food products from the turn of the century, but without the ingredients we thought were healthy 100 years ago. Looking at you, Coke.
Their plant milk comes in original and unsweetened, The original is sweetened with cane sugar and has 80 calories per cup. The original unsweetened variety has 50 calories per cup. Neither has added oils, unlike oat milk.
You can get Táche at stores like Foxtrot in Chicago, upscale grocery stores in New York, or cute coffeeshops in Los Angeles. (Here's the full list of where it's available.) Or, you can order it online like everything else these days and get six 32 oz. cartons for $48.
Three Trees
Three Trees has been around since 2013 and this isn't their first nut milk rodeo. They've been making oat and almond milks for some time in various flavors like black sesame and vanilla bean. Which is probably why they decided to throw some almonds into their pistachio blend. (Táche only contains pistachios.)
Three Trees comes in one flavor at the moment — organic unsweetened — but is higher in calories and fat because it's packed with more nut flavor per ounce. Like Tache, it also doesn't have any oils.
You can order six 28 oz. bottles online for $41.94, but it's also available at Gelson's, Whole Foods, Sprouts, and other locations.
How Many Calories Are In Pistachio Milk?
| | | | |
| --- | --- | --- | --- |
| Nutritionals | Original Táche | Original Unsweetened Táche | Three Trees |
| Calories Per Cup | 80 | 50 | 100 |
| Fat | 3.5g | 3.5g | 8g |
| Carbs | 9g | 3g | 4g |
| Fiber | 1g | 1g | 2g |
| Added Sugar | 6g | 0g | 0g |
| Added Sugar | 6g | 0g | 0g |
| Protein | 2g | 2g | 4g |
Is Pistachio Milk Good for You?
So, you're ready to make a pistachio milk matcha latte. But you might be wondering… is this actually good for me?
Honestly, it's as good as almost any nut milk! Once you pulverize the nuts and leave the pulp behind, you've lost most of the calcium, fiber, and protein of the food. But, if you're looking for a non-dairy alternative, it's fine! And, it does have less natural sugars than everyone's darling, oat milk.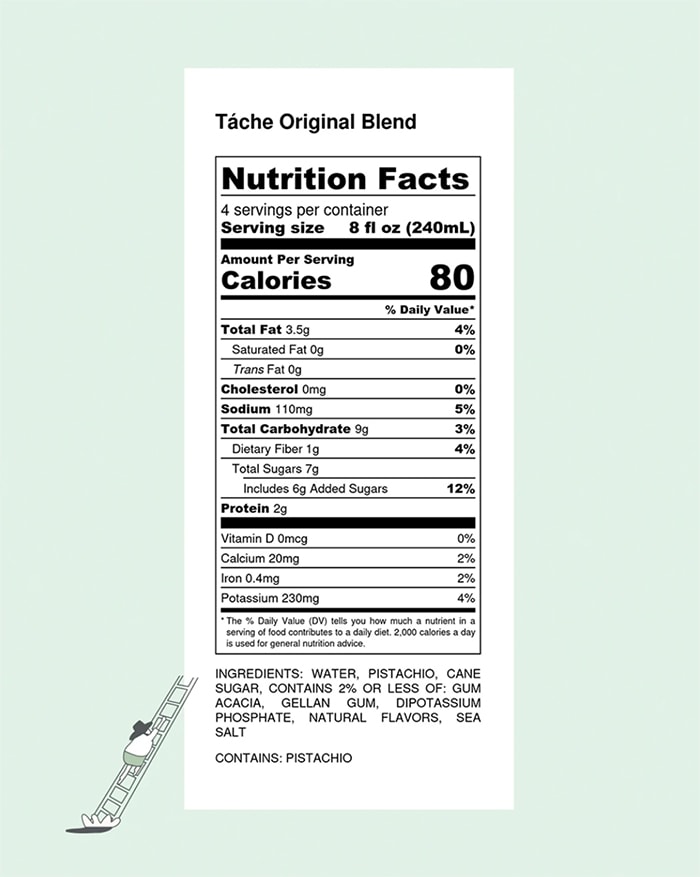 It is however, possibly better for the planet than almond milk. Pistachios reportedly grow with about 75% less water than it takes to grow those thirsty almonds. Considering water is going to be a precious commodity in the future (Michael Burry is already investing in water in case you needed a reason to worry), good on them for this.
Where to Buy Pistachio Milk
If you don't want to make your own, and TBH we don't blame you, you can get buy pistachio milk either online at Three Trees or Táche, or — depending on the brand — at your local coffeeshop, on Amazon or at Whole Foods, or at a specialty grocery store.
How to Make Pistachio Milk
Making DIY pistachio milk is pretty easy, just like making homemade oat milk. Here's how.
Pistachio Milk Recipe
Print Recipe
Here's how to make your own DIY pistachio milk at home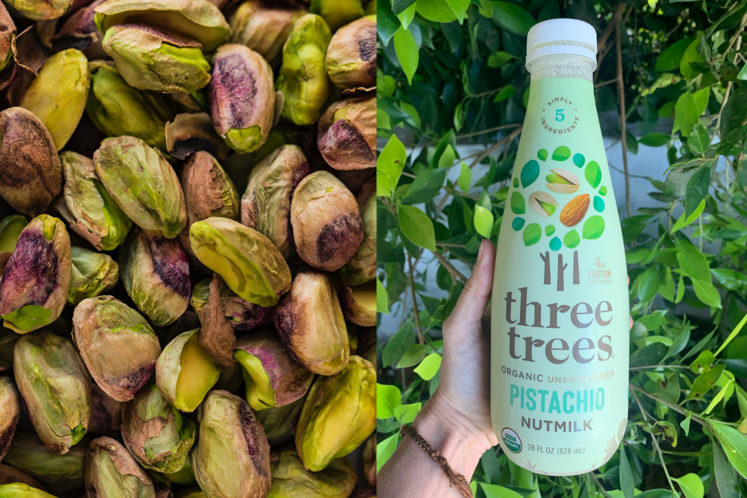 Servings: 4 servings
Ingredients
1 cup raw pistachio nuts (shelled)
3 cups water
1 pinch sea salt (optional)
Instructions
Soak pistachios overnight.


Drain and rinse then blend in a food processor or blender until they are small pieces.


Add water and salt and blend until smooth.
 Add more water if needed.

Pour through cheesecloth, sieve, or nut milk bag and squeeze out as much milk as you can. Save pulp for overnight oatmeal.


Place in airtight container and use within 3 days.
Notes
You can add dates, vanilla syrup, rosewater syrup for more flavor.
To make the mixture a more vibrant green, peel the pistachios.
Nutrition Facts
Pistachio Milk Recipe
Amount Per Serving (8 oz)
Calories 80
% Daily Value*
Carbohydrates 3g1%
Protein 2g4%
* Percent Daily Values are based on a 2000 calorie diet.
Did you make this recipe?
Leave a review below, then take a photo and tag @letseatcakeblog on Instagram so we can see it!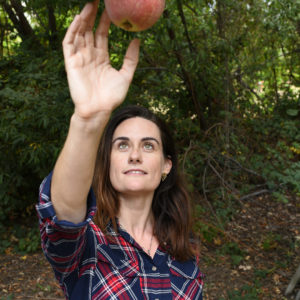 Latest posts by Rebecca Swanner
(see all)