When it comes to fall flavors, chai is one of my favorites. And this year, it seems to be everywhere! I created these Chai Baked Donuts with a Vanilla Cinnamon Glaze. They're a little bit savory, a little bit sweet, and oh so fall. I think you'll love them!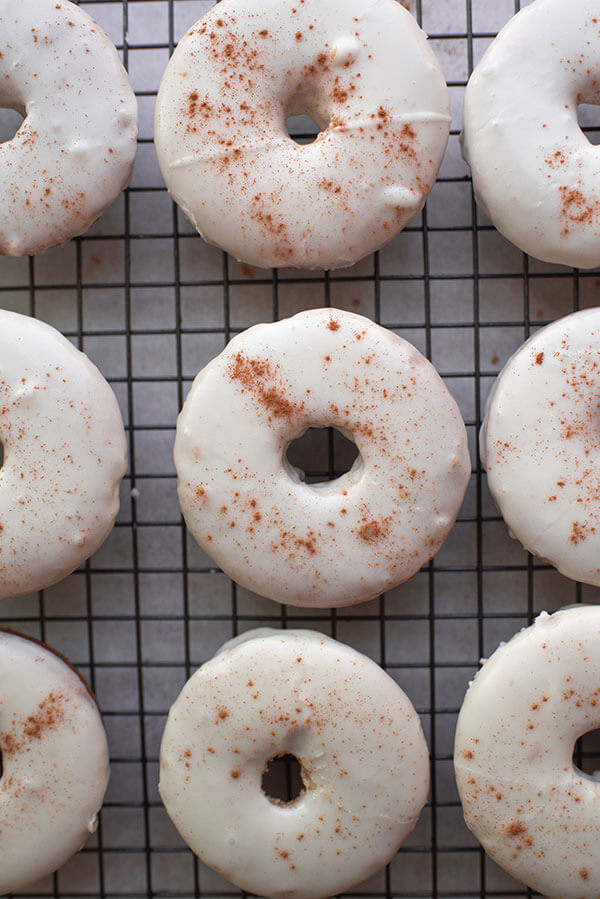 What Is Chai?
Chai, which to most Americans (and myself) conjures up this a sweet milky beverage flavored with warming cardamom and other spices, just means "tea" in Hindi. Yep, that means "Chai tea" means "tea tea." The chai that we're familiar with would be called masala chai in India, and there are many ways of making it!
And, while a chai latte is delicious on a cold day — in fact, I didn't drink coffee until I was about 30, so when I'd go out with friends to coffeeshops, I'd usually get chai — but there's so many other ways to enjoy chai flavor. Like in donuts.
Because it seems that chai is making a serious comeback. For years, coffee was all the buzz (and hey, for good reason!) but this year, it seems chai is making a run for the spotlight. Starbucks just launched a Pumpkin Spice Chai Latte — let me know what you think of it in the comments! — and Avery Brewing just launched their seasonal Chai High, a brown ale brewed with Bhakti Chai tea. Ready to make some Chai Baked Donuts and get in on the trend? Let's do it!
How to Make Chai Donuts
I was having a bit of a stressful week and weekend (almost my entire family was somewhere in Hurricane Irma's path), and I was looking for something to bake. The recipe for a Chai-Spiced Bundt Cake on the King Arthur Flour popped up on my Facebook wall, and I was like, yup, that's it. So I made it. Well, sorta. Like every baker, I tweaked it a bit… and turned the recipe into Chai Baked Donuts with a vanilla cinnamon glaze.
What I love about this Chai Baked Donut recipe is that it's involved enough to distract you from whatever else is going on outside the kitchen, but not involved enough so it's stressful as a recipe itself. I find that a stand mixer always makes things easier (or at least less messy), but it's not a must for this. As long as you have a mixer and two donut pans, you can make this recipe. Other tools (a round piping tip, a piping bag, and a fun spatula) will of course make it easier, but they're not a must if you're a MacGyver at doing that whole this isn't a real piping bag but look how well I'm piping with it thing. For me, that just means the floor, myself, and probably the cat are all covered in icing. So, it's all real piping bags for me.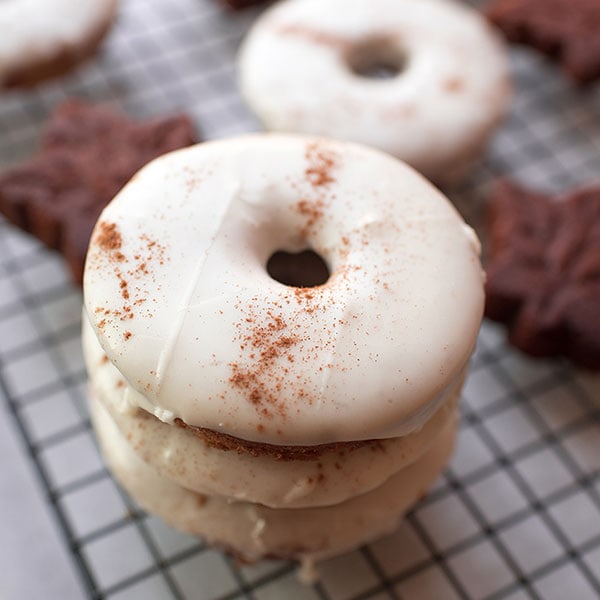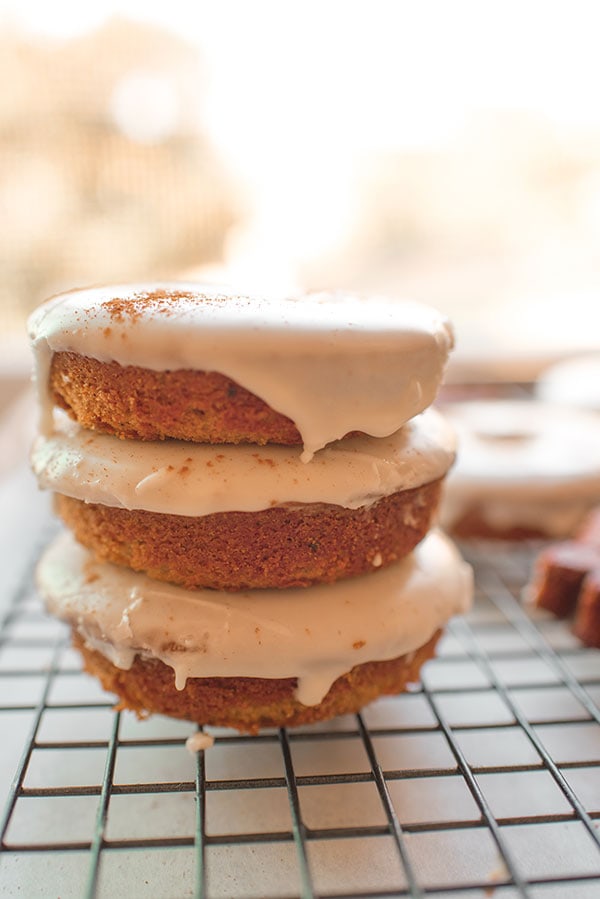 To make the Chai Donuts, preheat the oven to 350°F and create the chai spice mix. Adjust the spiced in the chai mix to your liking (add a little more ginger or cinnamon or even a pinch of cloves), and then add 3 tablespoons of the mixture to a small bowl. To this bowl stir in the flour, baking powder, baking soda, and salt. Set the bowl aside. In another small bowl, combine heavy cream, Greek yogurt, and vanilla. Set this bowl aside. Add butter, sugar, and honey to the bowl of your stand mixer and beat on medium speed until lighter in color. Add the first egg. Let the mixer run for about a minute before adding the second. Add the flour mixture and let this mix on low until combined.Then add the heavy cream mixture and mix on low until combined.
Once your Chai Baked Donut batter is ready, scrape down the sides and transfer the mixture to a piping bag fitted with a round piping tip. Pipe the mixture into a nonstick donut pan sprayed with nonstick spray and bake for 10-15 minutes or until it bounces back just a little. Let the pan of baked donuts cool on a baking rack for 5 minutes, then carefully remove and let cool fully on the baking rack. I found that they stuck a bit to the pan, so you might want to consider oiling and flouring the pan. I'm going to give them another go to see if I can figure out how to get them to not stick at all. If you find a way, let me know!
Also, the recipe makes 18 baked donuts, but I didn't have three donut pans, so I baked maple leaf cakes by piping the batter into a fall-themed whoopie pie baking pan.
Once the baked Chai Donuts are fully cooled, top them with the Vanilla Cinnamon Glaze! Looking for more donuts? Try these S'mores Baked Donuts or these Red Velvet Donuts!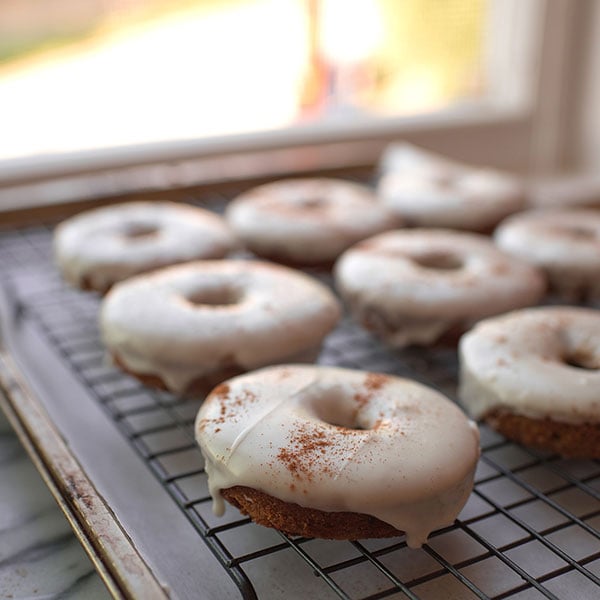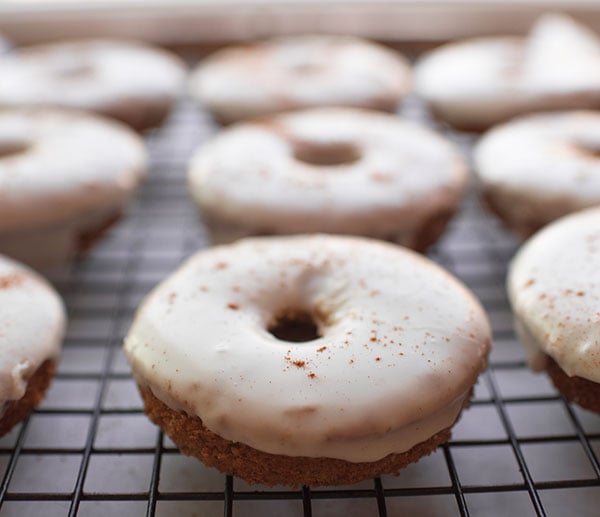 Chai Baked Donuts with Vanilla Cinnamon Glaze
Print Recipe
These chai baked donuts with vanilla cinnamon glaze taste like fall!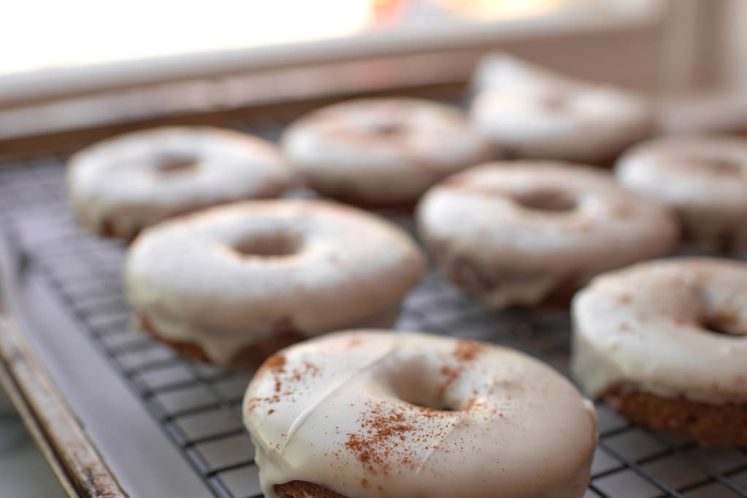 Servings: 18 donuts
Ingredients
Chai Spice Mix
1 Tbsp. ground cinnamon
2 tsp. ground ginger
2 tsp. ground cardamom
1½ tsp. ground allspice
½ tsp. black pepper
Chai Baked Donut Batter
2 cups flour
1 tsp. baking powder
¼ tsp. baking soda
1 tsp. salt
¾ cup nonfat Greek yogurt
¼ cup heavy cream
2 tsp. vanilla extract
1 cup unsalted butter (room temperature)
1 cup sugar
1 Tbsp. molasses
2 large eggs
Vanilla Cinnamon Glaze
2 cups powdered sugar
1 tsp. vanilla extract
⅛ tsp. ground cinnamon
1 pinch salt
3 Tbsp. heavy cream
Instructions
Chai Spice Mix
Combine cinnamon, ginger, cardamom, allspice, and black pepper. Add additional spices to taste.

Chai Baked Donut Batter
Preheat oven to 350°F. Spray three donut pans with nonstick spray. (See note if you don't have three pans)


Combine flour, baking soda, salt, and 3 Tbsp. chai spice mixture in small bowl. Set aside.


Combine Greek yogurt, heavy cream, and vanilla in small bowl. Set aside.


Add butter, sugar, and molasses to standing mixture. Combine for 2 minutes on high speed.


Add egg. Run mixer for one minute. Add second egg. Let mixture run for one minute.


Reduce speed to low. Add flour mixture. Mix until combined.


Add yogurt mixture. Mix until combined.


Scrape down sides and transfer batter to piping bag fitted with round piping tip. Pipe into prepared donut pans and bake for 10-15 minutes or until donuts bounce back slightly.


Remove pans from oven and let cool on cooling rack for 5 minutes. Remove donuts from pans and let cool completely.

Vanilla Cinnamon Glaze
Add powdered sugar, vanilla, cinnamon, salt, and heavy cream to bowl of standing mixer.


Beat on medium-high until combined. Add additional powdered sugar or cream as needed to obtain desired consistency.
Notes
You can swap 1 cup of sour cream for the heavy cream + Greek yogurt mixture and 1 cup brown sugar for the sugar + molasses mixture. The original King Arthur Flour recipe calls for both but I didn't have either, so I had to improvise!
I had some batter left over, but only two donut pans, so I used another pan to make six maple leaf-shaped cakes!
Nutrition Facts
Chai Baked Donuts with Vanilla Cinnamon Glaze
Amount Per Serving (1 donut)
Calories 269 Calories from Fat 117
% Daily Value*
Fat 13g20%
Saturated Fat 9g56%
Cholesterol 47mg16%
Sodium 166mg7%
Potassium 50mg1%
Carbohydrates 34g11%
Fiber 1g4%
Sugar 24g27%
Protein 3g6%
Vitamin A 450IU9%
Calcium 30mg3%
Iron 0.2mg1%
* Percent Daily Values are based on a 2000 calorie diet.
Did you make this recipe?
Leave a review below, then take a photo and tag @letseatcakeblog on Instagram so we can see it!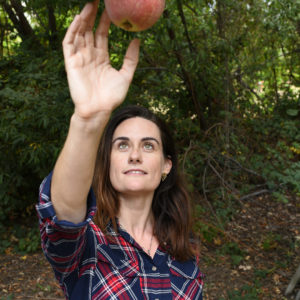 Latest posts by Rebecca Swanner
(see all)