Few baked things announce Fall more that your stoned roommate and the "Welcome Fall!" sign he decided to hang on the front door last night (subtlety is his love language). But, at least these baked Pumpkin Donut Holes rolled in cinnamon sugar are edible.
So, when it came time to participate in this year's Virtual Pumpkin Party hosted by Cake Over Steak, donuts it was. (Last year, we made these Pumpkin Spice Cupcakes with Brown Sugar Frosting.)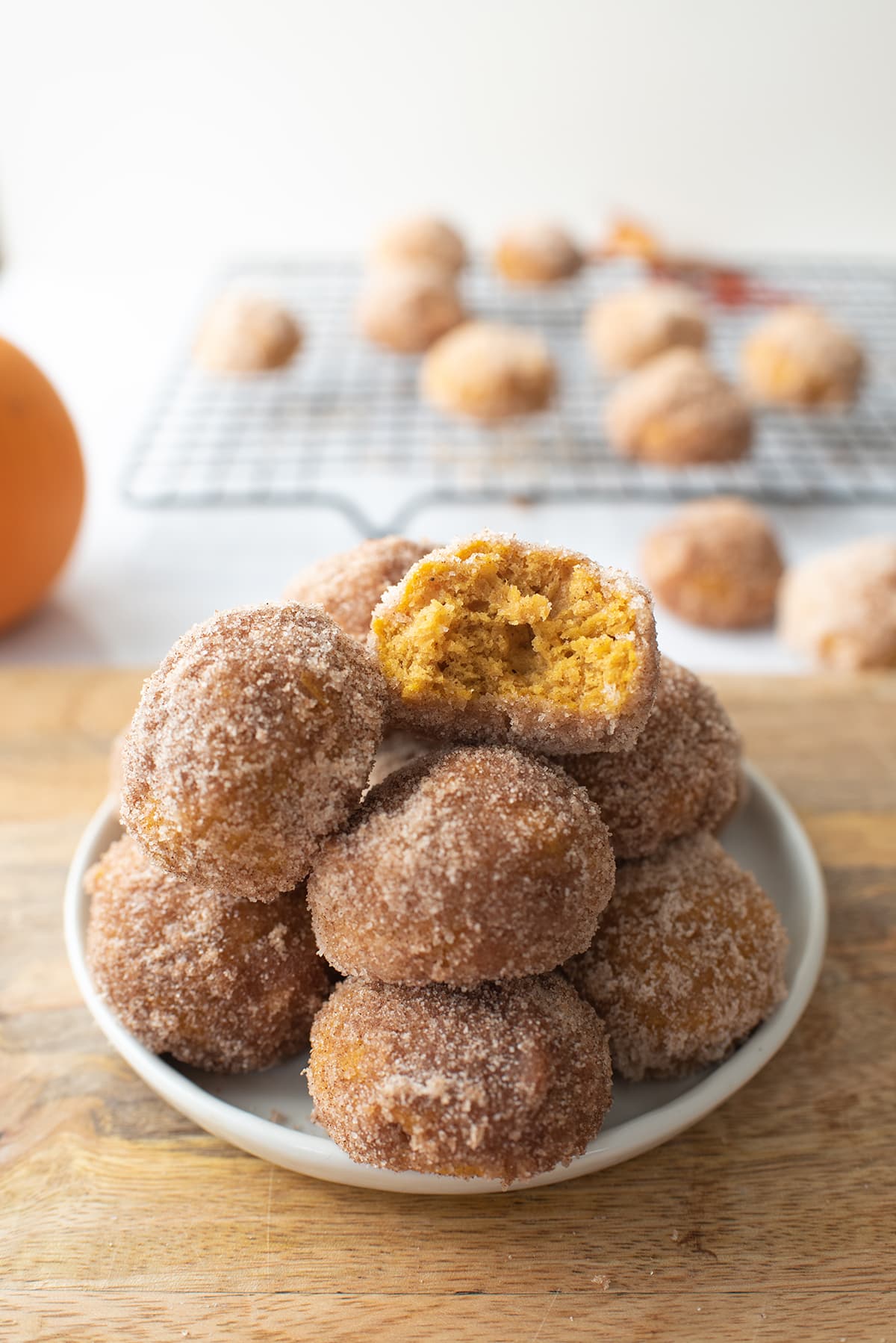 Some will say these aren't really donuts because they're baked not fried and because you make them in a mini cupcake pan. (Kids, we call these people haters. And haters don't get donuts. They get peach cobbler.)
Back to the Pumpkin Donut Holes. I like a classic donut as much as more than the next person, but if you want pumpkin donuts and don't want to deal with frying or waiting around for eight hours while dough keeps telling you it'll be just five more minutes, bake these.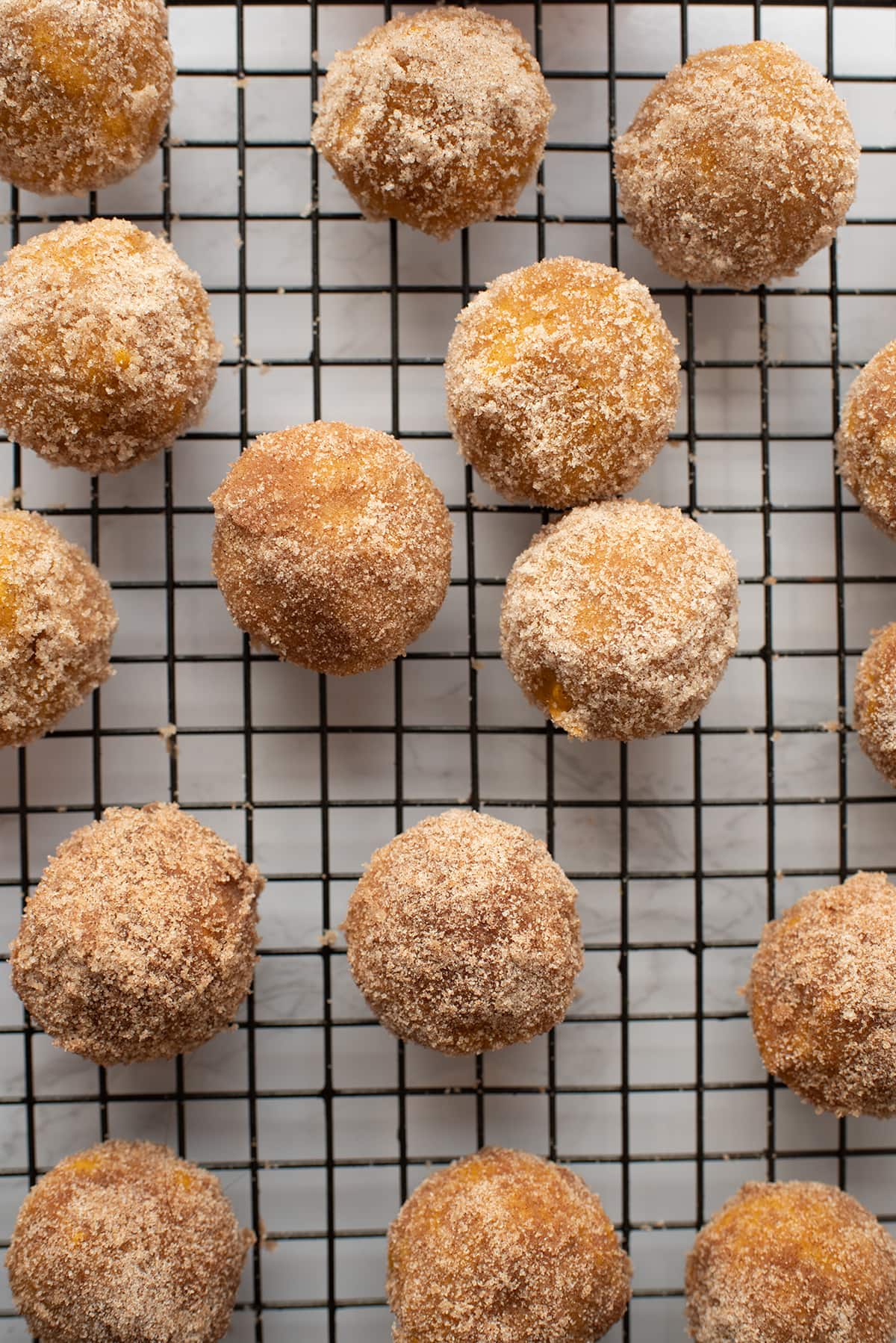 How to Make Pumpkin Donut Holes
These donuts are really easy to make. Preheat the oven to 375°F. Then, take your dry ingredients (flour, brown sugar, pumpkin pie spice, baking powder, and salt) and stir those together in one bowl. In your other bowl, beat an egg, add the pumpkin puree, vanilla extract, and milk, and whisk all of this together.
Add the pumpkin mixture to the dry mixture and stir this together until it's completely combined. Then, add the melted butter and stir it in until the mixture is an even consistency.
Grease the mini cupcake pan and add one tablespoon of dough to each cavity. Bake for 10 minutes or until they bounce back when pressed gently and let cool on a cooling rack.
When the donut holes have cooled, dip them in melted butter, shake off the excess and roll them in the cinnamon sugar mixture. And that's it!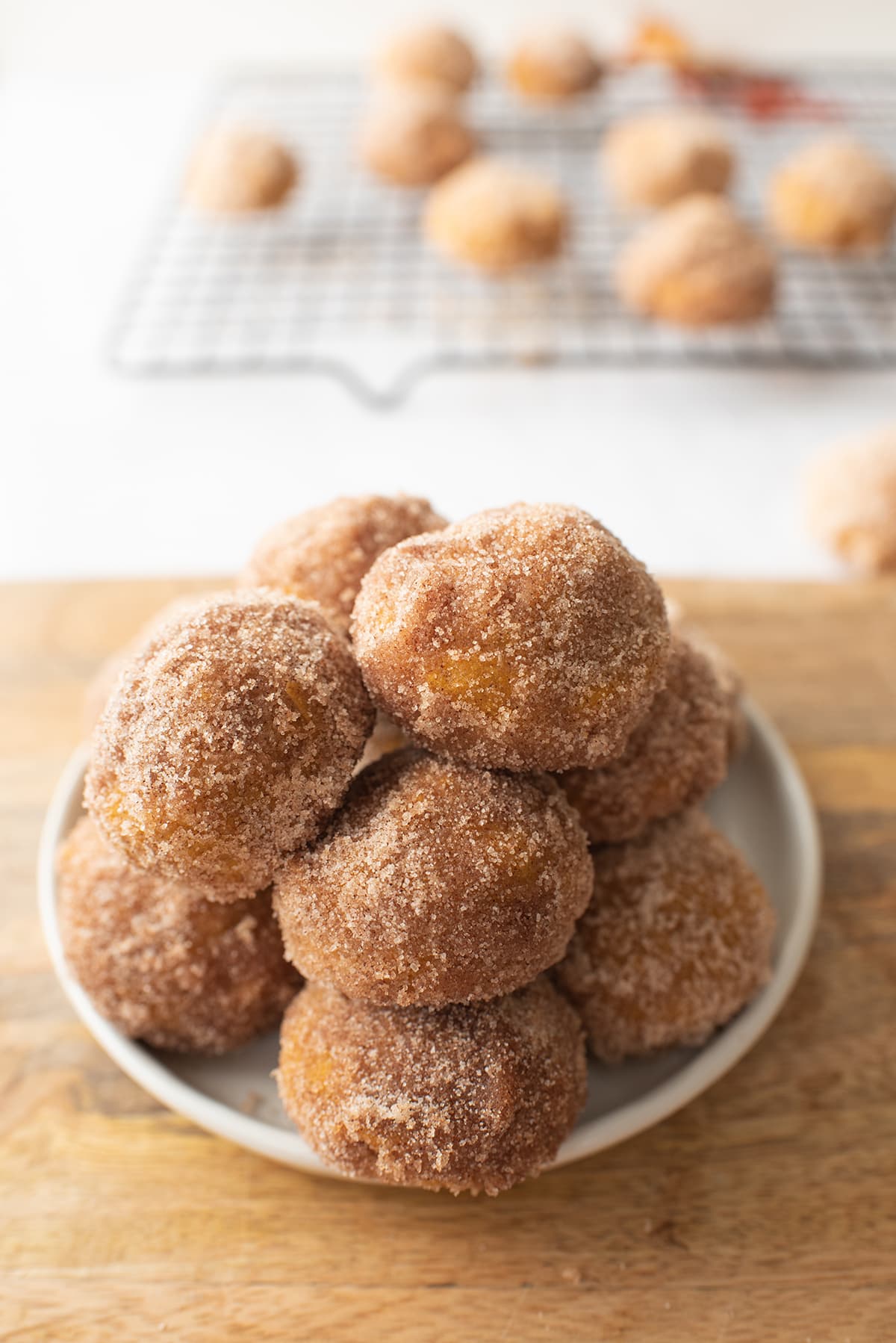 Pumpkin Donut Holes
Print Recipe
These pumpkin donut holes rolled in cinnamon sugar are an easy way to easy way to capture the flavors of fall.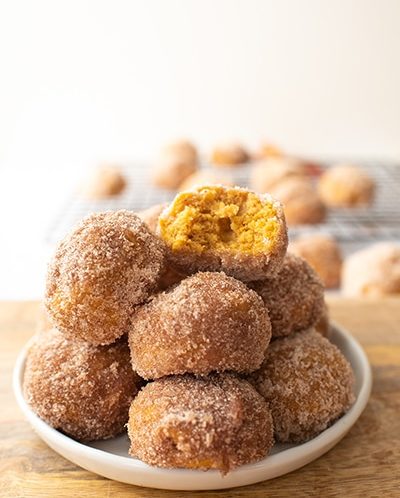 Servings: 31 donut holes
Ingredients
1½ cups all-purpose flour
¼ cup brown sugar
1½ tsp. baking powder
¼ tsp. salt
1 tsp. pumpkin pie spice
1 large egg
¾ cup pumpkin puree
1 tsp. vanilla extract
½ cup whole milk
2 Tbsp. unsalted butter (melted)
Cinnamon Sugar
½ cup unsalted butter
1½ tsp. ground cinnamon
1½ cup sugar
Instructions
Preheat oven to 375° F. Grease mini cupcake tin. Set aside.


Whisk flour, brown sugar, baking powder, salt, and pumpkin pie spice together in medium bowl. Set aside.


Beat egg in medium bowl. Add milk, pumpkin puree, and vanilla extract. Whisk until fully combined.


Add egg mixture to flour mixture and stir until fully combined. Add melted butter. Stir until combined.


Transfer 1 tablespoon of batter to each cupcake tin cavity.


Bake for 10 minutes or until donut holes bounce back slightly when pressed. Remove from oven and let cool on cooling rack.

Cinnamon Sugar
Combine cinnamon and sugar in small bowl. Set aside.


Melt butter in small bowl. Set aside.


Once donut holes have cooled, dip each in melted butter. Shake off excess. Roll in cinnamon sugar.

Nutrition Facts
Pumpkin Donut Holes
Amount Per Serving (1 donut hole)
Calories 78 Calories from Fat 36
% Daily Value*
Fat 4g6%
Carbohydrates 10g3%
Protein 1g2%
* Percent Daily Values are based on a 2000 calorie diet.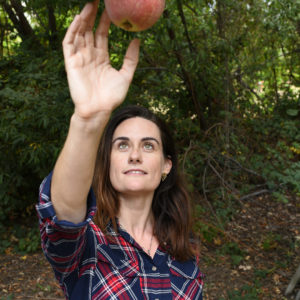 Latest posts by Rebecca Swanner
(see all)