When it comes to pumpkin spice flavor, these moist and delicious Pumpkin Cupcakes don't mess around. Top them with a Brown Sugar Cinnamon Cream Cheese Frosting and you'll be in heaven.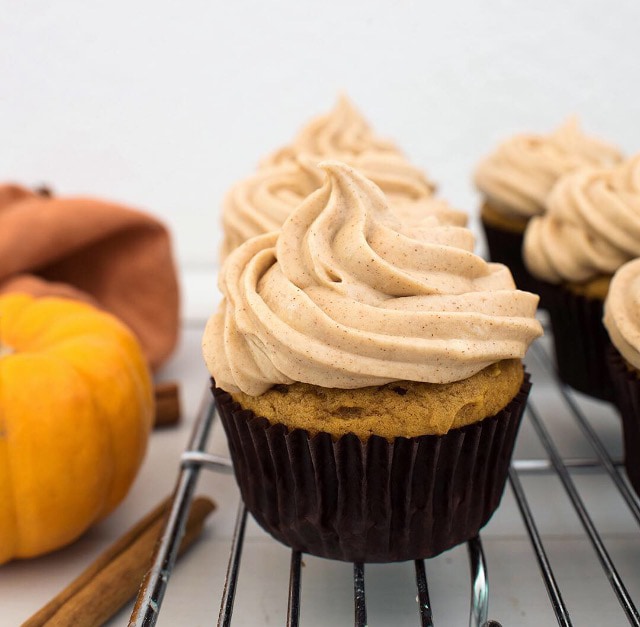 Pumpkin is one of the best fall flavors, wouldn't you agree? It's so versatile — make it into a soup, a cheesecake, a pie — and it's got that naturally burnt orange color that is so perfectly Halloween-y. As luck would have it, I was invited to be a guest this year at Cake Over Steak's Virtual Pumpkin Party, and naturally, I decided to bring a dessert, namely pumpkin cupcakes! They combine my love of pumpkin spice flavor with my love of little bites of cake and they're what I would have brought to an in-real-life pumpkin party!
How to Make Pumpkin Cupcakes
I am awfully fussy about cupcakes and most of them are much to sweet for me! I really love sweet things, but my goal for all of my recipes is for the flavor (i.e. not sugar) to be the first thing you taste. So, when I made this recipe for pumpkin cupcakes, I wanted to make sure they really tasted like pumpkin spice!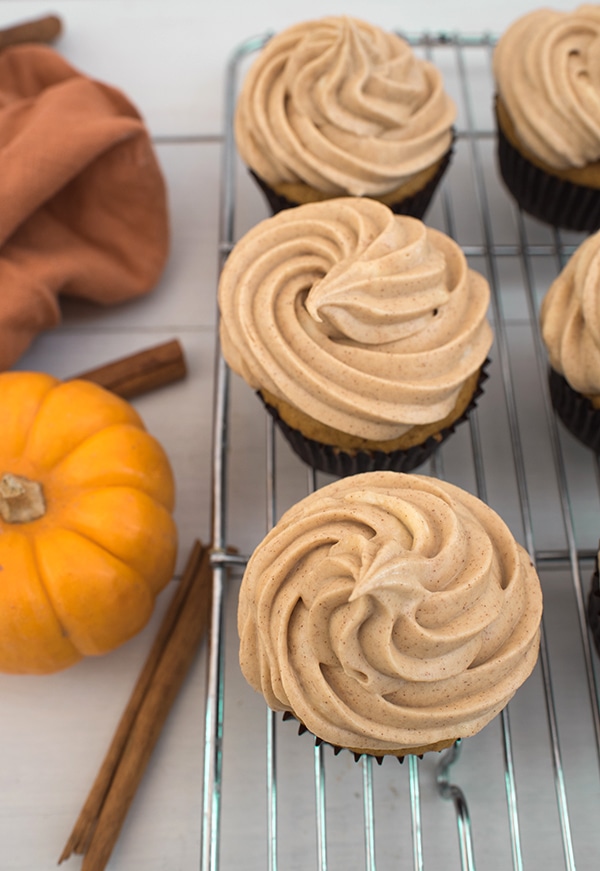 To make that happen, I used pumpkin puree and a combination of pumpkin pie spice plus individual spices like cinnamon, freshly ground nutmeg, and ginger to give the pumpkin cupcakes enough pumpkin spice oomph without going overboard. Because while too little pumpkin spice is bad, no one wants to feel like they're taking the cinnamon challenge eating a cupcake. Or, possibly, ever.
But, to take the cupcakes to the next level, you've got to add the cream cheese frosting. But not just any cream cheese frosting. Brown Sugar Cinnamon Cream Cheese Frosting. Biting through it adds a warming, sweet deliciousness that makes these pumpkin cupcakes ones you'll make again and again.
There is a trick though to making cream cheese frosting that you can pipe: Add the sugar last, and don't overdo it. To make the frosting perfect and pipeable, combine the confectioner's sugar, brown sugar, and cinnamon in a small bowl. Then, cream room temperature butter with cold cream cheese for 90 seconds. Then, add the sour cream and vanilla and let cream for 30 seconds. Only after this should you add the confectioner's sugar mixture. Beat on high for 90 more seconds. At this point the bowl should still be cold. Part of why the frosting gets so runny is because the cream cheese dissolves the sugar. That's why adding more won't solve the problem.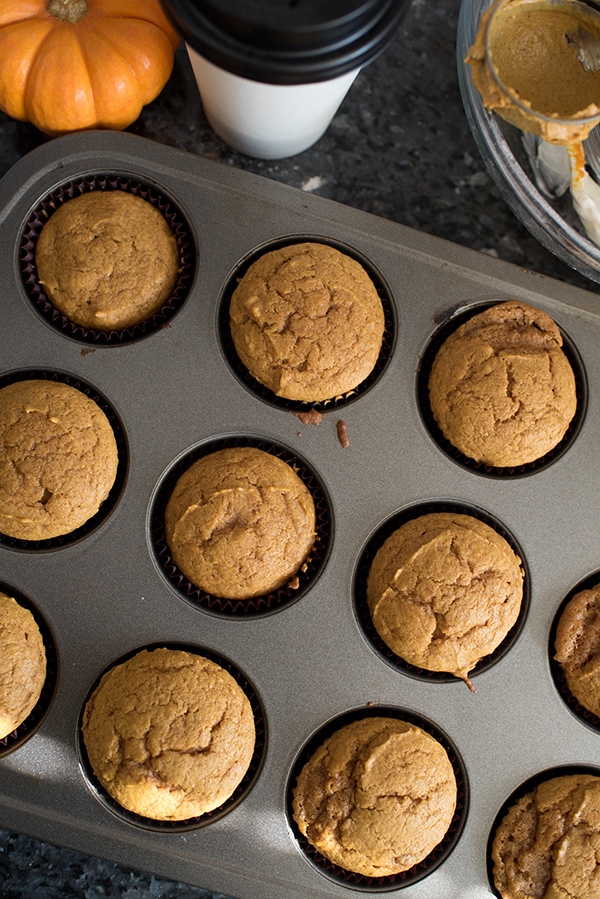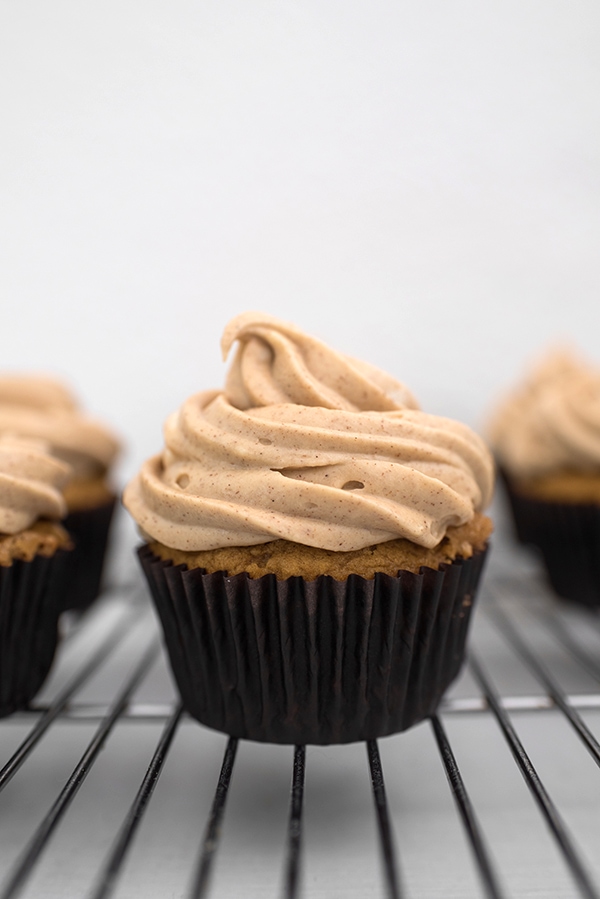 Check out the recipe below and tag me at @letseatcakeblog and #letseatcake on Instagram if you make it! And, don't forget to attend the Virtual Pumpkin Party and get lots of great free pumpkin recipes!
Pumpkin Spice Cupcakes with Brown Sugar Cream Cheese Frosting
Print Recipe
These pumpkin spice cupcakes have a layer of cinnamon-spiced cream cheese frosting that makes them oh so good!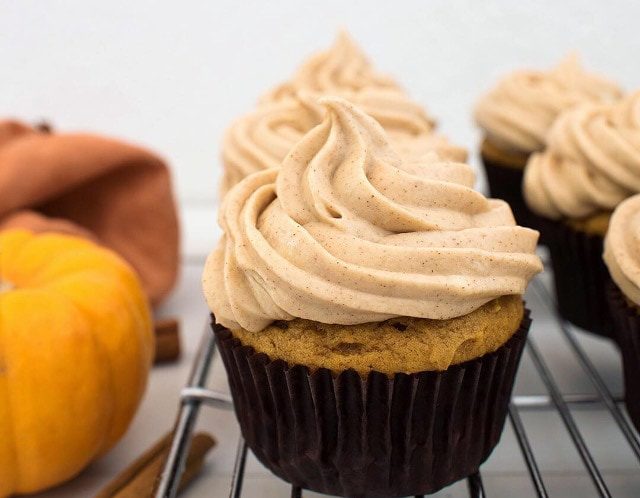 Prep Time: 20 mins
Cook Time: 25 mins
Total Time: 45 mins
Servings: 12 cupcakes
Ingredients
Pumpkin Cupcakes
½ cup brown sugar (packed)
½ cup sugar
6 Tbsp. butter (room temperature)
1 tsp. ground cinnamon
1 pinch freshly-ground nutmeg
1 pinch ground cloves
¼ tsp. ground ginger
¼ tsp. pumpkin pie spice
1½ cups all-purpose flour
½ tsp. baking powder
½ tsp. baking soda
¼ tsp. coarse kosher salt
2 large eggs
1 cup 100% pumpkin puree
2 tsp. vanilla extract
½ cup sour cream (divided)
Brown Sugar Cinnamon Cream Cheese Frosting
1¼ cup confectioner's sugar
¼ cup brown sugar
1 tsp. ground cinnamon
5 Tbsp. butter (room temperature)
8 oz. cream cheese (cold)
1 tsp. vanilla extract
1 Tbsp. sour cream
Instructions
Pumpkin Cupcakes
Preheat oven to 350°F and line muffin tin with 12 cupcake liners.


Cream brown sugar, sugar, and butter together for 3 minutes on medium-high speed.


Meanwhile, create spice mixture. Combine cinnamon, nutmeg, cloves, ginger, and pumpkin pie spice in small bowl. Adjust to taste if needed.


Combine flour, baking powder, baking soda, and salt in medium bowl. Add spice mix. Whisk to combine.


Add eggs, one at a time, to butter mixture. Let each combine for 30 seconds.


Add pumpkin. Add vanilla extract. Mix until fully combined.


With the mixer on low speed, add 1/2 of flour mixture to butter mixture. Mix until just combined. Add 1/4 cup sour cream. Repeat.


Fill cupcake liners with pumpkin batter using size 12 ice cream scoop or 1/4 cup measure.


Bake for 20-25 minutes or until tops bounce back when pressed lightly. Remove from oven and place on cooling for 10 minutes.


Remove pumpkin cupcakes from muffin tin and let cool fully on rack.

Brown Sugar Cinnamon Cream Cheese Frosting
Combine confectioner's sugar, brown sugar, and cinnamon in medium bowl.


In mixer, beat butter for 30 seconds on medium high. Add cream cheese and beat for 90 seconds.


Add vanilla and sour cream and beat for 30 seconds.


Add sugar mixture and beat for 10 seconds on low to allow mixture to combine, then 80-90 seconds on high.


Transfer cream cheese frosting to piping bag and decorate pumpkin cupcakes

Nutrition Facts
Pumpkin Spice Cupcakes with Brown Sugar Cream Cheese Frosting
Amount Per Serving (1 cupcake)
Calories 400 Calories from Fat 180
% Daily Value*
Total Fat 20g 31%
Total Carbohydrates 50g 17%
Protein 4g 8%
* Percent Daily Values are based on a 2000 calorie diet.

Save
Save
Save
Save
Save
Save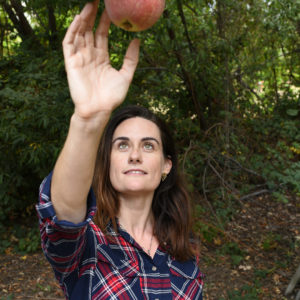 Pleased to meet you. I'm the founder and Editor-in-Chief of Let's Eat Cake: The world's first smart, funny lifestyle site for women.
My background is in publishing (I've worked at Parade, Men's Journal, Us Weekly, Stuff, Blender, Beachbody, and more), mostly with a focus in health, fitness, and entertainment. I've also run my own baking company and competed on Cupcake Wars, so hit me up with your baking questions!
For more details, check out my
full bio
or follow me on
Instagram
,
Twitter
, or
LinkedIn
.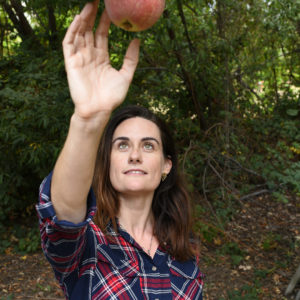 Latest posts by Rebecca Swanner (see all)