We've been gearing up for spooky season for weeks already, so we're more than ready for some Halloween cupcake ideas. And the great thing about treats decorated with gory brains and blood spatter means you can afford to be a little messy.
Whether you're baking for a kids Halloween party or having your besties over for a Hocus Pocus marathon, you'll find a bunch of spooktacular, gross, and funny Halloween cupcake ideas. From cute ghost cupcakes to ones featuring your favorite horror movie icons, this is the list dreams are made of. Or, uh, nightmares.
We're not afraid to try them all. Are you?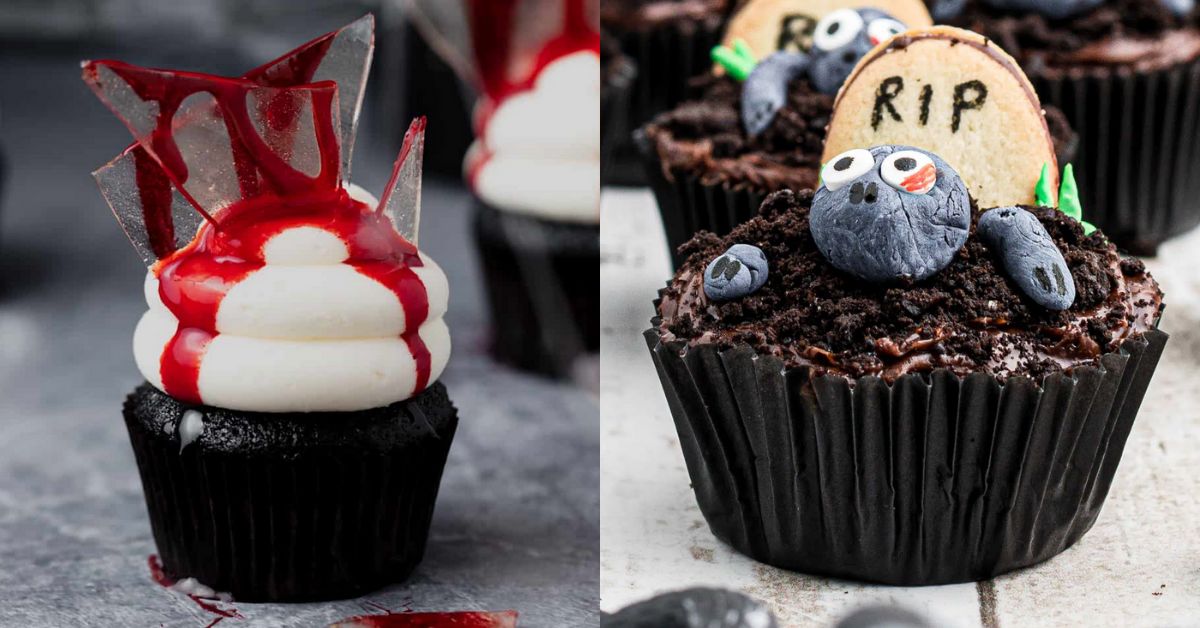 27 Halloween Cupcake Ideas
1. Cute Ghost Cupcakes
We always have at least one gluten-free option for guests when we entertain, and these simple ghosts are a boo-tiful option. Wanna make them creepier? No one says you have to stop at only two eyeballs per ghost. Go crazy.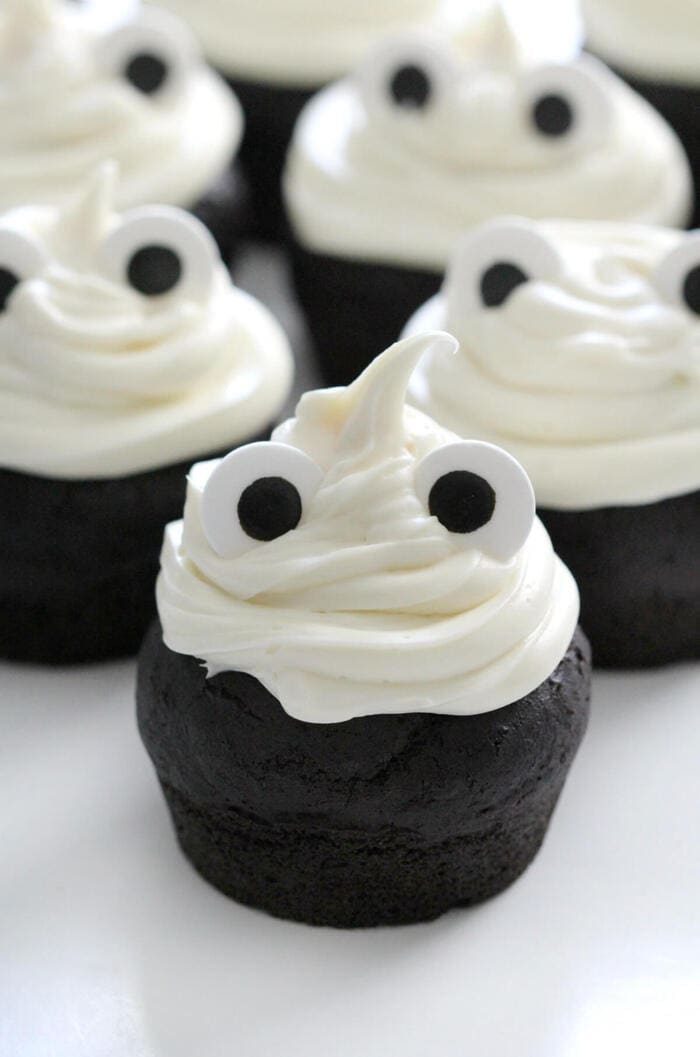 2. Easy Monster Cupcakes
The trick to making these "furry" monsters is just a piping bag. Really. It's not actually dog hair, we promise. Or maybe just that one was. Whoops.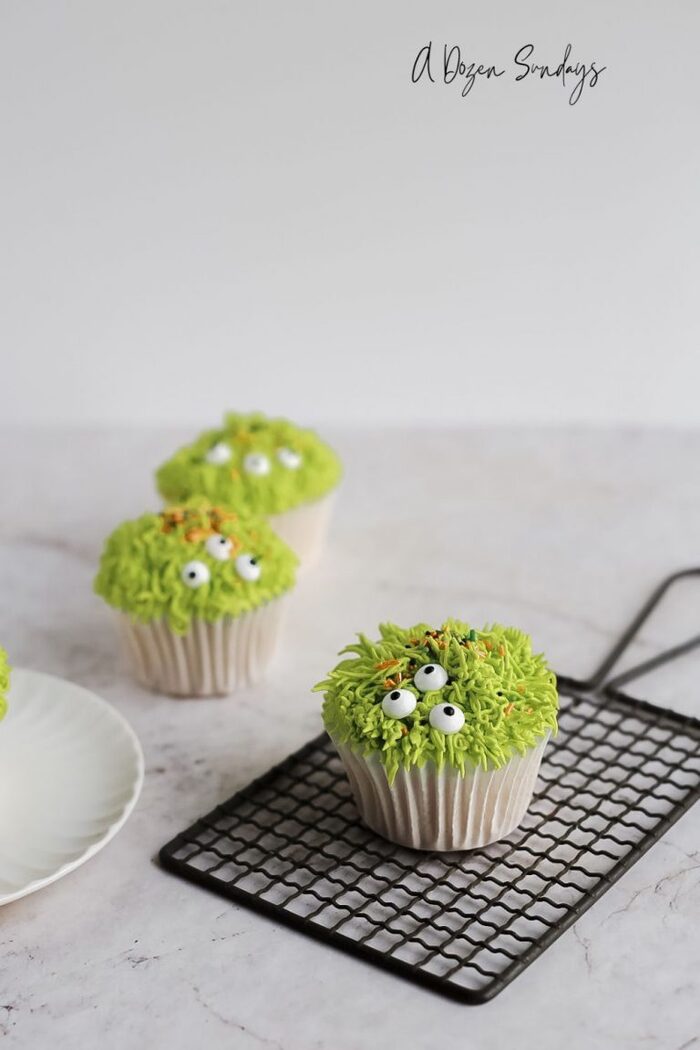 3. Classy Witch Hat Cupcakes
It's the season of the witch, and any witch worth her circle of salt has a cool, pointy hat. And once you create the hat toppers, they can go on any kind of cupcake you want. Or your guinea pig's head, if you prefer.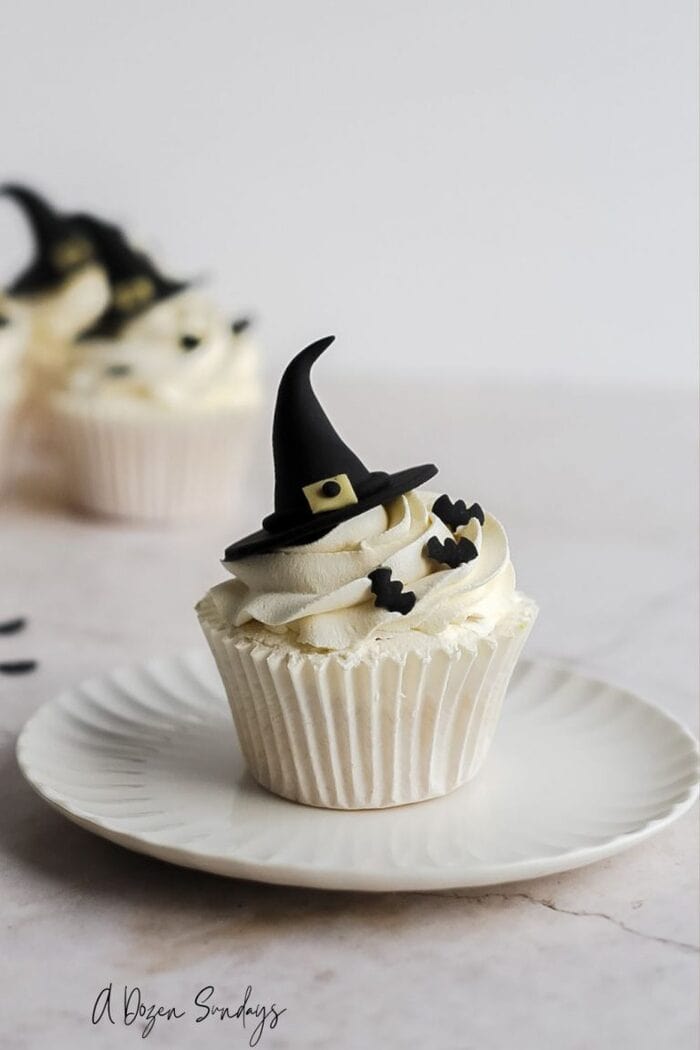 4. Frankenstein Cupcakes
All Frankenstein's monster really wanted was a friend, you know? These cute portrayals will give him a better chance than the kind that's made from galvanized corpse parts, you know? That guy might have better luck on Bumble.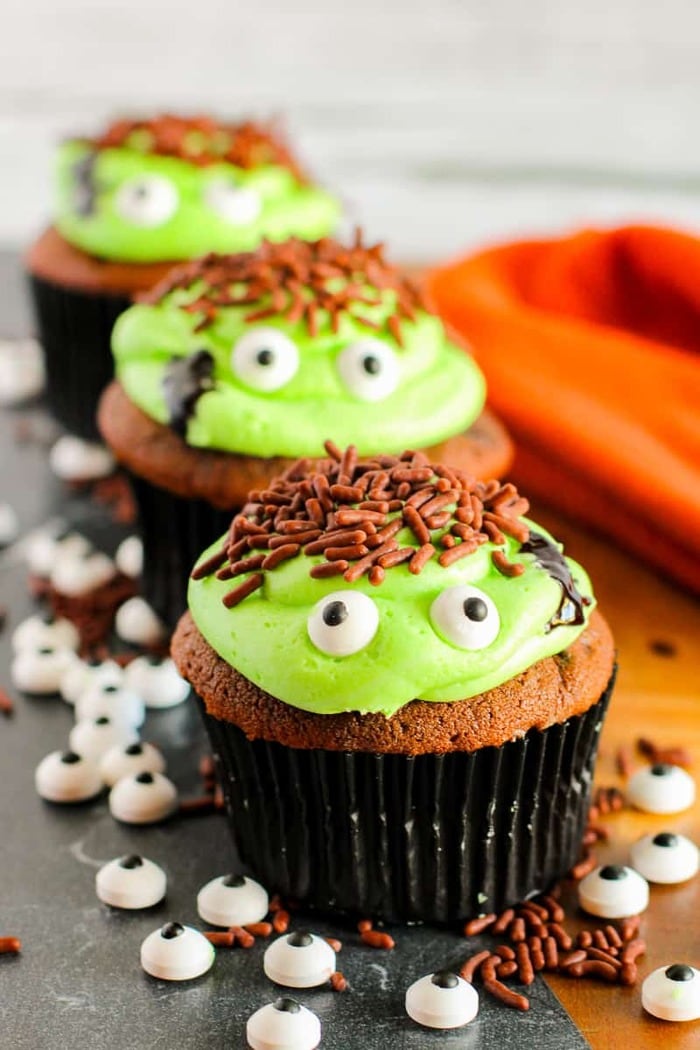 5. Crazy Creatures Cupcakes
Any Monsters Inc. fans will adore these bright-colored sprinkle-coated creatures. Hopefully not so much that they take permanent residence in a closet or under the bed.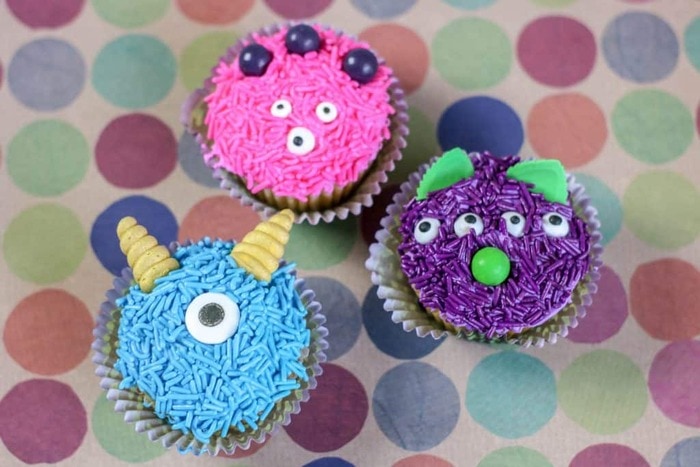 6. Halloween Eyeball Cupcakes
These sweet eyeball confections even include a gummy—just be careful which jar you take them from.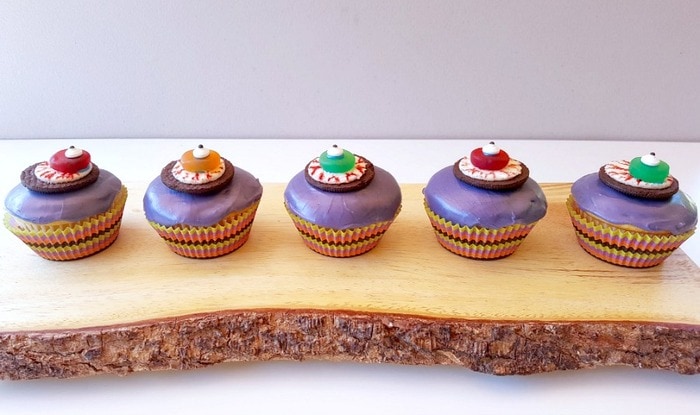 7. Gory Halloween Cupcakes
We've looked at hundreds of Halloween cupcake ideas this year already, and these may be the only ones that actually freak us out a little bit. And we love that. Although we're not sure we love walnuts anymore.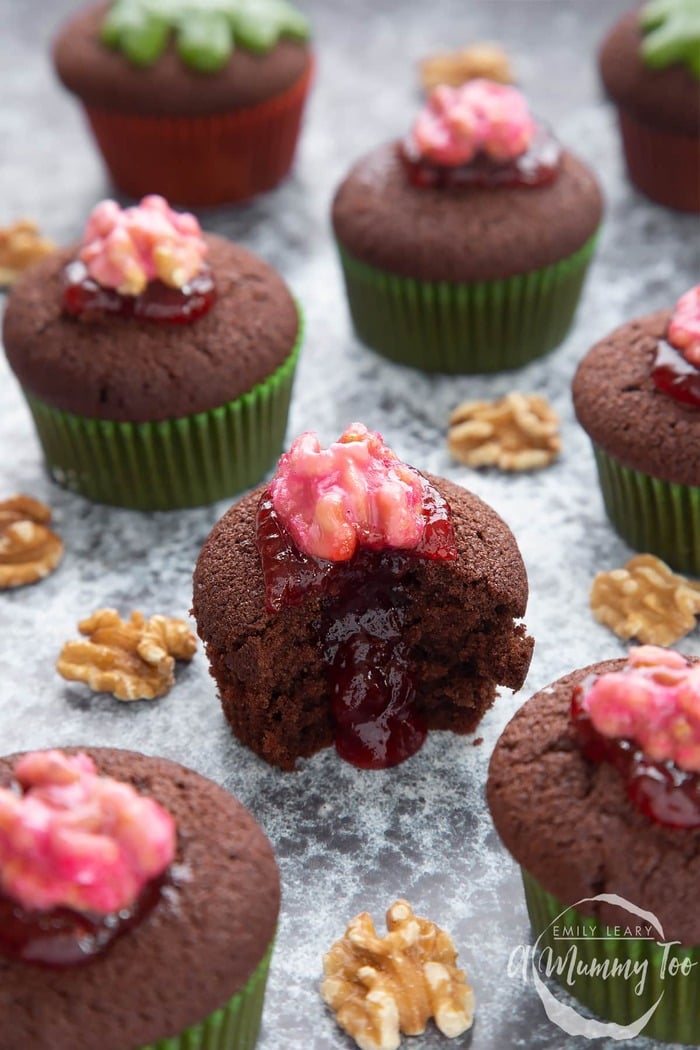 8. Werewolf Cupcakes
This recipe offers ideas for furry werewolf faces and even clawed werewolf paws. Now we'll cue up "I Was a Teenage Werewolf" and our Full Moon party is set. Or just being Team Jacob works, too.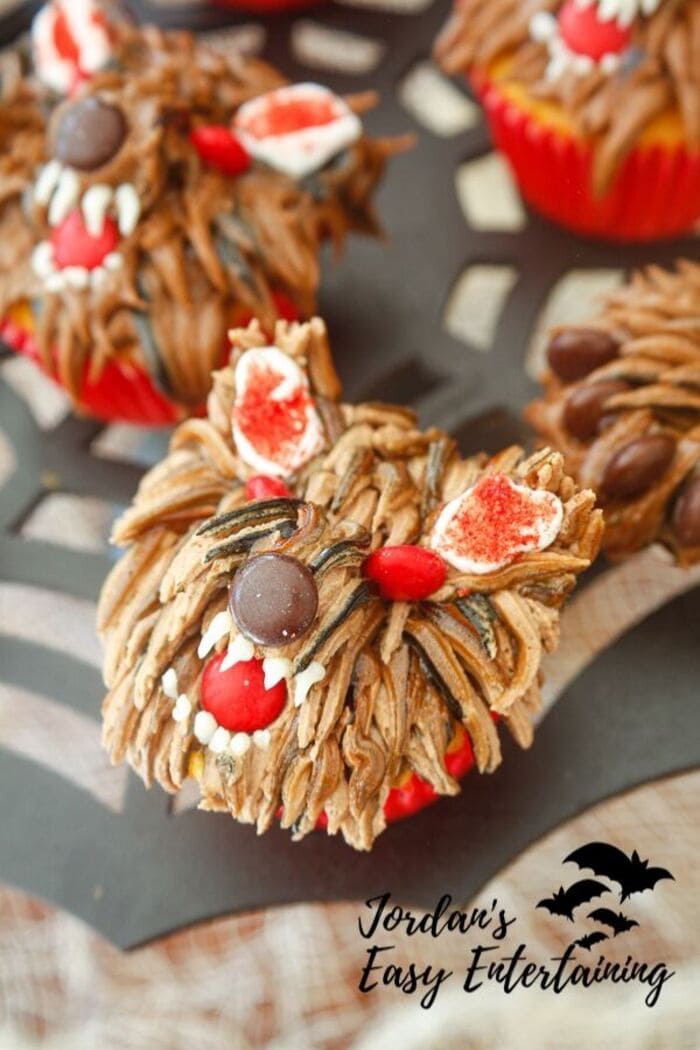 9. Little Shop of Horrors Cupcakes
We love this abstract, modern interpretation of hungry Audrey cupcakes. They have us saying, "Feed me, Seymour!" It's also lunchtime, so there's that.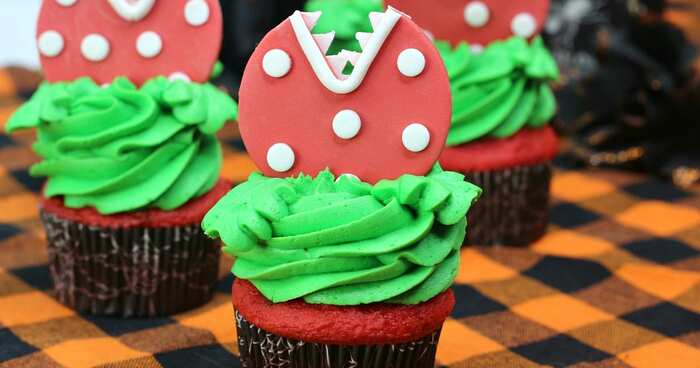 10. Friday the 13th Cupcakes
There is no better dessert to serve for your Friday the 13th marathon gathering. If you make a batch of 12, that's one for each film. Better make a baker's dozen, though, since Jason never dies. Neither will your sugar rush.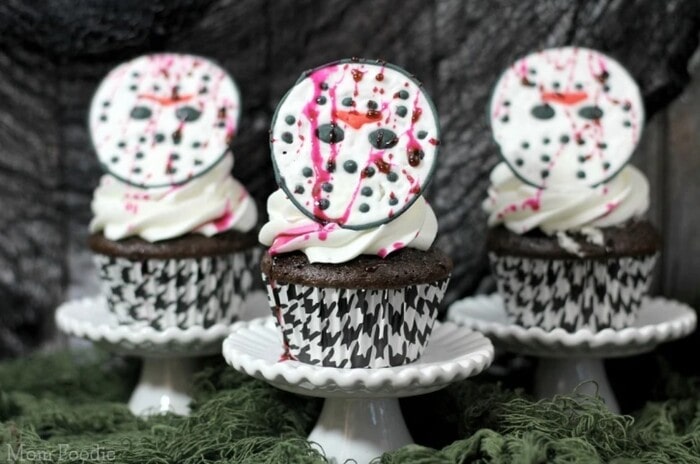 11. Zombie Cupcakes
This is the best use of Milano cookies we've ever seen. Aside from just inhaling them out of the bag, which is what we normally do.

12. Skeleton Cupcake Toppers
We can't even finish writing this caption, as we're already on our way to the store to buy yogurt-covered pretzels. Don't mind us, we'll just be building edible skeletons until Christmas.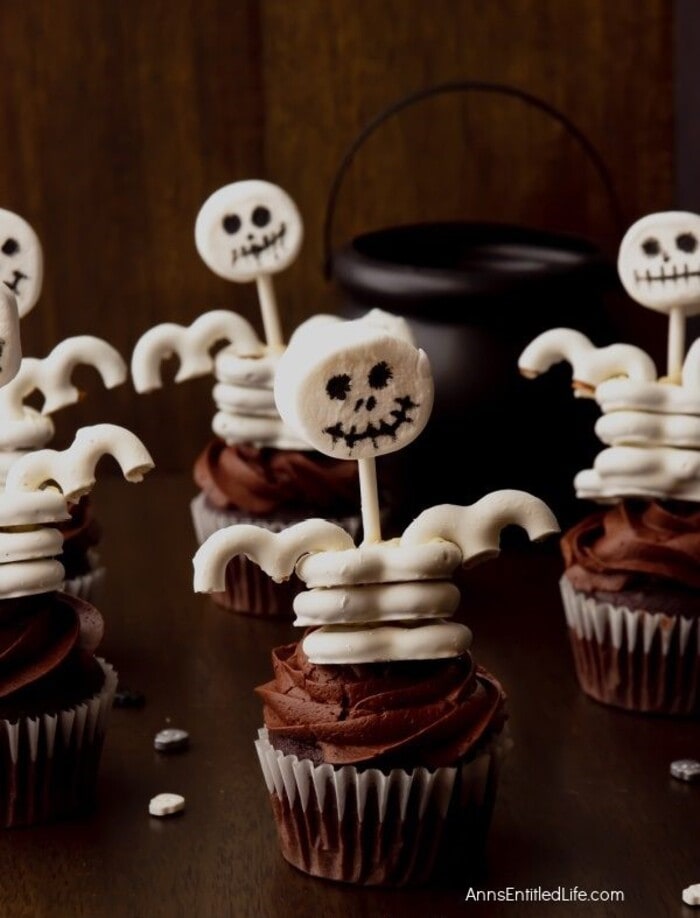 13. Bloody Broken Glass Cupcakes
We're not the only ones who regularly dream about eating mouthfuls of broken glass, are we? We are? What kind of stress dreams are you having? Anyway, we're ready to make our dreams come true and devour these delicious nightmares.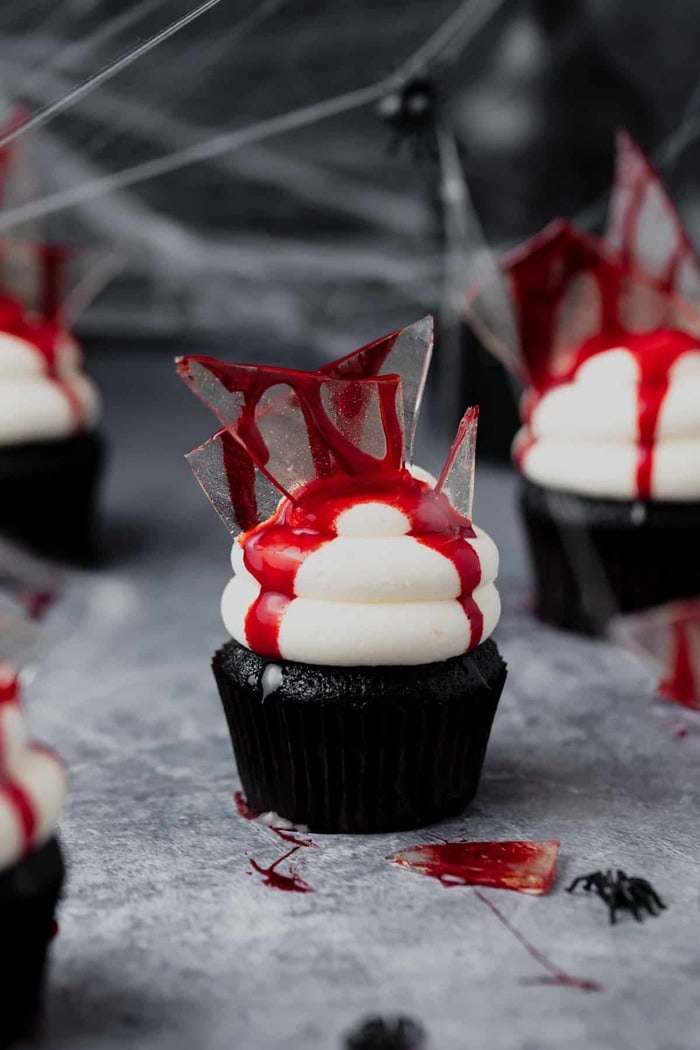 14. Vegan Blackberry Chocolate Skull Cupcakes
We don't necessarily agree with Danzig on a lot of things (like his directorial talent, for example) but we absolutely do need all of these skulls. We don't even care if there's real cake under there.
15. Spooky Spider Webs Cupcakes
We know the webbing on these creepy-crawly cupcakes isn't real, but we're getting shivers looking at them just the same. The only way we'll know for sure that it isn't real is to taste them, right? If we must.
https://www.instagram.com/p/Cvm7aTOOykK/
16. Witches Brew Halloween Cupcakes
If we light a green candle under the right phase of the Moon and walk backwards in a circle three times, will we have enough skill and coordination to achieve these perfect witchy cupcakes?
https://www.instagram.com/p/Cv7XNMduL-S/
17. Spooky Cauldron Cupcakes
These casual cauldrons are the solution if you didn't cast the right spell to pull off the previous option. The creator says she just stuffed cupcakes into the cauldrons. No magic wand necessary, just brute force. The way we like our baking.
18. Witches Hat Halloween Cupcakes
We love any food that comes in this bright alien green. These are perfect to eat with your Starbucks Green Slime Tumbler on the side. Contents unknown.
https://www.instagram.com/p/Cw8uSjsMKB4/
19. Pumpkin Cone Cupcakes
Where has a cupcake in a cone been all of our life? Now we can double-fist cupcakes *and* keep our hands clean. Ah, to live in the 21st century.
https://www.instagram.com/p/CwuisBPOmFZ/
20. Brains and Other Spooky Things Cupcakes
This whole batch looks amazing, but we are obsessed with the glistening brain topping. Anyone want to watch iZombie?
21. Rise of the Mummies Cupcakes
The sheer density of Lovecraftian horror depicted on this single cupcake defies the ability of mere mortals to describe. An attempt would surely drive a human to the cosmic reaches of madness (a three-hour TikTok binge).
22. Ax Murderer Halloween Cupcakes
The mind reels as how many events these are appropriate for, in addition to Halloween. A Shining theme party? A roast of the (first) Dexter finale? A meeting of the Thoren Bradley fan club? A Lizzie Borden seance? We can keep going.
23. Bloody Eyeballs Cupcakes
Do these make anyone else think about when Father on The Brak Show had a staring contest with Zorak? No? Well, they are damn creepy eyeball treats either way.
24. Gravestone Halloween Cupcakes
We could create a whole necropolis with these. Um, yeah, that may be your name inscribed on one of them, why do you ask, Eek?
25. Death By Matcha Cupcakes
If you're looking for weirdness your guests haven't seen before, these matcha monsters are right from the uncanny valley. And they've never heard of Listerine.
26. Cute Bats Halloween Cupcakes
These are like the cupcake version of the disturbingly cute meme bat who protests "I am the night!" But more edible.
27. Monster Eyes Cupcakes
Perfect for younger kids or anyone who doesn't actually like their monsters too gross or scary. Only not perfect for anyone with ommetaphobia (fear of eyeballs).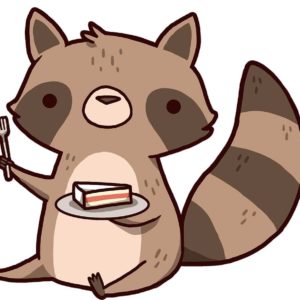 Latest posts by Christine Colby
(see all)