One of the things we love most about Trader Joe's is all their products that accommodate specific dietary needs. Whether you're dairy-free, vegan, Kosher, or preferential to cheap wine, they don't want you to miss out on any of the fun. That sentiment is perhaps most apparent with all these Trader Joe's gluten-free foods.
At TJ's, you can expand your shopping list beyond the delicious options that are naturally gluten-free – like macarons and thai banana fritters – and you can add on the usually-gluten-full products that you salivate over.
Gluten-free muffins! Cookies! Pasta! The souls of your enemies! Endless opportunities.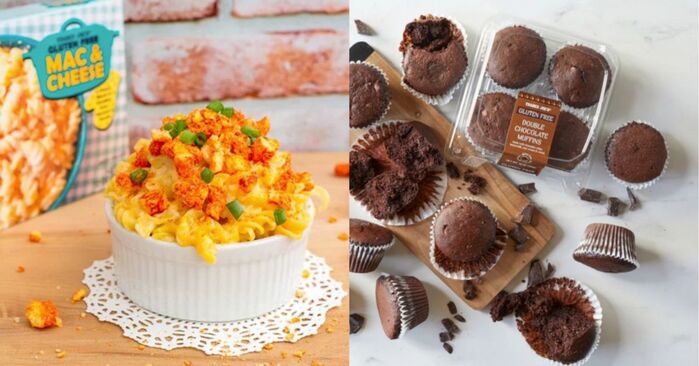 If you can't stand the heat, get out of the kitchen. But if you can't stand the wheat, go ahead and stay. Trader Joe's has got you.
18 Gluten-Free Items From Trader Joe's
1. Gluten-Free Uncured Pepperoni Pizza
Funny that this is made with "uncured" pepperoni, when it's the cure for all of your woes in life.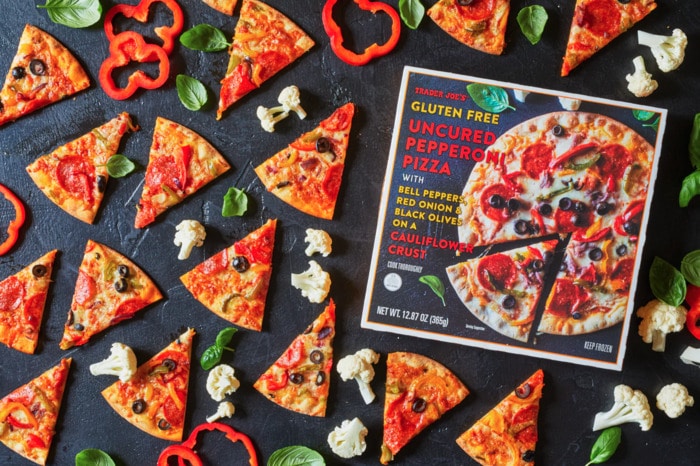 Available at Trader Joe's.
2. Gluten-Free Cheese Ravioli
You know how sometimes you go to an Italian restaurant and you're surrounded by bread and pasta and it's like, "would you like some gluten with your gluten?"
Well…that'll still happen. But now you can sit smugly knowing that you can enjoy the same delicious tastes at home with this gluten-free cheese ravioli.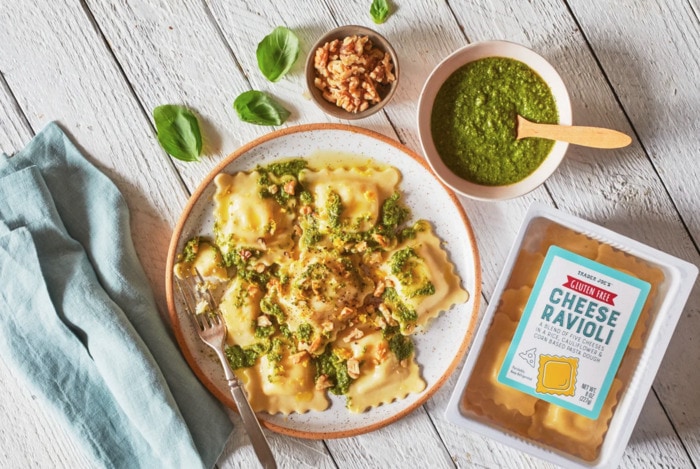 Available at Trader Joe's.
3. Gluten-Free Double Chocolate Muffins
Double the chocolate but none of the gluten? That's a fair trade if we've ever heard one.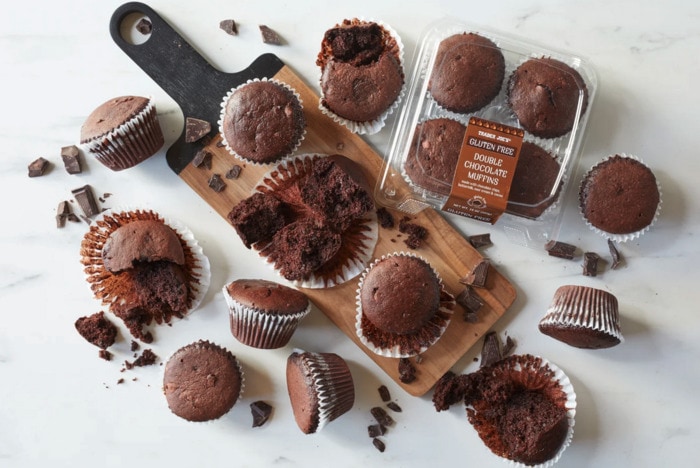 Available at Trader Joe's.
4. Gluten-Free Mac and Cheese
Trader Joe's gluten-free pasta is so good that it doesn't need to be covered in cheese to be palatable. But the day we turn down extra cheese will be a sad day we don't want to see.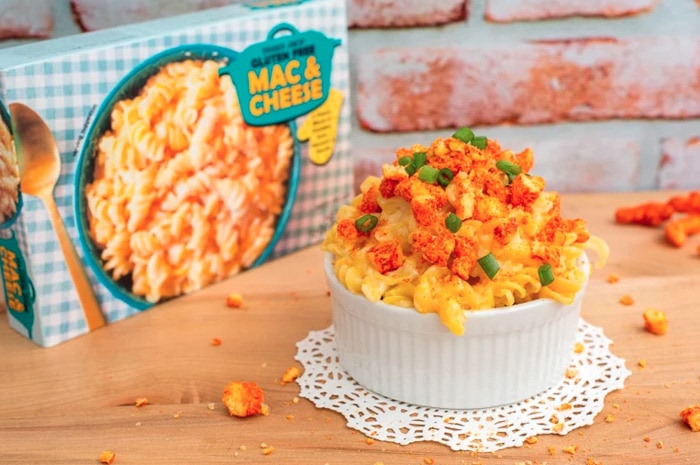 Available at Trader Joe's.
5. Gluten-Free Joe-Joe's Chocolate Vanilla Creme Cookies
Now gluten-free people can be judged on an even playing field for how they eat their sandwich cookies. Nobody is safe.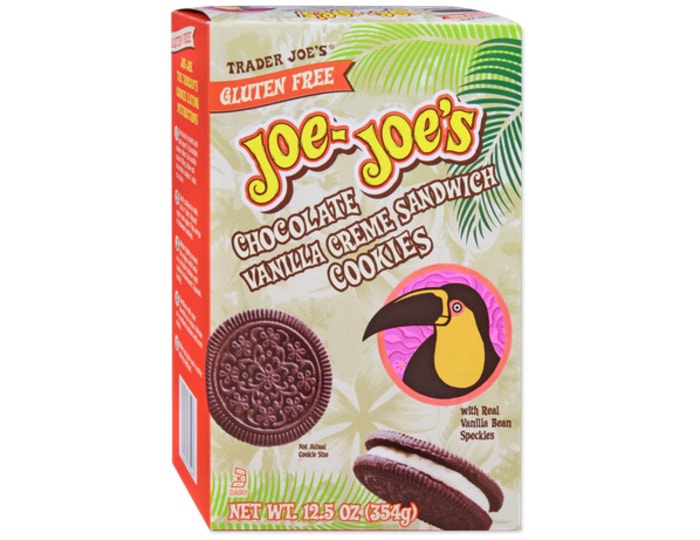 Available at Trader Joe's.
6. Gluten-Free Granola Loaded with Fruit and Nuts
The ingredient list for this granola is epic. No, really, it's an epic. With raisins, coconut, dried cranberries, apricots, almonds, walnuts, hazelnuts, Brazil nuts, pecans, sunflower seeds, sesame seeds, and flax seed, there's hardly any room for that pesky gluten, anyway.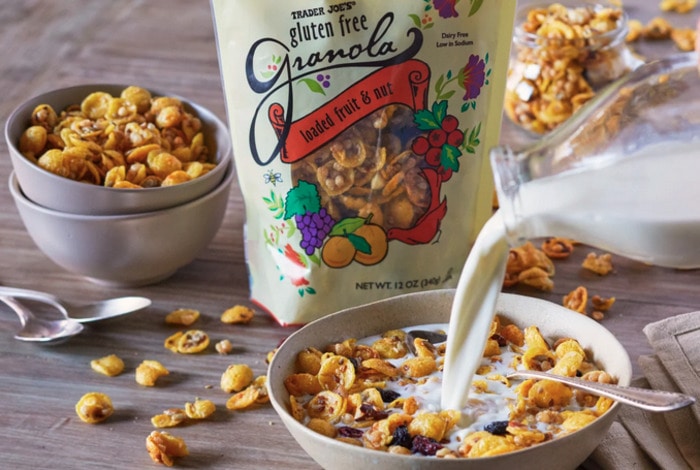 Available on Amazon.
7. Gluten-Free Everything Bagels
We know, we know, you have the seasoning. You could make an everything-flavored shoe, if you wanted. But sometimes you just want the OG everything bagel. Hold the gluten, of course.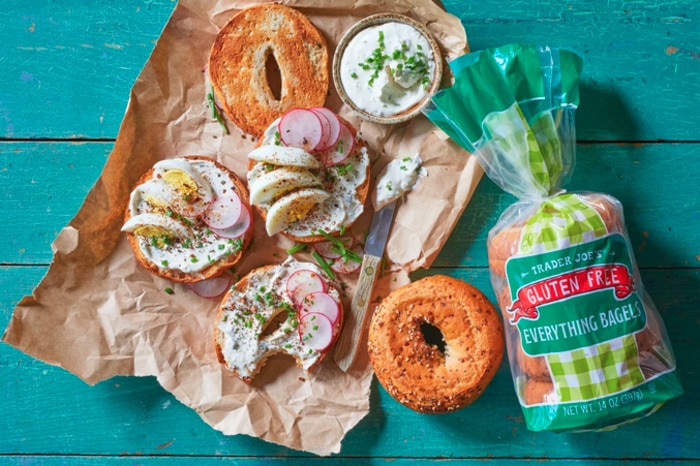 Available at Trader Joe's.
8. Almond Butter Puffs Cereal
Ever have those flashbacks to childhood sleepovers? You run downstairs on a Sunday morning and there are pancakes and sugary cereals galore for all to enj – oh wait, you're gluten-free? Have a banana, loser.
No more! Now you can enjoy the crunch of cereal without the gluten in the morning, noon, and night. It tastes better in the moonlight, anyway.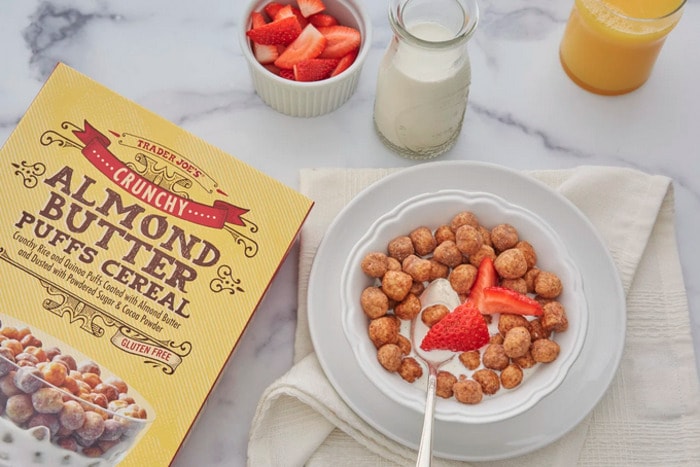 Available at Trader Joe's.
9. Organic Yellow Lentil and Brown Rice Pasta
Okay, so maybe the colors sound like an inventory of Dwight Schrute's short sleeved button ups. But this pasta is so much more delicious.
And while you're here…sorry about those shirts, Dwight. We're sure Angela can patch up those bite marks for you.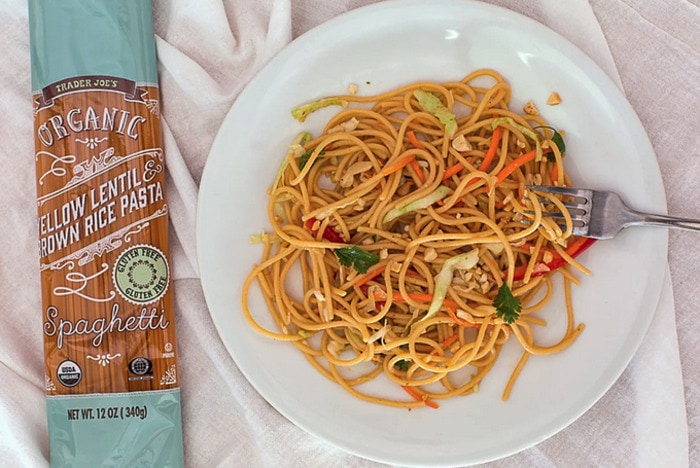 Available at Trader Joe's.
10. Gluten-Free Norwegian Crispbread
Nevermind that the name will make you feel like a Viking warrior. These crispy puppies are worth the buy for the flavor and the nutrients. With ingredients like sunflower, sesame, flax seeds, oat flakes, rice bran, and potato fiber, these will be in your regular rotation. Emphasis on the regular.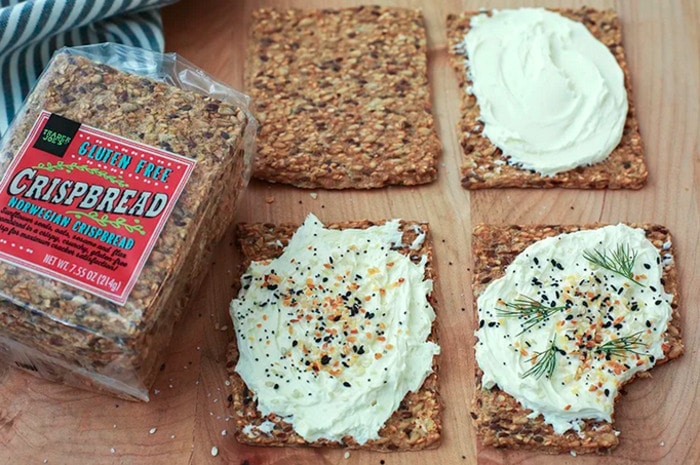 Available on Amazon.
11. Soft Baked Sunflower Butter Cookies
Did somebody say "summer"?! Alright even if you didn't, we did. And Trader Joe's listened.
With these cookies, they make full use of the sunflower – AKA the botanical equivalent of sunshine. With sunflower seeds and sunflower butter, this soft, tasty treat is peanut-free, gluten-free, vegan, kosher, and sesame and tree-nut free. Now nobody has any excuse not to come to your tea party!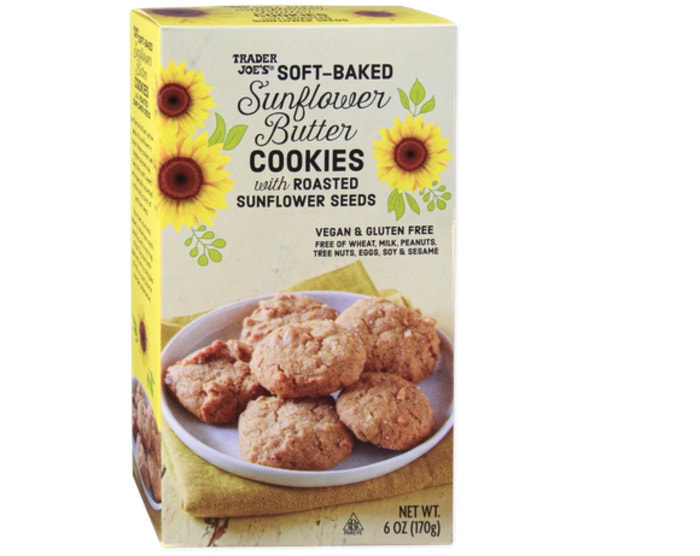 Available at Trader Joe's.
12. Sour Cream and Onion Flavored Rings
Gone are the days when you'll longingly yearn over those crispy onion rings or beloved casserole topping.
These have all the flavor and texture of sour cream and onion chips, plus they come in the fun onion rings shape. Made with red lentil and rice meal and baked, these tasty snacks are good all around and a-round and a-round.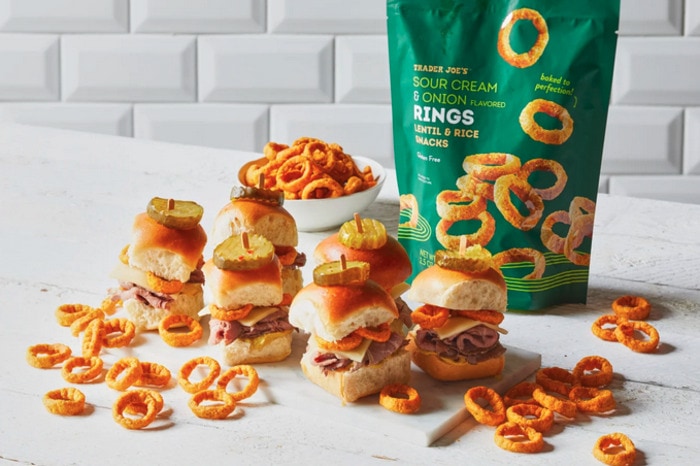 Available at Trader Joe's.
13. Quinoa and Black Bean Infused Tortilla Chips
Corn chips are great, don't get us wrong. But these are all the gluten-free goodness of the beloved standard, with the addition of quinoa and black bean.
Of course, this doesn't mean you have to leave those out of your dips. It just means you'll get double the flavor! Plus, they're gluten-free, kosher, and vegan. Oprah wishes she had this many accolades.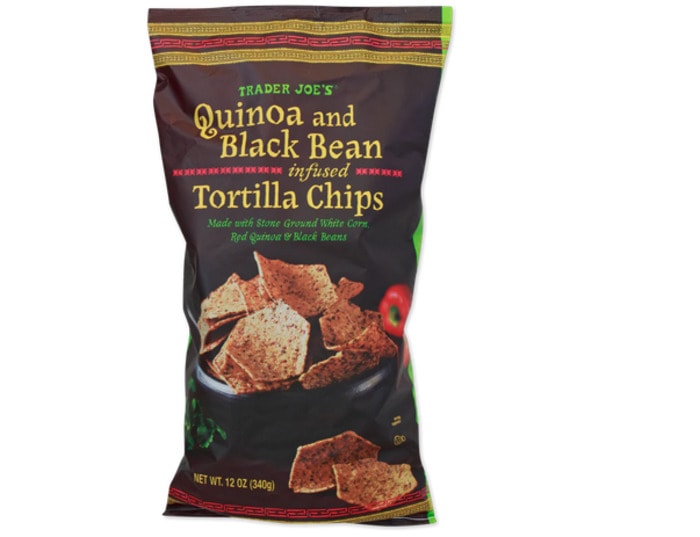 Available on Amazon.
14. Gluten-Free Buttermilk Pancake and Waffle Mix
It might be hard to find gluten-free pancakes and waffles at your local diner. But you can make up for lost times by buying up this mix and making brunch all day, every day in your own home.
You may be missing the neon signs and peel-your-thighs-off-of-the-plastic booths. But hey, the food will be good and it won't destroy your stomach. What luxury!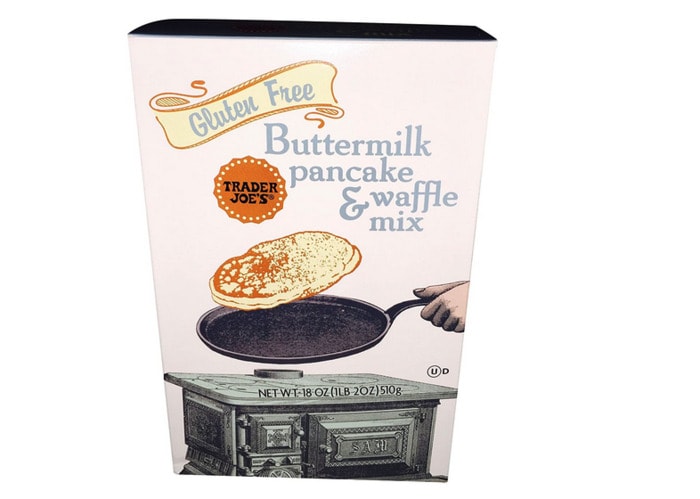 Available on Amazon.
15. Gluten-Free Chocolate Chip Brownie Mix
Baking is complicated enough without having to account for dietary restrictions. Luckily, Trader Joe's has done the work for us here.
Now, you don't need to lie awake at night fearing that you'll scale a flour substitute incorrectly and slam dunk your fun day of baking into the garbage. You can just enjoy the process and the brownies. Or, the spoonfuls of batter. We won't judge.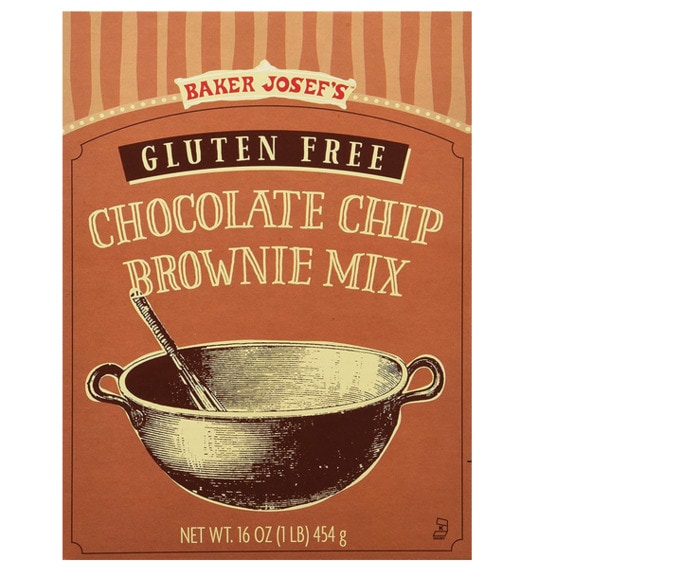 Available on Amazon.
16. Gluten-Free Three Seed Sweet Potato Crackers
These crackers are a danger to gluten-free eaters everywhere. But only because they're so difficult to stop eating.
The little disks of love are earthy, yet sweet, and delicious on their own or with a dip of choice. However, they've been known to change attitudes from "sharing is caring" to "get your own or you're dead to me."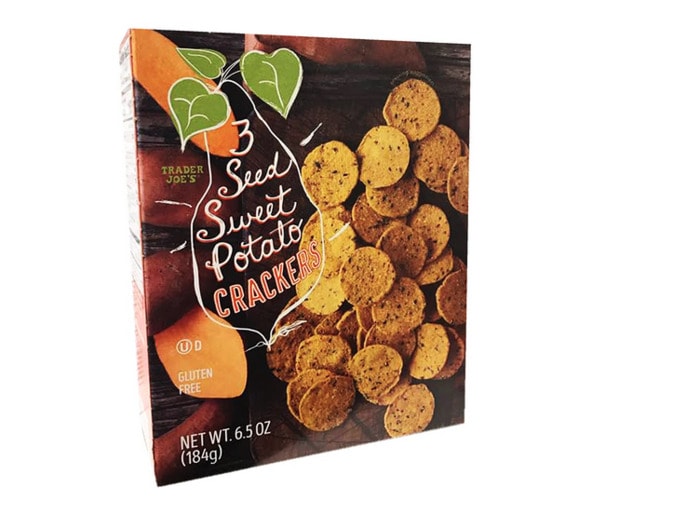 Available on Amazon.
17. Brownie Crisp Coffee Ice Cream Sandwiches
If you're like us, a simple ice cream sandwich was one of the greatest joys of your childhood. But now? Now you're mature. You like coffee now. You can eat something crunchy without all of it ending up on the ground. Your tummy is a little more sensitive to things. As is your heart. And that's okay!
Trader Joe's heard your call and has responded with this sophisticated take on the beloved ice cream sandwich. They're made with flour alternatives, but aren't explicitly marketed as gluten-free. But that's probably because TJ's knows they can barely keep this dessert on the shelves as is.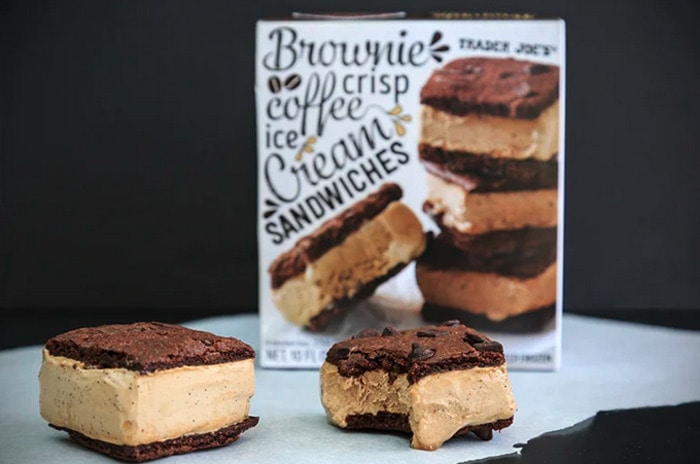 Available at Trader Joe's.
18. Trader Joe's Brazilian Cheese Bread
These little orbs of happiness have both the flavor of cheese and the addictive chew of tapioca flour. Say less, buy more.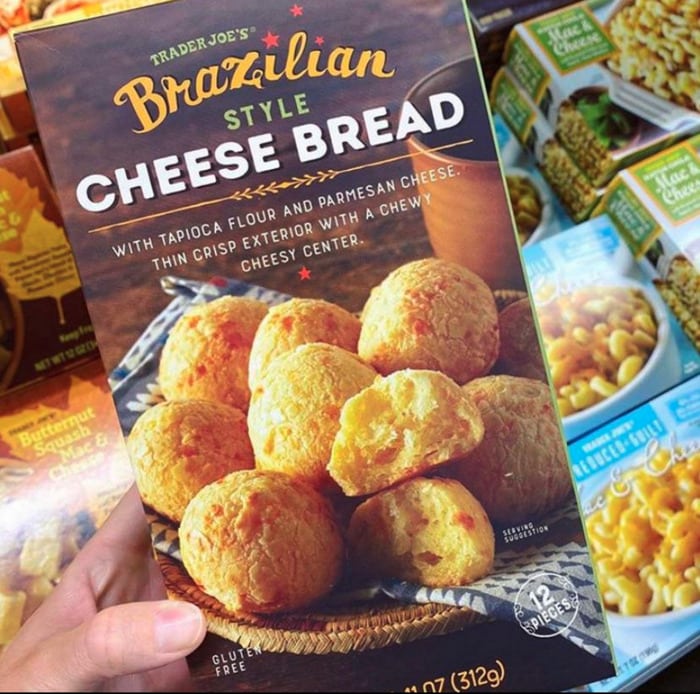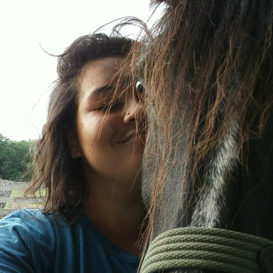 Latest posts by Hebba Gouda
(see all)