When it comes to Trader Joe's, it's hard to pick just one favorite product. That's why we picked 62 of them. Also because we didn't think you'd appreciate it if we picked just one singular product to recommend.
From the Tandoori Butter Chicken chilling in the freezer section to the beyond mildly addictive Chile Lime twists, here's what the Let's Eat Cake team thinks are the best Trader Joe's products. Whether you're new to the grocery store or just looking for some new products to try, we think you'll dig the list.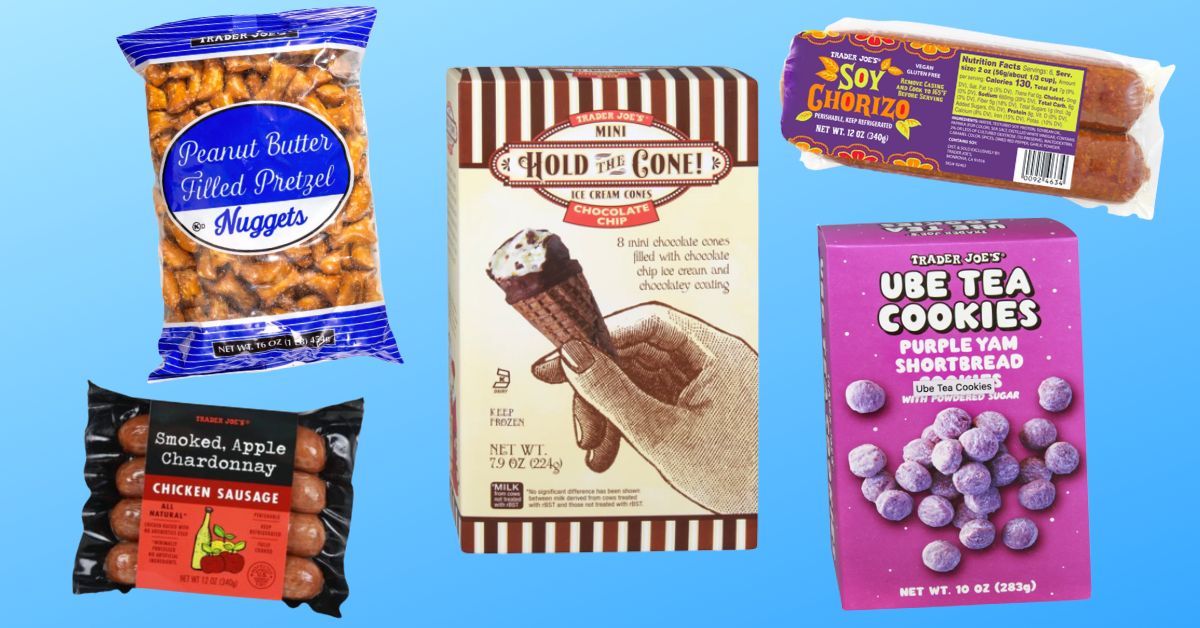 The Best Trader Joe's Products
1. Everything But The Bagel Sesame Seasoning Blend
Take the best part of the everything bagel (no, not the dough, the other part) and throw it in a little jar and you've got this seasoning blend. It's great on everything from avocado toast to eggs to making your everything bagels even more extra.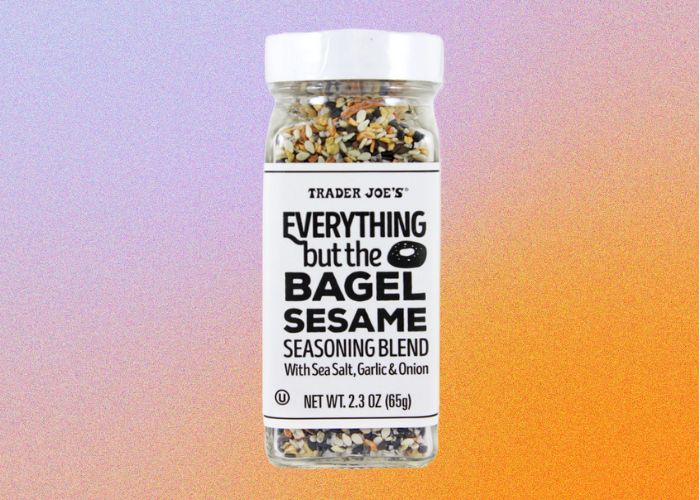 2. Dark Chocolate Peanut Butter Cups
The Internet says these Trader Joe's candies are "better than Reese's," and you know what? We agree. If only they came in much much much smaller quantities.

3. Cookie Butter
This cookie butter is made from crushed speculoos cookies and tastes like the best version of gingerbread. There's a Dunkin', Krispy Kreme are starting to make more things flavored with it. (There's also a secret menu Starbucks Cookie Butter Latte if that's your coffee giant of choice.)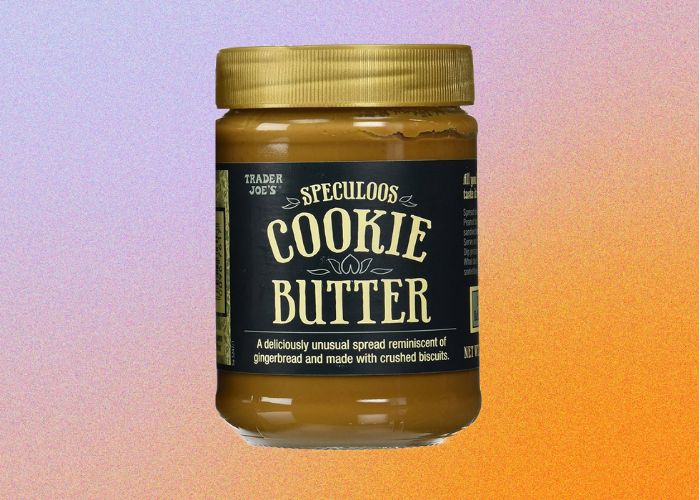 4. Ghost Pepper Potato Chips
If you like it hot and crunchy, you should see us in the summer. Or when we go for a few hours without eating. Or just get these very spicy chips.

5. Maple Leaf Cookies
When we first tried these, we were pleased/dismayed that they were a seasonal fall product. But, then we spotted them on the shelf at Trader Joe's the other day and are now pleased/dismayed that they're not. What can we say, we're optimists.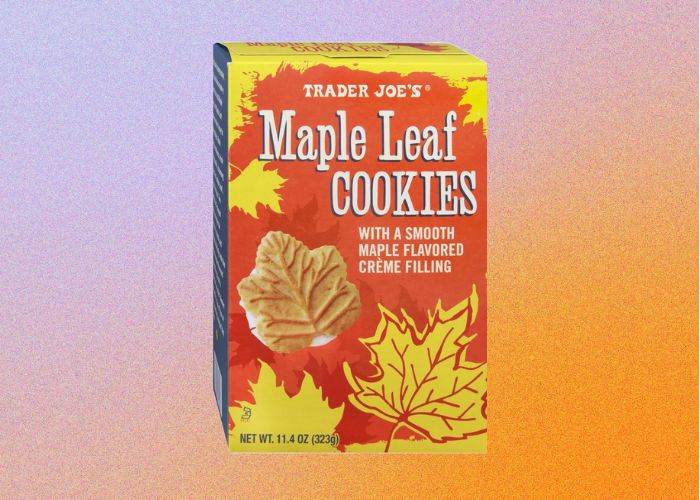 6. Mushroom Umami Seasoning
This mushroom seasoning blend adds that elusive oomph to pasta and whatever else you want to put it on.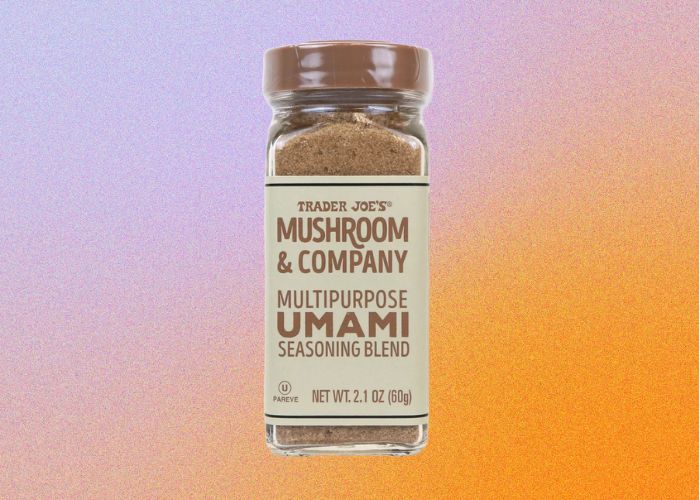 7. Hard-Boiled Eggs
You might be scratching your head at why we put humble-turned-luxury hard-boiled eggs on the list. Here's why: I eat a lot of eggs. I haven't done the overunder yet on which is better for the environment: buying them in a carton and spending the energy to boil the water then run the eggs under cold water to peel them or buying these in their plastic bag. Probably neither.
But, for now, while I'm still ovivorous, these are the best packaged hard-boiled eggs I've had and I get them on almost every Trader Joe's run. Others taste "tight" like the white albumin is overcooked (though the interior yellow would suggest otherwise). These have soft whites and creamy centers and are perfect with a little bit of salt and pepper or hot sauce.
8. World's Puffiest White Cheddar Corn Puffs
Puffy, cheesy, really fun to smash with your tongue… these snacky puffs are so good.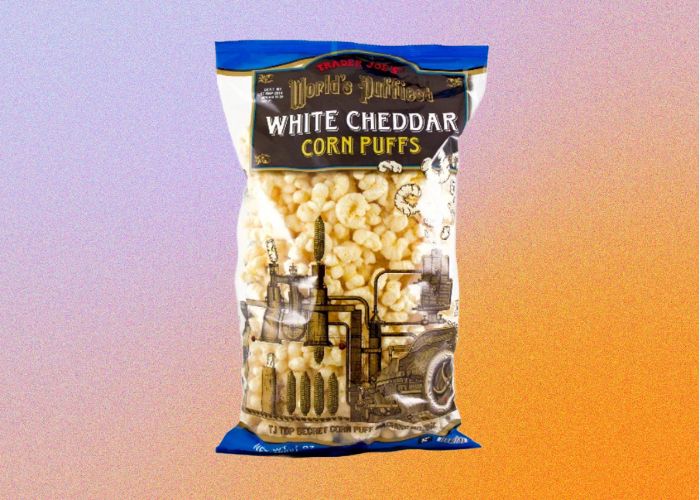 9. Everything Bagel Dip
For all you snack fiends, this everything bagel yogurt dip will give you everything but the actual bagel.
10. Soy Chorizo
If you're vegetarian or vegan or just trying to add more plant-based protein to your meals, this slightly spicy soy chorizo is fantastic in veggie bowls and breakfast tacos.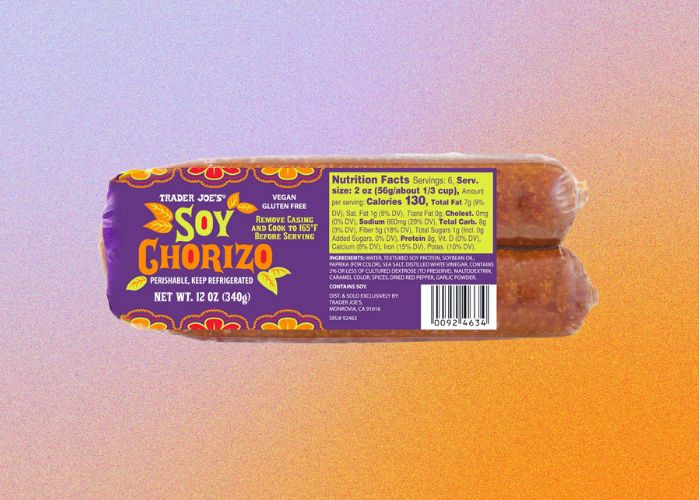 11. Greek Yogurt
Greek yogurt can go all sorts of ways. It can be super tangy or chalky or just boring. But Trader Joe's version is basically the same as Fage's. It's smooth with just enough zip and is delicious if you throw some fruit on top.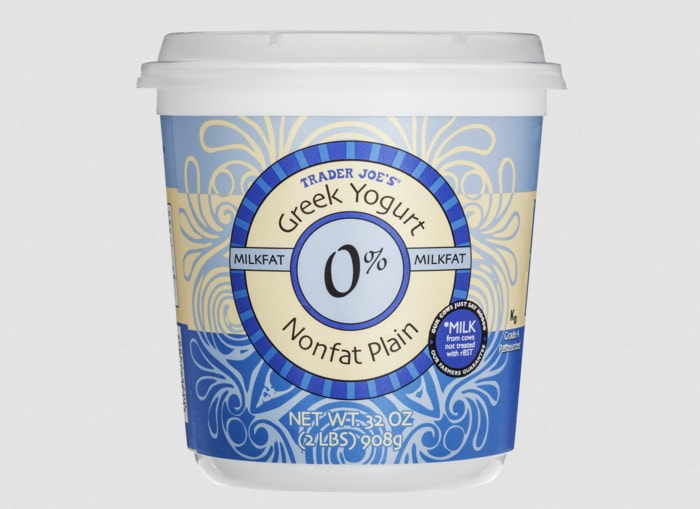 12. Pure Bourbon Vanilla Extract
While I have no way of proving this (at least with the equipment in our office), I'm pretty sure the Trader Joe's pure bourbon vanilla extract is the exact same as Nielsen Massey's. It's the only vanilla I use outside of theirs as it imparts a perfectly balanced vanilla flavor into baked goods without any hint of artificial flavor.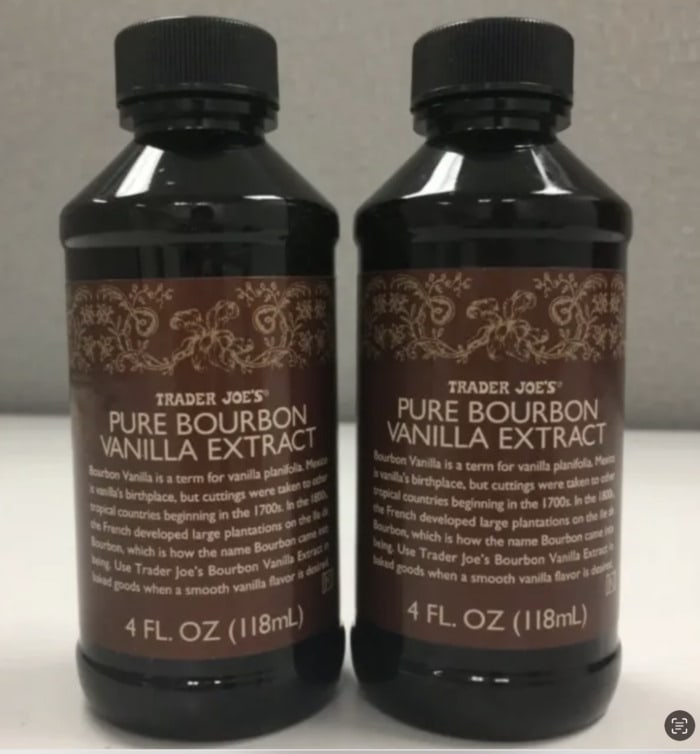 13. Chile Spiced Mango
It's probably not a great idea to confuse these sweet and spicy mango slices with a healthy snack, but it 100% acceptable to replace anything you might consider picking up from the gas station on your road trip with them.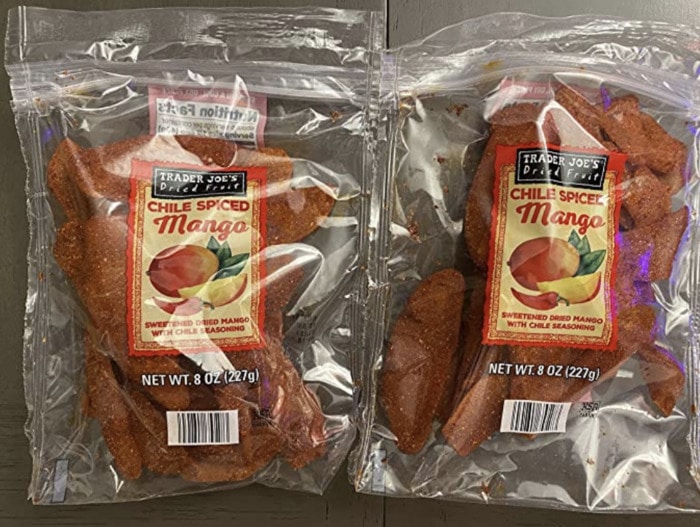 14. Gingerbread Coffee
This holiday coffee blend gets rave reviews from everyone who is still bitter Starbucks still hasn't brought back their Gingerbread Latte. Seriously, guys, what's the deal?

15. Dark Chocolate and Coffee Joe-Joe's Cookies
One Redditor told us "I could live off the beet poke and Coffee Joe Joe's for the rest of my life," and to that we say, you might want to consider a multivitamin.
16. Mediterranean-Style Hummus
This rich and tangy hummus topped with crunchy pine nuts creates a hard-to-put down texture. That means we're not sharing.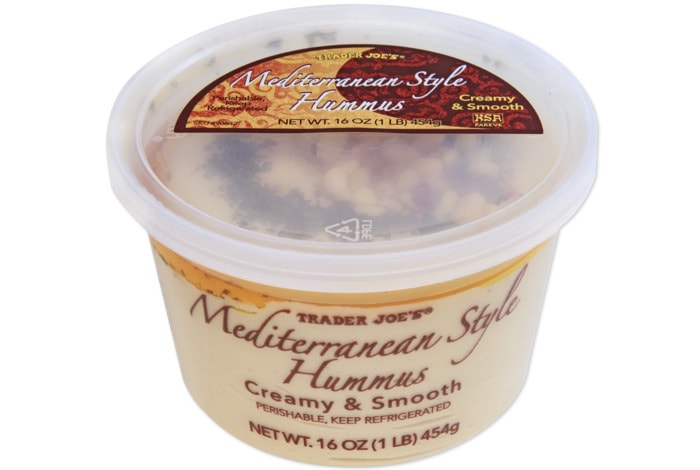 17. Unexpected Cheddar Cheese
Everyone knows cheddar cheese is the best cheese. It's bold, flavorful, and pairs well with everything. But just wait until you try the upgrade that is the Trader Joe's Unexpected Cheddar.
It has everything you love about cheddar, and then adds in hints of aged Parmesan flavors. It's giving us depth. Complexity. A text back.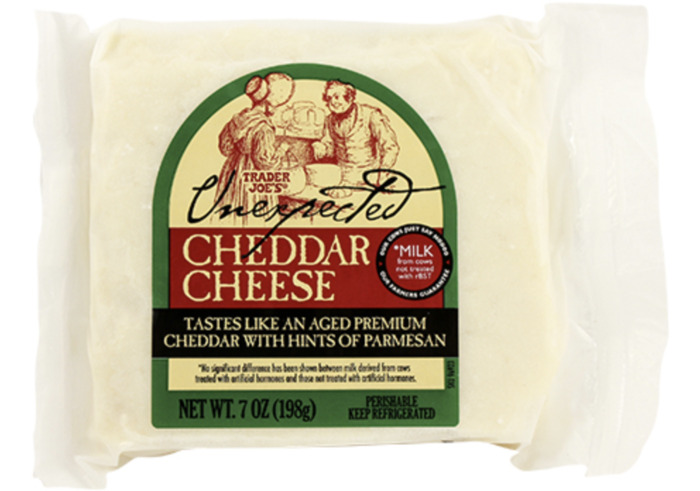 18. Pork Gyoza
These might have been the first thing we learned how to cook in college on the stove. We love to pan fry them a little then steam them to finish. They're great for a light lunch or a protein-rich snack.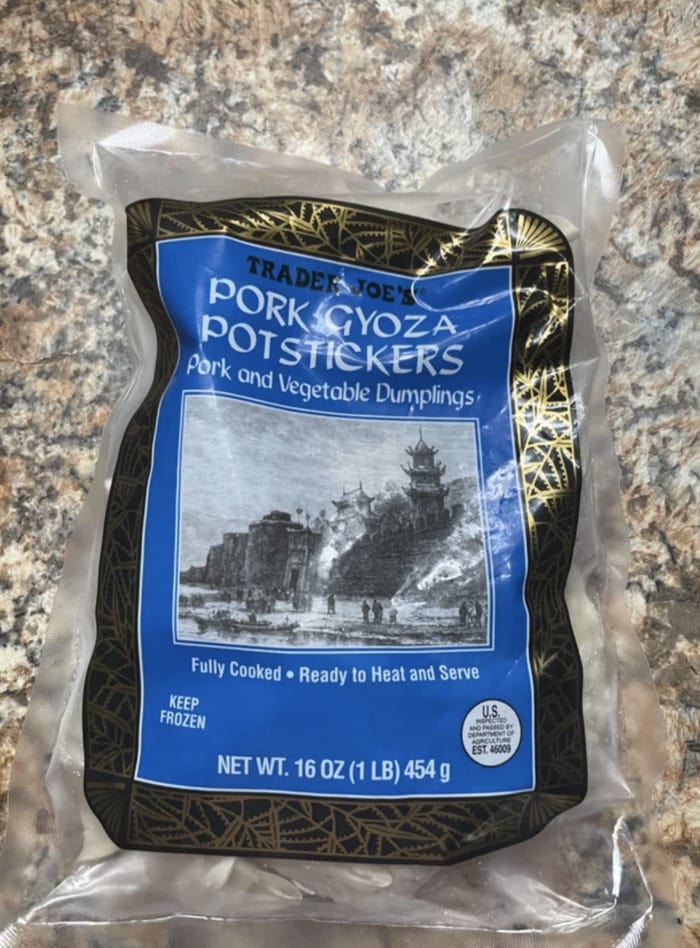 19. Hold the Cone Ice Cream Cones
When it comes to this frozen dessert, the crunchy chocolate shell covers the creamy vanilla ice cream, and the cone has a surprise chocolate chunk in the bottom. TJs comes out with seasonal variations, but nothing beats the OG vanilla.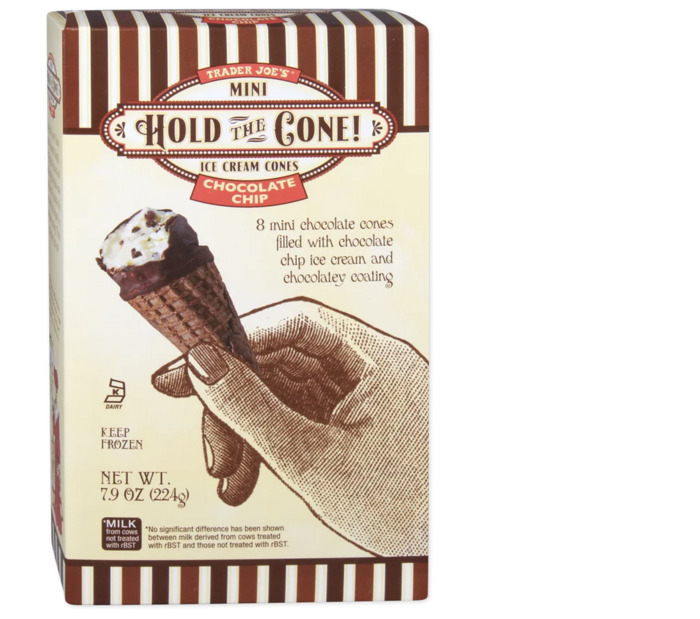 20. Carne Asada
When I first moved to Los Angeles the guy I was dating would barbecue this every couple weeks on the sidewalk in front of our apartments. Yes, I dated the guy who lived above me. Yes, I can see how that could have become complicated. Oh, that's not what this article is about? Weird.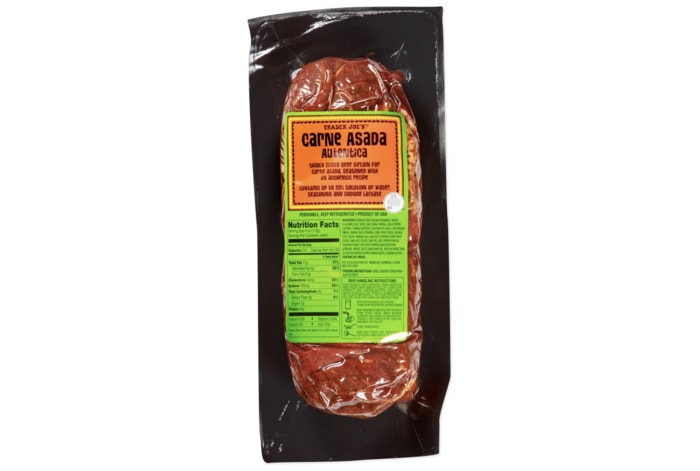 21. Chicken Sausages
If you are looking for an easy protein-packed meal, heat two of these up in the microwave and enjoy them with some Dijon mustard and a simple salad. Office favorites are the Sweet Apple, the Jalapeno, and the andouille.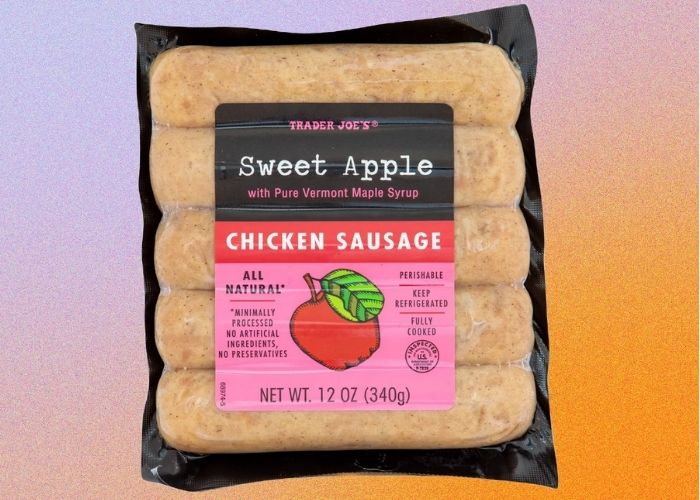 22. Pumpkin Butter
When it's pumpkin spice season (also known by some weirdos as "fall"), it's hard to go shopping and not put at least four pumpkin-spiced things in your cart. Including that one time you put the deodorant in. Look, it happens to the best of us. However, this is one fall product we do recommend. Some say it's good in Greek yogurt too.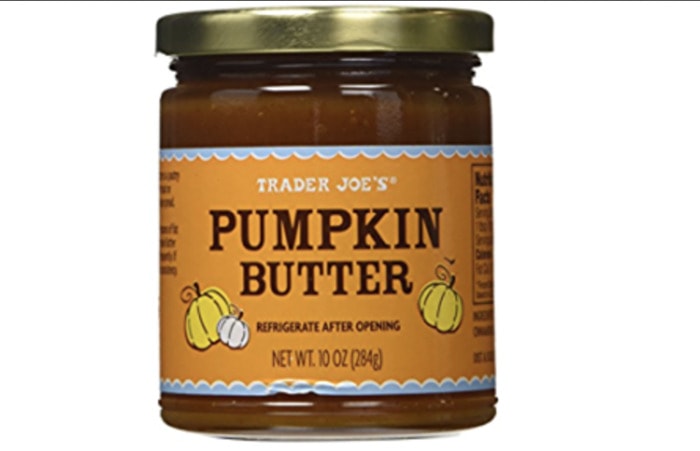 23. Pineapple Salsa
We like a lot of salsas, but this one is a crowd pleaser. It's not too spicy for all your friends who can't eat anything hotter than a hatch chile and it's got even texture to keep your spice-loving friends coming back for more.
Just tell them to bring those ghost pepper chips and they'll be in heaven. Though, hopefully not actually because then they couldn't come to your party.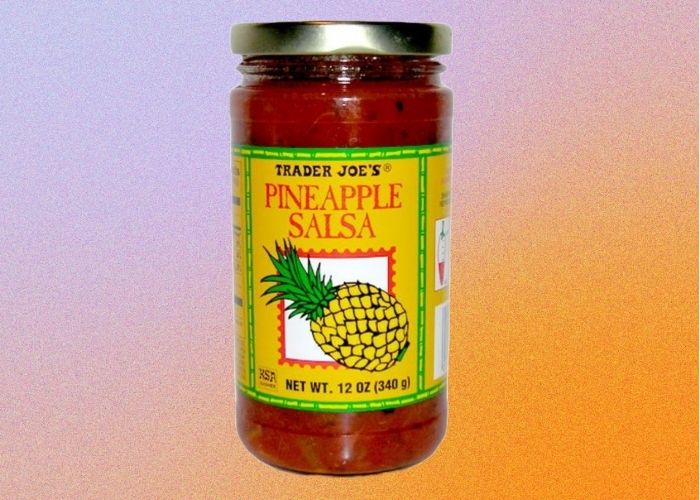 24. Cauliflower Gnocchi
We finally tried these last week after everyone said how fantastic they are and while they're not going to go in our cart every time, we do appreciate that the entire bag is 330 calories. It's like a cute pasta snack!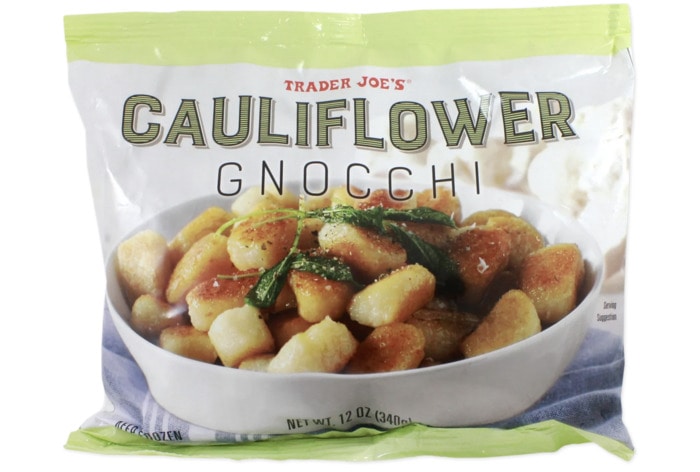 25. Mandarin Orange Chicken
This frozen chicken is almost as good — and sometimes, better — than late night delivery. Just don't get too aggressive separating the frozen chicken pieces with your spatula unless you want to also have to clean up your kitchen.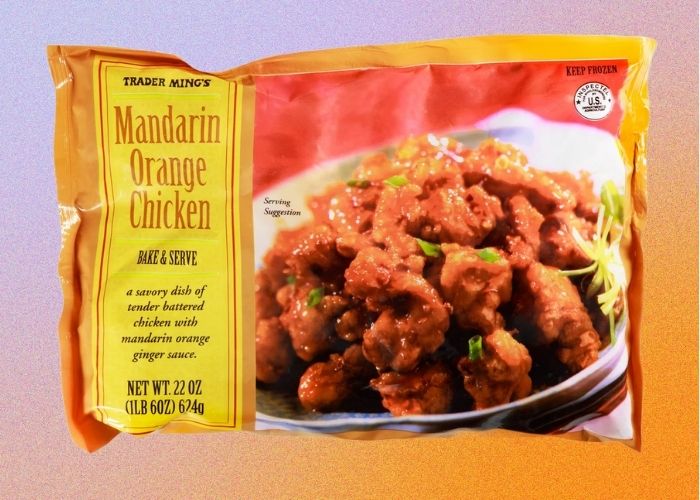 26. Peanut Butter Filled Pretzel Nuggets
These perfectly baked hard pretzels are filled with a little sliver of peanut buttery goodness. They're the perfect blend of salty and sweet, with a creamy peanut butter filling that will have you licking your fingers in bliss.
You did wash them first, right?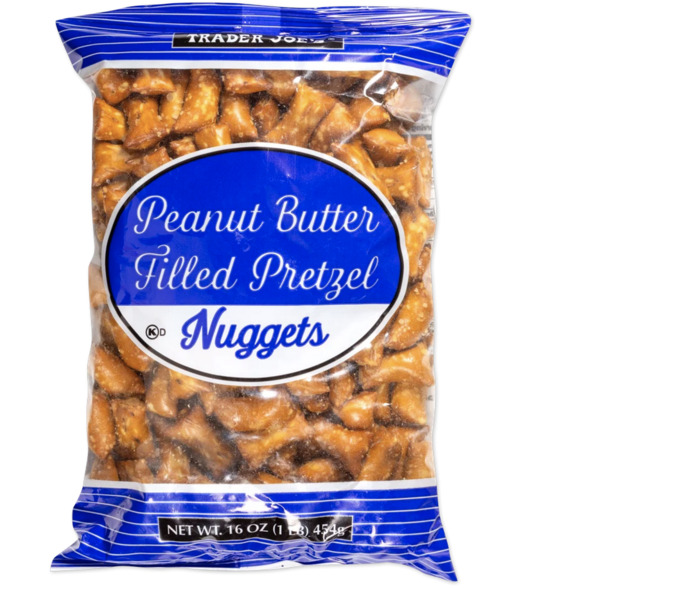 27. Cat Cookies
Are they the best crunchy cookies ever? No. Are they adorable because they're shaped like little cats? Yes. Hey, sometimes it is about the aesthetic.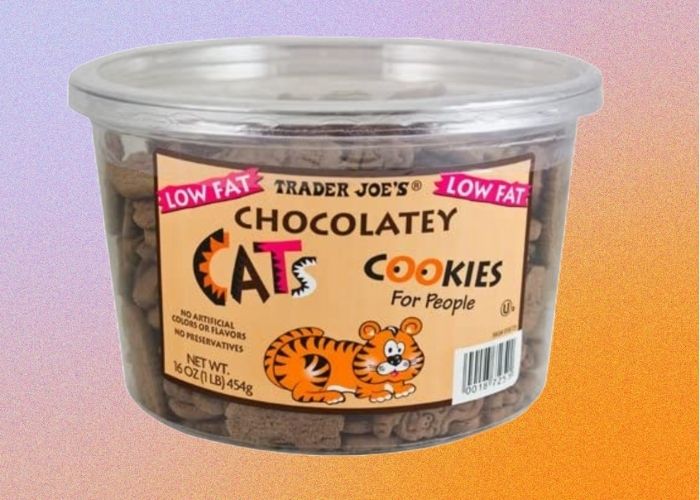 28. Ranch Seasoning Blend
Are you even on trend if you're not buying everything dill and pickle-flavored? Maybe? I dunno. Do you know MSCHF red shoes? Then, probably. Anyway, this tangy seasoning is really good. We suggest sprinkling some on popcorn.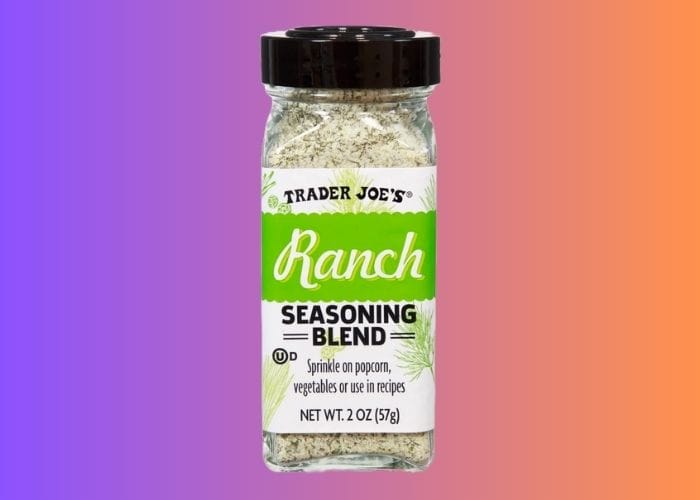 29. Jicama Wraps
We were skeptical AF about these. Cold taco shells? Ew. But then we tried them with some carnitas, and we've got to say, the added crunchiness actually works. (And, thankfully, they warm up pretty quickly if the filling is also warm.)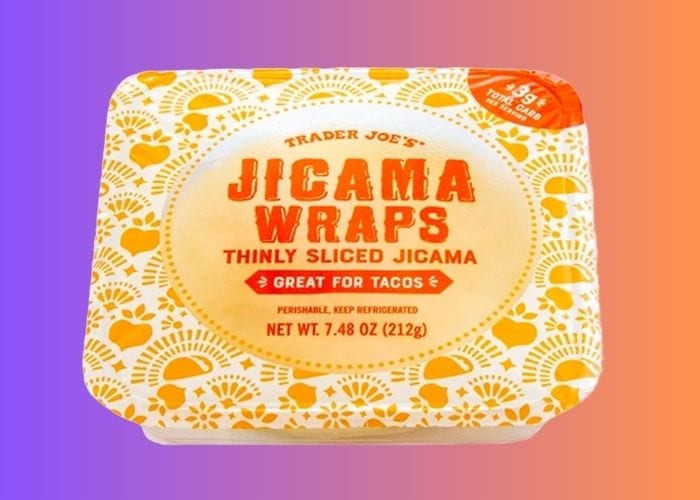 30. Mushroom Fettucine Alfredo
When I'm craving pasta but also feeling extremely lazy, this is my comfort food. It's creamy, filling, and I recommend cooking almost all the sauce off so it really sticks to the noodles.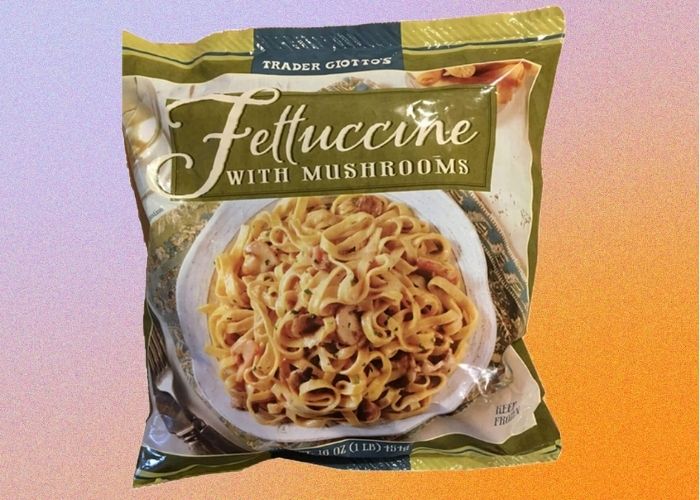 31. Chicken Tikka Masala
This frozen Trader Joe's meal easily rivals take out. The sauce is giving all the flavor, and somehow the chicken is tender and (apologies in advance), moist. As long as you don't let it burn in the microwave, this is the lazy girl's dream dinner.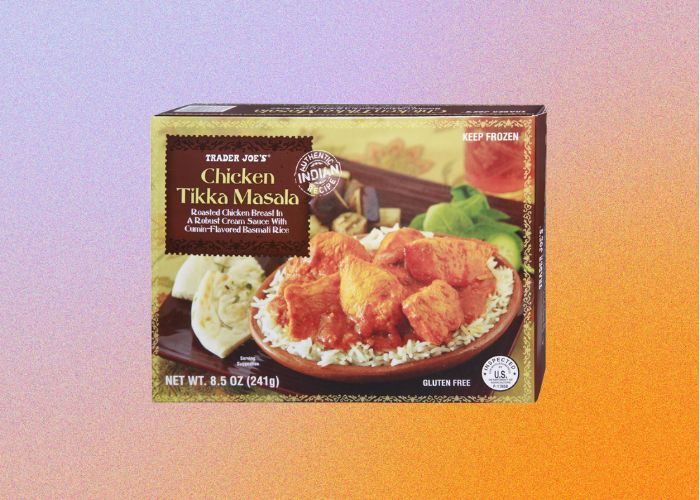 32. Mochi
There's no better sweet freezer treat than ice cream mochi (and we'll die on this hill, preferably clutching a green tea one). The soft, chewy rice dough adds a lovely texture to the ice cream – and it comes in a few different flavors. Have one (or four) whenever you're craving a cold, creamy treat.
Want to know more about Trader Joe's mochi? We reviewed them all here.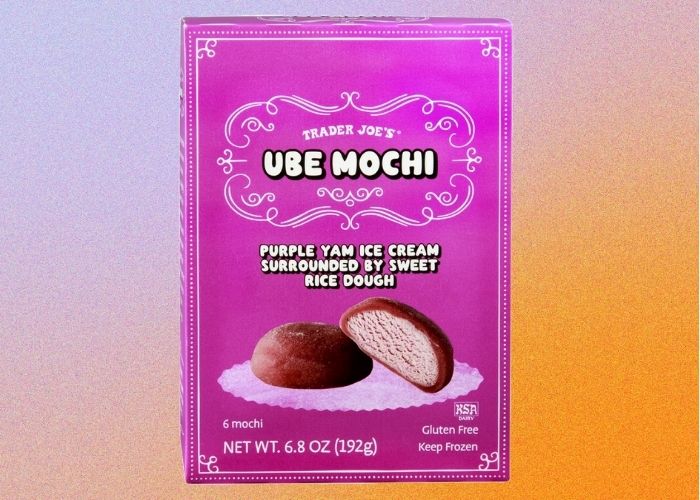 33. Marcona Almonds
These almonds have had their skin removed and then gone swimming in a bath of olive oil and salt. Which sounds pretty horrific if you're a human. And pretty amazing if you're a human eating these.

34. Steamed Pork and Ginger Dumplings
The Xiao Long Bao (or soup dumplings) at Din Tai Fung are one of the best things about living in Los Angeles. But, if you don't have one near you or you don't feel like waiting an hour to eat, these will work in a pinch.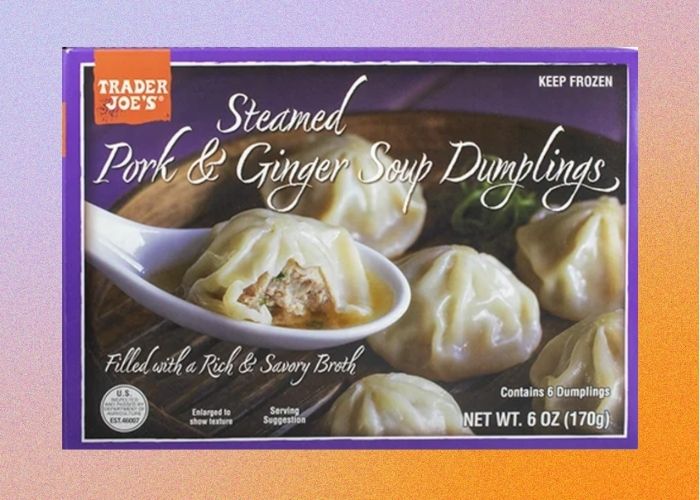 35. Rosemary Croissant Croutons
These have two of our favorite words in the title, so there was a high chance they'd be making the list. These well-seasoned buttery crunchy stale bread bits are just begging to go into your tomato soup. Or, for those of us who dislike soup, eaten straight from the bag.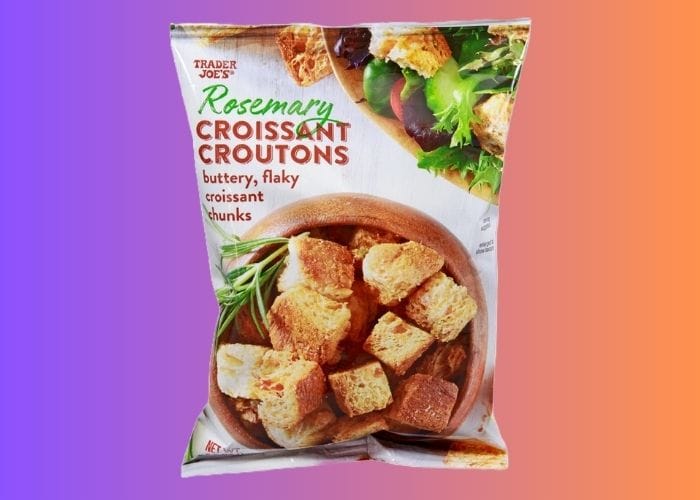 36. Cold Brew Concentrate
When you need some rocket fuel ASAP, but don't want to pay the $6 for Starbucks cold brew. Or have access to an actual rocket. Elon, help a friend out, would ya?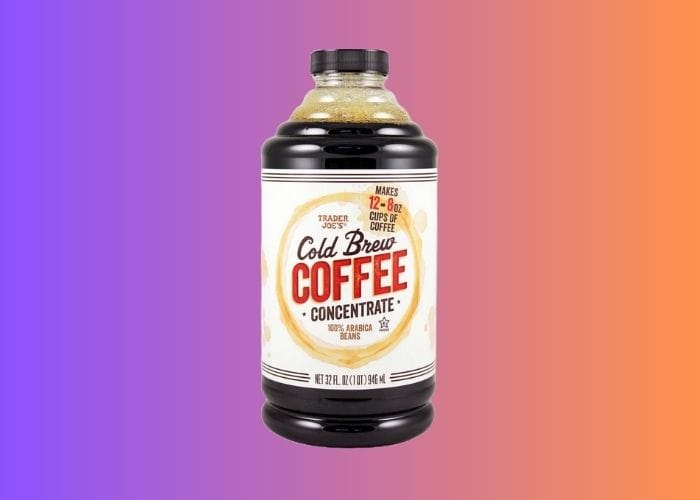 37. Bamba Peanut Snacks
Are these geared towards toddlers? Perhaps. But that means it's perfect for those times when our palate regresses to only wanting buttered noodles. They're like cheese puffs, but peanut buttery. and they melt in your mouth so quickly that you'll finish the bag before you get through the checkout line.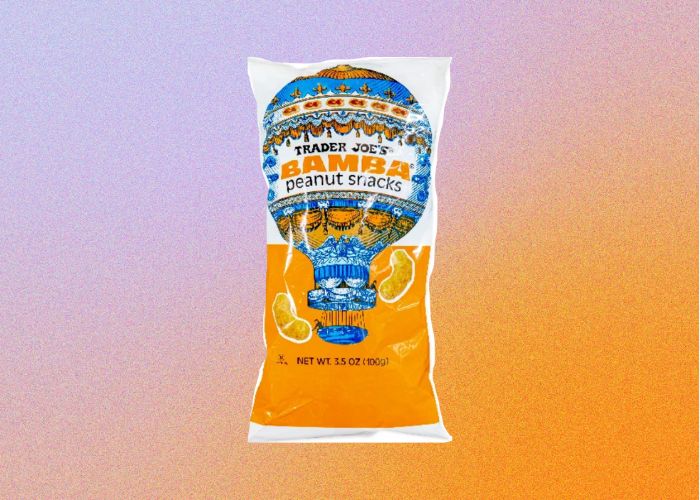 38. Olive Oil
There's a few household staples we rely on TJs for. This olive oil is one of them. It's inexpensive and is a worthy everyday olive oil.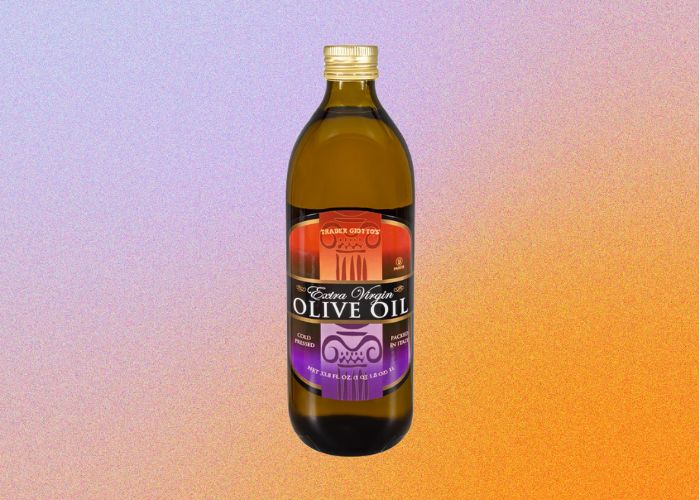 39. Spanakopita
Reddit raves about this. One user says this savory pie has a "flaky crust with its own cooking pan for the conventional oven. Excellent spinach, onion, cheese, Lemon taste on flaky phyllo dough. Totally a hidden gem at Trader Joe's." Sounds like a must-try.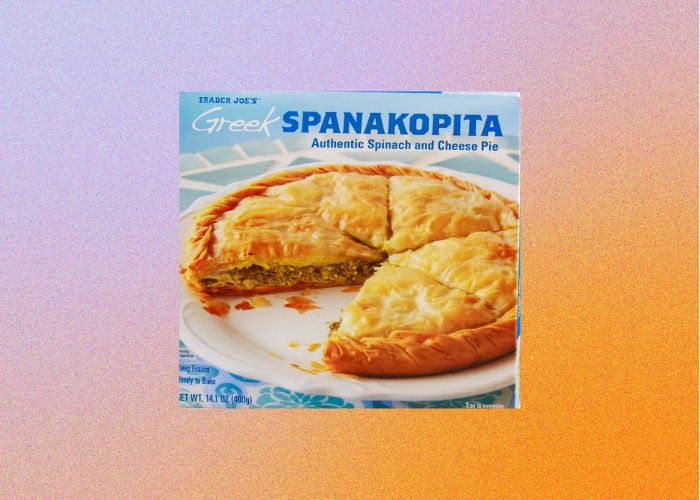 40. Chile Lime Cashews
Sure these tangy and spicy cashews are a little bit messy. But that's what your paper towel is for. Or your jeans.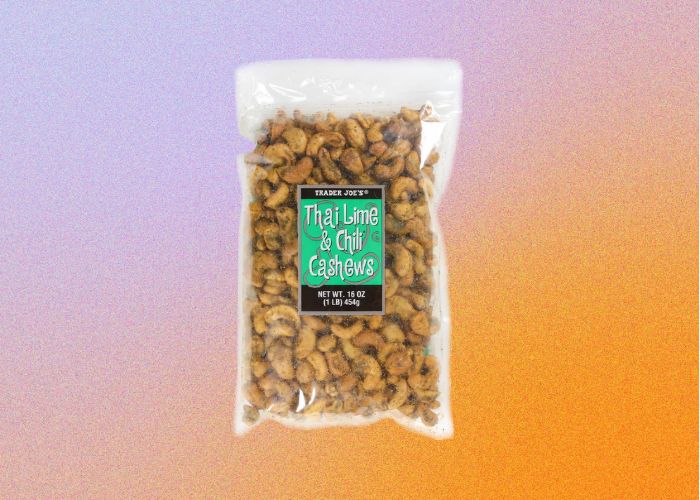 41. Vegan Buffalo Chicken Dip
Buffalo chicken is all about the heat and the vinegar, and this has both in spades. And, in hearts. And in diamonds. God, we're awful at poker.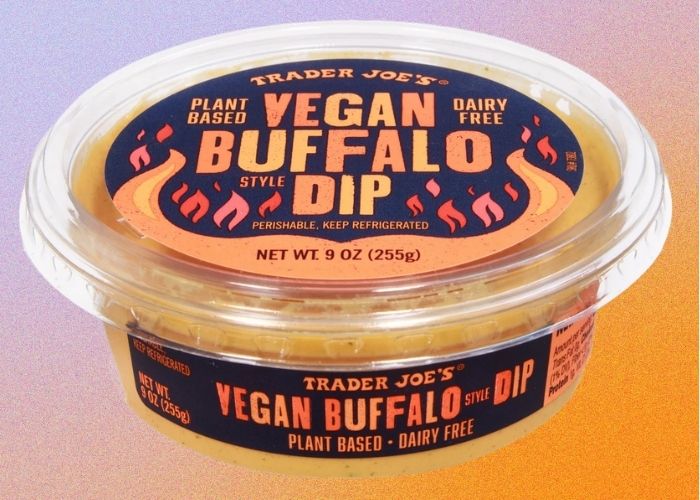 42. Garlic Naan
Soft, pillowy, surprisingly good considering it starts off frozen… the perfect accompaniment for the butter chicken or for any of the dips on this list.
43. Tteok Bok Ki
These chewy Korean Spicy Stir-Fried Rice Cakes are a favorite of ours and we're delighted TJs now carries this version we can heat up after a night out at the bar. Way better than trying to order them through DoorDash and falling asleep while we await our order.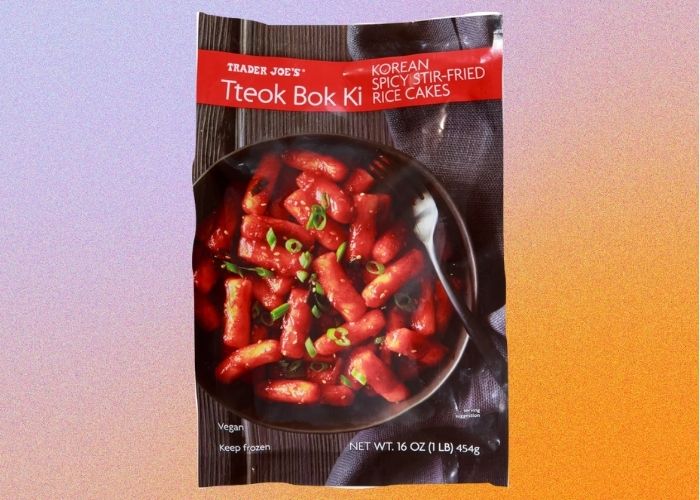 44. Vegan Beefless Bulgogi
When done well, Bulgogi is one of the tastiest Korean dishes. But, if you don't eat beef, you're sorta SOL. Enter Trader Joe's vegan bulgogi made with beefless soy protein.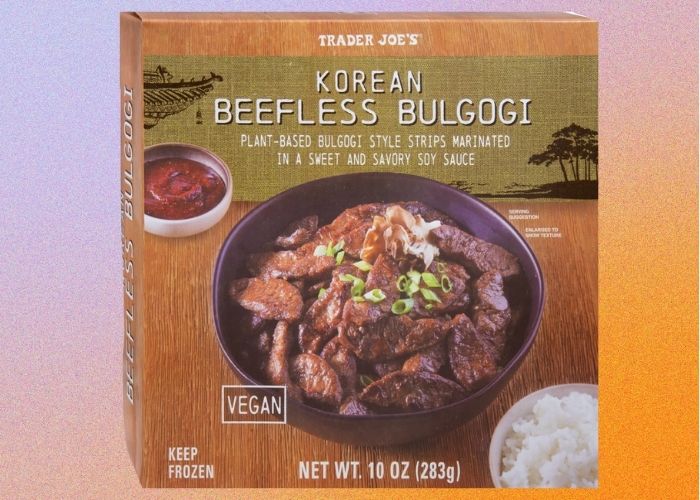 45. Instant Boba Tea
Our neighborhood is packed with more than its fair share of great boba tea shops. But, what do you do if you want boba while camping? Or you don't live near a place where you can get your fix of tapioca pearls and milk tea?
Well, TJs is here to help. Sure you have to do more work than picking a flavor, but it's pretty simple to put together and delicious.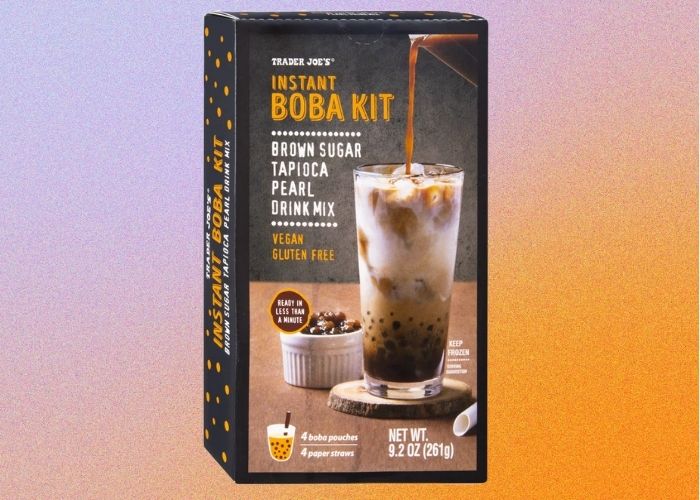 46. Basil Pesto
Unlike salsas, where it's hard to pick just one good one, it's actually difficult to find the perfect pesto.
Unless you know of this Trader Joe's product already. It's got just the right amount of oil, herbs, and a very spreadable texture, making it great on pasta, crackers, and in sandwiches. And, it won't clog up your blender unlike that homemade one.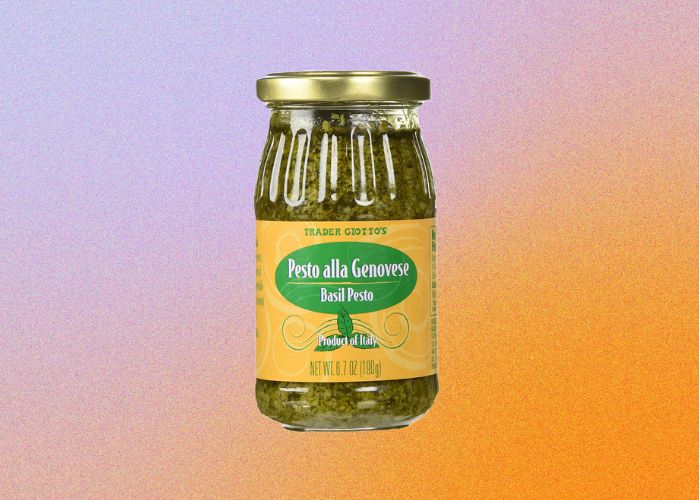 47. Carrot Ginger Miso Dressing
We could literally drink this out of the bottle. It makes even plain lettuce taste good. It's got a great zing from the ginger, and while we're not totally sure what the carrot brings to it all, other than a pretty color and giving us a feeling that we're eating even more veggies.

48. Burrata, Prosciutto & Arugula Flatbread
If you're looking for a restaurant quality pizza from the comfort of your own home, this flatbread is it. The prosciutto adds a saltiness that brings out the mild flavor of the burrata. We personally drizzle a balsamic glaze on it when we make it, which brings all the flavors together even more.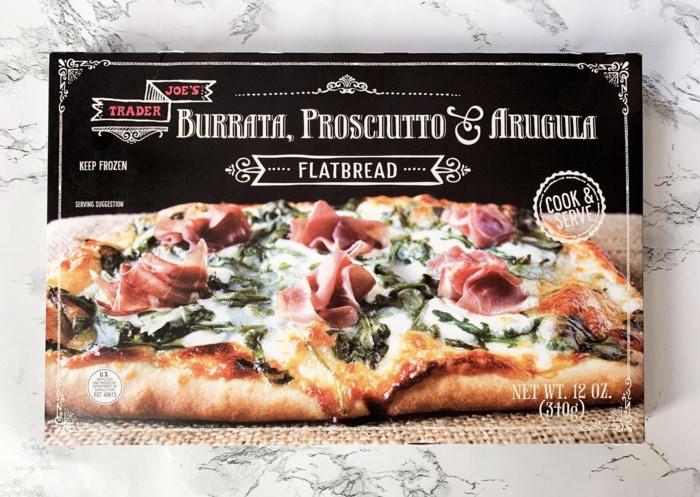 49. Butter Chicken
I love that this comes in packaging that will decompose easier than those plastic trays. I also love the just-spicy-enough flavor (I was tempted to add heat before trying it and I'm glad I didn't) that made me want to keep taking bites but didn't overwhelm my palate.

50. Vegan Kale, Cashew and Basil Pesto
We love cheese, but don't actually miss it in this emerald dip thanks to the creaminess of the blended cashews. We highly recommend tossing it with rice.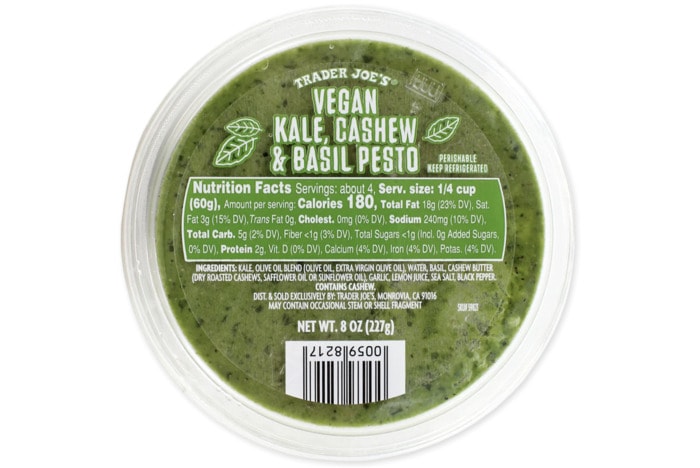 51. Vegetable Bird's Nests
When we're missing street food, these can whisk us away to Southeast Asia minus the expensive plane ticket. Well, in our minds. We don't think they're terribly aerodynamic.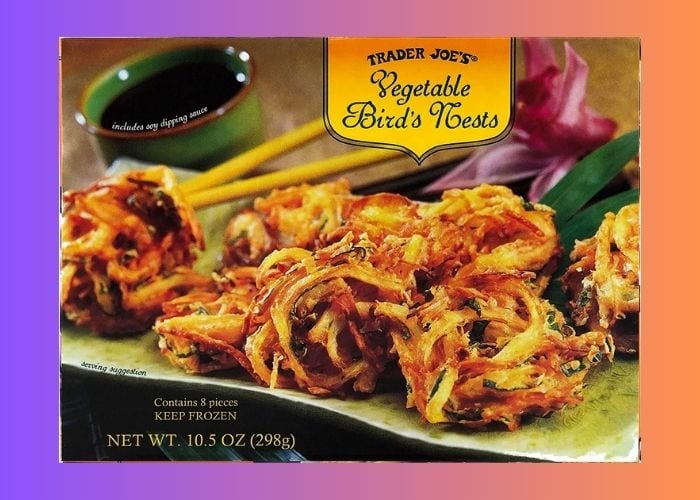 52. Thanksgiving Burrito
If Thanksgiving is your favorite holiday and you can't get enough of the flavors, you clearly didn't make enough leftovers. Solve that next year or just pick up a few of these burritos to feel satiated.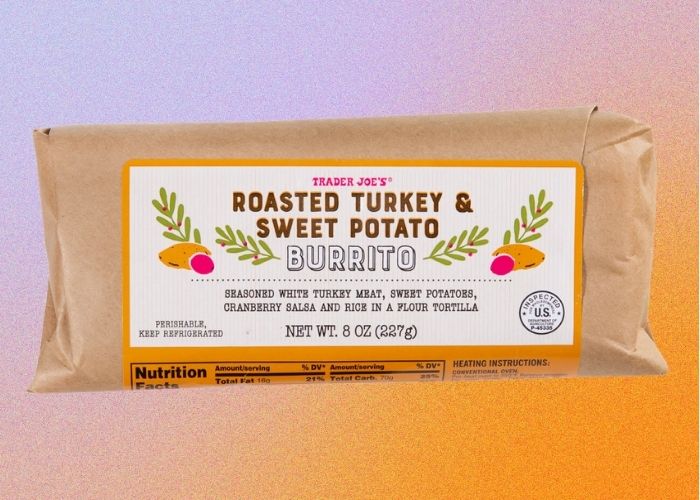 53. Rolled Corn Tortilla Chips with Chile and Lime
Tangy. Spicy. Crunchy. In cute little twirls. The first time we tried these we ate half the bag in one sitting. That should be recommendation enough?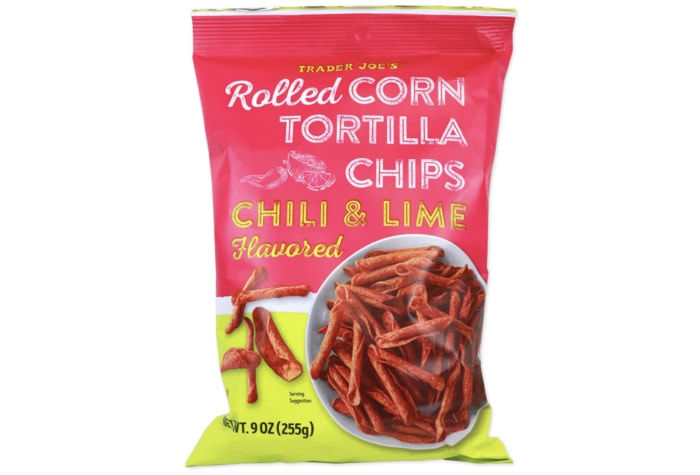 54. Coconut Almond Creamer
Hands-down the best vegan creamer because it works like a creamer. Most vegan creamers are too watery, but this one has enough fat content to hold its own against your cold brew.
55. Gone Bananas
Those people who say fruit is nature's candy and that it's better than real candy are in denial, but these are actually pretty good. They won't replace ice cream, but if you're trying not to eat ice cream these will do.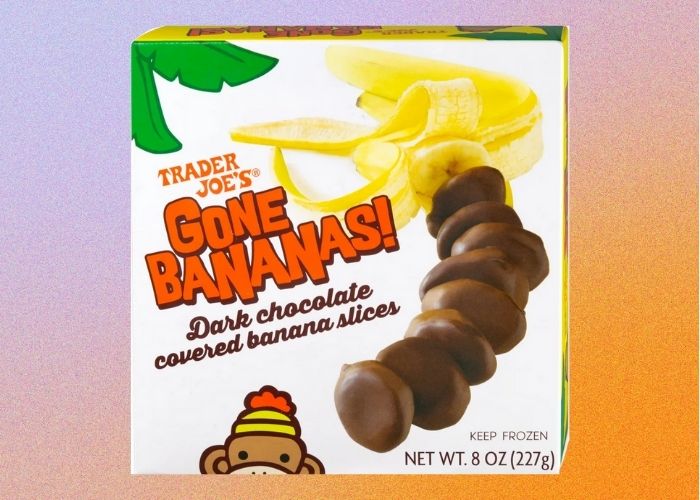 56. Olive Oil Popcorn
Popcorn has become my go-to crunchy snack and while it's easy to make it at home, this one is perfect if you're on the road. Or at work. You know, that thing.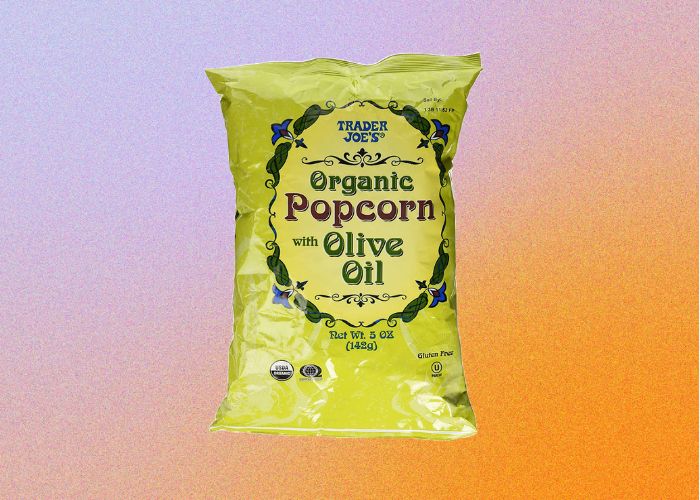 57. Perfectly Pickled Pups
This is the one item the team hasn't tried on the list. Some reviewers swear by them, but we're suspect. They look like a scotch egg or corn dog gone wrong. But, hey, if you're a dill fan, maybe they're incredible. Please report back and let us know.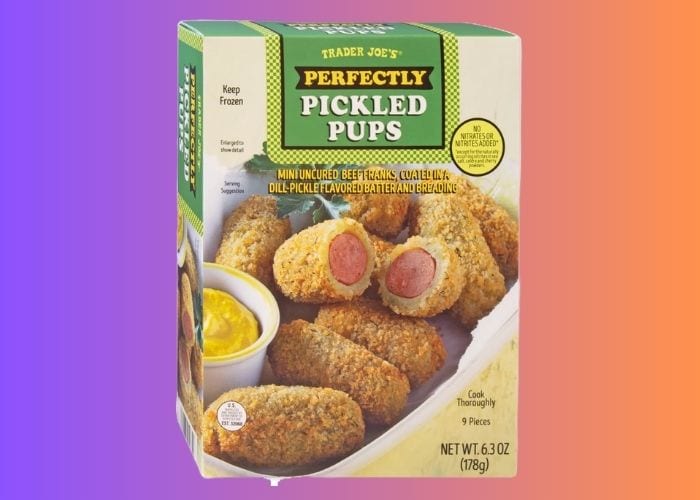 58. Blueberry and Lemon Hand Pies
Despite the fact that they remind us of those hand pies lurking next to the checkout at 7-11, these blueberry lemon dessert sandwiches are bursting with lemon and berry flavor and are pretty flaky, considering.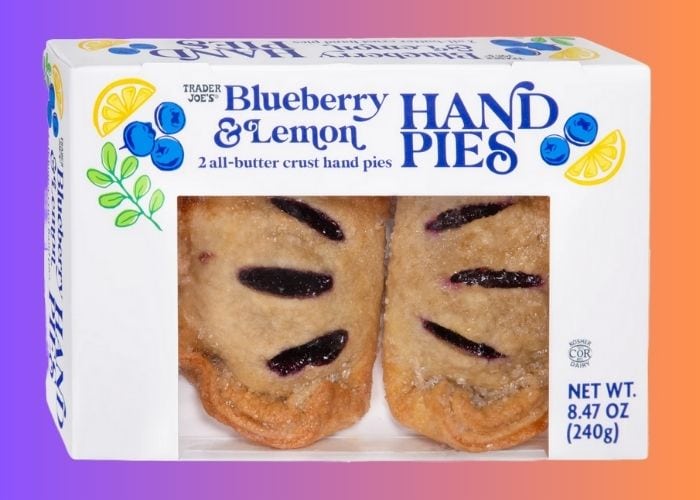 59. Squiggly Knife Cut Style Noodles
TikTok fell in love with these ramen noodles. The sauce, however, is underwhelming, so be ready to spruce it up.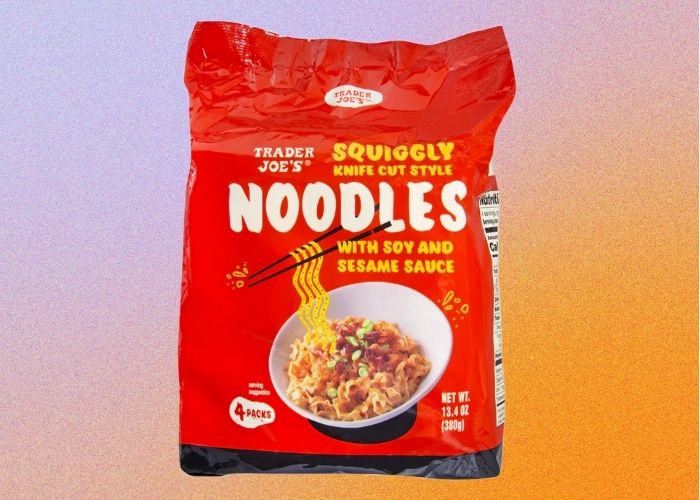 60. Green Goddess Dressing
Avocado, green onion, and basil are the stars of this green dressing that you'll be more than happy to smother your veggies with. When we do that we can't hear them scream when we eat them! Win-win. Mostly for us.

61. Beet Poke
We're still a little skeptical whether beets can really replace raw tuna, but Reddit has gone wild over it, so we're guessing TJs is onto something here.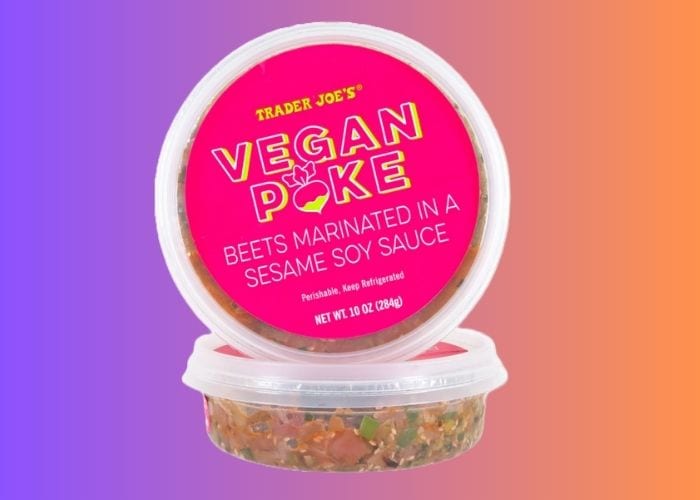 62. Ube Cookies
These Ube Tea Cookies are the latest addition to Trader Joe's growing selection of ube products. Because if Barney taught us anything, you can never have too much purple. And something about cleaning up?
The cookies are made with real ube, which gives them a beautiful purple color and a yammy taste. That's combined with cinnamon and vanilla flavors to create a shortbread cookie worthy of royalty. Or a make-believe dinosaur, which which there's a surprising overlap.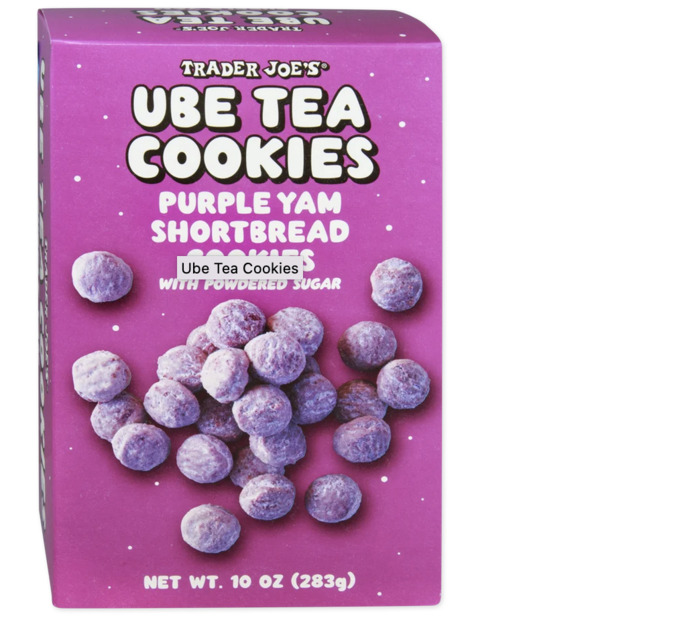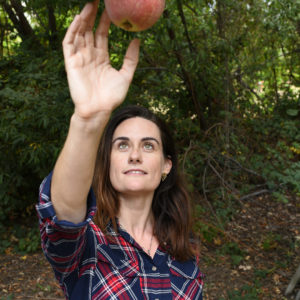 Latest posts by Rebecca Swanner
(see all)