If your knowledge of Greek food goes as far as the frozen section as Trader Joe's, get ready to discover a smorgasbord of deliciousness. Modern Greek street food includes everything from crunchy falafel and gyros topped with tzatziki to juicy souvlaki and warm koulouri. If it sounds like we're speaking Greek to you, we are!
When it's time to travel again, we're sure you'll consider yourself lucky if you find yourself in Athens — and not just because the priestess outside the Parthenon told you so. That's because you're not just somewhere else other than your living room: you're in a city with a whole menu of historic street foods to eat.
Here's what to eat — and where — to begin.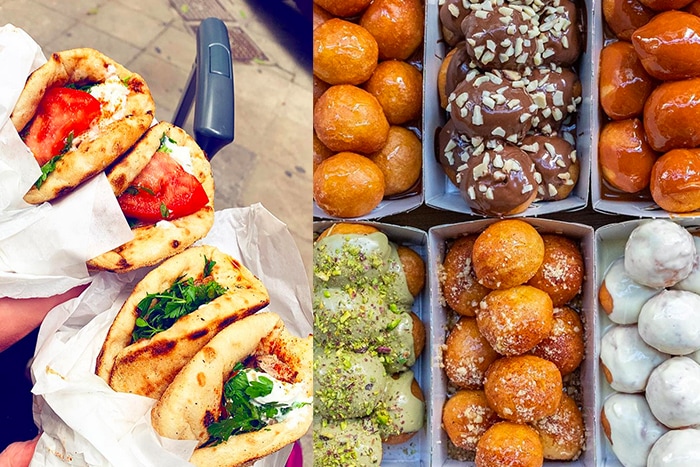 The Best Greek Street Foods in Athens
1. Souvlaki
Souvlaki is Greek for juicy pieces of skewer-grilled chicken or pork wrapped in freshly warmed pita bread and smothered with tzatsiki, tomatoes, onions, and fries. This is the number one street food.
Get up early and head to Irinis Square to sample souvlaki topped with Kosta's signature spicy red sauce. This legendary venue closes as soon as the meat runs out – usually by 3pm, but way earlier if we get in line ahead of you.
Kosta's Souvlaki Plateia Agias Irinis Square 2 Monastiraki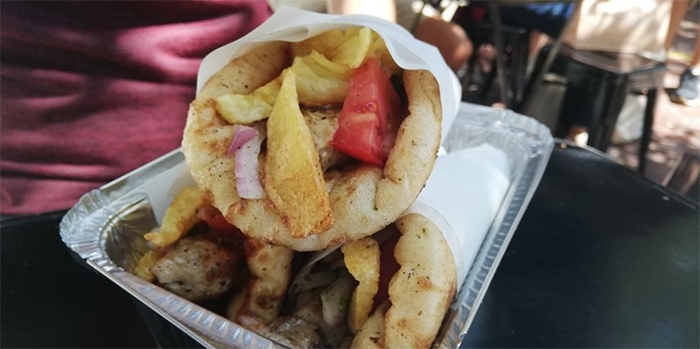 2. Gyros
Gyros are slices of carved, vertically spit-roasted meat, generally pork or chicken, served on pita bread. It's essentially a variation of souvlaki.
At O Kostas (not be confused with Kostas), you'll find tender meat served with your choice of one or all of their many sauces, along with tomatoes, onions, and fried potato chips. You'll also find our sunglasses — we think we forgot them there.
O Kostas, 5 Pentelis, Syntagma, Athens 10560.
3. Koulouri
The humble kolouri pretzel is a traditional breakfast staple and popular Greek hangover cure. We prefer just sleeping past noon. The crunchiness leve of the large, sesame seed-studded bread rings varies. Some koulouri are soft, others, you might crack a tooth on.
Today's koulouri stalls resemble New York City deli counters. At The Koulouri of Psirri, choose from fillings like Gouda or feta cheese, black olives, and bitter chocolate.
The Koulouri of Psirri, 23 Karaiskaki, Psirri

4. Tiropita and other pies
Tiropita is a crispy pastry loaded with tangy feta cheese that's been baked in large trays and cut into squares. Try the traditional Greek kourou, the best-selling half-moon pastry. Want more veggies in your pie? Try the spanokopita or spinach pie at Ariston, where they move 800 pies every day.
Ariston, Voulis 10
5. Loukoumades
Aristotle wrote about loukoumades — sinful, soft dough balls. Of course, he wrote about a lot of stuff — so much stuff, in fact, that even just scanning his Wikipedia page for a funny reference is too much effort, there's just so much philosophy!
At Lukumades, you can buy loukoumades fresh from the pan — hot and crisp on the outside, fluffy on the inside. They are best consumed alongside Nutella and ice cream. Or drenched in honey and walnuts and sprinkled with cinnamon. We live here now.
Lukumades, 21 Eolou and Aghias Irinis St.
6. Bougatsa
Bougatsa are phyllo-based pastry made with semolina and filled with custard, cheese, or meat. Athens's oldest patisserie, Krinos, has been serving bougatsa since 1923. And it feels old-timey thanks to a high school cafeteria vibe via self-service cutlery and plastic trays, and a table filled with mean girls.
Krinos, Aioulou 87

7. Lachamtzoun
This hand-kneaded flatbread is like a Middle Eastern pizza. It combines influences from Lebanon, Istanbul, and Greece.
At Feyrouz in Athens, you get to choose your own toppings, like minced beef, smoked eggplant, peppers, onions, or hummus. Try the extra spicy version. If you can handle the heat, it's got 14 different spices, so you're in for a head-exploding experience.
Make sure you don't miss it, though, as it's basically a hole in the wall where you'll be welcomed like it's your hole in the wall. If you truly live in a hole in a wall, you should probably find a new home.
Feyrouz Karori 23 and Aiolou
8. Falafel
You've probably had these fried chickpea balls before, but the best ones are at Falafellas. Choose a small or a big wrap consisting of falafel, lettuce, tomato, cucumber, aubergine, tahini, yogurt, and red sauce.
Falafellas, Aiolou 51
9. Fish in a Cone
Zsis's fish in a cone is proof that fast food doesn't only mean KFC or Burger King. (You did ask for proof, right? We definitely promised someone proof of this.) At Zsis, you can snack on lightly battered fish — or prawns, calamari, or anchovies.
Zsis, Athinaidos 3 Centre
10. Nuts
Persian kings gifted nuts to the Greeks, initiating an arms race-style gifting cycle that has lasted for millennia. Matsouka carries on the tradition with offerings of every variety of nut and dried fruit possible (except hopefully durian). Popular choices are the candied figs, dates, and dark chocolate. And not durian.
Matsouka Karageorgi Servias 3, Athens 10563, Greece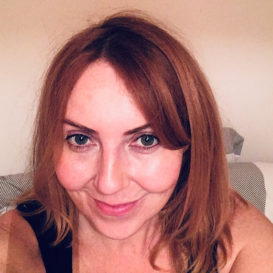 Latest posts by Emma Richards
(see all)