Autumn is almost here! The temperature is dropping and the leaves are changing. Well, we can only assume. We haven't been able to concentrate on anything other than the new Trader Joe's fall items for 2022 that have started to infiltrate stores.
This season we're seeing returning favorites like the Halloween Joe Joe's, and new trailblazers like Salted Maple Ice Cream.
With these mouthwatering options, Trader Joe's has us as excited as ever to lie about our availability so we can marathon movies by ourselves with an armful of our favorite fall snacks.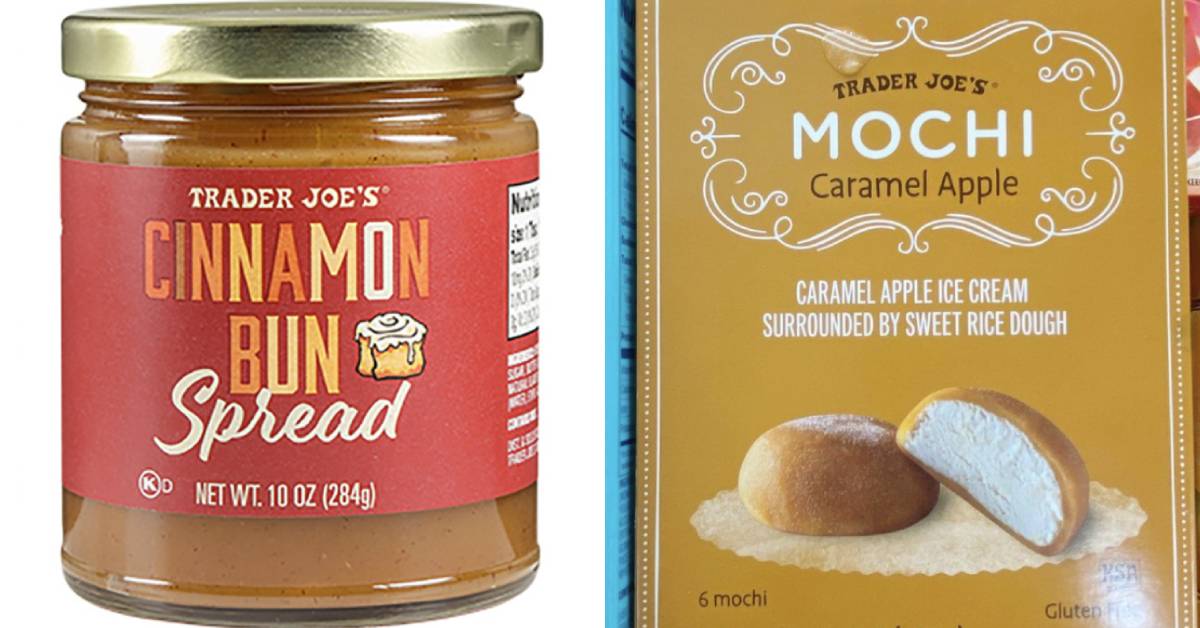 We scoured the fall foods that Trader Joe's is releasing this year and picked out the best ones for you to try. Some are old, some are new. Some are sweet, and others are savory. But one thing's for certain: they'll all have you coming back for seconds before they fly off the shelves like a witch who's late to feed her cat.
In the meantime, we'll be here with our pumpkin cheesecake.
25 New Trader Joe's Fall Items to Try This Season
1. Caramel Apple Mochi
The second you get a hold of these, you'll immediately want to chomp down on this combination of fall flavor, cold ice cream, and chewy mochi. Well, maybe after applying some Sensodyne.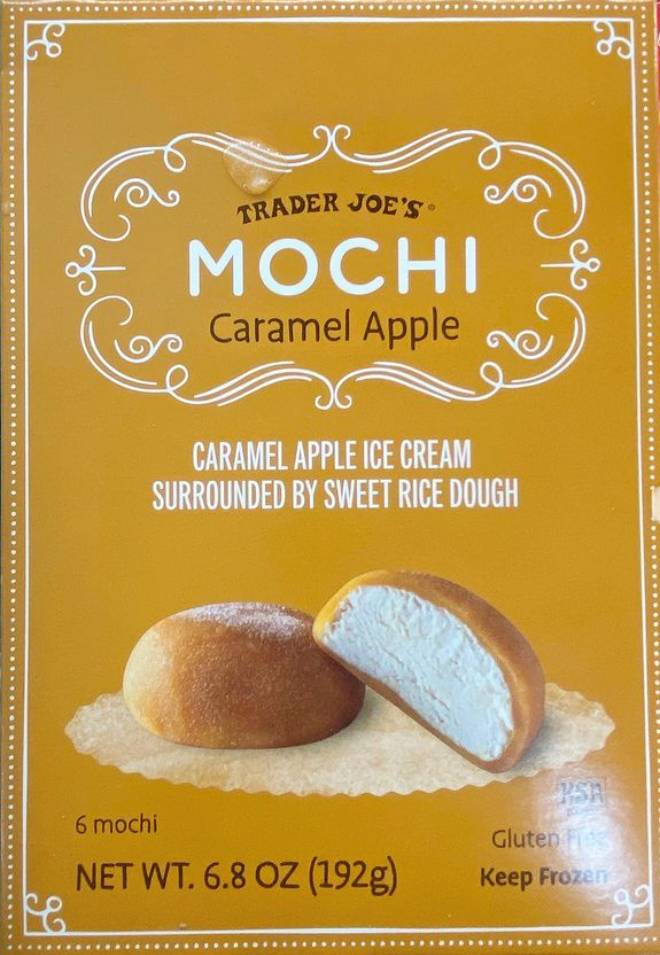 2. Maple Sea Salt Kettle Corn
This flavor may not scream "maple," but it has all of the salty sweetness that we love from kettle corn, with the gentle hint of fall. It's subtle, it's classy, and we don't care what anyone says: one bag = one serving.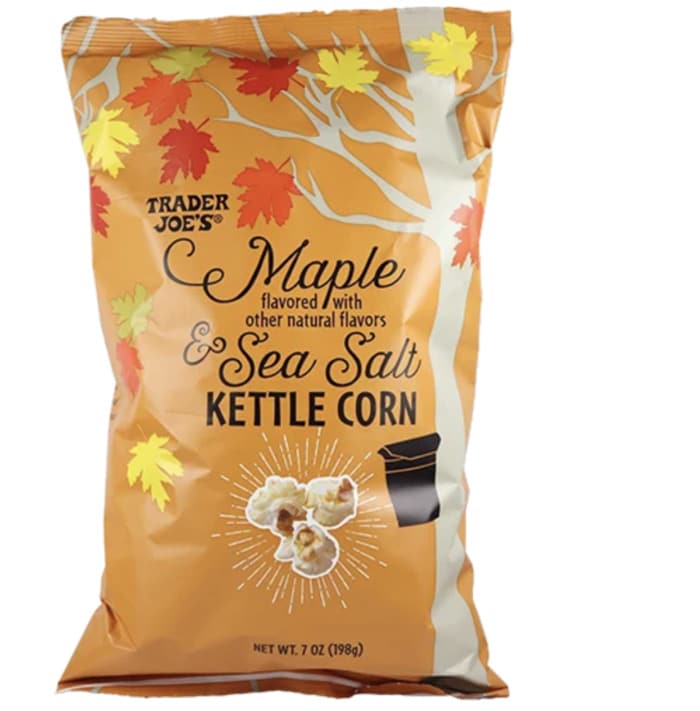 3. Halloween Joe Joe's
Sure, these may technically taste like the standard Joe Joe's. But the cream is dyed orange and the cookie is a cute Jack-O-Lantern. Who says costumes are just for people?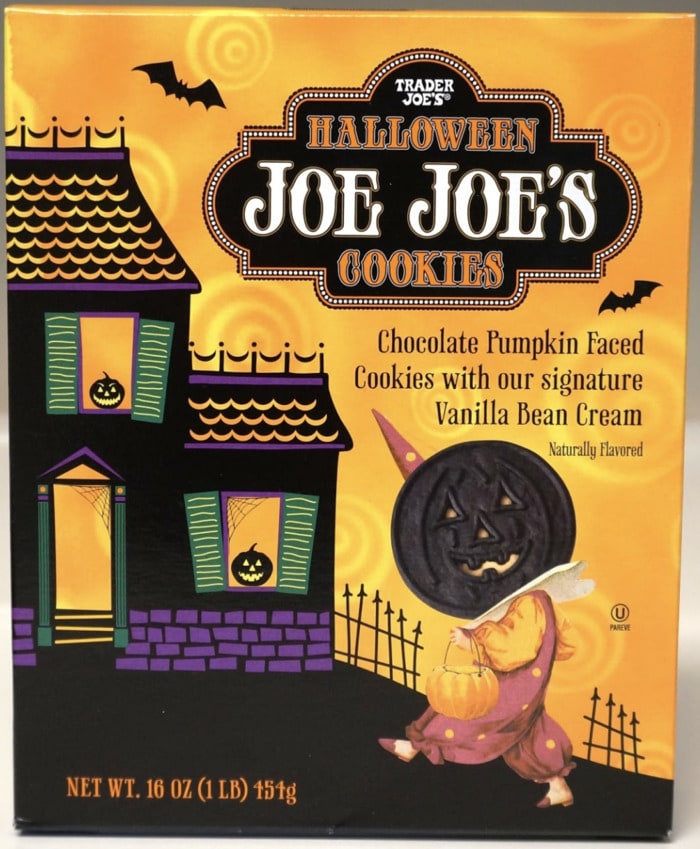 4. Butternut Squash Mac and Cheese Bites
These are perfect for when you want an autumn spin on mac and cheese.
It doesn't hurt that they're conveniently packaged in breadcrumb coated bites so you can snack while sifting through your giant pile of Home Goods fall decorations that you swear you'll stop adding to…after this year.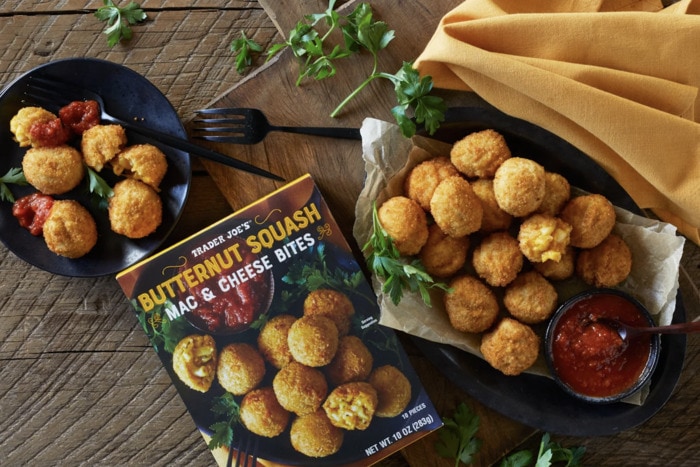 5. Rice Cauliflower and Butternut Squash Risotto
Sometimes we want to be mad at the world that can't leave cauliflower well enough alone. But then, products like this come along and deliver the creaminess of risotto and comforting flavor of butternut squash. Darn you, Trader Joe's! But also, bless you, Trader Joe's!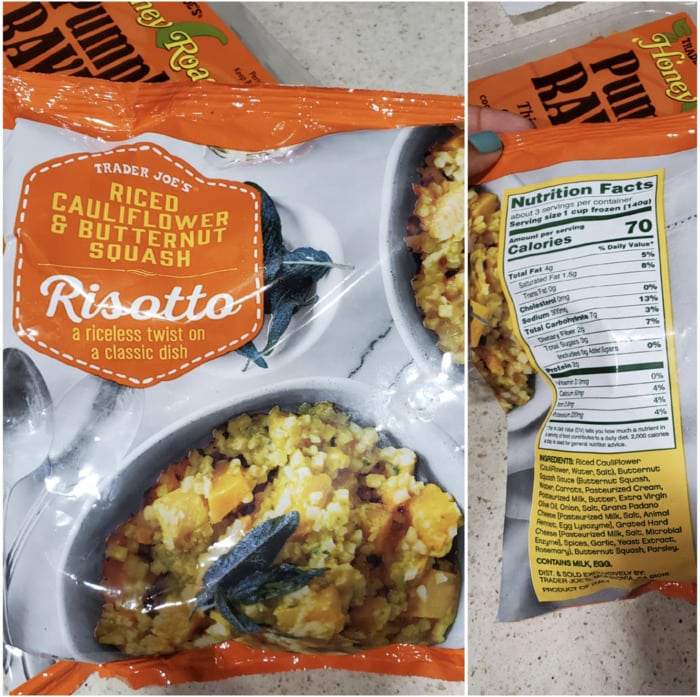 6. Rustic Apple Tarte
Sometimes, describing something as "rustic" is a euphemism for "not actually that nice."
But Trader Joe's does "rustic" well, delivering a delicious apple dessert that's a fun change-up from the classic apple pie. And, without any cobwebs like that "rustic" Airbnb you thought was a great deal.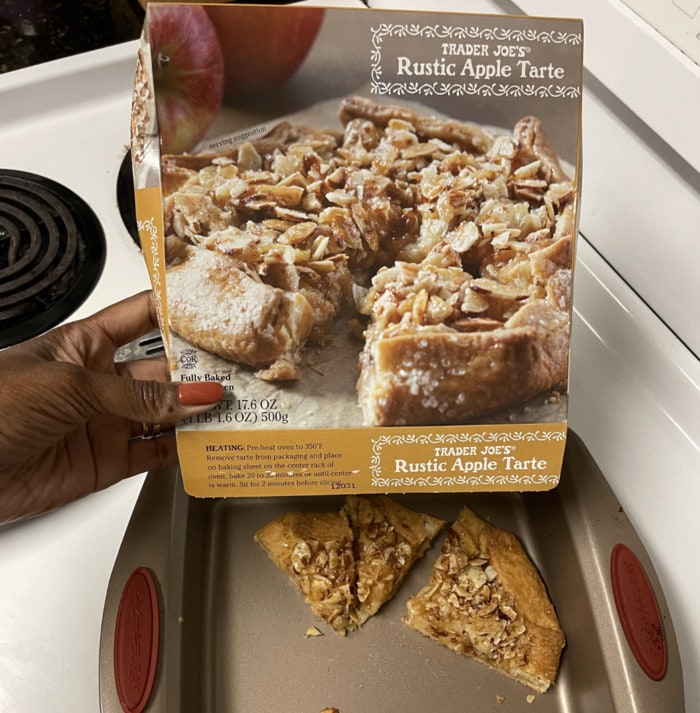 7. Haunted House Chocolate Cookie Kit
Finally, a holiday house building kit for people who don't like gingerbread. Instead of the Christmas classics like gumdrops and candy canes, this kit comes with Halloween decorations like bats and skeletons.
In candy form, of course! At least…we're pretty sure? Either way, it'll give this house some good bones.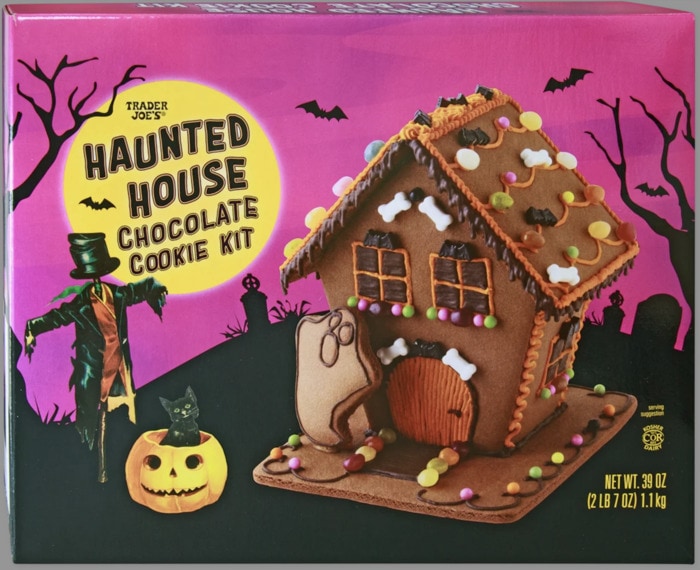 8. Cinnamon Bun Spread
This little jar of spread is the answer to a quick and easy cinnamon roll treat. You can use it to doll up your toast or cookies. Or, just enjoy this sticky goodness of cinnamon bun filling by the spoonful!
Either way, it's a lot easier than mixing a bunch of dough, letting it rise, realizing you messed it up, pulling yourself out of a spiral of self doubt, making a new batch of dough, giving up, and eventually going to a Cinnabon.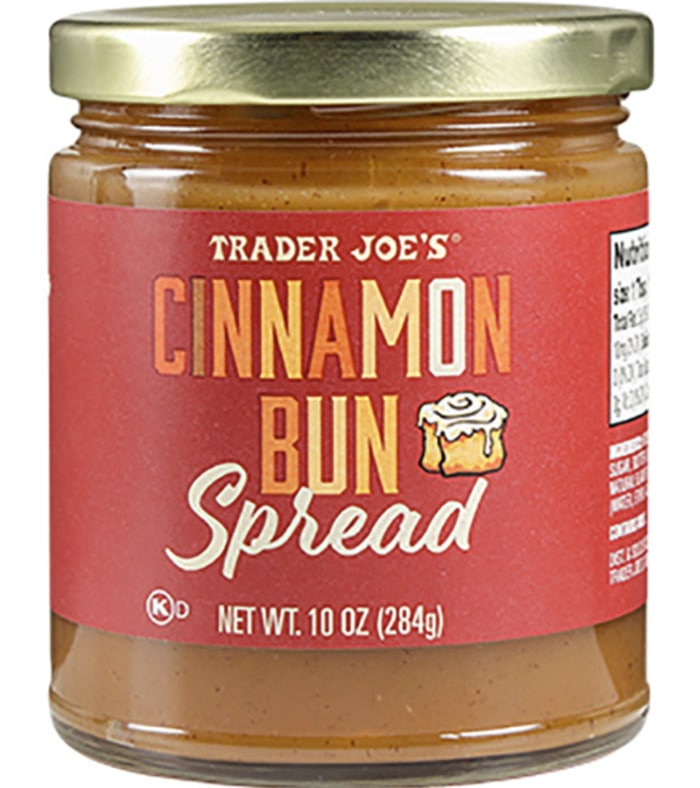 9. Salted Maple Ice Cream
Maple treats are often aggressively sweet. But, as we've found out with this ice cream, all it needs is a little salt to become a new household favorite.
Could salt and maple be the new Bonnie and Clyde? Probably not. But only because we don't see them becoming a sentient duo that becomes famous for robbery. But they do pair well together.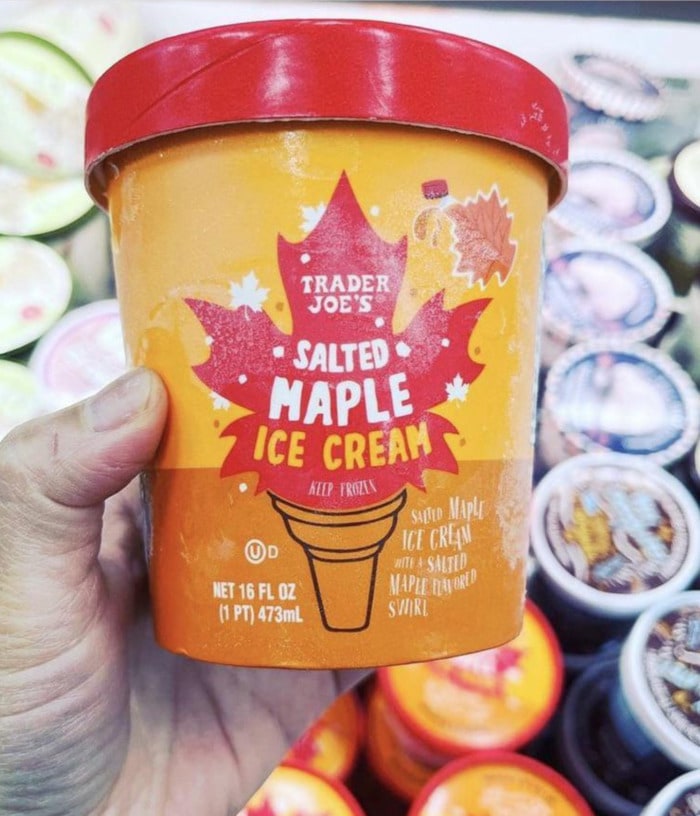 10. Mexican Style Hot Cocoa Melts
Some pumpkins can turn into magical carriages. Some turn into delicious, spiced hot chocolate. We're all for true love and stuff, but we know which we'd rather have.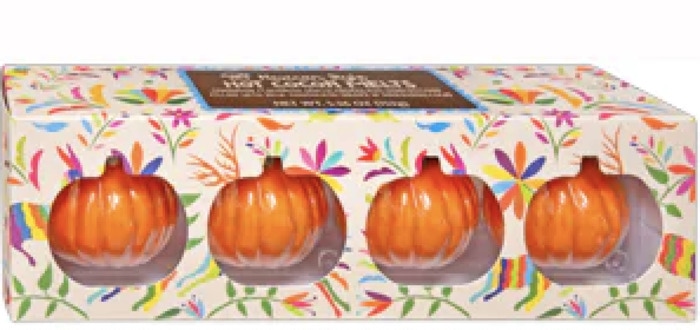 11. Sweet Cinnamon Filled Korean Pancakes
We don't know what sorcery goes into making these pancakes flaky, chewy, and gooey all at the same time, and we don't really care.
Thanks to Trader Joe's, we don't have to go all the way to Seoul for these babies. Unless you want to buy us a plane ticket?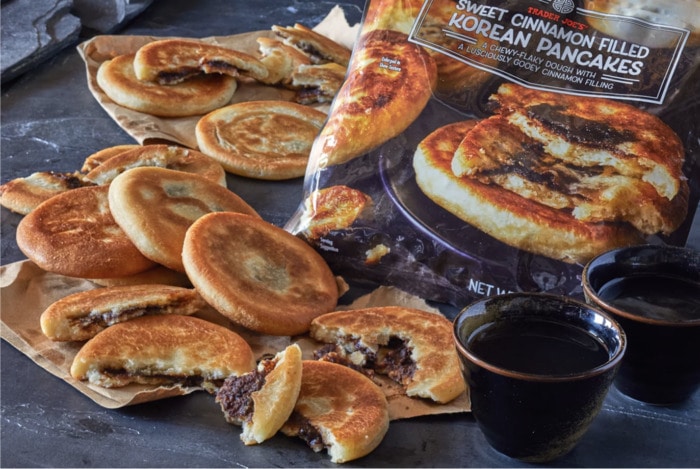 12. Pumpkin Hold the Cone!
We're pretty mad at Trader Joe's for this fall item. But because these are only available for a limited time.
This may be one of our favorite Hold The Cone products, thanks to the combination of pumpkin ice cream and ginger cone. It's the perfect accompaniment to a hot cup of tea. And also 20 more Pumpkin Hold The Cones.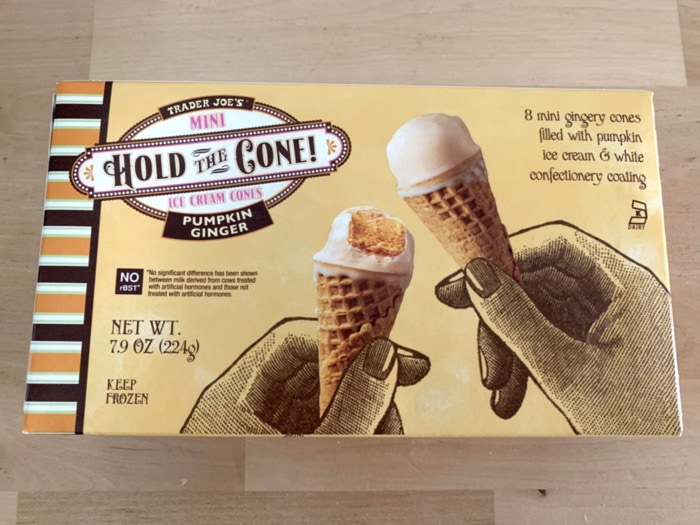 13. Pumpkin Spice Hummus
Just because you can combine America's favorite fall flavor with chickpeas, does that mean you should? Trader Joe's says yes! We wonder what they would say about dinosaurs.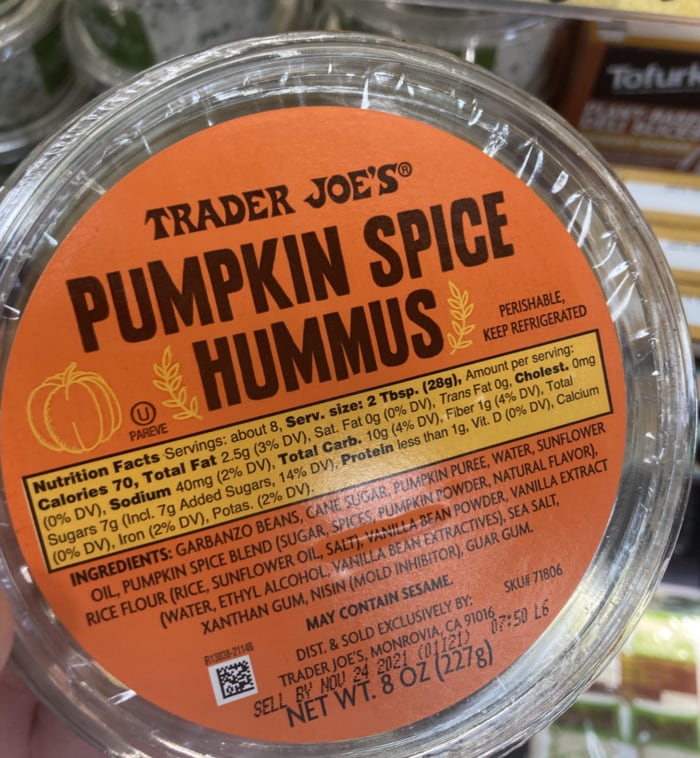 14. Non-Dairy Pumpkin Oat Beverage
Fall is the season of comforting, rich foods, so shout out to TJ's for throwing the non-dairy people a bone.
This pumpkin-flavored oat beverage delivers a creamy texture and the spiced sweetness of our beloved pumpkin treats, all without the uncomfortable stomach pain caused by dairy. Sorry, it can't help with that Taco Bell you had last night.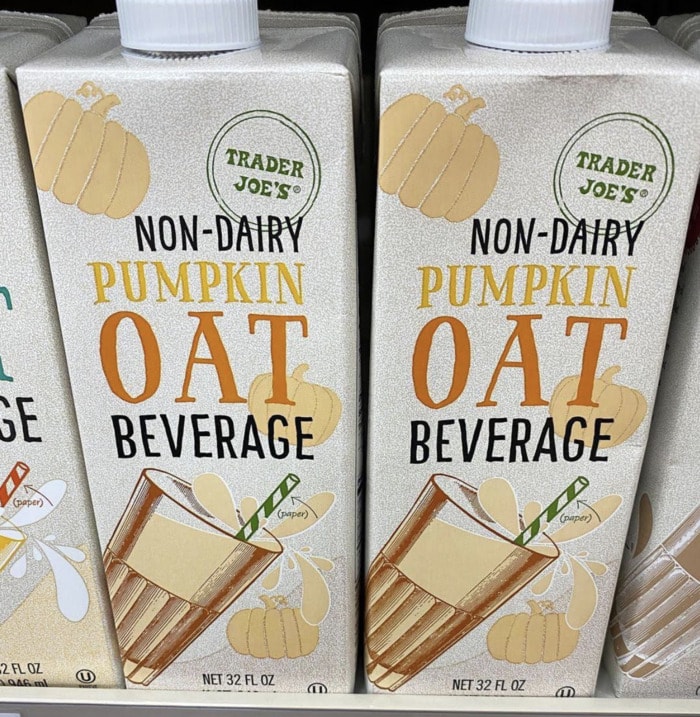 15. Pumpkin Maple Bacon Flavored Stuffies
Don't get too excited, these are dog treats. Yeah, we were sad, too. Between the adorable name ("Stuffies?! C'mon!) and the flavors of pumpkin, maple, bacon, and molasses, we've been trying to turn ourselves into a golden retriever all morning.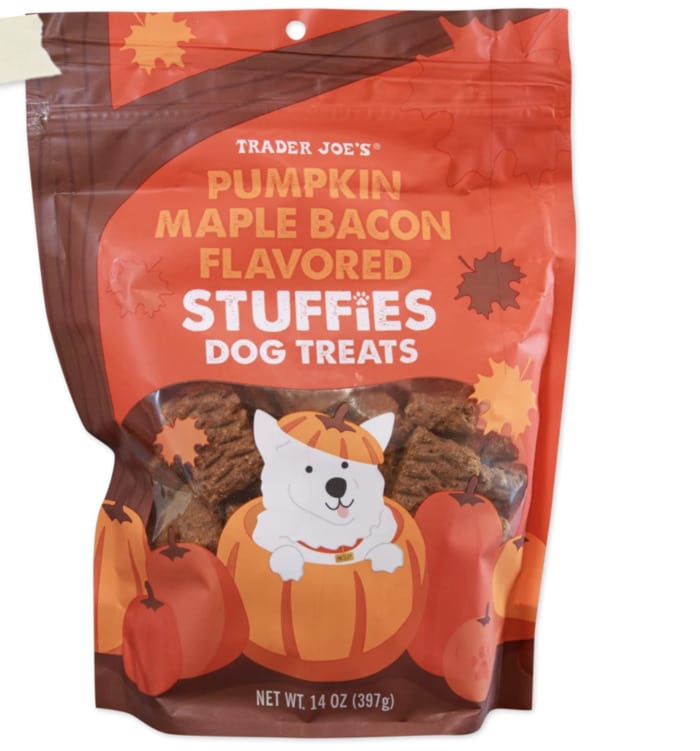 16. Pumpkin Spice Espresso Beans
These espresso beans will trap you in a vicious cycle. Eat lots because they taste good, stay up late because of caffeine. Can't sleep, so might as well have a snack…oh, look, pumpkin spice espresso beans!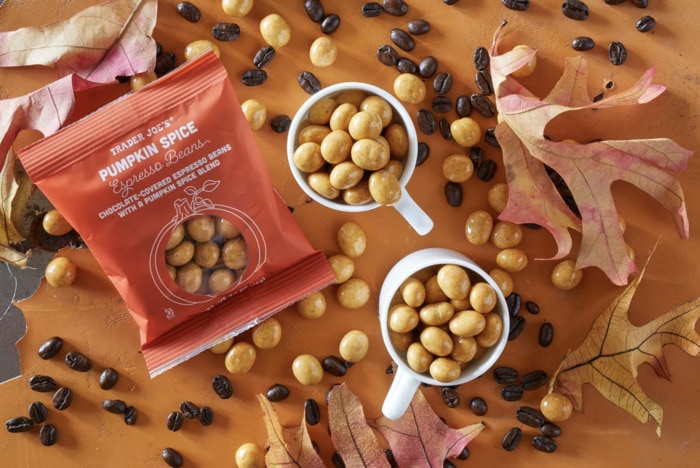 17. Pumpkin Brioche Twist
You know what brioche is good for? Upsetting the leaders of the French revolution.
You know what Fall is perfect for? French toast. Coincidence? We think not! We'd be skeptical of Big Brioche trying to rule the world, but we're too busy planning our next brunch. Just don't tell Robespierre.
18. Pumpkin Cheesecake
It's back! And this year, you may tell yourself that you'll skip the classic pumpkin cheesecake and try something new… on second thought, maybe not.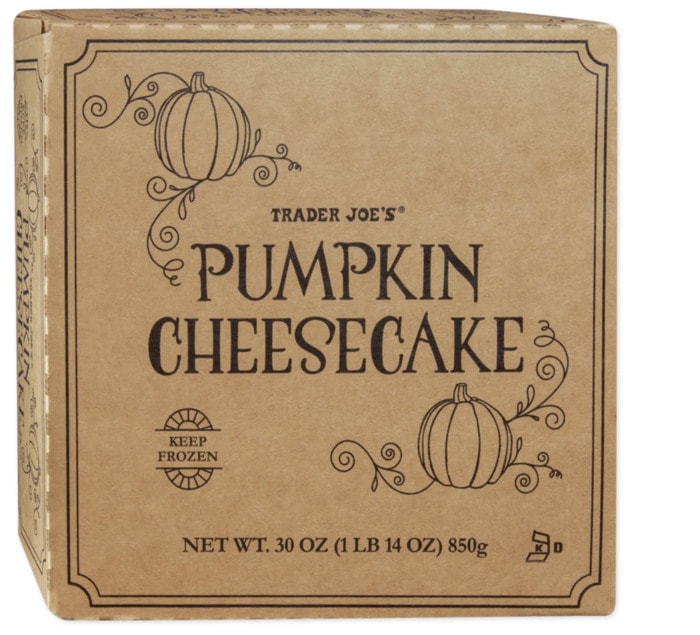 19. Mini Spicy Pumpkin Samosas
We love the year round samosas that Trader Joe's offers, and are happy to report that they do savory pumpkin items as well as they do sweet! Just call them a jack – er, Joe – of all trades. Uh, traders? Whatever, the samosas are good.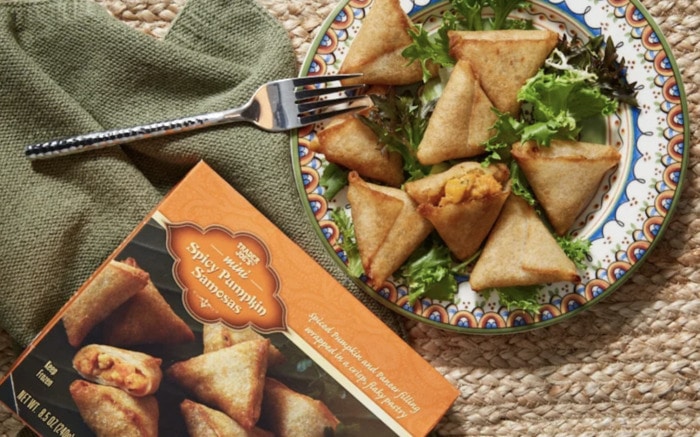 20. Pumpkin Spice Granola Bark
We like to put these in little baggies and pretend we're going hiking in the beautiful fall foliage. But in reality, we just eat it in our PJ's while watching Hocus Pocus. Either one works!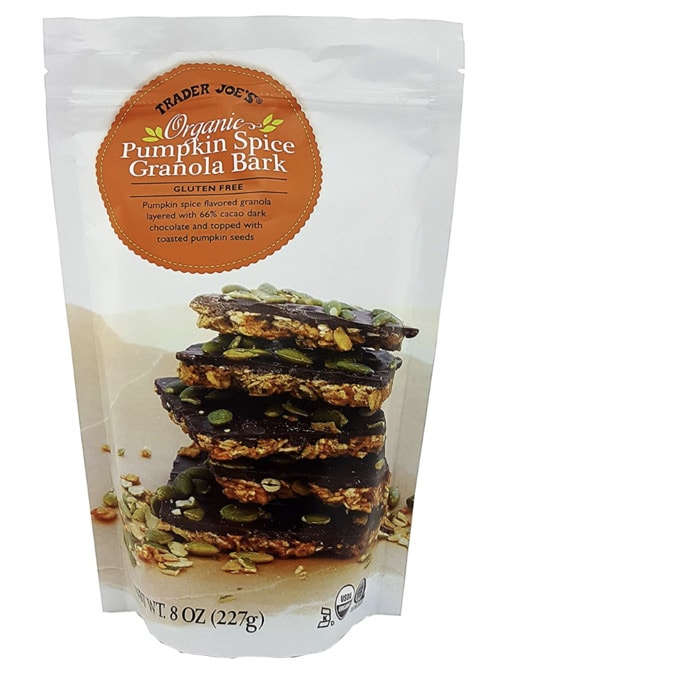 21. Pumpkin Cheesecake Croissants
We're not sure if we'd really call these "croissants," but it doesn't really matter. Our mouths will be so full that nobody will be able to understand us anyway.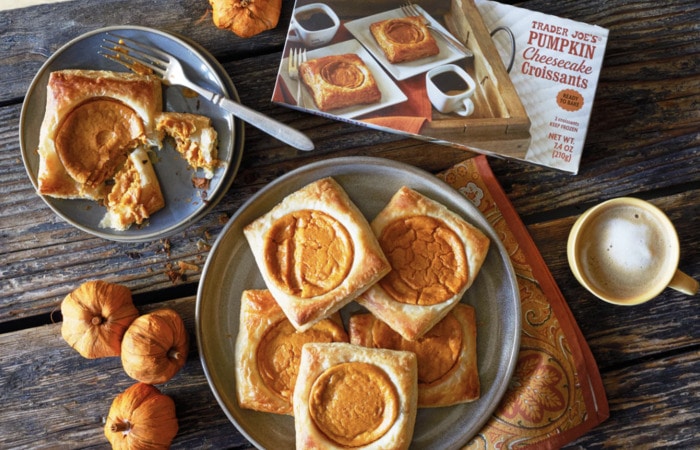 22. Pumpkin Sticky Toffee Cakes
If we've learned one thing from watching The Great British Bake Off, it's that nobody likes a soggy bottom. "Sticky toffee" is a ticket to hearts everywhere, and that we can't count. Bring on the cakes!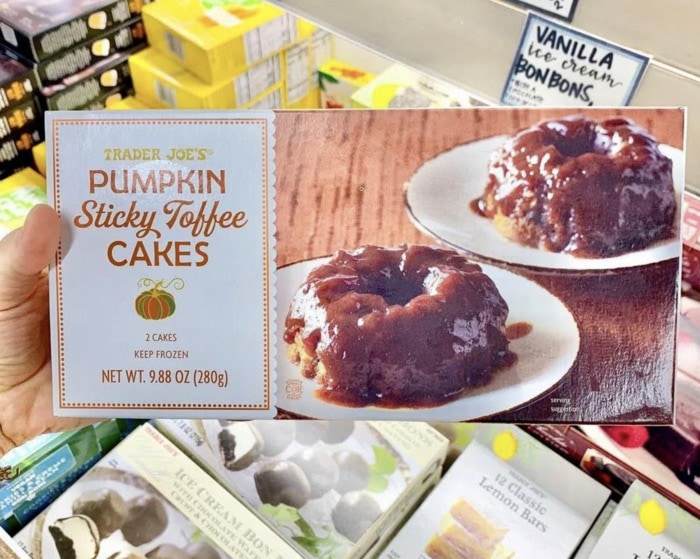 23. Pumpkin Spiced Teeny Tiny Pretzels
If we're gonna talk about our favorite little things that have been put through the ringer and came out victorious, our list is now these teeny tiny pretzels that are coated in pumpkin seeds and hobbits. Sorry, Frodo.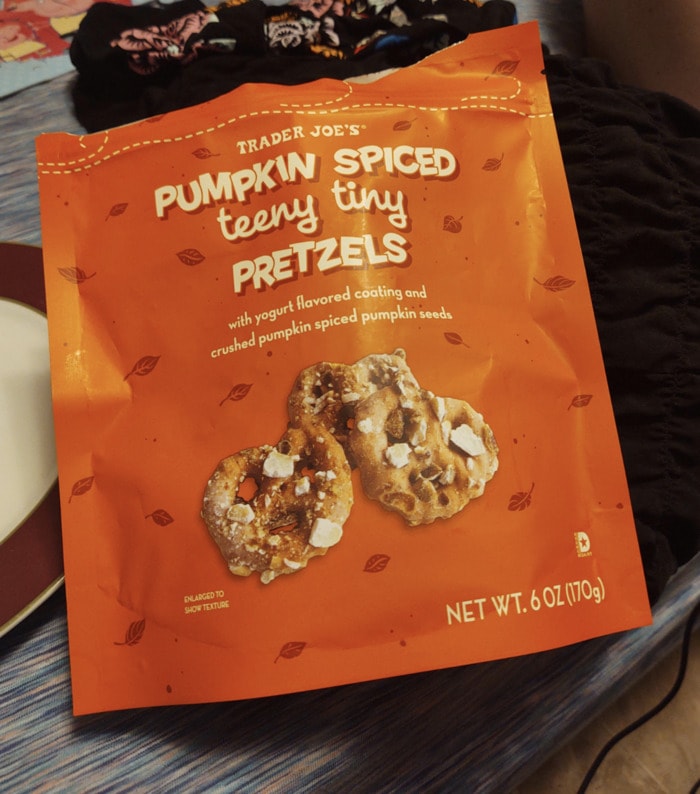 24. Honey Roasted Pumpkin Ravioli
We love you, but please give us a moment alone with a pack of these ravioli and a pot of brown butter. Actually, make that a couple moments. You know what, we'll call you when we're done. Don't wait up.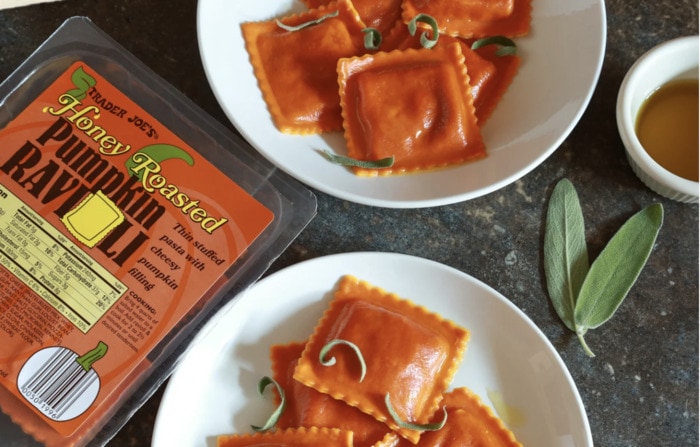 25. Pumpkin Gnocchi
The only thing more fun than saying "gnocchi" is whipping up a batch of the pumpkin variety and basking in the glow of all things autumnal. Actually, we may need to blow out those candles soon.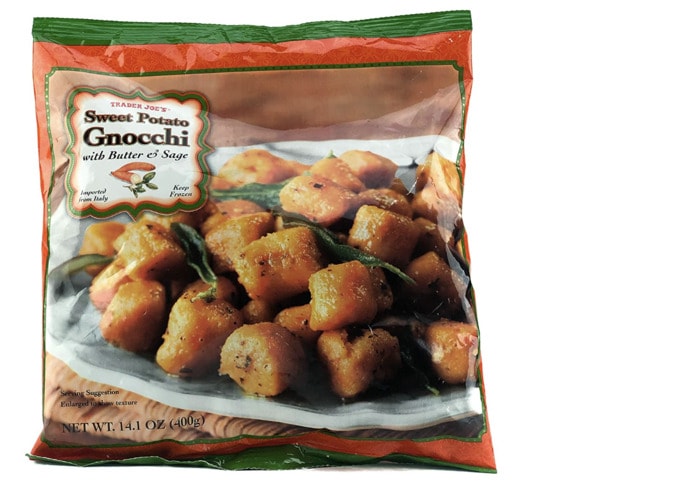 26. Acorn Squash
Need we say more?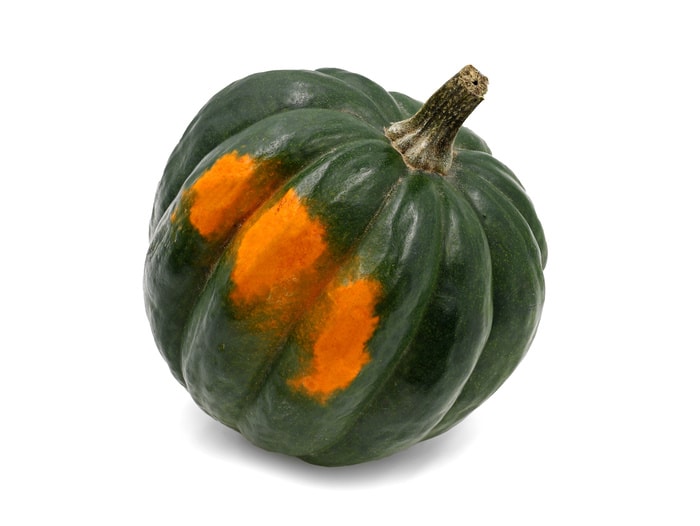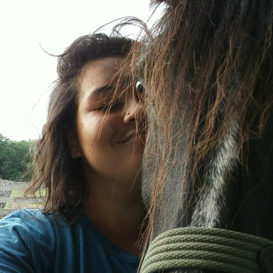 Latest posts by Hebba Gouda
(see all)