Ice cream is the opposite of green eggs and ham. We like it in a house, on a boat, in a tree, here, there, and everywhere. And Trader Joe's has a selection of ice cream so vast that we can probably enjoy a different type in each one of those places, plus some.
TJ's is very diplomatic about the way they label their ice cream and frozen non-dairy desserts. Maybe next up they can try and negotiate with our roommate on why they should do the dishes literally ever.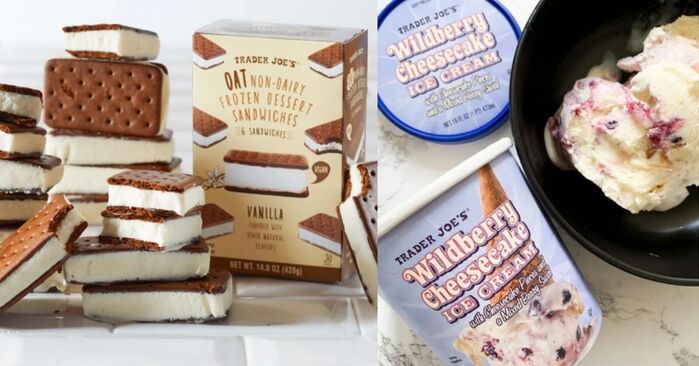 Trader Joe's Ice Creams Worth a Brain Freeze
1. Black Tea and Boba Coconut Non-Dairy Frozen Dessert
Bubble tea lovers everywhere can rejoice at Trader Joe's Black Tea and Boba Coconut Non-Dairy Frozen Dessert. Despite not being "real" ice cream, the base is pleasantly creamy.
Coco Chanel said "a woman needs ropes and ropes of pearls." She was right, if those pearls are made of tapioca. The other ones just aren't that tasty. If coffee is more your vibe, be sure to check out their Cold Brew Coffee and Boba Coconut Non-Dairy Dessert.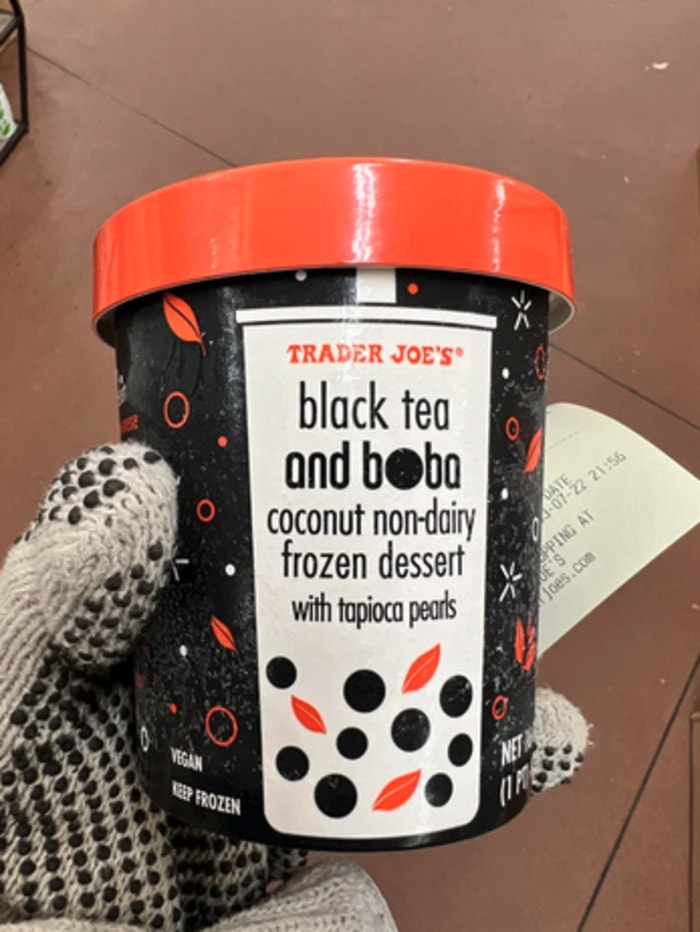 2. Oat Non-Dairy Frozen Dessert Sandwiches
Trader Joe's Non-Dairy Frozen Dessert Sandwiches are a dairy-free take on the classic ice cream sandwich and are oat of this world. You're stuck with that pun because our editor is too busy devouring these bars.
Trader Joe's even had the forethought to note in the nutrition facts that a serving size is two sandwiches. We feel seen, Trader Joe's. We feel seen.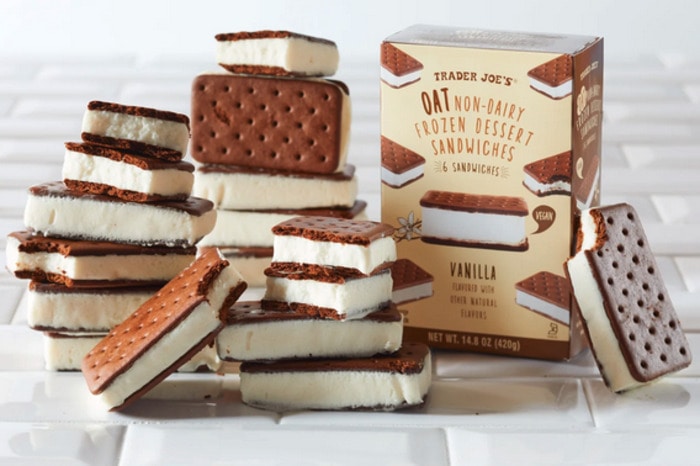 3. Okie Dokie Oat Non-Dairy Frozen Dessert
The packaging of Okie Dokie Oat Non-Dairy Frozen Dessert describes its contents as "A New Zealand-inspired non-dairy dessert with caramel swirl and sponge candy bits." That's all fine and good until we get to "sponge candy," and we think about our kitchen sponge. Mmm. Delicious.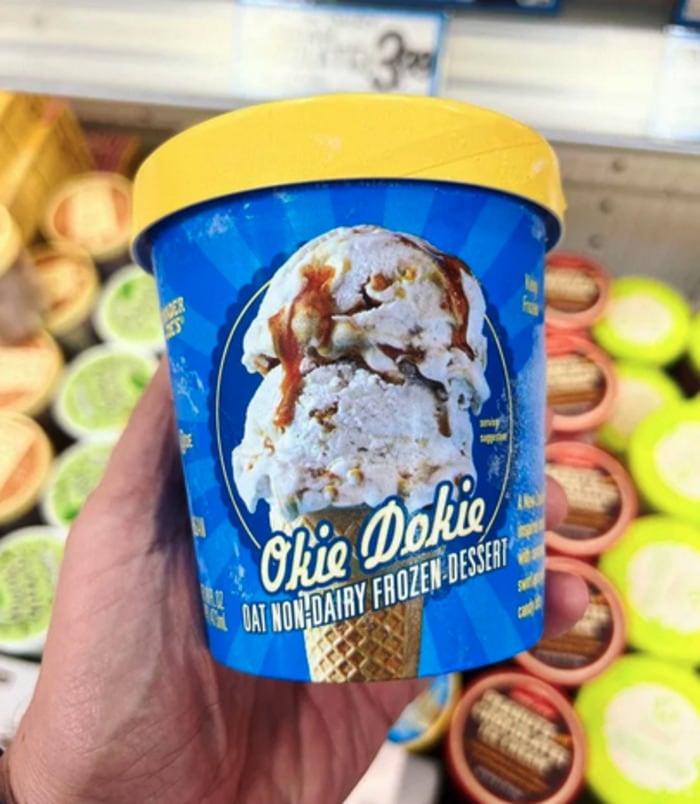 4. Candy Cane Joe Joe's Ice Cream
There's no shortage of seasonal holiday items at Trader Joe's, but this Candy Cane Joe Joe's Ice Cream is the (ice) cream of the crop. It has a cool peppermint and vanilla ice cream base and chocolate fudge and chunks of Candy Cane Joe-Joe's Cookies blended in.
It's seasonal, but will keep for a few months in your freezer. In theory.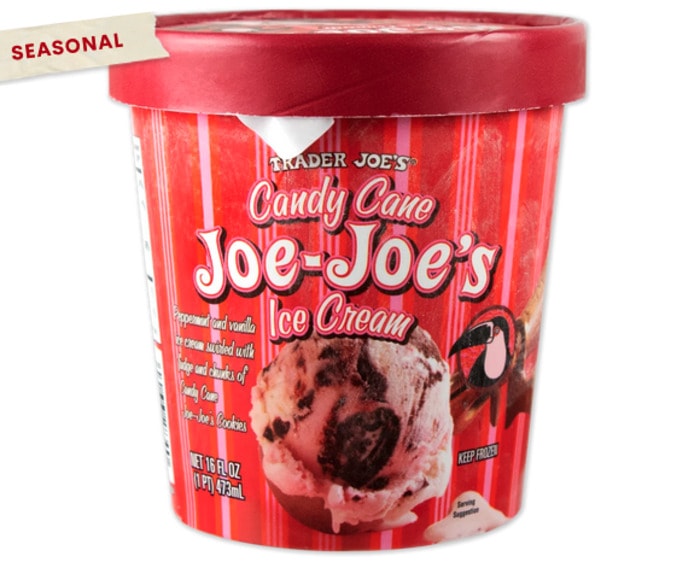 Available at Trader Joe's.
5. Mini Pumpkin Ginger Hold the Cone!
Trader Joe's hasn't missed yet when it comes to their Hold the Cone series, and their seasonal Pumpkin Ginger Ice Cream is no exception. It features a creamy pumpkin ice cream, a spiced ginger cone, a confectionery dip on the top, and a surprise white chocolate chunk on the bottom.
These treats are perfect for when you want to feel like a giant, or when you want to impress someone with the size of your hands. You know what big hands mean, right? Better high-five targets. And the other thing.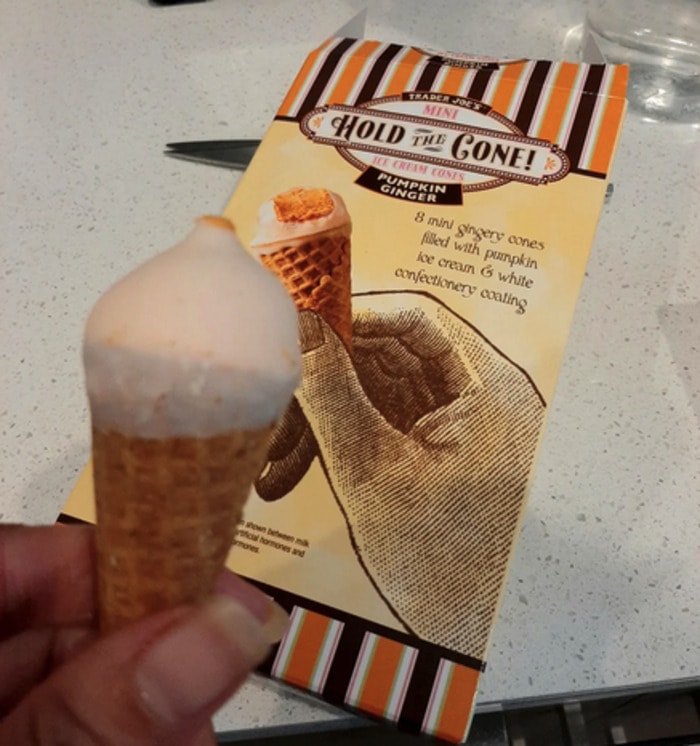 6. Peanuts for Chocolate Ice Cream
The Trader Joe's Peanuts for Chocolate Ice Cream has a chocolate ice cream base and a peanut butter swirl. So far, pretty standard. TJ's takes it over-the -top with the addition of peanut butter Joe Joe's.
It almost makes Häagen-Dazs seem pedestrian. Talenti, you can stay.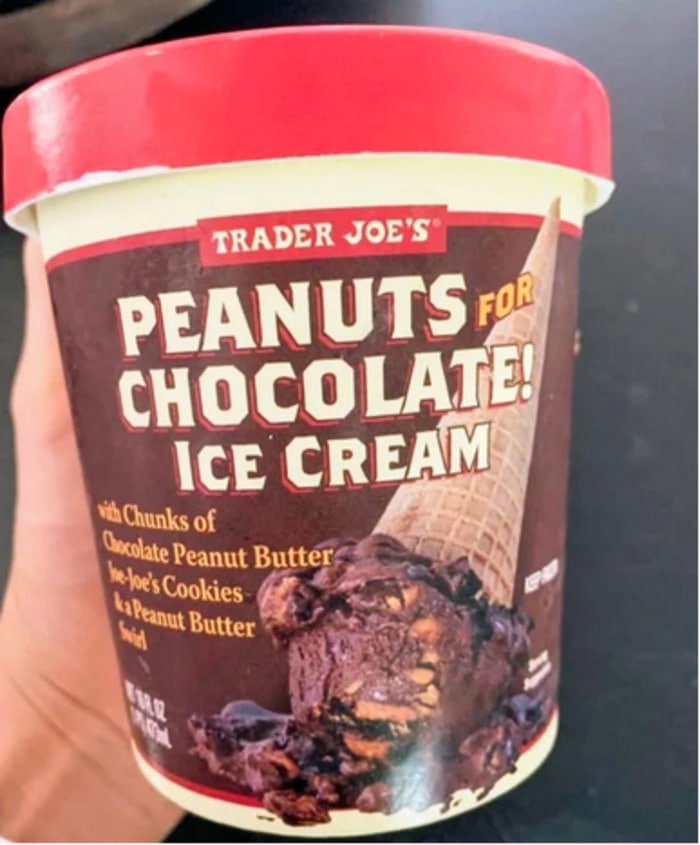 7. Wildberry Cheesecake Ice Cream
The Wild Berry Cheesecake Ice Cream is decidedly, unapologetically not vegan. It's got cheesecake bits in the ice cream base, for one. And, milk, cream, and eggs for another. For those who can't, or choose not to indulge, we respect your choices. Mostly because that means more for us.
The swirl consists of blueberries, strawberries, raspberries, blackberries, and elderberries. These berries mix and mingle like a bunch of teenagers at a party, but with considerably less BO and somehow even less room for Jesus.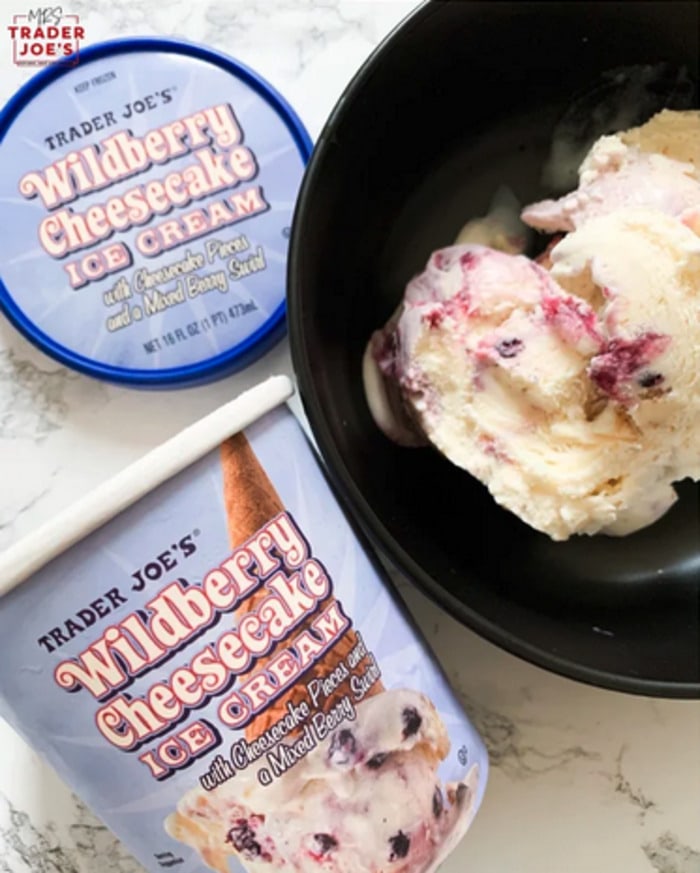 8. Matcha Green Tea Ice Cream
Matcha is a mystery. We acknowledge it tastes like grass, we are still happy to pay $2.99 per pint for the Trader Joe's Matcha Green Tea Ice Cream.
This flavor is pretty simple. It's just good, straight green tea ice cream. It's even a great resume booster, since you can claim you have a green thumb! Wait, not everyone eats ice cream with their hands?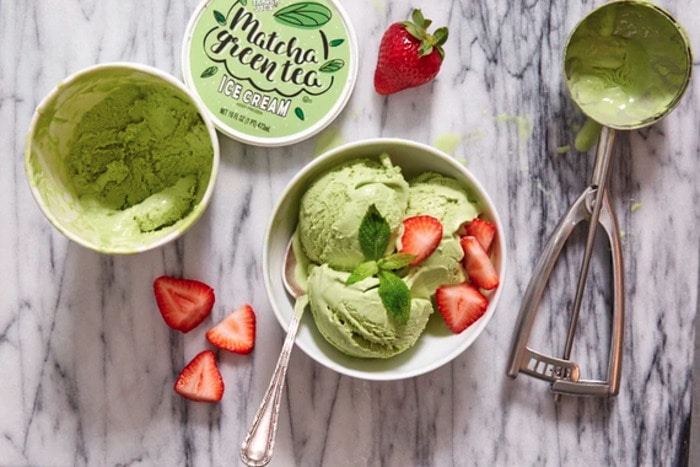 Available at Trader Joe's.
9. Vegan Mint and Chip Bon Bons
Vegan Mint and Chip Bon Bons are a great option for mint chocolate lovers who like York peppermint patties, but think, "what if it hurt my teeth a little more?"
This plant-based treat features coconut milk ice cream that's "enrobed" in a hard chocolate coating. So go ahead – take a bite and disrobe that minty goodness into your belly.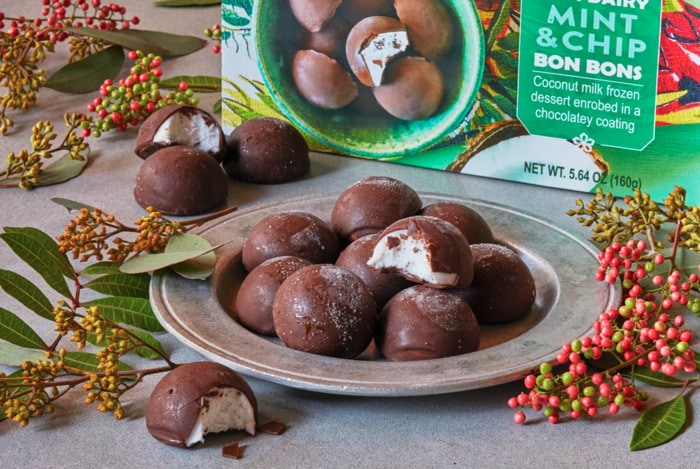 Available at Trader Joe's.
10. Golden Caramel Swirl Ice Cream
Trader Joe's Golden Caramel Swirl Ice Cream offers something for both chocolate and vanilla ice cream fans, without wasting time or space on the strawberry ice cream that you only really eat if you're taking one for the team.
Instead, chocolate and vanilla ice creams are married by a golden caramel swirl. As far as weddings go, this definitely beats out the one we went to last year for our third cousin, twice removed.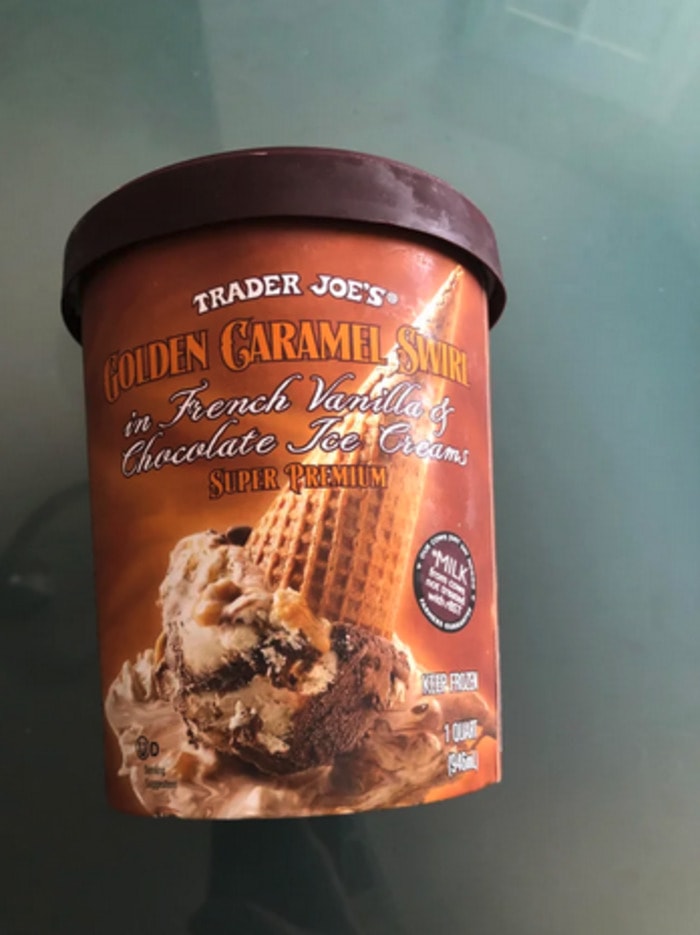 11. Ube Ice Cream
Trader Joe's Ube Ice Cream shows people that yams are not just tubers, but tubular! Our Internet Explorer has been stuck on the same Urban Dictionary page for a few years now. Sorry.
Aside from looking enchantingly like what a unicorn might churn up, ube ice cream is delightfully creamy, sweet, and nutty. With reviews comparing the flavors to vanilla, almond, pistachio, matcha, and coconut, it's clear that the ube wears many hats. Remember to remove it before enjoying.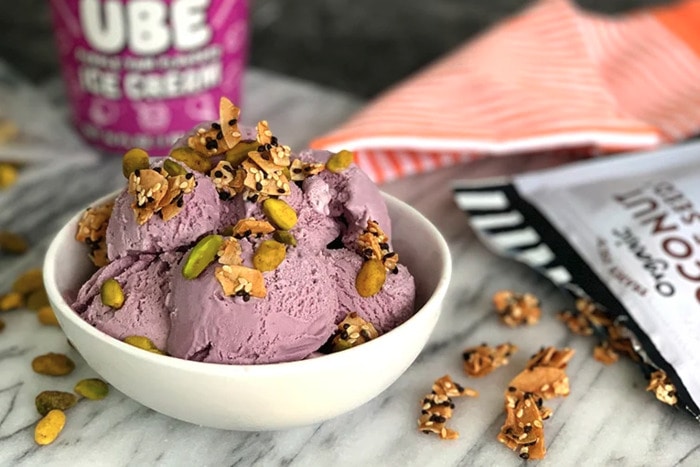 Available at Trader Joe's.
12. Strawberry Greek Frozen Yogurt Parfait Bars
With strawberries, Greek yogurt, and granola, these Strawberry Greek Frozen Yogurt Parfait Bars take standard breakfast faves and escort them seamlessly into the realm of dessert.
The popsicles are sweet and bright thanks to the berries, and smooth and tangy because of the yogurt. The addition of granola offers not only textural intrigue, but also a nice option for those who want a little extra fiber without having to munch on the popsicle stick.
13. Tangerine Cream Bars
These Tangerine Cream Bars offer all the main flavor points of a creamsicle, only with a name that sounds slightly less like a hashtag on an adult website.
You get six bars for the nice price of $2.99, so it really is worth throwing this dessert into your cart at least once. They'll make you the hit of any summertime picnic – especially with the ants.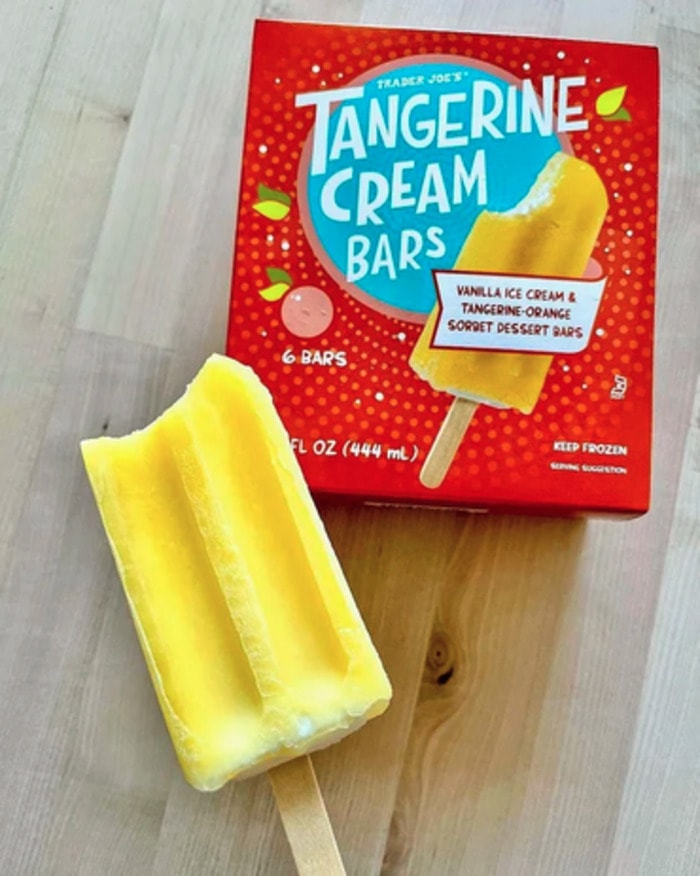 14. Vegan Cookies & Creme Vanilla Bean Bon Bons
Tasty and a hoot to say, "Vegan Cookies and Creme Vanilla Bean Bon Bons" give you lots of ways to have fun with your mouth! Each chocolate shell houses frozen vanilla non-dairy dessert and chocolate cookie pieces.
We like to imagine these coming to life and introducing themselves all suave-like with "The name is bon. Bon bon." That's usually when we're asked why we're cackling to ourselves in the middle of the frozen food aisle.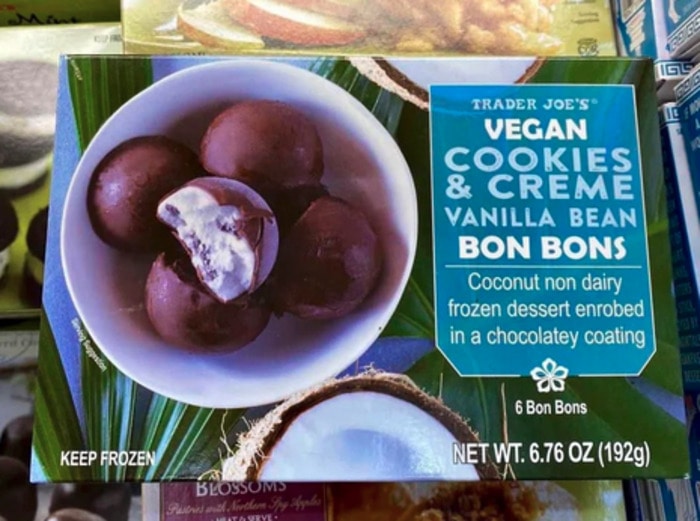 15. Southern Peach Crisp Ice Cream
For those who love a dollop of vanilla ice cream on top of your peach crisp, TJ's has taken it into their capable hands to do the work for you. This seasonal summer offering wraps up all the flavors of this dessert into one convenient bite. It starts with a sweet cream ice cream base, and then you get to the swirls of peach jam and chunks of buttery oat crisp.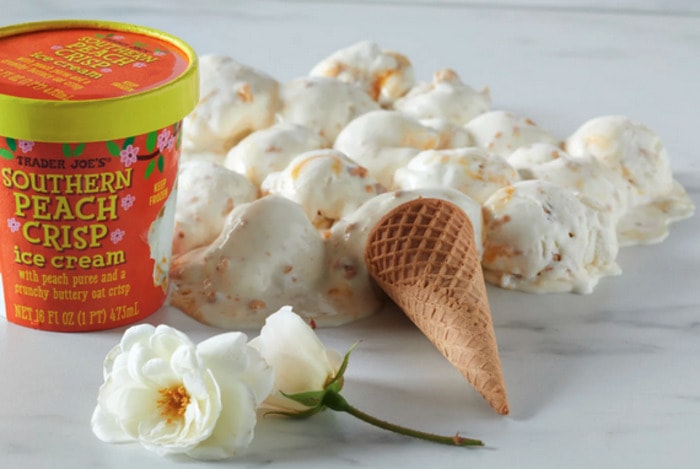 Available at Trader Joe's.
16. Non-Dairy Frozen Dessert Chocolate Fudge Bars
Non-dairy Frozen Dessert Chocolate Fudge Bars are a milk free alternative to fudgesicles. They're made with oat milk ice cream, so that pretty much means you can have them for breakfast.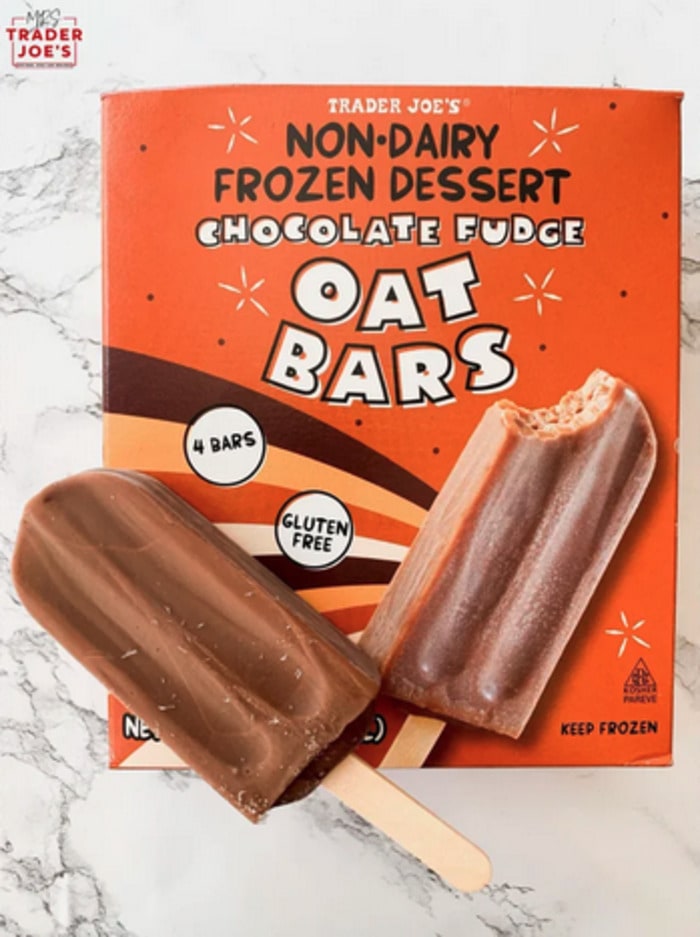 17. Brownie Crisp Coffee Ice Cream Sandwiches
An ice cream list wouldn't be complete without a few ice cream sandwich options. The fact that this item is made with ice cream that has coffee syrup, Colombian coffee extract, and espresso grounds, and is sandwiched between brownie crisps, makes us wonder why we didn't put this higher on the list.
Each box comes with four sandwiches, so make sure you hide these away in the back of your fridge. Hey, that's where that six-month old bag of cauliflower rice has been hiding!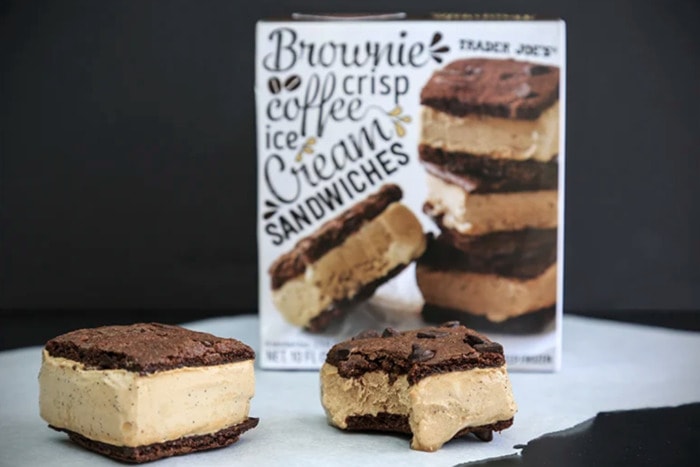 Available at Trader Joe's.
18. Strawberry Non-Dairy Oat Frozen Dessert
If you're the person who actually likes the strawberry portion of Neapolitan ice cream, then this one's for you! This strawberry ice cream has an oat milk base topped with fruity, candied strawberries and just the right amount of almond brittle.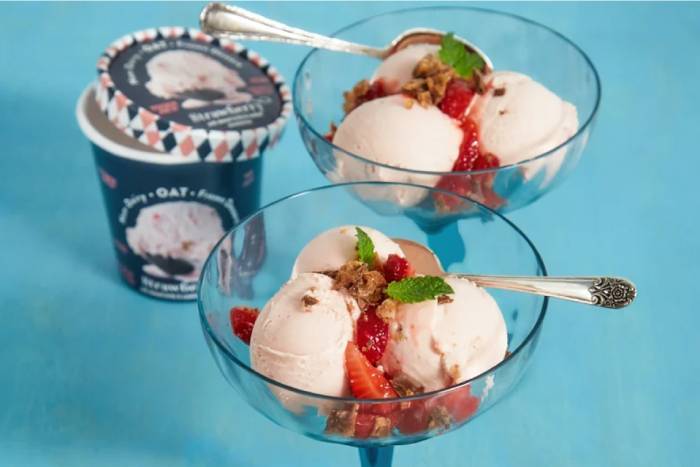 19. Soy Creamy Cherry Chocolate Chip Non-Dairy Frozen Dessert
Soy milk ice cream walked so coconut milk could run, and so oat milk could fly.
In fact, this Trader Joe's ice cream first appeared in 2004, and now it's back and better than ever. It's loaded up with cherries and non-dairy chocolate chips, and is way more excited than you about the resurgence of all the trends from the early aughts.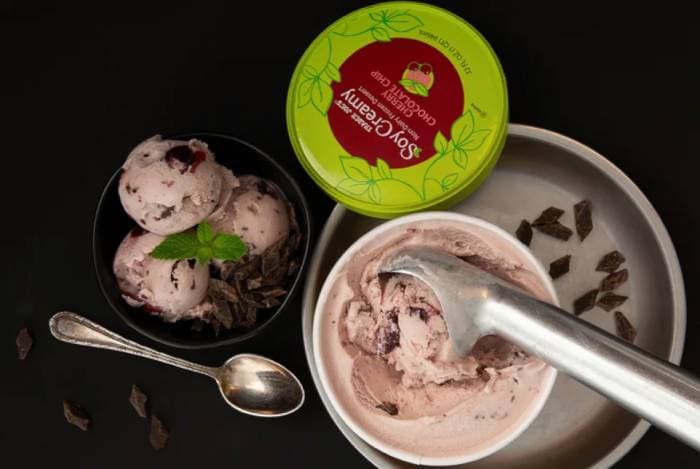 Available at Trader Joe's.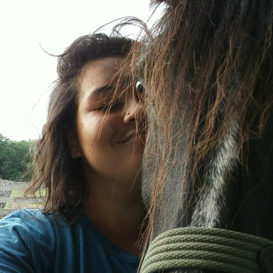 Latest posts by Hebba Gouda
(see all)