As grocery store treats go, Trader Joe's has some of the best in the game. From nuts and potato chips to their unforgettable cookie selection, the aisles are packed with the best snacks. And among those, is a whole gamut of delicious chocolates. But, how do you choose among those? That's where we come in. Just think of us as your snack sommeliers.
From salty chips to fruit to flavor mash-ups that have our taste buds very confused (in a good way), here are the best Trader Joe's chocolates.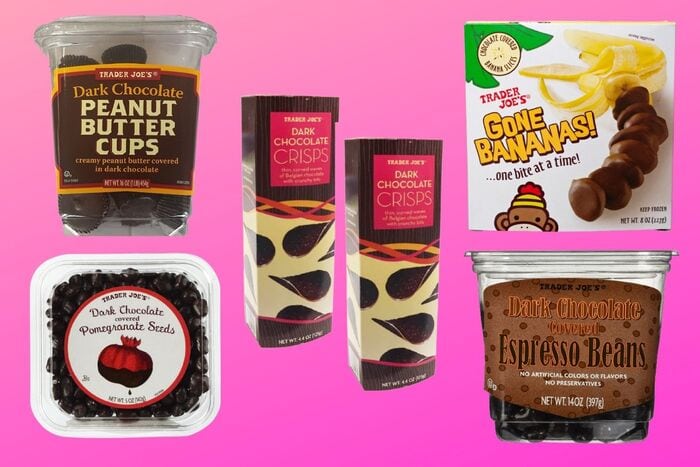 The 19 Best Trader Joe's Chocolates
1. Milk Chocolate S'mashing S'mores
There's nothing better than camping out on a starry night, roasting marshmallows over the open fire, laughing with friends. Unless you're also stuffing yourself with Trader Joe's Milk Chocolate S'mashing S'mores. With Bigfoot. He tells the best ghost stories.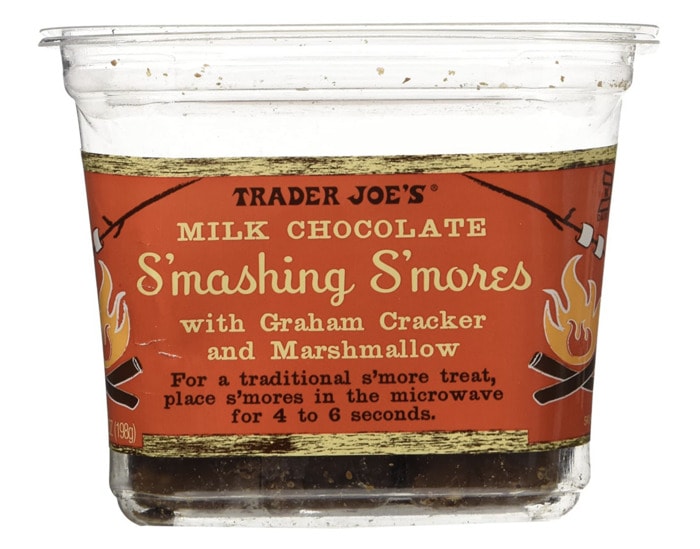 2. Chocolate Coconut Almonds
Crunchy, milky, and coconutty, the Trader Joe's Chocolate Coconut Almonds are akin to having a tropical beach in your mouth. Minus the sand and the sunscreen. And a really confused penguin.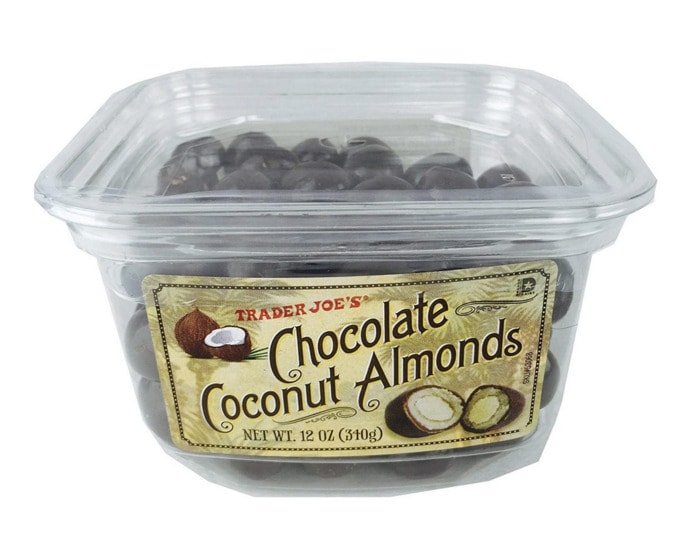 3. Chocolate Sunflower Seed Drops
These small Chocolate Sunflower Seed Drops are covered in pastel-colored chocolate. And while they look like dollhouse Easter eggs, toss them in your bag for an easy movie snack that you'll finish before the end of opening credits.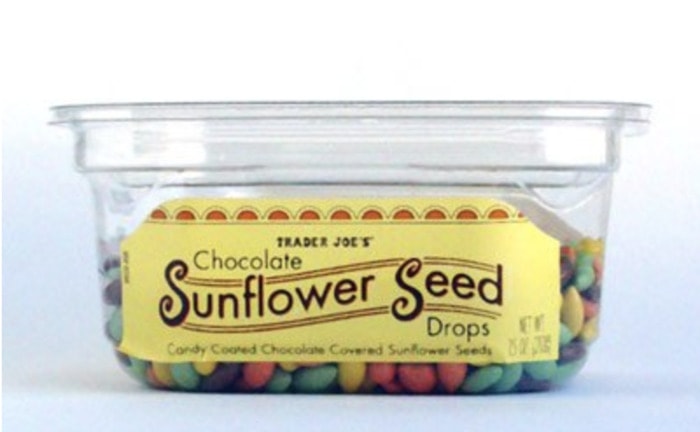 4. Dark Chocolate Covered Espresso Beans
Some of us need coffee to function. Others prefer tea. Whatever your caffeine vice, we know one thing. Don't talk to us until we've had our Dark Chocolate Covered Espresso Beans.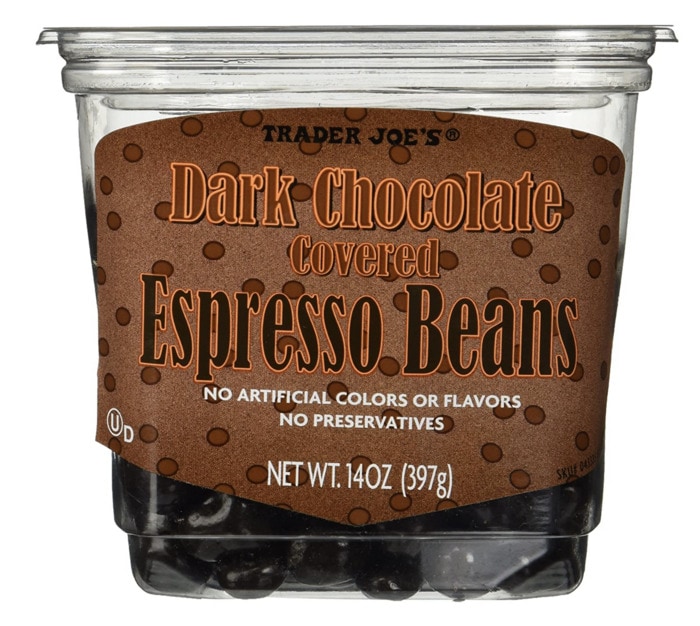 5. Dark Chocolate Crisps
Take one of the best savory snacks in existence – the potato chip – combine it with one of the best sweet flavors – dark chocolate – and you'll get a Frankenstein food worthy of scientific marvel also known as Dark Chocolate Crisps. Luckily, they're not green.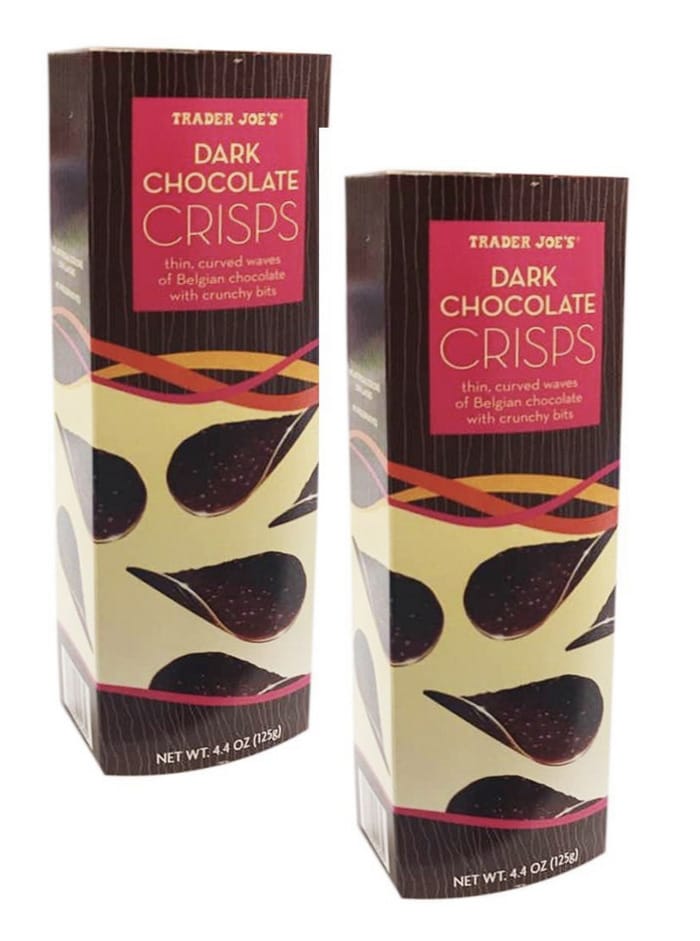 6. Dark Chocolate Covered Mini Pretzels
If you've ever had a chocolate-covered pretzel and thought, "this is too much pretzel," then this snack is for you. These Dark Chocolate Covered Mini Pretzels balance of salt and chocolatey Something we can't say about our chocolate-covered salt lamp.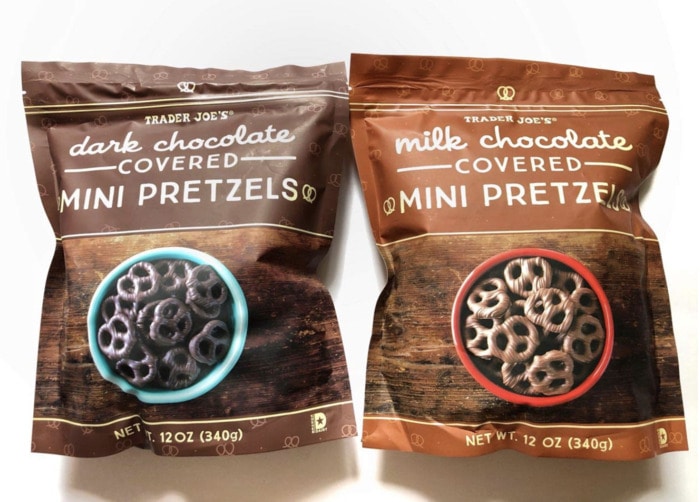 7. Vegan Mint Chip Bon Bons
Sure, there's a few die-hard mint chocolate haters will despise this non-dairy twist on a Trader Joe's classic. But to them we say… nothing. Because we're too busy stuffing our face with this perfectly-sized, frozen, chocolate-covered treat. And we're trying to beat our nephew in a silence contest. (We're totally winning.)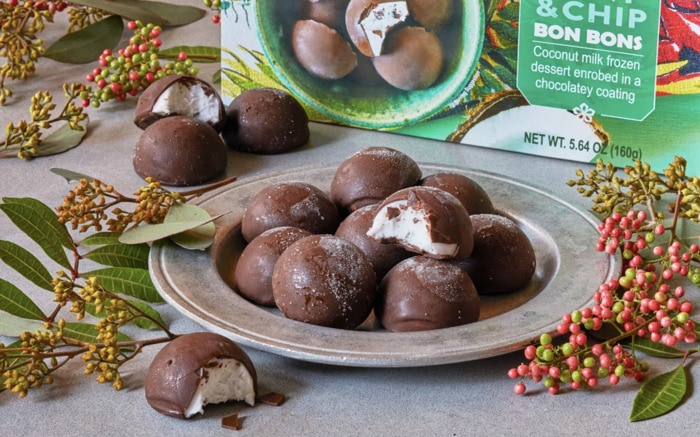 8. Milk & Dark Chocolate Butterscotch Bits Bar
For far too long, butterscotch has had an unfair reputation for being the old-fashioned favorites of the nursing home set. But just like vintage clothing always comes back in style, we think Trader Joe's Milk & Dark Chocolate Butterscotch Bits Bar is just the best. Ethel, could you pass the potatoes?


9. Dark Chocolate Covered Ginger
These morsels of ginger enrobed in a sweet layer of chocolate are sweet and spicy. But probably not the best palate cleanser.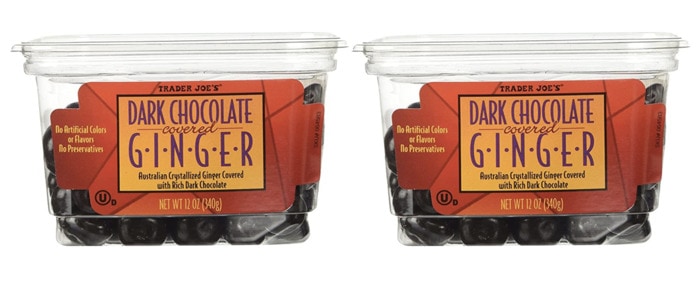 10. Gone Bananas
Have your dessert and eat…your fruit, too? Listen, we're not health experts, but these chocolate-covered bananas – more creatively known as Gone Bananas – can't be the worst sweet treat on the market.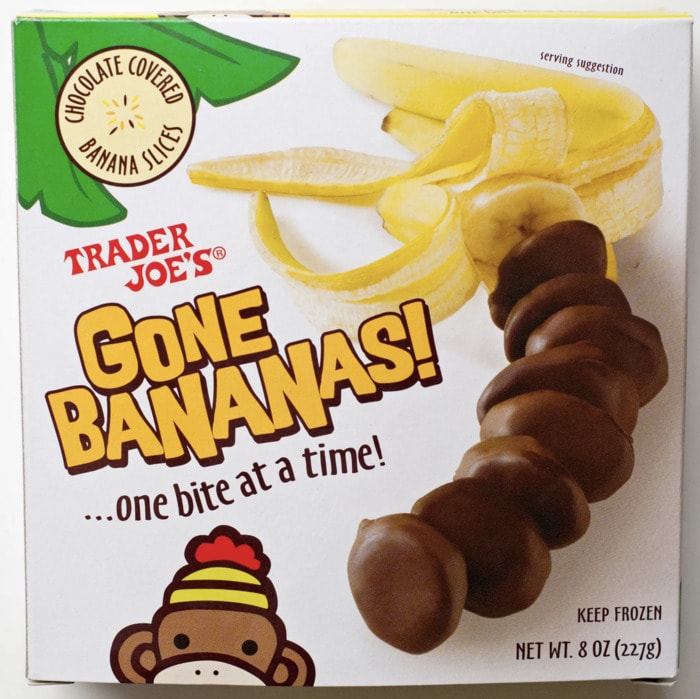 11. Trader Joe's Chocolate-Covered Sea Salt Butterscotch Caramels
These creamy bite-sized butterscotch treats are almost enough for us to break out the thesaurus. And Ethel off Candy Crush. The potatoes. Any. Day. Now.

12. Organic Dark Chocolate Covered Whole Cocoa Beans
Get to the root of all things chocolate with these organic cocoa beans covered in chocolate. Talk about meta! Not that one. They're also USDA organic so they're healthy enough to eat for breakfast. That's how that works.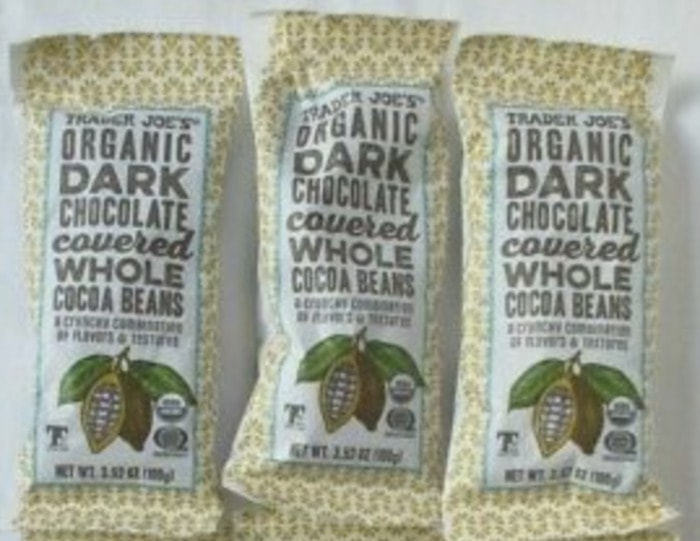 13. Dark Chocolate Peanut Butter Cups
Chocolate and peanut butter are a flavor combo that has been around for centuries. Or at least longer than Bennifer. (The first one.) These Trader Joe's Dark Chocolate Peanut Butter Cups are a sophisticated twist on the milk chocolate favorites that pair perfectly with that Three Buck Chuck.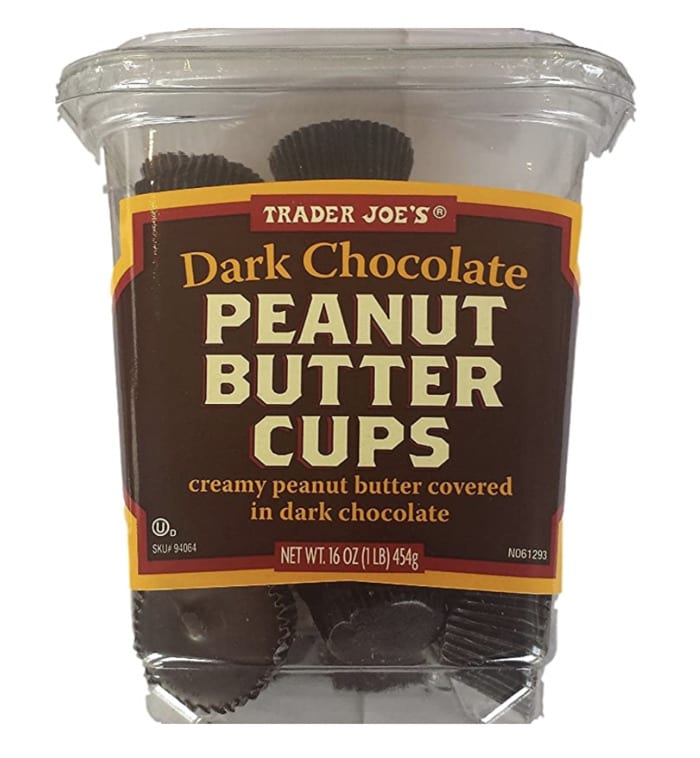 14. Dark Chocolate-Covered Pomegranate Seeds
The Trader Joe's Dark Chocolate-Covered Pomegranate Seeds are the height of luxury and you probably won't get trapped in Hell for eating them.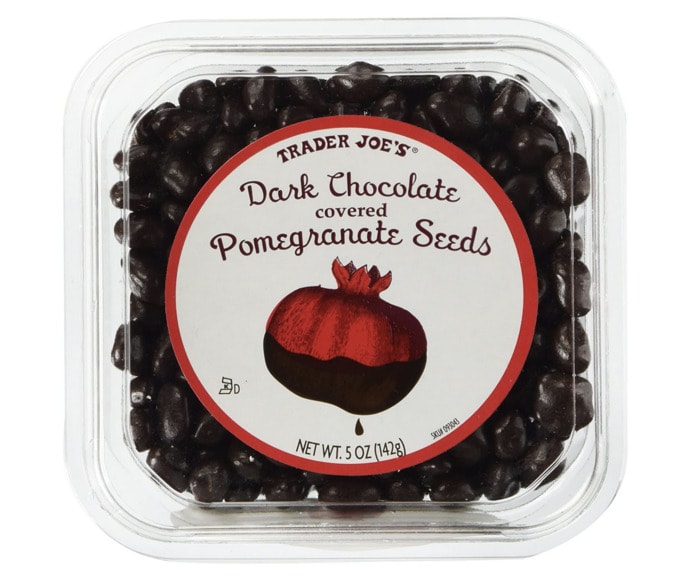 15. Dark Chocolate-Covered Blueberries
Chocolate-covered strawberries have a seductive reputation, but we think these Dark Chocolate Covered Blueberries are their more fun cousin. And not just because they're on the top shelf. You can pop multiple of these chewy dried blueberries covered in chocolate into your mouth at once. Good luck doing that with the other ones.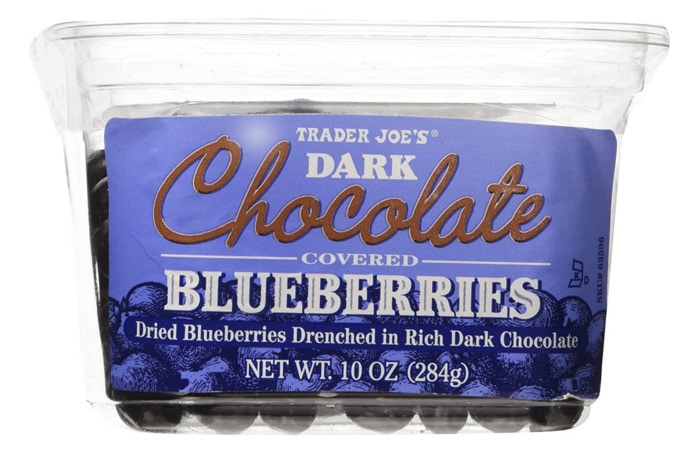 16. Dark Chocolate-Covered Raisins
Do you prefer your chocolate-covered fruit a bit more wrinkly? Skip the smooth bloobs and grab the Trader Joe's Dark Chocolate Covered Raisins. Made without preservatives or artificial flavors, they're a step up from the trail mix staple.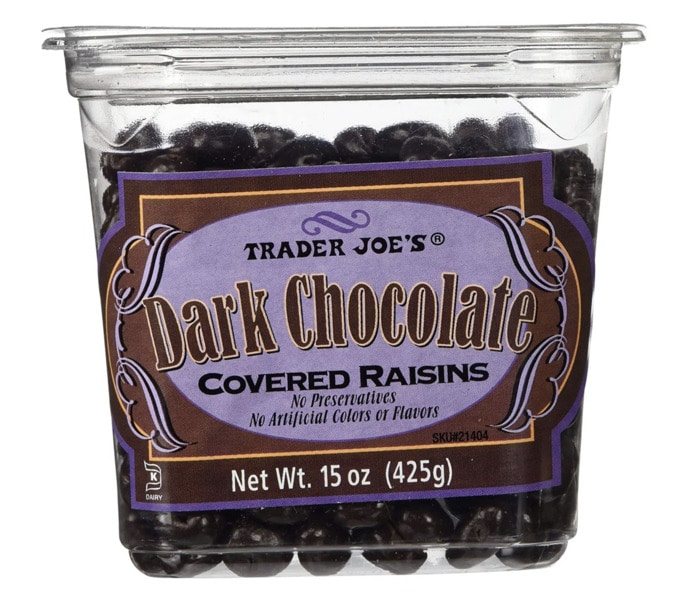 17. Candy Coated Chocolate Peanuts
No…these aren't Peanut M&M's. They're a Trader Joe's original! Scoop up a bag or six on your next visit, and it'll be the least expensive form of self-care you practice all week.
18. Dark Chocolate Cookie Sticks
We couldn't finish this list without adding at least one cookie. Or…cookie-type thing. A dark chocolate version of a popular Japanese wafer, these cookie sticks are a sophisticated way to snack. Whether you're nibbling covertly at your desk, in the locker room at your gym, or under a bed as you eavesdrop on a Russian spy…these things can go anywhere.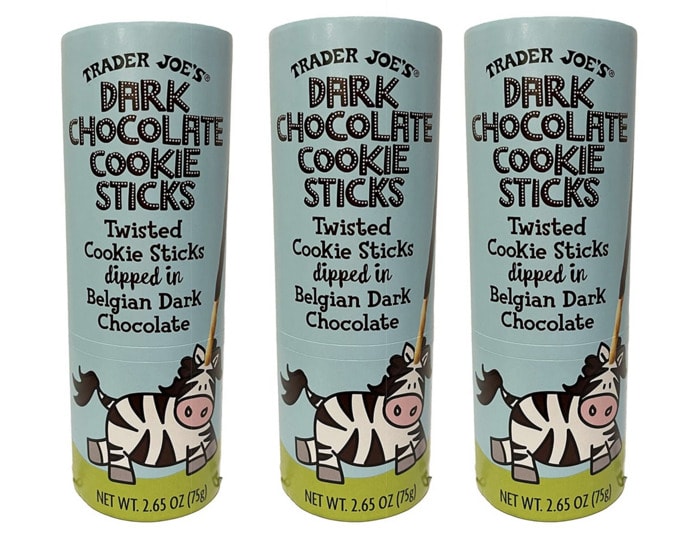 19. Mini Gummy Bears on a Chocolate Pool Day
A seasonal favorite, you'll only find these smiley-faced gummy bears swimming the TJ's aisles in the summertime. Made with white and dark chocolate, and sprinkled with miniature gummy bears, this treat is the cutest poolside snack.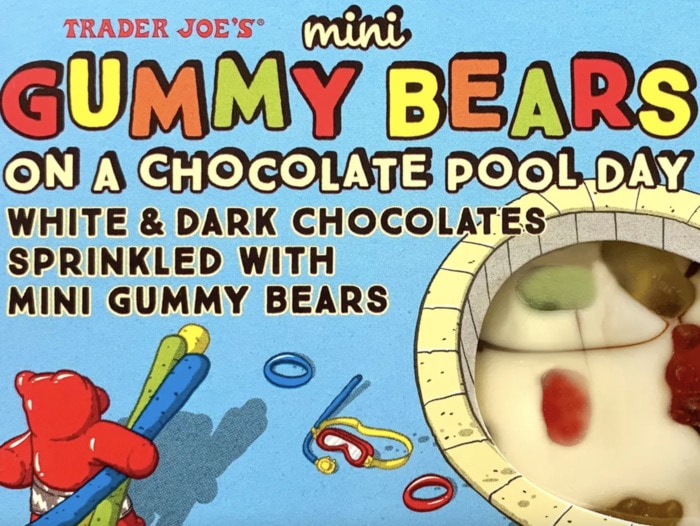 Latest posts by Kate Santos
(see all)