You've shoveled the snow in the driveway, decorated the tree, and successfully found a gift your mother-in-law can't complain about. Now you deserve a bit of decadence in the form of a hot chocolate bomb. These chocolate spheres are filled with chocolate milk powder and mini marshmallows and dissolve in water or warm milk to transform into a hot chocolate.
The trend took off as fast as Santa's sleigh last year and this Christmas, they're back for more. So, if you're looking for stocking stuffers or just an inventive way to enjoy hot cocoa this winter, here's some to check out.

Our Favorite Hot Chocolate Bombs for 2021
1. BomBombs Hot Chocolate Bombs, $24.99
Fudge, caramel, and marshmallows, oh my! This chocolate bomb has it all: fudge, caramel, and marshmallows. Each candied BomBomb sphere is wrapped in metallic foil and the set of five is housed in a beautiful box. All that's missing is an invitation to a one-on-one date with Harry Styles.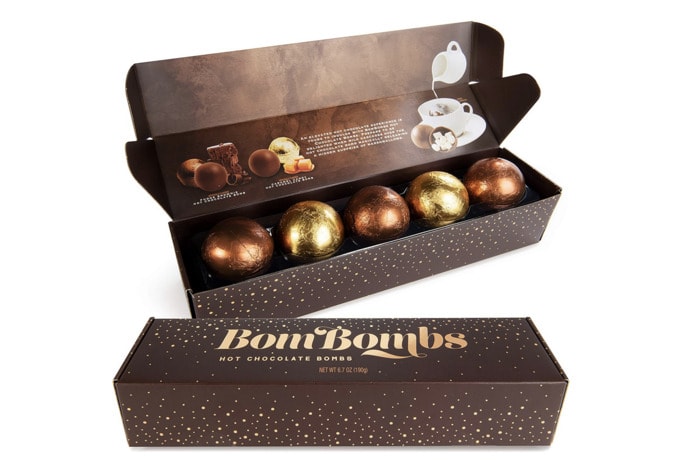 Available at Amazon.
2. Handcrafted Gourmet Cocoa Bombs, $20
Sweet Pea Farm's impressive menu of handcrafted gourmet bombs from Vegan Dark Chocolate and Toasted Coconut to Hot Mexican Cinnamon means there's one everyone will love. Except that one person you know who is still keto for some reason.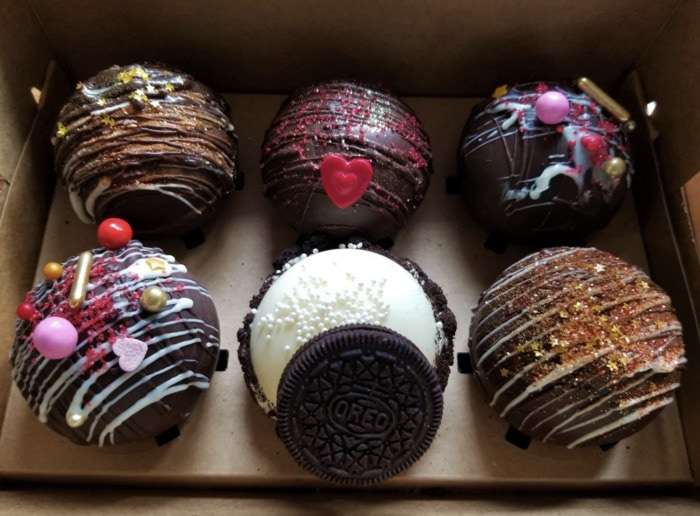 Available on Etsy.
3. Eric Garcia's Cocoa Bombs, $14.99
Launched by TikTok sensation Eric Torres Garcia, Cocoa Bombs is aimed at creating alternatives to your classic hot chocolate bomb. There's white chocolate, cookies and cream, peppermint, pumpkin spice… and plenty other tantalizing flavors.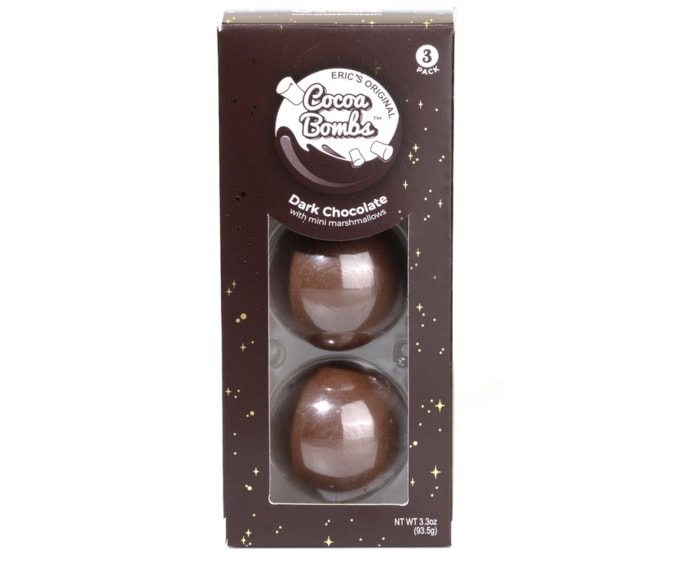 Available on Cocoa Bombs.
4. Bombalicious Hot Chocolate Bombs, $22
Bombalicious Hot Chocolate Bombs have got us feeling very Sasha Fierce. Minus the impeccable dance moves, sadly. Each milk and dark chocolate bomb is handcrafted by the chocolatier, then individually wrapped in bright metallic foil.


Available at Dallmann Fine Chocolates.
5. Wondershop's Hot Chocolate Bomb DIY Kit, $9.99
Baking together is a holiday tradition…but mostly a holiday disaster. With the Target's Make Your Own Hot Drink Bomb Kit, you too can cover the kitchen in chocolate. The kit even includes white icing so you can give your sweet treat its own unique style. Soon, everyone will forget about the Powdered Sugar Explosion of 2007!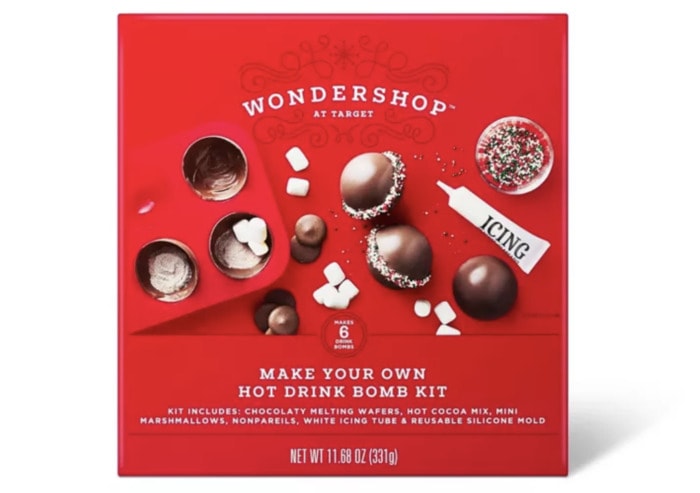 Available at Target.
6. Salted Caramel Hot Chocolate Bomb Set Of 12, $35.88
Transport yourself out of a hectic family holiday party and right in the middle of a Belgian Christmas market with this Frankford Salted Caramel Bomb. The candies are made from Belgium chocolate, sugar, and cocoa butter and come individually wrapped. They're ideal stocking stuffers as long as the stockings aren't hung over an active fireplace.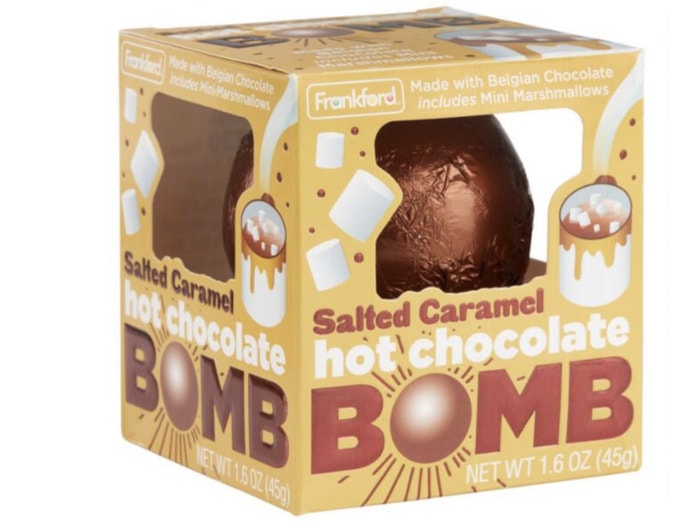 Available at World Market.
7. PastryBase Vegan Hot Cocoa Bomb Kit, $30
PastryBase Hot Cocoa Bomb Kit is free of chemical dyes, animal products, and everyone's favorite villain, gluten.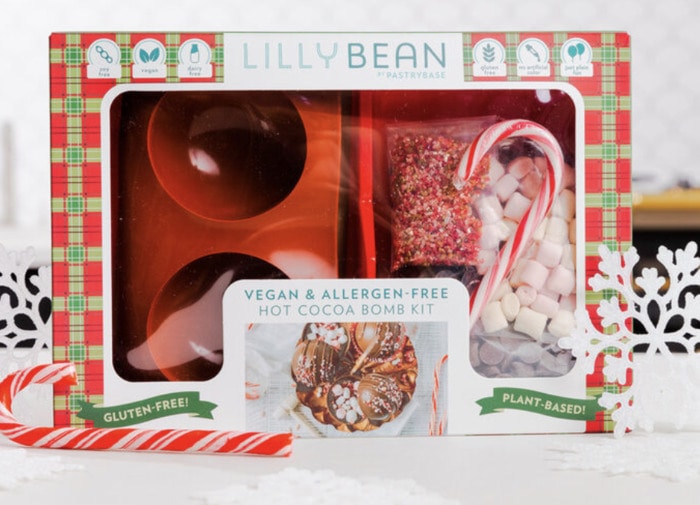 Available at Sur La Table.
8. My Famous Hot Chocolate Bomb Ornaments, $18.70
Look, we know you're tired, had it up to here with the scissors, and need to come up with a thoughtful gift that only requires a few clicks. If you're scouring this list looking for the most luxurious chocolate bomb to gift a loved one, then look no further than LadyPinkBakes' customizable chocolate treats.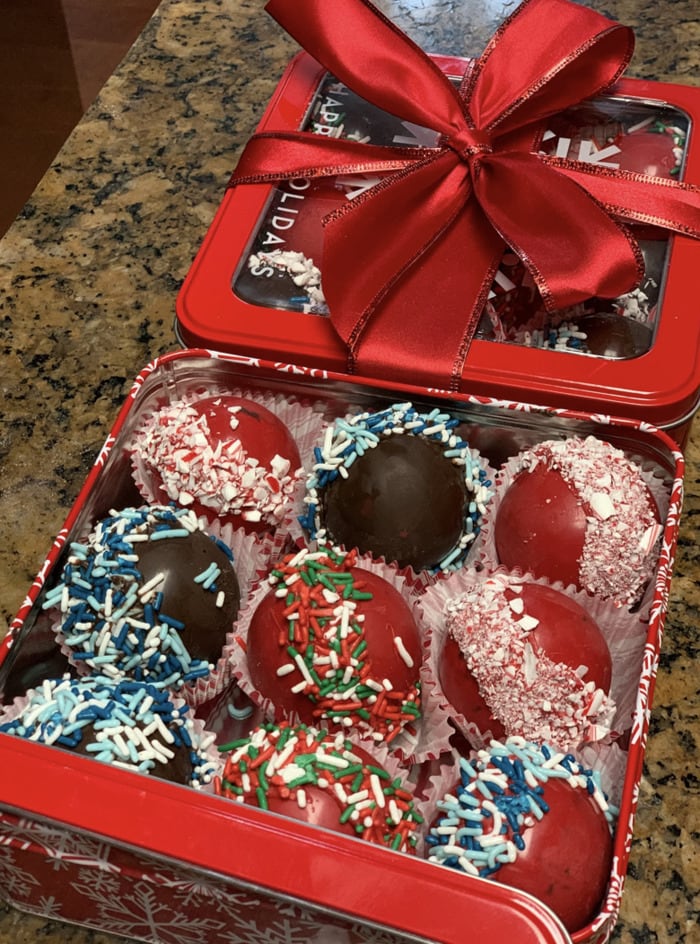 Available on Etsy.
9. Macy's Holiday Hot Cocoa Bombs, $29.99
Countdown to Christmas with Macy's 12 Days of Holiday Hot Chocolate Bombs, featuring three distinct flavors including Milk Chocolate, Dark Chocolate and Strawberries and Cream. It's a great idea assuming you can wait 12 full days before devouring them. Or 12 minutes. Hey, is there a record we can break here?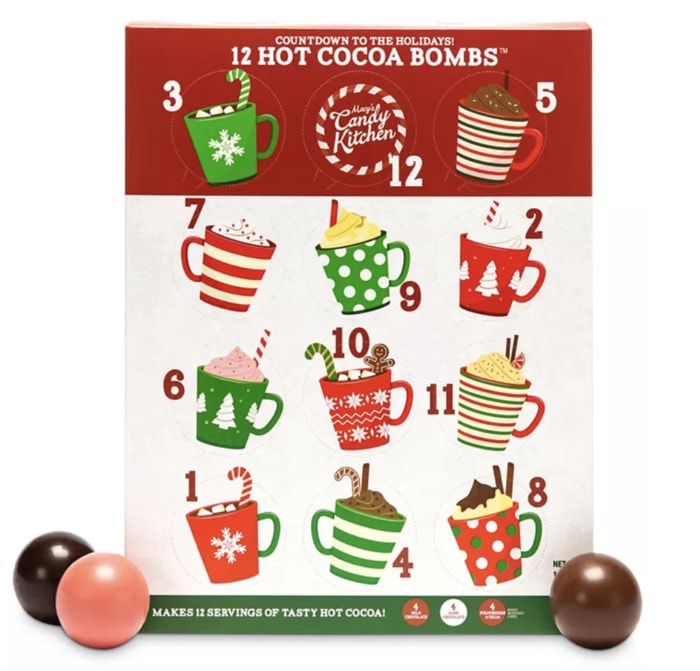 Available at Macy's.
10. Cocoa Loves You Too Gourmet Hot Cocoa Bombs, $7
These bombs from Cocoa Loves You Too's Gourmet Hot Cocoa Bombs come in a long list of flavors, including Banana Pudding and French Vanilla Latte. Maybe next year they'll have Stale Over Baked Sugar Cookie!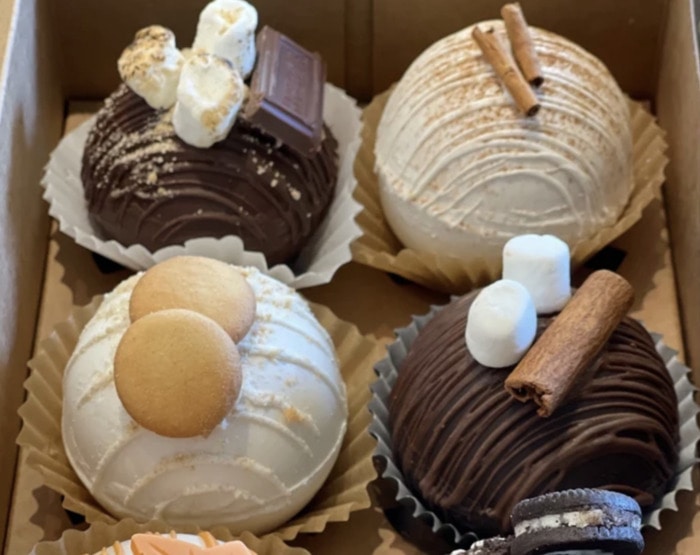 Available on Etsy.
Latest posts by Kate Santos
(see all)