Have you seen the latest trend? We've got a never-ending fascination with watching things explode, so we thought it was about time that all that energy was turned into something good. Enter hot chocolate bombs.
They're like the antithesis of keto fat bombs and they're 800% more delicious.
https://www.instagram.com/p/CF7gTOyA_zY/
What Are Hot Chocolate Bombs?
Literal balls of chocolate that melt – like an edible bath bomb – when you pour hot milk on top or just drop the ball into the milk. Not to be confused with these bath bombs. Or like Jager bombs without the morning regret. If only we could remember to get our credit card from the bar!
After melting one of the chocolate bombs, you're left with a warm mug of decadent hot cocoa and mini marshmallows. Most are filled with mini marshmallows, but some contain caramel, peppermint, pumpkin spice, a Baby Yoda, or last year's dreams.
Where Can You Get Them?
You can get pre-made hot chocolate bombs on Amazon and Etsy, but you can also make your own. More on that later. Or, skip ahead if you like spoilers.
PinkyPopsNYC offers a wide range of flavored bombs including, but not limited to pumpkin spice, unicorn blast, sea salt caramel, and keto. Are we still trying to make keto a thing? In that case, here's our avocado chocolate fat bombs. We don't recommend putting them in milk. (They turn into Gremlins.)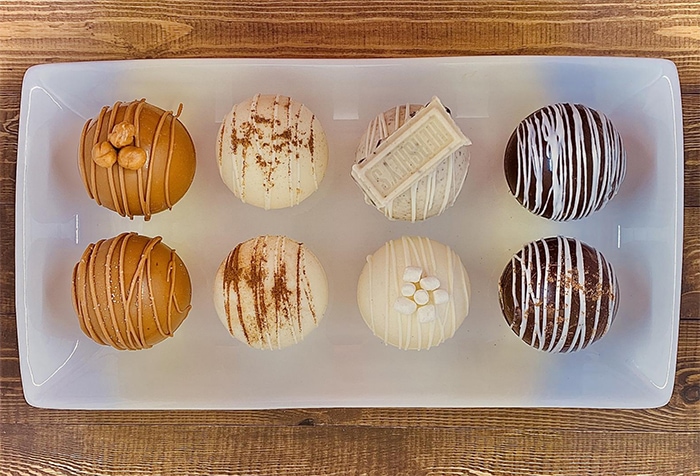 These OG hot chocolate bombs dissolve to release mini marshmallows.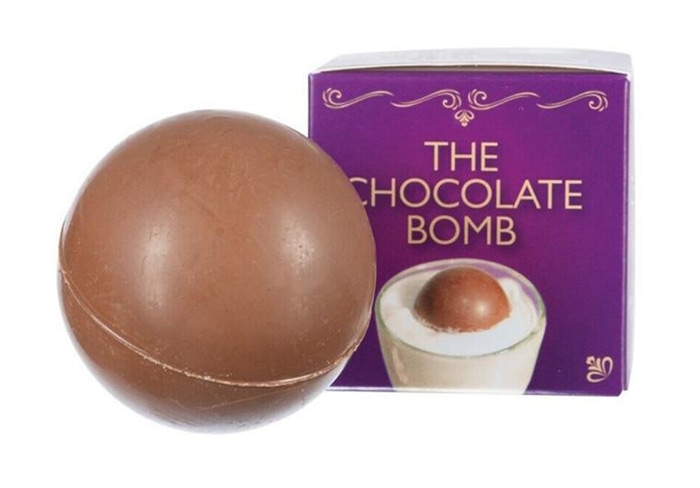 If you've always wanted to melt a snowman, then we found the perfect hot chocolate bomb for you. It's like the alternative ending to Frozen.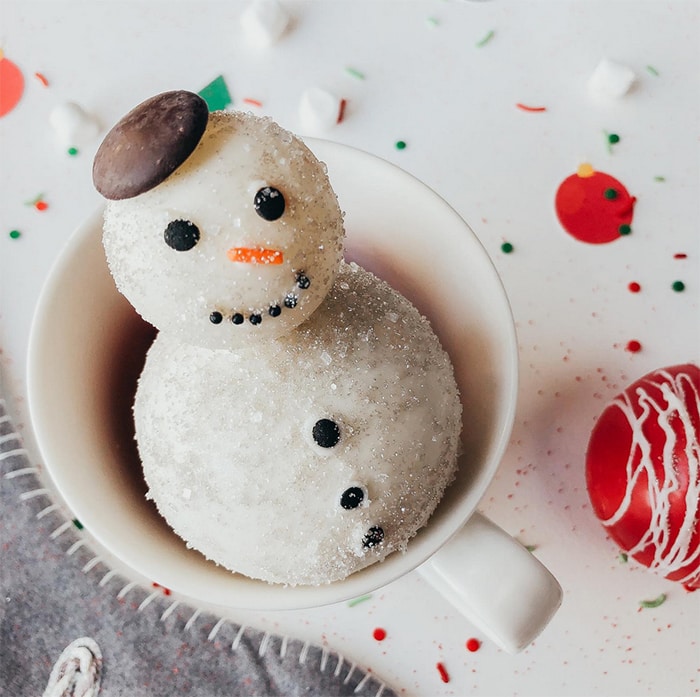 4. Costco Cocoa Bombs
Costco's version is a 16-pack with four different flavors: milk chocolate, strawberry, s'mores, and salted caramel. Because it's not Costco if you're not buying 12 more than you need.
If for some reason you have something against mini marshmallows, here's a great alternative with marshmallow cream and caramel.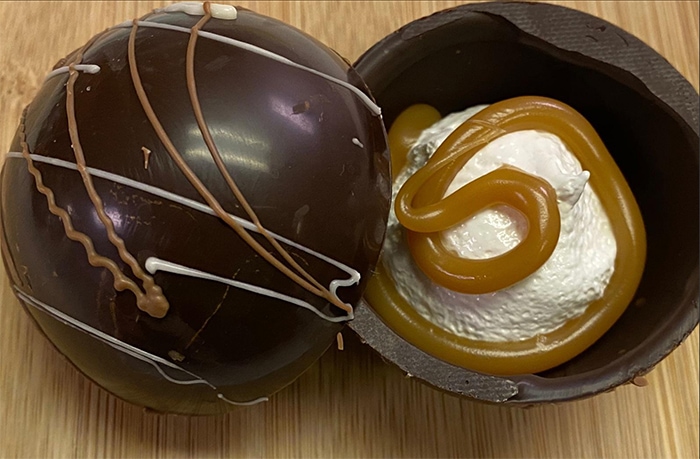 Hot Chocolate Bombs
Print Recipe
These chocolate spheres are filled with mini marshmallows. Just add hot milk to make hot chocolate!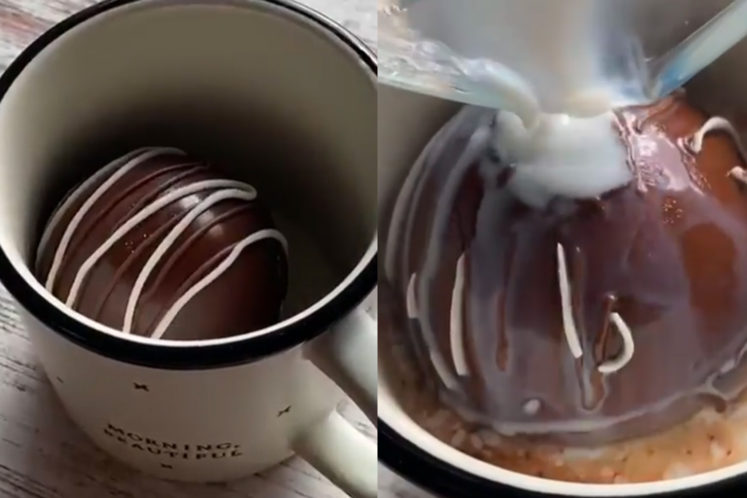 Ingredients
1 cup chocolate chips
¼ Tbsp. mini marshmallows
3 Tbsp hot cocoa mix
Instructions
Melt chocolate chips in a double boiler or in the microwave until just melted.

Pour a heaping tablespoon of melted chocolate into 6 cavities of the silcone mold.

Use a spoon to spread the chocolate out so it coats the entire cavity.

Tap the molds on the counter and set them aside for 10 minutes.

Spread any extra chocolate that has pooled in the bottom on the sides. Place in fridge for 30 minutes to harden.

Fill 3 of the cavities with cocoa and mini marshmallows.

Microwave a plate until warm.

To combine the spheres, gently press the edge of the other side of the sphere on the hot plate until the chocolate is slightly soft.

Press the two sides of the sphere together. Run your finger around the outside to seal.
Nutrition Facts
Hot Chocolate Bombs
Amount Per Serving (1 ball)
Calories 0
* Percent Daily Values are based on a 2000 calorie diet.
Did you make this recipe?
Leave a review below, then take a photo and tag @letseatcakeblog on Instagram so we can see it!
3 Hot Chocolate Bomb Recipe Variations
1. Get your basic fix on with these Pumpkin Spice ones at Pastry Tales.
🎃Pumpkin Spice Hot Chocolate Bombs🎃 Get the recipe here: https://t.co/EjRp1SwUgc #pumpkins #PumpkinSpice #PumpkinSpiceLatte #easyrecipes #fallvibes pic.twitter.com/Bvbg0vlCLm

— Sandra Widick (@PastryTales) October 17, 2020
2. Is it too soon for peppermint hot chocolate? (No.)
NEW! This winter, lets up our hot chocolate game with these peppermint hot chocolate truffle bombs ❄️ I'm not saying they're made with magic, but the holidays are filled with magic, so these might be, too ✨🎄🎅🏼 Recipe on the blog – link in bio!⠀
:… https://t.co/MeFWjUuCNA pic.twitter.com/5y2LOpe1mk

— Leslie Kiszka (@lesliekiszka) December 10, 2017
3. Spiked Peanut Butter Chocolate from The Rowdy Baker.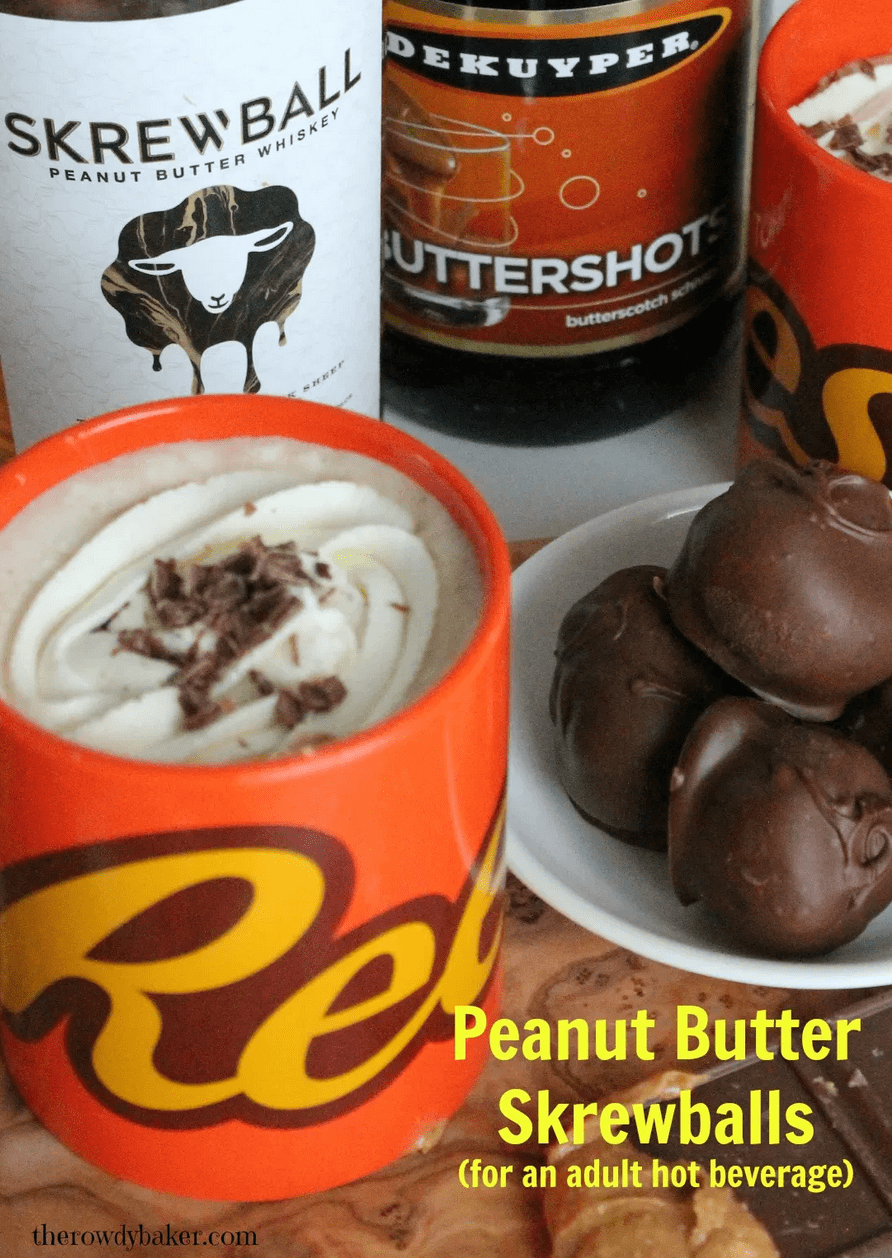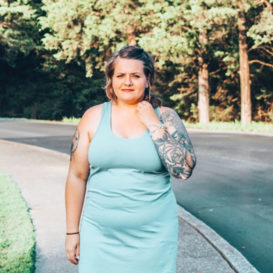 Latest posts by Ashley Hubbard
(see all)