Keto Fat Bombs are snacks made from healthy fats like avocado, coconut oil, and nut butter, We've included two Keto Fat Bomb Recipes here – one for Chocolate Peanut Butter Fat Bombs and one for Chocolate Avocado Truffle Fat Bombs. Both are easy to make and even easier to eat!
If you're following a keto diet, make sure not to use pure vanilla extract as well as liquid stevia and not honey in the recipes! Looking for more healthy recipes? Check out these Raw Blackberry Cheesecakes!

Fad diets change more often than Blake Lively on a press tour, but one that seems to be sticking around is the keto diet. Short for "ketogenic," it focuses on consuming lots of healthy fats, a moderate amount of protein, and hardly any carbs. The macro breakdown of the keto diet is 65-80% fat, 15-30% protein, and 5-10% carbs (max 30 grams). Snacking on a pint of ice cream is one way to get fat into your system, but that approach also comes with a lot of added sugar.
On a keto diet, you want healthy fats, and only healthy fats, like nuts, avocado, and coconut oil. If you mix those all together, you get something that we (meaning the interwebs) like to call fat bombs. They're like bath bombs, except you can eat them. And, they don't fizzle inside your stomach!
What's in a Keto Fat Bomb?
Keto Fat Bombs are made from fat. Healthy fats. Think avocados, coconut oil, and nut butters.
The other ingredients you add are dealer's choice. But if you're making these fat bombs to stick with a keto lifestyle, avoid ingredients that are high in carbs (i.e. don't take these ingredients and make them into muffins or something.). And contrary to what Regina George thinks, butter is not a carb, so that means you can toss it into your keto fat bomb recipe!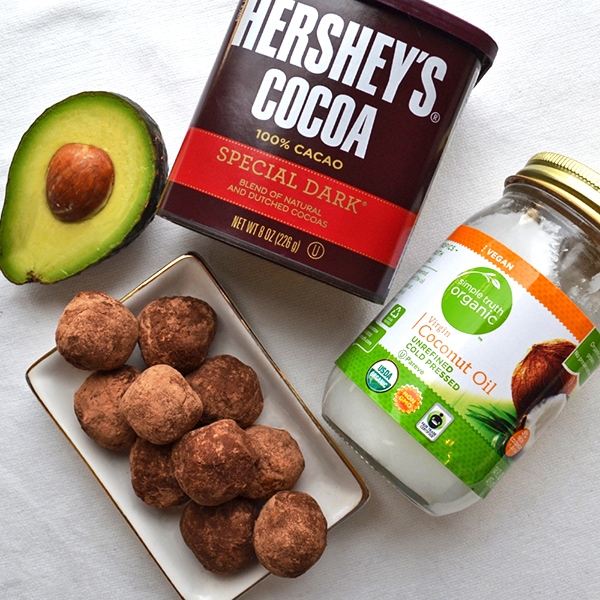 How to Make Keto Fat Bombs
There are tons of ways to make keto fat bombs, and they can take on nearly any flavor you desire. Below, I created two chocolate-based recipes, because chocolate is good for the soul.
Chocolate Peanut Butter Fat Bombs
For the chocolate peanut butter fat bombs, place peanut butter and coconut oil in a small saucepan and heat, stirring continually, over medium heat until the combination transforms into a smooth liquid.
Then, add cocoa powder and stir until it has completely dissolved. Add your vanilla and honey (or liquid stevia if you're sticking with a keto diet) and stir until these are completely mixed in. Remove the chocolate peanut butter mixture from the heat and carefully pour it into a silicon mold. Freeze for 20 minutes and enjoy the fact that you successfully followed a recipe without burning your kitchen down. Hopefully.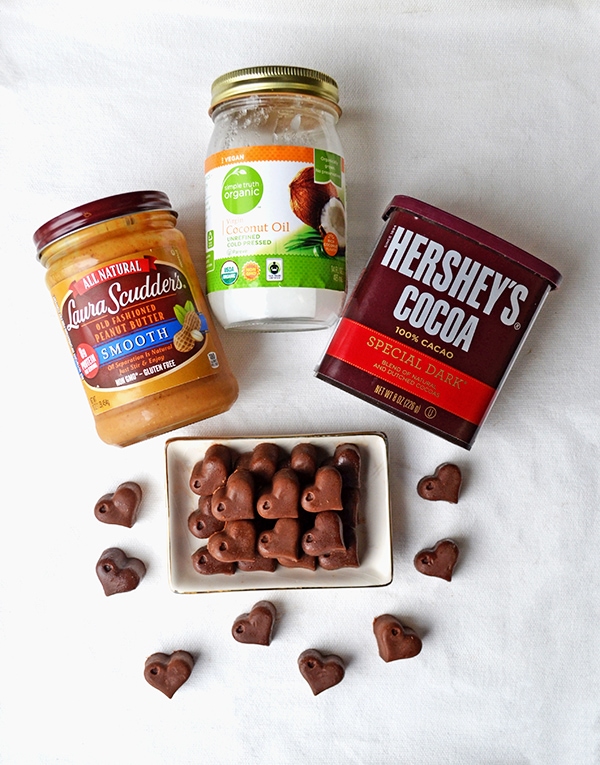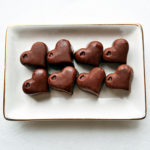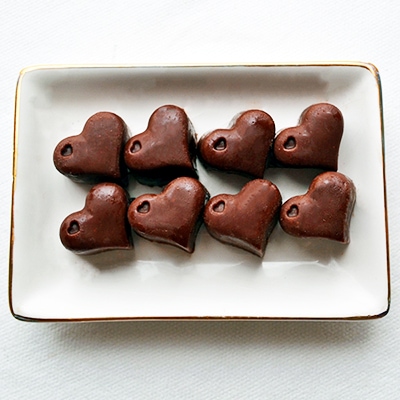 Chocolate Peanut Butter Keto Fat Bombs
These chocolate peanut butter keto fat bombs are so easy to make and will help you stick with a keto diet when a craving strikes! If you're keto, please use liquid stevia, not honey!

Ingredients
¼

cup

all-natural peanut butter

¼

cup

virgin coconut oil

2

Tbsp.

cocoa powder

½

tsp.

pure vanilla extract

2

drops

liquid stevia

up to ¼ tsp. or 1½ Tbsp. honey
Instructions
Place peanut butter and coconut oil in a small saucepan and heat over medium heat until it turns into a smooth liquid.

Add cocoa powder and stir until fully combined.


Add vanilla and liquid stevia, and stir until fully combined.

Remove the saucepan from heat and pour the mixture into a silicon mold.

Freeze the chocolate peanut butter fat bombs for at 20 minutes before eating. Store in freezer.
Recipe Notes
I used honey as a sweetener, but if you are following the keto diet then you'll need to use a keto-friendly sweetener, like stevia. Liquid stevia will probably be your best bet to make sure it mixes evenly. Start with one drop or two, since some brands can be very potent. Then, sweeten to taste.
Nutrition Facts
Chocolate Peanut Butter Keto Fat Bombs
Amount Per Serving (1 keto fat bomb)
Calories 50
Calories from Fat 36
% Daily Value*
Total Fat 4g 6%
Total Carbohydrates 2g 1%
Protein 1g 2%
* Percent Daily Values are based on a 2000 calorie diet.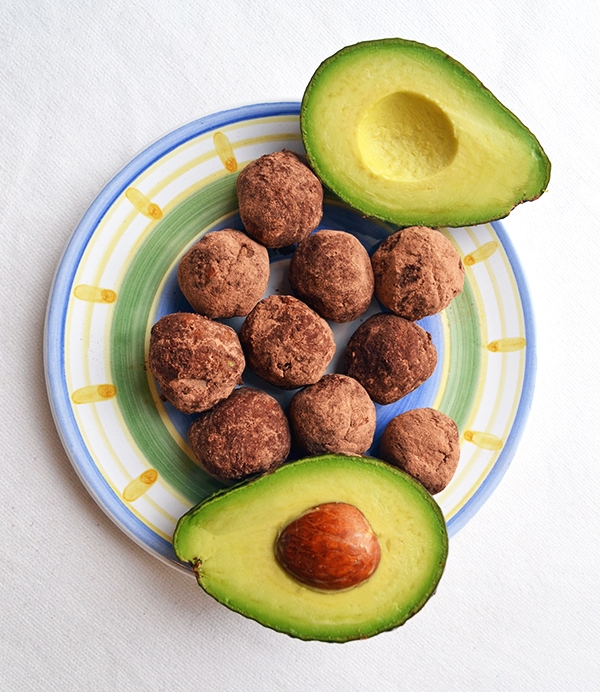 Chocolate Avocado Truffle Keto Fat Bombs
For the chocolate avocado keto fat bombs, the method is a little different. It doesn't involve any cooking, so if you did burn your kitchen down with that first recipe, then you have a second shot with this flame-free method!
For these, you'll essentially be making chocolate truffles. In a medium bowl, use a fork to mash avocado and coconut oil until the two are fully combined. Stir in the remaining ingredients – cocoa powder, honey (or stevia if you're following a keto diet
), vanilla, and cinnamon and mix until combined. Place the mixture in the fridge for 10 minutes to harden, then roll into 2" balls.
To finish the truffle look, roll the chocolate avocado truffles in cocoa powder, then place them in a mesh strainer and shake off excess cocoa powder. Store in the fridge until ready to enjoy for dessert, an afternoon snack, or until you forget about them like you did with that bag of wilted spinach you should have thrown away three weeks ago.
Chocolate Avocado Truffle Keto Fat Bomb Recipe

Ingredients:
1 ripe avocado
¼ cup virgin coconut oil
2 Tbsp. cocoa powder, plus ¼ cup for rolling if desired
2 Tbsp. honey (or 2 drops liquid stevia up to ¼ tsp. if following a keto diet)
½ tsp vanilla
½ tsp cinnamon
½ tsp salt
1 Tbsp. heavy cream
Directions:
Combine avocado and coconut oil in a medium bowl. Mashing the two together with a fork to remove the clumps.
Add cocoa powder, honey (or liquid stevia), vanilla, cinnamon, salt, and heavy cream. Stir until the mixture is smooth.
Place the mixture in the refrigerator for 10 minutes or until the mixture has hardened slightly.
Roll into 2″ balls, then roll in cocoa powder if desired. Place truffles mesh strainer and shake to remove excess cocoa powder.
Store the fat bombs the refrigerator or freezer.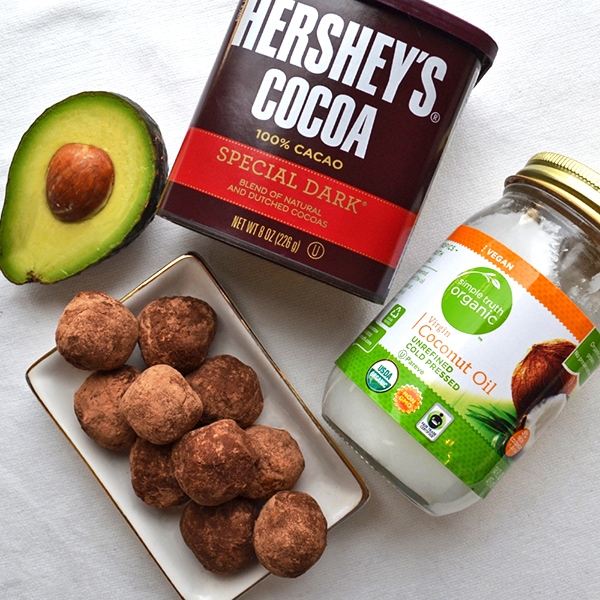 What is a Keto Diet?
Now you know what fat bombs are, but you might still be wondering: why would someone give up carbs when they make up the best things in life, like pasta, bagels, and pizza? It's because consuming carbs (whether that's from grains, fruits, or vegetables) lead to glucose production. Your body burns glucose for energy. If there's no glucose, your body burns fat for energy. No carbs = no glucose = less fat. If you're looking to learn more about the Keto diet, check out The Keto Diet cookbook and diet guide by Leanne Vogel or this cookbook that focuses on fast 5-ingredient keto recipes.
How to Choose the Right Fats for Your Keto Fat Bomb Recipe
All fat is not created equal, so you want to make sure you only use the best kind for your keto fat bombs. Good fat raises your good cholesterol (HDL), while bad fat raises your bad cholesterol (LDL).
Monounsaturated Fats
These are the best. Think of them as your favorite cousin who gives the best life advice and has the most stylish clothes, which she always lets you borrow. This kind of fat can help reduce bad cholesterol. You'll find monounsaturated fat in avocados, macadamia nuts, and olives.
Polyunsaturated Fats
These are good, but should be consumed in moderation. This is like your second favorite cousin who cracks the funniest jokes, but also breaks out in Hamilton show tunes every 30 minutes. Polyunsaturated fats contain omega-6 and omega-3 fatty acids which are essential to your diet because your body can't produce them. They help support brain, skin, and hair health, and more. Polyunsaturated fats are found in safflower oil, walnuts, and seafood. So in a way, salmon tartare is kind of like the OG fat bomb, but I'll stick to my chocolate recipe, thanks.
Saturated Fats
These get kind of confusing. Some are good, some aren't – they're like your aunt and uncle, where he wears embarrassing Hawaiian shirts on family vacations, but she's gives great birthday presents. Saturated fats differ by the length of their chemical chains. Coconut oil, a great binding ingredient for fat bombs, contains lauric acid which is a medium-chained fatty acid that has been shown to increase good cholesterol. Organic, free-range animal products like whole milk have a lot of omega-3 fatty acids, making this a good saturated fat as well.
Trans fats
These are the worst. This is like the third cousin twice removed who somehow manages to find his way to every family gathering and eats all the shrimp. Trans fat is used to turn oils into solids, and is often listed on labels as "partially hydrogenated oil." Trans fats are created in an industrial process that combines hydrogen with vegetable oil, so you probably won't be handling pure trans fat in your personal kitchen. However, this is useful information so you can avoid it when you're eating packaged food products.