When the weather outside is frightful, there's almost nothing I love more on chilly winter nights than cozying up with a mug of hot chocolate.
But, if you're wanting something a little different (or it's summer), this Frozen Hot Chocolate recipe is sure to satisfy the weird part of your soul that won't just let the classics be.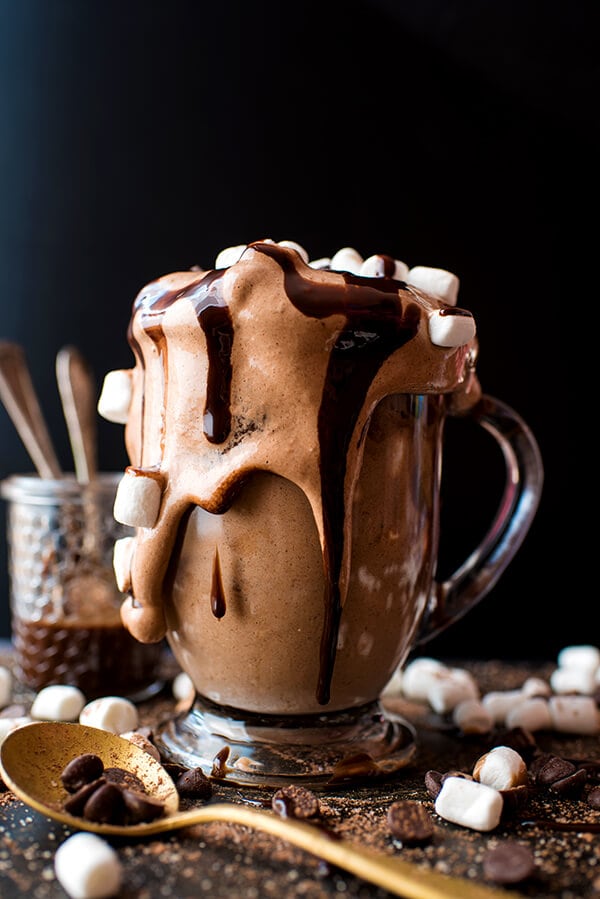 Why Frozen Hot Chocolate?
If you're wondering why anyone would start mucking something as pure as hot chocolate, Serendipity 3 in New York City is probably to blame for this Frozen Hot Chocolate recipe. Once they added their now famous Frrrozen Hot Chocolate (which is essentially hot chocolate ice cream) to the menu, people flocked to the Upper East Side establishment to try it.
And by people, we mean Marilyn Monroe, Ryan Reynolds, and Cary Grant. Stars — they're just like us!
For years, Serendipity's frozen hot chocolate recipe was a closely-guarded secret and it inspired plenty of imitators (you can also find frozen hot chocolate drinks across the country, like Dunkin' Donuts and Dairy Queen). But as all good corporate sellout stories go, the original recipe was eventually released and they now sell a custom mix of 14 hot cocoas so you can make it at home. Thanks, mass consumerism!
What's In Frozen Hot Chocolate?
It depends on the recipe. Serendipity's is made from chocolate, a blend of cocoas, sugar, milk, and ice, and topped with whipped cream and chocolate shavings.
For this spinoff Frozen Hot Chocolate recipe, I decided to make a no-churn hot chocolate ice cream using bananas instead of milk as the base. If you've never had "nice cream," you might be surprised to discover that you can turn frozen bananas into a sweet dessert that has the consistency of soft serve.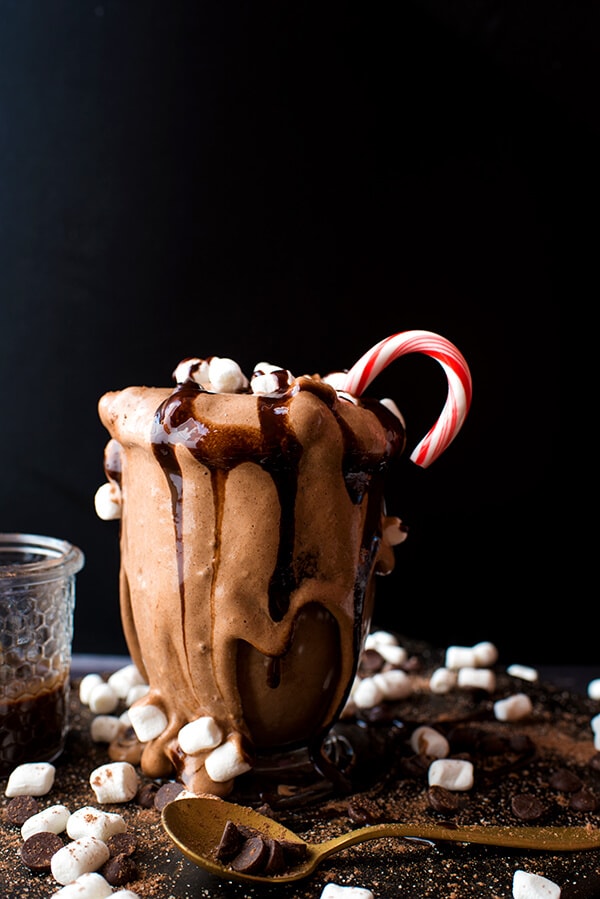 How to Make Frozen Hot Chocolate Nice Cream
You'll need frozen bananas for this, so chop ripe bananas into ¼-inch or ½-inch slices and then add those to a resealable bag. We dig these silicone bags by Eco-Sil because we can reuse them! Place the bag in your freezer until the bananas are completely frozen.
Don't do what I did the first time and put them in a bowl. If you do, they're a pain to remove. (If you did this because you didn't have any bags, run hot water over the outside of the bowl until the slices come loose. Then buy some bags.)
Place the frozen banana slices in your food processor. Add ¼ cup of coconut cream for every 3 bananas and pulse until it turns into ice cream!
At first, the bananas will grind down into little chunks and look sort of like wet popcorn (our favorite!). But keep on pulsing, because it will turn into soft serve. You might have to scrape down the sides a few times depending on the strength of your food processor.
Once you've got your nice cream ready, then it's time to make the Frozen Hot Chocolate magic happen. Are you ready for this? Simply add two packets of your favorite hot chocolate mix. Boom. Magic. Abigail and her friends would be so proud.
If your favorite hot cocoa comes in a canister, add 5 to 6 tablespoons, depending on how rich and hot chocolatey you want it. Drizzle a mugful of this mixture with chocolate syrup, top with as many mini marshmallows as you desire, and dig in!
How Many Calories Are In a Frozen Hot Chocolate?
There are quite a few calories in a drink that consists mostly of chocolate. Half of a Serendipity frozen hot chocolate comes in at 425 calories, while a medium Dunkin Donuts frozen hot chocolate will eat up to 590 calories.
But stick with me, kid, and I'll help you enjoy this decadent dessert for a mere portion of that. My Frozen Hot Chocolate ice cream recipe only has 308 calories. Sure it still has sugar, but hey, we never said it was health food.
The bananas don't just help to reduce the calorie count. Depending on what hot chocolate mix you use, this can be a vegan recipe. If you'd rather not be associated with the "v" word, we won't tell. However…vegan desserts can be pretty tasty, so you should probably also try making this Oreo Cheesecake recipe or these Raw Blackberry Cheesecake Bites. You know, for research.
Frozen Hot Chocolate
Print Recipe
This frozen hot chocolate recipe is made with bananas, hot chocolate mix, and topped with marshmallows! It's delicious as a summer treat!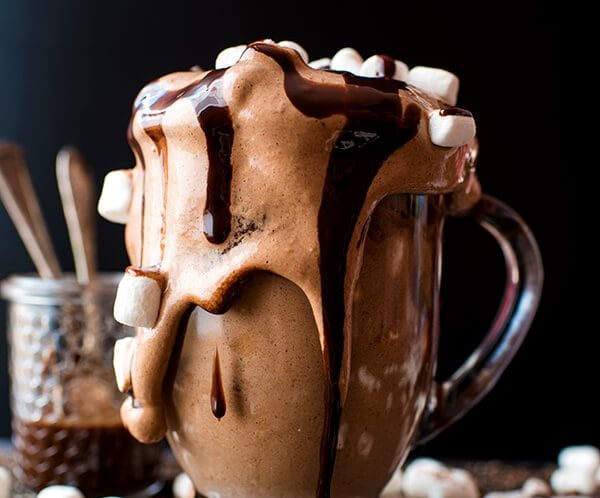 Servings: 2 servings
Ingredients
3 large ripe bananas (frozen)
¼ cup coconut cream
2 packets hot chocolate mix (or 6 tablespoons mix)
1 handful mini marshmallows (optional)
drizzle chocolate syrup (optional)
Instructions
Cut bananas into ¼ or ½-inch slices. Freeze for at least 2 hours in resealable bag.


Place bananas in food processor. Add coconut cream.


Pulse for approximately 5 minutes. Stop to scrape the sides as needed, until the mixture is the consistency of soft serve ice cream.

Add hot chocolate mix. Pulse until combined.


Top with marshmallows and chocolate syrup if desired and enjoy immediately or transfer to freezer-safe container.

Nutrition Facts
Frozen Hot Chocolate
Amount Per Serving (1 recipe)
Calories 308 Calories from Fat 72
% Daily Value*
Fat 8g12%
Carbohydrates 60g20%
Fiber 6g25%
Sugar 31g34%
Protein 4g8%
* Percent Daily Values are based on a 2000 calorie diet.
Did you make this recipe?
Leave a review below, then take a photo and tag @letseatcakeblog on Instagram so we can see it!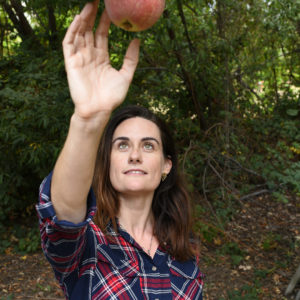 Latest posts by Rebecca Swanner
(see all)