If you're looking for the best Oreo Cheesecake, look no further than this recipe! It has an Oreo crust, crumbled Oreo cookies on top, and a creamy filling! And, the best part? It's a No-Bake Oreo Cheesecake!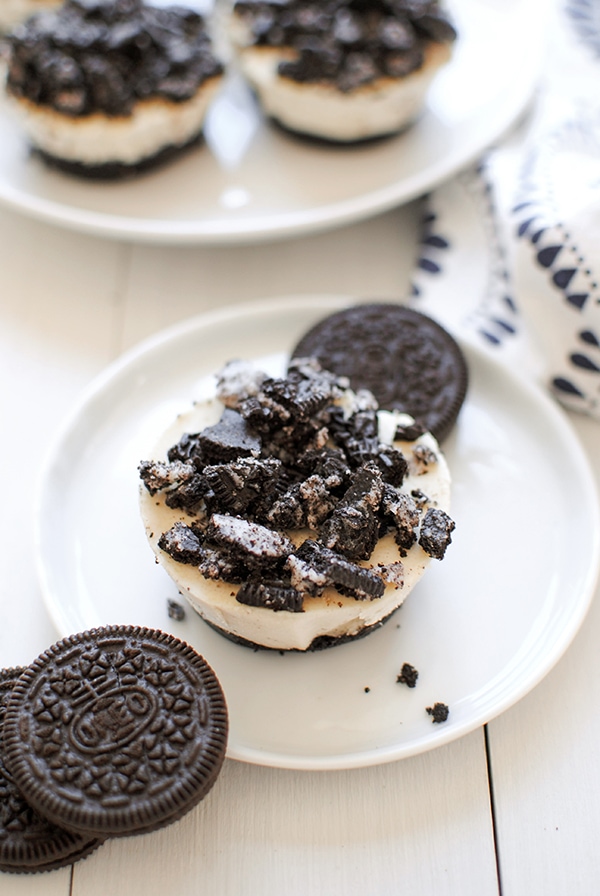 Who doesn't love an easy dessert? Especially if it's oh, say, the middle of summer and screen doors are slamming and cookouts are happening. Even if you have air conditioning, it's possible you don't want to be stuck in the kitchen futzing with a fussy recipe and would much rather be out there and enjoying summer's long days and nights. That's where this no-bake Oreo Cheesecake recipe comes in!
This easy no-bake Oreo Cheesecake doesn't take long to prep at all – about 20 minutes max. Just leave yourself enough time for it to freeze before you dig into the luscious, creamy filling, and you'll be good to go. No water bath, no cracking, just perfect individual cheesecakes with a crunchy Oreo base and Oreo cookie on top!
To make these, step away from the oven and make a little room in your freezer – enough to fit a standard-size muffin pan. Time to toss those freezer-burnt items to make room for these no-bake Oreo treats!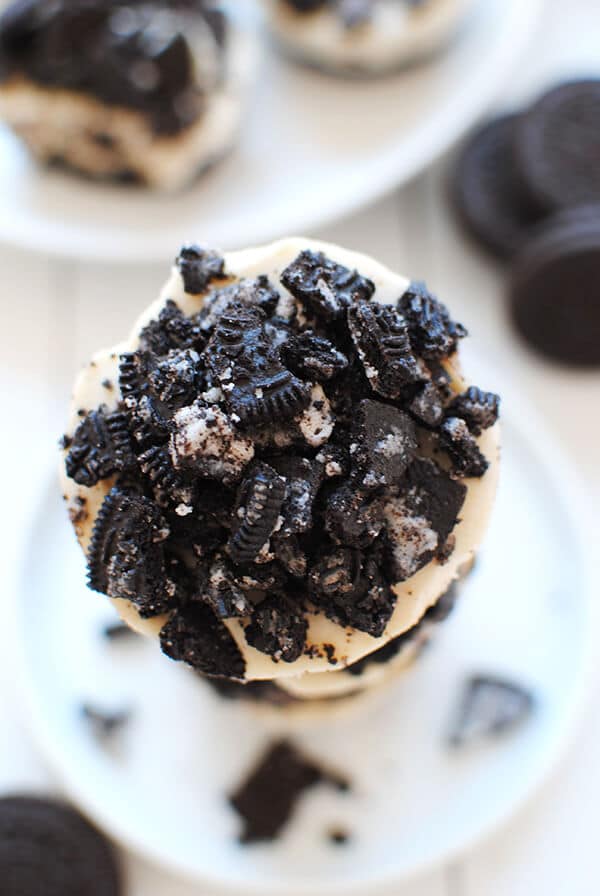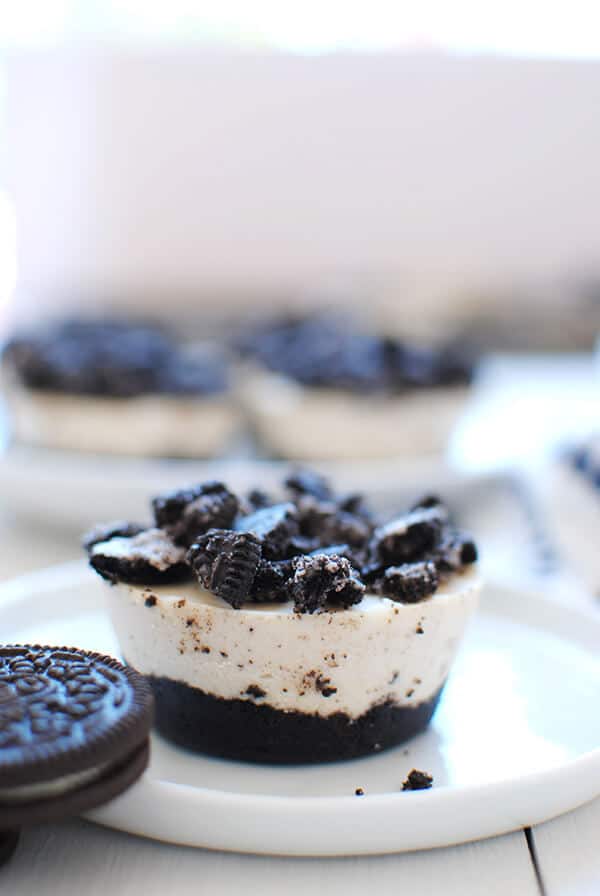 But, I should probably tell you a little secret first about this Oreo Cheesecake. It's vegan. A friend of mine who is vegan wanted to bake together and we thought this might be a fun one to make. Even, though, yes, technically no baking is involved. And, it was! Not long after we started some other friends popped by, and while the Oreo Cheesecakes were freezing, we hung out in the backyard, nibbling on a nice spread of veggies and crackers and hummus and cheese (I'm not vegan), and got the rose flowing! If you ask me, it was a pretty ideal way to spend a summer afternoon.
So back to the vegan thing for a moment. It can be our secret if you want (if you're like me and have got family and friends who would raise an eyebrow about eating a vegan dessert). Because honestly, if you don't tell them, I don't think they'd know. I know you're wondering: Wait, Oreos are vegan?! Yep. Totally vegan. I can't say for sure that all the flavored varieties like Cinnamon Roll, Cotton Candy, Birthday Cake, Red Velvet are vegan, but classic Oreos are vegan. The other gals who showed up at my place aren't vegan, and they totally swooned over these.
How to Make the Best Oreo Cheesecake
Like with these Key Lime Cheesecakes, this Oreo dessert requires two tiny pre-planning steps. First, the night before you mix up the Oreo Cheesecakes, put a can of coconut milk in the fridge. Overnight, the coconut cream and the coconut milk will separate and you'll easily be able to scrape the cream off the top. That's one of the ingredients that helps make these Oreo Cheesecakes so creamy without cream cheese or tofu!
Second, soak two cups of cashews in hot water for at least an hour. Soaking them overnight is ok too if you don't want to wake up early to do this. I wake up at the crack of dawn these days – thanks, Loki (my cat, not the Norse god) – but if you don't, it's ok to prep the cashews the night before.
Once the cream has chilled and the cashews have soaked, you're ready to create the no-bake cheesecakes. Place a cupcake liner in each of the muffin tins. To make the Oreo crust, use food processor, crush up whole Oreos and add 2 Tbsp. of Earth Balance vegan butter and 1 teaspoon of maple syrup. Once you can squeeze together a handful of the Oreo mixture and it holds together, divide them evenly among the 12 muffin cups and squish the crust until it feels tightly packed. Place the tin in the freezer and let it freeze for at least an hour.
We tried to make the crust with coconut oil, but thought the mixture was too crumbly and found the "butter" from my tub of Earth Balance worked much better at holding the crushed Oreos together.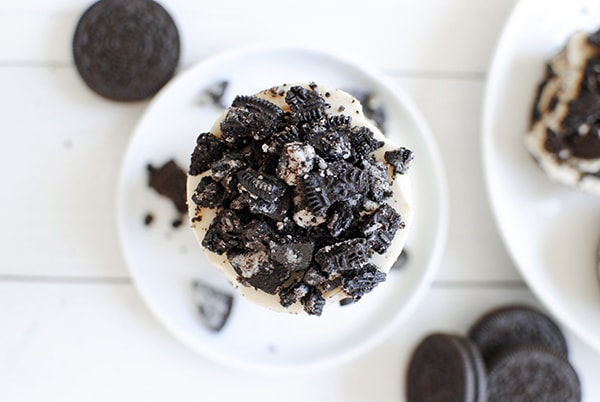 When the bases are frozen, make the cheesecake filling. Drain the soaked cashews, and add them, the maple syrup, coconut oil, coconut cream, vanilla extract, and salt to the bowl of a food processor. Blend until creamy. Then, add the apple cider vinegar. I used 2 tablespoons for the batch, but if you want it a little more tart, add more, one teaspoon at a time.
If you want Oreos in your cheesecake filling, now is when to add them. Just break 8 Oreos into quarters and drop them into the cashew mixture. Pour the mixture into a gravy boat (this is, by far, the easiest way I found to fill the liners) and fill each muffin tin up to the top of the cupcake liner with the filling. If you don't have a gravy boat, pour the mixture into a bowl and use an ice cream scoop and store any leftover filling in the fridge. Place the no-bake cheesecakes in the freezer for 30 minutes or until they tops are set. Crush up 10 Oreos and top each mini cheesecake with Oreo. Place them back in the freezer for two hours, or until completely frozen. Then, enjoy!
The no-bake cheesecakes will keep in an airtight container in the freezer for a least a week.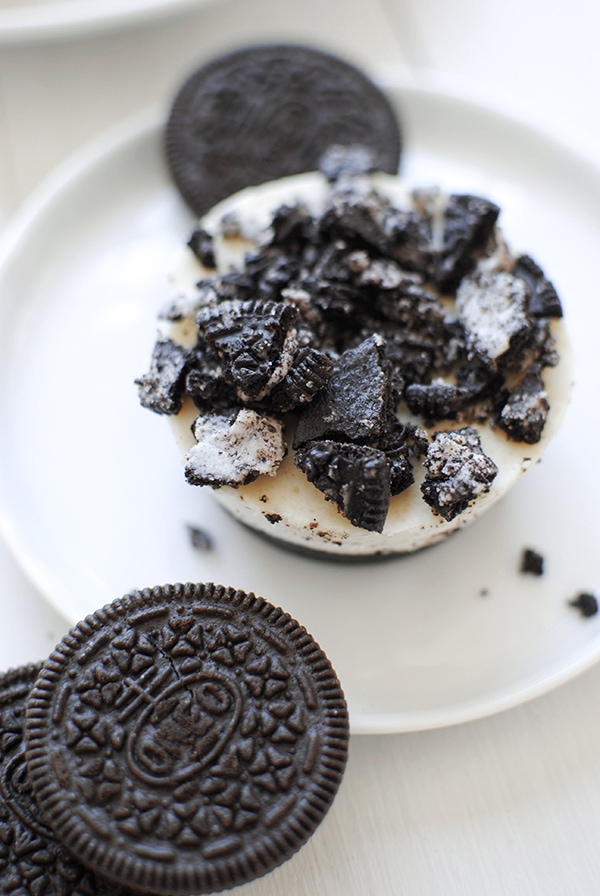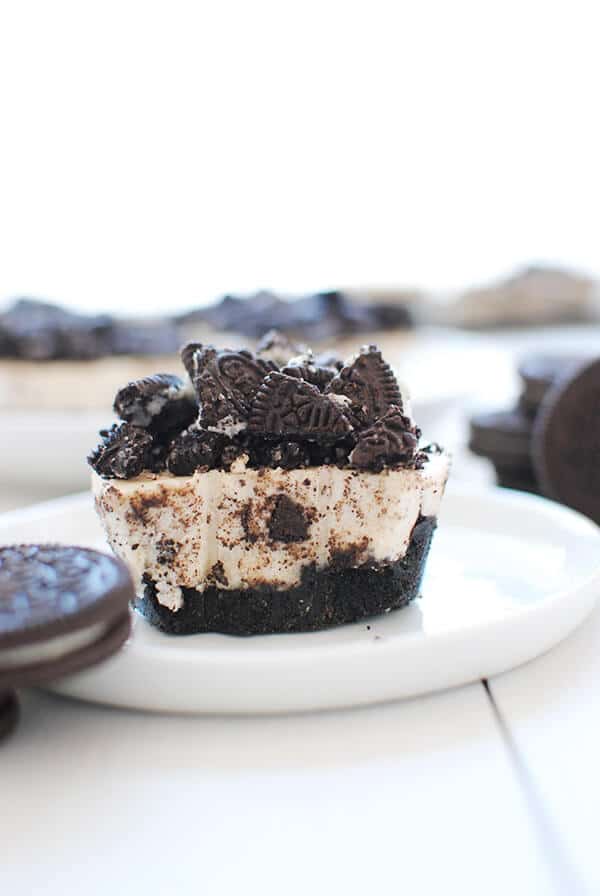 Oreo Cheesecake
Print Recipe
This no-bake Oreo Cheesecake recipe uses crushed Oreos for the base and is topped with even more Oreos!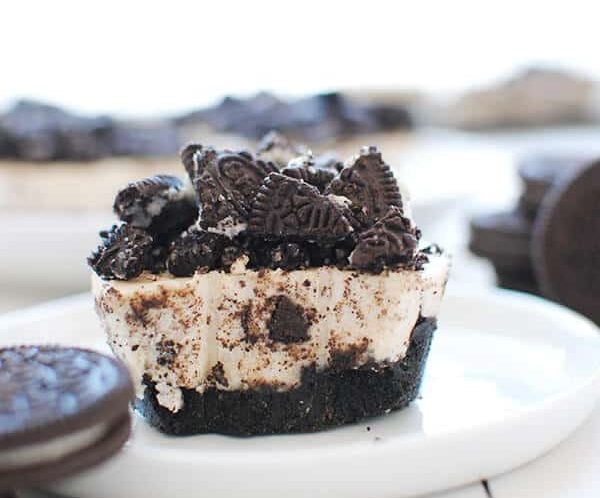 Ingredients
For Cheesecake Filling
2 cups cashews (soaked for 2 hours, drained)
1/2 cup maple syrup
1 cup coconut oil
1 can coconut milk (chilled overnight, use all of cream on top)
2 tsp. vanilla extract
1/4 tsp. salt
2 Tbsp. apple cider vinegar
12 Oreo Cookies
Instructions
For Oreo Crust
Line 12 muffin cups with cupcake liners.


Add Oreo cookies, maple syrup, and Earth Balance to bowl of food processor. Blend until mixture resembles sand.

Press Oreo mixture into cupcake liners until base is tightly packed. Freeze for at least one hour.

For Cheesecake Filling
Add drained cashews, maple syrup, coconut oil, coconut milk, vanilla extract, and salt to bowl of food processor. Blend until creamy.


Add apple cider vinegar. Add more, one teaspoon at a time, until desired tartness is reached.


Pour cashew mixture into gravy boat and fill muffin cups to the top of the cupcake liner. Freeze for 30 minutes, or until tops are set.

Break 12 Oreos into smaller pieces and top No-Bake Oreo Cheesecakes with crumbled Oreos.


Freeze for two hours or until completely frozen.

Notes
* If you desire Oreos in your filling, break 8 Oreos into smaller pieces and add them to the cashew mixture before pouring them into the cupcake liners. * If you don't have a gravy boat, pour the cashew mixture into a bowl and use an ice cream scoop.
Nutrition Facts
Oreo Cheesecake
Amount Per Serving (1 Oreo Cheesecake)
Calories 650
* Percent Daily Values are based on a 2000 calorie diet.
Did you make this recipe?
Leave a review below, then take a photo and tag @letseatcakeblog on Instagram so we can see it!

Save
Save
Save
Save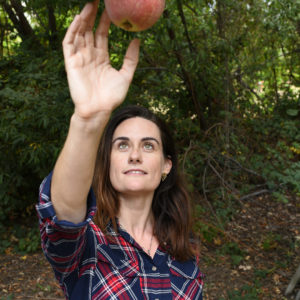 Latest posts by Rebecca Swanner
(see all)