We love how inventive Nabisco has gotten with its Oreo flavors. But sometimes things have taken a turn for the WTF in their food labs. How else do you explain Banana Split and Candy Corn Oreos? Someone needs to let their scientists outside for a little fresh air. Yes, even if it results in Summer Breeze Oreos.
With the never-ending cascade of new flavors, now is as good a time as any to look back at some of the craziest Oreo flavors of all time, and yes, of course the Carrot Cake ones made the list, since you know how we feel about putting vegetables in dessert.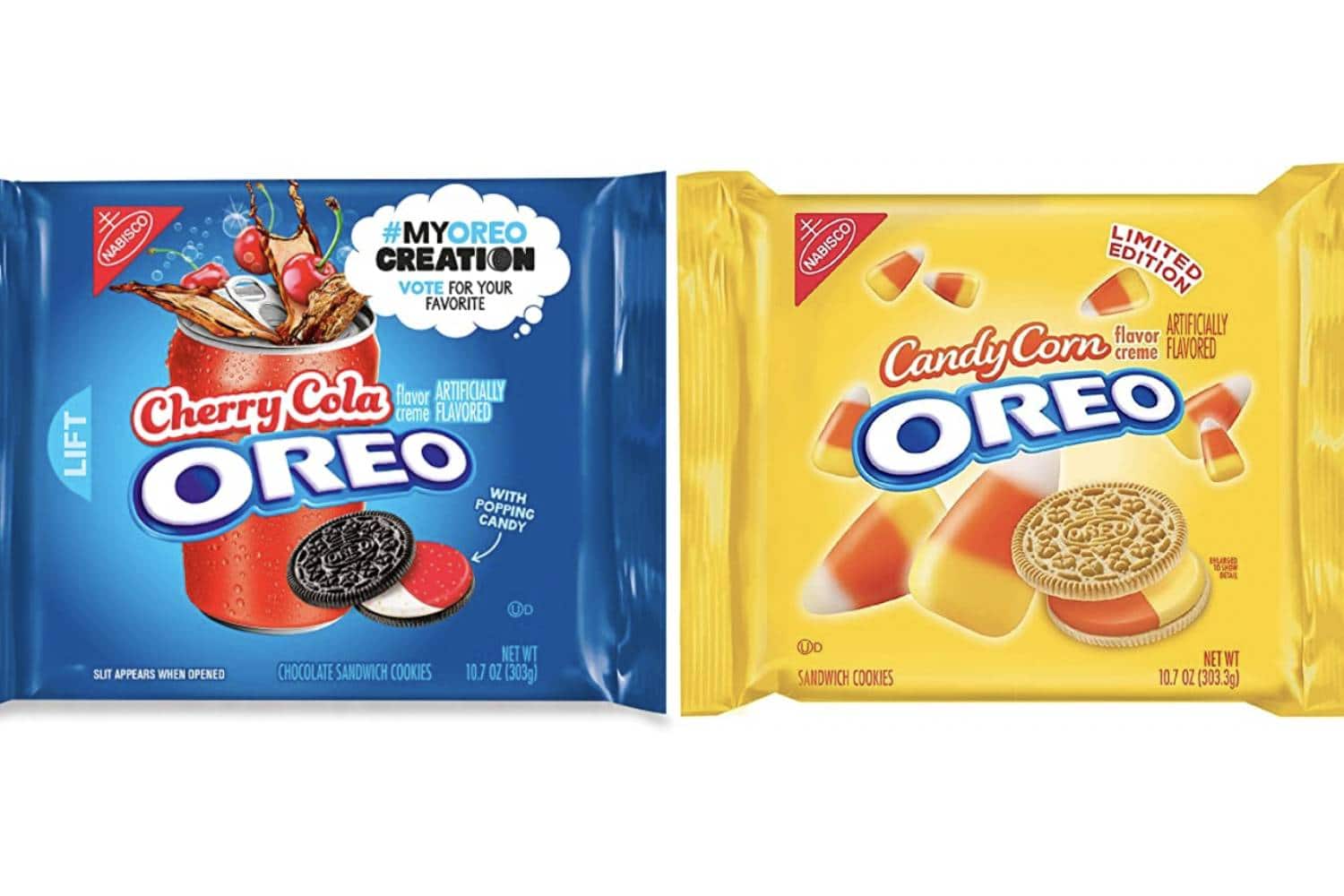 27 Weird Oreo Flavors that Sound Not Awful?
1. Caramel Apple Oreo
This dual-flavored creme cookie made a limited edition fall appearance. Easier on your teeth than the real thing, but pretty crap for bobbing.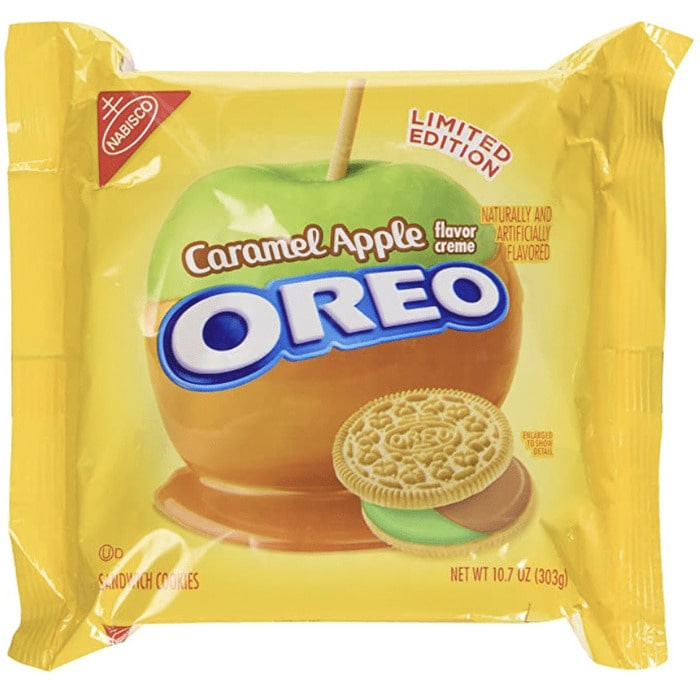 2. Blueberry Pie Oreo
If Cousin John was asked to bring dessert for your holiday meal and this was his contribution, you're serving cereal for dinner.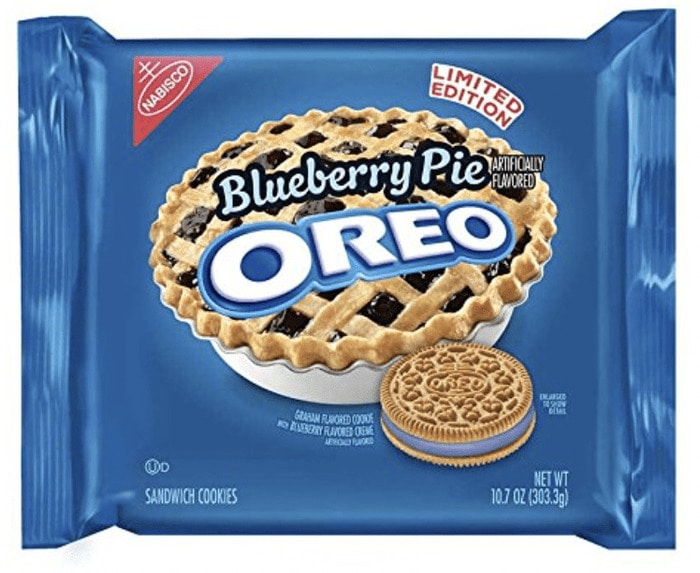 3. Banana Split Oreo
With a Chocolate and Golden Oreo Cookie and a double flavored creme, there's a lot going on in this small treat. Some might say too many, but they mysteriously disappeared last year.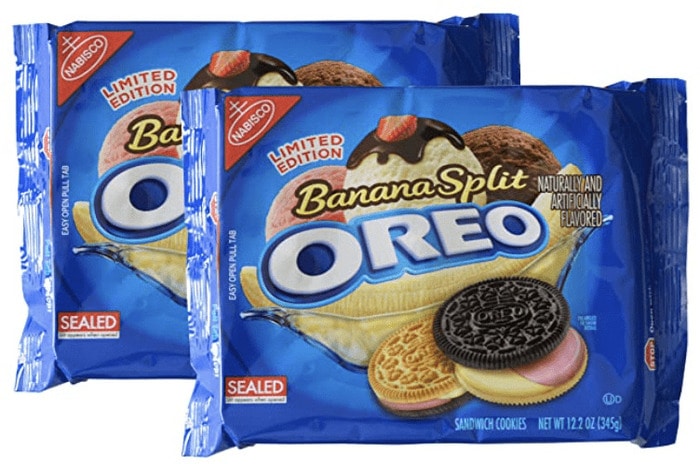 4. Candy Corn Oreo
As a Halloween offering, these are slightly less dangerous than the real thing when they're hurled back at you by angry trick-or-treaters.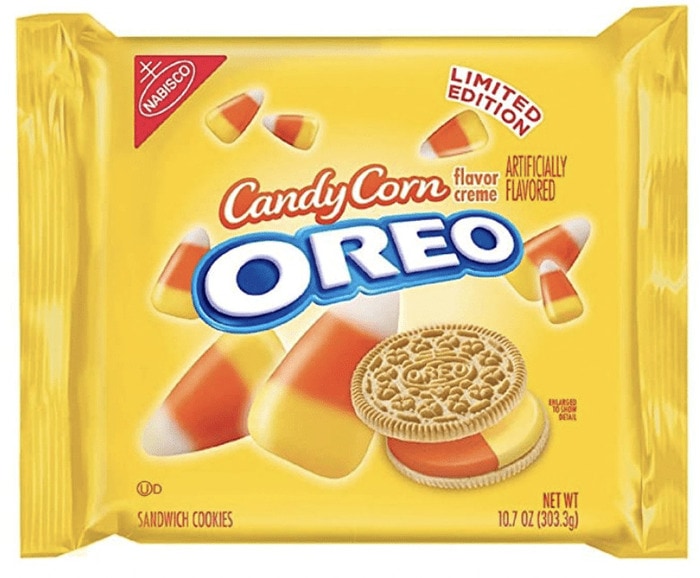 5. Jelly Donut Oreo
The worst thing about these donut Oreos is the explanation that the center is "jelly-flavored," lacking specificity in terms of what kind of jelly. Our guesses are mint or beef.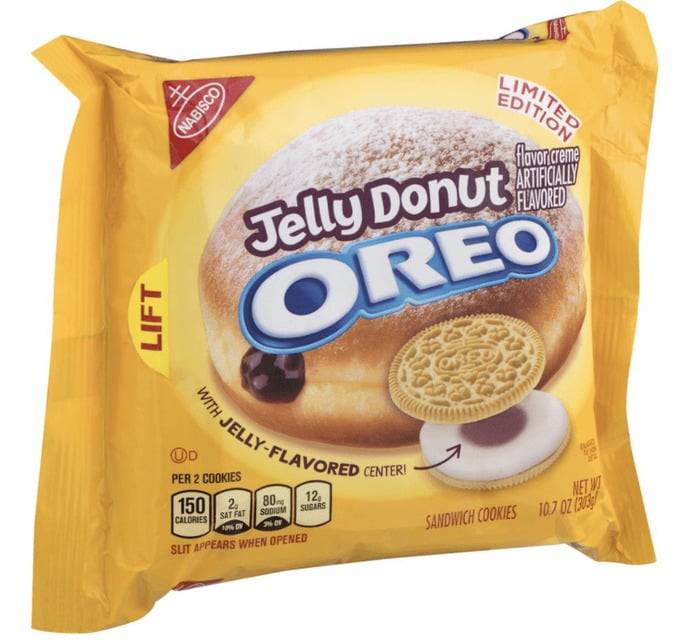 6. Swedish Fish Oreo
Somehow, these candy-inspired cookies give off the impression that fish have been caught, killed, and mashed up to form Oreo guts. Which is how we assume regular Oreos are also made.
7. Hot & Spicy Cinnamon Oreos
Another Oreo flavor that's cursed with the black and red demon color combo. But this time, it burns!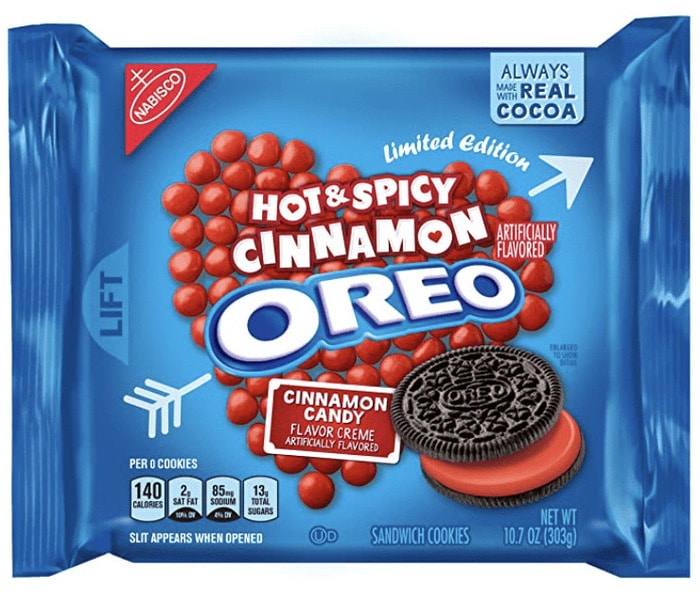 8. Carrot Cake
Let's just say we have some thoughts about carrot cake, and it definitely won't be asking us to write its college recommendation. Thankfully, these don't have actual carrots in them, but we're still only going to eat the cream cheese frosting. (We're using the cookies to pave our gingerbread house's tennis court.)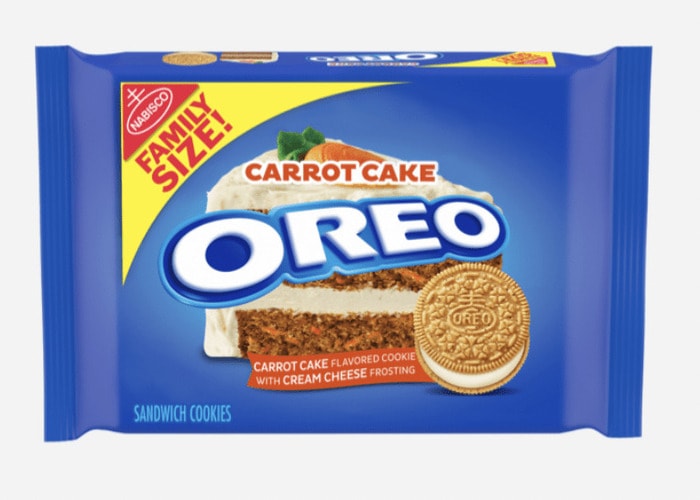 9. Watermelon Oreo
Harry Styles' summer hit definitely came from a sugar-induced fever dream after eating too many of these.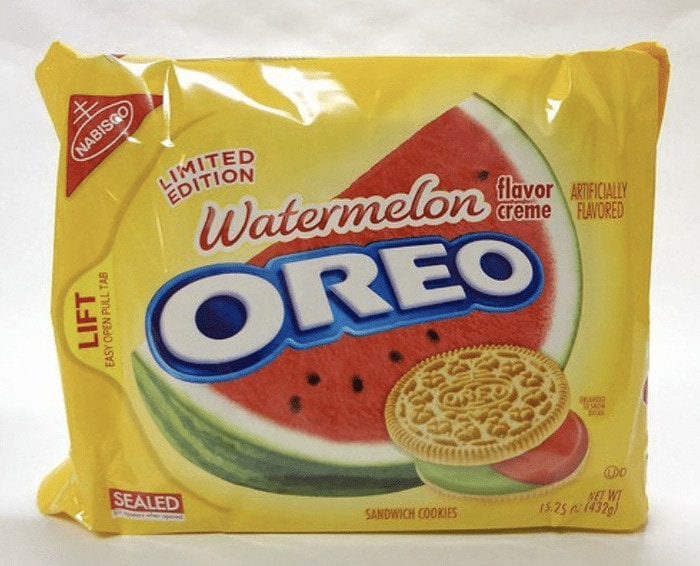 10. Birthday Cake
From vodka to popcorn, nearly every food has a birthday cake-flavored variant by now, and this Oreo creation is one of the least offensive. We'll take this over birthday cake chicken wings nine times out of ten.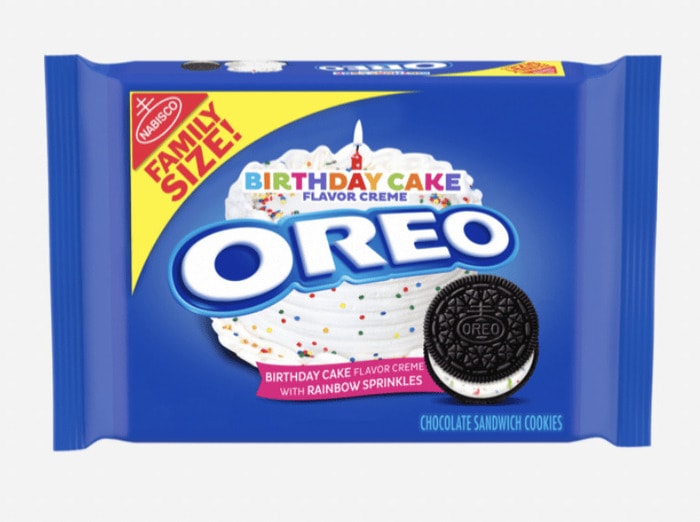 11. Firework Oreo
Made with popping candy in the creme, this is the taste equivalent of sitting in itchy grass and getting devoured by mosquitos, AKA, Valentine's Day.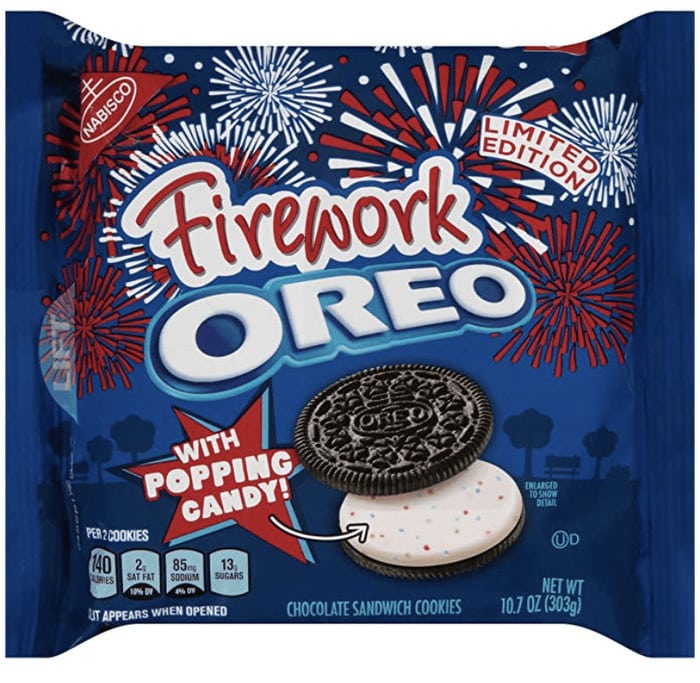 12. Cherry Cola Oreo
This is another example of what happens when you let the Internet make big decisions. We'll always love you, Boaty McBoatFace!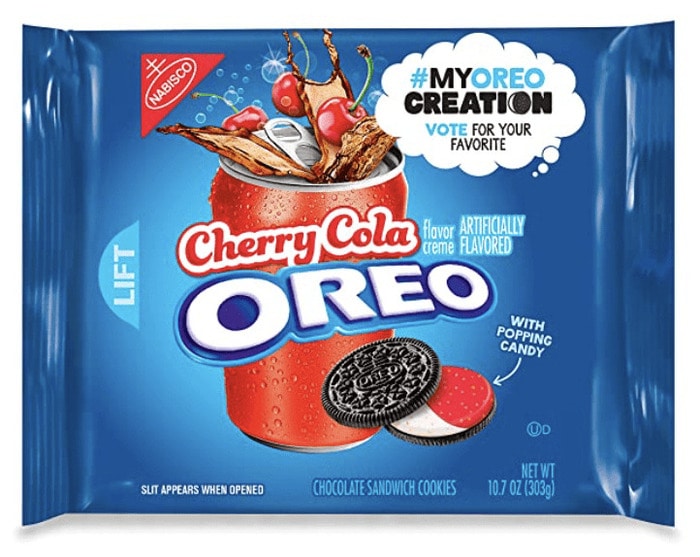 13. Wasabi Oreos
Back in 2018, Oreo released a batch of bold flavors to the Chinese market, including Wasabi. We told our four-year-old nephew these were matcha. He still hates us.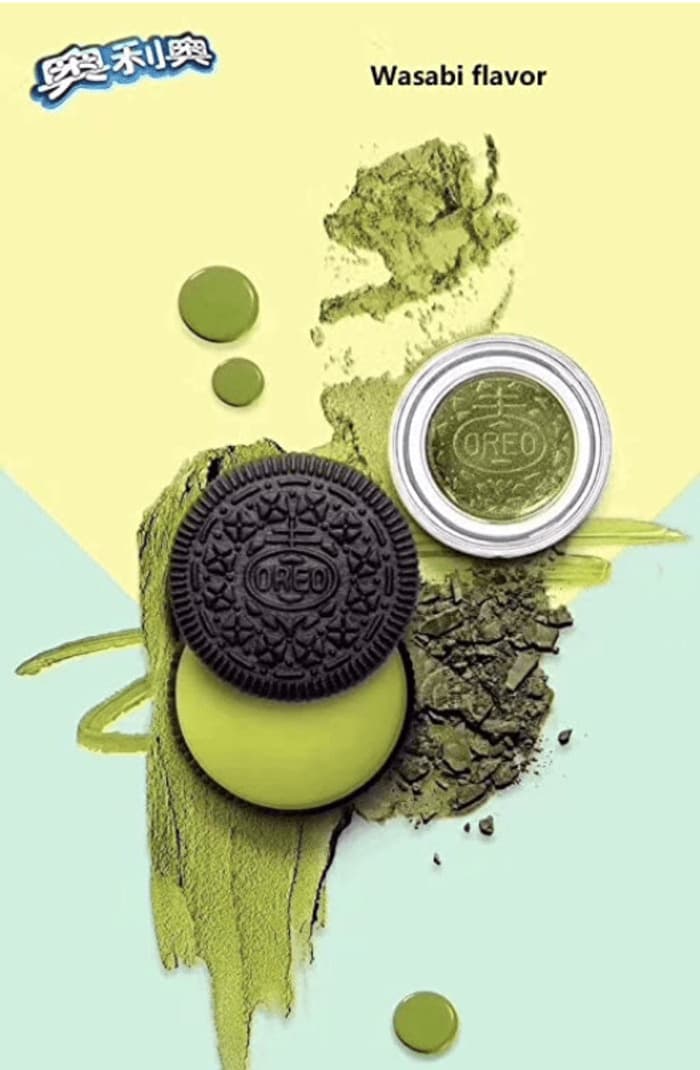 14. Hot Chicken Wing
Another creation released only in China. But you should probably eat them cold.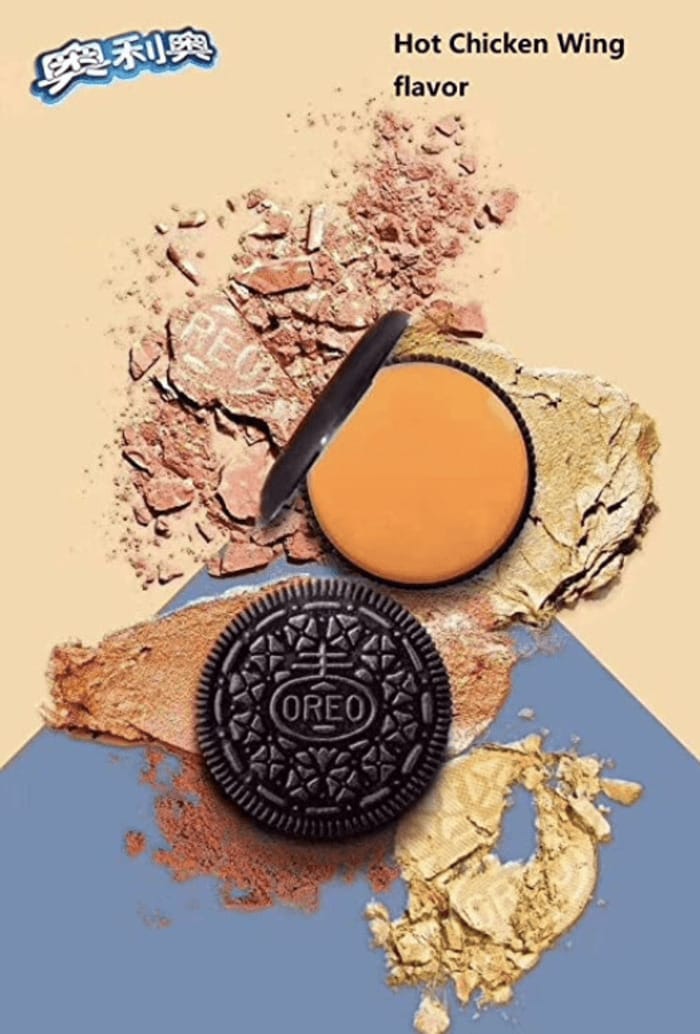 15. Peeps Oreos
There was not only one, but two versions of the Peeps Oreo flavor. In 2017, it featured pink creme and 2018 it had purple creme. Unfortunately of them did what we wanted when we tried cooking them in the microwave: blow up our kitchen, ourselves, and any memory of these things existing.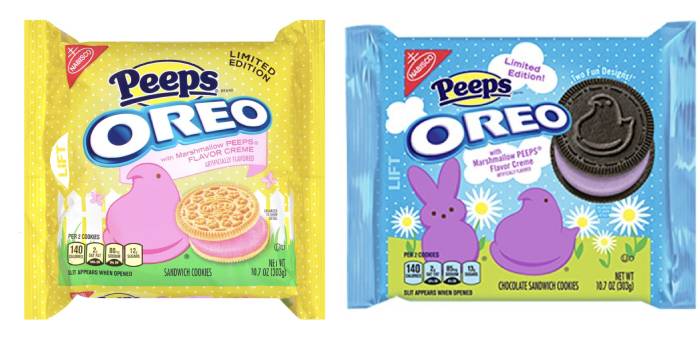 16. Kettle Corn Oreos
For all those times we had kettle corn and thought to ourselves, "Man, this is some fantastic millet!"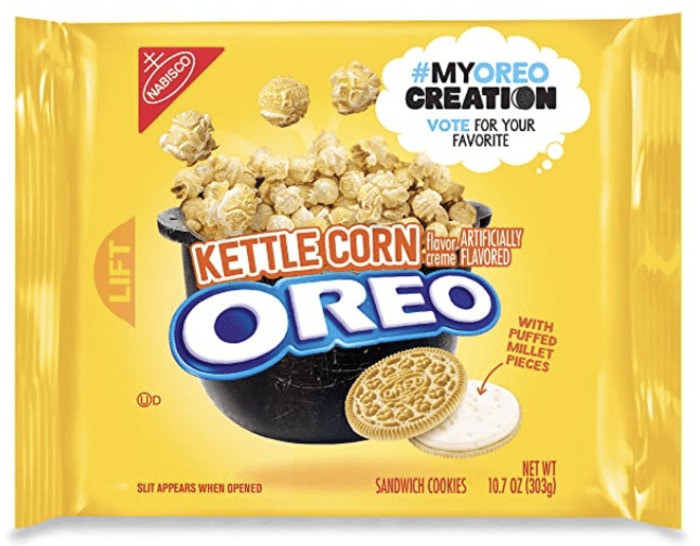 17. Pumpkin Spice Oreos
You can't escape a special flavor list without seeing the OG fall flavor, pumpkin spice. These aren't likely to be as good as a pumpkin spice latte, but are probably better than pumpkin spice Doritos. Nutritionally speaking, of course.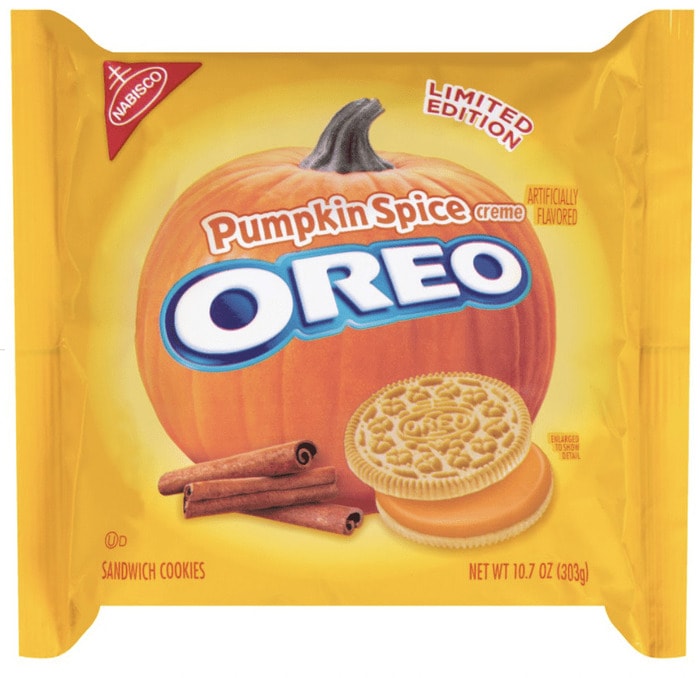 18. Creamsicle Oreos
Creamsicles are so nostalgic that eating a sleeve of these may trigger you more than listening to Sarah McLachlan on a rainy day.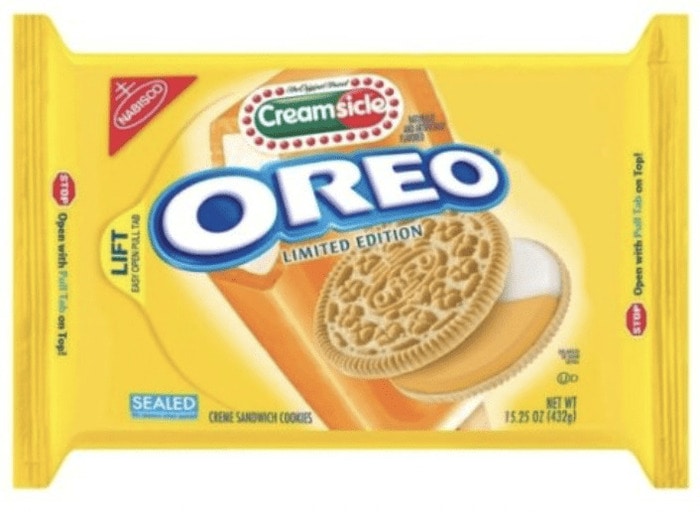 19. Waffles & Syrup Oreos
Something tells us these aren't made with real Vermont syrup. And that something is the big bold "artificially flavored" text on the packaging.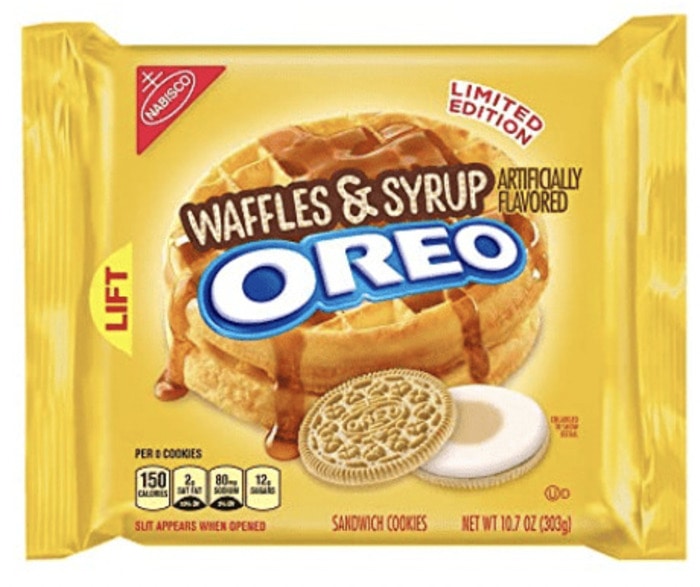 20. PB&J Oreos
While we never truly believed peanut butter-and-jelly sandwiches were part of a balanced lunch, removing the actual peanut butter and fruit jelly and replacing the bread with cookies for these really makes us question why the public schools are feeding these to our kids.
21. Fruit Punch Oreos
The Kool-Aid Man is the only person saying oh yeah! to this Oreo flavor. Oh, come on, you destroyed our kitchen wall again?! Try the front door next time, buddy.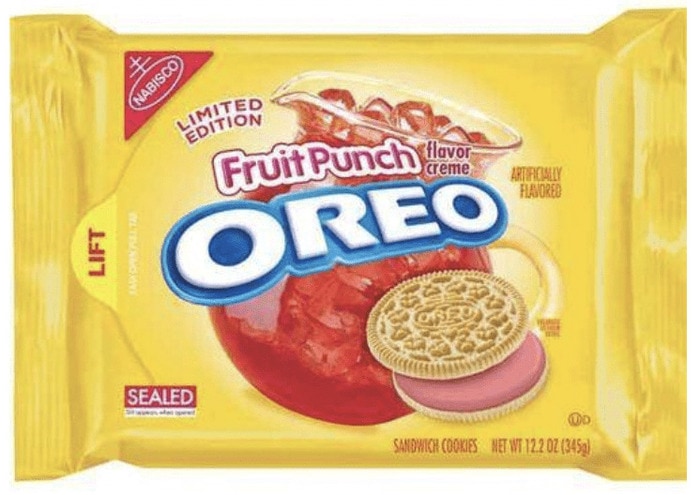 22. Root Beer Float Oreos
We don't think eating these would be as romantic as splitting a real root beer float with a crush, but honestly, we weren't going to share anyway.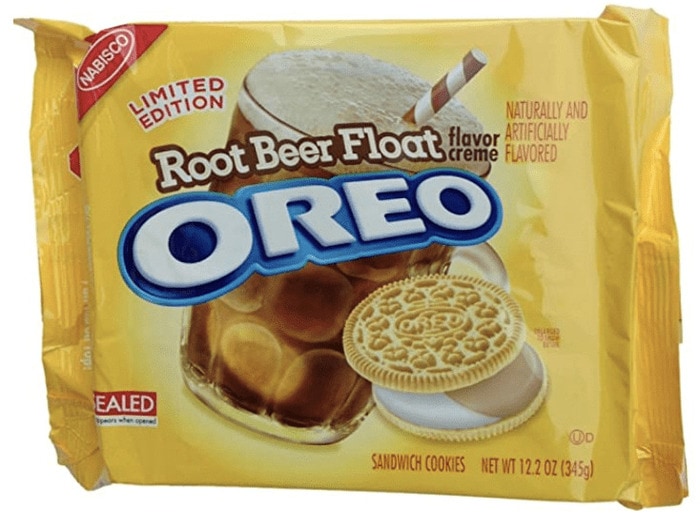 23. Limeade Oreos
There were probably a lot of flavors they could have used for a neon green filling, and we're just glad they settled on Limeade instead of Mountain Dew. "Nuclear reactor" would have been a close second, though.
24. Cotton Candy Oreos
Team blue and team pink come together in this sugar bomb of an Oreo flavor. But does it fit on a stick?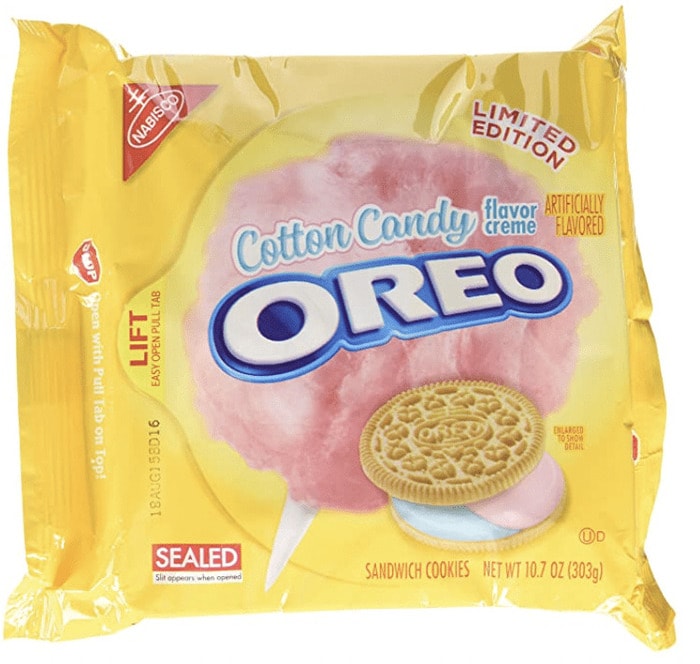 25. Apple Pie Oreos
Just like Grandma used to make! Turns out she was buying it from the store all along.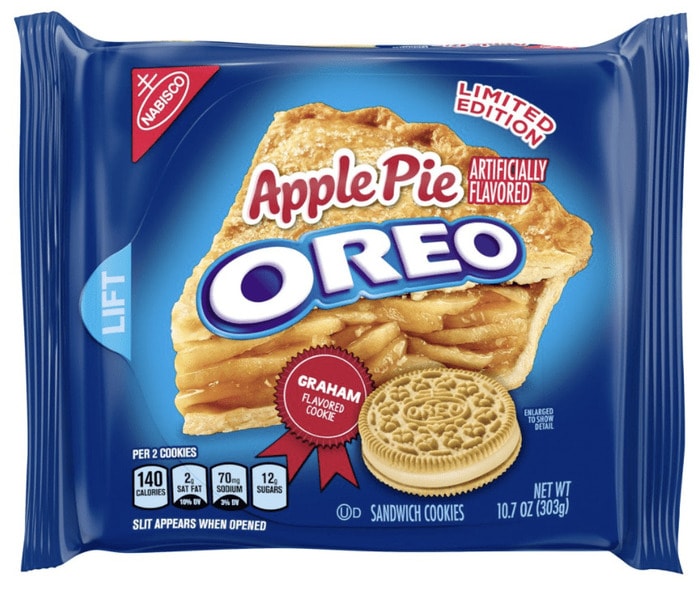 26. Strawberry Frosted Donut Oreos
If anything could get the world out of the slump that was 2020, it's the edible glitter of this Oreo flavor which debuted in March 2021. Yay for science!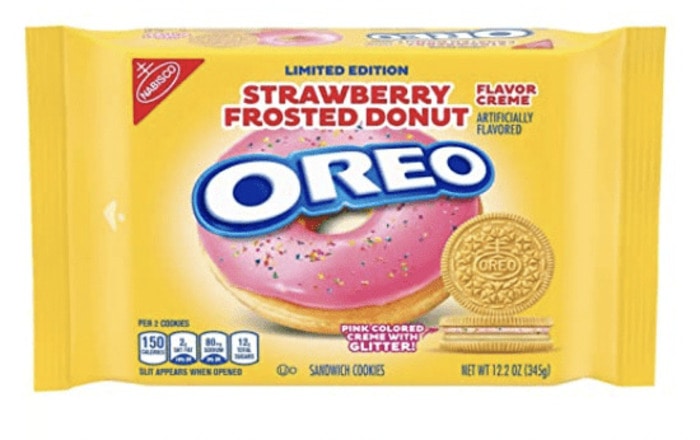 27. Key Lime Pie Oreos
If we're being honest, we're not totally sure what's in the filling of a real Key Lime Pie. For all we know, it could be this same "lime" Oreo filling.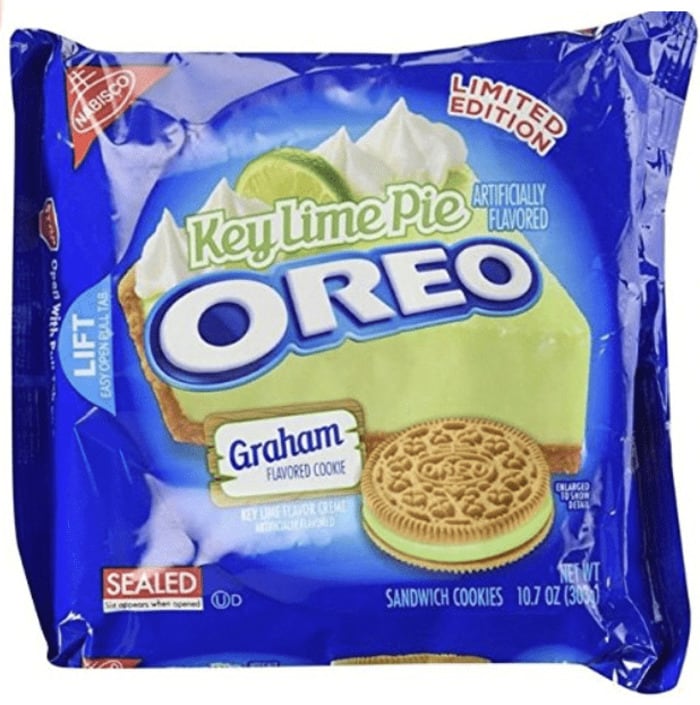 Oreo Flavors Coming This Fall
Most recently, Oreo announced two new flavors so far for fall 2021: Apple Cider Donut Oreos and Salted Caramel Brownie Oreos.
The Apple Cider Donut Oreos will be released in August and are made with two Golden Oreo cookies and an apple cider flavored creme in the middle. Had they come out earlier this year, they'd definitely get a shout out in Bo Burnham's "White Woman's Instagram." It's not not a bop.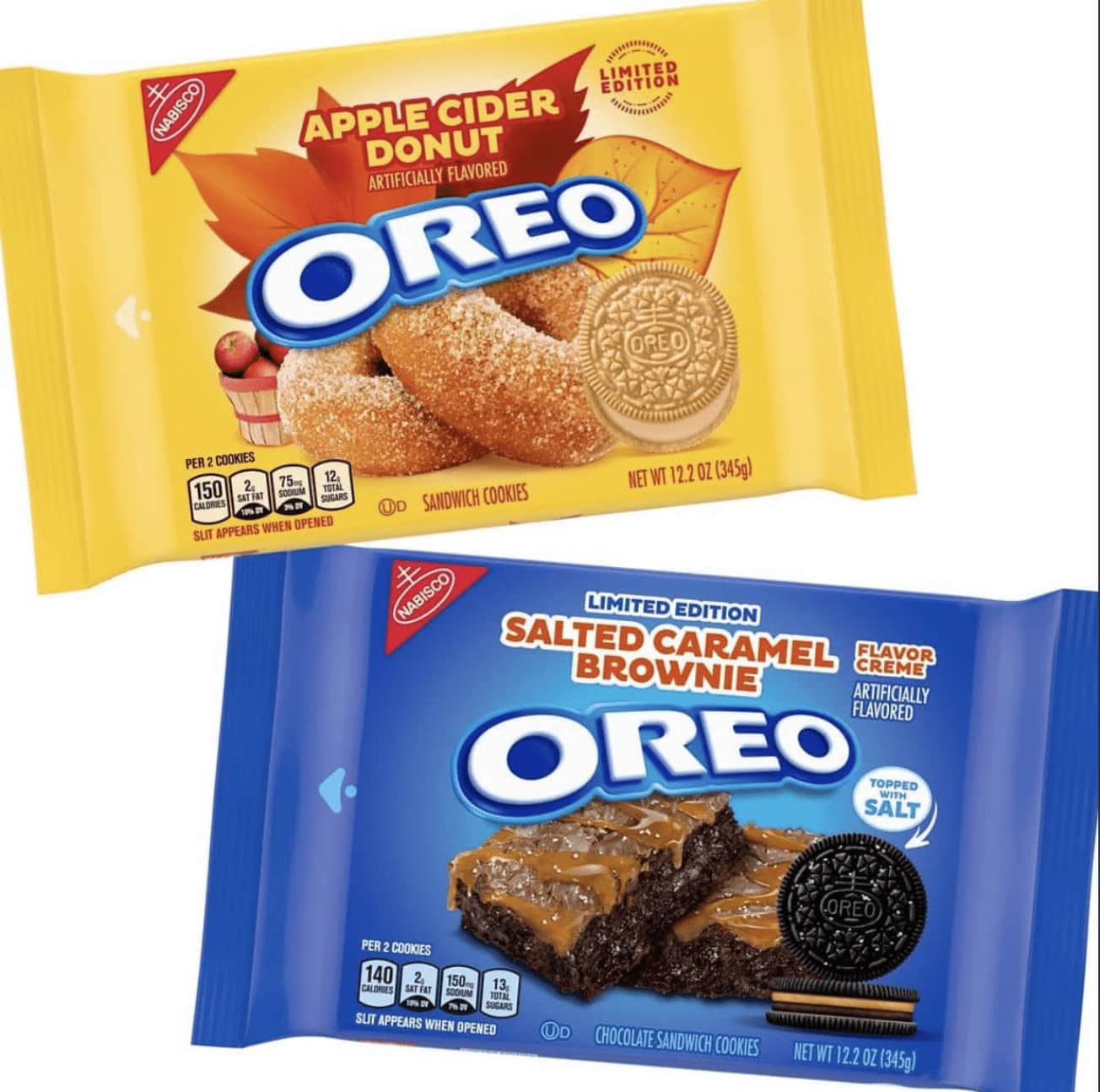 As for Salted Caramel Brownie: they have two layers of flavored creme—one caramel, one brownie—sandwiched between two classic chocolate cookies and topped with a sprinkle of salt.
That "Topped with salt" needs to be emphasized on the packaging has us wondering why they aren't calling special attention to other crucial ingredients… like caramel or brownies. But at least it's not artificial salt flavoring—again.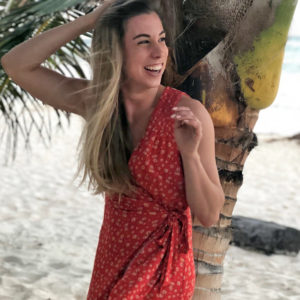 Latest posts by Hannah Rex
(see all)