Pepsi, who apparently did not learn their lesson from Crystal Pepsi, has just collaborated with Peeps to create a marshmallow-flavored soda. So, if that was on your 2021 bingo card along with Cinnamon Toast shrimp, you've just won. What, we have no idea.
The canary yellow, hot pink, and neon blue 7.5-oz cans of the "unique" Pepsi flavor are here just in time for Easter. But the spring sodas are only available if you win their #HangingWithMyPEEPS social media contest, so if you're trying to find where to buy it you won't find a listing of stores anywhere.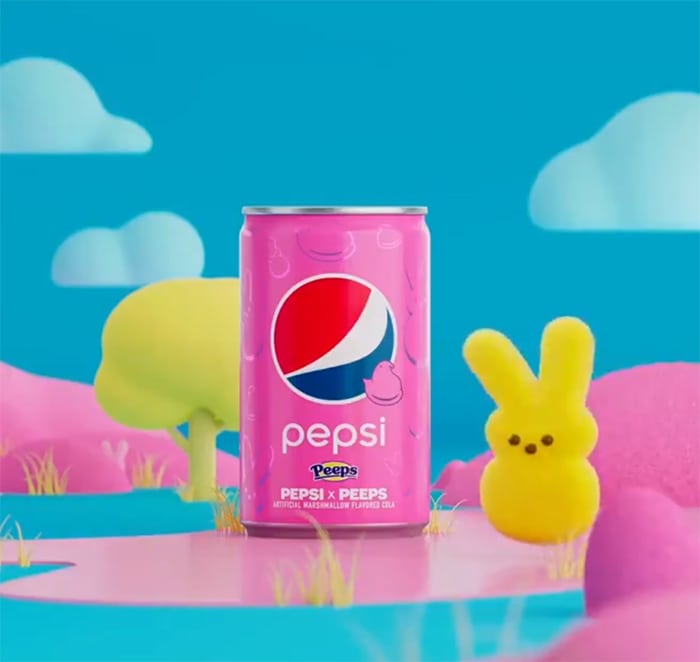 What you will however, discover, is how many people on Twitter are dismayed that the brand decided to go with the catchy name "Pepsi x Peeps" instead of, we dunno… Peepsi?
Unlike regular Peeps, we don't recommend heating up the can until it explodes in the microwave. While you're waiting for your Peeps to burst, though, you can read these funny tweets.
1. Now, that? That's a good idea.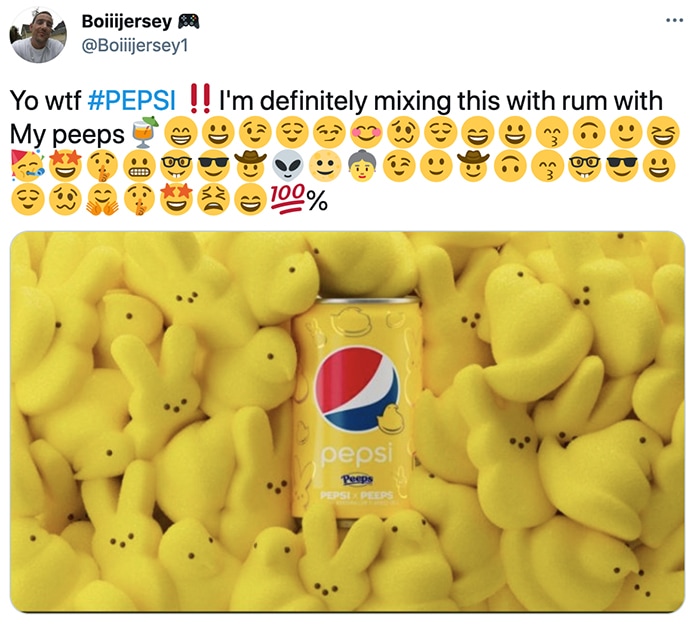 2. Honestly, kinda same.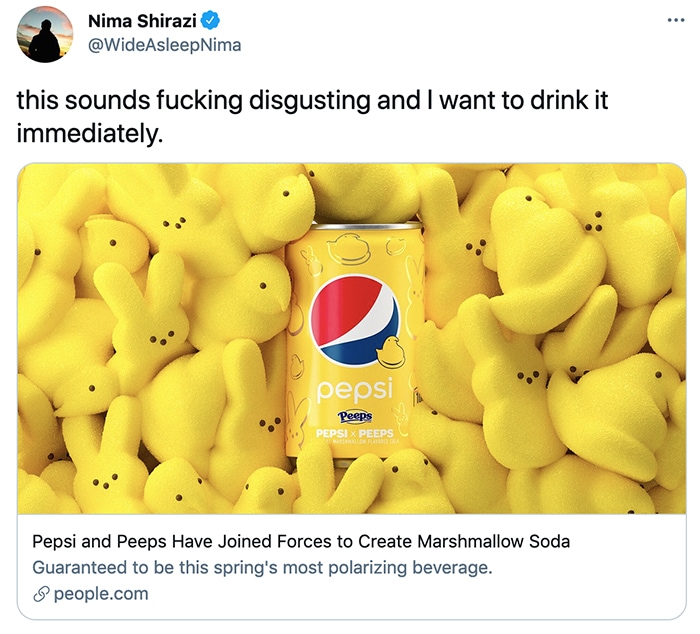 3. Well, you can't please everyone.

4. When it doubt, blame the lawyers.
Us a month ago: David from Legal, we have a great name for this Peeps collab. It's…
David from Legal a month ago: I know what you're gonna say. No.
Us today: David, check Twitter. 🤦‍♂️ #PepsiXPeeps

— Pepsi (@pepsi) March 25, 2021
5. Oh, there's still time.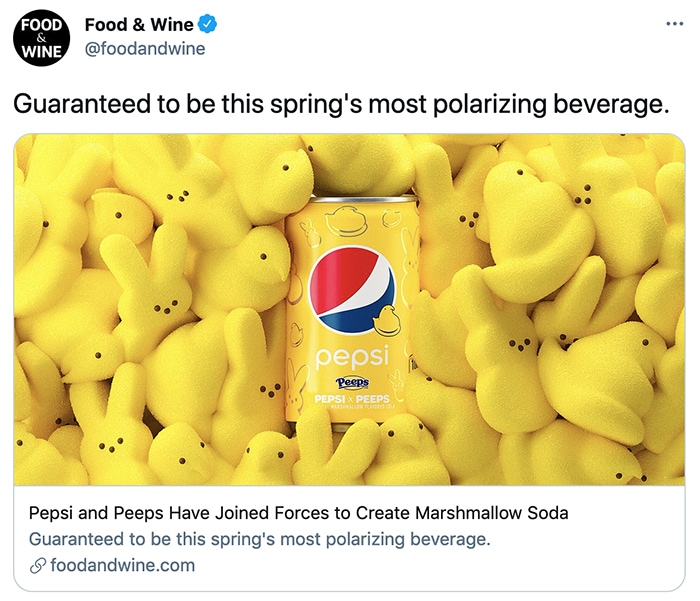 6. Just do it.
https://twitter.com/UncleFahey/status/137510622851545088
7. Redials.
Legal is not taking calls at this time 😂 #PEPSIxPEEPS https://t.co/S0mWEGanwJ

— peepsbrand (@PEEPSBrand) March 25, 2021
8. What Isiah said.
Pepsi and Peeps are making a marshmallow soda and they didn't call it Peepsi? pic.twitter.com/EbIQLz6M0B

— Isiah Whitlock Jr. (@IsiahWhitlockJr) March 25, 2021
9. Give it to us. What's the worst that could happen? Don't answer that.
10. Your third eye might have diabeetus.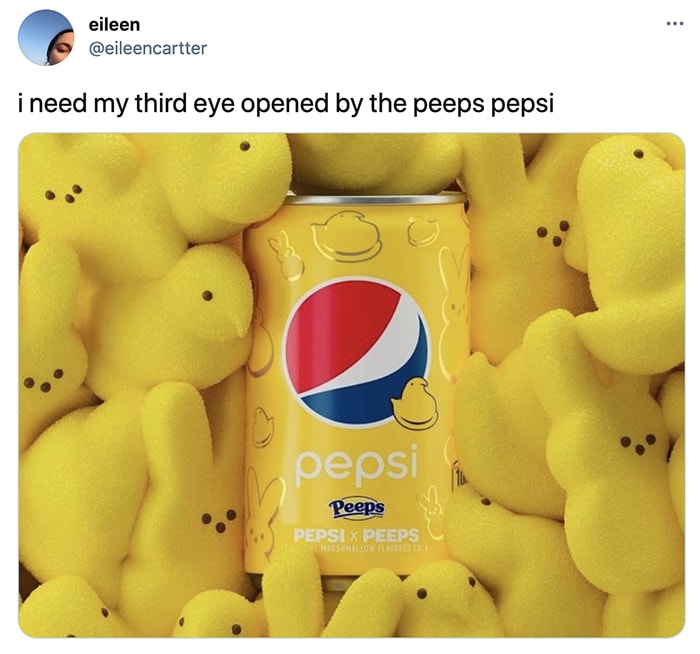 11. So not ok.
me: is pepsi ok?

pepsi: NO. HELP. DEAR GOD HELP.https://t.co/HrNUnaWrpS

— taming fred savage (@FredTaming) March 25, 2021
CALL IT PEEPSI YOU COWARDS. https://t.co/p9rMymsuRd

— Fahey (@UncleFahey) March 25, 2021
13. Sugar-flavored everything!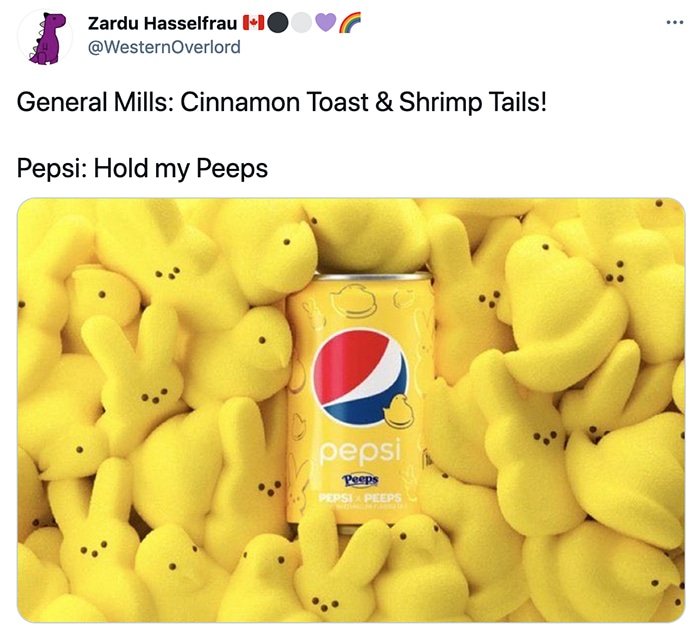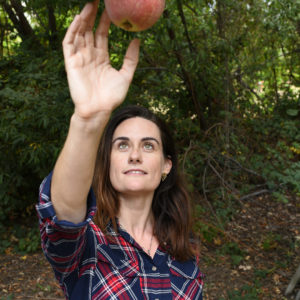 Latest posts by Rebecca Swanner
(see all)