We've seen our fair share of limited-edition snacks for Valentine's Day. From Lady Gaga Oreos to Love Bug Frappuccinos to pink heart-shaped hot chocolate bombs. But believe us when we say you have never seen anything like what Kraft has decided to gift us all this year: candy-flavored hot pink mac and cheese.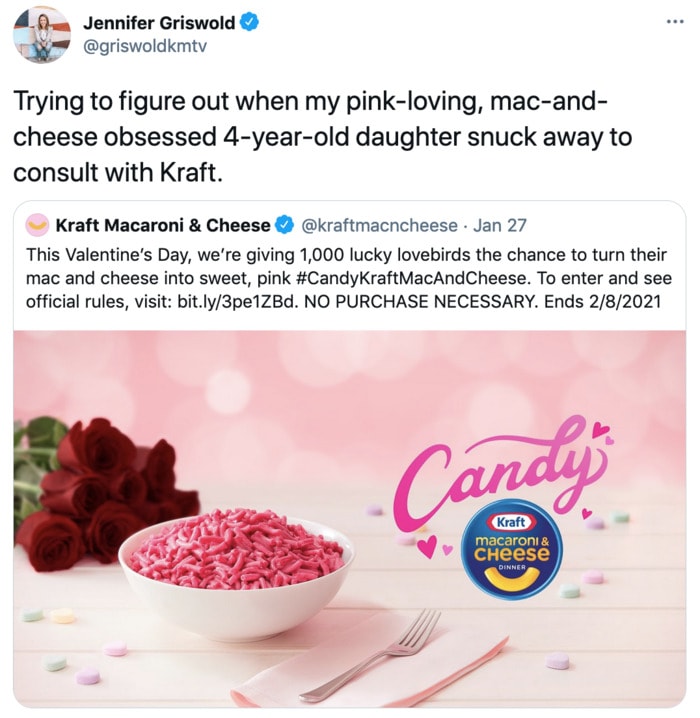 Kraft is taking its iconic mac and cheese base and adding a twist. First, they encourage you to make your mac and cheese the normal way. No, not from fresh Gruyere and homemade pasta. Who do you think we are, Ina Garten?
First, mix together your dry noodles, their packet of signature cheese powder, and milk. Then, if you're feeling extra brave, it's time to make your pasta ready for Valentine's Day! Grab the second packet and use it to transform those brightly-colored yellow noodles a Powerpuff Girl shade of pink. The flavor is now candy hearts-meets-cheese.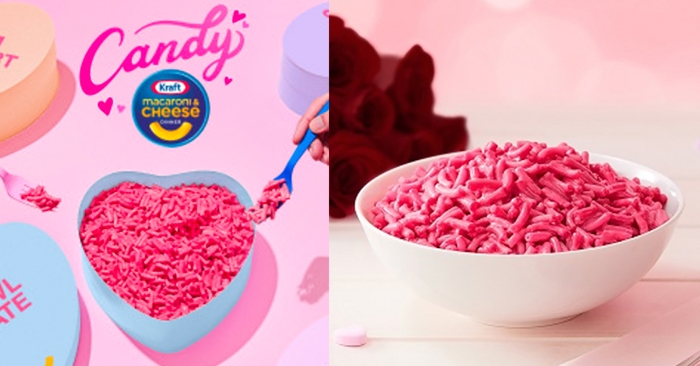 Kraft at least recognizes the flavor combo is a little bizarre, saying on their contest page, "Sure it sounds a little strange, but hey, love makes people do strange things."
This isn't the first time Kraft has mixed up their signature flavor. Last October, Kraft came out with a pumpkin-spice flavored mac and cheese. Their creative time sure is in love!
But, you can't actually buy the limited-edition mac and cheese in stores. If you're really game to try it, you have to enter their contest by February 8. Go here to enter. Then you can tell people about how you tried this weird flavor instead of resharing all those stories about when you studied abroad in Barcelona.
Some Funny Tweets About Kraft's Candy Mac and Cheese
1. Survey says…
Would you eat pink mac and cheese?

— BuzzFeed (@BuzzFeed) January 28, 2021
2. Explain yourselves.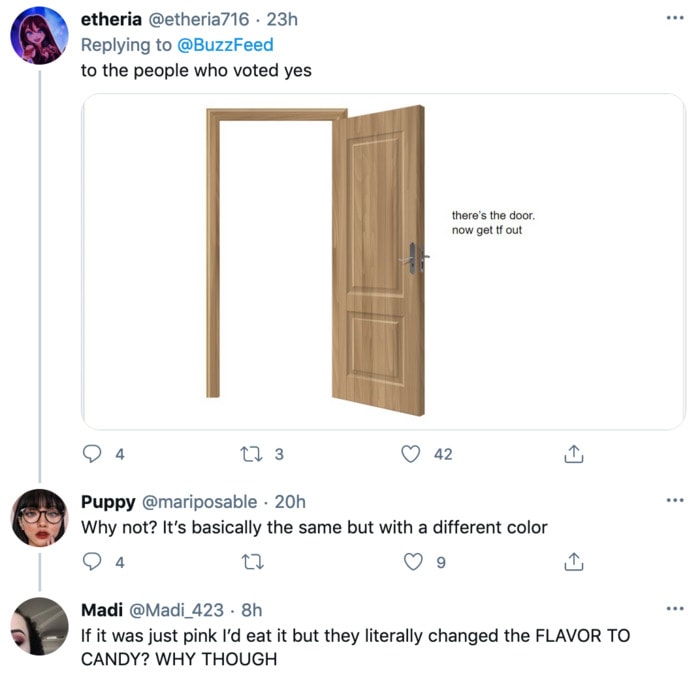 3. And you have seen those why?
dis look like somebody's intestines… https://t.co/bBWBmCOE31

— sarah lugor!! (@sarahlugor) January 27, 2021
4. You all need to stop hanging out with Hannibal.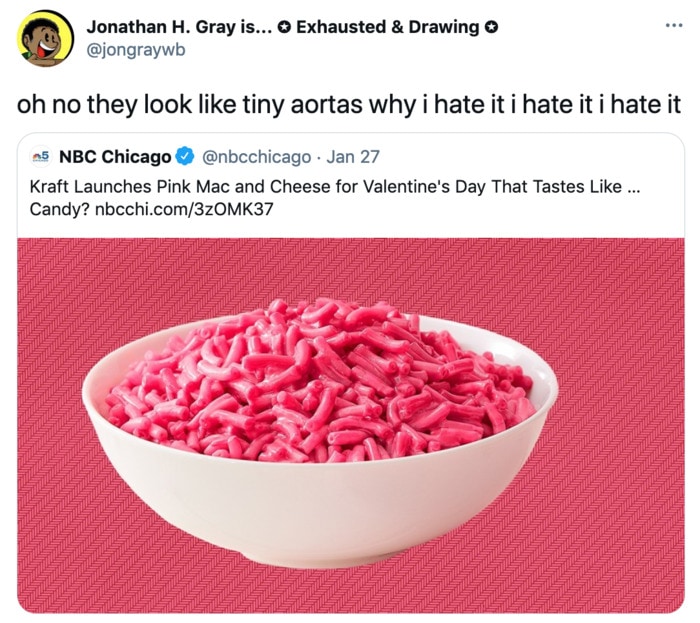 6. Look, we all have some crazy ideas at 3am.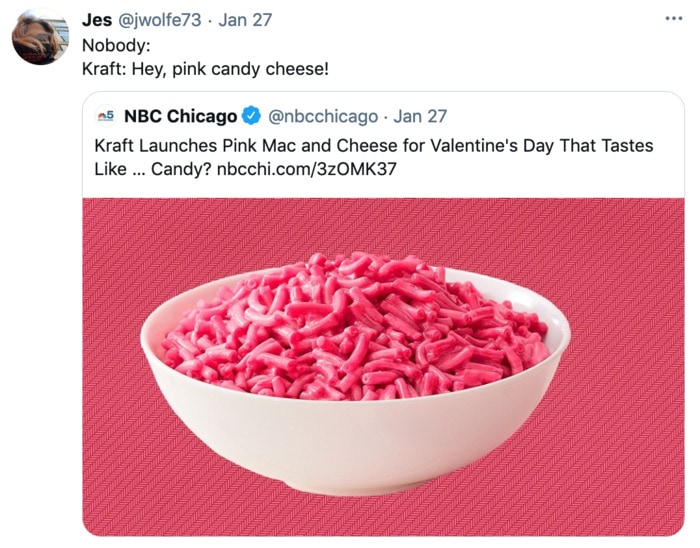 7. What he said.
#happyvalentinesday pic.twitter.com/WdrYsPjNTb

— Joshua Gregg (@joshun34) January 29, 2021
8. Them's the rules.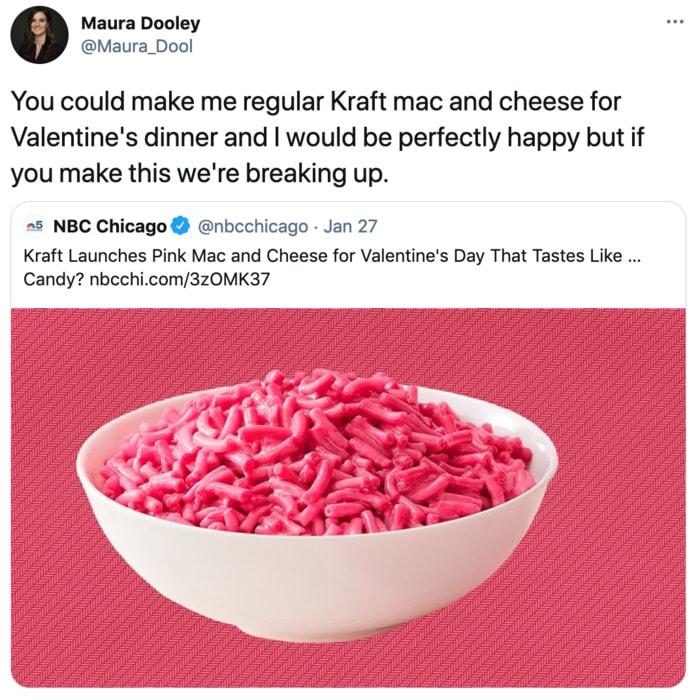 9. Hot sauce, yes. Candy hearts, no.
"Lesson 1: Take more risks"

I'm here for it, @CholulaHotSauce.

— Kraft Macaroni & Cheese (@kraftmacncheese) December 18, 2020
10. Dr. Malcolm knows what's up.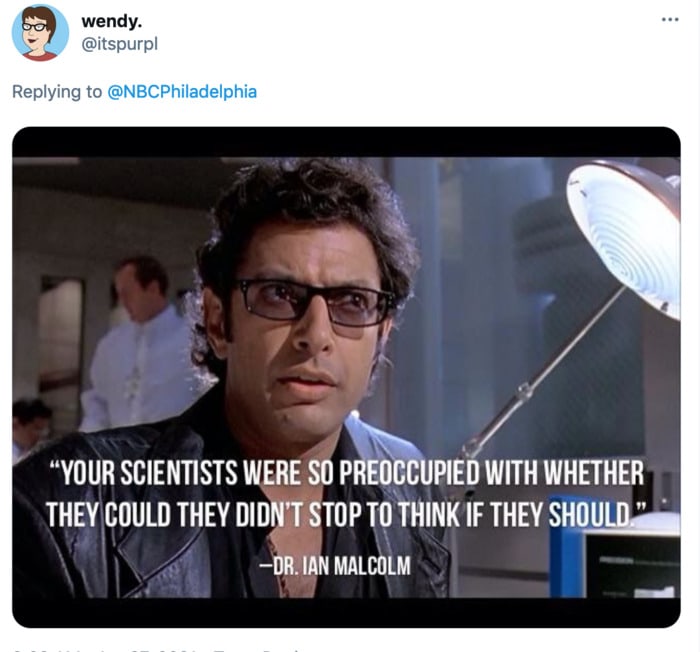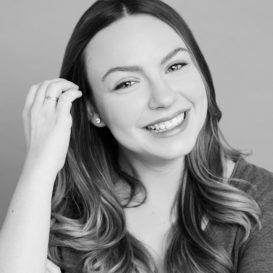 Latest posts by Katie Schindelheim
(see all)