When it comes to Valentine's Day, long gone are the days that you could put off picking up a simple box of chocolates on the way home. And, let's be real, only about of four of those were edible anyway. But, that's ok, because someone invented breakable chocolate hearts.
The molded geometric chocolate hearts come paired with a hammer so you can smash it open to reveal all the goodies inside. It's like a pinata, but instead of getting dizzy, you just get the stress relief. Kurt Cobain would be so proud.
What's Inside the the Breakable Chocolate Hearts?
These molded chocolate hearts can be filled with anything you want! Jewelry, more chocolate, mini bottles of fireball. Basically, if it's smaller than 7 inches, it fits. Yes, we're still talking about the chocolate hearts.
The heart-shaped chocolate aren't usually just chilling in the box alone. They'll often come packaged with chocolate-covered strawberries, macarons, or other sweet treats.
Ok, Now I Want One. Where Can I Get a Breakable Chocolate Heart?
You can get pre-made breakable heart shaped chocolate boxes on Etsy or from a local baker. But, order quickly if you want one for Valentine's Day.
You can also make your own and customize it however you want using one. Just scroll for the recipe.
17 Breakable Chocolate Hearts We Want Like, Now.
1. Flaming Hot Crush Breakable Heart
It's the 2021 version of a conversation heart. What better way to tell your crush how you feel than with Cheetos and chocolate?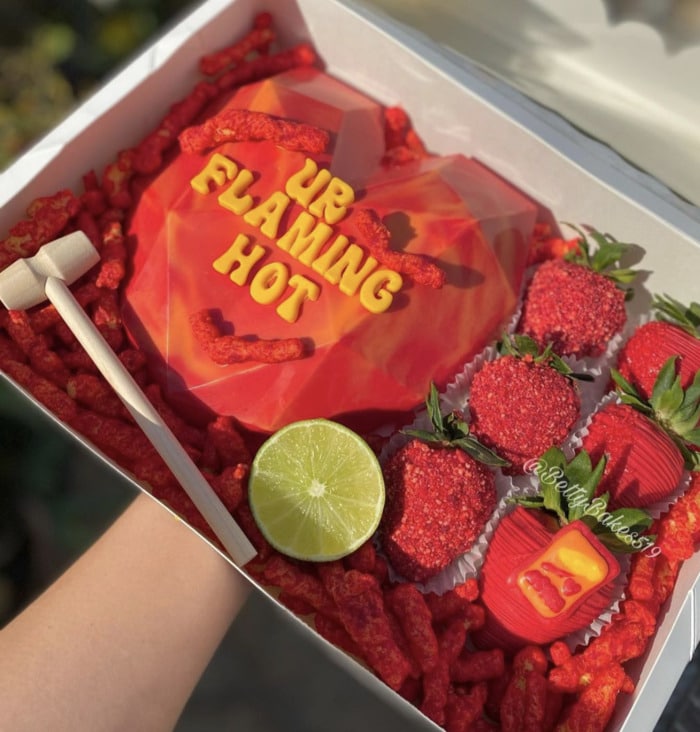 These dainty hearts are perfect for the girly girl in your life. Just don't underestimate her with hammer in hand… she'll hang your photos in no time!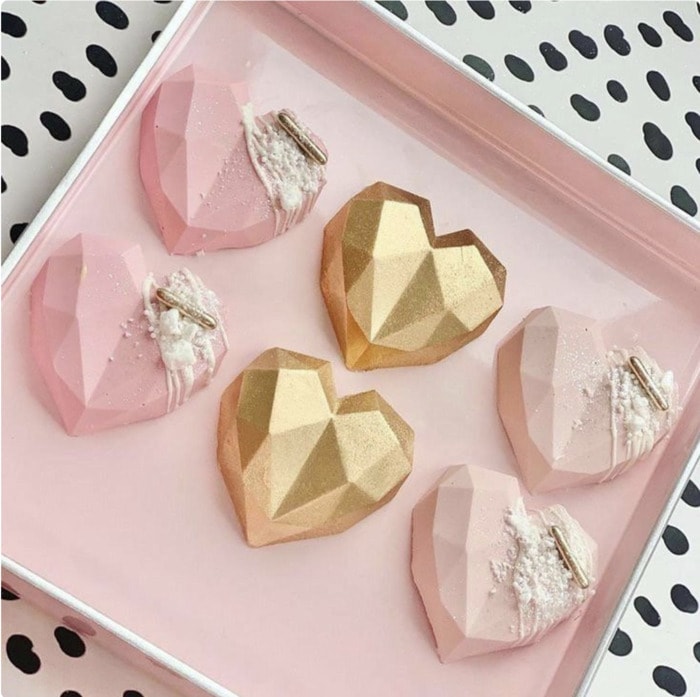 3. Beetlejuice Breakable Heart Box
Sister Sweets in Las Vegas created this unique Beetlejuice-themed breakable chocolate heart shaped box. It's got Beetlejuice's mug set in a fancy Victorian frame and chocolate-covered strawberries dressed in his iconic pinstripes. There better not be sandworms inside.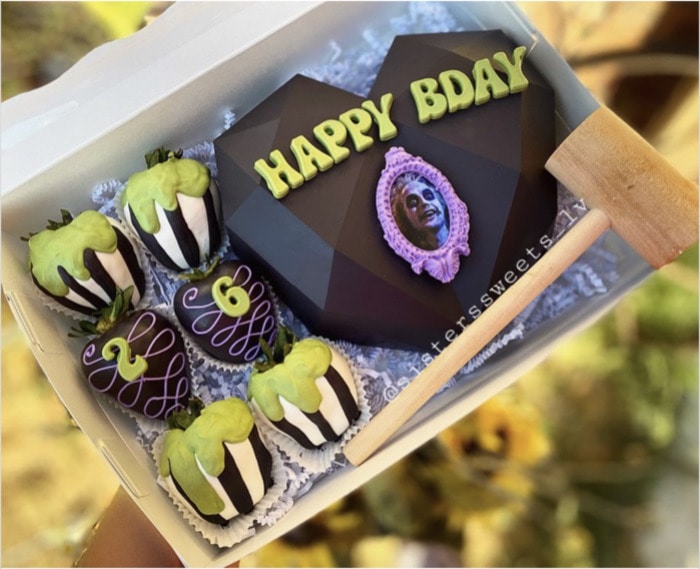 This Williams-Sonoma version comes lathered in French chocolate and is filled with 30 dark chocolate dragées. The sparkly outer shell is pretty enough to hang on the wall… depending on how much nuts you go with the hammer.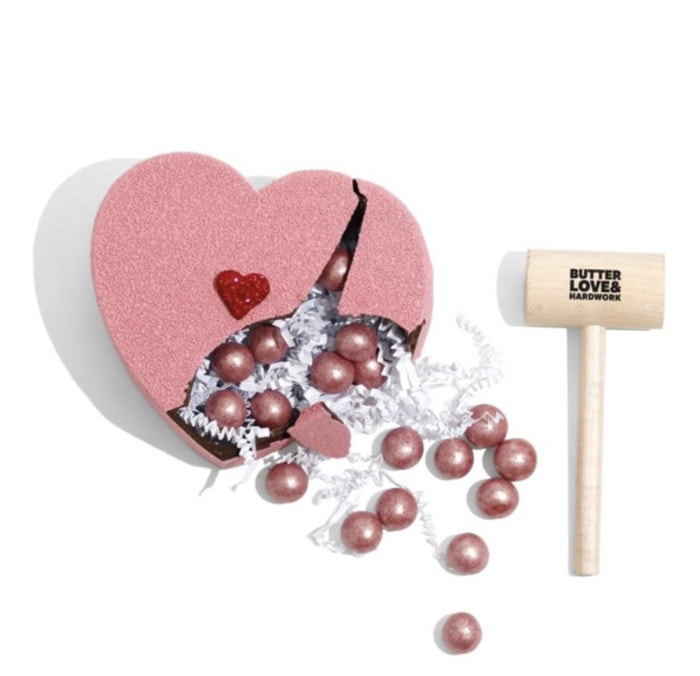 5. Beauty & the Beast Chocolate Heart Box
The bad news is you smash the rose – you know, the rose. Good news is you get what's inside. Bad news is this doesn't break the curse.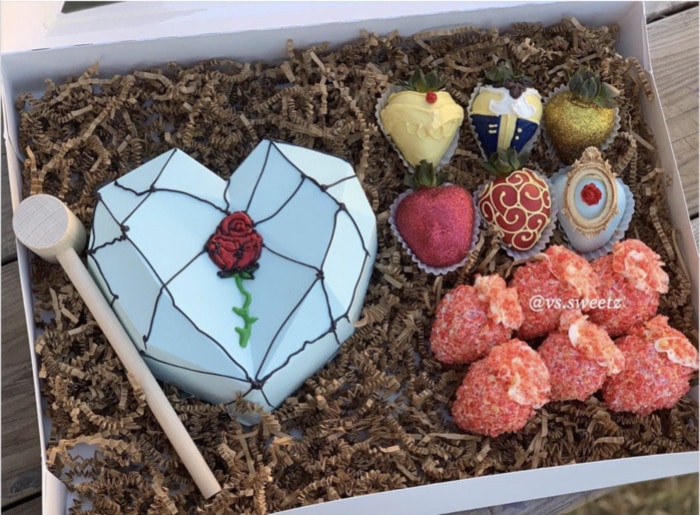 You can't go wrong with a classic red heart.

7. Batty Breakable Heart Box
This one is perfect for the people who love Halloween or just really admire our nighttime pollinators.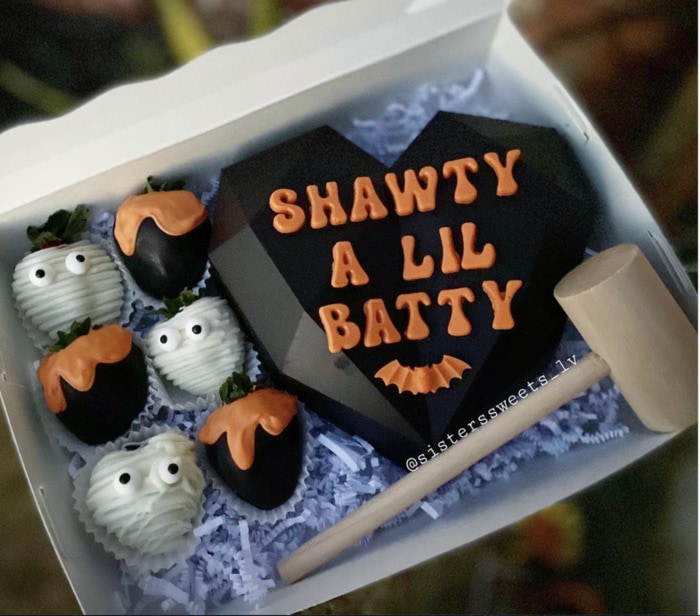 8. Baby Yoda Smashable Heart Box
This baby Yoda (ahem, Grogu) smashable chocolate heart box is to us what those frog eggs are to Grogu.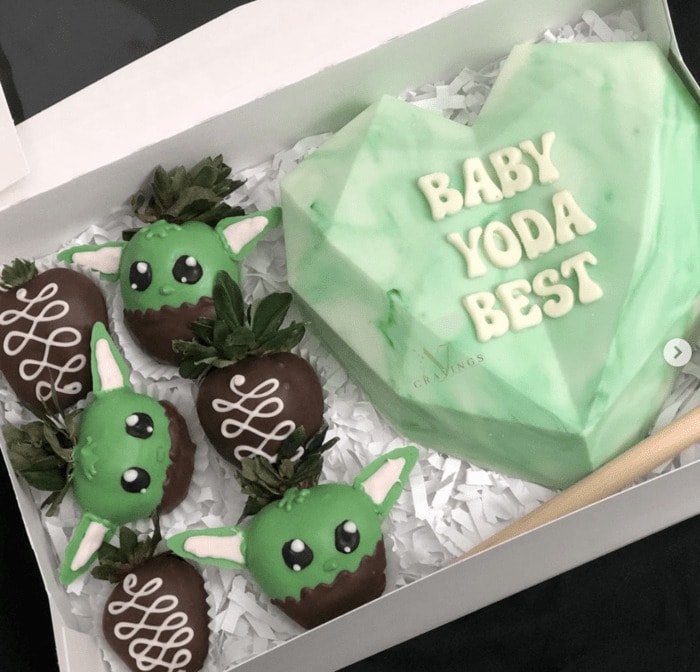 We took a DNA test and it turns out we're 60% chocolate.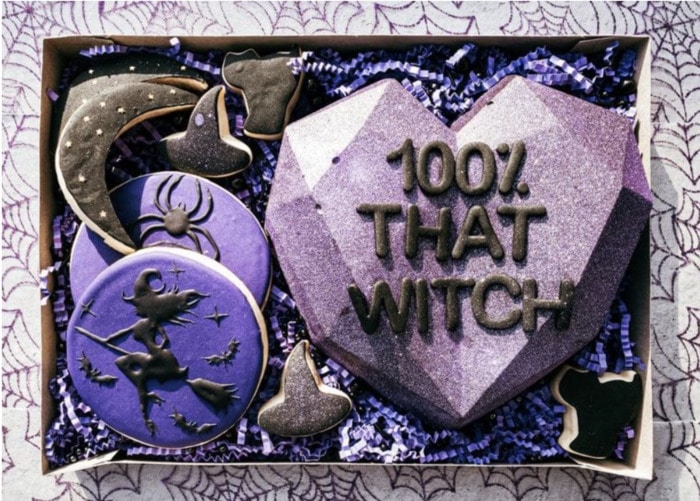 10. Brain Breaker Box
Blow someone's mind when you gift them a brain breaker Halloween box. Think outside the box because this one is great for medical professionals, morbidly curious minds, and zombies.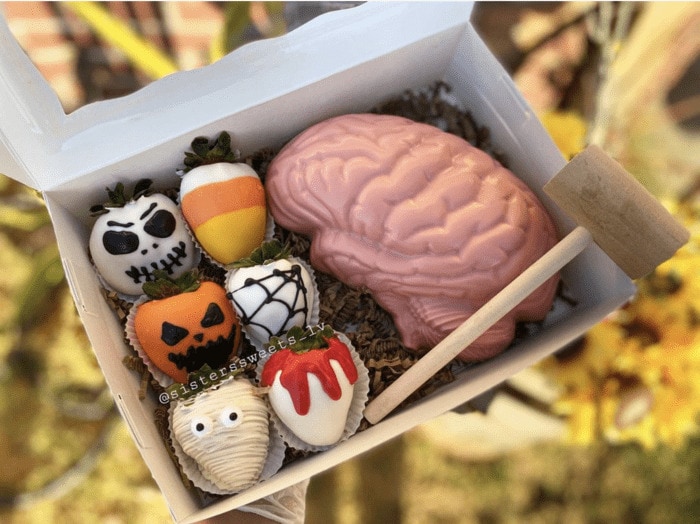 11. Sugar Skull Breakable Chocolate Hearts
This one is almost too pretty to break, but I'm sure we could manage it.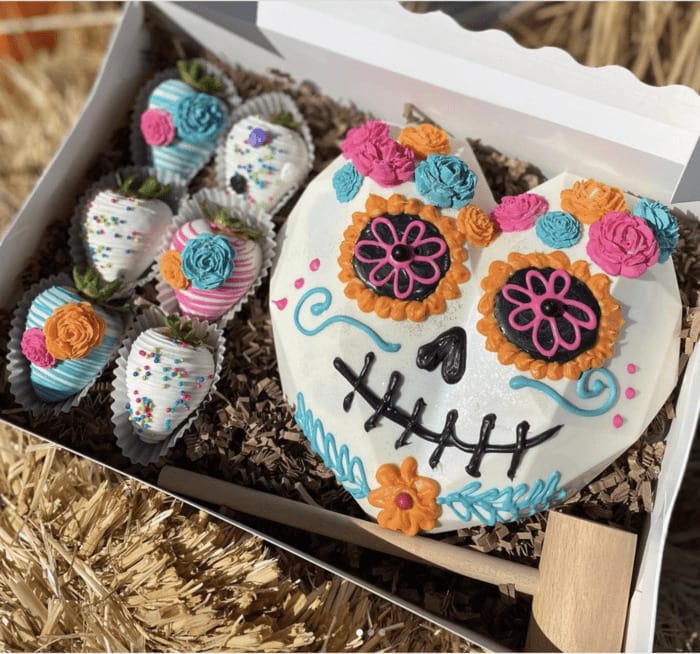 12. Nightmare Before Christmas Chocolate Heart Box
If your love is immortal, than you'll appreciate this Sally and Jack Skellington heart and accompanying dipped Oreo cookies. Just don't let see that painting in your attic.
13. Naughty Chocolate Heart Box
Show your boyfriend some appreciation with something he'll love 1000% more than a heart-shaped cake.
14. Pink Breakable Chocolate Heart and Macarons
All we can say after watching this video is give us all the chocolate.
15. Jason Voorhees Breakable Chocolate Heart Box
Nothing quite says Friday the 13th like a tiny hammer and demolition. And our calendar.
16. Unicorn Smashable Chocolate Heart Box
Unicorn cakes move aside. There's a new horse in town. Which also happens to be a unicorn.
17. Galaxy Breakable Chocolate
This starry box is perfect for any astrology nerd definitely wins the constellation prize.
Use this mold from Amazon to make your own smashable heart with the recipe below.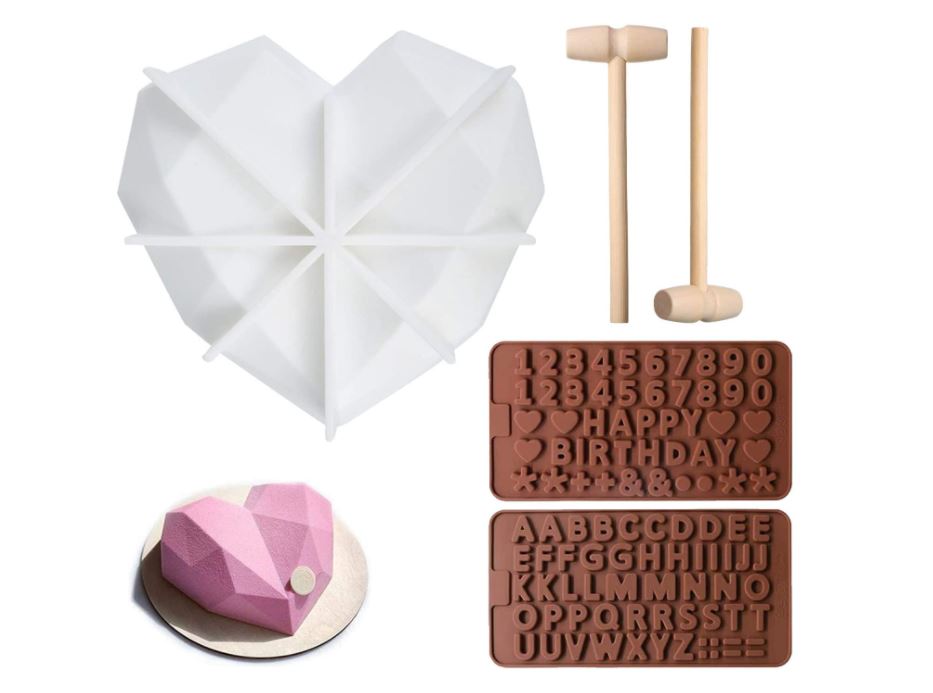 Breakable Chocolate Heart
Print Recipe
Here's how to make one of the trendy breakable chocolate hearts at home.
Servings: 4 servings
Instructions
Melt chocolate in double boiler or microwave. Let cool to just about room temperature.

Pour melted chocolate into the mold.

Rotate the mold until all sides are covered. Use a spoon if needed.

Pour out any extra into a small bowl and tap the mold gently on the countertop.

Place in the fridge for 5 minutes to harden. Repeat three times.

Once cold, use an offset spatula to scrape off any extra chocolate from around the top edge.

Peel the mold a little on each side. Then unroll the mold from the chocolate.
Nutrition Facts
Breakable Chocolate Heart
Amount Per Serving (0.5 heart)
Calories 0
* Percent Daily Values are based on a 2000 calorie diet.
Did you make this recipe?
Leave a review below, then take a photo and tag @letseatcakeblog on Instagram so we can see it!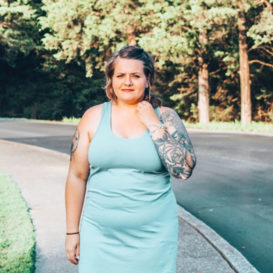 Latest posts by Ashley Hubbard
(see all)