How do you make zombie cupcakes? Not the undead, brain-eating kind of zombie cupcake, but cupcakes fashioned after the Zombie cocktail invented by Donn Beach in 1934? The Zombie cocktail that kickstarted the tiki cocktail movement? Well, if you're inventing the zombie cupcakes from scratch, it takes a little research and some mad scientist testing in the kitchen, but if you're making them based on the recipe below, it's easy if you have all the ingredients!
Scroll for the story and the zombie cocktail recipe or skip to the zombie cupcake recipe!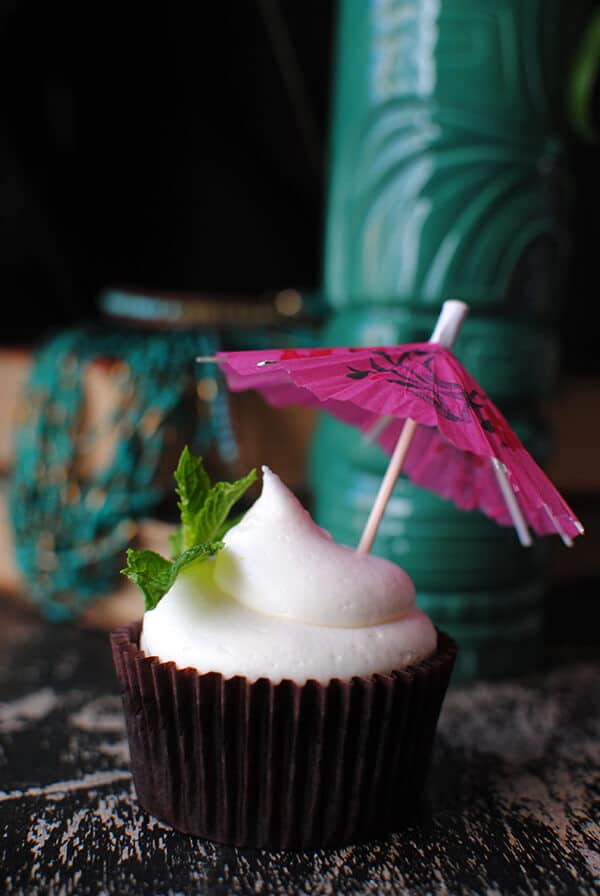 Zombie Cocktail History
In 1934, at a Polynesian-themed restaurant in Los Angeles, a Texan by the name of Ernest Raymond Beaumont Gantt, invented the Zombie. Or, as the better known version of the story goes, in 1934 Donn Beach invented the Zombie cocktail at his Tiki restaurant Don the Beachcomber in Hollywood, California. Both versions are true. And, at least as far as history is concerned, Beach is also, reportedly, responsible for creating most of the tropical drinks we know today, including the Mai Tai.
I love a perfectly-made, subtle cocktail. And there are plenty of fantastic places here in LA where I can enjoy those (the Raymond 1886 in Pasadena, the Chestnut Club in Santa Monica, the Corner Door – and wherever Beau duBois goes after this as he's a cocktail genius.). But, sometimes, an over-the-top rum cocktail fitted with all sorts of garnishes is just the thing. And then, I go to a tiki bar.
One of my all-time favorite tiki bars is the Zombie Hut in Brooklyn. But, I have to be honest, I really preferred it before they moved locations. Their original location in Carroll Gardens was dimly-lit, island-inspired, and atmospheric as all getout. Though you didn't really want to sit on the couches for fear something might crawl on you. And that's where I had my first Zombie. Their version came frozen with a shot of 151 in the straw. And you were only allowed two. (This is a general bartender rule with Zombie cocktails, but I don't think I'd be able to stand after two anyway.) It was strong and tart and all sorts of delicious. Their new location had giant flatscreen TVs. Enough said.
I hear there's a good zombie drink at Disneyland, though I don't know which is better: the secret menu one at the Cove Bar or the one at Trader Sam's Enchanted Tiki Bar. Let me know in the comments if you've tried either! I do know Trader Sam's has a rad shrunken head Tiki mug for their Zombie drink.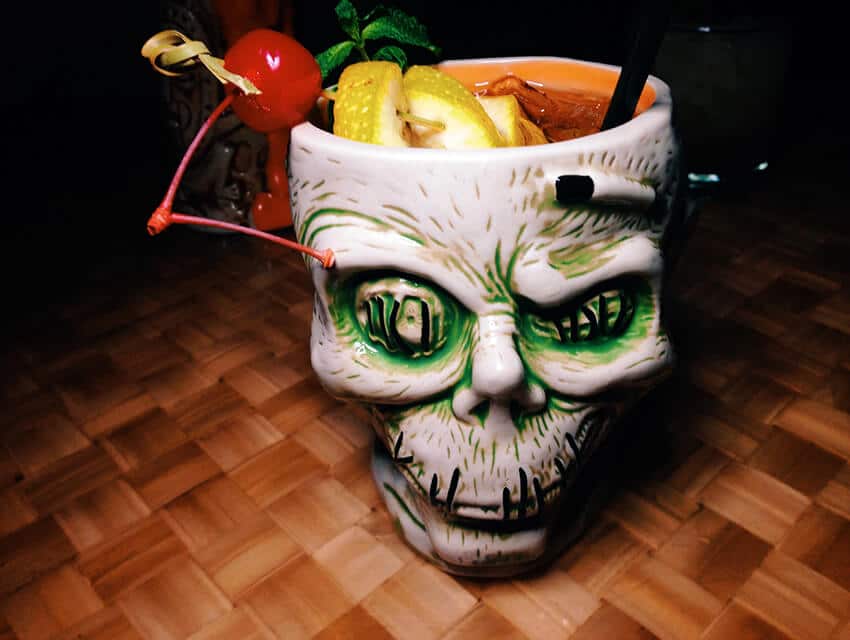 How to Make a Zombie Cocktail

This is where the creating the Zombie Cupcakes got fun. There are many different recipes for the Zombie drink out there and many zombie cocktails has different ingredients. That's because Donn was super secretive about his cocktail recipes. So that his employees (or other bar owners posing as patrons) wouldn't steal his recipes, he premixed his spices and mixes and numbered the bottles. According to an interview tiki expert and author Jeff "Beachbum" Berry did with the New York Times, "His recipes were all in code. So a recipe might say one half-ounce of number two, a dash of number four."
But, thanks to the work Berry did uncovering the coveted, closely-guarded secret Zombie cocktail recipe, I was able to recreate it in Zombie cupcake form.
Zombie Cocktail Recipe
1 1/2 ounces gold rum
1 1/2 ounces dark rum
1 ounce 151-proof rum
1 tsp. grenadine
6 drops Pernod
dash Angostura bitters
1/2 ounce Don's mix (2 parts grapefruit: 1 part cinnamon syrup – Beachbum Berry has the recipe in his book Sippin' Safari)
3/4 ounce fresh lime juice
1/2 ounce falernum
Blend with ice, pour into a mug, add ice, and garnish with mint.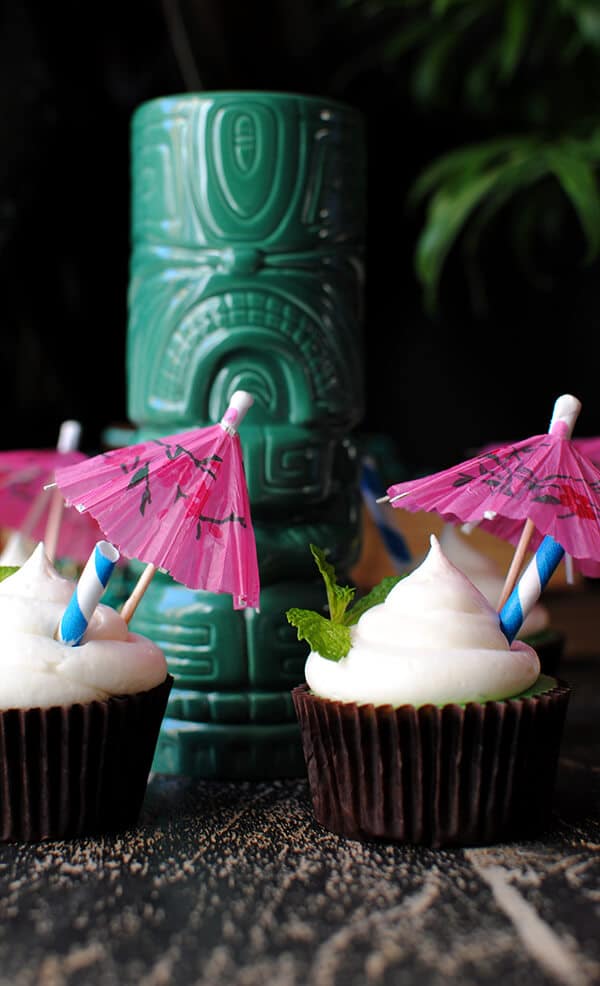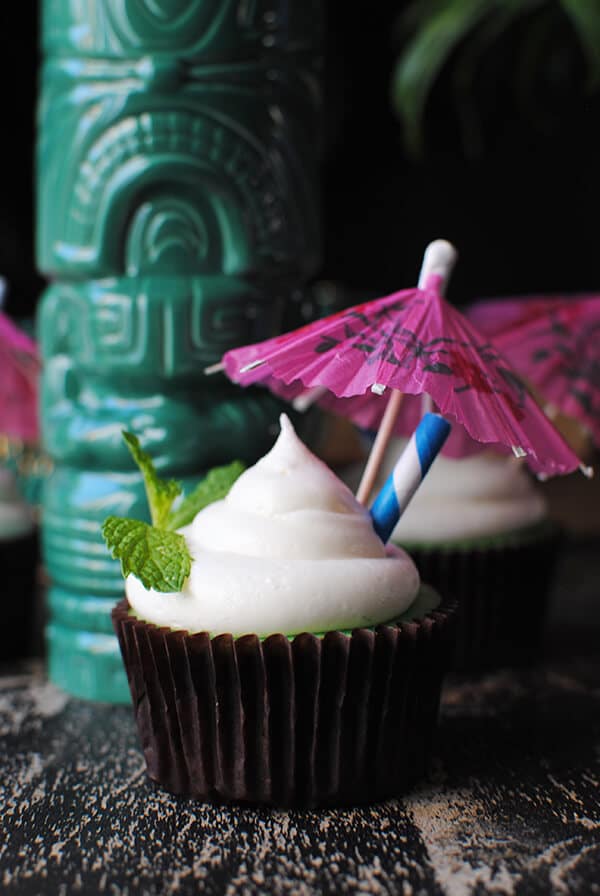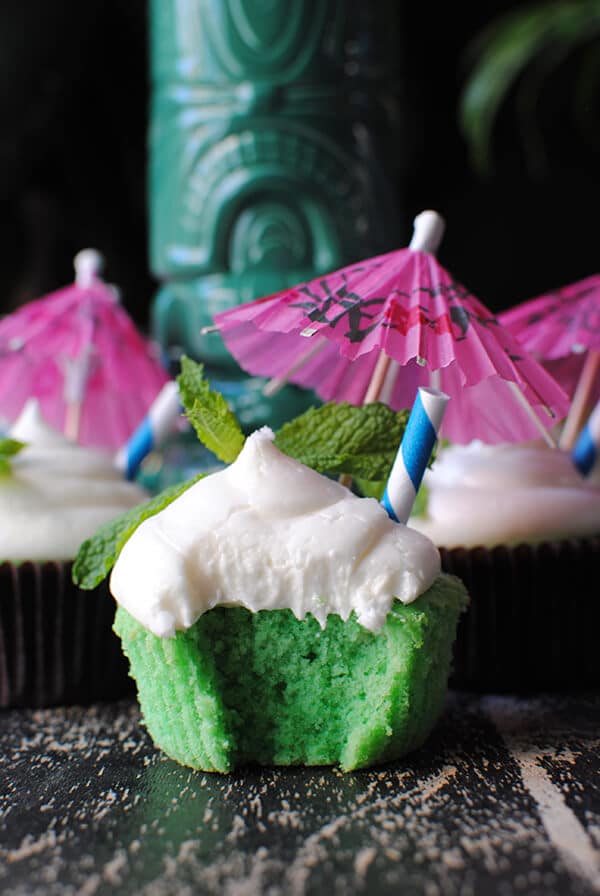 How to Make a Zombie Cupcake
Now that I had the recipe, I had to go about turning this zombie cocktail into a zombie cupcake. And not one that just tasted like rum. To create the cupcake, I first converted the non-rum ingredients (the grenadine, bitters, grapefruit, cinnamon syrup, lime juice, and falernum) into teaspoons to get a sense of how much liquid there was going to be in this cupcake.
I then combined all of the ingredients (swapping grenadine for maraschino cherry syrup since I had some leftover from the Pina Colada cupcakes) and added crushed fennel seeds in place of Pernod to give the mixture a hint of anise flavor and cinnamon instead of cinnamon syrup. I toned down the cinnamon so it wouldn't overpower the other flavors and added a splash (1/2 tsp.) of gold rum.
I set the mixture aside and started mixing together my go-to cupcake recipe. After adding the wet and dry mixtures, I added the zombie liquid and tasted the batter. To help the zombie flavor come through, I added more bitters, lime, and grapefruit juice. Then I baked them, frosted them with a grapefruit and lime frosting (for that 151-in-the-straw zing!) and, voila! Sweet, tart, Zombie Cupcakes!
Enjoy them at your next tiki party or bake them for Halloween and add a fun scary frosting design on top!
Zombie Cupcakes
Print Recipe
If you love zombie cocktails, or just tiki drinks in general, bake up these zombie cupcakes!

Servings: 18 cupcakes
Ingredients
Zombie Cupcake Batter
1/2 cup butter (room temperature)
1 cup sugar
2 large eggs (room temperature)
1 3/4 cups cake flour
1/2 tsp. baking powder
1/4 tsp. baking soda
1/2 tsp. salt
2 Tbsp. lime juice
4 tsp. grapefruit juice
1 tsp. grenadine
1/2 tsp. ground cinnamon
1/4 tsp. fennel seeds (crushed)
3 tsp. falernum
1/2 tsp. gold rum (optional)
7 drops Angostura bitters
1/2 cup milk
1/2 cup sour cream
1 tsp vanilla
2-3 drops green food coloring (optional)
Lime Grapefruit Frosting
1/2 cup butter (room temperature)
4.5 cups confectioner's sugar (divided)
5 tsp. grapefruit juice
2 Tbsp. lime juice
Instructions
Zombie Cupcake Batter
Preheat oven to 350°F. Line two muffin tins with 18 cupcake liners.

Stir flour, baking powder, baking soda, and salt in medium bowl. Set aside.

Cream butter and sugar on medium speed for 3 minutes or until light and fluffy. Turn off mixer and scrape down sides.


Add eggs, one at a time. Let stand mixer run for 30 seconds after the addition of each. Scrape down sides after adding both eggs.


Mix lime juice, grapefruit juice, grenadine, cinnamon, fennel seeds, falernum, rum, and bitters together in small bowl. Set aside.


Whisk milk, sour cream, and vanilla extract in small bowl. Set aside.


Turn mixer to low speed. Add 1/2 of flour mixture to bowl. When combined, add lime mixture and milk mixture bowl. When combined, add remaining flour mixture.


Turn off mixer and scrape down sides.


Add green food coloring if desired.


Bake for 15-18 minutes or until cupcakes bounce back when pressed. Let cool completely on cooling rack before frosting.

Lime Grapefruit Frosting
Add butter and 2 cups of confectioner's sugar to mixing bowl. Blend on medium high speed until creamy.


Reduce speed and add lime juice and grapefruit juice.


Add remaining confectioner's sugar and turn speed up to medium high. When ideal consistency has been reached, turn speed to high for 60 seconds.


Add frosting to piping bag fitted with round tip and frost zombie cupcakes.

Nutrition Facts
Zombie Cupcakes
Amount Per Serving (1 cupcake)
Calories 333
* Percent Daily Values are based on a 2000 calorie diet.
Did you make this recipe?
Leave a review below, then take a photo and tag @letseatcakeblog on Instagram so we can see it!
Click here to see more baking tools and supplies I recommend!
Oh, and if you're curious what things looked like behind-the-scenes for this shoot…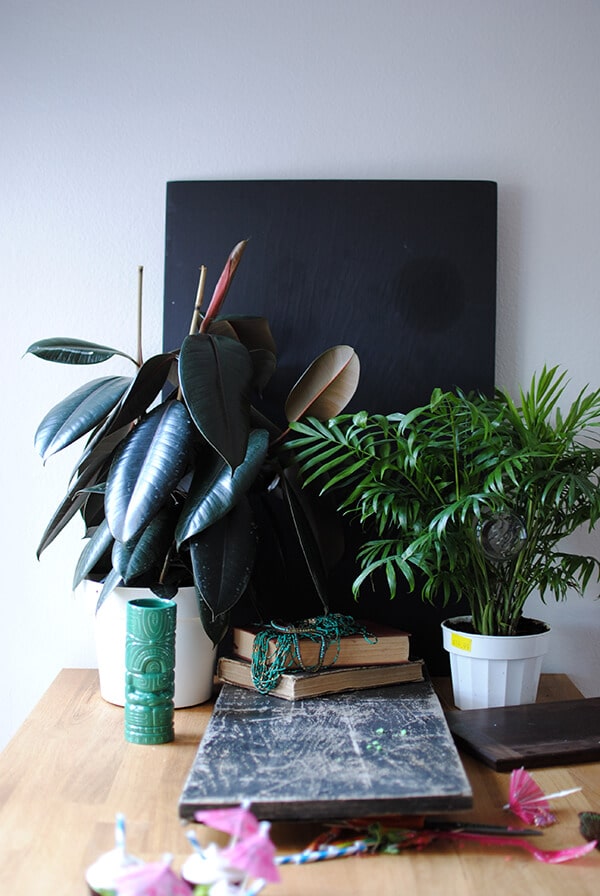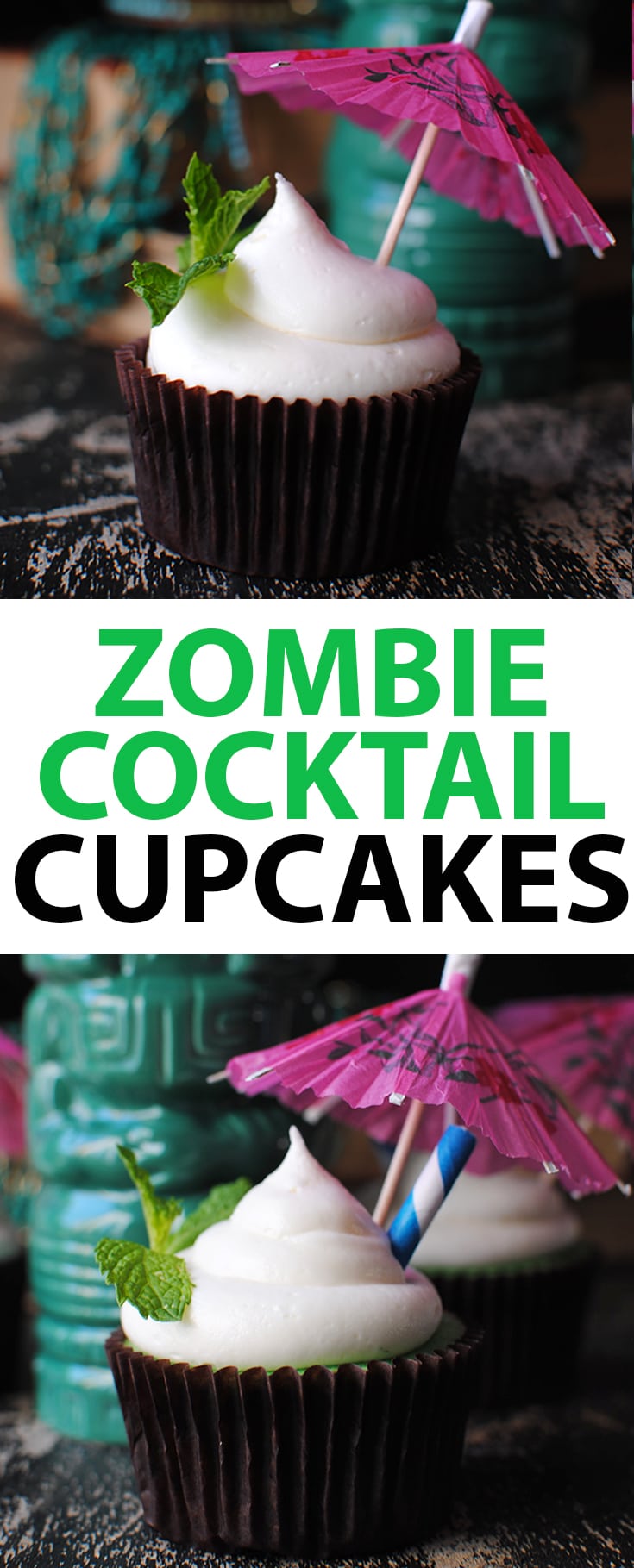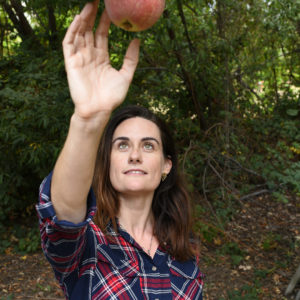 Latest posts by Rebecca Swanner
(see all)