Can we talk about Pina Coladas for a moment? They're kind of the ultimate summer drink, don't you think? Pina coladas are my absolute favorite tropical cocktail and so when summer arrived, I had to make Pina Colada Cupcakes!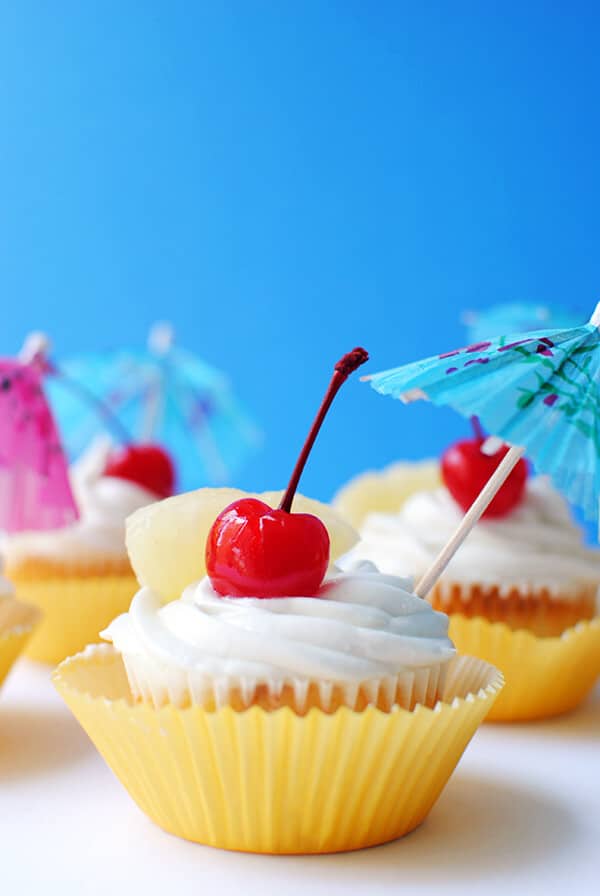 Whenever I go anywhere tropical, whether it's to Tulum, or slightly further, to the sandy beaches of Hawaii, or even if I'm home in LA on a weirdly hot and humid weekend, I have to get a pina colada. I'm pretty sure I also got one in Malta, which is not remotely tropical, but is insanely hot in the early fall. When it's hot and humid and I feel like the air is giving me a big giant hug, I find these so refreshing. There's also something about the sweet, tart, creamy flavor that I adore. Ok, maybe I also like the fun straw. And the umbrella.
However, I've never made them at home! Honestly, I think it would be a bit dangerous if I knew how to make a perfect piña colada, because then I'd be making frozen piña coladas every weekend and I'd pretty much turn into a piña colada. So, instead, I made Pina Colada Cupcakes! They have a pineapple cupcake base and a creamy coconut frosting, and I think they taste just like a pina colada! When you make them, you should totally listen to the Pina Colada song.
"If you like pina coladas, and getting caught in the rain…" But I digress. Here's how to make the Pina Colada Cupcakes!
How to Make a Pina Colada Cupcake
The pina colada cocktail was invented in San Juan, Puerto Rico though two bartenders take credit. It was either created by Ramón "Monchito" Marrero Pérez at the Caribe Hilton Hotel's Beachcomber Bar in 1954 using Don Q rum and Coco Lopez's cream of coconut or it was created by Ramón Portas Mingo at the Barrachina Restaurant in 1963 using Ron del Barrilito Two Star rum. The easy drinking cocktail – whose name translates to "strained pineapple" and it's been the official drink of Puerto Rico since 1978. And the official drink of me on vacation.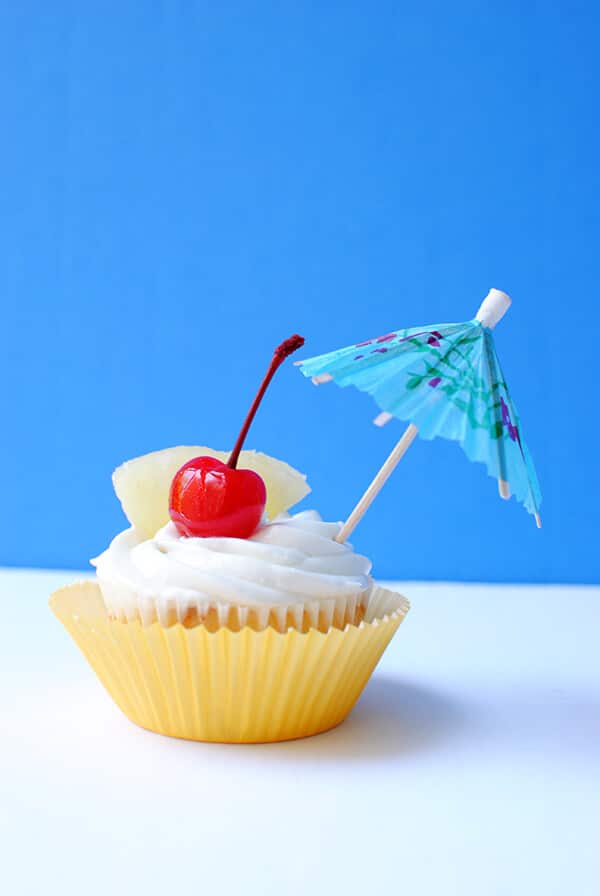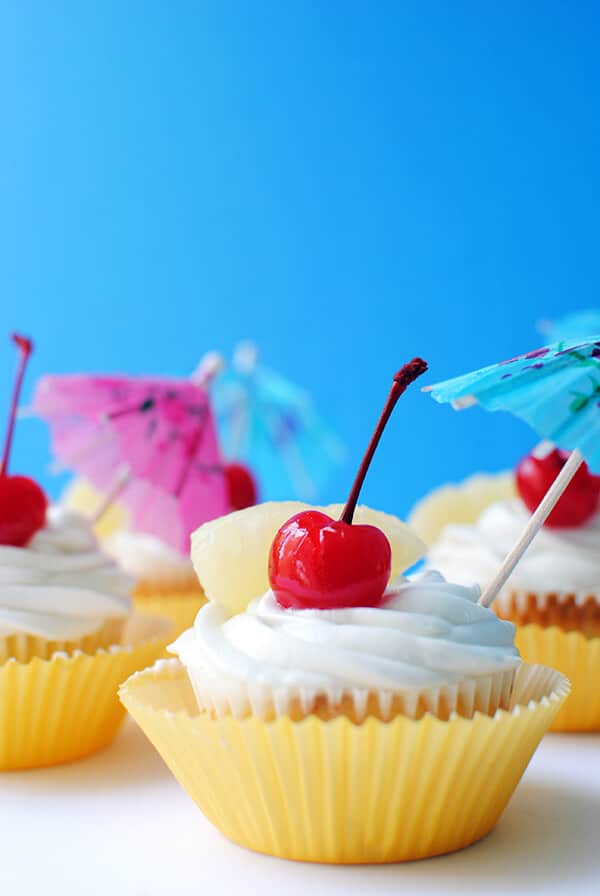 Now, truth be told, when I was making these, I might have needed a pina colada. Or two. Because the recipe development went all sorts of sideways. First, I bought a beautiful pineapple to puree and use in the cupcake batter. But, when I cut it open, it was all dark and mushy inside and only a little bit sweet. I tried it in the batter anyway because I didn't want to waste it. But, that batch turned out disastrous. The cupcakes rose and domed beautifully, but then when I took them out of the oven, they deflated and were like these sad little muffins. I made them again, reducing the baking powder and baking soda – I thought they may have collapsed because I had over leavened them. Haha nope. More sad little pineapple muffins. The culprit? My baking powder had gone up.
After a quick trip to the store to get new baking powder and two cans of pineapple slices in pineapple juice (at this point I was out of fresh pineapple and didn't want to risk it with another potentially wonky pineapple for round three) and an oven thermometer (it's a new oven for me and I wasn't taking and chances), I baked the pineapple cupcake batter a third time. This time, they worked! They were moist and delicious and had a sweet pineapple flavor. I know some people like making pina colada cupcakes with rum, but I really think these are pretty tasty (and kid-friendly!) without.
Making these pineapple cupcakes are actually easy. Just make sure your baking powder (and baking soda) are good and use either 100% pineapple juice or find a fresh pineapple. I used the juice from the cans (and then used the slices for decoration) and I thought it worked really well. Here's how to cut a pineapple if you want to use a whole, fresh one.
To make the pina colada cupcakes, line 18 muffin cups with cupcake liners and preheat your oven to 350°F. Then, sift together cake flour, baking powder, baking soda, and salt in a bowl and set aside. In another bowl, whisk together the milk, sour cream, pineapple juice, and coconut extract. Whisk two eggs together in one more small bowl. Then, in the bowl of your mixer, beat the sugar and butter together for at least 3 minutes on medium-high, or until the mixture is light in color. The creaming step is really important both for cookies and for cupcakes. Then, add your eggs, and beat for 1 minute. Scrape down the sides. Turn the speed to slow, and add half of your flour mixture, let it mix for a few moments, then add your liquid, let it mix, and then the rest of the flour. Scrape down the sides to make sure everything is combined, and fill the liners two-thirds to three-quarters full. Bake for 15-18 minutes or until they middles bounce back.
While the cupcakes cooled, I made the creamy coconut frosting. This is really what makes it taste just a like a piña colada. Beat together 1/2 cup room temperature butter, 2 cups powdered sugar until the mixture is creamy. Then, add 2 Tbsp. of coconut milk, and 1 tsp. coconut extract. Add the remaining 2 cups of powdered sugar and mix until combined. If you think it's too thick, add a little more coconut milk, a tablespoon at a time. Too thin, more powdered sugar, 1/2 cup at a time. If you want more coconut extract flavor, add more 1/4 tsp a time. But like with a proper tropical drink, a little goes a long way!
When your pineapple cupcake base has cooled, frost it with the creamy coconut frosting, and top with a maraschino cherry, a slice of pineapple, and an umbrella!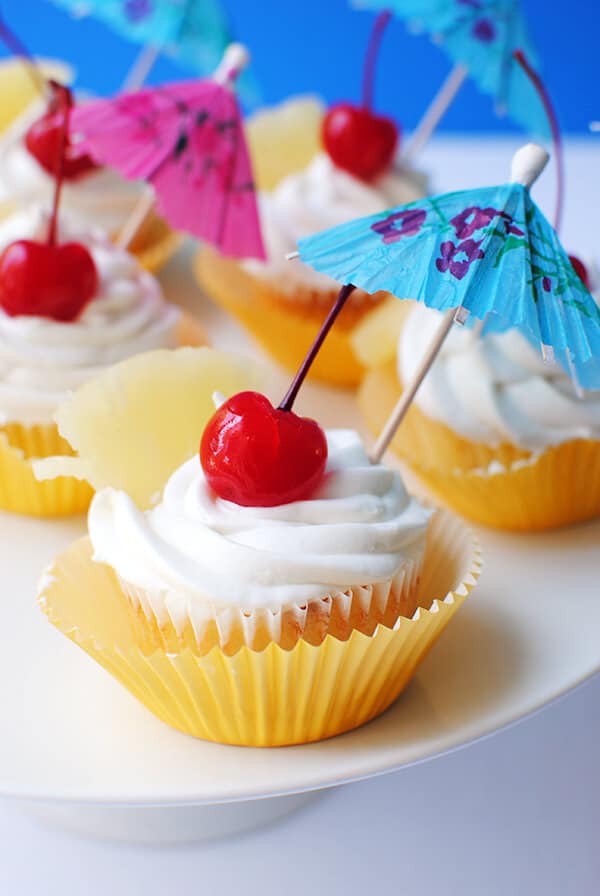 Want to try one more tropical cupcake? Try these Zombie Cupcakes inspired by the original tiki drink!
Pina Colada Cupcakes
Print Recipe
These Pina Colada Cupcakes have a tropical pineapple base, a creamy coconut frosting, and taste just like the real thing!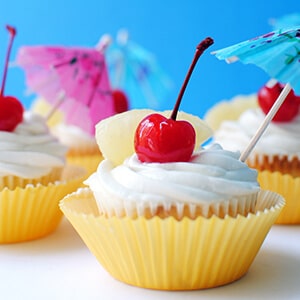 Servings: 18 cupcakes
Ingredients
Pina Colada Cupcakes
1 3/4 cup cake flour
1/2 tsp. baking powder
1/4 tsp. baking soda
1/2 tsp. salt
1/2 cup milk
1/2 cup sour cream
1 cup pineapple juice
1/2 tsp. vanilla extract
1/2 tsp. coconut extract
2 eggs
1/2 cup butter (room temperature)
1 cup sugar
Coconut Frosting
1/2 cup butter (room temperature)
4 cups powdered sugar (divided)
2 Tbsp. coconut milk
1 tsp. coconut extract
18 maraschino cherries
18 pineapple slices
18 drink umbrellas
Instructions
Pina Colada Cupcakes
Preheat oven to 350°F. Fill 18 muffin cups with cupcake liners.


Combine cake flour, baking powder, baking soda, and salt in a bowl. Set aside.


Combine milk, sour cream, pineapple juice, vanilla extract, and coconut extract in small bowl. Set aside.


Whisk eggs in small bowl. Set aside.


Cream butter and sugar in bowl of mixer for 3 minutes or until light and fluffy.


Add eggs. Let mix for 1 minute. Scrape down sides.

With speed on low, add 1/2 of flour mixture. Combine for 15-30 seconds until blended.

Add milk mixture. Combine for 15-30 seconds until blended.


Add remaining flour mixture. Combine for 15-30 seconds until blended.


Scrape down sides and fill cupcake liners 2/3 to 3/4 full. Bake for 15-18 minutes until center of cupcake bounces back.

Coconut Frosting
Combine butter and 2 cups powdered sugar in mixer for about two minutes or until creamy.


Add coconut milk and coconut extract.


Add remaining powdered sugar. Add additional coconut milk or powdered sugar until desired consistency is reached.


Add additional coconut extract - 1/4 tsp at a time - if desired.


Frost cupcakes and top with one maraschino cherry, a pineapple slice, and a drink umbrella.

Nutrition Facts
Pina Colada Cupcakes
Amount Per Serving (1 cupcake)
Calories 296
* Percent Daily Values are based on a 2000 calorie diet.