These Strawberry Cupcakes are made with fresh, juicy strawberries and topped with a delicious vanilla buttercream frosting.
Love strawberries? This summer try this homemade Strawberry Ice Cream when the berries are at their peak!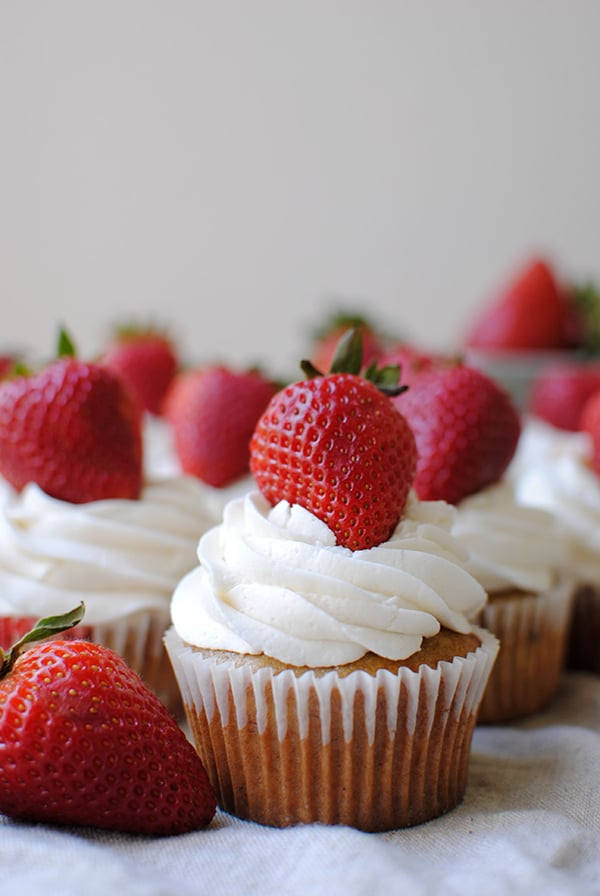 When I was a kid, my favorite snack was strawberries. In the summer, my mom used to fix me up a bowl of fresh strawberries, juicy as all can be, and I'd go find a good spot to lie back and daydream. Though the summer strawberries were already sweet and juicy, I loved adding a little powdered sugar to the bowl and dipping the strawberries in it.
These Strawberry Cupcakes remind me a bit of those lazy summer days. The cupcakes are fluffy and moist and topped with a vanilla buttercream. And while they require a few more ingredients than strawberries and powdered sugar, they're easy to make.
They're great during summer when strawberries are at their peak, but they're also good for Valentine's Day… or add a few blueberries on top and enjoy them for July 4th!
The recipe was adapted from Averie Cooks' Strawberry Banana Bread recipe, so you could also forget the frosting altogether and serve them as strawberry banana muffins for breakfast!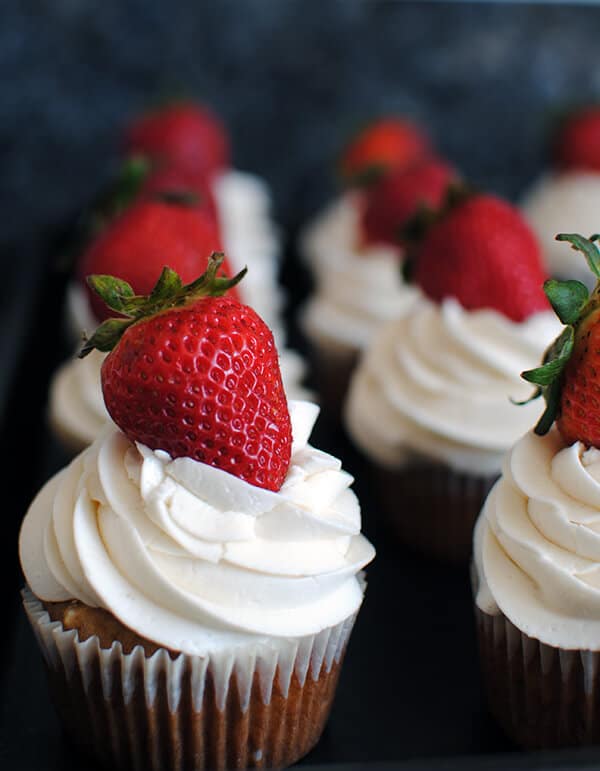 Tips to Make the Best Strawberry Cupcakes

I know it's tempting to use a strawberry cake mix, but you can totally bake these! Here are a few helpful tips to help:
Make sure your ingredients are at room temperature. It really does make a world of difference when it comes to baking because it allows all the ingredients to mix evenly. If you're short on time, know that I cheat sometimes (ok, a lot) and warm up my butter in the microwave (about 10 seconds is usually enough) if it's cold. To warm up eggs, place them in a bowl of hot water. You'll find they come to room temperature pretty quickly.
To prevent the strawberries from making your batter too moist, toss them in flour. Tossing the strawberries in flour doesn't seem to have a big effect on whether or not they sink to the bottom, however. To prevent this, you need to fill the bottom of your cupcake liners with a layer of batter that doesn't have any strawberries in it. Check out my Lemon Blueberry Cupcakes recipe for more details.
Use white liners so you can see your cupcakes! I love using liners in various colors, but if you bake these in white liners, it makes a nice contrast with the bright white Vanilla Buttercream Frosting.
When you're making the Vanilla Buttercream Frosting, if you find it's too dry, add a tablespoon more milk. Too wet? Add a 1/4 cup of powdered sugar. Continue until you reach a consistency that stays on the spatula when you lift it out of the mixing bowl but doesn't feel stiff.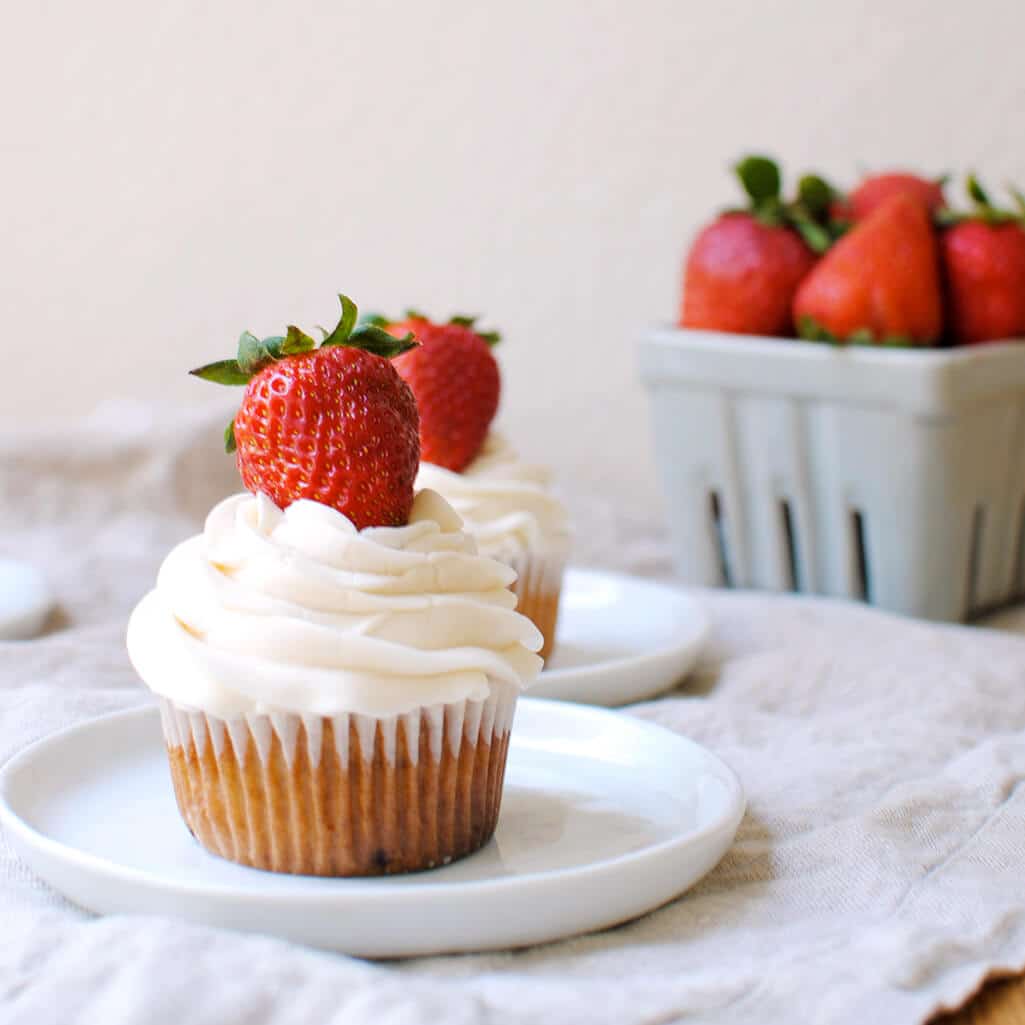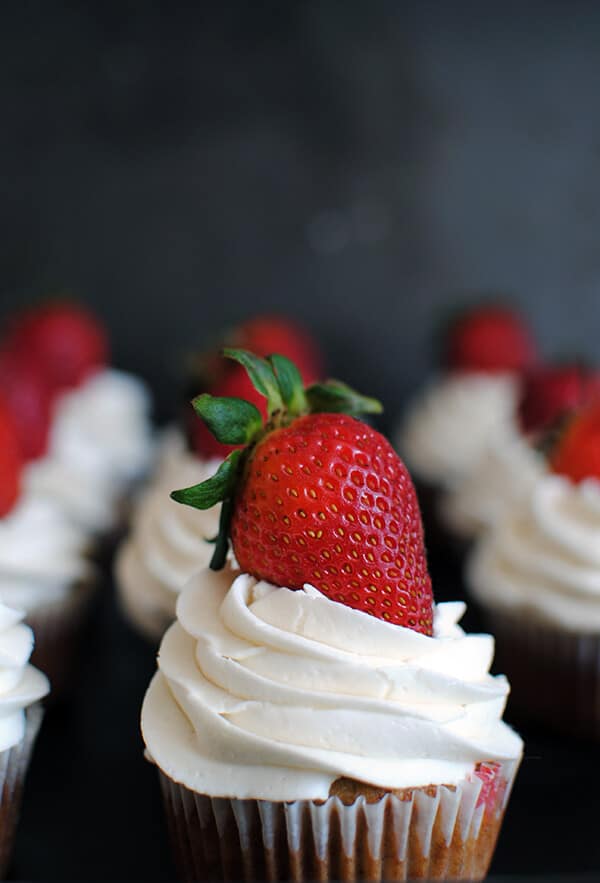 If you love strawberry recipes, here are a few more to try!
Strawberry Cupcakes with Vanilla Buttercream Frosting
Print Recipe
Soft and tender strawberry cupcakes with vanilla buttercream frosting are perfect for summer!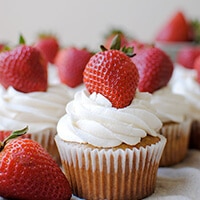 Servings: 18 cupcakes
Ingredients
Cupcakes
2 cups strawberries (coarsely chopped)
1 1/2 cup flour (divided)
1 cup mashed banana (from 2 large bananas)
1/3 cup vegetable oil
1 large egg
1/2 cup brown sugar
1/4 cup sugar
1/4 cup sour cream
2 tsp. vanilla extract
1/2 tsp. baking powder
1/2 tsp. baking soda
1/4 tsp. kosher salt
1-2 drops red food coloring (optional)
whole strawberries (for topping)
Vanilla Buttercream Frosting
3 cups powdered sugar (divided)
1/2 cup butter (room temperature)
1 tsp. vanilla extract
2-3 Tbsp. milk (divided)
Instructions
For the Cupcakes
Preheat oven to 350°F. Line two muffin tins with 18 cupcake liners.


Toss chopped strawberries with 1/4 cup flour in small bowl.


Mash banana in small bowl.


Whisk oil, egg, brown sugar, sugar, sour cream, and vanilla extract together in large bowl.


In a separate bowl, stir together 1 1/4 cups flour, baking powder, baking soda, and salt.


Add flour mixture to oil mixture. Stir until combined or mix on low speed. Add banana. Add strawberries. Add food coloring if desired.

Bake for 12-15 minutes or until cupcakes bounce back when gently touched. Let cool completely on cooling rack before frosting.
For the Vanilla Buttercream Frosting
Add butter to mixer fitted with paddle attachment. Add 2 cups powdered sugar. Cover bowl.


Turn mixer on medium and mix until consistency resembles pebbles. Add vanilla extract and 2 Tbsp. milk. Turn speed to high.

Reduce speed and add 1/2 cup powdered sugar. Alternate between powdered sugar and milk until desired consistency is achieved. Turn mixer on high for 60 seconds. Frost cupcakes and top with whole strawberry.
Notes
This is a great recipe to make with kids. Let them have fun mashing the banana or dust the strawberries in flour!
Adapted from Averie Cooks' Strawberry Banana Bread
Nutrition Facts
Strawberry Cupcakes with Vanilla Buttercream Frosting
Amount Per Serving (1 cupcake)
Calories 208 Calories from Fat 90
% Daily Value*
Fat 10g15%
Saturated Fat 4g25%
Polyunsaturated Fat 1g
Monounsaturated Fat 3g
Cholesterol 25mg8%
Sodium 151mg7%
Potassium 77mg2%
Carbohydrates 30g10%
Sugar 27g30%
Protein 1g2%
Vitamin A 200IU4%
Vitamin C 3.3mg4%
Calcium 20mg2%
Iron 0.2mg1%
* Percent Daily Values are based on a 2000 calorie diet.
Did you make this recipe?
Leave a review below, then take a photo and tag @letseatcakeblog on Instagram so we can see it!
Tell me your favorite cupcake flavor in the comments below!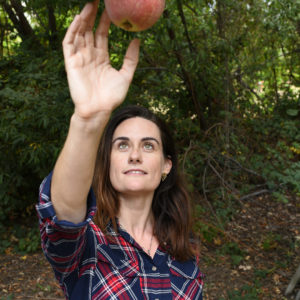 Latest posts by Rebecca Swanner
(see all)