How do you make a Swiss Roll? By giving it a go – and then rewatching the first episode of Great British Bake Off (season 5 to be specific), reading umpteen articles about how to make the perfect Swiss Roll Cake, trying to decipher the difference between a jaconde sponge, a genoise sponge, and a Victoria sponge, and then trying it again. Oh, and maybe by pushing him down a hill. Sorry, had to. (Truth be told, I did sort of want to do that with my first attempt.)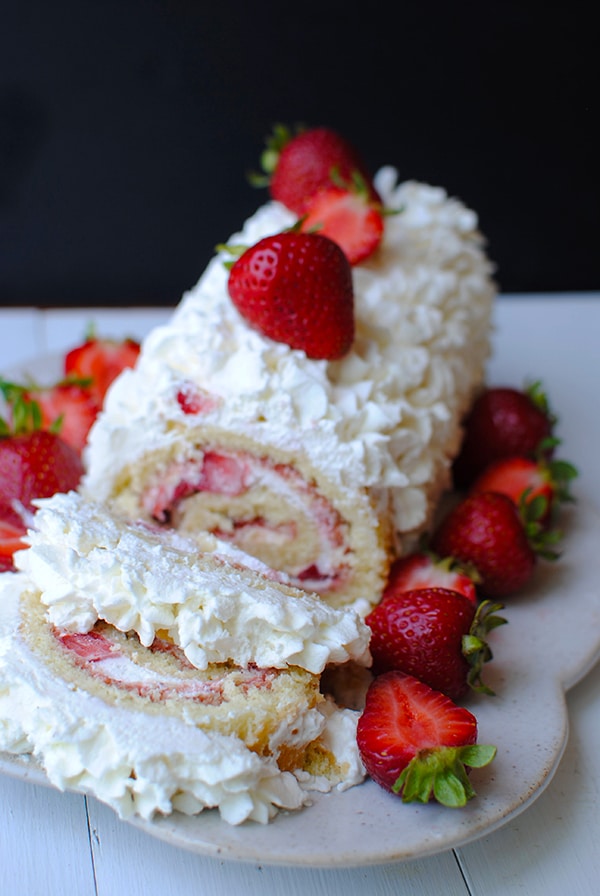 Although I love to share easy baking recipes with you, I need to be honest: the Swiss Roll is not the easiest recipe you'll ever make from this site. For some yummy, very easy baking recipes, I recommend trying the Chocolate Matcha Balls, the Strawberry Puff Pastry Tart, or the Puppy Chow. Swiss Rolls take time and patience, and I recommend them only one a day when you've got a lot of both.
For years, I'd noticed the Swiss Roll Cake (also known as a Roll Cake or a Roulade) popping up on my Instagram and Pinterest feeds, and I was always intrigued. One year, I suggested making Martha Stewart's Buche de Noel (also known a Yule Log) complete with chocolate that looks like the bark of a tree and individually created meringue mushrooms for Christmas. Because, Christmas is definitely when you have both a lot of time and a lot of patience and definitely no stress and it's a great time to make your first Swiss Roll. My mom saved me from that one by saying she really didn't want a chocolate dessert. I wasn't happy at the time, but looking back, that would have been a disaster.
Then, two weeks ago, I started watching the Great British Bake Off. For some time, my friends had been telling me that I just had to watch it. But, competition/reality shows are really not my cup of tea… if you will. But perhaps it was the fact that iZombie, Daredevil, and Elementary were all done for now and I couldn't think of anything to watch, or the fact that enough people had finally insisted that I would like it, or the fact that I've been following Edd Kimber on Instagram for a while, or the fact that this guy I've been talking to had just flown home to London, but I settled into my couch and popped on the first episode (or rather, episode one of season 5 because that's where it starts on Netflix). And now I'm hooked.
Like any baking nerd, I take copious notes as I watch, pausing to scribble down tips on how to get the perfect sponge or swirl or how to know when this pastry or that cake is fully baked and not overbaked. In short, you probably don't want to watch the Great British Bake Off with me. I treat it more like I'm auditing a class. And, class one of the semester was Swiss Rolls.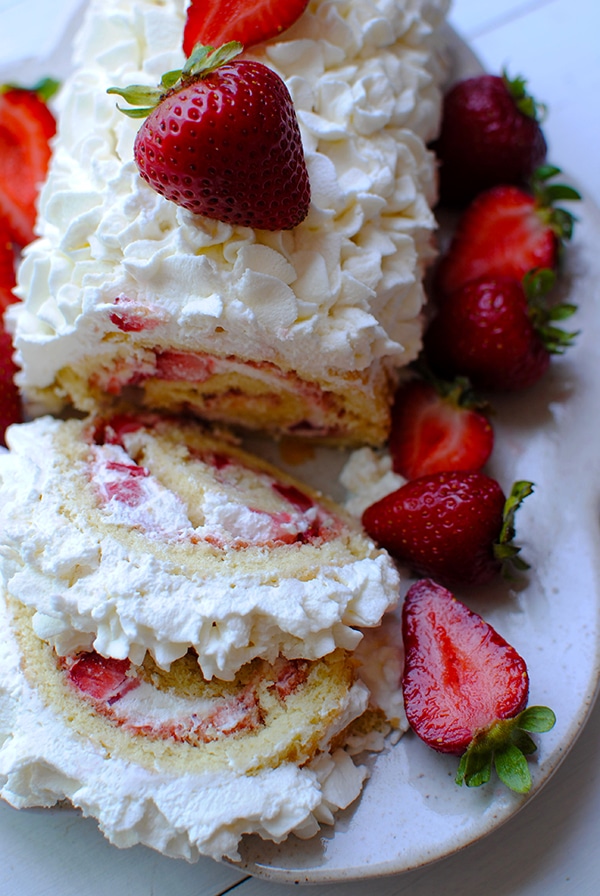 The first attempt was a disaster. But, it's ok, it was a tasty, learning disaster. It's been a while since I've tried something entirely new and intimidating and I had to keep talking myself down from freaking out during the process. "What if I didn't go right?!" In the end, you know what? It didn't go right. And that's ok. I used the wrong pan so it was too thin. I overbaked it. It cracked. And it cracked not just in the rolling of it, but in taking it out of the pan! The filling went everywhere and then got totally absorbed by the cake. If I had been on the Great British Bake Off and presented this Swiss Roll, Mary Berry and co. would have sent me home right away.
But, I was not! I was learning. So after the first Swiss Roll Cake was said and done, I started to investigate how to fix all of the problems that I had run into the first time. And then I gave it another go. And, I was pretty pleased with the results! I'm definitely not yet a Swiss Roll master, but attempt number two (and three, technically, as I also made a cookie dough frosting filled Swiss Roll topped with chocolate ganache) was loads better than the first attempt. Don't you think? (Now, admittedly, I didn't style the first one when I shot it, I just opened the fridge, took a shot on my phone, and promptly closed the fridge door again, but I think the difference is still pretty apparent.)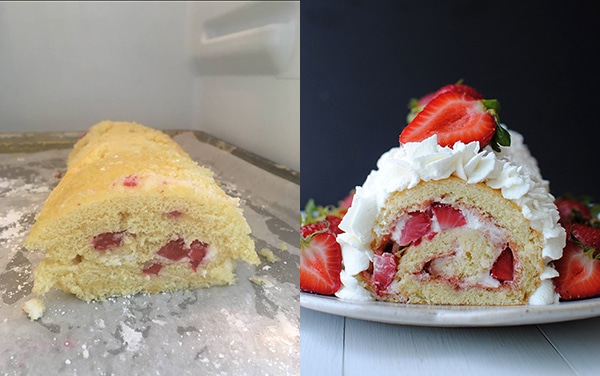 How to Roll a Swiss Roll and Other Tips
Now, bear with me, I'm still figuring out how to make the best Swiss Roll Cake, and if I learn more helpful tips, I will update this post. But, this is what I know so far:
1. Time and patience are your friends.
Don't make a Swiss Roll when you're in a hurry or after a long week.
2. Have the right size pan.
Most recipes I saw called for a 20 cm x 30 cm pan, which is about 8″ x 12″. I baked mine in a 9″ x 13″ pan because that was the smallest size they had at the store, and it turned out OK. But, I will be ordering this Swiss Roll tin from Amazon for the next time I make one, though. Also, do not use a jelly roll pan if you're following one of the British recipe or the recipe below. Unless you adjust the measurements, you're going to end up with a very very thin sponge and be in a world of hurt. (See photo of first Swiss roll cake.)
3. Get the right ingredients.
This sounds like an obvious one, but granulated sugar is different than caster sugar and it seems to make a difference. Could be wrong, but after the first cake fail, I wasn't taking any chances. But you don't have to buy caster sugar. Just pour granulated sugar into your food processor, pulse 15 times, and you'll have caster sugar. Also, pick up a kitchen scale. It does make baking a little fussier, but you'll be glad you did. I use this $9 one.
4. Don't overbake the cake.
You don't want to underbake the cake because then it'll be gooey and won't roll, but if you overbake it, it will be dry to eat and crack when you try and roll it. Bake it until it looks set and springs back just a little to the touch.
5. Roll the cake immediately.
Some recipes call to cover the roll with a damp cloth. But, I found that rolling the cake immediately was more effective as I didn't have any cracks in my two second attempt Swiss Rolls. When you put the Swiss Roll cake in the oven, lay a piece of parchment on your counter and dust it with two tablespoons of caster sugar. As soon as you remove the cake from the oven, carefully flip it over onto the prepared parchment paper, leaving 2″ to 3″ of parchment on the edge closest to you. Then, peel off the parchment paper you baked the cake on. On one of the short sides, score the cake with a sharp knife 1/2″ from the edge. Fold the parchment over this edge and begin to slowly roll the cake into a tight roll. Go slowly. Set the cake aside to cool completely rolled up in parchment. You might have to take care that you've placed it in a way so it doesn't unroll.
6. Choose the right filling
The first Swiss Roll cake I made completely absorbed the whipped cream filling. This resulted in a very moist, yummy cake, but it didn't look so hot. To avoid this on my second attempt, I first spread a protective layer of jam on the sponge, then topped it with the cream filling (and then the strawberries). This prevented the cake from absorbing the cream. The cookie dough filling was thick enough to not be absorbed (for the most part), though. If you want to do a cream frosting, I would either spread the cake with enough so if the cake absorbs some, you still have plenty to create the rolled look, or spread a layer of jam on the sponge before adding the cream. The former results in a moister cake, so if I make another one, I'll probably skip the jam and make one-and-a-half times the cream.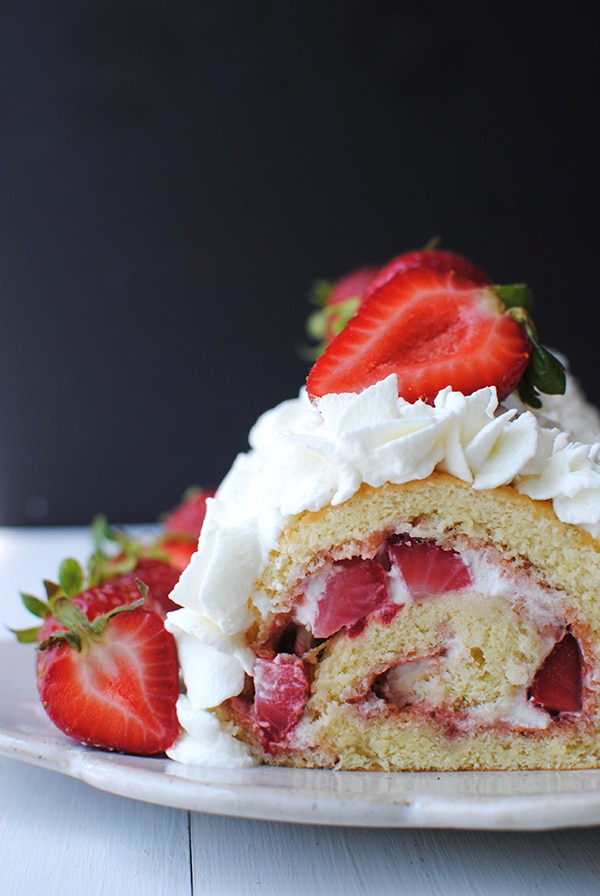 Swiss Roll Cake Recipe
Print Recipe
This Swiss Roll recipe and the accompanying tips will help make your first (or fiftieth) Swiss Roll cake a success!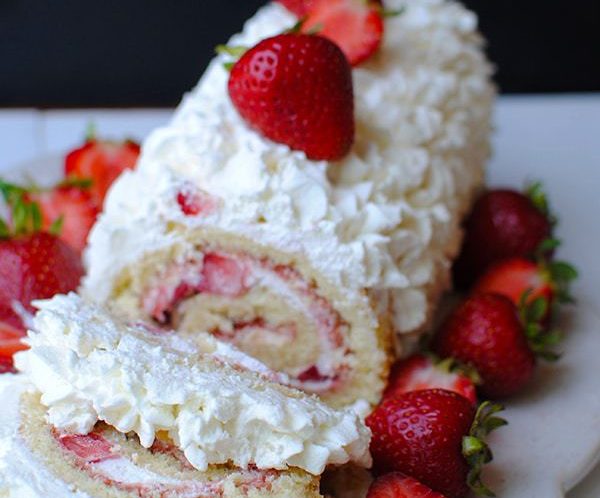 Prep Time: 25 mins
Cook Time: 10 mins
Total Time: 35 mins
Servings: 12 servings
Ingredients
Swiss Roll Cake
125 g caster sugar (plus 2 Tbsp. for dusting parchment)
130 g all-purpose flour
1/4 tsp. salt
4 large eggs (room temperature)
1/8 tsp. vanilla
Strawberries and Cream Filling
1/2 cup strawberry jam
200 ml heavy cream
1/4 cup powdered sugar
1 cup strawberries (diced)
Instructions
Swiss Roll Cake
Create caster sugar if needed by pulsing granulated sugar 15 times in a food processor. Set aside.


Line 8"x 12" or 9" x13" pan with parchment paper.


Preheat oven to 350°F.


Sift flour and salt together in medium bowl.


Separate egg yolks and egg whites into separate bowls.


Add caster sugar and vanilla to egg yolks. Whisk to combine. Set aside.


Whip egg whites on high until they have soft peaks using standing or handheld mixer and whisk attachment. Scrape into clean bowl and clean mixer.


Whip egg yolk mixture on high for approximately 5 minutes until the mixture has grown 3 to 4 times in size and batter has reached the ribbon stage. If you remove the whisk, you should be able to draw a figure 8 with the batter and have it hold for 4-5 seconds before it disappears.


Fold in the flour mixture.


Fold in the egg white mixture.

Pour the batter into the prepared pan, even with an offset spatula, and bang it against the counter twice.


Bake for 10 minutes. If not fully baked at 10, you can go up to 12.


Meanwhile, lay a piece of parchment on the counter and dust it with 2 Tbsp. of caster sugar.


When the cake is baked, carefully flip it immediately onto the parchment paper and remove the parchment paper it was baked on.


Score the short end closest to you 1/2" from the end. Fold the parchment closest to you over this end, and begin to slowly roll up the Swiss Roll cake until the whole cake is rolled.


Let the Swiss Roll Cake cool completely rolled in the parchment.


When the cake is completely cool, add filling. Carefully unroll the cake and spread jam (or your desired filling) on the cake, leaving a 2" gap from one short end and a 1" gap on the long sides.


Spread the whipped cream on top. Top with strawberries.


Carefully reroll the cake. Some filling may come out. Chill cake for 20 minutes in fridge. Slice 1/2" off each end to show off filling. Pipe additional cream on top if desired.

Strawberries and Cream Filling
Combine heavy cream and powdered sugar in mixer fitted with whisk attachment. Whip on high until mixture is thick and resembles whipped cream.

Nutrition Facts
Swiss Roll Cake Recipe
Amount Per Serving (1 slice)
Calories 361 Calories from Fat 99
% Daily Value*
Total Fat 11g 17%
Total Carbohydrates 62g 21%
Protein 3g 6%
* Percent Daily Values are based on a 2000 calorie diet.

Save
Save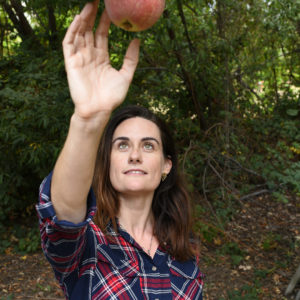 Pleased to meet you. I'm the founder and Editor-in-Chief of Let's Eat Cake: The world's first smart, funny lifestyle site for women.
My background is in publishing (I've worked at Parade, Men's Journal, Us Weekly, Stuff, Blender, Beachbody, and more), mostly with a focus in health, fitness, and entertainment. I've also run my own baking company and competed on Cupcake Wars, so hit me up with your baking questions!
For more details, check out my
full bio
or follow me on
Instagram
,
Twitter
, or
LinkedIn
.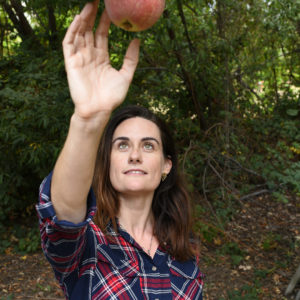 Latest posts by Rebecca Swanner (see all)