Welcome spring with this Strawberry Tart recipe made with a Puff Pastry crust and layers of mascarpone, strawberry champagne jam, and fresh strawberries. Five ingredients and just minutes of prep. Talk about an easy dessert!
I admit it, I'm really excited for summer to arrive. All the fresh berries and flowers and, oh yeah, warmth! But, before summer arrives, we get to enjoy spring! I wanted to create a fun little dessert that works for both seasons, and this strawberry tart was just the thing. This Strawberry Tart has just five ingredients: Pepperidge Farm® Puff Pastry Sheets, strawberries, mascarpone, sugar, and jam.
I also used a bit of egg to bring out the golden color of the Puff Pastry, but that's not a must. (Unrelated… does anyone else really want to spell "mascarpone" "marscapone" instead? Or is that just me?)
What I love about this dessert is that it isn't super sweet and it comes together really quickly. Once your Puff Pastry Sheets thawed and ready to go in your fridge, you can have this dessert on the table in about than 30 minutes from start to finish. If you're waiting for them to thaw, check out these yummy recipe ideas.
You can also customize this Strawberry Tart! For the jam, I found this really yummy Strawberry Champagne Jam that just screamed brunch. But you can use any kind of jam you like. Plain strawberry would be great, but I bet rhubarb jam would be really fantastic too.
I'll make some if I can ever find rhubarb.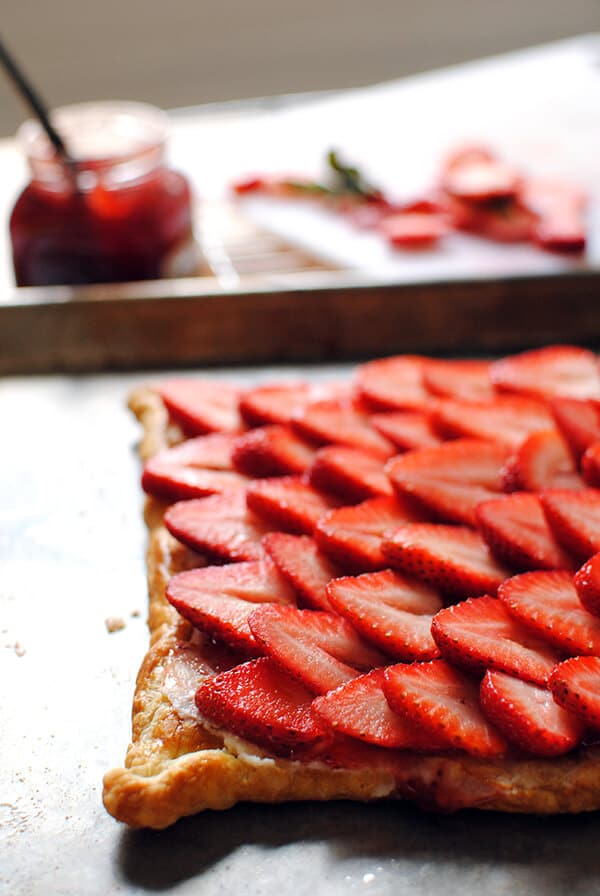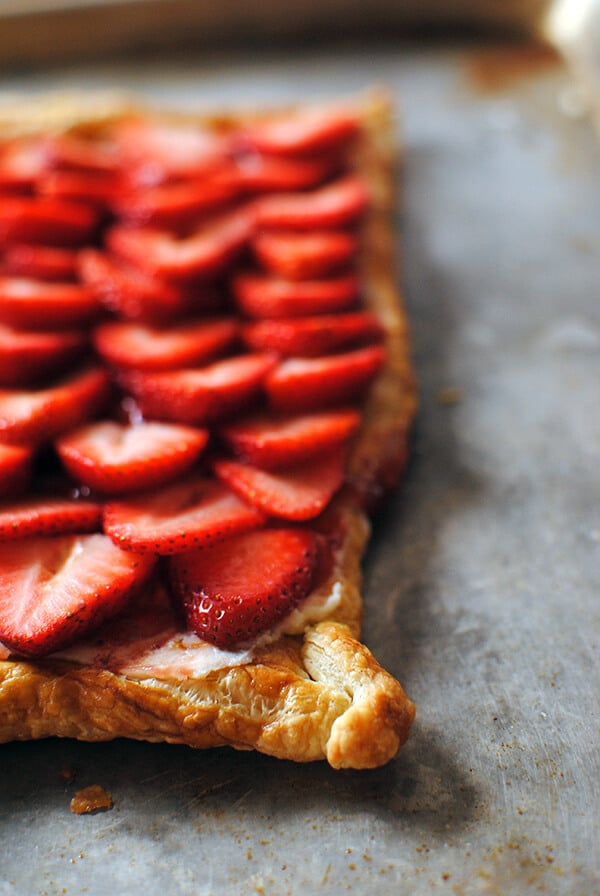 How to Make a Strawberry Tart
Preheat your oven to 400°F. Unroll the thawed Puff Pastry Sheets, and roll them a little bit with a rolling pin to create a slightly larger rectangle. Place this on a parchment-lined baking sheet, roll the edges slightly, prick everything but the edges many times with a fork, and brush it with a beaten egg if desired. Then, pop it in the oven and let it bake for 18 minutes.
While the tart base is cooking, combine 4 ounces (likely about 1/2 the tub) of mascarpone cheese with sugar. Don't break out the mixer for this – a bowl and a spoon works! Then, slice the strawberries. When the tart has cooled, spread the mascarpone evenly on top, top with a layer of jam, and then arrange the strawberries! And enjoy!
To make the strawberries look pretty, I sliced off the top, then sliced off the opposite edges. I then sliced the remaining strawberry into three or four slices, depending on how large the berry was. I'm reserving the rest for something else. Strawberry Shortcake, perhaps? Or just eating while watching an episode of Sherlock? We'll see.
And, if you're feeling like making more strawberry desserts, might I suggest these Strawberry Cupcakes with Vanilla Buttercream Frosting?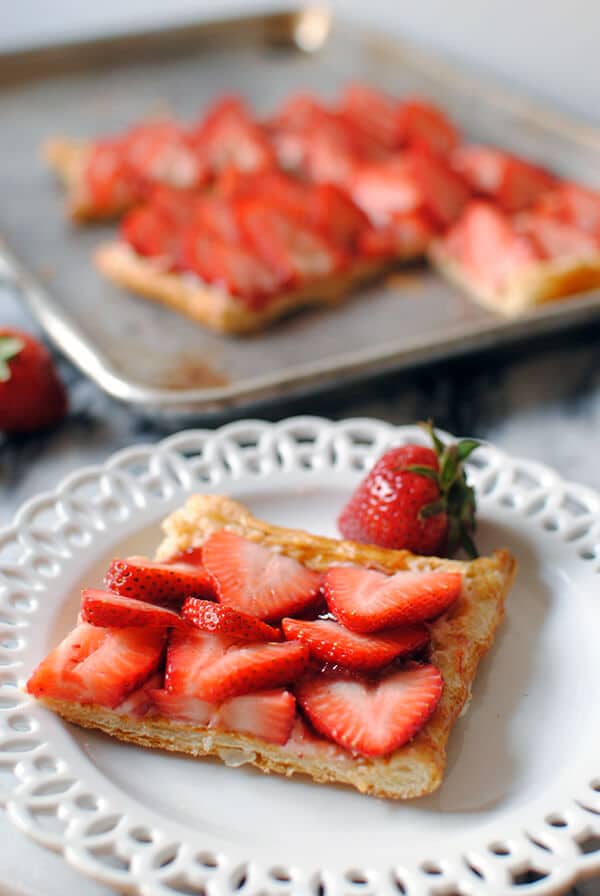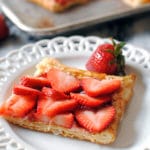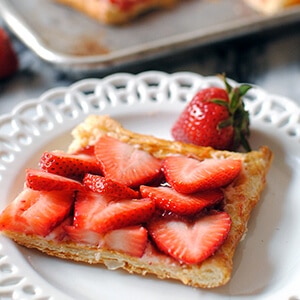 Easy Puff Pastry Strawberry Tart
This quick and easy strawberry tart is great for spring and summer entertaining!

Ingredients
1

sheet

Pepperidge Farm Puff Pastry Sheets

1

egg

optional

4

ounces

mascarpone cheese

1

Tbsp

sugar

1

pint

strawberries

3

Tbsp

strawberry champagne jam
Instructions
Lay one sheet of Puff Pastry on a parchment-lined baking sheet. Roll with rolling pin to enlarge rectangle.


Roll edges and poke holes with a fork all over the middle. Brush with beaten egg and bake for 18 minutes.


While the tart base is baking, combine mascarpone and sugar. Set aside.


Once tart base is cool, top evenly with mascarpone filling. Use spoon or offset spatula to create an even layer.


Spread jam on top of mascarpone layer.

Nutrition Facts
Easy Puff Pastry Strawberry Tart
Amount Per Serving (1 slice)
Calories 289
* Percent Daily Values are based on a 2000 calorie diet.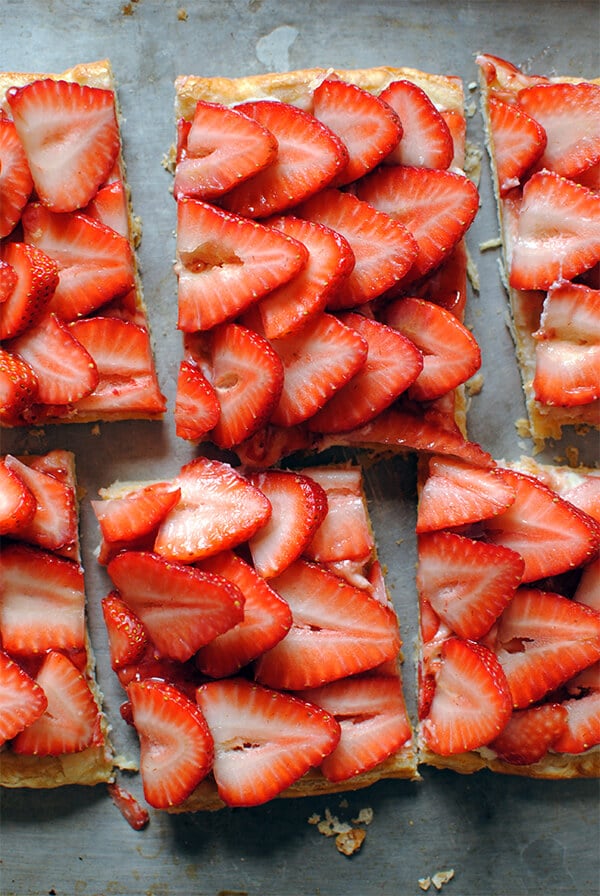 Save
Save
Save
Save