This Puff Pastry Strawberry Tart recipe has a flaky crust, mascarpone, strawberry champagne jam, and fresh strawberries. It's an easy last-minute brunch or dessert recipe!
If you love strawberries, make sure to check out this reader favorite: Strawberry Cupcakes with Vanilla Buttercream Frosting!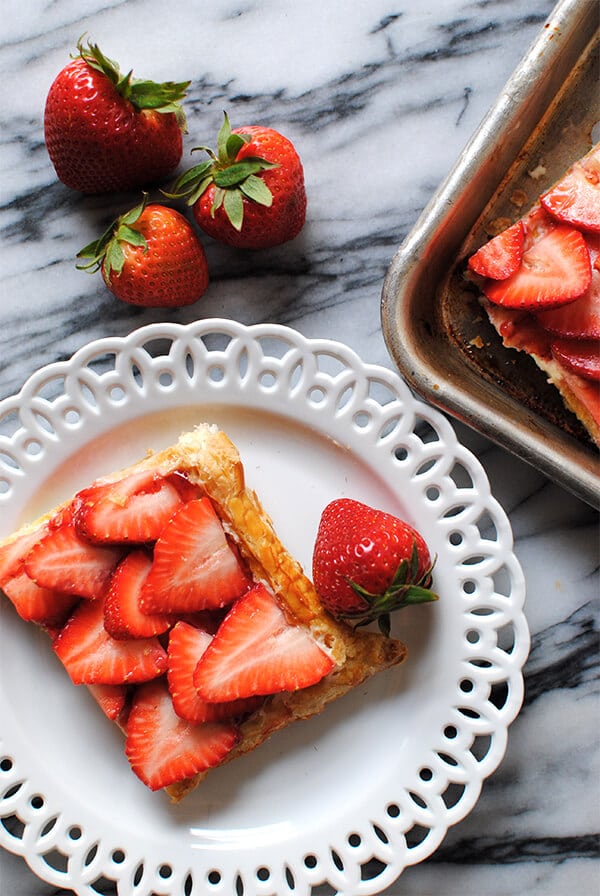 This Puff Pastry Strawberry Tart recipe is so easy! Once you bake your pastry, simply spread a layer of mascarpone evenly on top, top with a layer of jam, and then arrange the strawberries.
I really love using Strawberry Champagne Jam for this as I thought it complemented the other flavors so well. Also, champagne and brunch? Oh yes.
But, you can use any kind of jam you like on this strawberry tart. Plain strawberry would work and I bet rhubarb jam would be really fantastic too. I'll make some if I can ever find rhubarb. (Update: Found some and made this Strawberry Rhubarb Tart!)
To make the strawberries look pretty when I arranged them on the tart, I sliced off the top, then sat the berry on its top and sliced off the outside edges. I then sliced the strawberry into three to four thin vertical slices.
Puff Pastry Strawberry Tart Ingredients:
You can make a Puff Pastry recipe with almost anything. It can be savory or sweet and it works for any time of the year. But, to celebrate the arrival of summer, I wanted to make an easy Strawberry Tart using Pepperidge Farm's Puff Pastry Sheets as my base. The recipe has just five ingredients, so it's really simple to make, even if you've never baked before.
Puff Pastry Sheets
Fresh strawberries
Mascarpone
Sugar
Strawberry Champagne Jam (I prefer Stonewall or the Fortnum & Mason variety)
I also brushed on a bit of beaten egg before I baked it. If you're looking for that golden brown color in your final bake, I recommend it, but it's up to you.
How Long Does Puff Pastry Take to Thaw?
When you're working with Puff Pastry, you want to make sure it's fully thawed before you start trying to handle it. If you start trying to bake with it too early, it's likely you'll tear it.
Frozen sheets will thaw in about 40 minutes at room temperature.You still want it to be a little cold before it bakes, so if it reaches room temperature, place it back in the fridge for a few minutes.
Are Phyllo Dough and Puff Pastry the Same?
They're not. Puff Pastry rises when you bake it (hence the name) and is great for making up a quick batch of flaky croissants, hand pies, or even chicken pot pie. Phyllo dough is also flaky, but does rise, and you need to brush layers of butter in between each layer. It's ideal for recipes like baklava or spanakopita (spinach pie).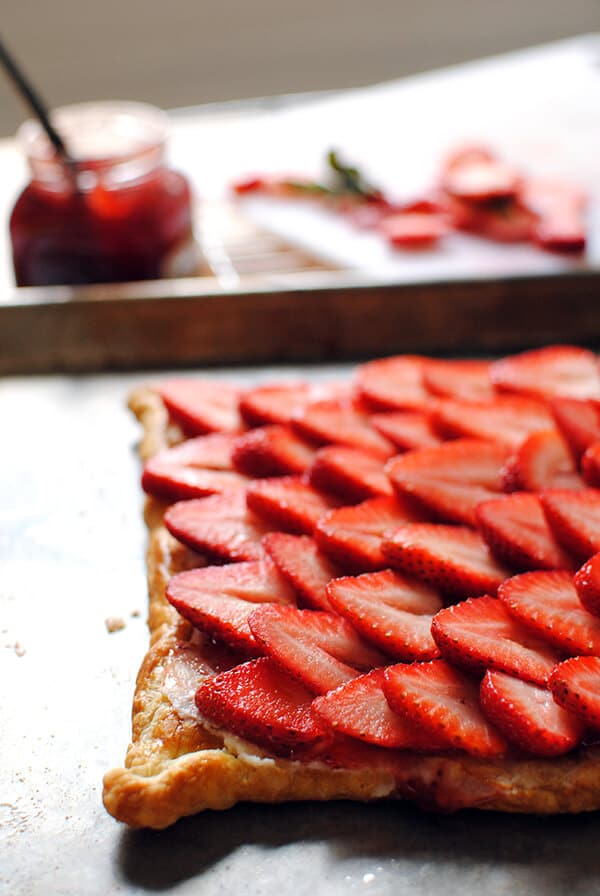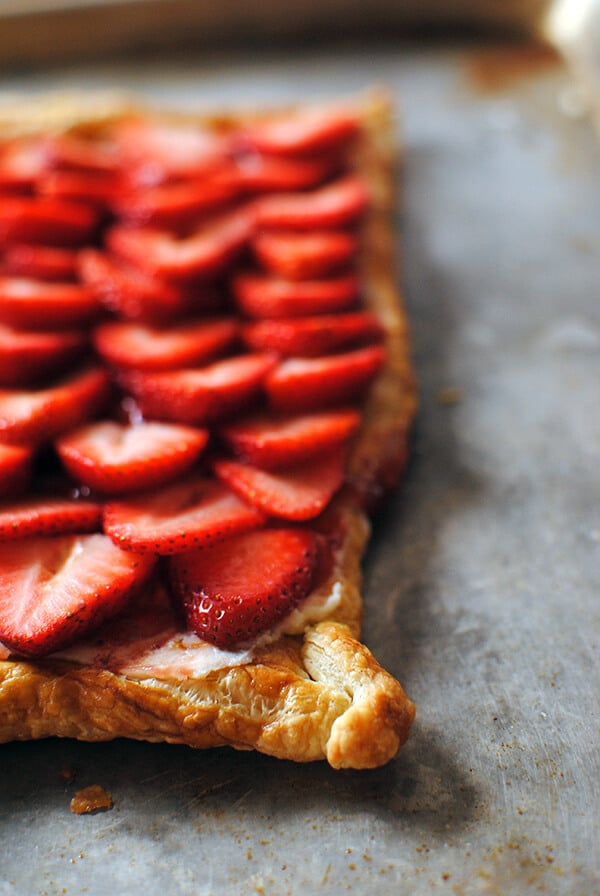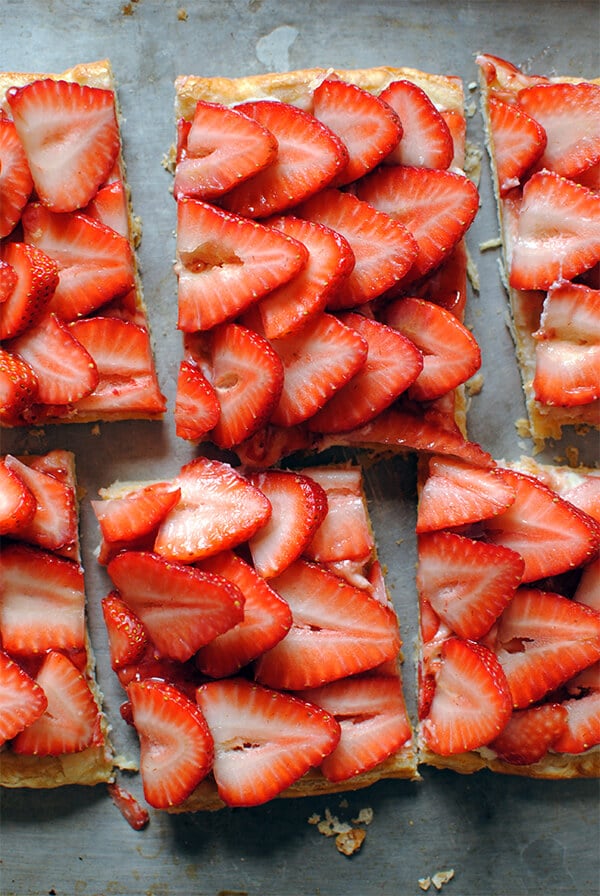 Puff Pastry Strawberry Tart Recipe
Print Recipe
This Puff Pastry Strawberry Tart recipe is made with mascarpone, strawberry champagne jam, and fresh strawberries. It's an easy last-minute recipe!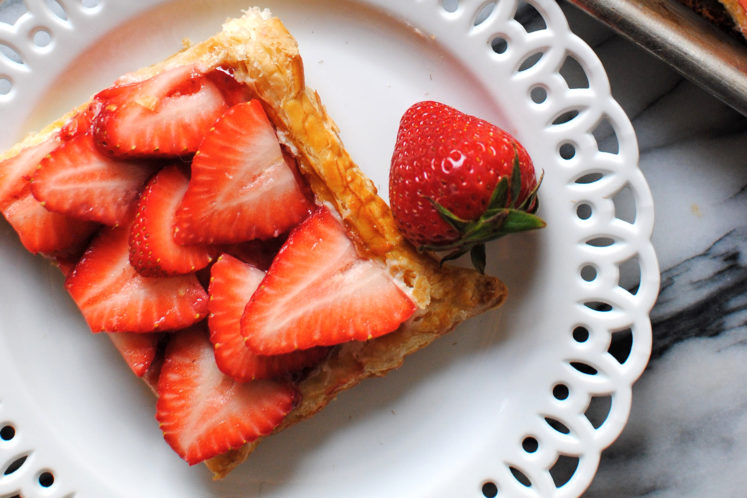 Prep Time: 10 mins
Cook Time: 18 mins
Total Time: 28 mins
Servings: 6 slices
Ingredients
1 sheet Pepperidge Farm Puff Pastry Sheets
1 large egg (beaten)
4 oz. mascarpone cheese
1 Tbsp. sugar
1 pint strawberries (sliced)
3 Tbsp. strawberry champagne jam
Instructions
Preheat oven to 400° F.


Unroll one sheet of Puff Pastry onto a parchment-lined baking sheet. Roll pastry with rolling pin until rectangle almost fills baking sheet.


Roll pastry edges in to form a border.

Use fork to pierce flat surface of puff pastry dough evenly. This helps it stay flat when baking.



Brush dough with beaten egg.

Bake for 18 minutes. Remove and let cool on cooling rack.


Combine mascarpone and sugar in medium bowl. Set aside.


Using spoon or offset spatula, evenly spread mascarpone and sugar mixture on top of cooled dough.


Spread jam on mascarpone layer and top with sliced strawberries.

Nutrition Facts
Puff Pastry Strawberry Tart Recipe
Amount Per Serving (1 slice)
Calories 289
* Percent Daily Values are based on a 2000 calorie diet.
Save
Save
Save
Save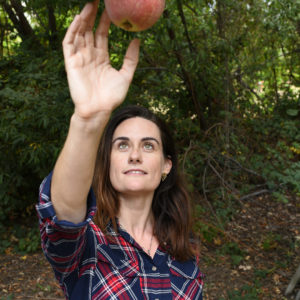 Pleased to meet you. I'm the founder and Editor-in-Chief of Let's Eat Cake: The world's first smart, funny lifestyle site for women.
My background is in publishing (I've worked at Parade, Men's Journal, Us Weekly, Stuff, Blender, Beachbody, and more), mostly with a focus in health, fitness, and entertainment. I've also run my own baking company and competed on Cupcake Wars, so hit me up with your baking questions!
For more details, check out my
full bio
or follow me on
Instagram
,
Twitter
, or
LinkedIn
.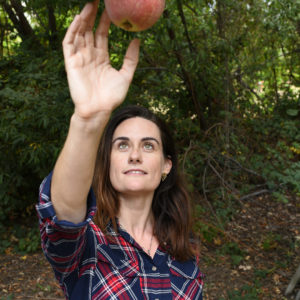 Latest posts by Rebecca Swanner (see all)