This Strawberry Trifle recipe made with fresh strawberries, angel food cake, and Champagne Mascarpone Whipped Cream was inspired by lazy summer days.
Growing up, those were spent leveling up in Final Fantasy VII until I could destroy Emerald Weapon and running around the backyard hoping It didn't crawl out of the tunnel near my house. His breath is terrible. Also, enough with the red balloons already.
Now, it means reading Raymond Chandler while drinking rosé and taking dips in a friend's pool. Tell me how you like to spend your lazy summer days and if you love strawberries, check out this recipe for the best Strawberry Cupcakes!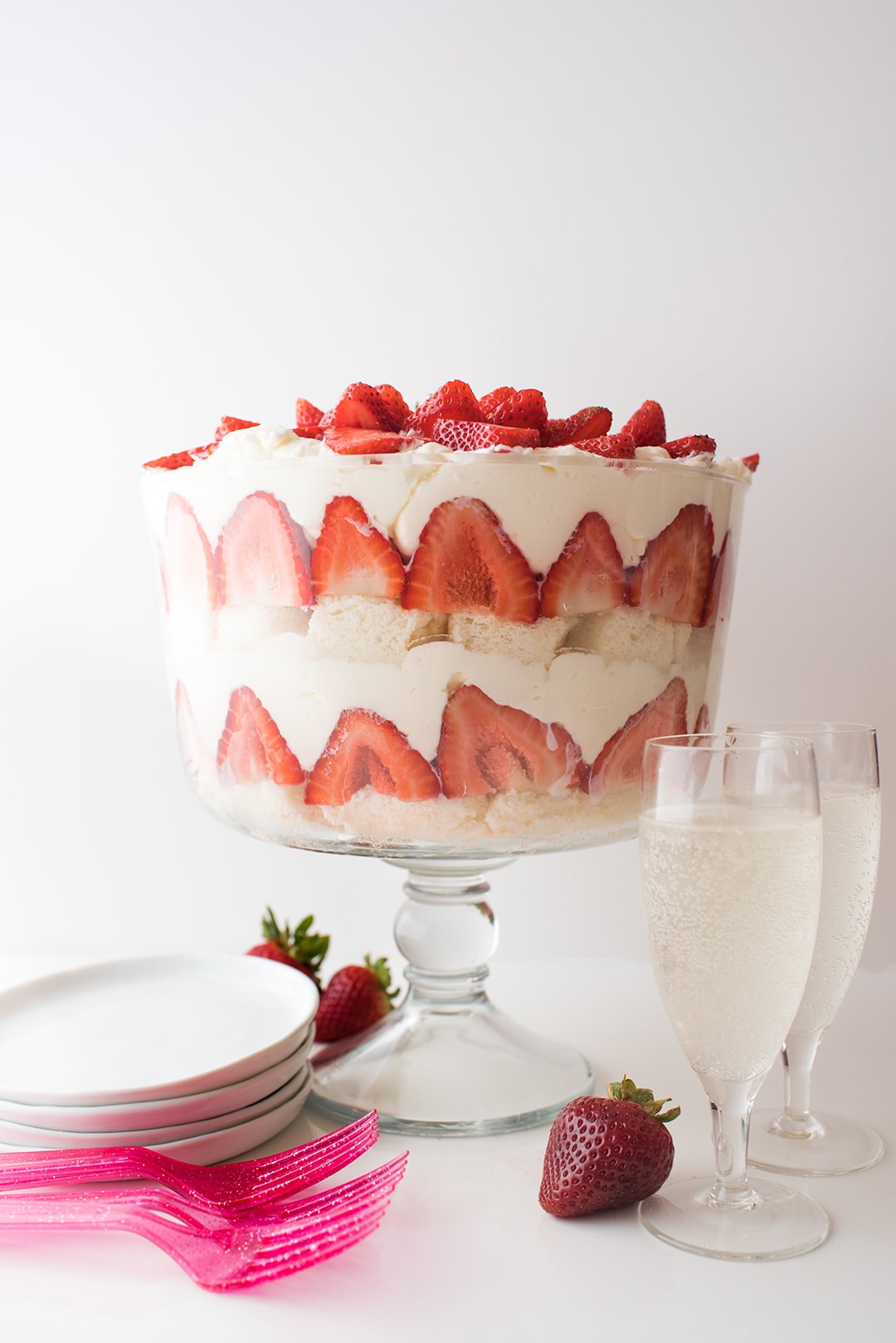 What Is a Trifle?
A trifle is a British dessert stacked in a large bowl (or in a footed trifle bowl) that has layers of fruit, cream and/or pudding, and cake, brownies, or cookies. They're very pretty and make a great centerpiece at a brunch or holiday event.
What do you put in a trifle? Almost anything! The dessert is extremely forgiving and the ingredients can be customized to your liking… just don't be Rachel.
Rachel's trifle was made from layers of ladyfingers, jam, custard, raspberries, beef sautéed with peas and onions, bananas, and whipped cream… and if you live in the UK, you can have one delivered to your house. What a time to be alive.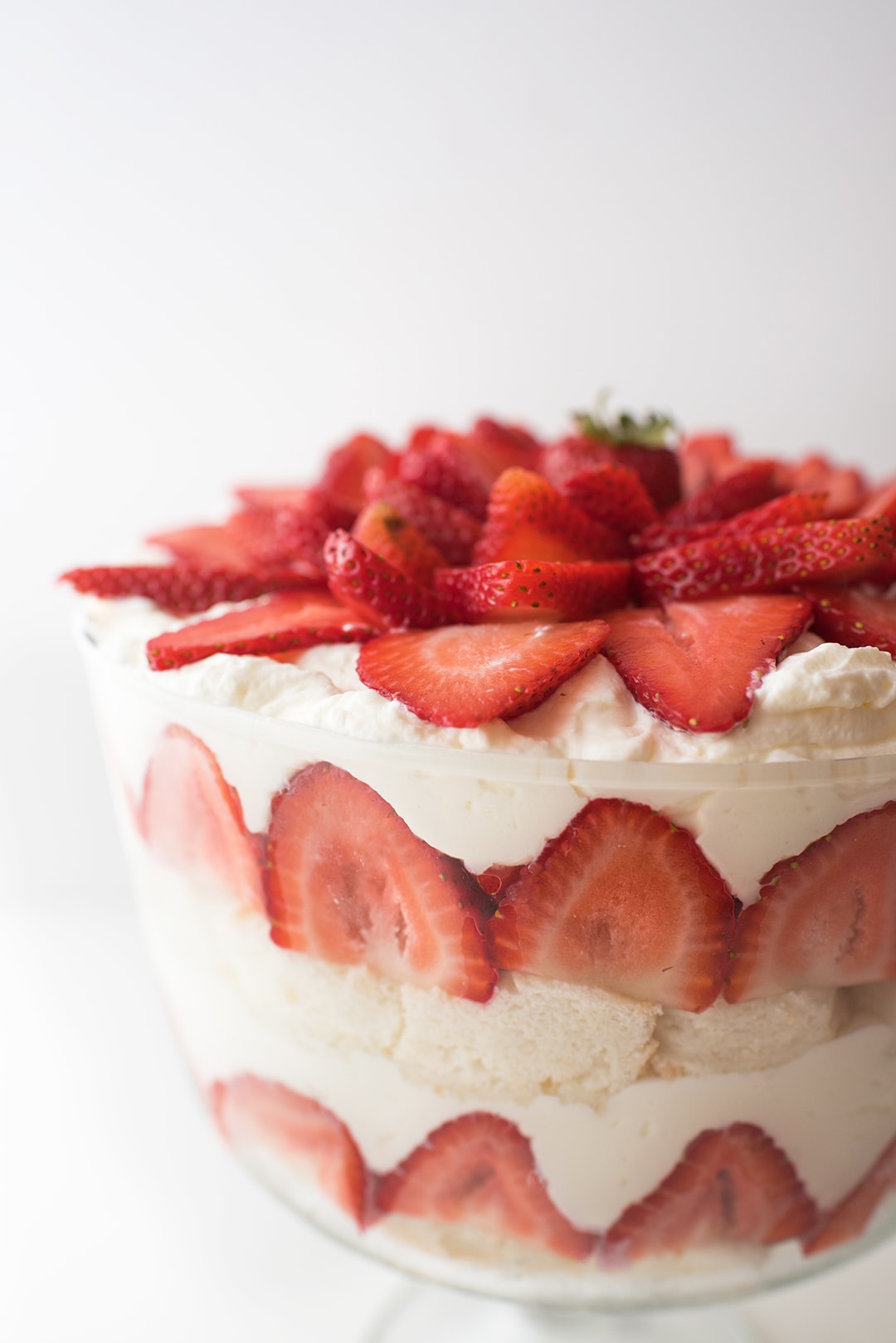 How to Make a Strawberry Trifle
For this Strawberry Champagne Trifle, I stepped away from convention and instead of using pound cake, pudding mix, and whipped topping, I made it with layers of angel food cake, fresh strawberries, and a Champagne Mascarpone Whipped Cream. I think it takes it up that extra notch with about the same amount of effort.
For the speediest version, buy the cake. I'm working on an angel food cake recipe, so I made one, but if you're pressed for time, definitely buy a pre-made one. Cut it into 1" cake pieces.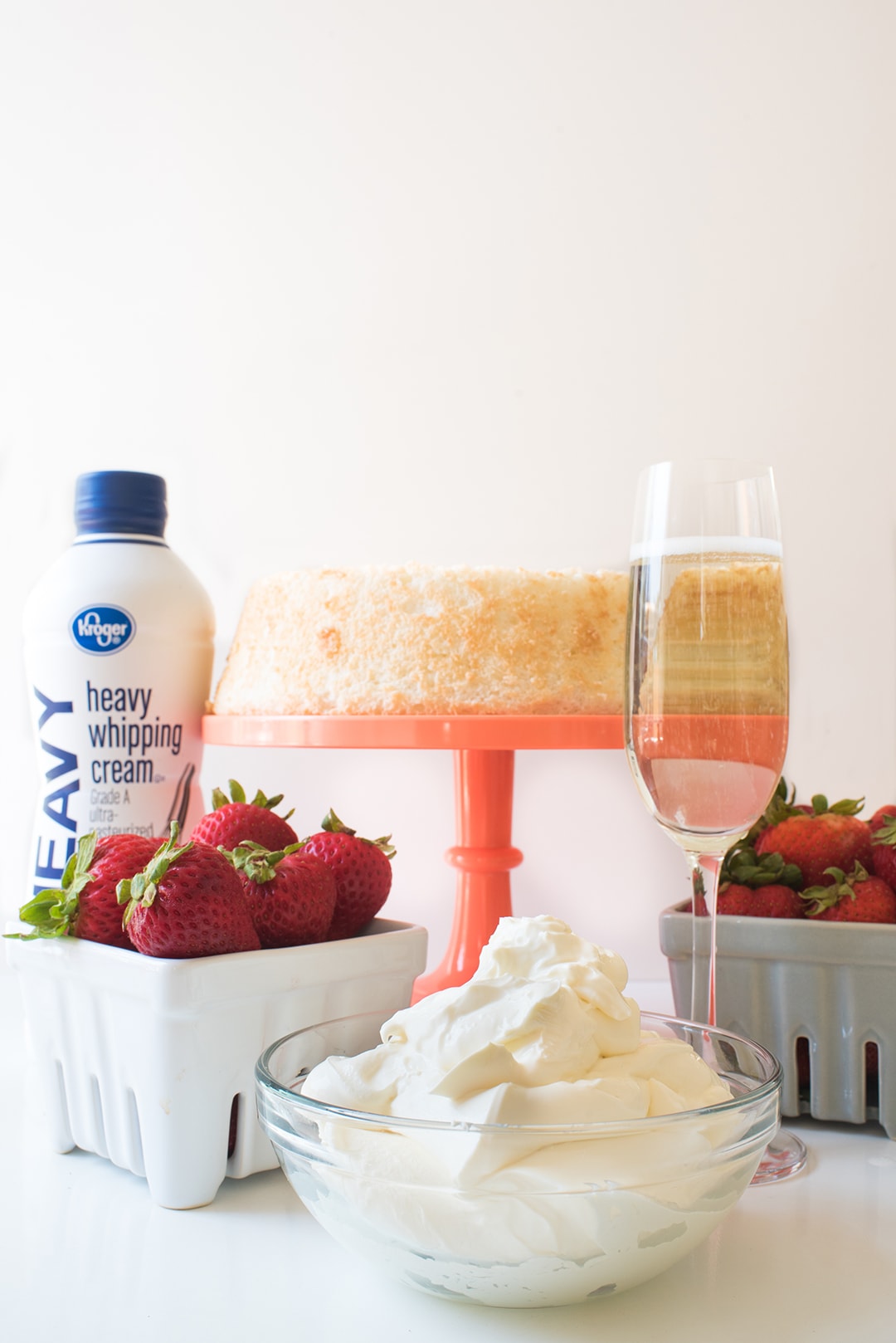 The champagne whipped cream was inspired by the champagne frosting used in these Wedding Cupcakes. To create it, you'll first reduce the champagne from 3/4 to 1/4 cup and let this cool. Reducing the champagne intensifies its flavor and reduces the amount of liquid you add to the frosting.
While you're waiting for the reduction to cool, slice 2 pounds of your strawberries in half and set these aside. Take another two cups of strawberries and slice these into bite-sized chunks. The exact amount you'll need for the look depends on the size of your strawberries and the size of your bowl.
The show stopping look on top takes about 1 cup of strawberries, cut the top off the strawberry, then cut off the edges. Make 2-3 vertical slices and then layer these in concentric circles from the outside of the bowl in towards the center. Then, tuck in additional strawberry slices in between the layers to create the 3D flower effect. (If you get really stuck, let me know in the comments and I will consider shooting a video!)
Whisk together cold mascarpone, sugar, and a quality heavy cream in a stand mixer until the mixture is super thick. I love the Kroger brand heavy cream that I get at Ralphs. It's thick enough to create the right texture for a creamy frosting and it's reasonably priced as well!
When the mixture is suitably thick, add the cooled champagne until it's fully combined. If you prefer a boozier flavor, add up to 1/4 cup additional reduced champagne.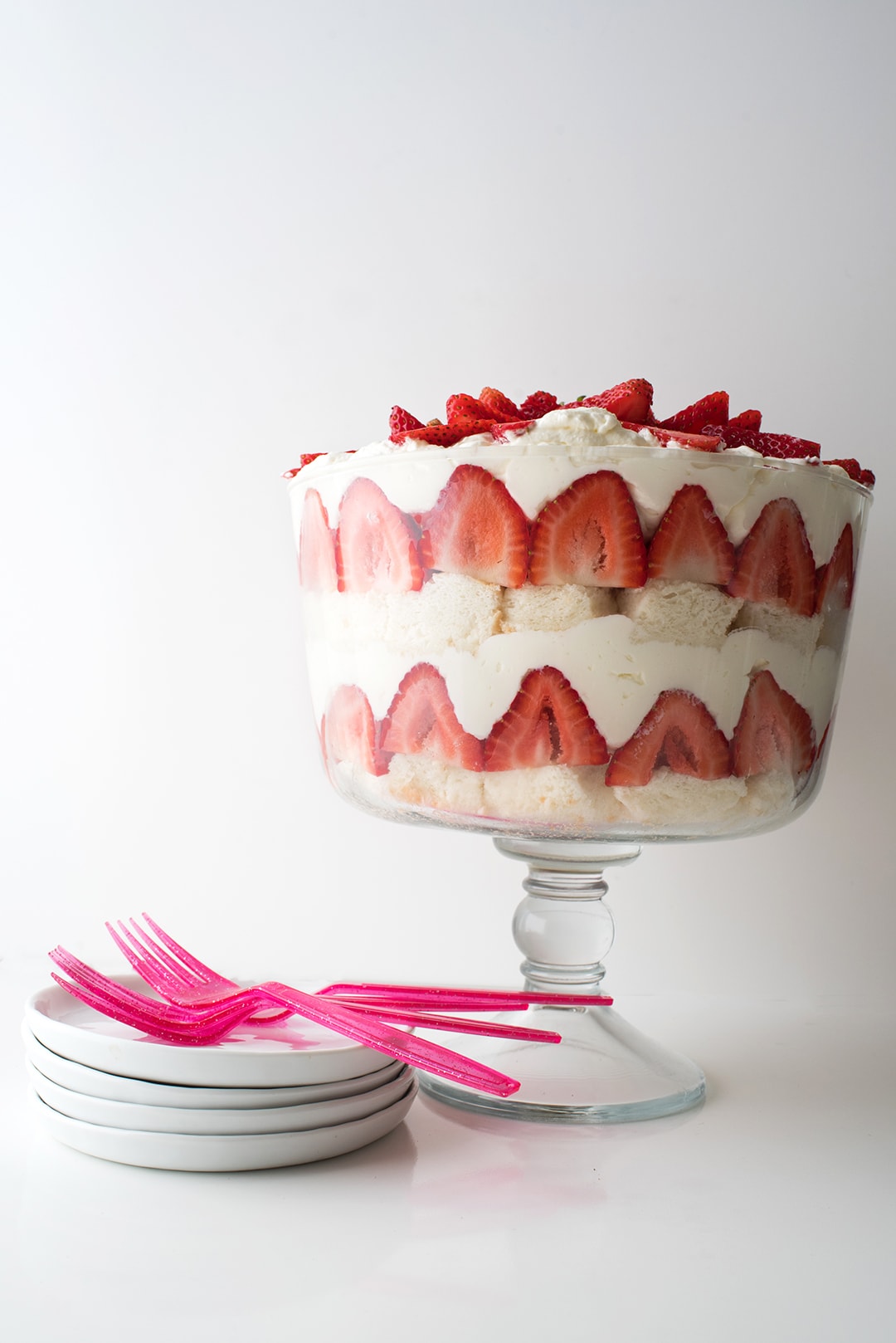 A Quick Tip to Save Even More Time
Any baker will tell you that just because a dessert looks like you spent forever making it doesn't mean you have to actually spend forever making it. Ingredients and process, yes. No one is going to love it more or less if you spent ten hours or ten minutes making it.
While I'm one of those weird people who actually like going to the grocery store (don't tell my 10-year-old self as she'll never forgive me).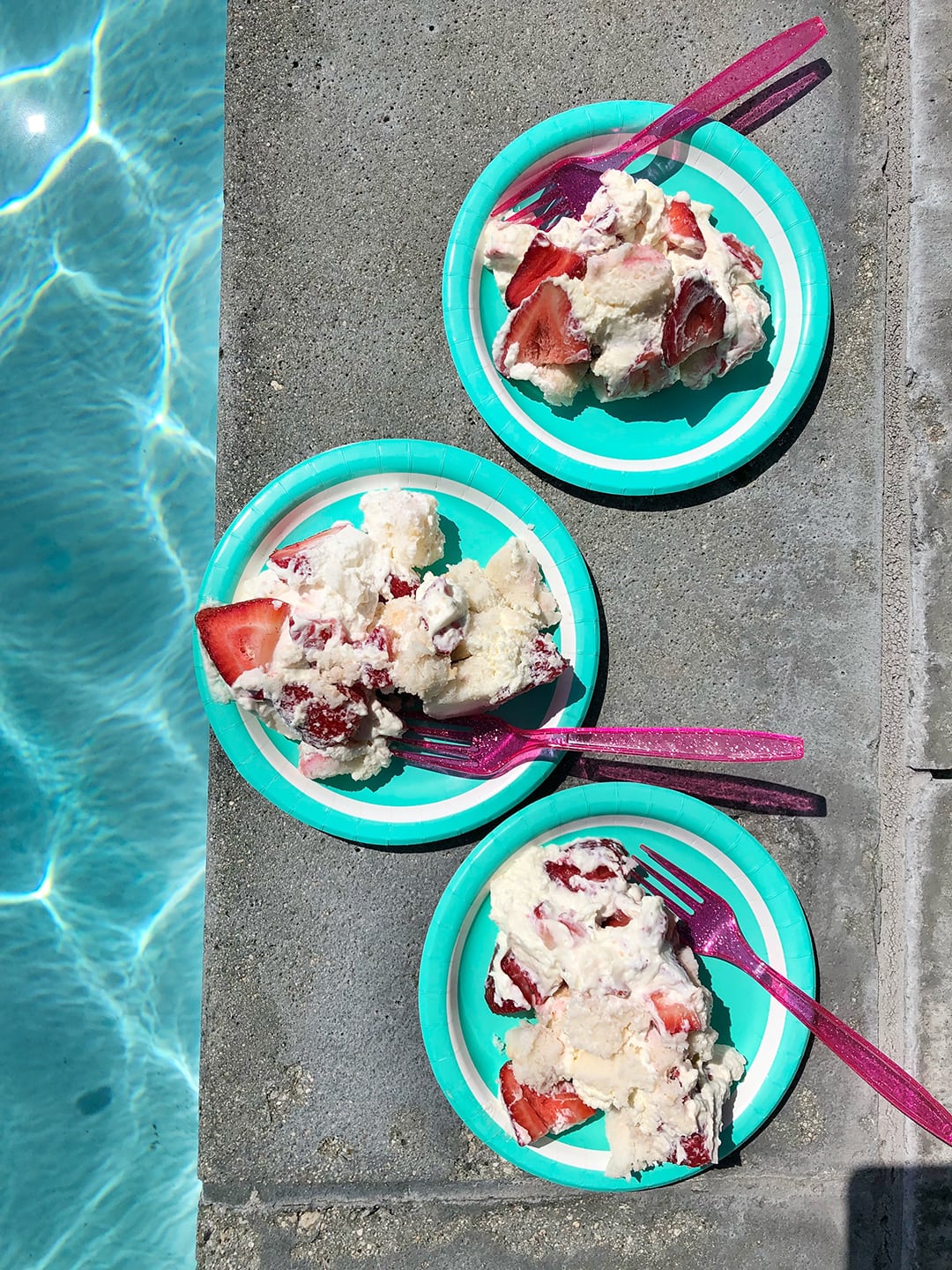 How to Layer Your Trifle
The order is up to you, but this is how I made mine. You can make it as neat or as messy as you wish! But, when layering, make sure to push your components all the way to the sides so that the layers don't shift as you transport it.
Fill the bottom with cake, making sure to line up squares on the edges and pack the bottom layer so the sides don't budge.
Place strawberry halves around the edge, top side down, on top of the cake. When placing the strawberries, make sure each touches the next. This is more important than having them line up perfectly on the angel food cake pieces.
Fill the middle with strawberry chunks.
Use half of the Champagne Mascarpone Whipped Cream and cover the strawberries. Gently push down on the sides to fill the gaps between the strawberries.
Repeat with another cake layer, another strawberry layer and another whipped cream layer.
Smooth out the top and create the strawberry rose or decorate as desired.
Strawberry Champagne Trifle
Print Recipe
This strawberry trifle recipe features layers of a mascarpone champagne whipped cream, angel food cake, and fresh strawberries. It's perfect for summer.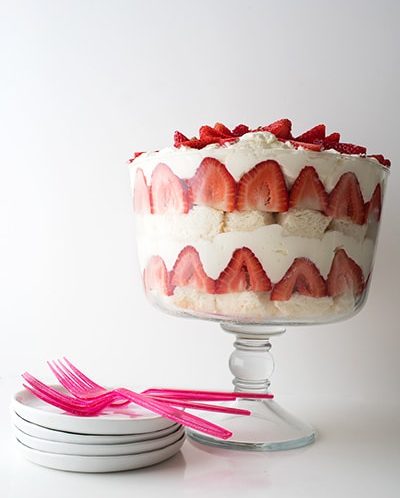 Servings: 12 servings
Ingredients
1 angel food cake or pound cake (made or purchased)
4 pounds fresh strawberries (tops removed)
¾ cup champagne
16 oz. mascarpone (cold)
3 cups Kroger heavy cream (cold)
½ cup sugar
Instructions
Cut cake into 1" cubes. Set aside.

Pour champagne into small saucepan and heat over medium heat for 5 minutes or until champagne has reduced to 1/4 cup. Set aside until cool.

Cut two cups of strawberries in half. Set aside.

Cut two cups of strawberries into chunks. Set aside.

If creating strawberry rose for top, create 60 thin vertical strawberry slices.


Combine mascarpone, heavy cream, and sugar in bowl of electric mixer fitted with a whisk attachment. Whisk until mixture is thick.

Add cooled champagne to mixture. Whisk until fully combined.
Assemble Trifle
Fill the bottom with cake. Create a single row of cake around the edges and pack the bottom layer so the sides don't budge.

Place strawberry halves around the edge, top side down, on top of the cake. Make sure each touches the next.

Fill the center with strawberry chunks.

Use half of the Champagne Mascarpone Whipped Cream and cover the strawberries. Gently push down on the sides to fill the gaps between the strawberries.

Repeat steps 7 to 10. Smooth out the whipped cream on top and decorate as desired.
Notes
Store the trifle in the fridge until it is ready to be enjoyed.
Calorie information calculated using angel food cake
Nutrition Facts
Strawberry Champagne Trifle
Amount Per Serving (1 serving)
Calories 512
* Percent Daily Values are based on a 2000 calorie diet.
Did you make this recipe?
Leave a review below, then take a photo and tag @letseatcakeblog on Instagram so we can see it!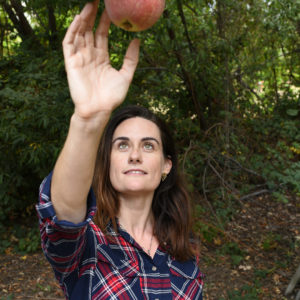 Latest posts by Rebecca Swanner
(see all)