Looking for an easy dessert this summer? These customizable waffle ice cream sandwiches will be a hit with your kids and anyone who's a kid at heart!
Also, for full disclosure, I have been compensated by The Kroger Co. and Breyers for this post, but the opinions are mine and mine alone. Cool? Cool. Keep reading for the recipe and the how to and check out more Freezer Fresh Ideas here!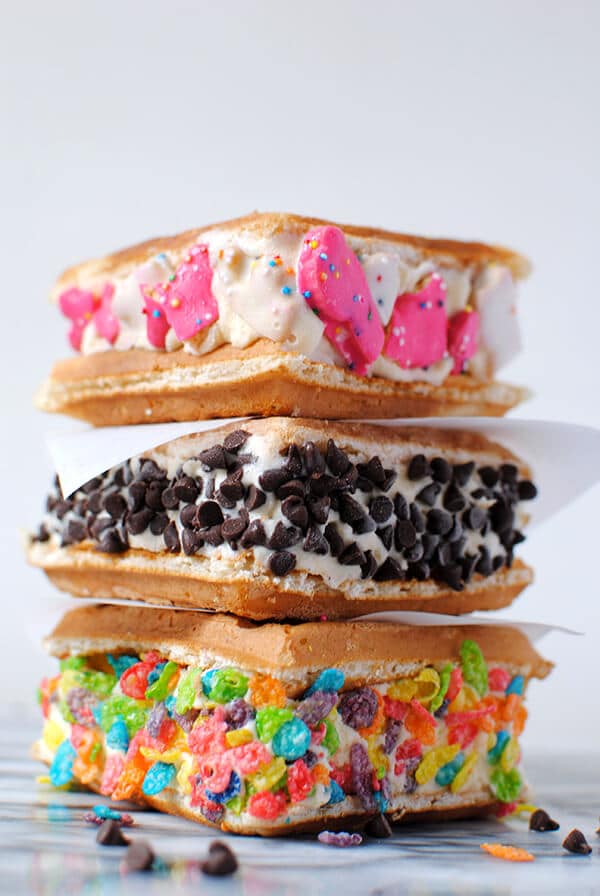 When it comes to summer, there's one phrase that immediately comes to my mind: pool party. But, right after that comes a second phrase, and that, friends, is ice cream. Specifically, ice cream sandwiches. Because what is summer without ice cream? Don't answer that. It's rhetorical.
I mean, the Museum of Ice Cream is here in LA to celebrate the beginning of summer. Oh, it was around before? In New York? During winter? ::sticks fingers in ears:: La la la la nope, it's here to celebrate the arrival of summer! There is a sprinkle pool. And I am going tonight! I AM SO EXCITED. I need to stop shouting. Sorry about that. I'm just really excited.
I am also super excited to share with you these ice cream sandwiches! It's not an ice cream sandwich recipe per say, but if you're in a pinch and you have hungry guests or want a fun easy dessert kids will love, these waffle ice cream sandwiches are it.
How to Make Homemade Waffle Ice Cream Sandwiches
Now, you can go the homemade route. And, hey, that is awesome. More power to ya. But, sometimes, cookie ice cream sandwiches are a little crunchy and crumbly and oh hey who got crumbs everywhere? That's why these wafflewiches are kind of magical.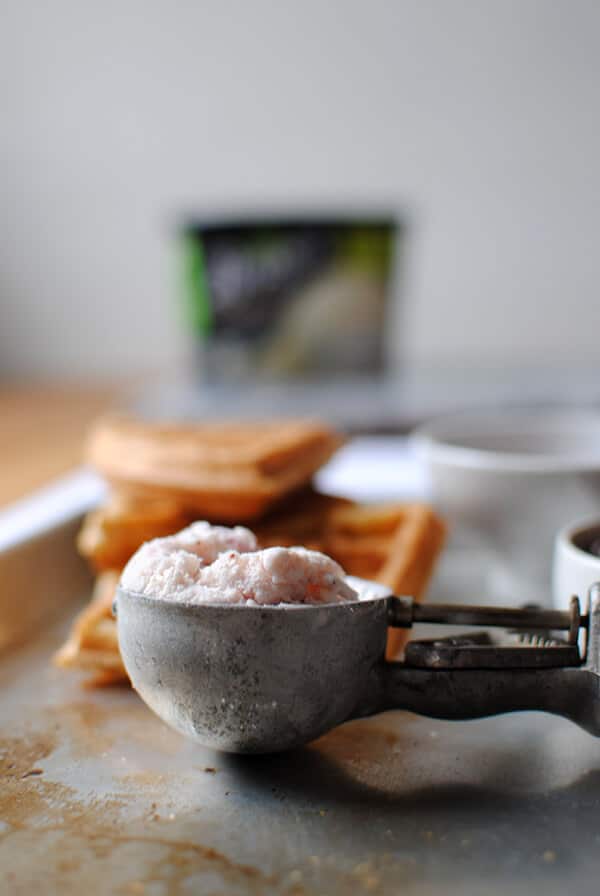 And they're super easy to customize. Kroger carries a ton of Breyers ice cream flavors in their freezer section – on my trip to Ralphs (that's the Kroger chain here in Southern California), I had plenty of Breyers flavors to choose from. From Breyers Original to Breyers Blasts which feature mix-ins like Oreo and Reese's Peanut Butter Cups to non-dairy, gluten free options, it was hard for me to choose! (And since Breyers uses high-quality ingredients like sustainably-farmed vanilla and fruit, that made the choice even more difficult!) In the end, I took home three flavors: Breyers Original French Vanilla (because you cannot go wrong with vanilla), Breyers Oreo Cookies & Cream, and Breyers Original Strawberry.
To make a waffle ice cream sandwich, you can either buy frozen waffles (which I did for the Oreo and strawberry ones), or you can make your own waffles in the waffle iron. The end result is a little bit different with each.
Waffle Ice Cream Sandwich Method 1: Frozen Waffles
Once you've toasted the frozen waffles, place three scoops of ice cream on top of the waffle (one to the left, one to the right, and one just below those two) and top with the second waffle. Clean up the edges and place in the freezer to harden. If you want really precise-looking ice cream sandwiches, line a baking sheet with parchment paper, spread out the ice cream until it's 3/4" thick and let it freeze. Then, use a round cookie cutter to stamp out an ice cream "cookie" that's about the same size as the waffle. Place this between the two waffle layers and freeze.
Waffle Ice Cream Sandwich Method 2: Homemade Waffles
If you go the homemade waffle route, I found it easiest to freeze the waffles before adding ice cream. This helped them keep their shape while I added enough ice cream. You want to add about 1/2 a quart of ice cream per waffle, depending on how thick you want the final ice cream sammie to be. Use a spoon or offset spatula to spread the ice cream into an even layer, and top with the second waffle. Place it in the freezer until hard, then slice into four, along the natural dividers.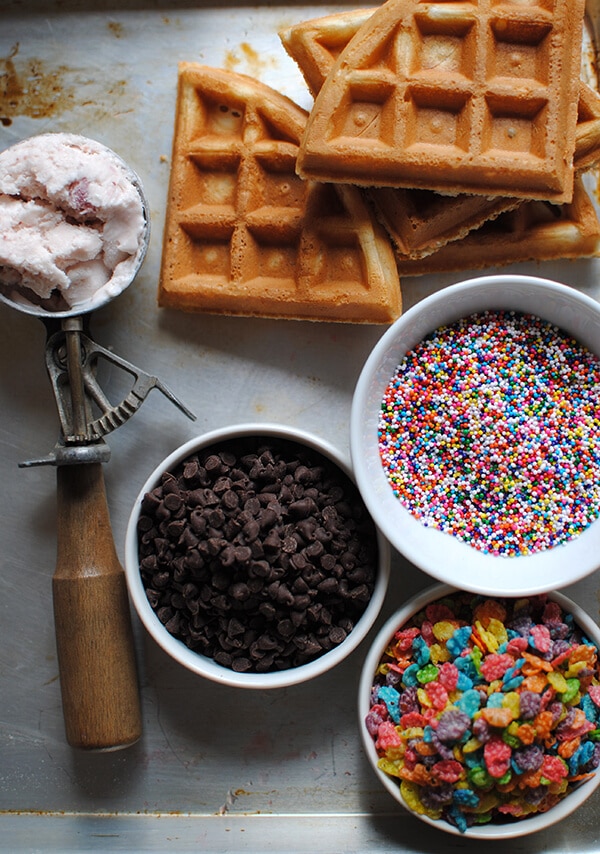 5 Different Ways to Customize Your Ice Cream Sandwich
You might notice in the photos that there's a variety of ice cream sandwich flavors. Here's the different ones I tried for this Freezer Fresh Ideas story – but don't feel like you have to use them! Get creative! And, if you do make a waffle ice cream sandwich, use the #FreezerFreshIdeas and tag me (@letseatcakeblog) on Instagram or Twitter so I can see!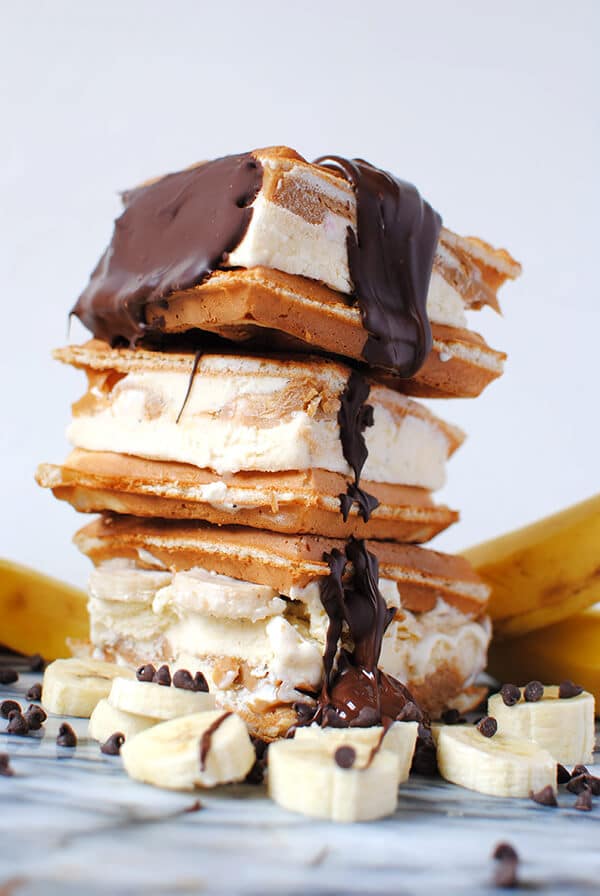 The Elvis: I don't have proof that the King liked ice cream sandwiches, but my guess is he would have. For this one, I scooped French Vanilla ice cream onto a waffle, topped it with fresh banana slices, peanut butter, and the second waffle, and put it in the freezer. When it was frozen, I dunked it in chocolate. I think he'd approve.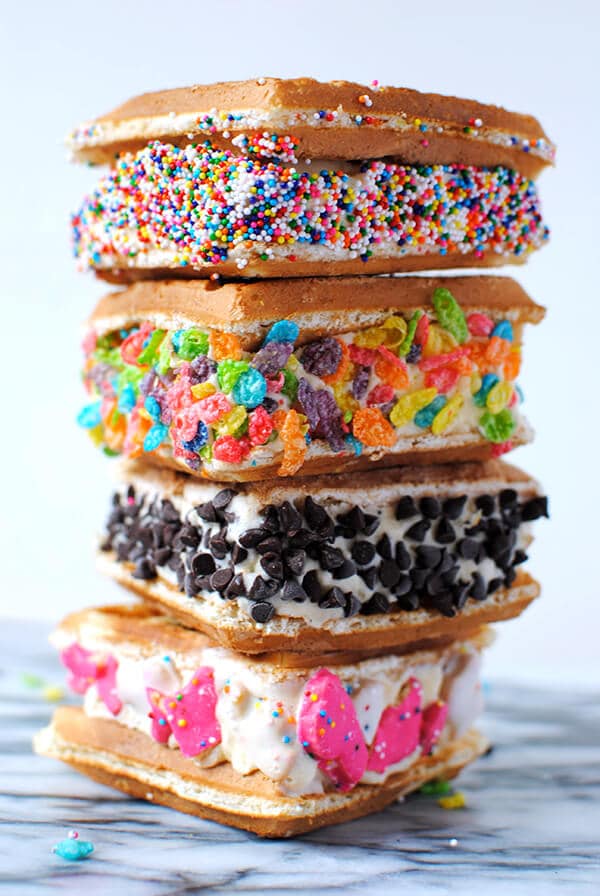 Gone to the Circus: Simple, but delicious. Add pink and white – or regular – animal crackers both in the sandwich and on the outside of your waffle sandwich to add crunchiness. To really embrace the big top feel, add extra sprinkles!
Topped with Sprinkles: Sprinkles add instant party. Did I mention there's a sprinkle pool at the Museum of Ice Cream? Oh, I did? That's ok, it's worth mentioning twice. Because sprinkles are awesome. You can find them in almost any color (or if you can't, you can make your own!) and they come in all sorts of fun shapes these days. I went with the classic circus sprinkles, but if you set up a sprinkle station at a party this summer, kids will a ball making their perfect ice cream sandwich.
Rolled in Chocolate: I love mini chocolate chips. They're kind of like sprinkles, but they're made of chocolate. Just like the sprinkles, just simply dip the sandwich into a bowl of these to get them to stick. Definitely add them to your sprinkle station.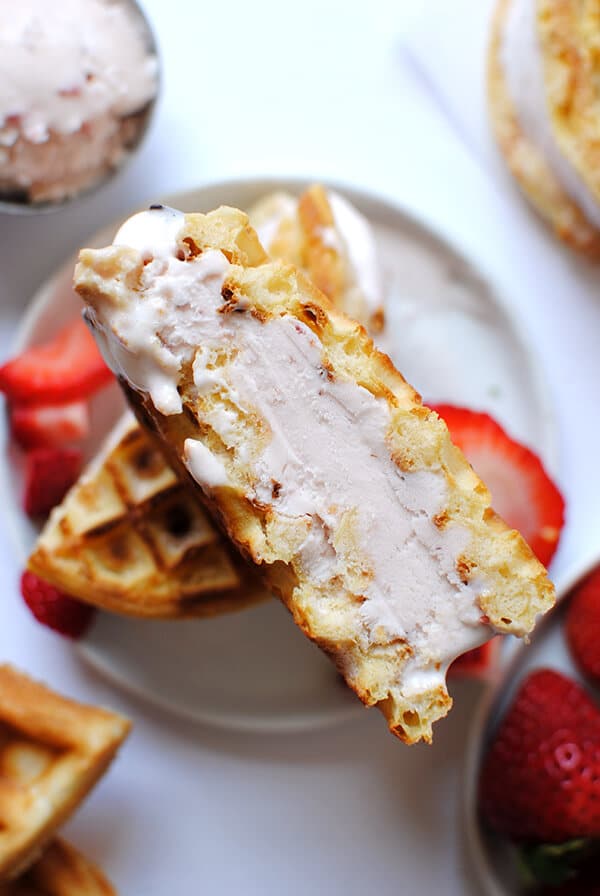 Sweet and Simple: I kept a few of the waffle ice cream sandwiches simple because sometimes simple is great! Strawberry can be jazzed up with a few fresh strawberry slices and I'm never going to say no to adding more Oreos to Oreo, but they're also yummy as is.
Waffle Ice Cream Sandwiches
Print Recipe
For an easy summer dessert, try any one of these five waffle ice cream sandwiches!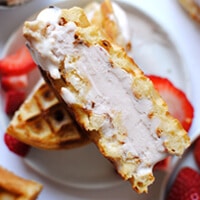 Servings: 4 waffle ice cream sandwiches
Ingredients
2 waffles (homemade)
2 cups ice cream
toppings
Instructions
Make waffles in waffle iron. Place in freezer until hard.

Top with ice cream, toppings if desired, and second waffle.

Clean up edges as needed.


Place in freezer until hard. Slice into quarters along natural divider.


Add additional toppings if desired and enjoy!

Notes
You can also use frozen waffles! If you do, use about 3 scoops of ice cream per sandwich. (1 1/2 cups) For a more precise approach, spread softened ice cream on a baking sheet, let freeze, place a waffle on top of the ice cream, trace with a knife, and stack the ice cream slab in between your waffles!
Did you make this recipe?
Leave a review below, then take a photo and tag @letseatcakeblog on Instagram so we can see it!
What's your favorite ice cream flavor? Tell me in the comments! And, if you want more Freezer Fresh Ideas, check these out. There's even cronut ice cream sandwiches. Say what?!
This is a sponsored conversation written by me on behalf of Kroger. The opinions and text are all mine.

Save
Save
Save
Save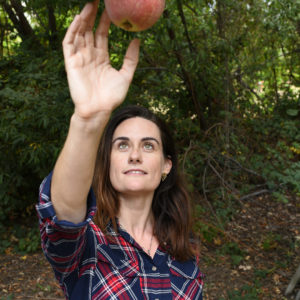 Latest posts by Rebecca Swanner
(see all)