Game of Thrones fans, rejoice! This Game of Thrones recipe for black sesame ice cream —named after the cold, undead Whitewalkers — is the perfect addition to your Game of Thrones party. Don't be scared off of by the color of the grey ice cream, the black sesame gives it a peanut butter-like flavor and the blue M&Ms add a nice chocolatey crunchiness!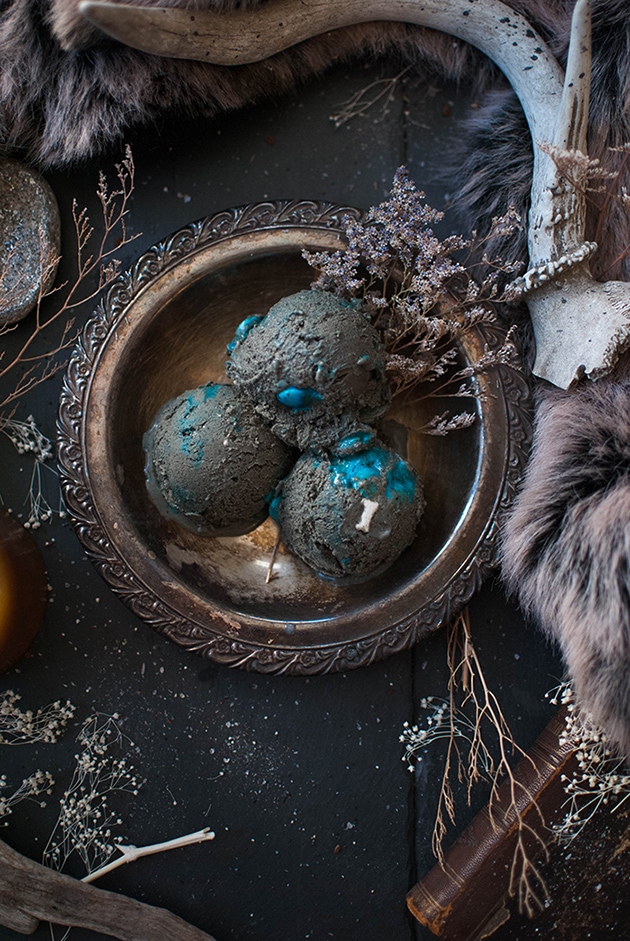 Good news, Game of Thrones fans: Jon Snow is back and I've got a Game of Thrones recipe I think you'll love. Bad news: Winter is still coming, and with it, those nearly invincible White Walkers that command the army of the dead. Unless your favorite character is armed with a piece of dragonglass or a blade made from Valyrian steel, you can bet they're in deep, deep trouble.
Good news: Inspired by the chilly monsters that live behind the wall — and which are likely coming south of the wall this season — I created this Game of Thrones-inspired recipe for White Walker Ice Cream.
Originally, I was going to blend sesame ice cream with blue moon ice cream, but I decided those flavors might make a kind of gross combination. If you're not familiar with Blue Moon, it's a raspberry-lemon-sugar flavored ice cream Midwestern ice cream. I ate a lot of it when lived in the suburbs of Detroit. It But, raspberry, lemon, and sesame? That felt like I was pushing the boundaries of good taste.
So, instead, to create a Game of Thrones ice cream that also screamed White Walker, I made a sesame ice cream and then mixed in blue M&Ms to give that bright pop of blue for their eyes and bone sprinkles to represent their skeleton army. Also, you know, cause they're deadly.
Ice Cream Tips
If you've never made ice cream before, it's not tough. There are two really important things you just want to keep in mind when making ice cream. The first is that you want to cook your final mixture until it's thick enough so that it coats the back of a wooden spoon and when you draw a line through the mixture on the spoon, the line holds for at least a few moments. Until it's there, just keep stirring and checking. Depending on how hot your stove is, it might take upwards of 10 minutes.
The other thing to remember when making ice cream is to add the hot mixture to the eggs slowly. Add it all at once and you'll cook the eggs and end up with all sorts of floaty egg bits in your custard. You don't want that. Instead, pour some of the hot mixture in — I eyeball it but tend to go about 1/4 cup at a time. As you pour with one hand, whisk with the other. That way, the eggs are heated evenly. Add the hot mixture to the eggs like this until the egg mixture is the same as the mixture you heated on the stove.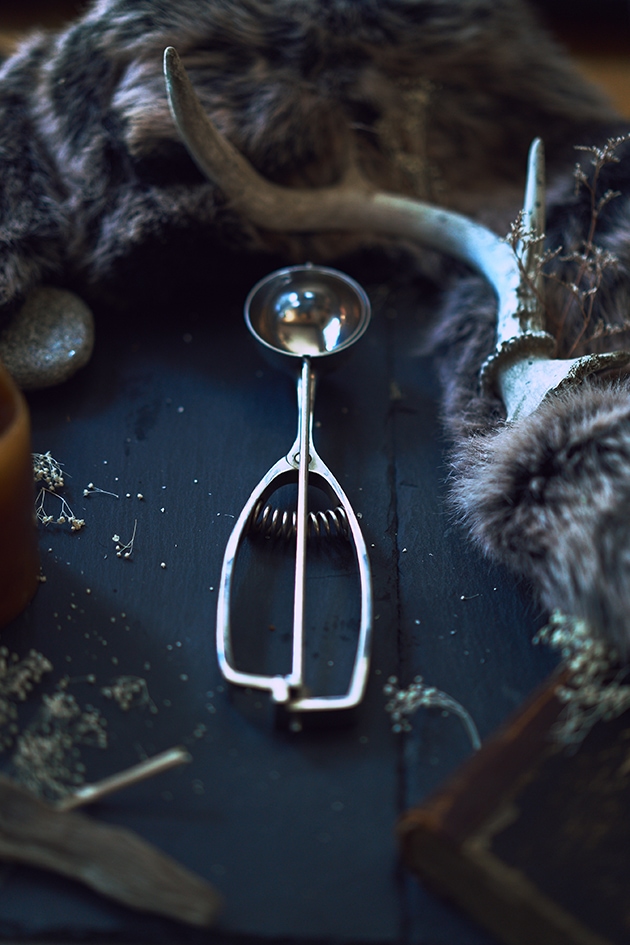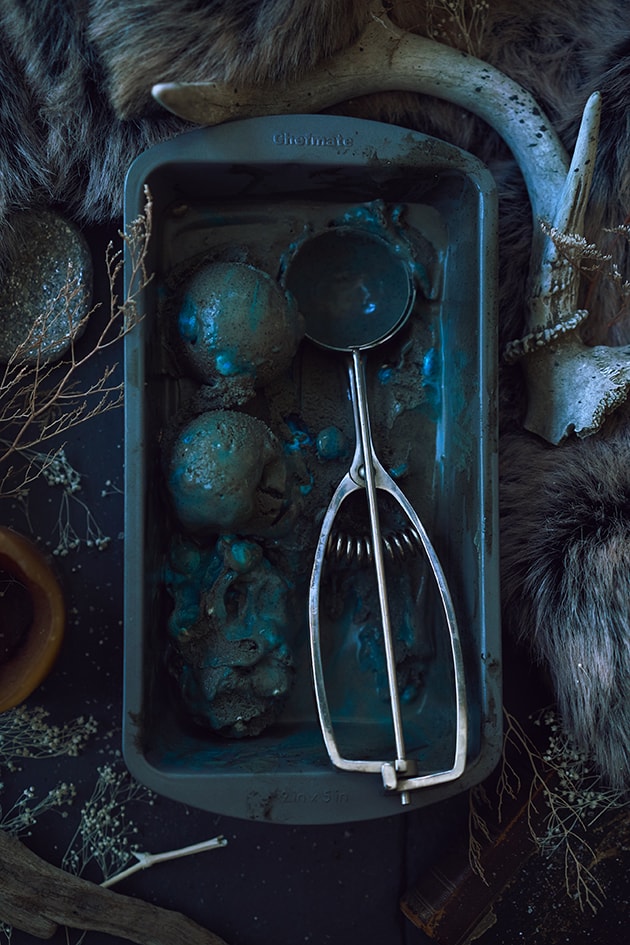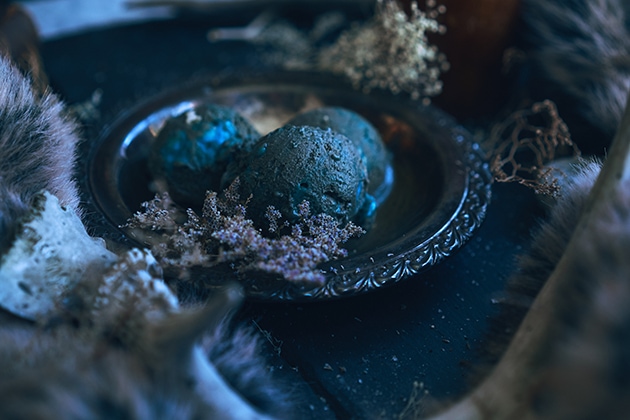 Once the ice cream was done, I met up with photographer Webb Bland of NotBland Photography who takes rad, cinematic photos of dream cars for Top Gear Magazine and other clients. Trust me, if you have even a slight interest in pretty things, check out his site.
We threw around a handful of ideas and eventually landed on recreating something that felt like it could been part of the set. I mean, after all this is Game of Thrones ice cream. In the final shots, there's something that ties back to many of the primary houses. The Dire Wolf pelt for the Starks (don't worry, we didn't use real fur), An antler for the Baratheons, and the candle for the fire of the Targaryens. The Lannisters seems to have gotten the short shrift, but maybe there's something in the photos that represents them too? If you see it, tell me in the comments!
And, if you're looking for other Game of Thrones recipes, might I suggest the Official Game of Thrones cookbook, A Feast of Fire and Ice?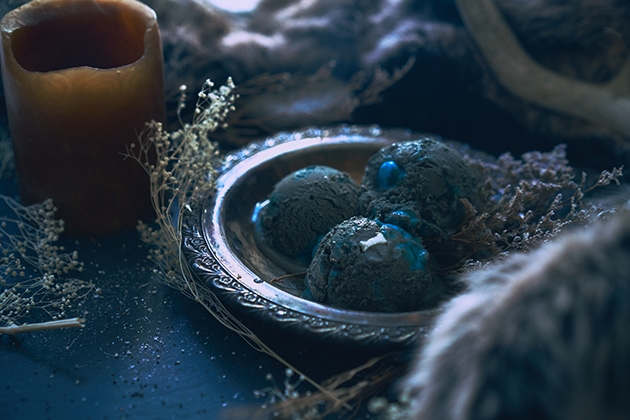 Game of Thrones Ice Cream Recipe
Print Recipe
Game of Thrones ice cream recipe inspired by the blue and grey of the White Walkers!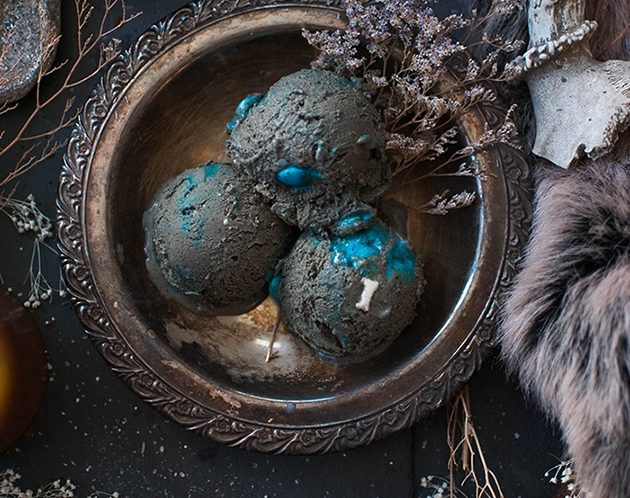 Servings: 2 cups
Ingredients
½ cup black sesame seeds
1 Tbsp. honey
1½ cups whole milk
¾ cup sugar
¼ tsp. salt
4 large egg yolks
1½ cups half and half
1 tsp. vanilla extract
½ cup blue M&Ms
¼ cup bone sprinkles
Instructions
Fill a large bowl with 2 inches of cold water and place it in the freezer.

Pour the sesame seeds into a skillet and dry roast over medium heat. Once they start to smell fragrant and you hear faint popping noises, remove them from the heat and pour them into the bowl of a food processor.

Once the sesame seeds are cool, turn on the food processor and grind them until they form a paste. Scrape down the sides. Add honey. Turn on the food processor and blend until honey is fully combined.

In a medium bowl, whisk egg yolks until slightly lighter in color.

Heat milk, sugar, salt, and sesame mixture in a medium pot, stirring often. Once all of the sugar has dissolved, slowly add the mixture to the eggs (see notes above) until the two mixtures are about the same temperature.

Pour this back into the pot and heat until it is thick enough to coat the back of a spoon.

Pour half and half and vanilla extract into a medium bowl. Pour the milk mixture into the bowl slowly, whisking as you go.

Pour this back into the pot. Set the bowl aside and place a mesh strainer on top. Heat the milk mixture, stirring often, until the custard coats the back of a spoon and holds a line.

Pour the custard through the strainer.

Remove the bowl of ice water from the freezer and place the bowl on top. Let this sit for about 30 minutes, or until room temperature.

Place a piece of plastic wrap on top, touching the top of the custard. Place in the fridge overnight.

In the morning, add the custard to the ice cream machine according to the manufacturer's instructions. When nearly finished (about 20 minutes), add blue M&Ms and bone sprinkles.

Place in freezer-proof container for 3-4 hours or until firm.
Did you make this recipe?
Leave a review below, then take a photo and tag @letseatcakeblog on Instagram so we can see it!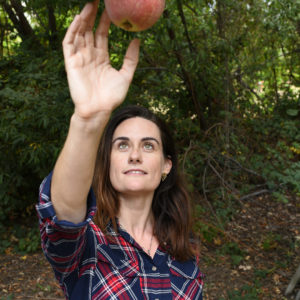 Latest posts by Rebecca Swanner
(see all)