This easy Homemade Strawberry Ice Cream is bursting with fresh strawberries. In this recipe, I'll teach you how to make it and how to avoid getting giant icy chunks of berries in your final ice cream!
Use this eggless ice cream as the base for a strawberry milkshake or in these Waffle Ice Cream Sandwiches!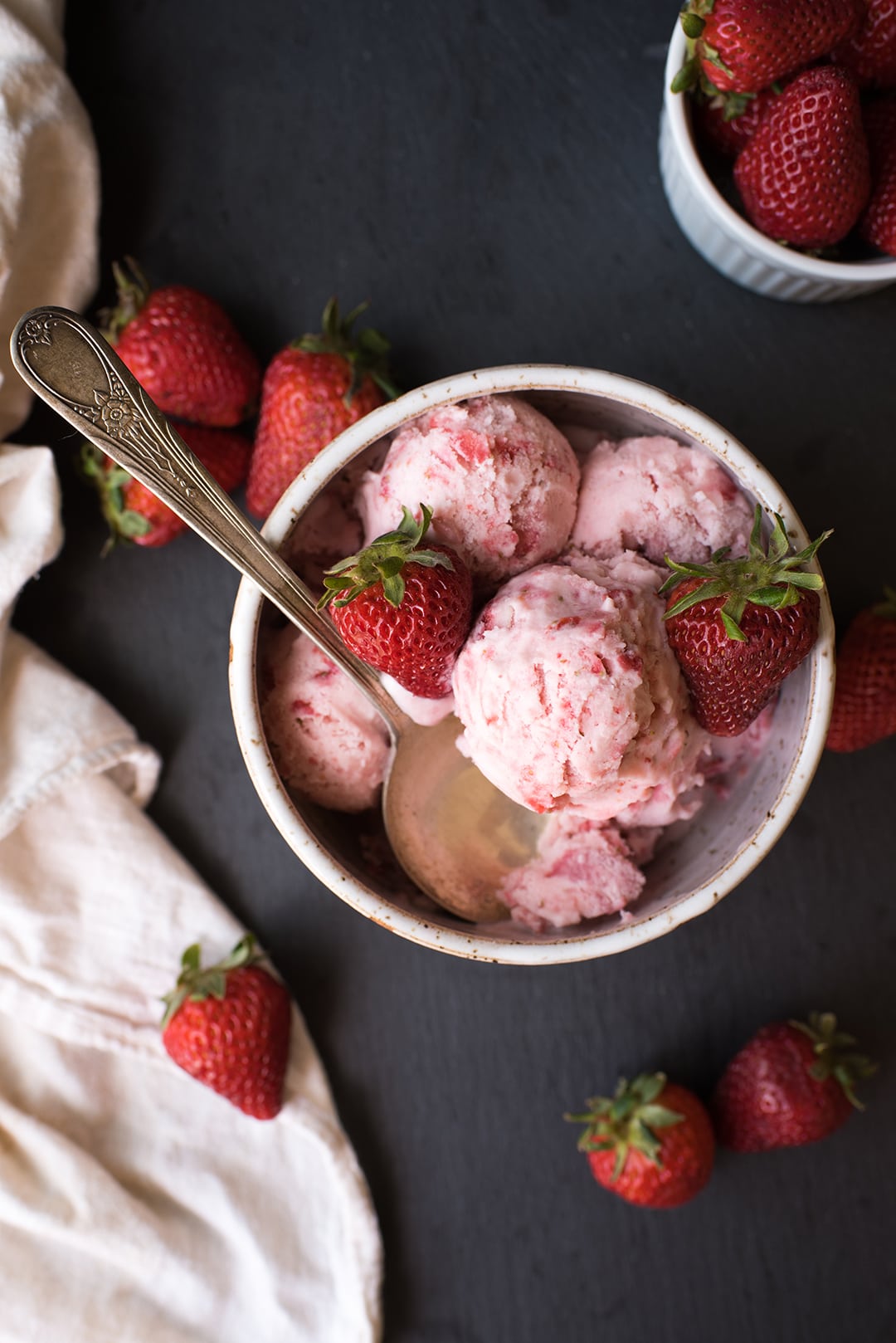 When people ask me what I love to bake, homemade ice cream is usually my answer. I love how many different ice cream recipes you can make. The flavor depends on what base you start with, whether or not you use eggs ad make a custard or you make an eggless ice cream, what mix-ins you add (the Biscoff bits totally made this Cookie Butter Ice Cream Popsicles), and what flavors (if any) you infuse into your ice cream ingredients.
With strawberry ice cream alone, you can make a classic creamy strawberry ice cream recipe like I did here, or go gourmet and add in swirls of cheesecake, balsamic, chocolate, lime, basil, or shortbread cookies.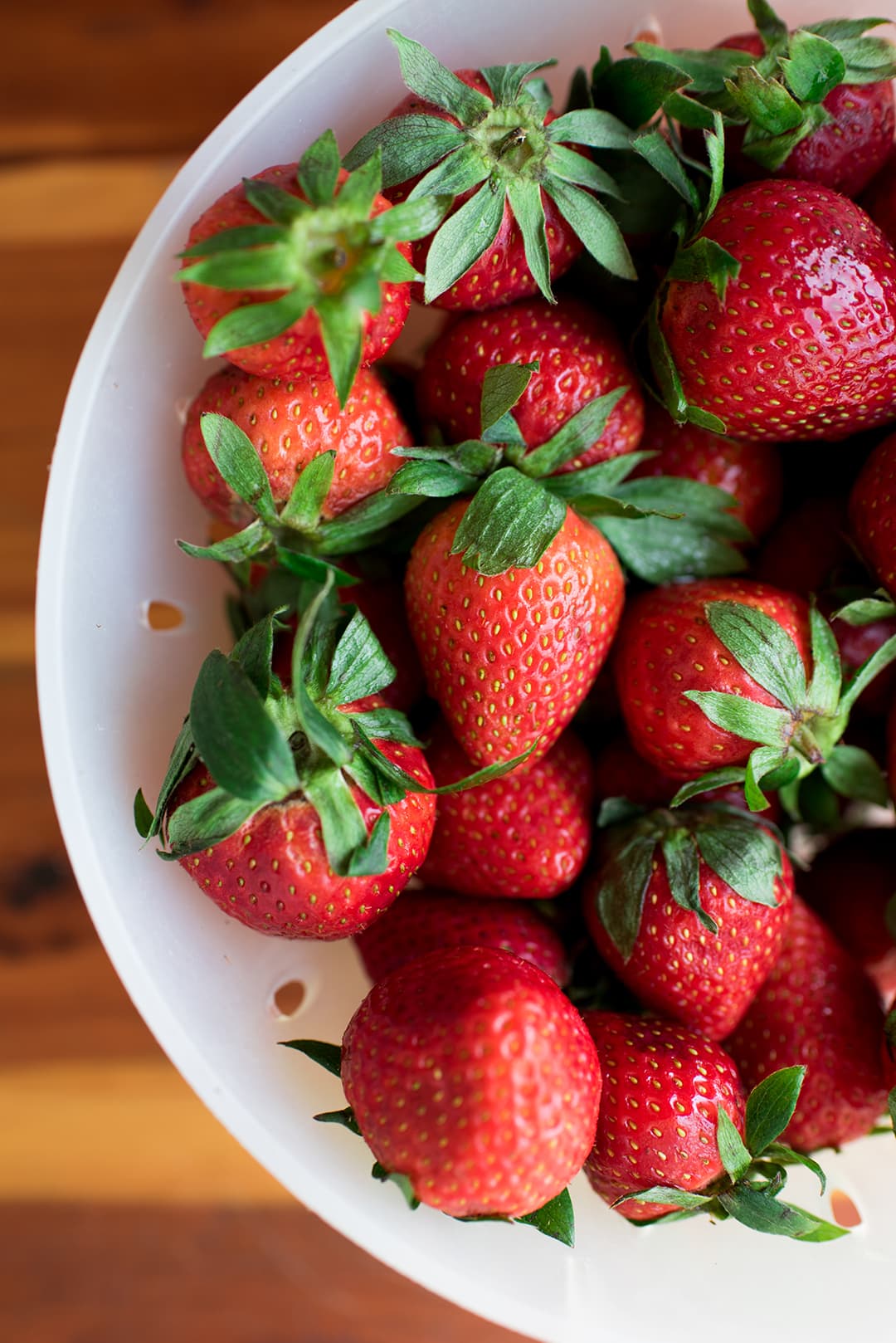 With spring in full swing and summer coming, I decided to make this strawberry ice cream. It's one of my favorite ice cream flavors and after visiting my grandmother recently, I found out it was hers too… so I just had to make it.
This simple strawberry ice cream doesn't take very long to make, but it does require an ice cream maker. I've had mine for about ten years. The only complaint I have is that sometimes I would love a slightly larger one for when I make homemade ice cream so I can make more at one time.
What is Strawberry Ice Cream Made Out Of?
Fresh strawberries
Lemon juice
Sugar
Corn syrup (not high fructose corn syrup)
Heavy cream
Whole milk
Vanilla extract
Wait! Where are the eggs?
Nope, no eggs this time. I'll explain below. Also, if you prefer to make strawberry ice cream without heavy cream, it is possible with this recipe. Simply replace the heavy cream and whole milk with half and half.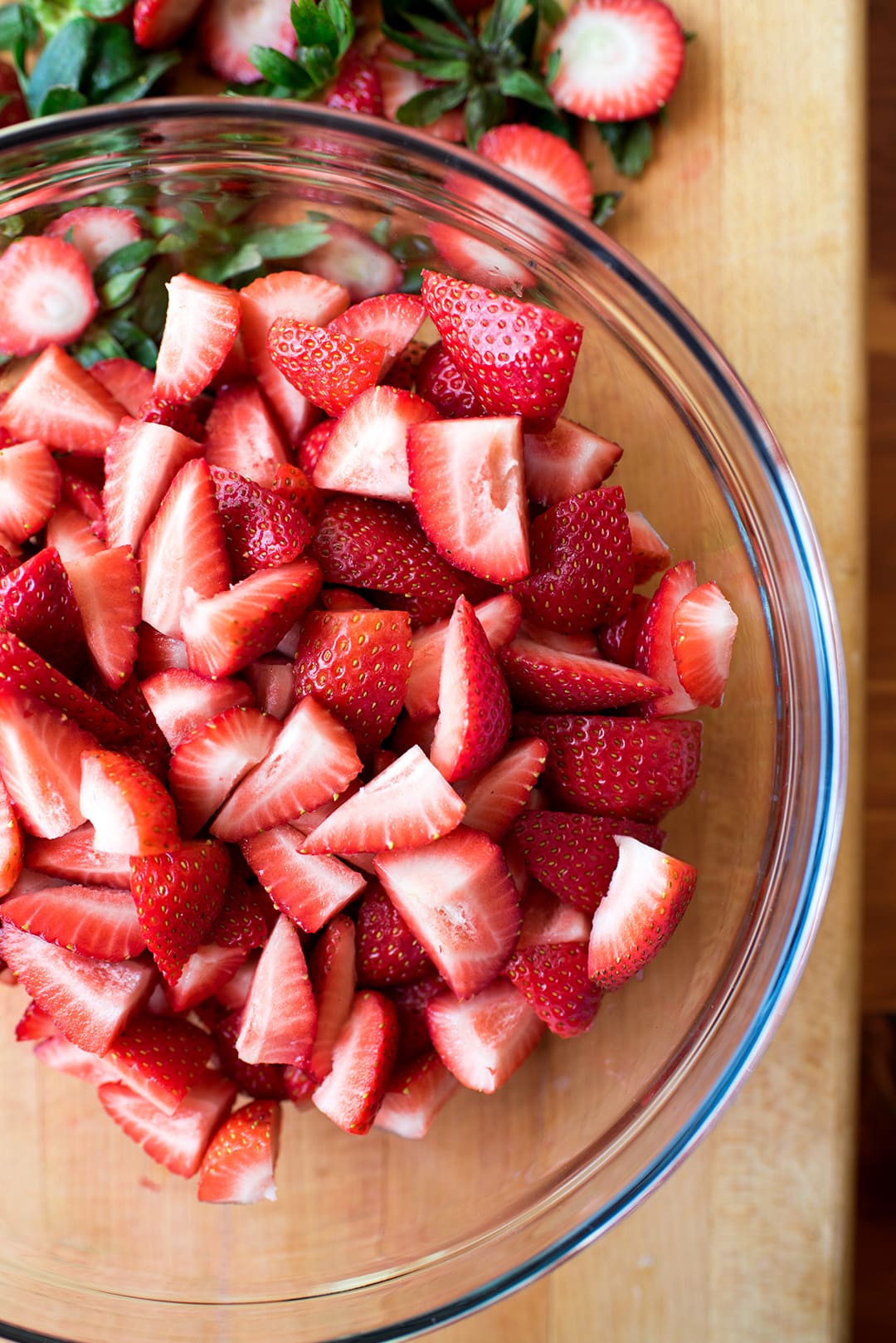 How Do You Make Homemade Strawberry Ice Cream?
TL;DR: Use good strawberries. Add corn syrup. Don't heat the strawberry ice cream base. Cut your fresh strawberries into small chunks.
Usually, I use eggs to make ice cream. But, the more I researched, the more I discovered that eggs might not be necessary to achieving a creamy, strawberry ice cream recipe.
Why not? It might be due to the fact that when you create a custard-based ice cream (one that uses eggs), you heat — and therefore concentrate — the ingredients until they're thick enough to coat the back of a spoon. Then, you chill the mixture over an ice bath, before churning it within the ice cream maker and finally transferring it to a container to let it freeze.
Tips for Adding Fresh Fruit Into Your Strawberry Ice Cream

Adding fresh fruit (strawberries or otherwise) to your ice cream can create some challenges. Here's how I got around them and how you can too. The two primary challenges are:
Cooking Changes Flavor.
I could have added fresh strawberries into this strawberry ice cream if I had pureed them (obviously just dropping them whole into heavy cream and hoping for the best isn't going to work at all), but then I would have heated them and that would have changed the flavor. Great if you're making a Roasted Strawberry Ice Cream, but not necessarily if you're going to bursting-with-fresh-strawberry-flavor ice cream. So, ixnay on the eathay.
Fruit is mostly water.
What happens to water when you freeze it? You guessed it. It turns into it. Guess what happens when you put chunks of fruit into ice cream? They turn into ice. The problem with strawberry ice cream generally is that you'll be happily eating your ice cream and then all of a sudden KER-CHUNK you bite into a giant hunk o' ice… I mean strawberry… and then have to gnaw on that for a moment. That's no good.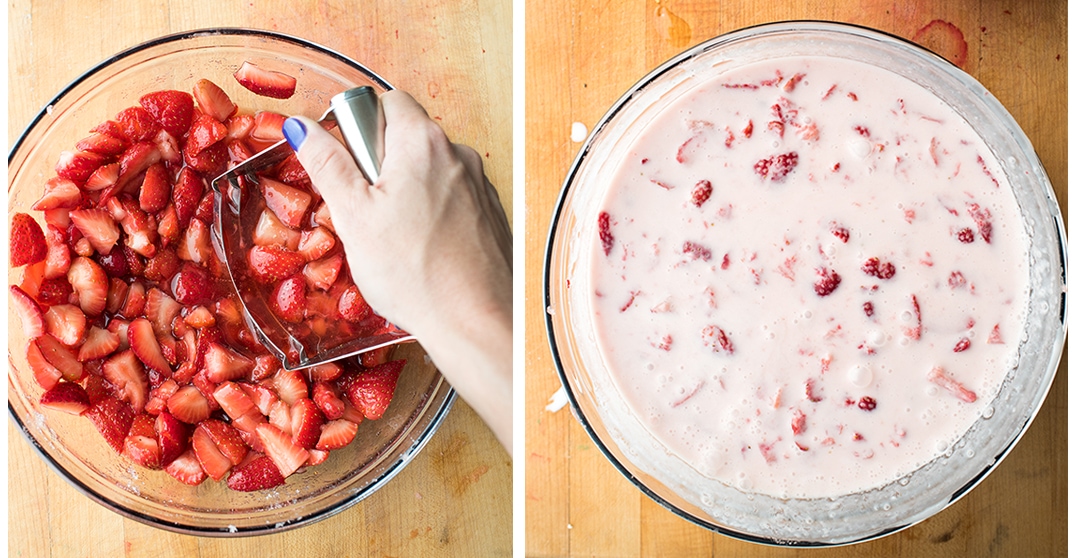 To help prevent the first issue, I didn't cook the strawberries. To prevent the second, I did two things. I pulled as much water as I could out of the strawberries by soaking them in a mixture of lemon juice and sugar for two hours. I then mashed them for a few minutes with a pastry cutter.
I also took a tip from Serious Eats and added corn syrup to the recipe. Corn syrup (and other non-sucrose based sugars) lower the freezing point of a liquid which reduces the amount of ice crystals. I didn't add much — just two tablespoons — but it did seem to make the strawberries in the final strawberry ice cream recipe taste less like ice bombs and more like strawberries.
If you leave out the whole strawberry chunks, you can skip the corn syrup. It's mostly in there to lower the freezing point and create a smoother strawberry ice cream. But, if you do leave them in, you'll want it. That said, it doesn't entirely fix the problem, so the smaller your strawberry pieces are the better.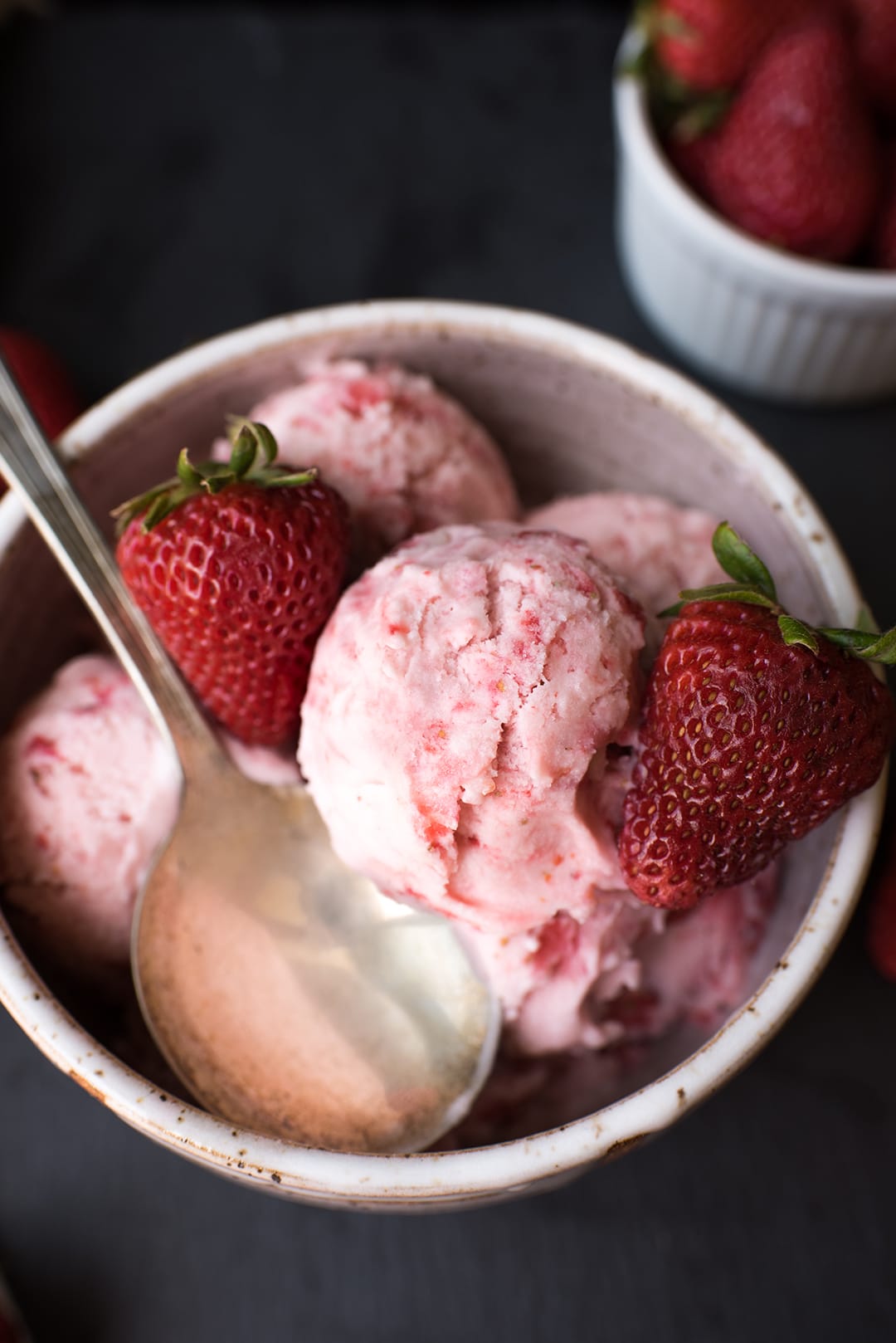 Homemade Strawberry Ice Cream Recipe
Print Recipe
This homemade strawberry ice cream recipe is eggless, easy to make, and the perfect summer dessert!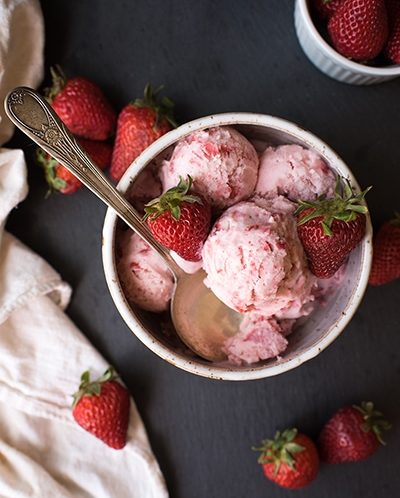 Servings: 8 servings
Ingredients
4½ cups fresh strawberries (tops cut off, sliced in half)
1 tsp. fresh lemon juice
¾ cup sugar (divided)
2 Tbsp. corn syrup
1 cup heavy cream
1 cup whole milk
1 tsp. vanilla extract
Instructions
Place strawberries in a large bowl. Pour lemon juice and ½ cup sugar on top. Set aside for two hours.

Use pastry slicer or potato masher to break strawberries into small chunks.


Pour corn syrup, heavy cream, milk, ¼ cup sugar, and vanilla extract into bowl containing strawberries.

Process in ice cream maker following manufacturer's directions.


Transfer mixture to freezer-proof container and let freeze.

Nutrition Facts
Homemade Strawberry Ice Cream Recipe
Amount Per Serving (0.5 cup)
Calories 219 Calories from Fat 108
% Daily Value*
Fat 12g18%
Carbohydrates 28g9%
Protein 2g4%
* Percent Daily Values are based on a 2000 calorie diet.
Did you make this recipe?
Leave a review below, then take a photo and tag @letseatcakeblog on Instagram so we can see it!
More of my popular strawberry recipes: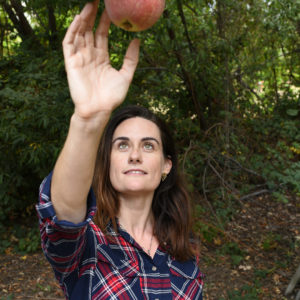 Latest posts by Rebecca Swanner
(see all)