Celebrate summer with this sweet and tart Strawberry Rhubarb Galette! It's perfect with a scoop of vanilla ice cream.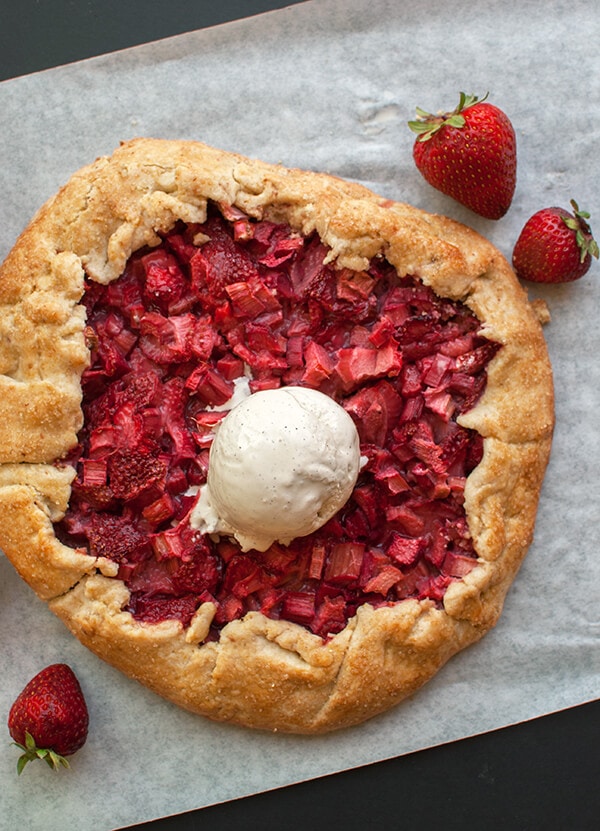 I am such a fan of galletes. Like all the fan. And Strawberry Rhubarb Galettes are no exception.
I would write fan letters to galettes if it made any sense to do so. Because, here's the thing: Growing up, I hated pie. I know. I know. Just indulge my crazy for a moment. I've previously mentioned my absolute distaste for anything mushy or soggy, and well, to me, most pies just tasted like a pie of soggy oversweetened fruit. Ew. I loved the crusts.  Which was odd, as I used to never eat the crust on sandwiches or pizza, but whatever, kids are strangely picky. But, I used to try and eat around the pie filling, breaking off little pieces of perfectly crisp pie dough to pop into my mouth.
Oh, and those pies that are meringue or gelatin-based? No no no no no. That texture was somehow worse. Like eating a sponge. To be honest, I'm still not a huge fan of those pies, unless they're made with peanut butter. I'm pretty much a fan of anything made of peanut butter though, so that's kind of cheating.
I never had a galette growing up. Or not at least as far as I can remember. And I don't think I saw one either. I grew up mostly between Baltimore and the suburbs of Detroit and galettes weren't really a thing. I think I came across my first one in an issue of Bon Appetit five or so years ago. So I made it. And it was awesome. There was very little sugar – at least compared to the pies I was used to – and the freeform crust was so much easier to get a handle on as a novice baker. My first galettes were far from perfect, but I was sold.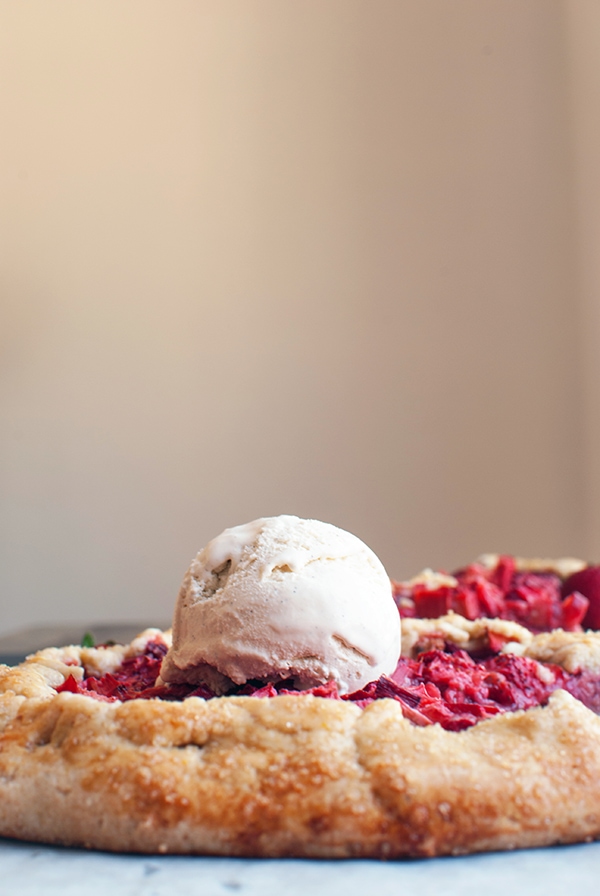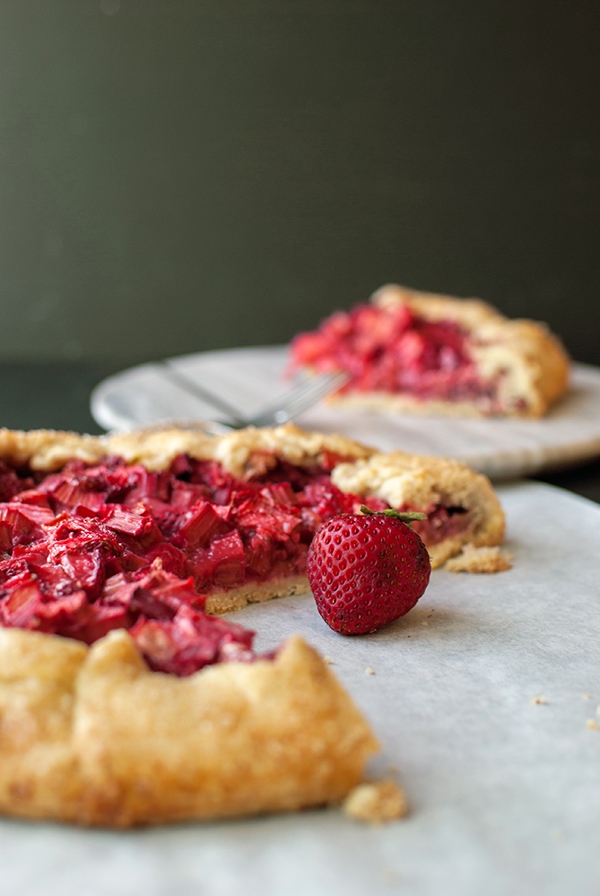 Since then, I've made quite a few galettes – including these mini nectarine galettes – and inspired by one of Edd Kimber's gorgeous Instagram photos, I decided to try a take on Strawberry Galette, but I added rhubarb to make it a Strawberry Rhubarb Galette. Because, guys, I finally found rhubarb. I literally did a happy dance when I found it. For real.
If you're intimidated by pie but want to make a fruit-forward dish, galettes are gonna be your jam. Not a fan of strawberry and rhubarb? Try blackberries and blueberries! Or nectarines. Or really, whatever fruit you like. Well, except watermelon. That could be disastrous. Or not! Make it and tell me. Though, I think you might end up with an awfully soupy mess. So, yeah, maybe no watermelon. But pretty much any other fruit will do. In the meantime, here's how to make a Strawberry Rhubarb Gallete!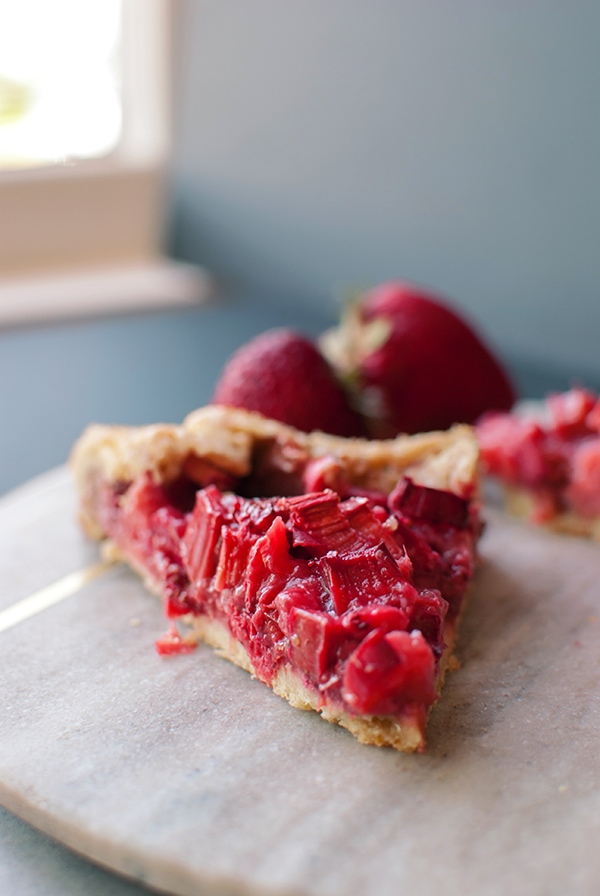 What Is a Galette?
Galette comes from the Old French word for pebble (galet) and is often in the shape of a flat round pastry, but it also refers to an open freeform tart-like pie filled with fresh fruit. That's the kind of galette I've seem to fallen in love with. The word galette seems to have come into usage around 1775, the same time aubergine (eggplant), eggnog, and gazpacho came into existence.
How to Make a Strawberry Rhubarb Galette
Making a galette is very easy. To make a Strawberry Rhubarb galette, I recommend starting with fresh strawberries and fresh rhubarb if you can. The recipe below calls for fresh fruit, but if you're having trouble finding either, let me know in the comments and I'll try and come up with some recipe adjustments so you can make it with frozen!
First, you'll want to make the galette dough, as it'll need to chill for about an hour. Dice the butter, then put it back in the fridge to chill while you whisk together the flour, cornmeal, sugar, and salt. Once they're mixed, work the butter into the dough using a pastry cutter. Drizzle cold water into the mixture, a tablespoon at a time, until the dough comes together and can be easily gathered into a ball. Roll the galette dough into a ball, flatten it into a disc, wrap it in plastic, and let it chill in the fridge for an hour.
While the dough is chilling like a villain in your fridge, make up the filing. For this Strawberry Rhubarb galette, I combined 1.5 cups sliced strawberries (about a pint) with two cups of rhubarb that I'd sliced into ¼-inch slices from two long stalks. I tossed these with a tablespoon of cornstarch.
In a separate bowl, combine ½ cup ground almonds with 2 tablespoons of caster sugar. Regular sugar would work as well, but caster sugar is easy to make – just pulse granulated sugar in the food processor for 15 pulses.
Once the galette dough has chilled, place the dough between two pieces of parchment and roll it out to about ¼-inch. Then, remove the top layer of parchment, sprinkle the dough with the almond mixture, and place all of your fruit in the middle. Fold the edges of the dough up around the filling, top with raw sugar – I used raw ginger-infused sugar for this one – brush with one beaten egg to give the final bake a nice golden color, and pop it in the oven for 35-40 min, or until the crust is golden.
Once baked, top the Strawberry Rhubarb Galette with vanilla ice cream and dig in!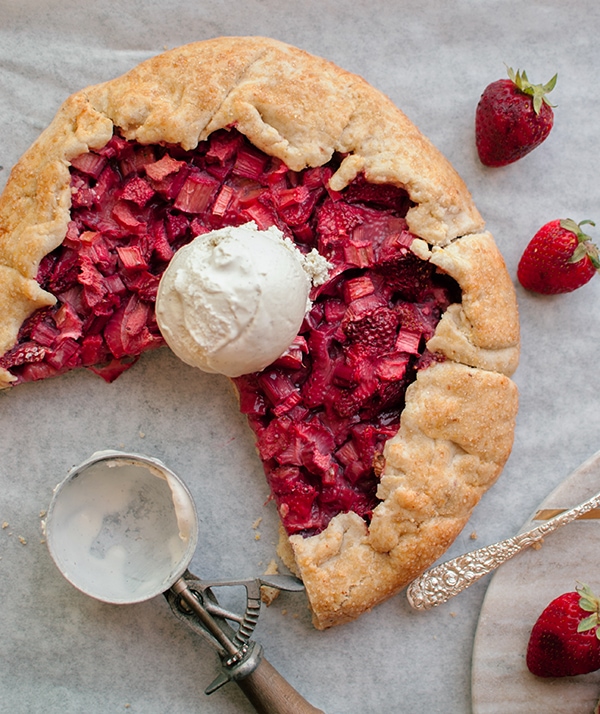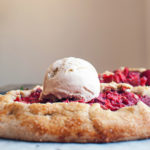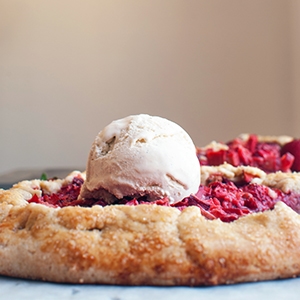 Strawberry Rhubarb Galette
Celebrate summer with this sweet and tart Strawberry Rhubarb Galette! It's perfect with a scoop of vanilla ice cream.
Prep Time
1
hour
20
minutes
Total Time
1
hour
55
minutes
Ingredients
Galette Crust
175

grams

all-purpose flour

75

grams

cornmeal

2

Tbsp.

caster sugar

1/4

tsp.

salt

125

grams

butter

4

Tbsp.

ice water
Strawberry Rhubarb Filling
1 1/2

cups

sliced strawberries

2

cups

rhubarb

sliced into 1/4" pieces

1

Tbsp.

cornstarch

2

Tbsp.

caster sugar

1/2

cup

ground almonds

1

egg

beaten

1

Tbsp.

raw sugar

ginger-flavored if possible
Instructions
Galette Crust
Dice butter. Return butter to fridge.


Combine flour, cornmeal, sugar, and salt in a medium bowl.


Add cold butter, working in with pastry cutter until fully mixed in. Mixture should resemble pebbles.


Add water, one tablespoon at a time, until the dough can be gathered into a ball.


Form the ball into a disc, wrap in plastic, and place in fridge for one hour.




Place the disc between two layers of parchment paper and roll to 1/4" thick.
Strawberry Rhubarb Filling
Mix together almonds and sugar in a small bowl. Sprinkle over crust.




Toss rhubarb, strawberries, and cornstarch together. Toss mixture until cornstarch is fully combined.


Place filling in the center of the dough.


Carefully fold the outside pastry up around the filling as evenly as you can, leaving a large gap at the top. If there are tears, cover them with extra pastry bits.


Brush crust with egg and top with raw sugar.


Bake for 35-40 minutes until crust is golden brown.

Nutrition Facts
Strawberry Rhubarb Galette
Amount Per Serving (1 slice)
Calories 318
* Percent Daily Values are based on a 2000 calorie diet.
Save
Save
Save