Celebrate summer with this sweet, tart Strawberry Rhubarb Galette! It's perfect with a scoop of vanilla ice cream.
Not a fan of strawberry and rhubarb? Try this Nectarine Blackberry Galette! Or really, use the galette recipe below make any fruit galette you like. Well, except watermelon. That would be a disastrous, soupy mess ideal only for testing the self-cleaning function on your oven.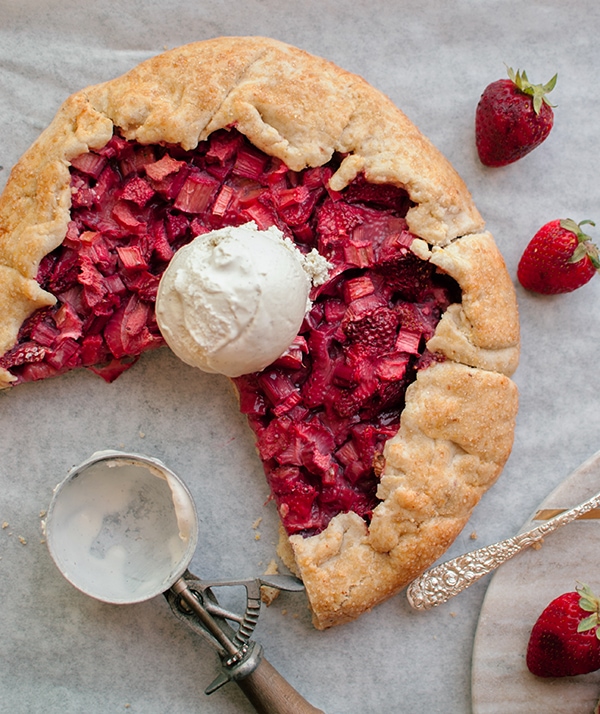 What Is a Galette?
Galette comes from the Old French word for pebble (galet) and is often found in the shape of a flat round pastry though it also refers to an open free-form tart-like pie filled with fresh fruit. That's the kind of galette I seem to have fallen in love with. The word galette came into usage around 1775, along with eggnog, gazpacho, and aubergine (eggplant).
If you're wondering how to pronounce galette, it's not as hard as it looks. It's just gal­- (as in Wonder Woman's Gal Gadot) and –ette (as in her invisible jet). Minus the "j" of course.
Galettes are easy to make, they don't need to look picture-perfect (great if you're more Swedish Chef than Martha Stewart), and you can make them savory or sweet. Perfect for anyone intimidated by pie.
How to Make Galette Dough
Galette dough is far less fussy than pie dough, though you'll find the texture is better if you keep the butter chilled.
Dice the butter, then put it back in the fridge so it's cold when you add it to your mixture.
Whisk the flour, cornmeal, sugar, and salt.
Work the butter into the dough using a pastry cutter.
Drizzle cold water into the mixture, a tablespoon at a time, until the dough comes together and can be easily gathered into a ball.
Roll the galette dough into a ball, flatten it into a disc, wrap it in plastic, and let it chill in the fridge for an hour.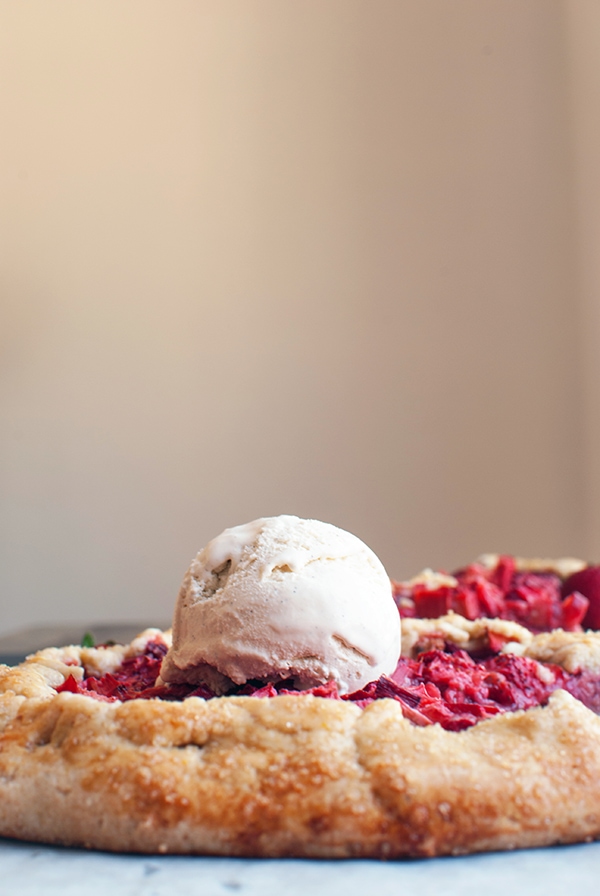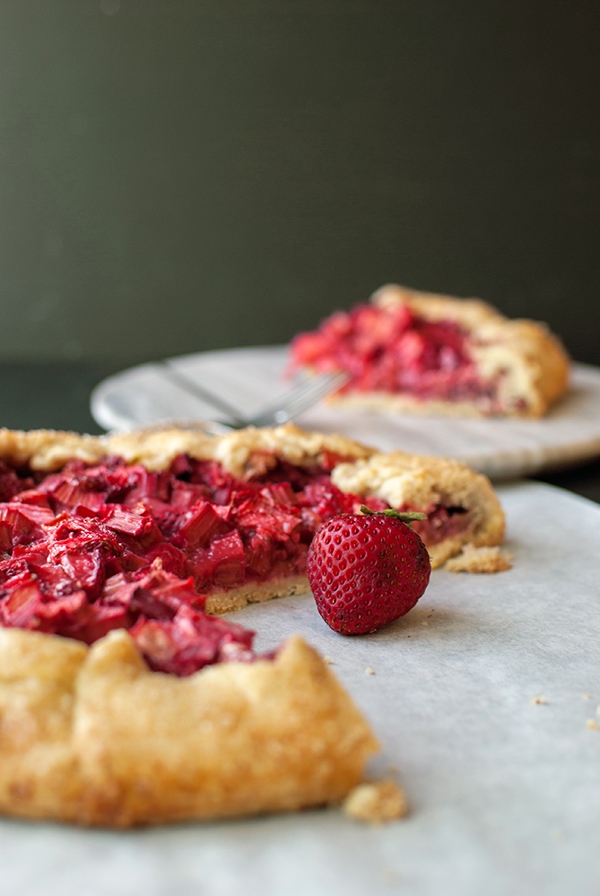 How to Make a Strawberry Rhubarb Galette
You can never go wrong with a classic strawberry galette or, if rhubarb is in season, this slightly more adventurous strawberry rhubarb galette recipe. The combination creates an irresistible summer dessert.
Once baked, top the Strawberry Rhubarb Galette with vanilla ice cream and dig in! Or, if you really want to load up on the strawberry flavor, try a scoop of this homemade strawberry ice cream instead! Or have a scoop of both. We won't tell. But we will write it in our diary.
For this Strawberry Rhubarb Galette, I recommend using fresh strawberries and rhubarb. First, you'll make the galette dough which will chill for about an hour, then you'll create the filling, then you'll assemble and bake the galette.
Assembling the galette is so easy. After rolling the dough into a circle (ragged edges are ok) on a piece of parchment, transfer the parchment to a baking sheet, dust it with the ground almond and sugar mixture, and fill the center with fruit. Then, simply fold the dough towards the center, brush with beaten egg, top with raw sugar if you want, and bake.
You'll want to bake the galette until the fruit is bubbling and the crust is golden and then let it cool on a wire rack. Mostly so you don't burn the roof of your mouth.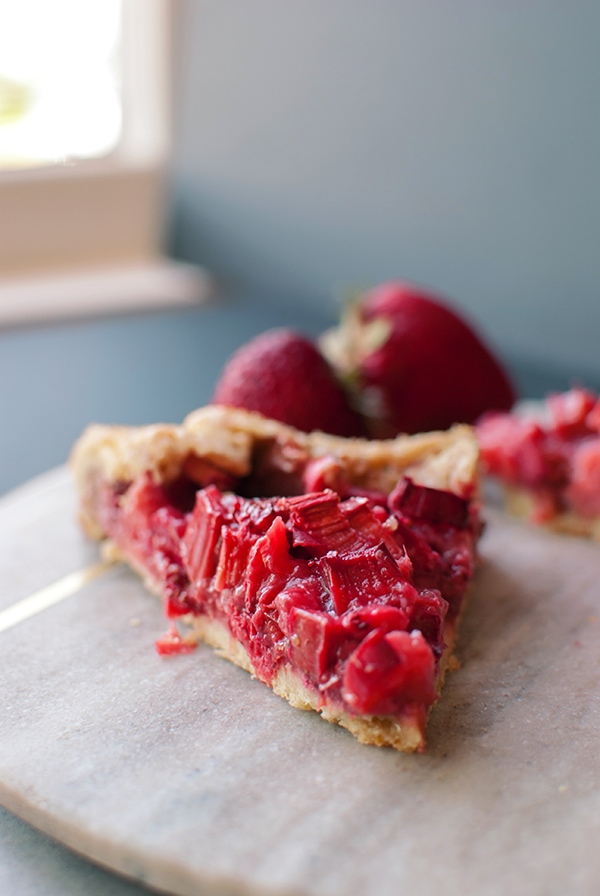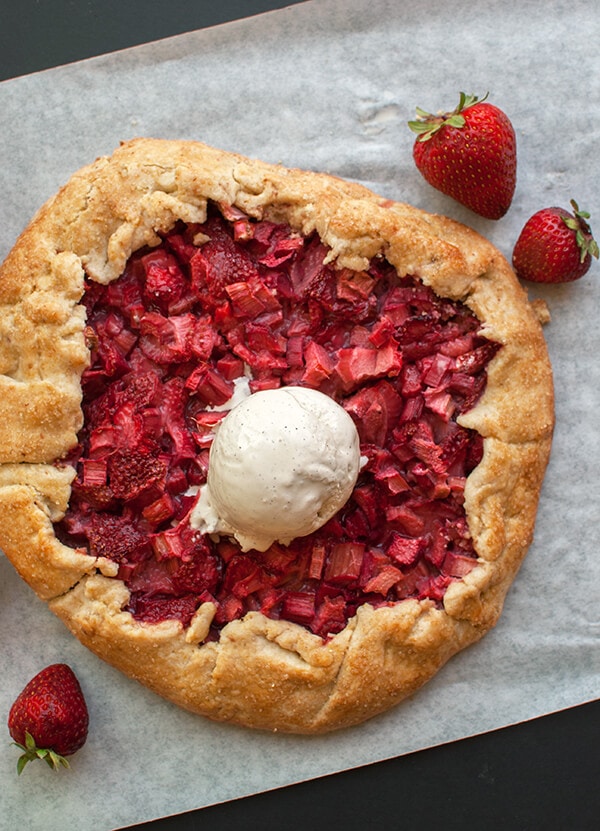 Strawberry Rhubarb Galette Recipe
Print Recipe
Celebrate summer with this sweet and tart Strawberry Rhubarb Galette recipe! It's perfect with a scoop of vanilla ice cream.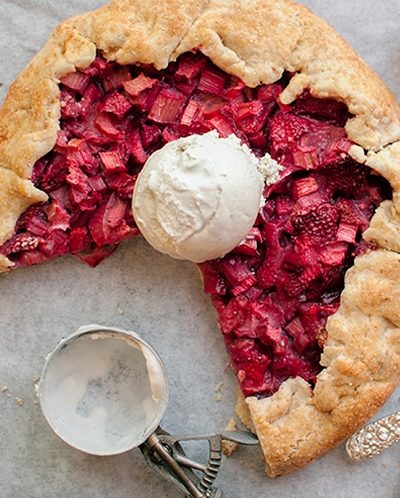 Servings: 8 servings
Ingredients
Galette Dough
125 grams unsalted butter (cold)
175 grams all-purpose flour
75 grams cornmeal
2 Tbsp. caster sugar
¼ tsp. salt
4 Tbsp. ice water
Strawberry Rhubarb Filling
1½ cups sliced strawberries
2 cups rhubarb (sliced into 1/4" pieces)
1 Tbsp. cornstarch
2 Tbsp. caster sugar
½ cup ground almonds
1 large egg (beaten)
1 Tbsp. raw sugar
Instructions
Galette Dough
Dice butter. Return butter to fridge.


Combine flour, cornmeal, sugar, and salt in a medium bowl.


Add cold butter, working in with pastry cutter until fully mixed in and dough chunks are the size of pebbles.


Add water, one tablespoon at a time, until the dough can be gathered into a ball.


Form the ball into a disc, wrap in plastic, and place in fridge for one hour.
Strawberry Rhubarb Filling
Preheat oven to 375° F.


Mix together almonds and sugar in a small bowl. Set aside.


Toss rhubarb, strawberries, and cornstarch together in medium bowl until fully combined.

Galette Assembly
Remove galette dough from fridge and place between two layers of parchment paper. Roll into circle approximately 12" across and 1/4" thick


Transfer bottom layer of parchment paper and dough to baking sheet.


Sprinkle almond mixture on top of dough.


Place strawberry rhubarb mixture in the center of the dough.


Fold the edges of the dough up around the filling. Cover any tears with galette dough from the center.


Brush crust with beaten egg and top with raw sugar.

Bake for 35-40 minutes until crust is golden brown and fruit is bubbling. Remove from oven and let cool on wire rack.

Notes
To make caster sugar, place granulated sugar in bowl of food processor and pulse 15 times.
1 pint strawberries = approx 1½ cups sliced strawberries
2 rhubarb stalks = approx 2 cups rhubarb
Nutrition Facts
Strawberry Rhubarb Galette Recipe
Amount Per Serving (1 slice)
Calories 318
* Percent Daily Values are based on a 2000 calorie diet.
Did you make this recipe?
Leave a review below, then take a photo and tag @letseatcakeblog on Instagram so we can see it!

A Few More Thoughts About Galettes Vs Pies
Growing up, I hated pie. I know. Just indulge my crazy for a moment. I hate mushy things and most pies just tasted like a pie of soggy over-sweetened fruit. Ew.
However, I loved the pie crusts. Which was odd, as I never used to still don't usually eat crusts. But, I used to try and eat around the pie filling, breaking off little pieces of perfectly crisp pie dough and popping them in my mouth.
What about meringue pies or gelatin-based pies? Their texture was somehow worse. Like eating a sponge.
I never saw — or ate — a galette growing up and think I saw my first one in an issue of Bon Appetit sometime around 2012. So, I made it. And it was awesome.
There was very little sugar (at least compared to those pies I was used to) and making the rustic crust was much less intimidating than pie crust. I've since figured out pie crust and love the one I use here in the Maple Pumpkin Pie, but galettes? Yeah, they still totally win the day.
Tell me your favorite fruit galette or tart below!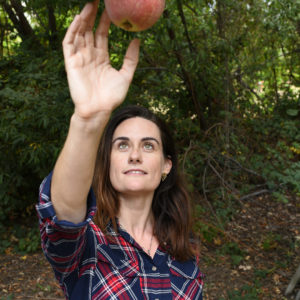 Latest posts by Rebecca Swanner
(see all)