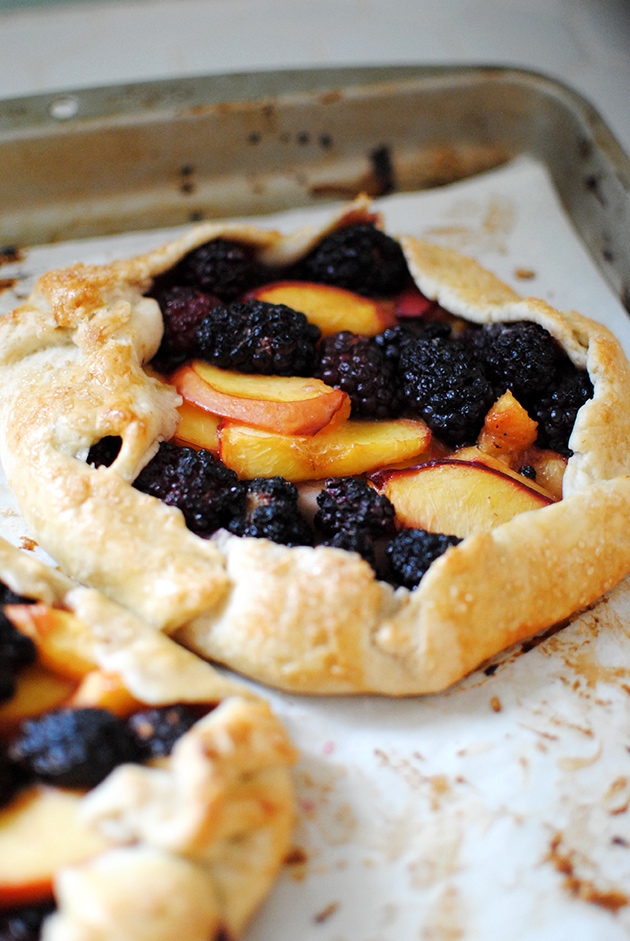 If you're looking for something to make in a pinch, these Nectarine Blackberry Galette minis might just be the thing. Because when I made them, well, I was awfully short on time as a little over a week ago, I was doing the final preparations for my trip to Tulum, Mexico. But I also wanted to make something so I could share a recipe with you before my plane took off at 7AM Friday morning!
So, before work on Thursday, I created these Nectarine Blackberry Galette minis. I love galettes — rustic freeform pies filled with any type of fresh fruit you desire — and the fact that they don't have to look "perfect" when they're done makes them all that much easier when you're in a rush.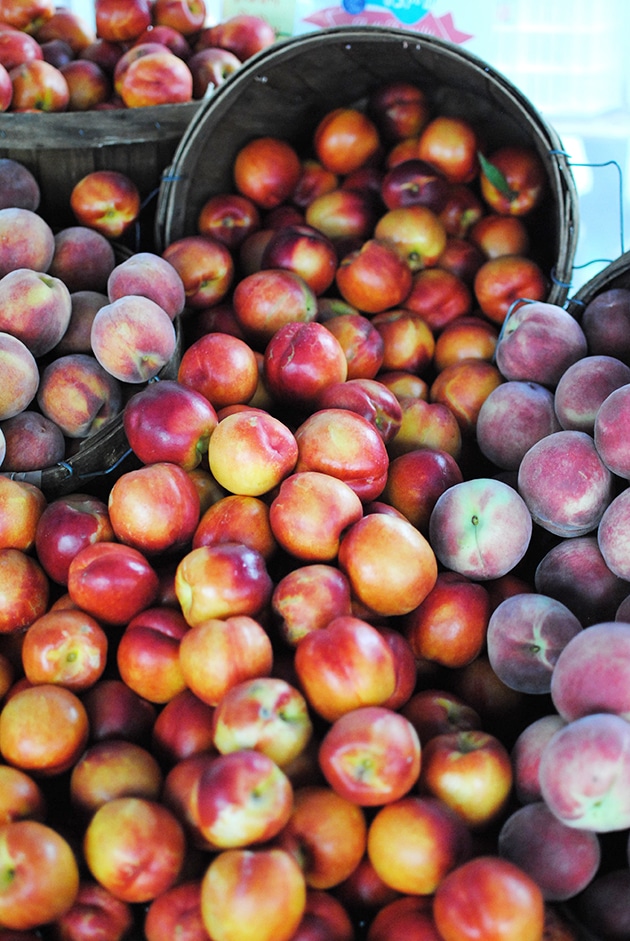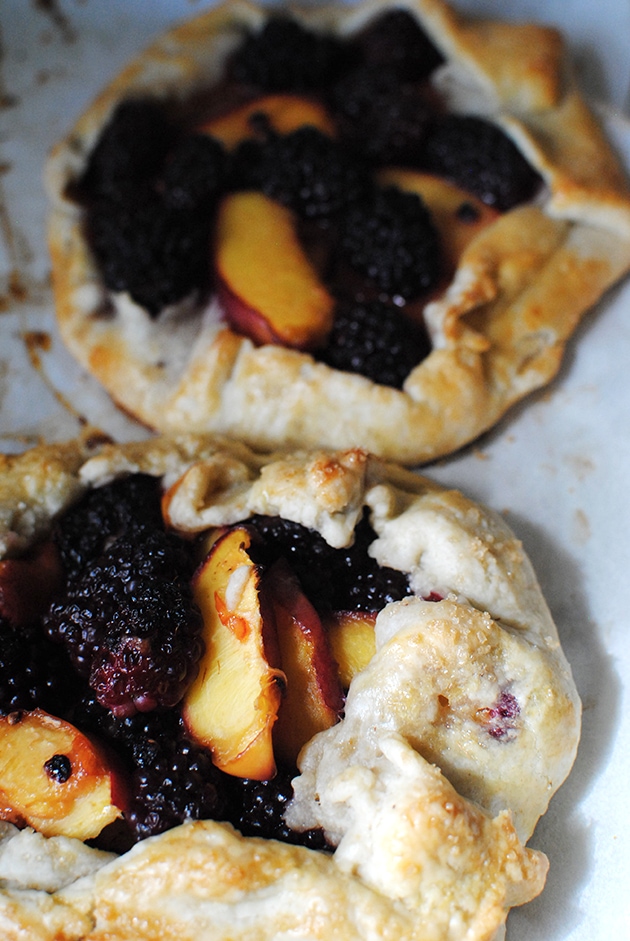 Now, truth be told, the galettes take about 2 hours, but most of that is waiting for the dough to chill in the fridge or waiting for them to bake in the oven. There isn't very much active time at all. Now, you can make a galette by hand, but as I might have mentioned, I was in a little bit of a rush, so I turned to my handy dandy food processor.
To make a galette quickly, add all of your dry ingredients and pulse until they're combined. Then dice your butter and add it all at once, and pulse again until the mixture is coarse and crumbly. Then, pour in 1/4 cup of ice water and run the food processor for 5-10 seconds. Being mindful of the blade, carefully squeeze together the dough and if it holds together, it's done! If not, add up to 1/4 cup more ice water, one tablespoon at a time. You don't want the dough to be wet or sticky, so go slow.
Once the galette dough is how you want it, remove the blade, use your hands (or a spatula) to make sure the dough is evenly mixed, and then place it in the middle of a flour dusted, parchment-lined cutting board or counter. Divide the dough into however many galettes you would like. Usually I just make one galette, but I divided the dough into quarters this time so I would have four mini galettes. Roll each out until it's about 1/4″ thick, wrap in plastic, and place in the fridge for 30 minutes.
While the dough is chilling, mix 2 cups (give or take) of fruit with 1/4 cup of sugar and 1 tablespoon of cornstarch. This draws some of the juice out of the fruit and helps to make your galette even juicier without making it soggy. Win win!
Then, preheat the oven to 375°F and remove the galette dough from the fridge and unwrap each, placing them onto a parchment-lined baking sheet as you do. Then portion 1/2 cup of fruit onto the middle of the first galette and gently fold the edges towards the middle. Don't worry if the dough doesn't cover much of the fruit. It's not supposed to. Repeat with the other three galettes.
To get the shiny, golden brown crust, I whisked an egg and brushed it onto the dough right before they went into the oven. I also added some raw ginger sugar as I love ginger and thought it would be a nice complement in both texture and flavor to the nectarines and blackberries. Bake the gallettes for about 30 minutes or until the crust is golden brown.
You miiiiight have noticed that this recipe didn't go up in May as originally intended. That's because while I was able to make the galettes and get to work on time, I ran out of time to write this post, select and size the images, and get more a few hours of sleep before my flight! I hope you can forgive me! I can't wait to find out how your galettes turn out. Remember, you don't have to make nectarine and blackberry galettes. You can make them with any fruit you want! Tell me how it goes in the comments!
Mini Blackberry and Nectarine Gallete
Print Recipe
Celebrate the arrival of summer's stone fruits with this Nectarine Blackberry galette inspired by Smitten Kitchen.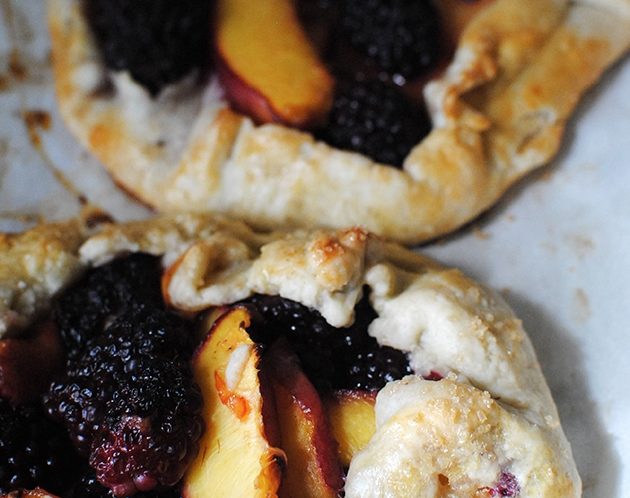 Servings: 4 galletes
Ingredients
2½ cups all-purpose flour
¼ cup + 1 Tbsp. sugar (divided)
¼ tsp. salt
½ tsp. ground ginger
1 cup unsalted butter (chilled)
¼ to ½ cup ice water
1 tsp. cornstarch
4 slices medium nectarines (pitted)
1 pint blackberries
1 large egg
1 Tbsp. raw ginger sugar
Instructions
Combine flour, 1 Tbsp. sugar, salt, ginger in food processor. Pulse to combine.

Add butter. Pulse until mixture is coarse – about 10 seconds.

While food processor is running, add 1/4 cup ice water. Test dough to see if it holds together. Add more ice water, 1 Tbsp. at a time, until it does. Dough should not be sticky or feel wet.

Place dough on parchment-lined cutting board or counter. Divide evenly into number of galettes desired and roll into circles about 1/4" thick.

Wrap circles in plastic wrap and place in fridge for 1 hour.

Preheat oven to 375°F.

While dough is chilling, mix fruit, cornstarch, and 1/4 cup sugar together in medium bowl. Let fruit rest for 30 minutes.

Remove dough from fridge and place rounds on parchment-lined baking sheet. Spoon 1/2 cup of fruit into the center of each and fold in sides. Repeat with remaining 3 galletes.

Whisk 1 egg in small bowl and brush onto crust of each gallete.

Sprinkle crust with raw sugar.

Bake for 30 minutes or until crust is golden brown.
Did you make this recipe?
Leave a review below, then take a photo and tag @letseatcakeblog on Instagram so we can see it!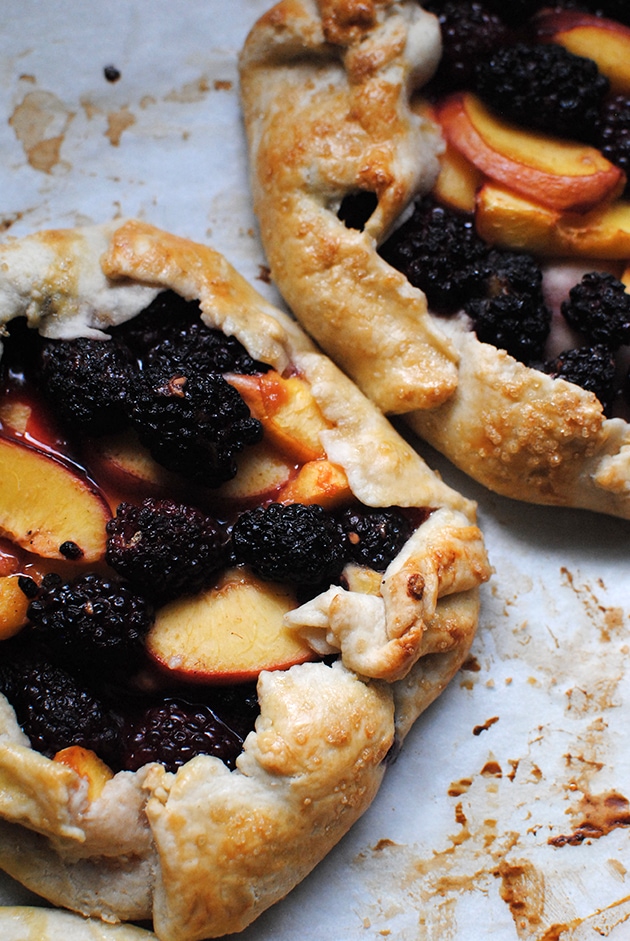 Save
Save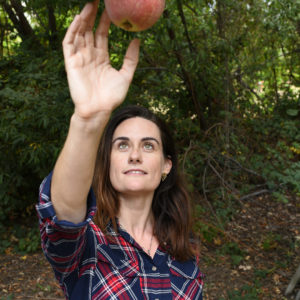 Latest posts by Rebecca Swanner
(see all)