Homemade Pumpkin Pie is a must on Thanksgiving. This year, I tried a twist on the classic recipe by creating a Maple Pumpkin Pie recipe topped with Maple Whipped Cream.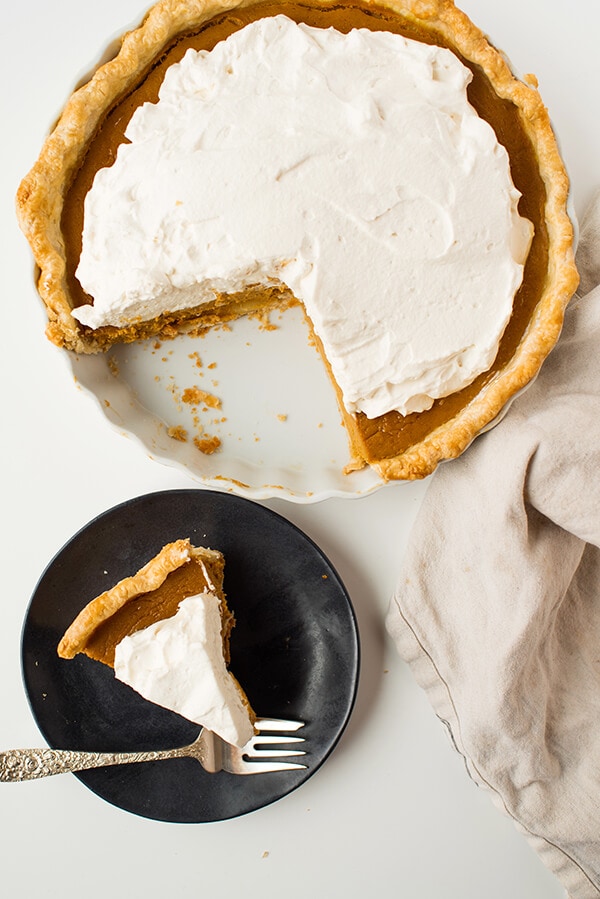 Can we talk about homemade pumpkin pie for a moment? I like pie (though that's something my under 25 year old self would never have said), but pie totally intimidates me. That whole saying "easy as pie"? Who came up with that? Julia Child? Betty Crocker? Because that is just a bold-faced lie. Pie is not easy. Unless you're talking about eating it, in which case, yessssss, tell me more. But, to make it, not so much.
Or is it?
I spent this past Saturday mostly avoiding making a homemade pumpkin pie. I had made some dark chocolate peppermint energy balls earlier in the day and then procrastinated most of the rest of the day because I knew I had to make a pie (this one in fact), but I did. not. want. to. But Thanksgiving is coming!
Homemade pie is required! Right? Right. Sigh. I mean there's this nice Bread Pudding with Bourbon Sauce you could have or maybe this Apple Pie Bread that has layers upon layers of apple pie filling woven into a cinnamon-bread… or even these Pumpkin Cupcakes with Cream Cheese Frosting… but I know almost everyone's gonna want a pie. Sigh. Again.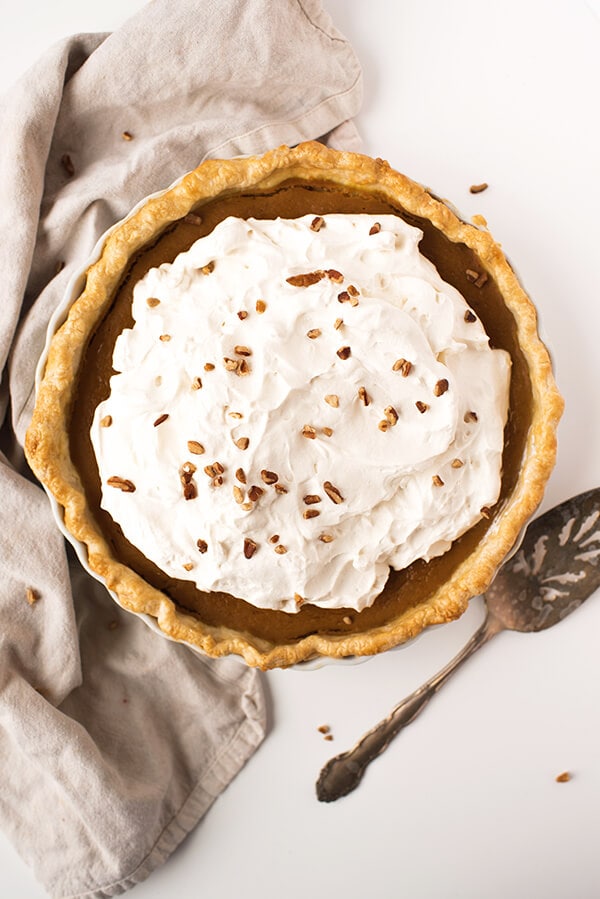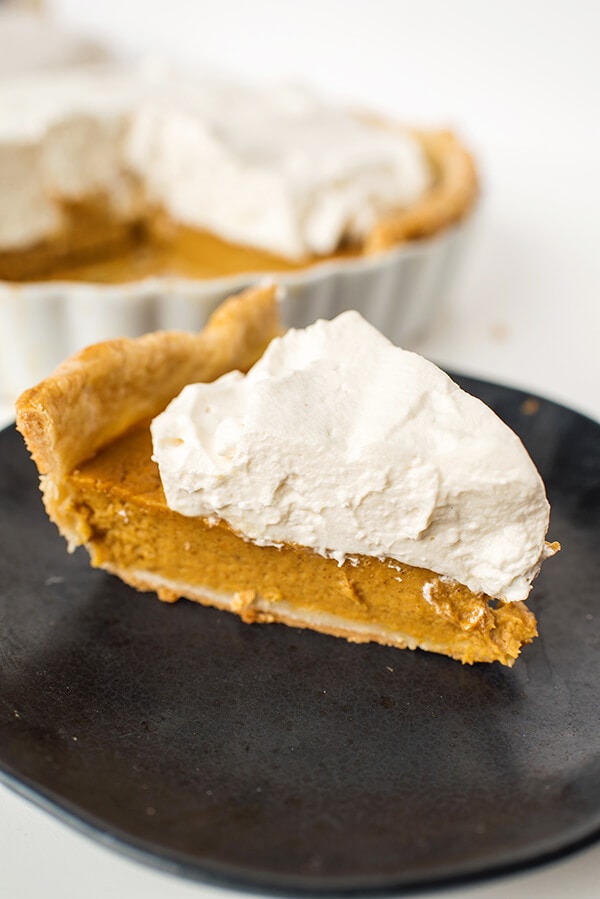 So. Pumpkin pie it is. I am not — in case you had not yet guessed — an expert pie maker. But, I wanted to make a homemade maple pumpkin pie topped with maple whipped cream and maybe some pecans. If I pile all this on top of the pie, I'm just going to assume you totally won't notice how it doesn't look perfect. Because that's where pie trips me up. Yummy pumpkin pie filling? Check. Flaky pie crust? Check. Putting them together? Ughhhhh.
Because I am not (yet) a homemade pumpkin pie expert and I wanted to make the best pumpkin pie I could… I turned to the pie experts! I read through Bon Appetit's pumpkin pie recipes and The Faux Martha's pumpkin pie recipes and Sally's Baking Addiction's pumpkin pie recipes, and The Boy Who Bakes' pie recipes (I don't think he makes pumpkin pie…).
Between all of that research, I cobbled together some general instructions on how to make a flaky pie crust and how to get the whole thing to not be a disaster.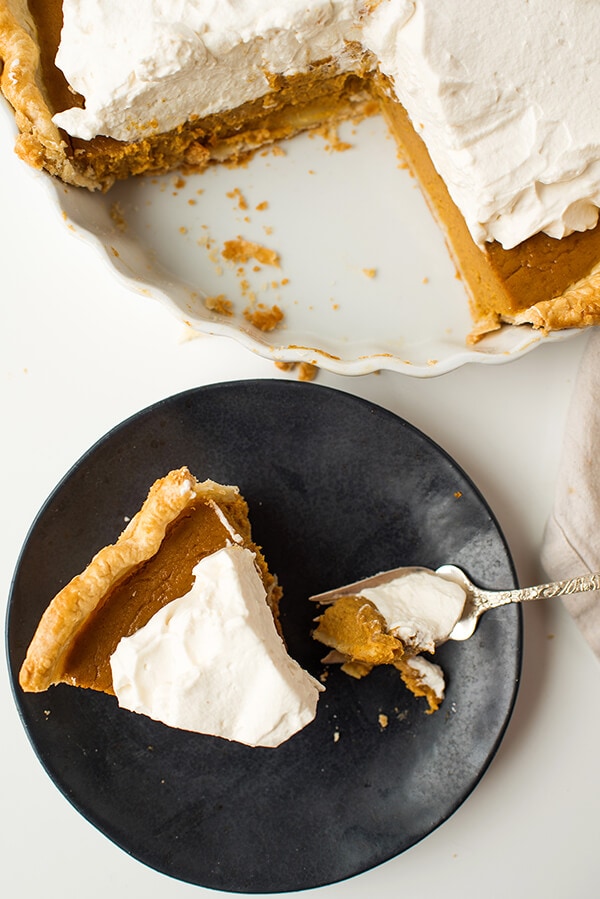 How (Not) to Make a Homemade Pumpkin Pie
In case you think I am overreacting, the first time I made a pie, I set off the smoke alarm because the entire filling overflowed and scorched the bottom of the oven. Once the dinner guests and the hosts spent nearly 15 minutes airing out the kitchen, it turned out the pie itself was pretty tasty. It was a blueberry pie — and I will eventually remake it and publish the recipe.
However, homemade pumpkin pie seems to be my nemesis. The first pumpkin pie I made I burnt to a crisp in my parent's microwave/oven thingadoo. I don't know why I couldn't use the regular oven, but on top of making a pie at all, I tried to make a gluten free, sugar-free pie and well the whole thing just ended up looking (and tasting) like charcoal. Into the trash bin it went. Ever since, I've only been permitted to use the actual oven. So I guess it was worth the sacrificial pie.
The second two I made took me hours. I mean hours. I tried to make a cute squirrel on top and some pretty leaves around the side on one and on the other, I made a ring of leaves and put three leaves in the middle. On that one, I managed to squish at least half the pie crust taking it out of the oven, so that was nice. Let's maybe not discuss the garish, unflattering yellow sweater I'm wearing in this photo and stick to comments about the pie on the right, k? Also, WHY DID I MAKE THE PIE IN A CAKE PAN. So may questions about this one.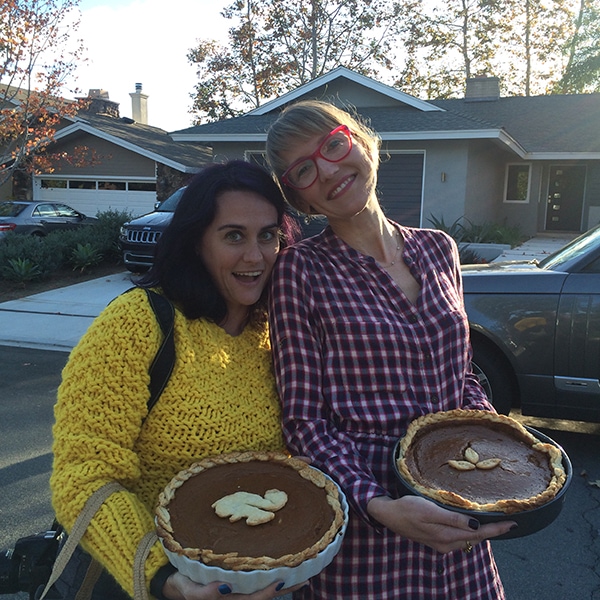 How TO Make a Homemade Pumpkin Pie
This time, honestly, though, it wasn't that hard. I followed The Boy Who Bakes' recipe for flaky pie crust, which means you'll have another disc leftover in case you would like to make pretty designs on top – you'll notice I skipped those this time. Instead, I went with a mound of maple-flavored whipped cream!
I filled the pumpkin pie with a super creamy, custard-like filling. I cooked down the pumpkin pie filling to remove some of the water inherent in the canned pumpkin, then I replaced the water with heavy cream and eggs. (I never said this was a healthy pie.)
So there you have it. If I can make a homemade pumpkin pie, you can definitely make a pumpkin pie. And, if you do make this recipe, please tag me on Instagram at @letseatcakeblog! I will share your pie photos in my IG story!
Homemade Pumpkin Pie with Maple Whipped Cream
Print Recipe
This homemade pumpkin pie swaps sugar for maple syrup and is topped with a delicious maple-flavored whipped cream topping!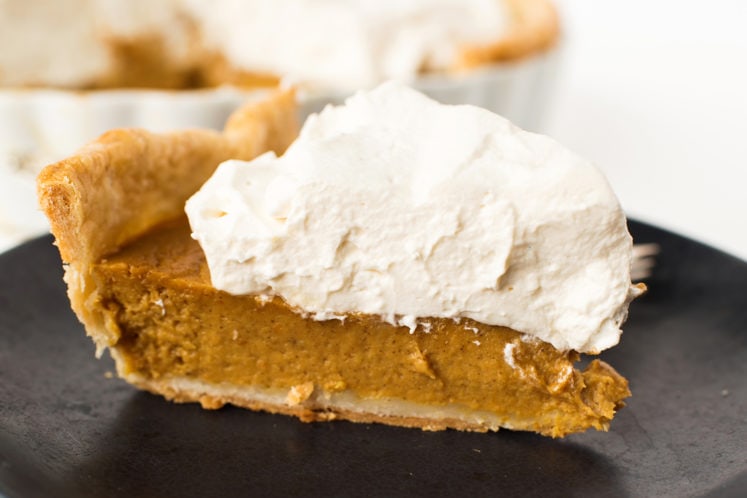 Servings: 12 servings
Ingredients
Pumpkin Pie Crust
2 2/3 cups all-purpose flour
1/2 tsp. coarse kosher salt
14 1/2 Tbsp. butter (diced and chilled)
3 tsp. distilled white vinegar
9 Tbsp. water
1 large egg (beaten)
Pumpkin Pie Filling
1 can pumpkin puree (not pumpkin pie filling)
2 Tbsp. brown sugar
1 tsp. ground cinnamon (plus extra 1/2 tsp. if you love cinnamon)
1 pinch ground cloves
1 pinch ground nutmeg
1/2 tsp. ground ginger
1/2 tsp. coarse kosher salt
1 cup heavy cream
2 large eggs (room temperature)
1 large egg yolk (room temperature)
1 tsp. vanilla extract
1/2 cup maple syrup
Maple Whipped Cream
1 cup heavy cream
3 Tbsp. maple syrup
Instructions
Pumpkin Pie Crust
Place flour and salt in a medium bowl and whisk together.


Add diced butter and use pastry blender or forks to work until butter chunks are pea sized, but no smaller.


Drizzle vinegar and 4 Tbsp. water into mixture. Work liquid through mixture with your hands. Add 1 Tbsp. at a time, until mixture no longer feels dry and can be gathered into a ball.


Create two equal-sized balls. Flatten each into a disc, and wrap in plastic. If making a top, place both in fridge. Otherwise, place one in fridge for one hour and the other in the freezer to be used for another pie.


Preheat oven to 375°F.


Place dough on a lightly-floured surface. Roll out into 12" round, turning the dough one-quarter every few rolls.


Drape pastry over rolling pin and place in 9" pie pan. Press gently onto the sides and crimp top.


Place a piece of parchment inside, fill with pie weights, beans, or rice.


Brush outside with beaten egg.

Bake for 10 minutes. Remove from oven and set on cooling rack while you make the filling.

Pumpkin Pie Filling
Whisk eggs and egg yolk in small bowl. Set aside.


Heat pumpkin, brown sugar, cinnamon, cloves, nutmeg, ginger, and salt, in pot until hot.


Cook for 5 minutes, stirring continually. Remove from heat.

Pour heavy cream into pumpkin mixture and stir until combined. Add eggs. Stir until combined. Add vanilla extract and maple syrup. Stir until combined.


Fill pie crust with pumpkin pie filling. Bake for 25 minutes, then cover edges with aluminum foil or pie guard.


Bake for a total of 45-60 minutes, until pie looks dry around edges, crust is golden, and the top jiggles just slightly.


Remove and let cool completely. This may take up to 3 hours.

Maple Whipped Cream
Pour heavy cream into mixing bowl. Mix with whisk attachment on high until soft peaks have formed.


Add maple syrup. Whisk until soft peaks have reformed. Decorate pie.

Nutrition Facts
Homemade Pumpkin Pie with Maple Whipped Cream
Amount Per Serving (1 slice)
Calories 351 Calories from Fat 225
% Daily Value*
Fat 25g38%
Carbohydrates 29g10%
Fiber 1g4%
Sugar 16g18%
Protein 4g8%
* Percent Daily Values are based on a 2000 calorie diet.
Did you make this recipe?
Leave a review below, then take a photo and tag @letseatcakeblog on Instagram so we can see it!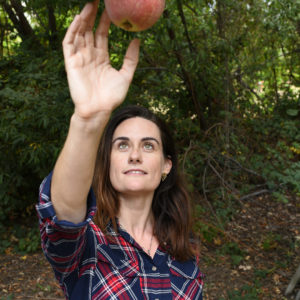 Latest posts by Rebecca Swanner
(see all)