Warm apple pie is one of the best things ever, don't you think? For this Apple Pie Bread recipe, I combined my favorite apple pie recipe with my go-to babka recipe. All it needs now is a scoop of vanilla ice cream!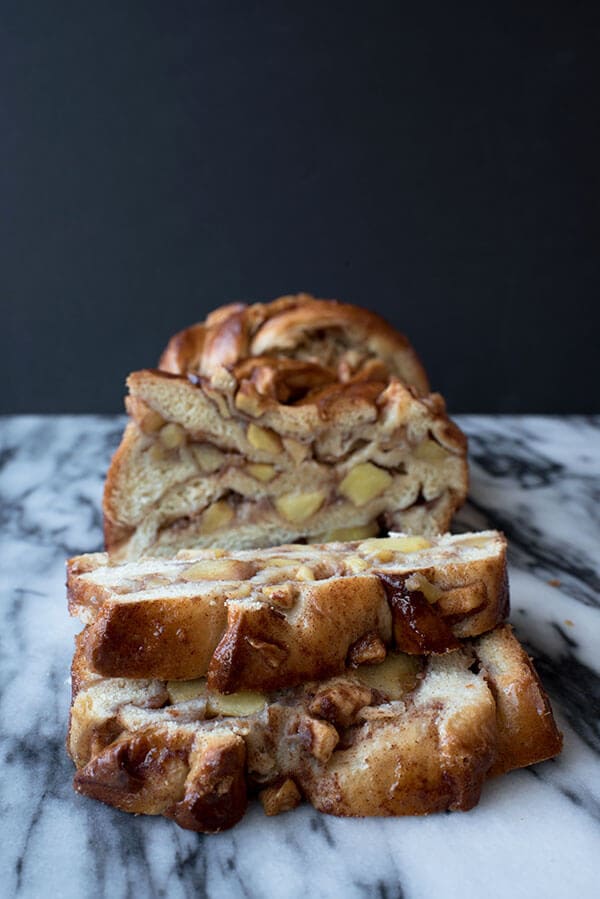 Fall is here, and it's the time when all the lovely apple pie recipes start popping up. And I plan to indulge in many of them, like this Apple Pie Bread recipe that's perfect to enjoy fall. Or really, any Tuesday. Or Sunday. Or Thanksgiving.
Every Thanksgiving, my mom makes this unreal apple pie that's inspired by a classic Betty Crocker recipe from that one cookbook. You know the book. It's the one with the red and white checkered cover that seems like it's in pretty much every kitchen in America. And, I've got to say, there's a reason that apple pie recipe is a classic. It's really, really good. So I took the filling and put it into the center of a babka to make Apple Pie Bread.
What does this Apple Pie Bread recipe taste like? Imagine layers of pillowy, cinnamon-spiced dough separated by layers of the best apple pie filling. And then topped with a honey caramel sauce. I mean, you don't have to pour the honey caramel sauce on top… you can save it for drizzling on the ice cream you're going to want to top this with!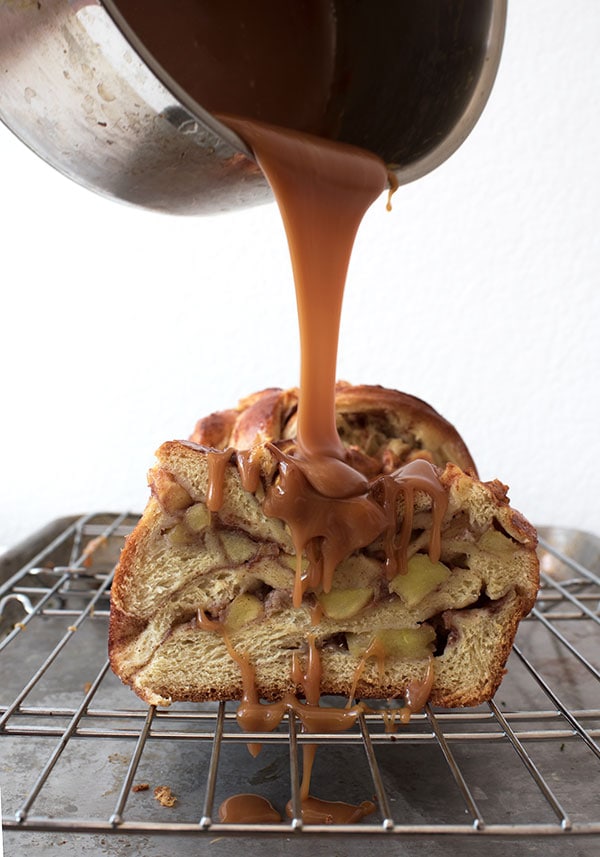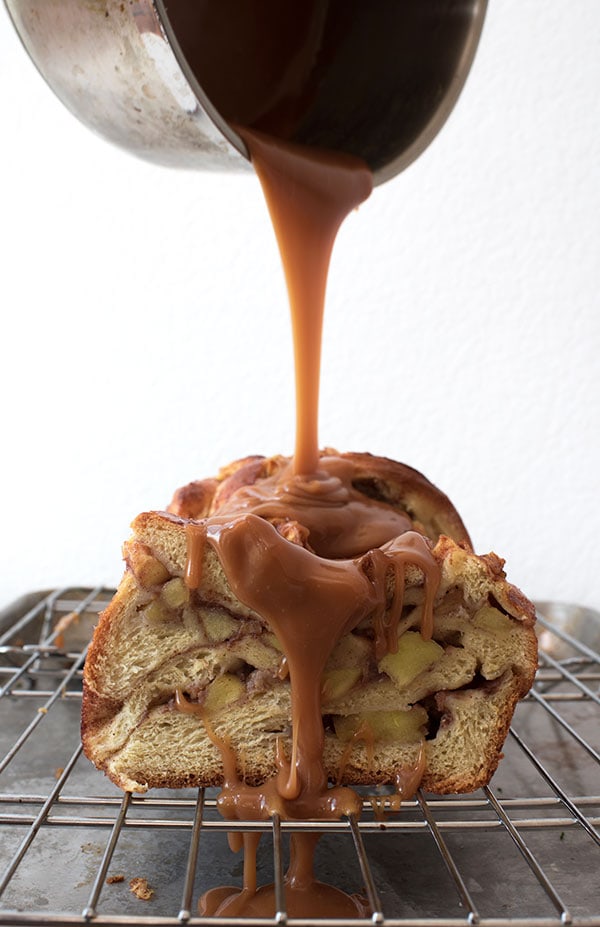 Making this Apple Pie Bread recipe isn't too challenging. It does take time as you want to give the bread enough time to rise twice, but the trickiest part is twisting it and getting it into the loaf pan without losing all of the filling. This illustration from The Nosher by Aly Miller is so perfect for how on earth to best twist a babka!
With a classic chocolate babka, the filling layer is pretty much like a paste. I know that doesn't sound yummy, but essentially, once you spread it on, it's not going anywhere. With this Apple Pie Bread babka, those chunks of apple are going to want to escape all over your counter. It's bound to happen. I lost quite a bit of the apple pie filling when I moved the roll from counter to the pan, but I just tucked the apples back inside the dough. For the Apple Pie Bread recipe, I used Fuji apples, but Pink Lady or your favorite baking apple will work just fine! If you're not sure which to choose, here's a little guide on what apples work well in baking!
Here's how to make the Apple Pie Bread! Let me know how yours goes and ask me any baking questions you have in the comments!
Apple Pie Bread Recipe
Print Recipe
This Apple Pie Bread recipe wraps apple pie filling in pillowy layers of cinnamon bread. Top with vanilla ice cream and a honey caramel sauce!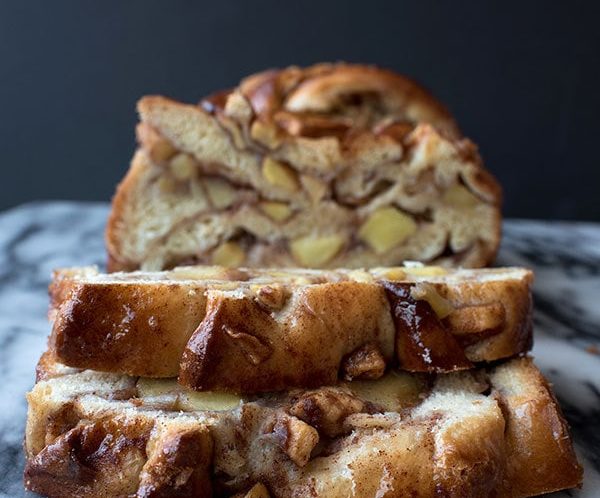 Servings: 16 servings
Ingredients
Apple Pie Bread
4¼ cups all-purpose flour
¾ cup sugar (divided)
¼ cup brown sugar
4½ tsp. ground cinnamon (divided)
2 tsp. instant yeast ((one packet))
3 large eggs
½ cup water (room temperature)
2/3 cup unsalted butter (cut into tablespoons)
¾ tsp. salt
Nonstick spray
Apple Pie Filling
6 Tbsp. sugar
¼ cup all-purpose flour
½ tsp. ground cinnamon
½ tsp. ground nutmeg
¼ tsp. salt
7 medium apples (peeled, cubed)
¼ cup unsalted butter (room temperature )
Sugar Syrup
1/3 cup sugar
1/3 cup water
Honey Caramel Sauce
½ cup butter
1 cup sugar
2 Tbsp. honey
3 cups heavy cream
Instructions
Apple Pie Bread
Add flour, 1/4 cup sugar, 1/4 cup brown sugar, 1/2 tsp. cinnamon, and yeast to the bowl of a stand mixer fitted with a dough hook. Mix until combined on low speed.


Add eggs, one at a time, mixing for 30 seconds between each.


Add water.



Add butter, one tablespoon at a time. Add salt and scrape down sides with spatula.


Turn speed to medium and mix for 10 minutes until dough is smooth.


Coat large bowl with nonstick spray. Place dough inside. Place tea towel or plastic wrap on top and let rise at room temperature until doubled (up to 8 hours).

Spray two 9" x 4" loaf pans. Line bottoms with parchment paper. Set aside.


Flour baking sheet. Set aside.


Make Apple Pie Bread filling. Whisk sugar, flour, cinnamon, nutmeg, and salt together in medium bowl. Add apples and work with hands until apples are completely coated and mixture is wet. Set aside.


Combine 4 tsp. cinnamon and remaining 1/2 cup sugar in small bowl. Set aside.


Sprinkle counter with flour. Cut dough into two equal pieces and roll the first into 10" x 12" rectangle.

Top rectangle with 1/2 cinnamon sugar mixture. Spread 1/2 apple pie filling mixture on top. Dot with butter.


Starting from the edge closest to you, roll dough from bottom to top. Wet the top edge with water to seal. Place on floured baking sheet and put in freezer for 10 minutes. Repeat with other half of apple pie bread dough.


Remove roll from freezer and, starting 1" from top, slice in half lengthwise. Twist two halves around each other, keeping filling on the outside. Tuck the roll inside the loaf pan. Repeat.


Place tea towel on top of each loaf pan. Let rise for 90 minutes.

Preheat oven to 375° F. Bake on middle rack for 30 minutes or until golden.


Let Apple Pie Bread cool on cooling rack in loaf pan.


Make the sugar syrup. Combine sugar and water together in a small saucepan. Heat on medium until sugar has dissolved. Brush sugar syrup over baked bread. Let cool completely before adding Honey Caramel Sauce.

Honey Caramel Sauce
Combine butter, sugar, and honey in saucepan. Heat on medium low until all ingredients have combined.


Cook, stirring often, until mixture is medium brown. Add heavy cream and whisk to combine. Add additional heavy cream if needed to obtain desired consistency.

Did you make this recipe?
Leave a review below, then take a photo and tag @letseatcakeblog on Instagram so we can see it!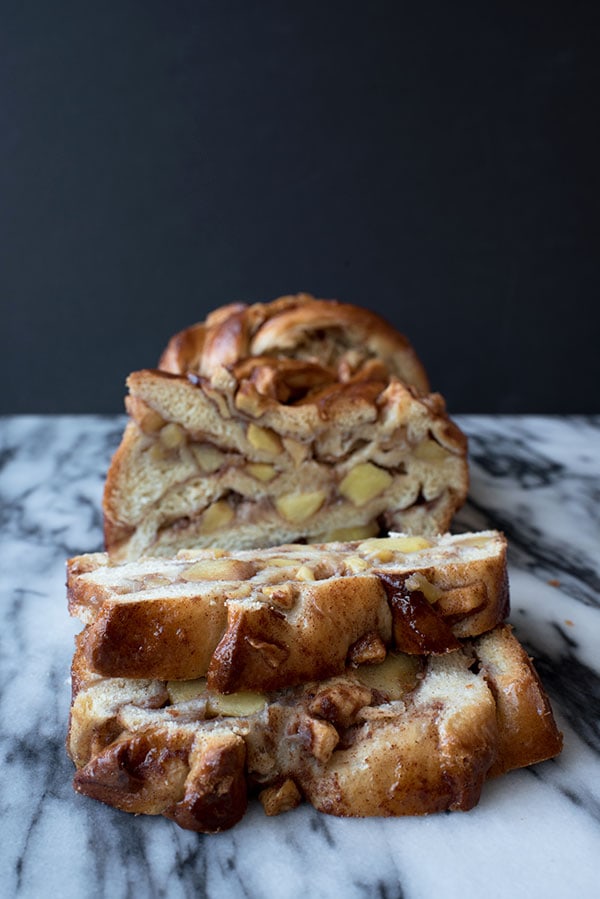 Pin this Apple Pie Bread Recipe for later!

Save
Save
Save
Save
Save
Save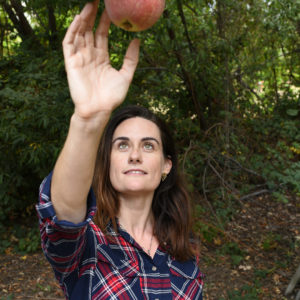 Latest posts by Rebecca Swanner
(see all)