This Apple Cider Mule is a refreshing twist on the traditional Moscow Mule. It's made with Kentucky bourbon, apple cider, ginger beer and is the perfect cocktail for Fall.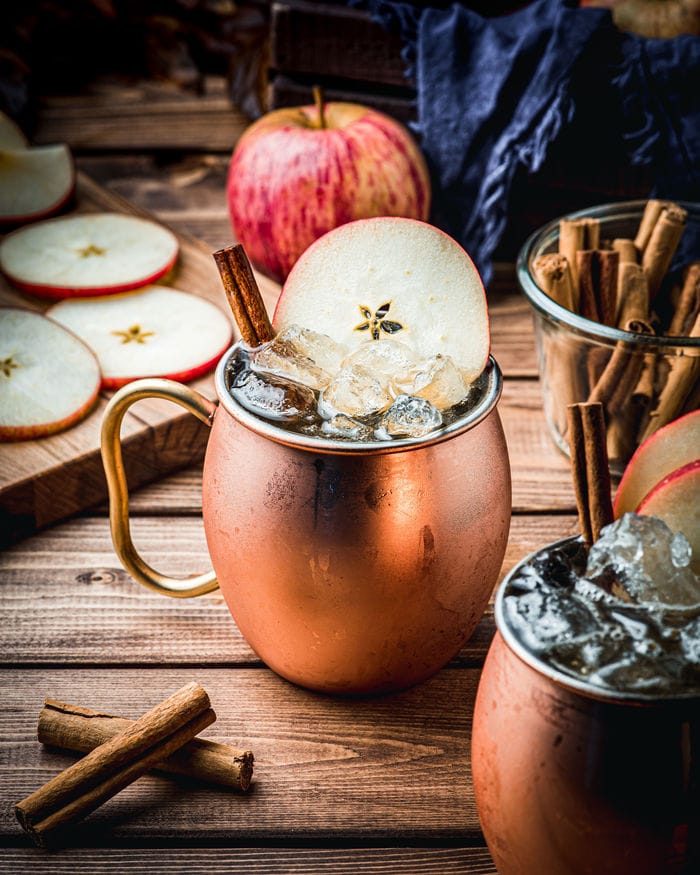 Oh, Moscow Mule, how we love thee! Let us count the ways. One… two. There are two reasons we love you. Your ginger-led kick, for one, and two, your very specific vessel requirement — a copper mug that, weirdly, doesn't keep drinks colder or add anything to the taste, but definitely tells everyone exactly what we're drinking.
But now it's fall and we need everything to taste cinnamon-y. That's why we remixed the classic mule! Specifically, we swapped out the vodka for good 'ol bourbon. We kept the ginger beer, but also added apple cider. Then we went bananas with some garnishes — none of which are bananas.
The result is an easy and delicious cocktail for a post-apple picking sesh or pre-Thanksgiving family blowout.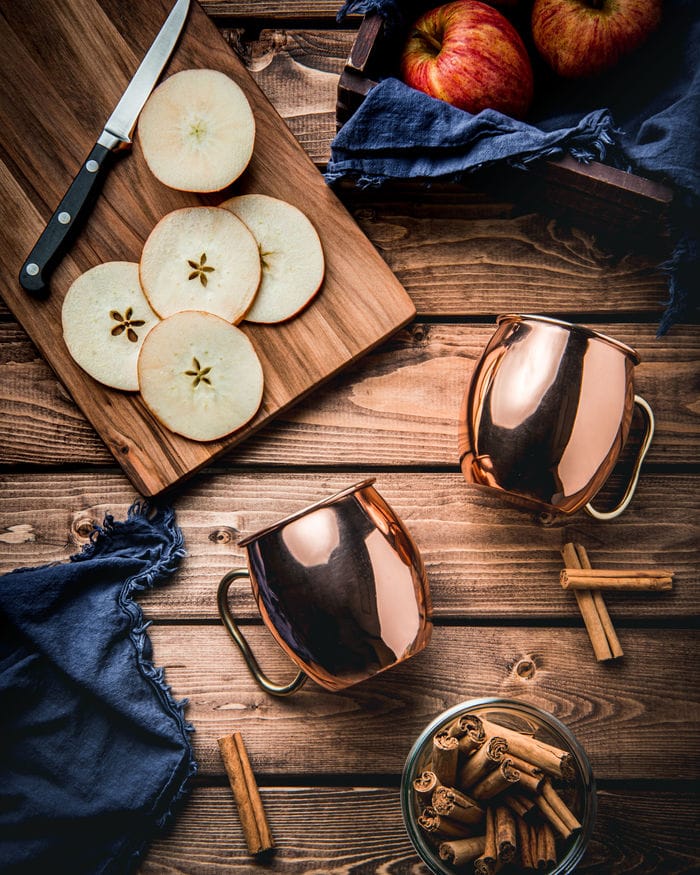 To make the Apple Cider Mule, pour all the ingredients into a cocktail shaker and stir it good. If you shake it, it's gonna go all over your kitchen. (If you're short on home bar tools, check out our list of essential items that double as good gifts.)
Fill that lovely copper mug with ice and strain the mixture into it. Garnish with a cinnamon stick and an apple slice. You could skip the garnish and the mug, but then what will you post on your socials?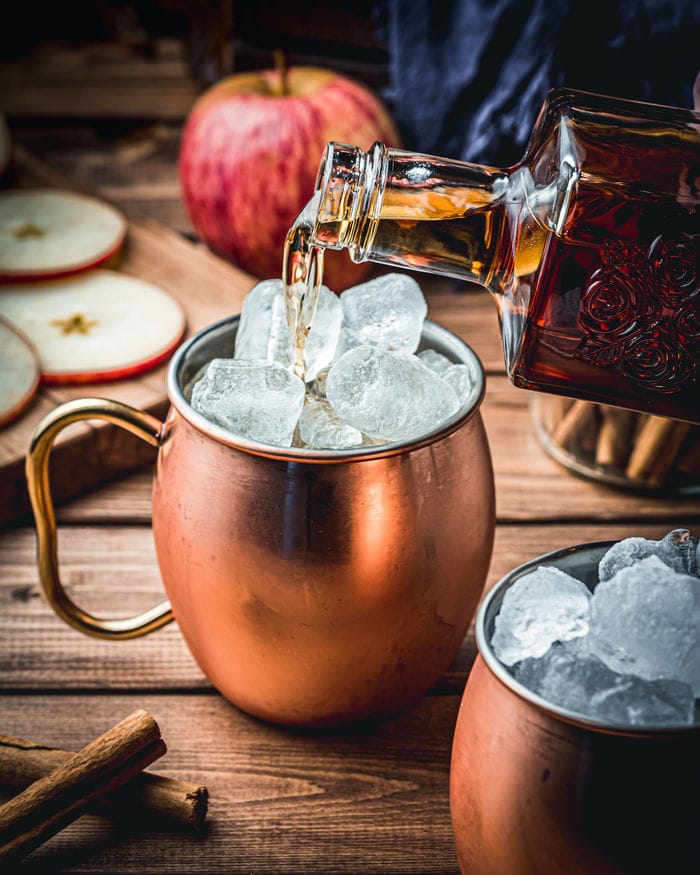 What Kind of Ginger Beer Should I Get?
We recommend one of these ginger beers:
Can I Use Ginger Ale Instead?
Ginger ale is a fine accompaniment to saltine crackers, but is too sweet for a proper cocktail. You should use ginger beer instead of ginger ale in a Moscow Mule. Ginger ale doesn't have the ginger-forward flavor of ginger beer, and your drink won't have that mule kick you're going for.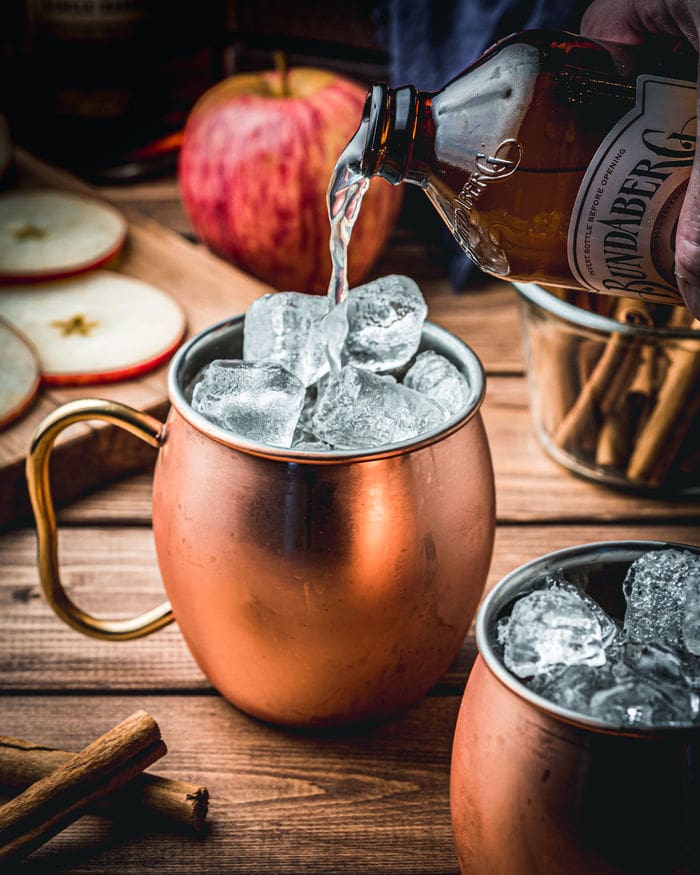 What Apple Cider Mule Variations Are Possible?
Non-Alcoholic: Easy. Leave out the bourbon. Despite the name, ginger beer doesn't actually contain alcohol. Or ginger! (Not sure about that last bit, but it definitely doesn't have alcohol.)
Spicy: Add cinnamon! A little bit goes a long way, so we'd start with ⅛ teaspoon per cocktail. Bonus: Cinnamon may improve heart health. Take that, turmeric — all you do is fight inflammation.
Less Sweet: If bourbon is too sweet for you, swap the bourbon for whiskey or rye. If anyone starts singing, that's a sign to cut them off.
Apple Cider Mule
Print Recipe
This Apple Cider Mule is a fall twist on the traditional Moscow Mule. The easy cocktail is made with Kentucky bourbon, apple cider, ginger beer.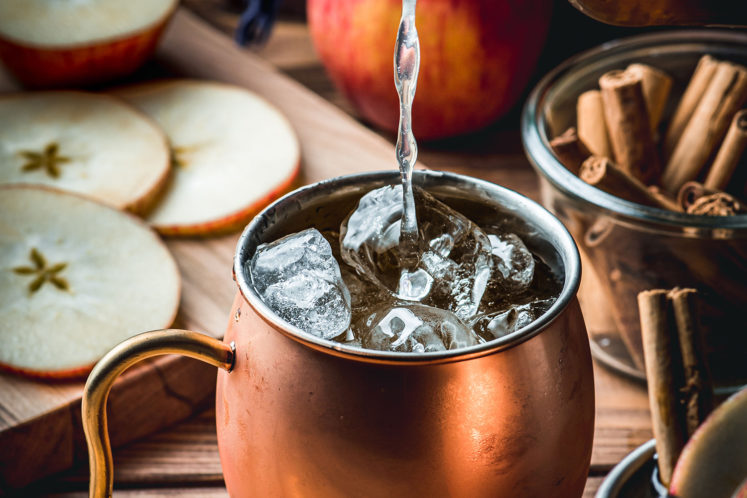 Servings: 2 cocktails
Ingredients
4 oz. Kentucky bourbon
6 oz. ginger beer
1 oz. apple cider
1 apple slice (optional)
1 cinnamon stick (optional)
Instructions
Fill copper mugs with cubed ice.

Place bourbon, ginger beer, and apple cider in a cocktail shaker. Stir thoroughly to combine, then strain over ice.

Add cinnamon stick to mug and top with apple slice to garnish.
Notes
Equipment: Copper Mugs | Cocktail Shaker
Measuring: An easy way to measure out the cocktail's ingredients is by using a tablespoon. Two tablespoons equals 1 oz. For two mules, you'll need 8 tablespoons for the bourbon, 12 for the ginger beer, and one for the apple cider.
Nutrition Facts
Apple Cider Mule
Amount Per Serving (1 cocktail)
Calories 187
* Percent Daily Values are based on a 2000 calorie diet.
Did you make this recipe?
Leave a review below, then take a photo and tag @letseatcakeblog on Instagram so we can see it!
Photos by Angela Persicke of Cooking with Wine.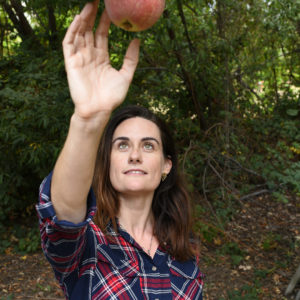 Latest posts by Rebecca Swanner
(see all)