Make these Kentucky Chocolate Bourbon Balls by dipping a bourbon-infused buttercream frosting in dark chocolate! and topping each with a pecan for a party-perfect look. They're sweet with a little kick. Great for enjoying during the holidays or while watching the Kentucky Derby!
If you love bourbon recipes, make sure to check out this Bread Pudding with Bourbon Caramel Sauce and these Maple Bourbon Candied Pecans!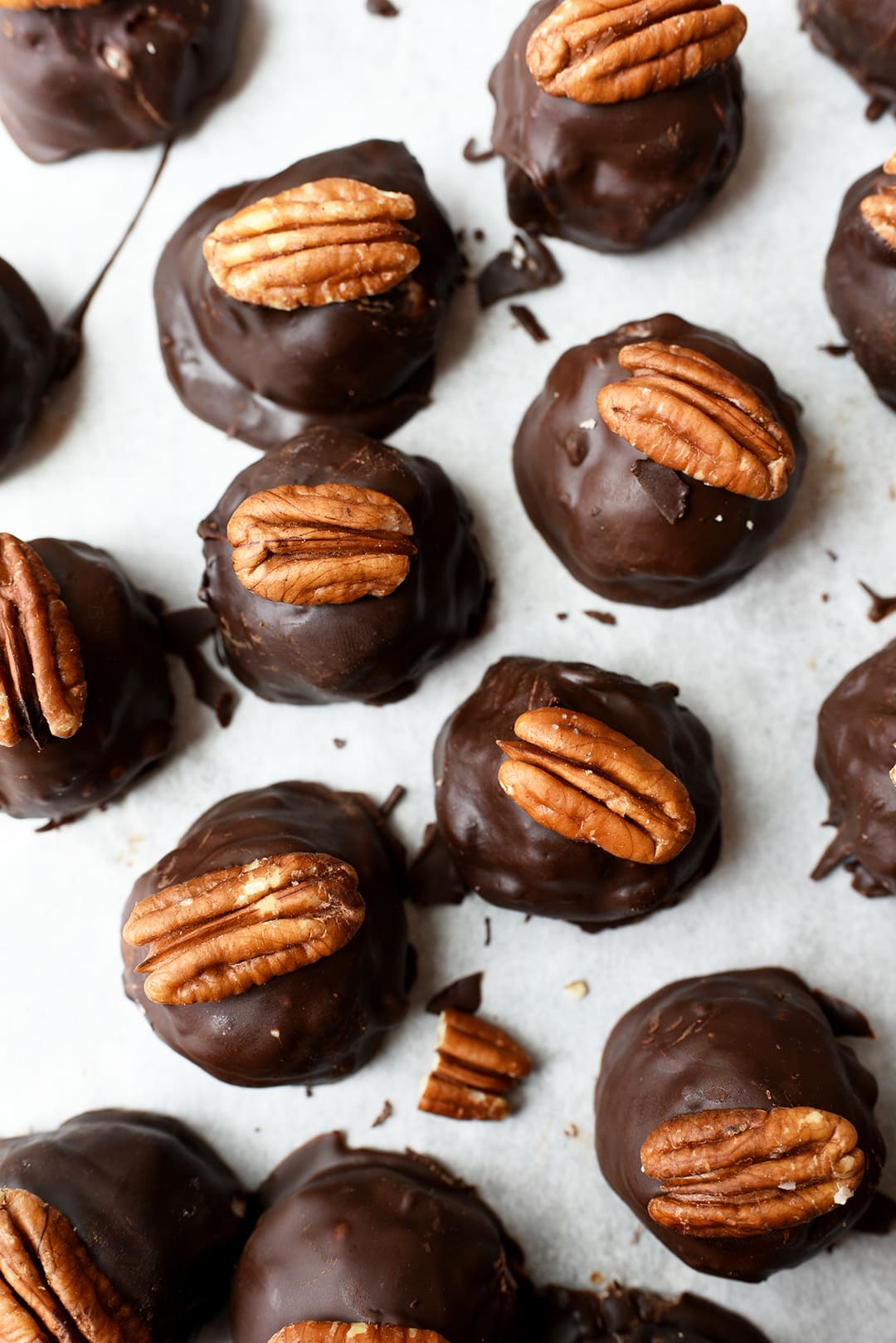 What Are Kentucky Bourbon Balls?
Kentucky Bourbon Balls were invented in 1938 by Ruth Booe, the confectioner behind Frankfort, Kentucky's Rebecca Ruth Candies. The company still sells her original Bourbon Balls candies made with a bourbon-infused cream center that has been dipped in dark chocolate and topped with a whole pecan.
How to Make Bourbon Balls
This Bourbon Ball recipe is similar to Ruth Booe's. Which means unlike other recipes, it doesn't include chopped pecans, vanilla wafer crumbs, or corn syrup.
Instead you'll use electric mixer to combine butter, powdered sugar, bourbon, salt, and vanilla extract together into a cream filling. Roll these into 1-inch balls and let those harden in the freezer. Finally, dip each bourbon ball in dark chocolate and top it with a whole pecan.
If you don't like chocolate, you can take the hardened cream balls and roll them in powdered sugar or cocoa powder, but it'll change the whole taste and I haven't tested this. (If you do this, let me know in the comments how it goes!)
To make this recipe easy and accessible, I didn't temper the chocolate, so you'll need to store them in the fridge, but if you wish to temper the chocolate, you can store them at room temperature. Unless it's really hot out in which case they'll melt. Also, if you don't have parchment paper, you can use waxed paper instead. I just have 200 pre-cut sheets of parchment on hand, so it's my go-to.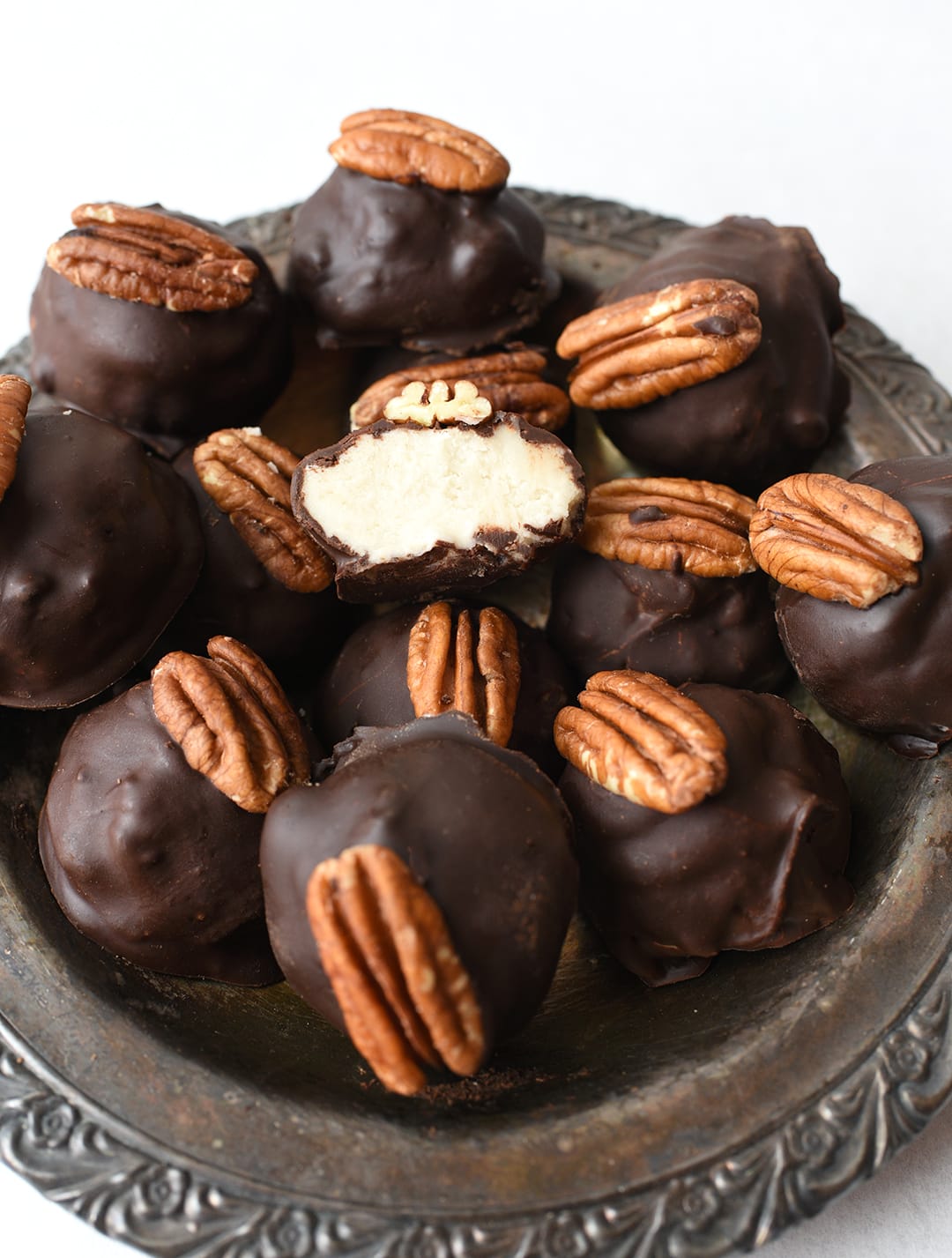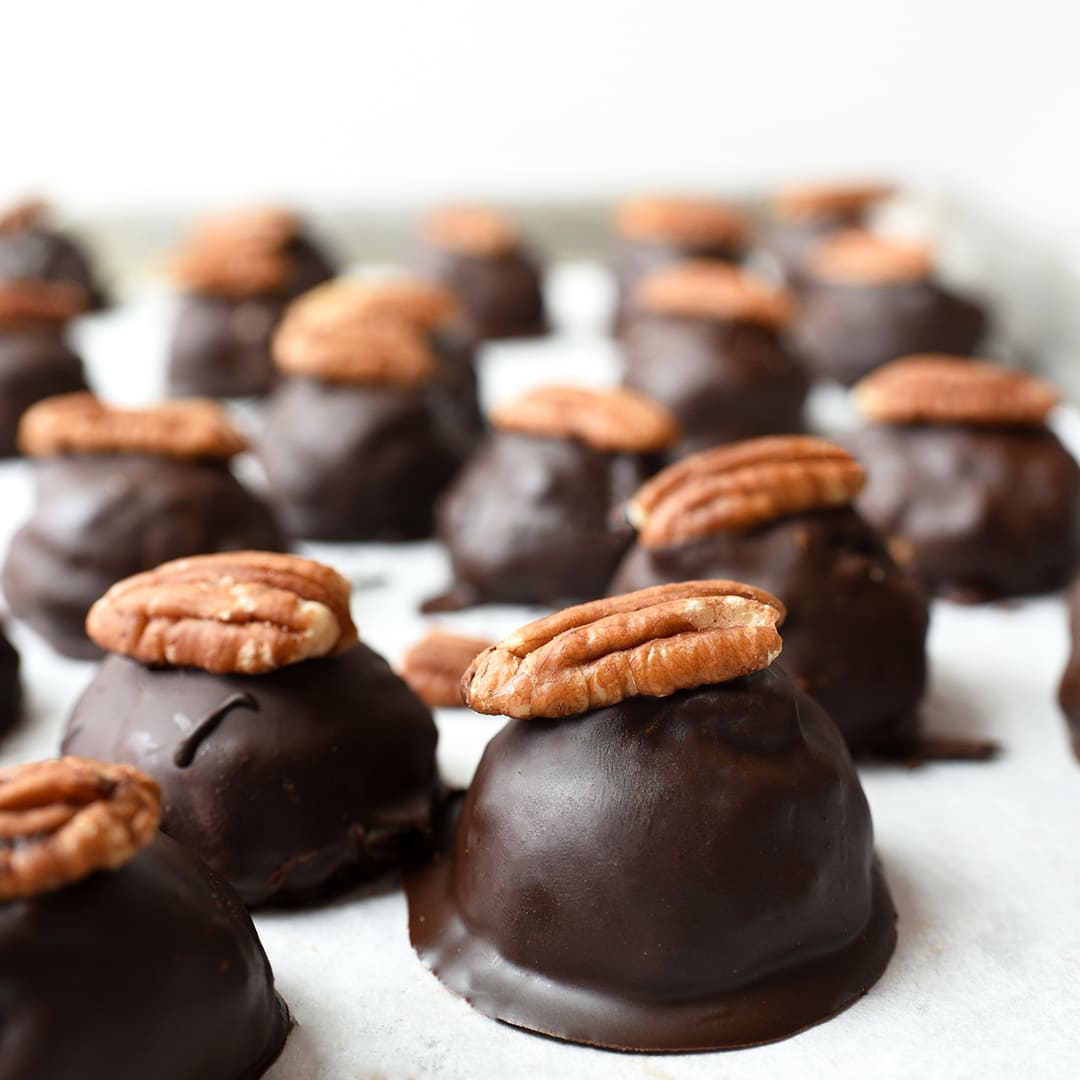 What Kind of Bourbon Should I Use?
Everyone always says, don't use the good stuff when you bake! But, since these are no-bake balls, I think it really behooves you to use your favorite bourbon as you'll be adding a 1/4 cup of bourbon and the flavor will come through. That said, if you want to call them Kentucky Bourbon Balls, you should use Kentucky Bourbon.
A few Kentucky Bourbons to consider for this recipe:
Buffalo Trace
Blanton's
Evan Williams (what Rebecca Ruth's use)
Maker's Mark
Weller
Woodford Reserve
What If I Don't Like Bourbon?
Uh, try a different recipe? Or, you could swap out the bourbon in the recipe for rum and make rum balls. I'd like to find a way to make tequila balls as tequila and absinthe are my other two favorite spirits, but experimenting with one liquor at a time seemed wise so I didn't end up like this tipsy music note.
Troubleshooting Tips
As you can see in the comments below, this recipe has caused trouble for some folx! If you're having trouble with getting the filling to harden, here are some tips that might solve the problem. Watch the video below before making them (it's like, a minute long) as that may help too.
Use slightly cold butter. I tend to take butter out of the fridge then zap it in the microwave for 5 seconds, turn it over, then zap for 5 more seconds. This is warm enough for the recipe.
Use a dry measuring cup to measure the bourbon. Our friend found that using a liquid measuring cup resulted in more bourbon, and therefore, a more liquid filling.
Measure before sifting. If you don't want to sift, you might get clumps. If you measure after sifting, you won't have enough confectioner's sugar.
Kentucky Bourbon Balls Recipe
Print Recipe
These Kentucky Chocolate Bourbon Balls are made by dipping a bourbon-infused buttercream center in dark chocolate! Top with a pecan to make them party-perfect.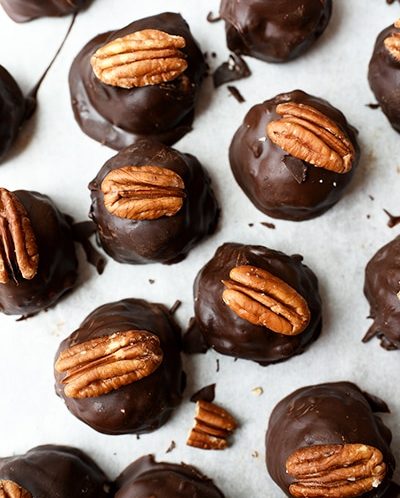 Servings: 40 balls
Ingredients
½ cup unsalted butter (room temperature)
3½ cups powdered sugar
1 tsp. vanilla extract
¼ tsp. coarse kosher salt
¼ cup Kentucky bourbon (measure in dry measuring cup)
2 cups chocolate chips
1 Tbsp. coconut oil
40 whole pecans
Instructions
Sift powdered sugar.

Combine butter, powdered sugar, and vanilla extract in electric mixer on medium speed until it is fully combined.

Add salt and bourbon and mix until combined. Place mixing bowl in fridge for 30 minutes.

Scoop into 1-inch balls and place on baking sheet lined with parchment paper or waxed paper.

Place baking sheet in freezer for 30 minutes.


Melt chocolate and coconut oil in microwave for up to 3 minutes at 50% power. Stir every 30 seconds until fully melted.


Use dipping fork or toothpick to dip frozen balls in chocolate. Place each on parchment paper and top with a pecan.

Notes
Keep the chocolate warm and smooth. Add 1-2 more tablespoons of coconut oil or rewarm in microwave at 50% power as needed.
The butter should be cold or room temperature, not warm.
Measure the bourbon in a dry measuring cup.
Watch our video to see how we make them!
Nutrition Facts
Kentucky Bourbon Balls Recipe
Amount Per Serving (1 ball)
Calories 134
* Percent Daily Values are based on a 2000 calorie diet.
Did you make this recipe?
Leave a review below, then take a photo and tag @letseatcakeblog on Instagram so we can see it!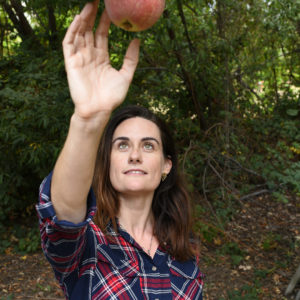 Latest posts by Rebecca Swanner
(see all)