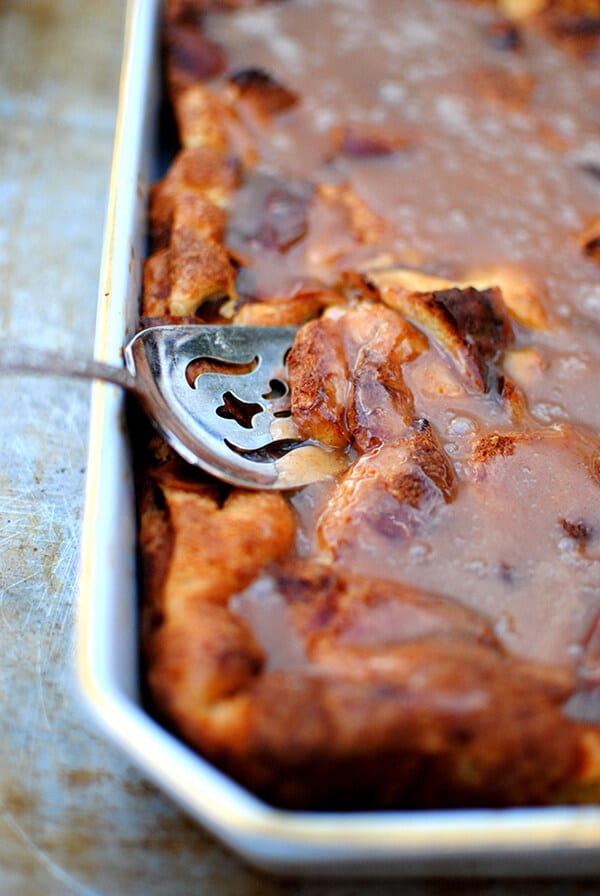 For one, the easy bread pudding recipe comes together super quickly. Which is great if you have a lot to get a lot of dishes on the table, you know, like at Thanksgiving. And, then it cooks during dinner, which means you won't have to arm wrestle your relatives for precious pre-dinner oven space.
This year for Thanksgiving, my mom was making her classic apple pie, so I set out to figure out another dish. I'm not a fan of pumpkin pie, but I love plenty of other fall flavors, so anything that included ginger, cinnamon, pecans, cider, or pears was fair game. I stumbled across this bread pudding recipe and its simple bourbon caramel sauce in Epicurious, tweaked it ever so slightly, and am thoroughly pleased with the results!
The only tricky ingredient to find was challah. If you can't find it, any soft eggy bread will do, but challah is really the best. After making this easy bread pudding, you'll also have some leftover for french toast and oh my goodness do not get me started on how delicious challah french toast is.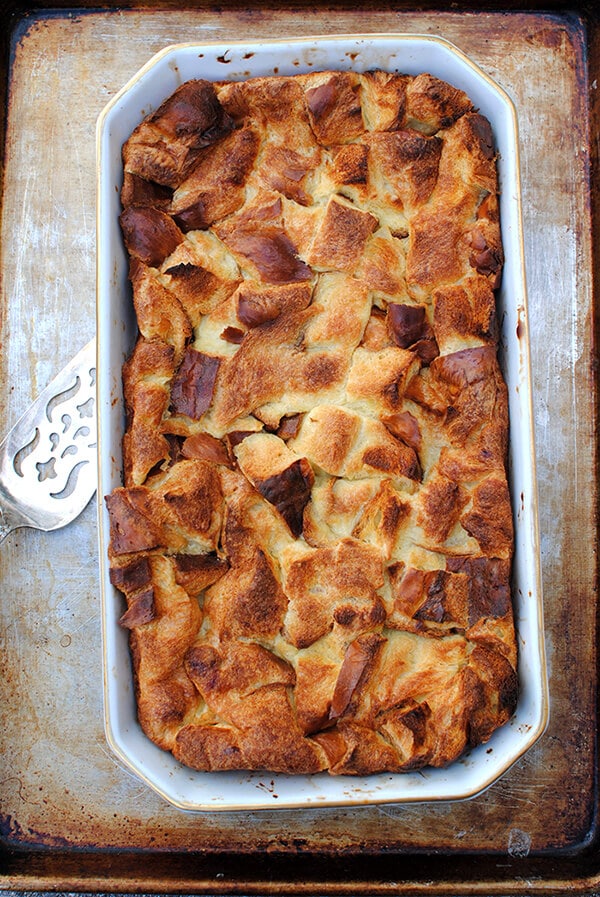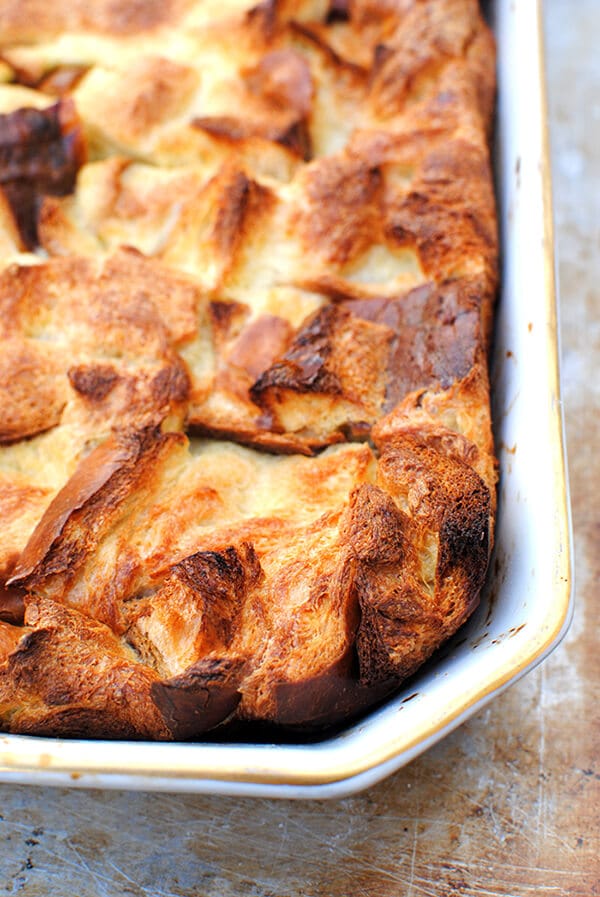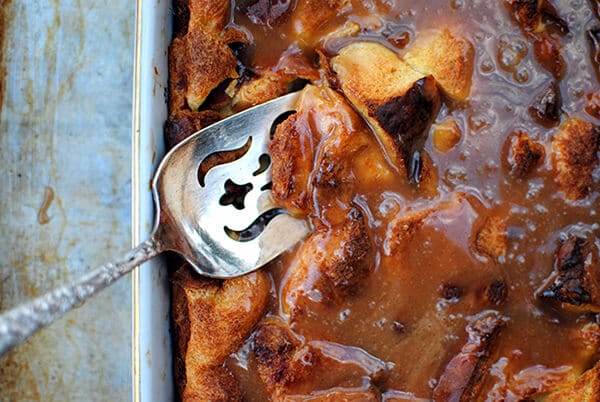 Here's how to make the Easy Bread Pudding with Bourbon Caramel Sauce. Let me know how yours turns out! Want another recipe that features bourbon? Try these Candied Maple Bourbon Pecans!
And, if you love bread pudding, check out my Cinnamon Bread Pudding with Vanilla Sauce and my Peach Bread Pudding with Caramel Pecan Sauce!
Easy Bread Pudding with Bourbon Caramel Sauce
Print Recipe
This easy challah bread pudding with a bourbon caramel sauce is decadent and delicious.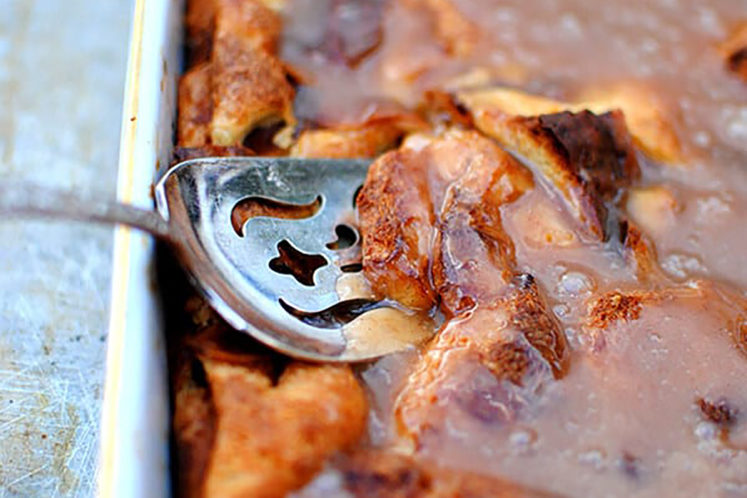 Prep Time: 15 mins
Cook Time: 55 mins
Total Time: 1 hr 10 mins
Servings: 12 servings
Ingredients
Bread Pudding
4 large eggs
1 cup whole milk
1 cup heavy cream
1/4 cup sugar
1 tsp. vanilla extract
1 pinch salt
1/2 loaf challah bread
Bourbon Caramel Sauce
1/4 cup unsalted butter
1/2 cup sugar
3 Tbsp. heavy cream
2 Tbsp. bourbon
1/2 tsp. ground cinnamon
1 pinch salt
Instructions
Bread Pudding
Grease 9x13 baking dish

Mix eggs, whole milk, heavy cream, sugar, extract, and salt in bowl.

Cut bread into 1/2" bites and place in baking dish.

Pour egg mixture on top and let stand for 5 minutes.

Submerge bread and refrigerate until one hour before ready to cook.

Preheat oven to 375°F.

Bake until bread pudding has puffed up and is golden brown, approx 50 minutes.

Remove and place on cooling rack. Begin to make Bourbon Caramel Sauce.
Bourbon Caramel Sauce
Mix sugar, cinnamon, and salt together in small bowl.

Melt butter in saucepan over medium-low heat.

Add sugar mixture, cream, and bourbon to saucepan, stirring continually.

Cook, stirring often, until thickened, about 5-8 minutes.

Pour sauce over bread pudding and let cool for 5-10 minutes. Serve.
Nutrition Facts
Easy Bread Pudding with Bourbon Caramel Sauce
Amount Per Serving (1 slice)
Calories 261 Calories from Fat 153
% Daily Value*
Fat 17g26%
Saturated Fat 9g56%
Polyunsaturated Fat 1g
Monounsaturated Fat 4g
Cholesterol 122mg41%
Sodium 51mg2%
Potassium 104mg3%
Carbohydrates 27g9%
Sugar 14g16%
Protein 4g8%
Vitamin A 550IU11%
Calcium 80mg8%
Iron 0.4mg2%
* Percent Daily Values are based on a 2000 calorie diet.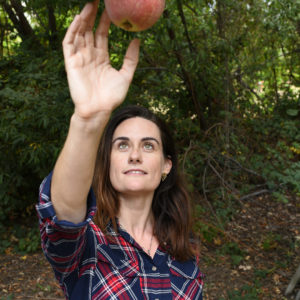 Pleased to meet you. I'm the founder and Editor-in-Chief of Let's Eat Cake: The world's first smart, funny lifestyle site for women.
My background is in publishing (I've worked at Parade, Men's Journal, Us Weekly, Stuff, Blender, Beachbody, and more), mostly with a focus in health, fitness, and entertainment. I've also run my own baking company and competed on Cupcake Wars, so hit me up with your baking questions!
For more details, check out my
full bio
or follow me on
Instagram
,
Twitter
, or
LinkedIn
.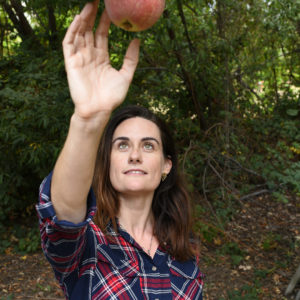 Latest posts by Rebecca Swanner (see all)
In case you're not still stuffed from Thanksgiving (during which I may have eaten five rolls, half a wheel of brie, and who knows how many spinach balls), consider making this easy Bread Pudding with Bourbon Caramel Sauce. I made this bread pudding yesterday for the first time, and it instantly became a new fall recipe favorite of mine.