There's no better time than now to make Peach Bread Pudding with a Caramel Pecan Sauce. It's the dog days of summer, but peaches are also at their peak, so throw on your lightest outfit, grab a fan and some fresh peaches, and let's get cooking.
Because once you try a bite of this, you'll be glad you did!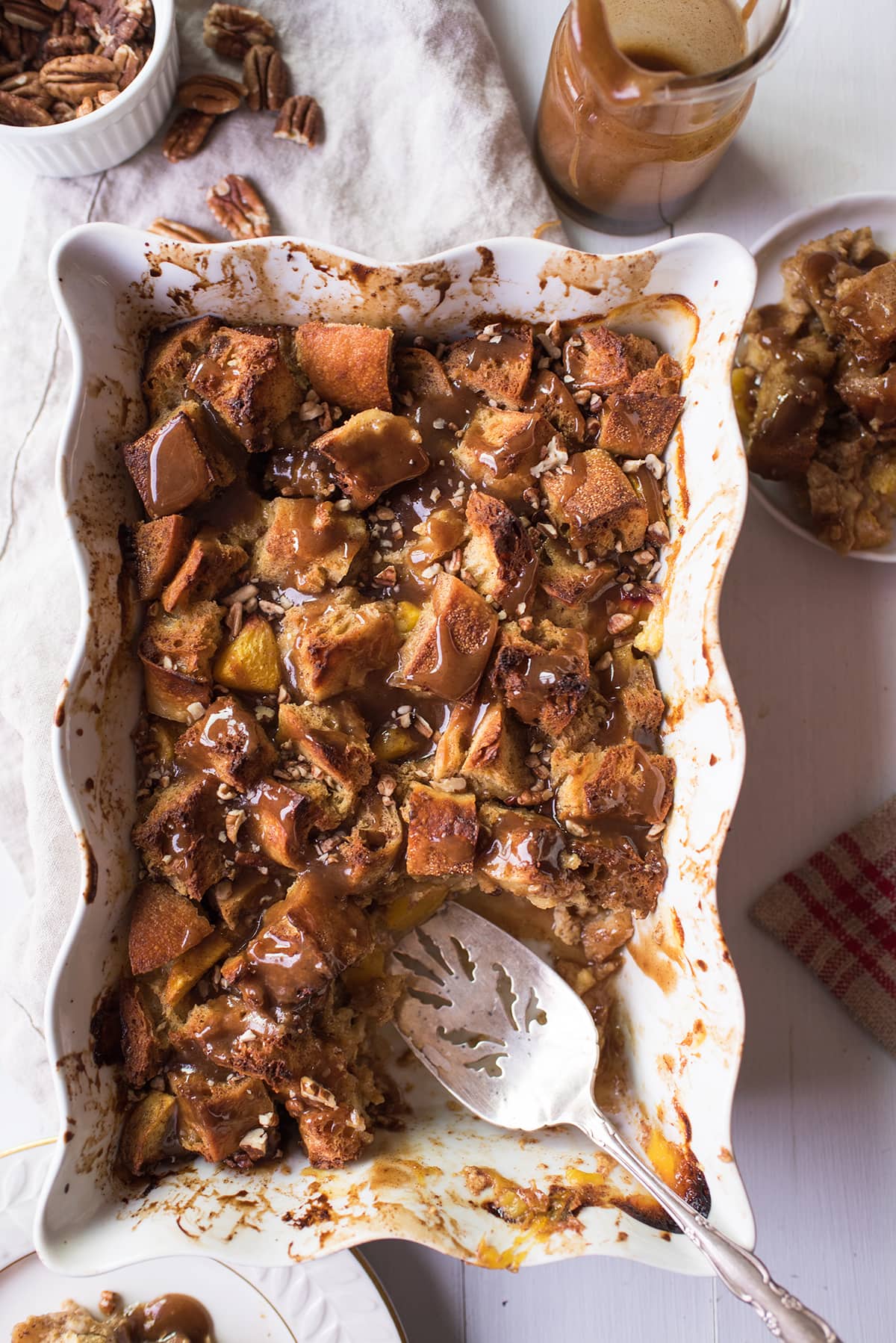 I love bread pudding and this peach bread pudding recipe was inspired by a comment left on one of our most popular recipes, the Bread Pudding with Bourbon Caramel Sauce. A reader asked if we could "add peaches or berries to the bread pudding?" and, to be honest, I wasn't sure. But, with peaches in high season, it seemed the perfect opportunity to give it a try.
I flipped through my favorite book, the Food Bible, for inspiration and worked out the following recipe that's loosely based on that other bread pudding.
Earlier in the summer, I had made an Easy Peach Cobbler with Honey Buttermilk Biscuits. If you recall, I loved the biscuits but couldn't stand the cobbler part. I'm not sure what went wrong with my taste buds there, because I could easily did eat more than my fair share of this bread pudding standing at the counter with a fork.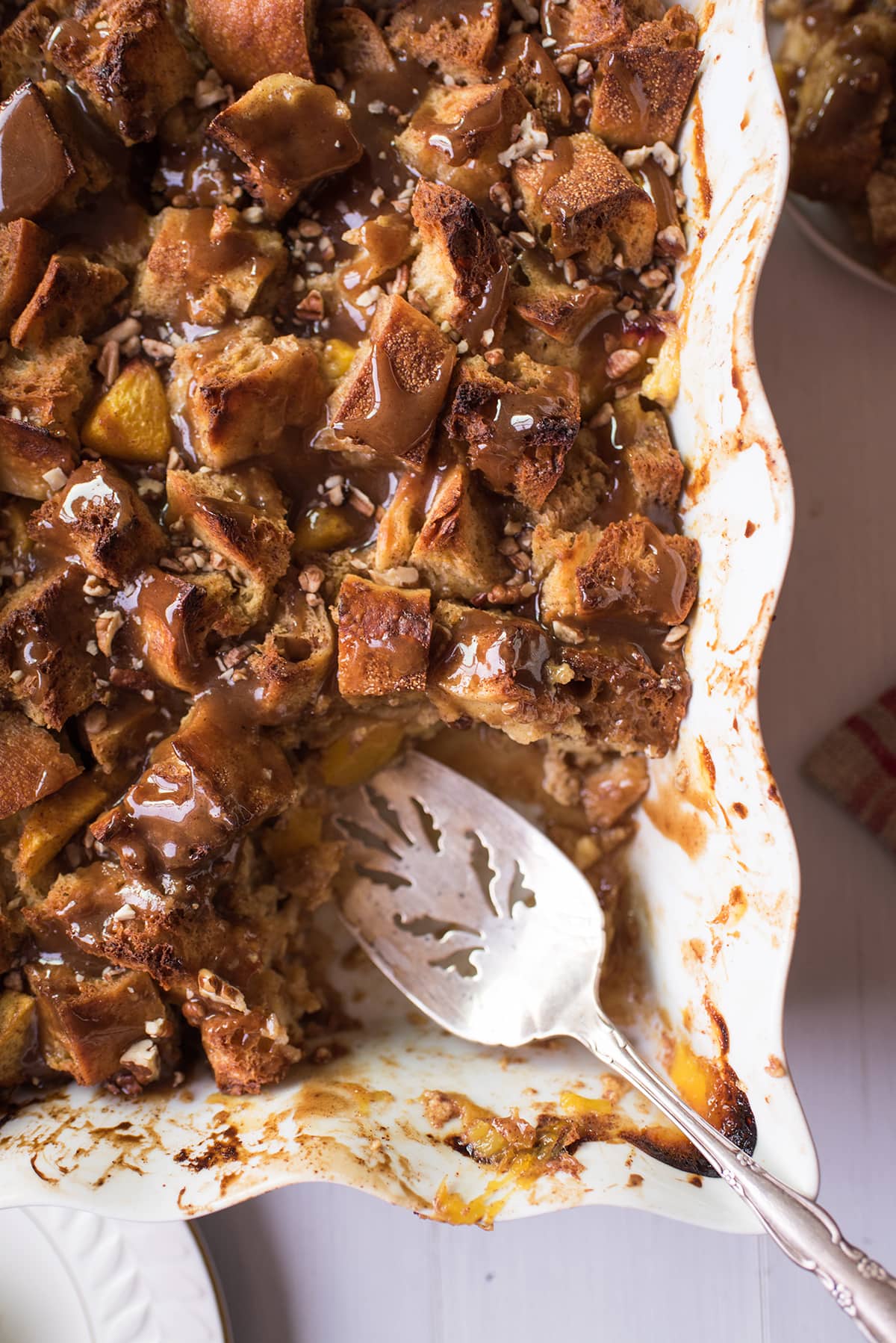 And it was so easy to make.
All you have to do is peel and slice two large peaches and toss them in a mixture of butter, cinnamon, and brown sugar, whisk up a simple egg and milk mixture, cut up some day old bread, combine everything, and bake!
If you want to take it over the top, though, I highly recommend the caramel sauce. As long as you have the patience to keep stirring the mixture, you can make it. I did use a candy thermometer (read: infrared heat gun) so I didn't overcook it, but you can certainly eyeball it. When it's rich and thick and dark brown, remove it from the stove and pour it on top of the bread pudding.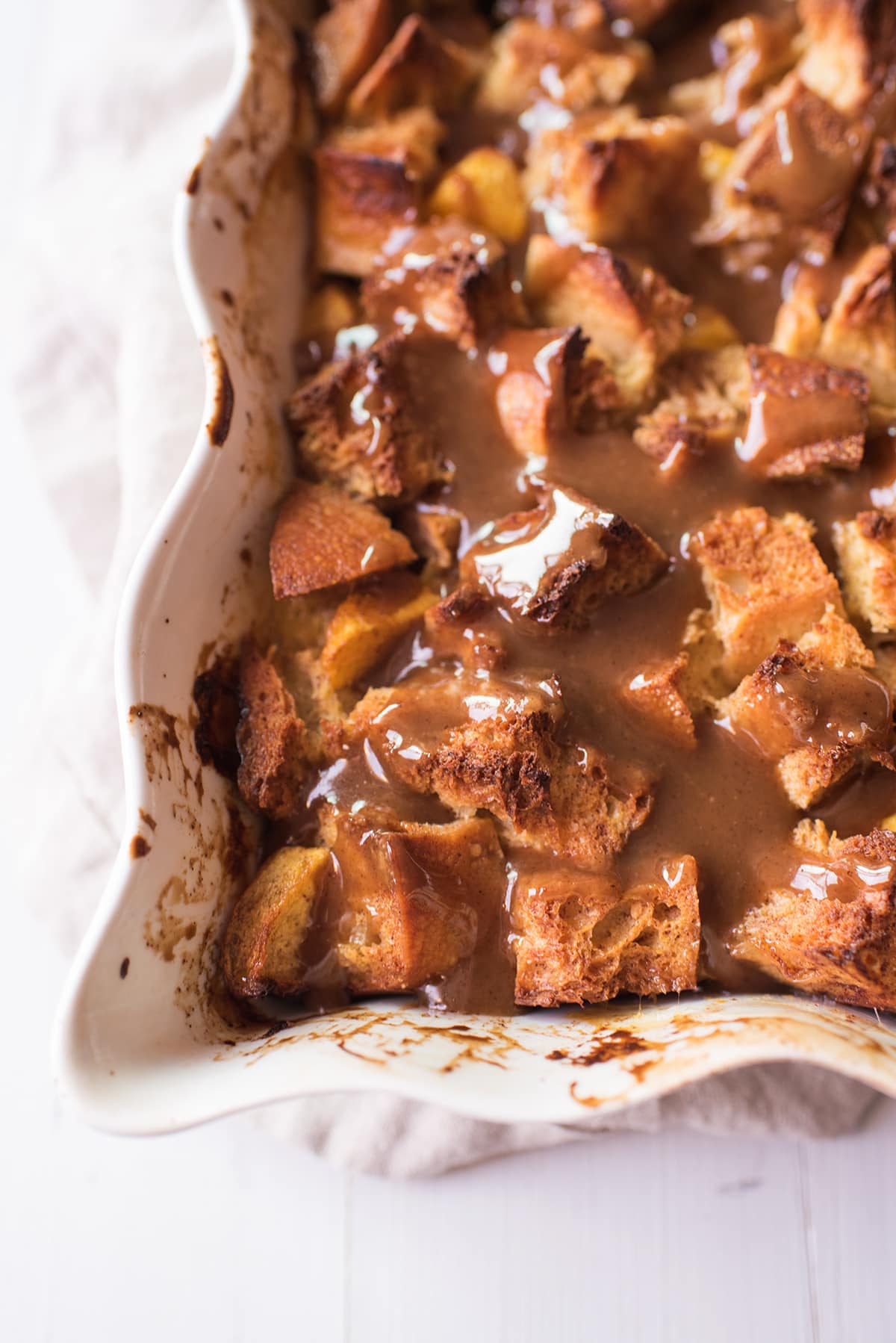 Peach Bread Pudding Recipe Tips
1. Use Day Old Bread
As with all bread pudding recipes, I recommend using day old bread if you can. If you don't tend to keep bread in the house, simply buy a loaf at the store the day before and leave it out on the counter. I usually use challah — like I did in this Bread Pudding with Vanilla Sauce — but I grabbed a delicious rustic Italian loaf at my neighborhood Ralphs — and I'm so pleased with how it turned out. The stiffer structure of the Italian bread resulted in a crunchy top layer that matched perfectly with the caramel sauce.
2. Use The Whole Loaf
If you compare this bread pudding to my previous ones, you'll find it calls for an entire loaf of bread instead of half. I increased it because the addition of fruit means there will be more juice that needs to be absorbed and because I was insistent upon using a deeper baking pan because it was prettier. If you are equally stubborn and use a 8 x 12 x 4″ baking pan like I did (instead of a 9 x 13 x 2), bake it for 20 minutes longer.
3. Be Picky About Your Ingredients
It's also important to use great ingredients, but especially so with simple dishes like this. Quality eggs, milk, bread, and cream make so much of a difference. My go to heavy cream has become the Kroger brand heavy cream. I love it because it's rich, thick, and always at stock at Ralphs!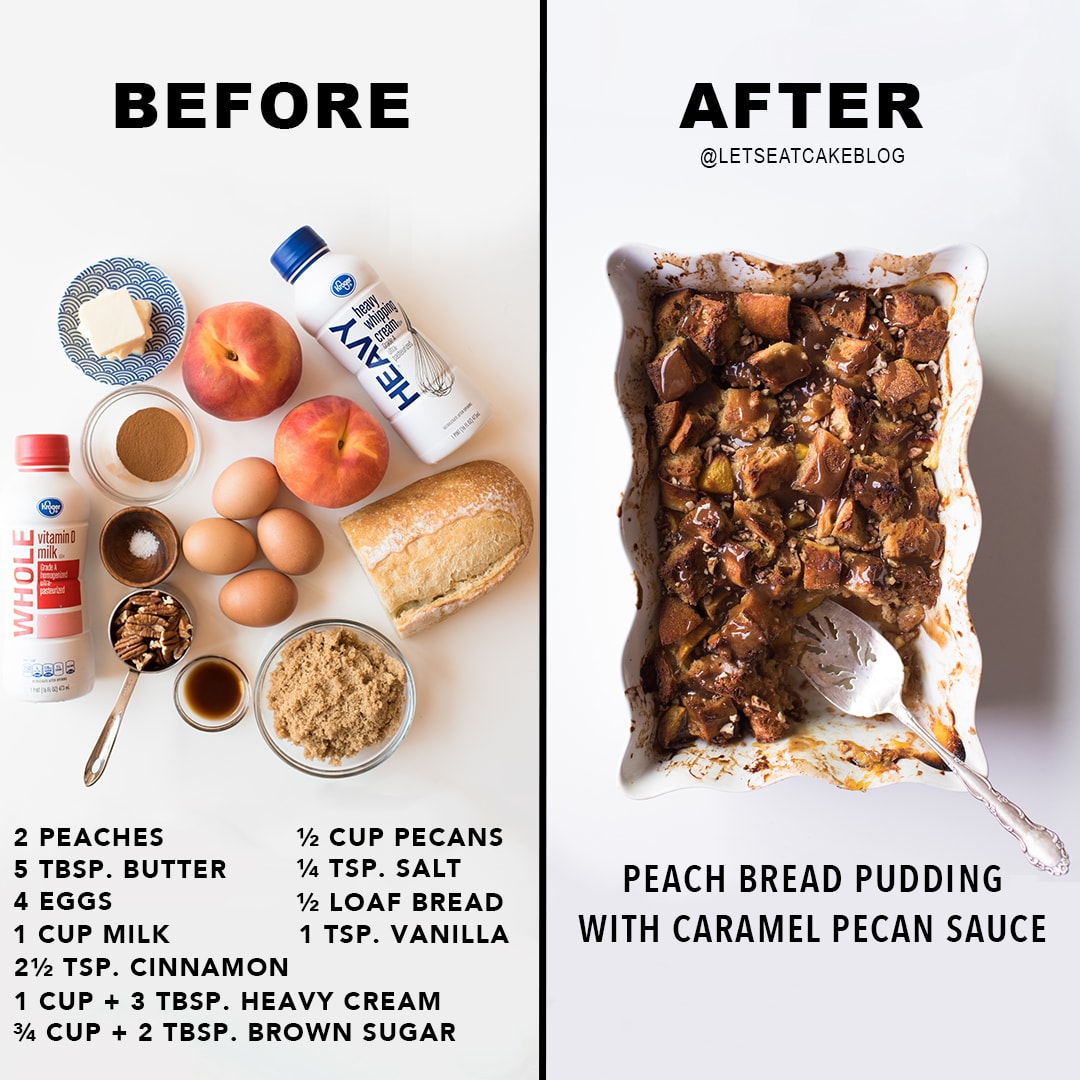 What bread pudding would you like to see me make next? I'm thinking pumpkin or cranberry, but tell me in the comments what you want to see!
Peach Bread Pudding
Print Recipe
This Peach Bread Pudding with a Caramel Pecan Sauce is the best way to end summer!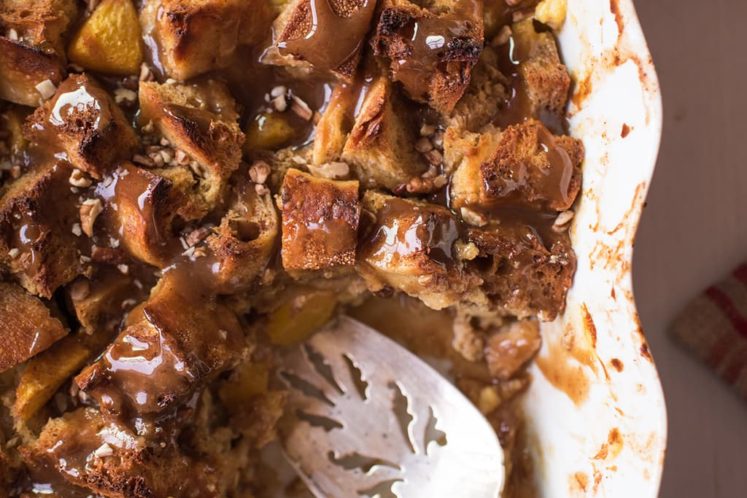 Servings: 12 servings
Ingredients
Peach Bread Pudding
4 large eggs
1 cup whole milk
1 cup heavy cream
1 tsp. vanilla extract
1 pinch coarse kosher salt
1 Tbsp. unsalted butter (melted)
2 tsp. ground cinnamon
¼ cup + 2 Tbsp. brown sugar (packed)
2 large peaches (peeled and sliced into bite-sized pieces)
½ to 1 loaf day old bread (sliced into cubes (see notes))
Caramel Pecan Sauce
¼ cup unsalted butter
½ cup brown sugar (packed)
½ tsp. ground cinnamon
1 pinch coarse kosher salt
3 Tbsp. heavy cream
Instructions
Peach Bread Pudding
Grease 9" x 13" x 2" baking dish. (See notes)


Combine eggs, whole milk, heavy cream, vanilla extract, and salt in bowl. Set aside.

Combine peaches with melted butter, cinnamon, and brown sugar.

Toss bread with peaches.

Place in prepared baking dish.

Pour egg mixture over bread and let stand for 5 minutes.

Submerge bread. Refrigerate for one hour.

Preheat oven to 375°F. Bake for 50 min. up to 1 hour, 10 minutes. Top should bounce back slightly when pressed and custard should be thick.


Top with Caramel Pecan sauce and serve.

Caramel Pecan Sauce
Mix sugar, cinnamon, and salt together in small bowl.

Melt butter in saucepan over medium-low heat.

Add sugar mixture to saucepan, stirring continually until fully combined.

Remove from heat and add heavy cream carefully, stirring continually. Place back on heat.

Stir and cook caramel until thick, bubbling, and medium brown in color, about 5 minutes.

Stir in pecans.
Notes
Cover and store Peach Bread Pudding in the fridge for up to 3 days.
Pecans can be added after the caramel sauce has been poured on top
If using deeper baking dish (like a 8" x 12" x 4" pan as shown in the photos), cook for longer and use one full loaf (1 pound) of bread.
Nutrition Facts
Peach Bread Pudding
Amount Per Serving (1 serving)
Calories 321 Calories from Fat 153
% Daily Value*
Fat 17g26%
Carbohydrates 37g12%
Protein 7g14%
* Percent Daily Values are based on a 2000 calorie diet.
Did you make this recipe?
Leave a review below, then take a photo and tag @letseatcakeblog on Instagram so we can see it!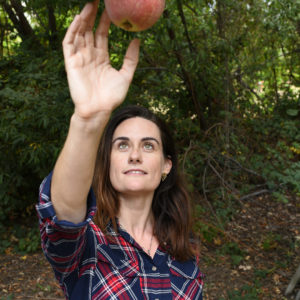 Latest posts by Rebecca Swanner
(see all)