The success of this Cinnamon Bread Pudding with Vanilla Sauce was mostly the result of a happy accident. Make it with challah bread or brioche, vanilla beans, and cinnamon and top with a rich vanilla custard sauce for the perfect holiday brunch or dessert!
This was the first bread pudding recipe I'd ever created and it inspired one of your favorites on Let's Eat Cake, this Bread Pudding with Bourbon Caramel Sauce. I recommend trying it if you haven't yet!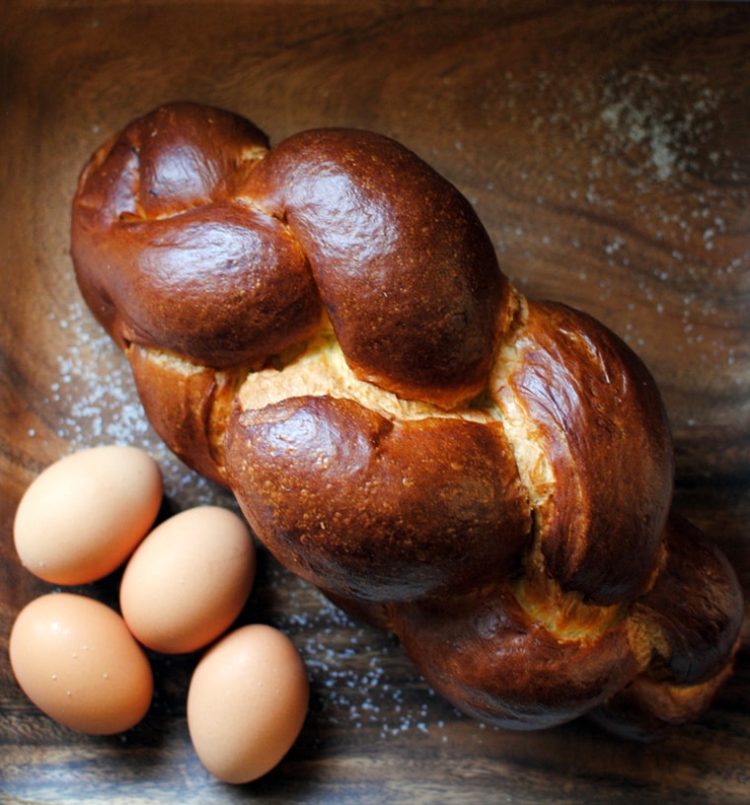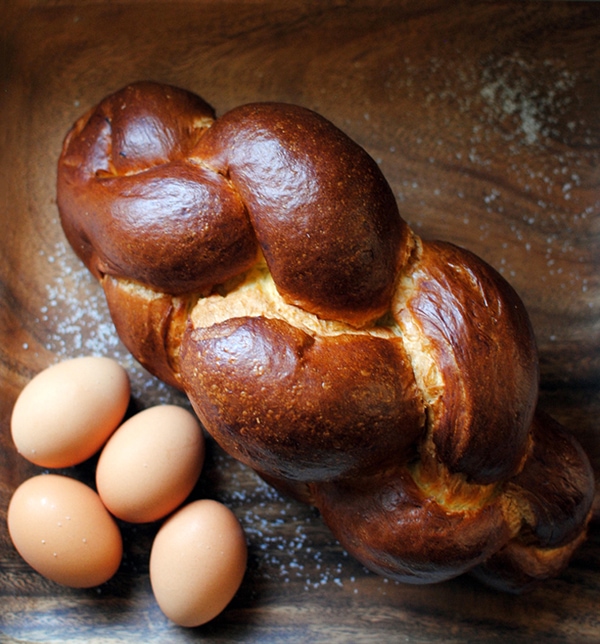 What Is the Best Bread for Bread Pudding?
You need something reasonably sturdy, which is why most bread pudding recipes call for brioche. And, while that does work well, I personally prefer challah. The eggy, doughy, braided loaf has been one of my favorites since I was a kid. It just begs to be pulled apart and dipped in cinnamon or honey or eaten straight. Don't even get me started on chocolate challah.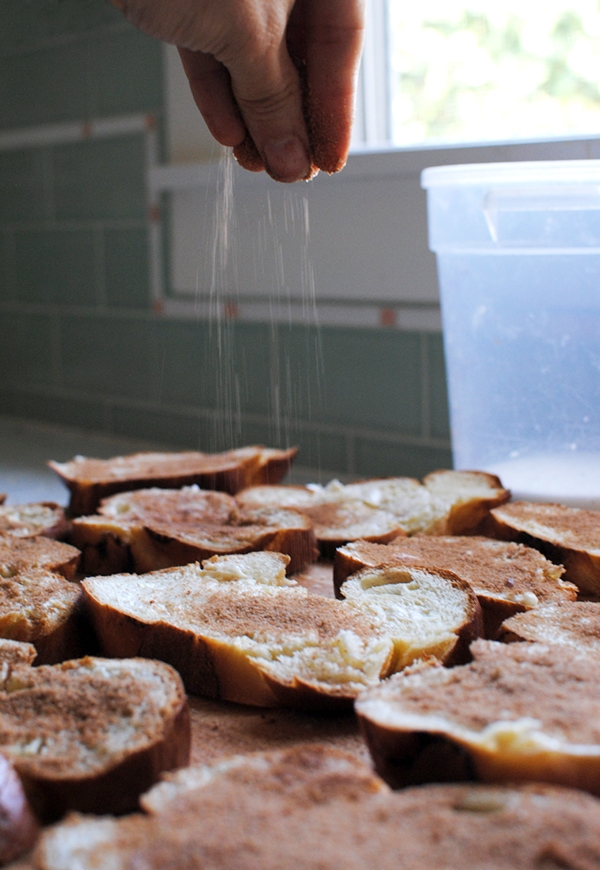 How Do I Make Bread Pudding?
Cut the bread into cubes or slice and layer it into the baking pan.
Combine eggs, milk, fat (butter or heavy cream), vanilla, and perhaps a pinch of salt in a mixing bowl or use them to create a custard.
Pour this mixture over the bread.
Bake.
This bread pudding recipe has a few more steps, but that's the basic gist. For this bread pudding recipe, I wanted vanilla and cinnamon to be the star ingredients, which meant adding fresh vanilla bean in addition to vanilla extract, and making sure to dial back the sugar. Sugar can help accentuate flavors, as I discovered in my Healthy Banana Bread recipe, but adding too much will mask subtle flavors.
Some recipes require the challah soak in the custard mixture for 2 hours. Others require you wait until you have stale bread. As I originally baked this just before going to a Memorial Day BBQ, neither of those things was going to happen unless a time machine miraculously appeared in my living room. (Editor's note: The Mesozoic is pretty rad, guys! Oh… incoming T-Rex. Gotta go!)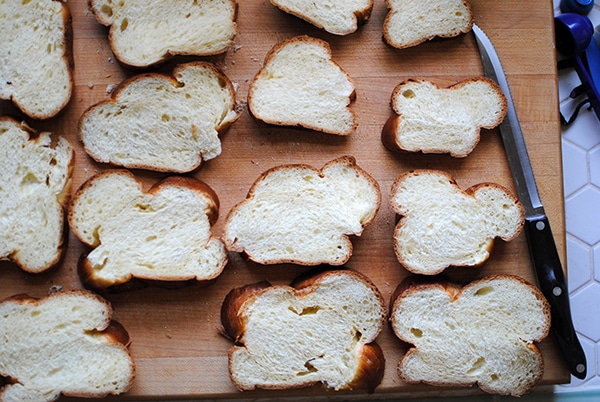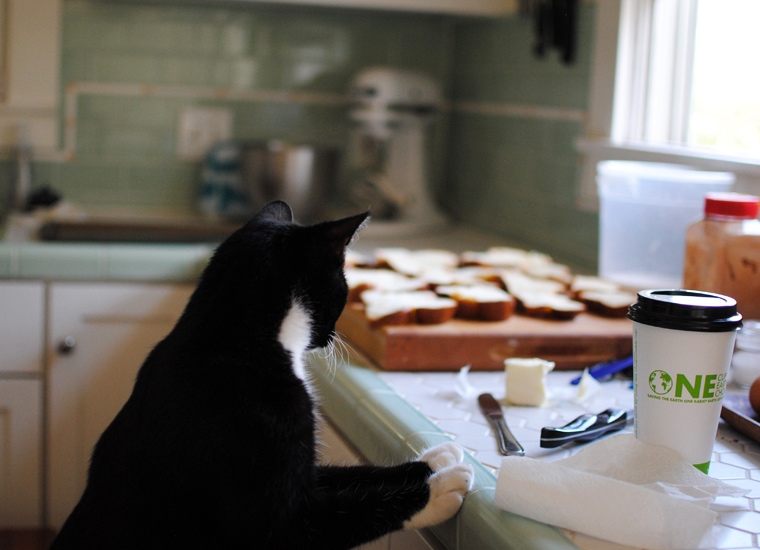 Inspired by this recipe on Rustic Kitchen, I covered the challah with cinnamon, brown sugar, and butter then baked it in a 9×13 baking dish for 10 minutes to dry it out. This let me skip the "wait until the challah is a little bit stale" step. Since there was no time machine available, that seemed wise.
While it was baking, I made the vanilla sauce. I beat whole eggs and egg yolks with sugar in a small mixing bowl until they were light and fluffy. I scraped the vanilla bean seeds into the milk and warmed the mixture on medium heat until it was almost boiling.
Once the milk was hot, I poured it over the eggs slowly, whisking the whole time so not to curdle them, then poured everything back into the saucepan. I heated the mixture on low heat until it resembled a creme anglaise custard and was able to coat the back of a wooden spoon. This is pretty much what you do when you make ice cream. Finally, I poured this on top of the pre-baked bread.
However… I skipped an ingredient. The heavy cream was supposed to be added with the hot milk, but I had completely forgotten about it until the dish was nearly done baking!
I rushed into the kitchen, flung open the fridge, grabbed the heavy cream, opened the oven, and poured it over bread pudding, closed the oven, and hoped for the best.
The result? The late addition of the heavy cream gave the recipe a creamy richness I don't think it would have had otherwise, so I've included it in the final recipe.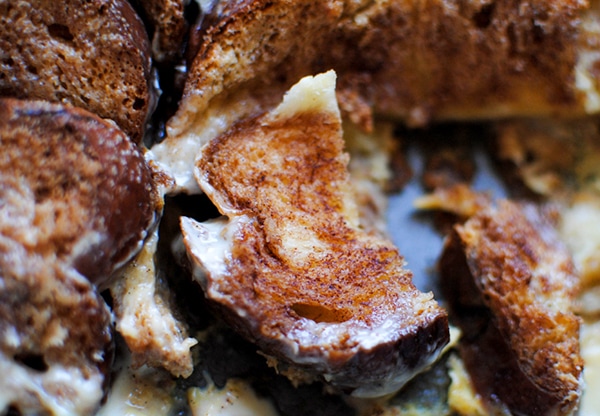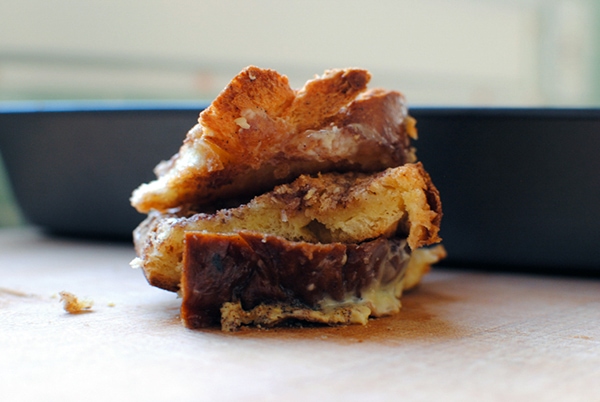 Cinnamon Bread Pudding with Vanilla Sauce
Print Recipe
This Cinnamon Bread Pudding with Vanilla Sauce is rich and perfect for a holiday brunch or dessert.

Servings: 12 servings
Ingredients
4 Tbsp. brown sugar (plus more for sprinkling)
1 tsp. ground cinnamon
1 loaf challah bread (or broiche or 16 oz. sliced white bread)
3 Tbsp. unsalted butter (room temperature)
Vanilla Sauce
2 large eggs
2 large egg yolks
½ cup sugar
1 tsp. vanilla extract
2 cups whole milk
½ whole vanilla bean
1 pinch coarse kosher salt
¾ cup heavy cream
Instructions
Preheat oven to 350° F.


Mix brown sugar and cinnamon in small bowl. Set aside.


Cut challah bread into ½-inch slices. Brush each slice with butter.


Sprinkle brown sugar mixture on top of each slice, using approx. 3/4 of mixture. Set rest of mixture aside.


Place bread slices on baking sheet and bake for 10 minutes. Remove and let cool on wire rack.

Vanilla Sauce
Beat eggs, egg yolks, and sugar in stand mixer at medium speed for 3 minutes or until light and fluffy.


Add vanilla extract. Transfer to medium bowl. Set aside.

Pour milk into medium saucepan. Scrape vanilla bean seeds into milk using a paring knife or butter knife.


Heat mixture on medium low until it is almost boiling.


Slowly pour milk mixture into the egg mixture, stirring continually with a wooden spoon.

Pour the mixture into medium saucepan and heat on low, stirring with a wooden spoon until the vanilla sauce has thickened slightly. Remove from heat and set aside.

Bread Pudding Assembly
Butter or spray 9 x 13" pan with nonstick cooking spray. Transfer baked bread slices to pan.


Pour milk mixture on top of bread slices and sprinkle with remaining brown sugar mixture.


Bake for 16-21 minutes.


Open the oven and pour the heavy cream on top of the bread pudding. Cook for another 9 minutes or until golden brown.

Remove from oven and let cool on a wire rack.

Nutrition Facts
Cinnamon Bread Pudding with Vanilla Sauce
Amount Per Serving (1 serving)
Calories 282
* Percent Daily Values are based on a 2000 calorie diet.
Did you make this recipe?
Leave a review below, then take a photo and tag @letseatcakeblog on Instagram so we can see it!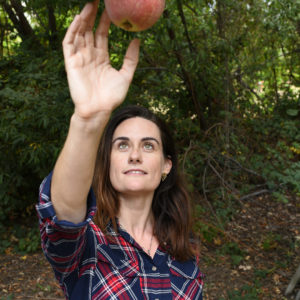 Latest posts by Rebecca Swanner
(see all)