Try this sweet, soft Italian Easter Bread filled with dyed Easter eggs at your next spring brunch and check out the 13 other Easter Breads from around the world!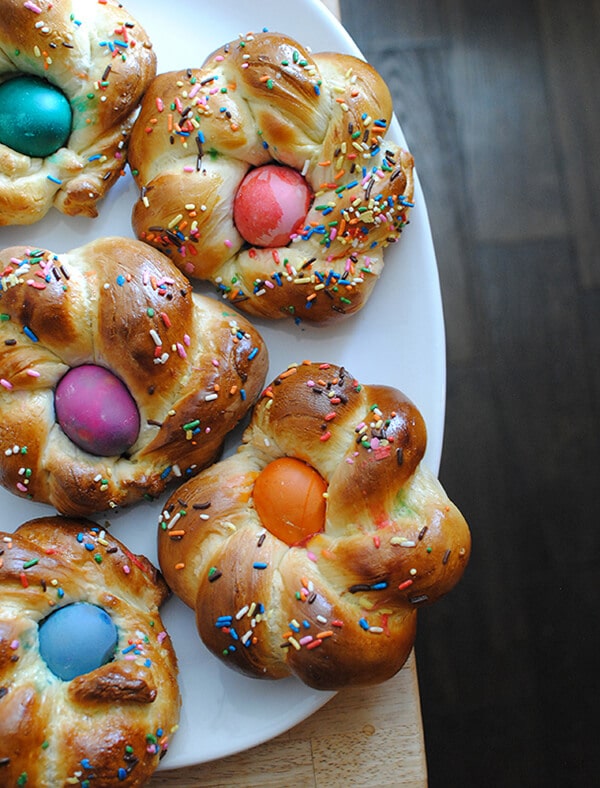 Not so long ago, I traveled to Italy. And it was amazing! More on that here, including my travel tips where to stay, where to eat, and and what else to do while you're there! For years, Italy had felt magical but also out of reach. And, then, finally I got to visit! And, it was magical. The moment I landed, I wanted to return. Immediately.
This Italian Easter Bread brings me back to those moments – pulling apart bread overlooking the Mediterranean, sipping a whole milk latte with perfectly whipped foam, wearing fancy hats, because vacation.
What Is Italian Easter Bread?
Italian Easter Bread is a traditional Easter bread dish that uses a sweetened dough that's been shaped into a wreath. Before baking, gently tuck raw dyed Easter eggs into the centers. Bake the bread at 350°F or until golden (about 20 minutes). The eggs will cook as the bread bakes.
I love when these wreaths bake because they sort of look like bunny paws when they're done! You'll notice I also had a little fun with the wreath shaping and made one into a bunny head.
In Italy, Italian Easter Bread is known as Pane di Pasqua, But, depending on what region of Italy you're in, Easter Bread may have another name! In the Calabria region in the Southwest, it's known as Sguta, cuzzupa, or cu l'ovo, where in other regions it's called Scarcella or Gurrugulo. Each version is a little bit different.
How to Make Italian Easter Bread
Making Italian Easter Bread isn't hard, but it does take a little bit of time. Make sure to set aside 4 hours when you'll be around the house so you can tend to it. Or you can bring the dough with you if you're going to be out and about. I did this once and every time we piled back into the car it smelled incredible, but it's not exactly the most practical way to make bread.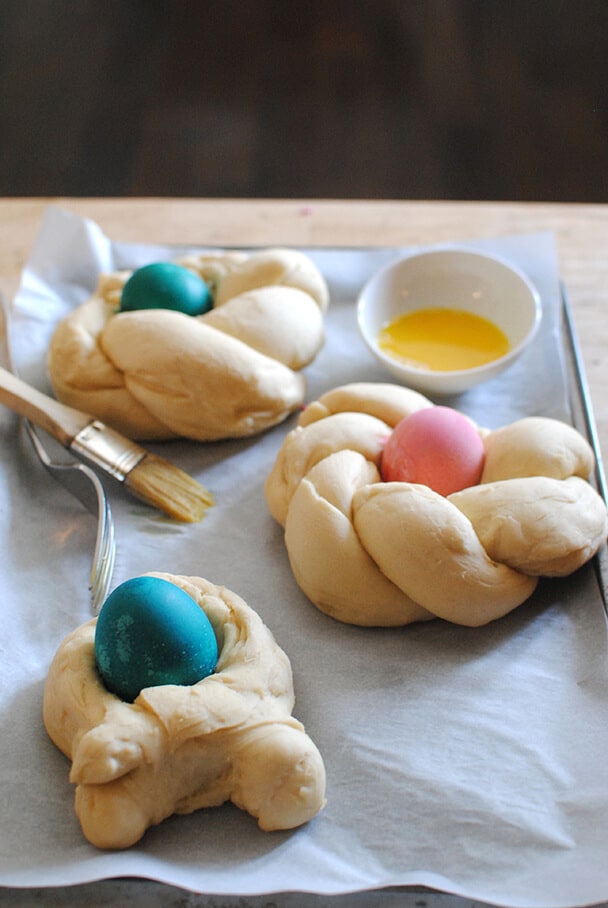 To make Italian Easter Bread, you'll create a sweetened yeasted bread dough with milk, butter, yeast, eggs, flour, sugar, salt, and vanilla. If you have a stand mixer, let the bread hook do the work. If not, get ready for a serious arm workout because you need to work it until the dough is elastic and this takes about 8 minutes for the bread hook.
Once the dough feels elastic, place it into an oil-coated bowl and cover it with a damp towel for an hour. While you're waiting for the dough to rise, dye raw eggs whatever color you like. I used brown eggs and those classic PAAS Easter Egg dyes. But, natural dyes or white eggs work just as well.
Once the dough has doubled in size, deflate it and divide it into 12 equal pieces. I like to use a dough scraper for this, but a sharp knife will also work. Roll each of the pieces into a 14" long, 1" thick rope. Place two side by side and twist them around each other and then shape them into a wreath. For the bunny head, don't create a rope. Instead, create a ball, shape two bunny ears on one end, and create a space in the center where the egg will go. Place each shape on a baking sheet lined with parchment paper, cover with a dry towel and let rise for an hour.
After the second rise, tuck a dry, dyed egg into the center of each wreath, brush with egg wash (this helps makes the bread look more golden after baking), top with pearl sugar or sprinkles, and bake at 350°F for 20 minutes.
Easter Bread is best on the first day, but will keep for 3 days at room temperature if you wrap them tightly.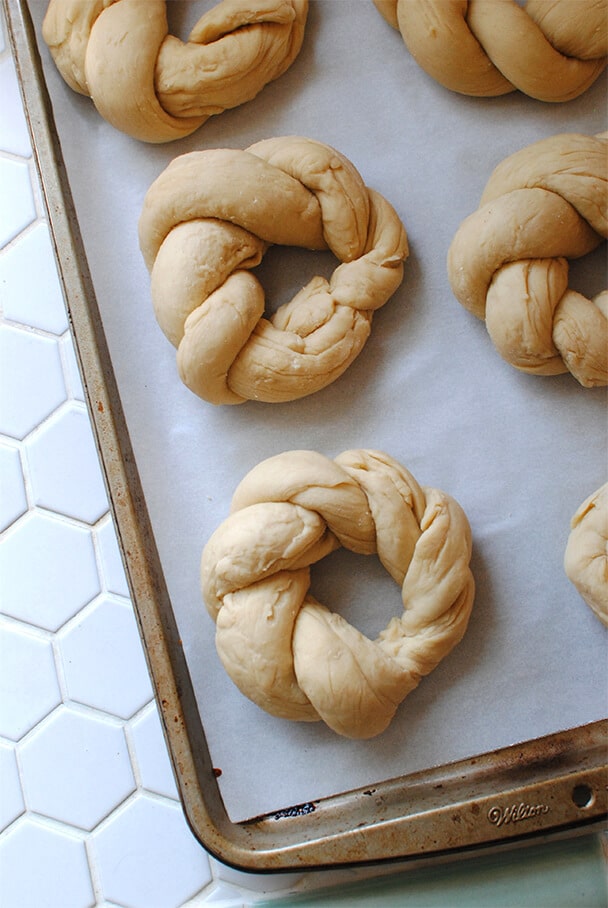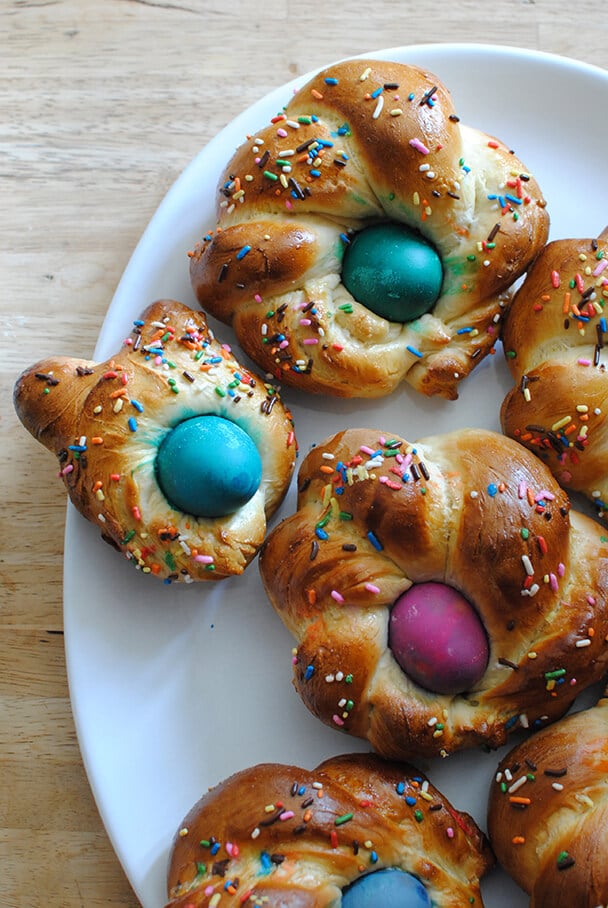 Italian Easter Bread
Print Recipe
A new twist on classic Italian Easter Bread. Use undyed eggs and pearl sugar for a rustic feel or dyed eggs and sprinkles if you want to feel festive! Get the recipe.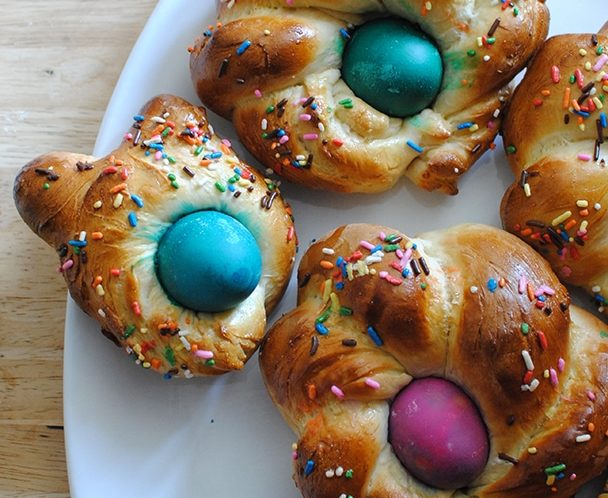 Servings: 6 loaves
Ingredients
1¼ cup milk
1 pkg. active dry yeast
½ cup sugar (divided)
1/3 cup butter
3 eggs (beaten)
1 tsp. salt
1 tsp. vanilla
5 cups flour (divided)
1 tsp. vegetable oil
6 large eggs (dyed, raw)
1 large egg (beaten)
Pearl sugar or sprinkles (for decoration)
Instructions
Heat milk on low heat, just until it feels warm. Add the package of yeast and a pinch of sugar. Whisk until combined. Set aside for 5 minutes.

In a mixer fitted with paddle attachment, combine sugar, butter, eggs, salt, vanilla, and 2½ cups flour. Stir until combined.

Add yeast mixture to flour mixture. Mix on medium speed until dough begins to form. Add remaining 2½ cups flour, a ½ cup at a time until dough is no longer sticky.

Switch to dough hook and let run on medium speed until dough feels elastic. If you do not have a dough hook, remove dough from mixing bowl and knead for 8 minutes or until dough feels elastic.

Oil a large bowl, place dough in bowl and turn to coat. Cover with damp towel and let rise for 1 hour.

Punch down dough and divide into 12 pieces.

Sprinkle cutting board with flour and roll divided dough into ropes 1"-thick and 14" long. Twist two ropes together to form a braid. Pinch ends together if needed and form into wreath.


Gently place each braided wreath on parchment-lined baking sheet. Cover with towel and let rise for 1 hour.

Add dry, dyed egg to middle of each dough ring.

Brush dough with beaten egg and add sprinkles or pearl sugar.

Bake at 350°F for 20 minutes or until golden brown.
Did you make this recipe?
Leave a review below, then take a photo and tag @letseatcakeblog on Instagram so we can see it!

13 Easter Breads from Around the World
Italians aren't the only ones to break the Lenten fast with sweet bread. The custom of eating sweetened breads filled with fruit, nuts, spices, eggs, sugar, and butter) has been an Easter tradition in many countries for centuries. From Britain's Hot Cross Buns to Greek Tsoureki, check out some of these Easter breads from around the world!
Pan di Ramerino (the Tuscan variation of Italian Easter Bread) — Gourmet Project
This savory loaf incorporates spices, olive oil, raisins, walnuts, and rosemary.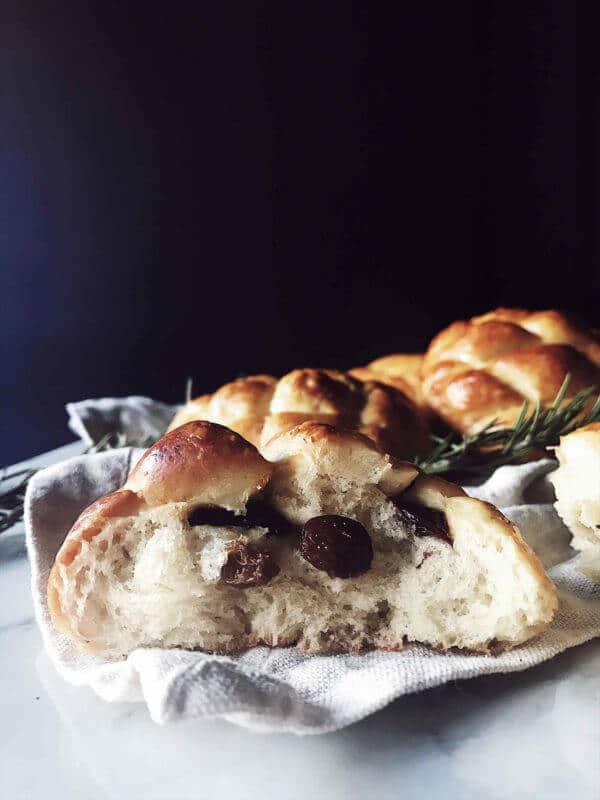 Russian Kulich — Happy Kitchen. Rocks
Tall glazed sweet bread often topped with raisins or candied fruit.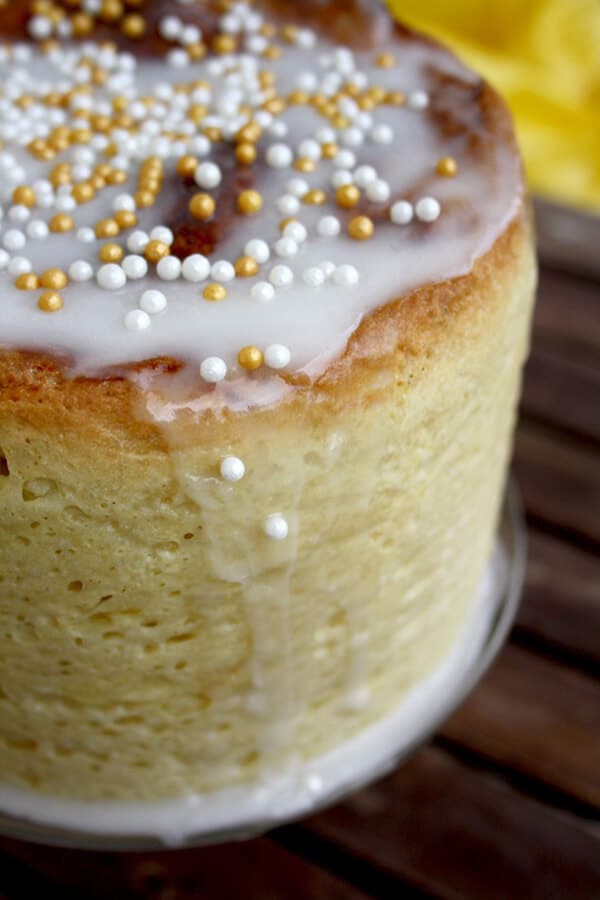 Dutch Passbrood — Allerhande
This Easter bread is filled with raisins, citrus peel, sugar, and features an almond paste center. (Recipe in Dutch.)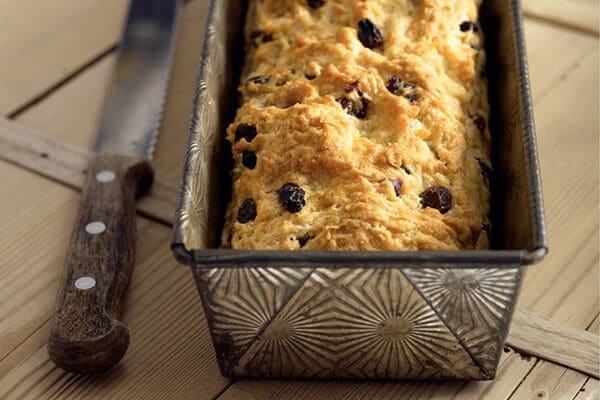 Slovenian Potica — Trial and Eater
Sweetened rolls filled with sugar and walnuts.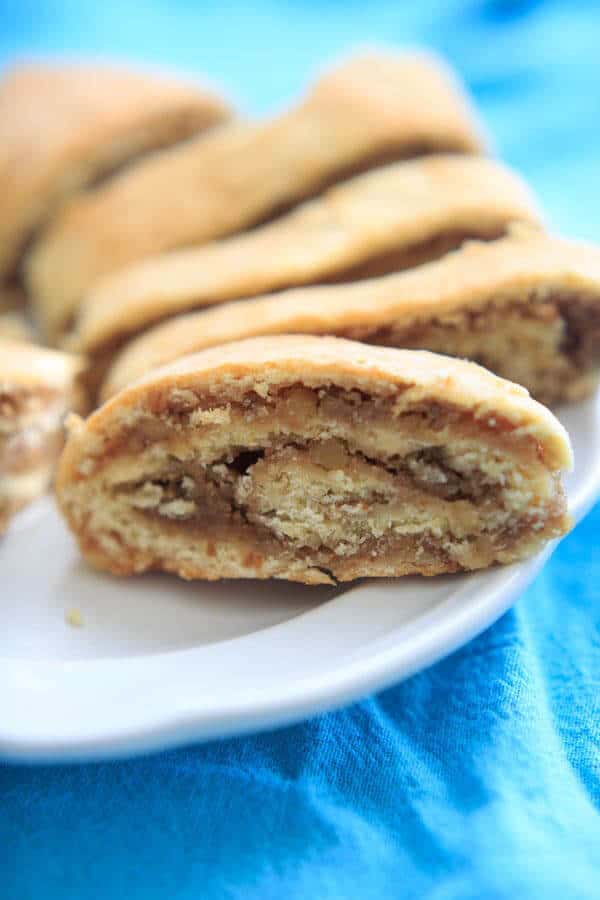 Croatian Pinca — He Needs Food
Also known as Sirnica, this soft, buttery brioche-like bread combines zested oranges and lemons and sweet wine.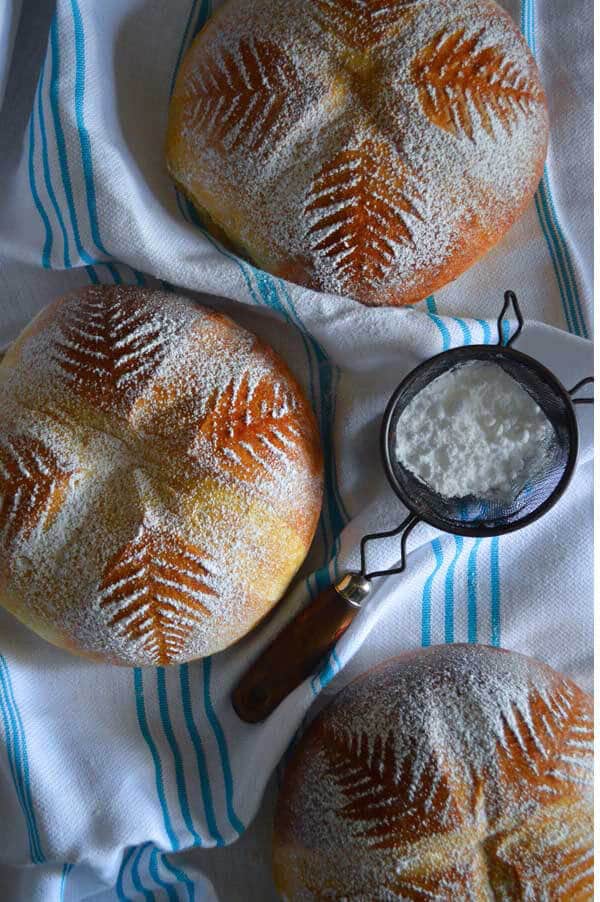 British Hot Cross Buns
These little buns are traditionally filled with fruit and marked with a cross with icing or dough.
Cinnamon, cardamom, and nutmeg-spiced Hot Cross Buns filled with raisins, lemon, and citrus peel— Supergolden Bakes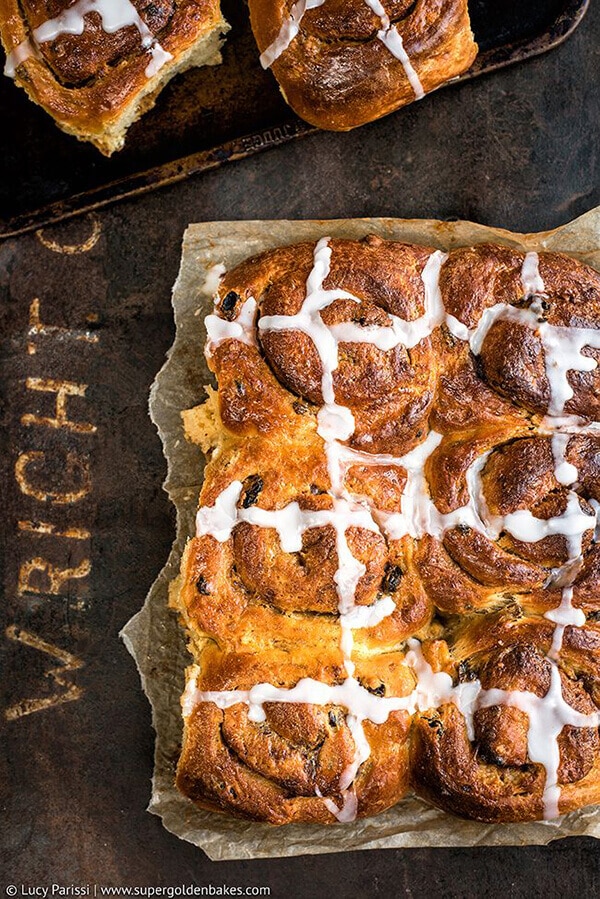 Hot Buns with Coconut, Mango, Allspice, and Nutmeg — Recipes from a Pantry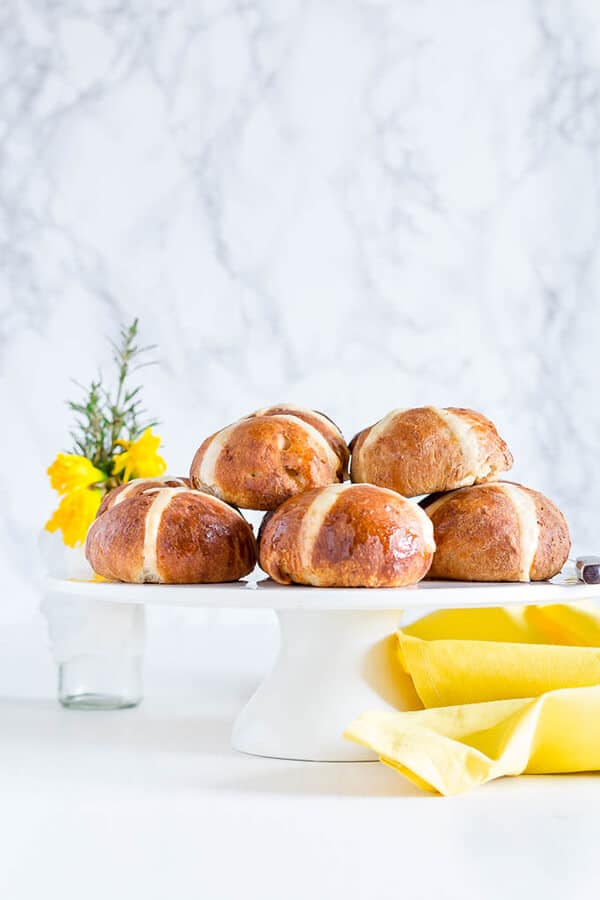 Savory Hot Cross Buns with Bacon and Green Onion — Crumb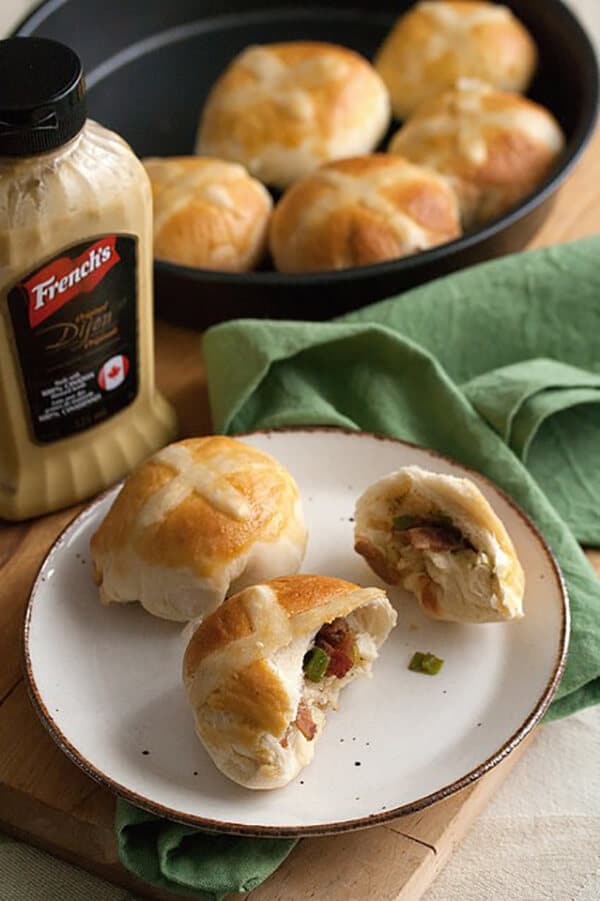 Romanian Pasca — A Treats Affair
Sweet bread that has a creamy center made from cheese, eggs, sugar, raisins, and lemon zest.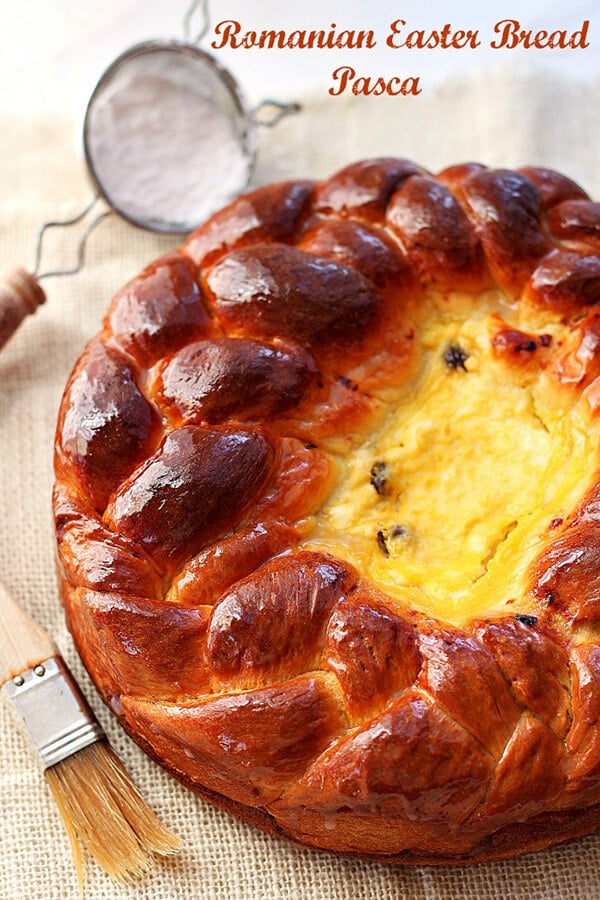 Greek Flaounes — My Cooking Journey
Around easter, these cheese-filled pastries sprinkled with sesame seeds are enjoyed on the Greek island of Cyrpus.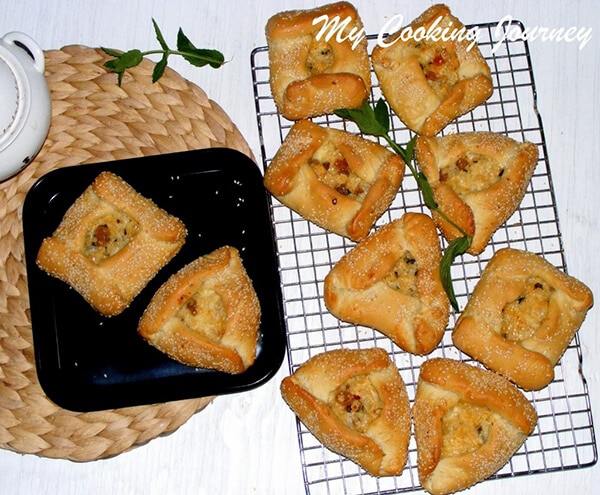 Hungarian Kalács — Tara's Multicultural Table
This sweet, eggy bread wreath is traditionally filled with walnuts or poppy seeds.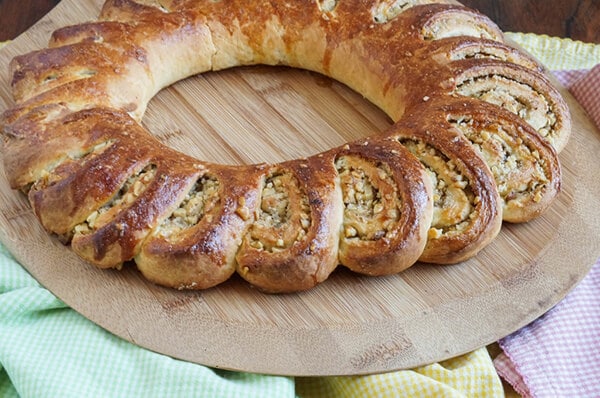 Greek Tsoureki — Gourmet Traveller
This is close cousin to the Italian Easter Bread with the dyed eggs, Greek Tsorueki features orange rind and dyed red eggs that are meant to represent the blood of Christ.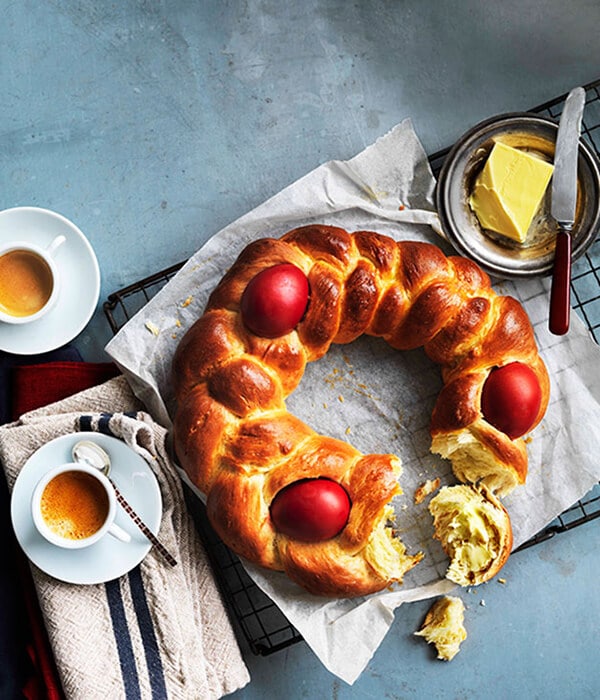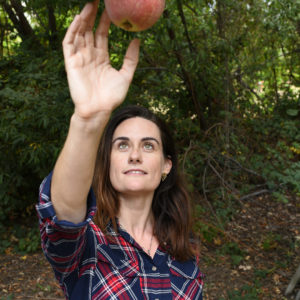 Latest posts by Rebecca Swanner
(see all)