Lemon Blueberry Cupcakes taste just like spring, don't you think? This easy cupcake recipe calls for fresh blueberries, lemons, and is topped with a delightful lemon cream cheese frosting!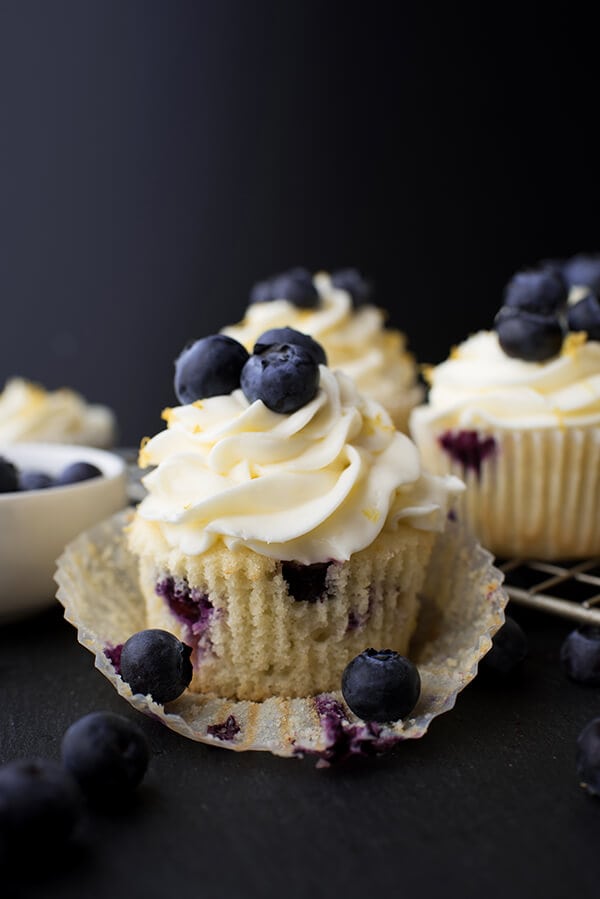 If it still cold where you live — or if you're reading this in the middle of summer and are wistful for those cooler spring days — this Lemon Blueberry Cupcakes recipe should whisk you right back to those breezy days. I know it does for me! I love the tart combination of lemons and blueberries – it's why I also made this Lemon Blueberry Bread that's great for breakfast or brunch. I mean I guess you could have these Lemon Blueberry Cupcakes for brunch too… but I think they're more of a dessert thing.
One thing I love about this Lemon Blueberry Cupcake recipe is that you can make it at any time of the year, unlike, say, this Strawberry Rhubarb Galette. Of course, the cupcakes will be best in July when blueberries are at their peak, but they're tasty even now. When half of the U.S. is a frozen tundra. If you don't have access to fresh blueberries, you can find frozen blueberries at Ralphs (or your local Kroger subsidiary) in the freezer section. They graciously sponsored this post and it's where I also picked up Simple Truth organic eggs and organic butter I needed to make these Lemon Blueberry Cupcakes!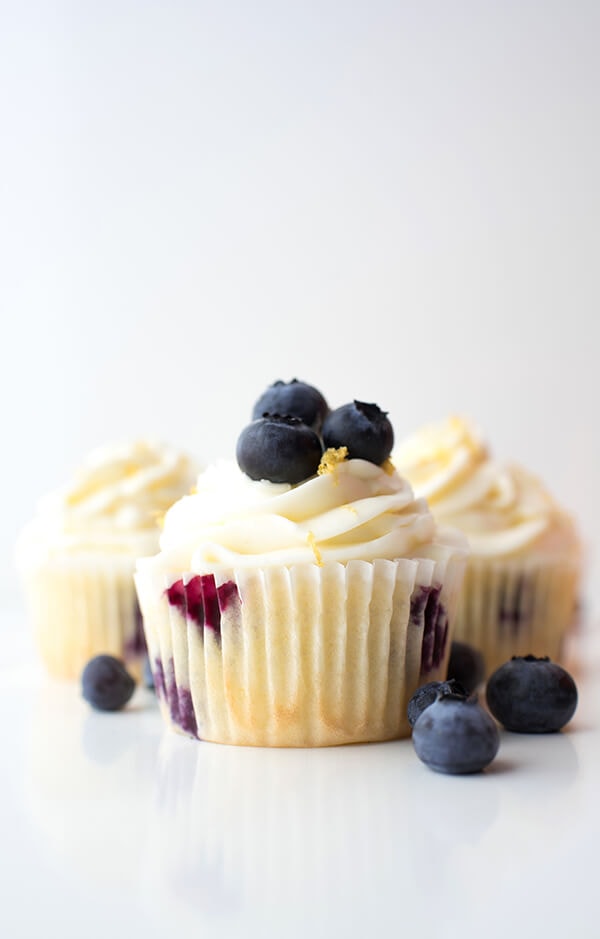 Making Lemon Blueberry Cupcakes
I like lemon. Like, a lot. Like, I can literally eat a lemon like you would an orange. Maybe it's because I ate too many Sour Patch Kids when I was growing up, but I have to really amp up the tartness in a recipe before it actually tastes like lemon to me. My taste testers don't seem to mind the lemon-forward flavor, but you might want to start with a little less lemon juice if you often find lemon or lime recipes too tart.
To make sure the lemon flavor really came through, I used lemon juice and lemon zest. You'll find that there are some recipes out there that call for lemon essence or lemon extract. I bought some to use in the recipe — I was going to swap out one teaspoon of the vanilla extract for 1/4 teaspoon of lemon — but I tasted the lemon blueberry cupcake batter before adding it and decided it was lemony enough on its own. I always taste the batter before I put it in the oven. Yes, I know it's not the healthiest thing I could do, but it's the only way to get a sense of what the final recipe will taste like before baking it and lets me know if I should make any tweaks.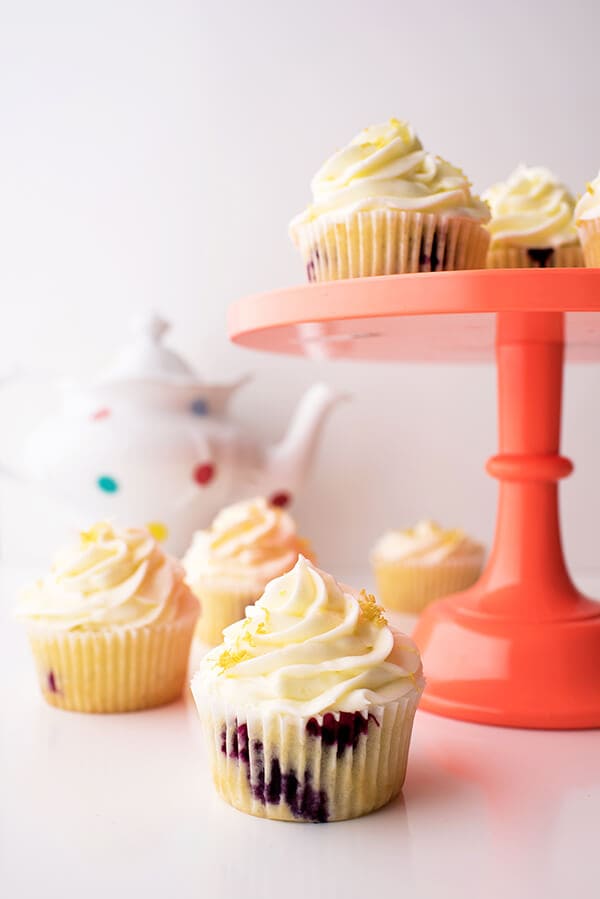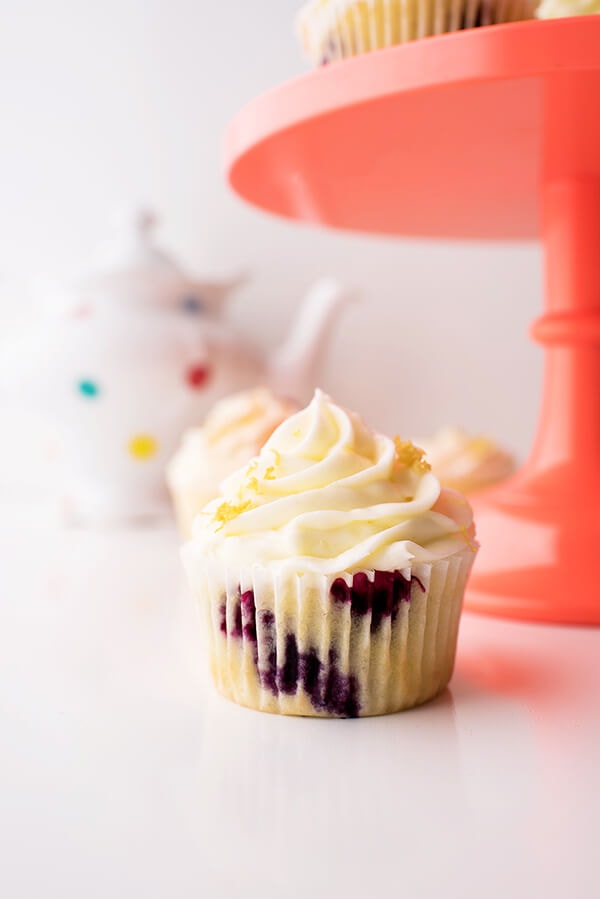 A few things about the blueberries for these lemon blueberry cupcakes. First, if you don't have access to fresh blueberries, use frozen ones! To prevent frozen blueberries from leaking juice into your cupcakes and turning them an unsightly shade of green, rinse the blueberries until the water runs clear, then dry them. Once they're dry, you can add them to your batter like you would with the fresh berries. You'll still likely get a little discoloration in your final lemon blueberry cupcakes, but not nearly as much as you would have otherwise.
Second, don't bother tossing the blueberries in flour to prevent them from sinking. It doesn't work. If you don't want your blueberries to sink all the way to bottom, simply add a layer of blueberry-free batter to the bottom of each cupcake liner. Then, stir the blueberries to your batter and portion out your batter into the cupcake tins like you usually would.
When you are ready to fill the cupcake tins with your Lemon Blueberry Cupcake batter, make sure to fill them almost all the way to the top! Unlike my Red Velvet Cupcakes, these easy cupcakes are a little on the denser side which means they don't rise as much. I would hate for you to have squat little cupcakes, so aim for filling them 3/4 of the way (or a smidgen higher).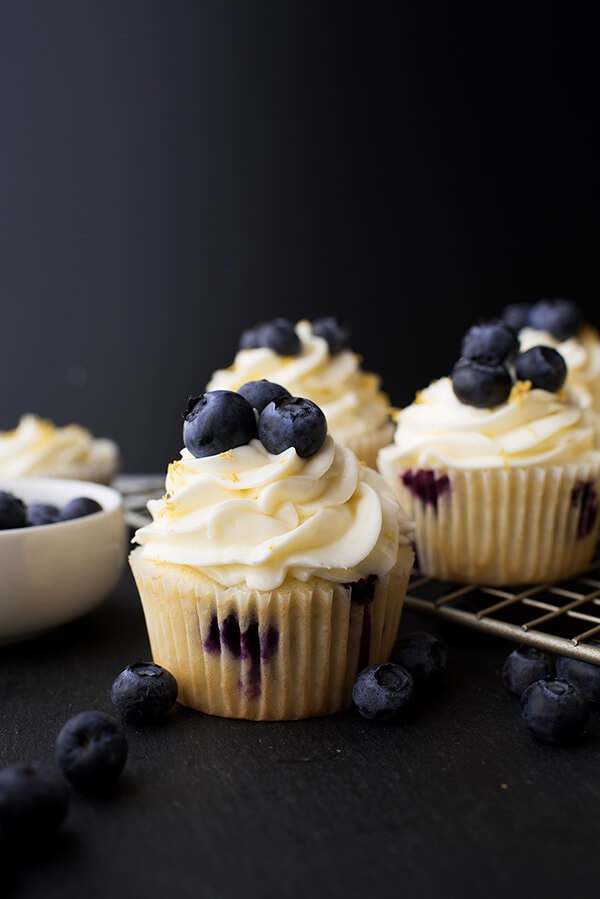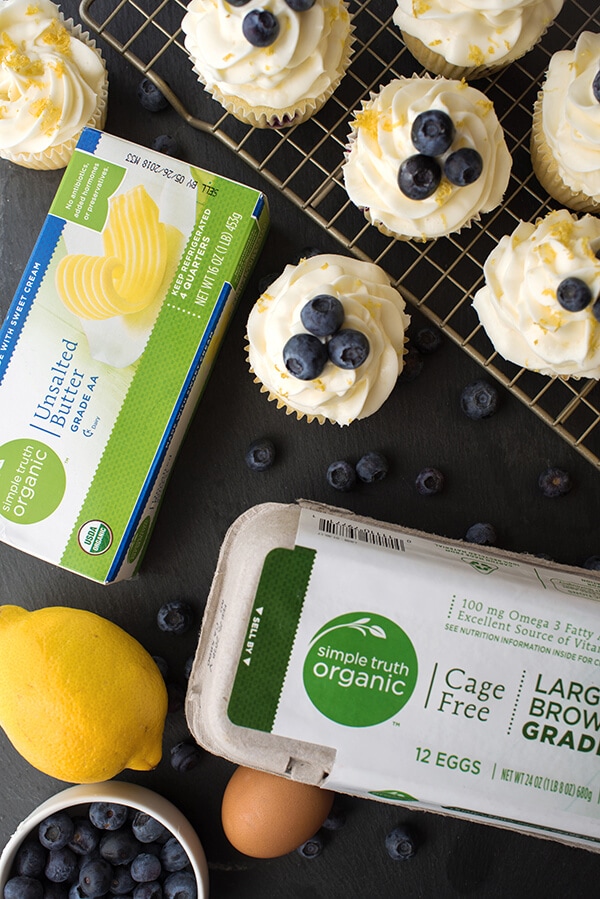 Lemon Blueberry Cupcakes
Print Recipe
This sweet and tart lemon blueberry cupcake recipe uses lemon juice and lemon zest to amp up the lemon flavor and is topped with a lemon cream cheese frosting.

Servings: 18 cupcakes
Ingredients
Lemon Blueberry Cupcakes
7 ounces cake flour ((approx. 2 cups))
1½ tsp. baking powder
½ tsp. coarse kosher salt
1 cup sugar
½ cup unsalted organic butter (room temperature)
1 tsp. lemon zest (from one lemon)
2 large eggs
1 tsp. vanilla extract
¼ cup sour cream
¾ cup whole milk
3 Tbsp. lemon juice (fresh squeezed from 1 lemon)
1 cup blueberries (fresh or frozen)
Lemon Cream Cheese Frosting
10 Tbsp. unsalted organic butter (room temperature)
16 oz. cream cheese (cold)
2 Tbsp. sour cream
¼ cup lemon juice
2½ cups powdered sugar
Instructions
Lemon Blueberry Cupcakes
Preheat oven to 350°F.


Line cupcake tins with 18 cupcake liners. Set aside.


Combine flour, baking powder, and salt in small bowl. Set aside.


Place butter, sugar, and lemon zest in bowl of stand mixer and beat on medium speed for 3 minutes or until light and fluffy.


Add egg, let blend for 30 seconds. Add second egg.


Add sour cream, milk, vanilla extract, and lemon juice. Let blend until fully combined.


Turn speed to low and add flour mixture. Blend until just combined.


Drop spoonfuls of batter into each cupcake liner. Add enough batter to coat bottom.


Gently stir the blueberries into the batter mixture.


Fill each of the cupcake liners 3/4 of the way with batter.


Bake for 20-24 minutes or until cupcake tops bounce back.


Remove from oven and let cool on cooling rack.

Lemon Cream Cheese Frosting
Beat butter for 30 seconds on medium high.

Add cream cheese and beat for 90 seconds.

Add lemon juice and sour cream. Beat for 30 seconds.


Add powdered sugar and beat for 10 seconds on low. Turn speed to medium-high and beat for 80-90 seconds.

Notes
If using frozen blueberries, rinse blueberries until water runs clear, then dry them before adding to lemon blueberry cupcake batter. 7 oz. refers to the weight of the cake flour, not the volume.
Nutrition Facts
Lemon Blueberry Cupcakes
Amount Per Serving (1 cupcake)
Calories 382
* Percent Daily Values are based on a 2000 calorie diet.
Did you make this recipe?
Leave a review below, then take a photo and tag @letseatcakeblog on Instagram so we can see it!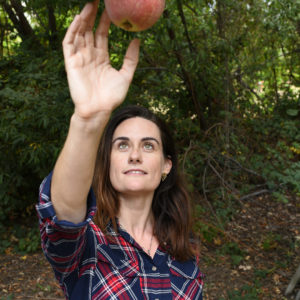 Latest posts by Rebecca Swanner
(see all)