These light, moist red velvet cupcakes are delicious on their own, but top them with a flavorful cream cheese frosting, and they're positively irresistible.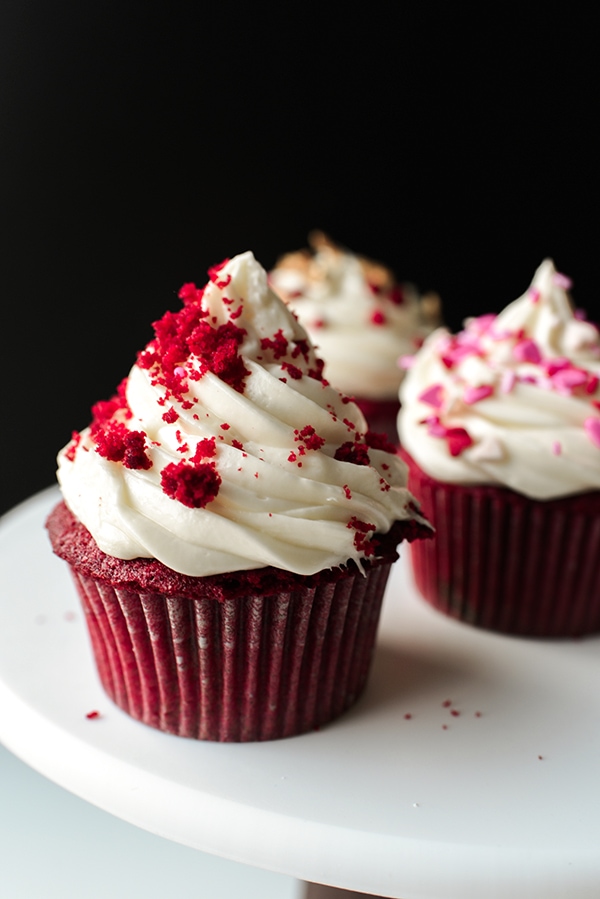 One of my favorite cupcake flavors is red velvet. While, I know, you might be thinking, aren't red velvet cupcakes just chocolate cupcakes dyed red? The truth is, they're not. In fact, velvet cakes are their own type of cake, entirely! Velvet Cakes are soft cakes with a finer texture traditionally made with almond flour, cornstarch, or cocoa.
My recipe for these cupcakes is very similar to the original red velvet recipe. But, I've decreased the amount of cocoa powder, reduced the amount of food dye and changed the frosting. The original recipe called for two tablespoons of red dye, which is a little much for me and it used a buttercream frosting. Since that's an atrocity, I swapped it for my favorite cream cheese frosting recipe which pairs wonderfully with the red velvet.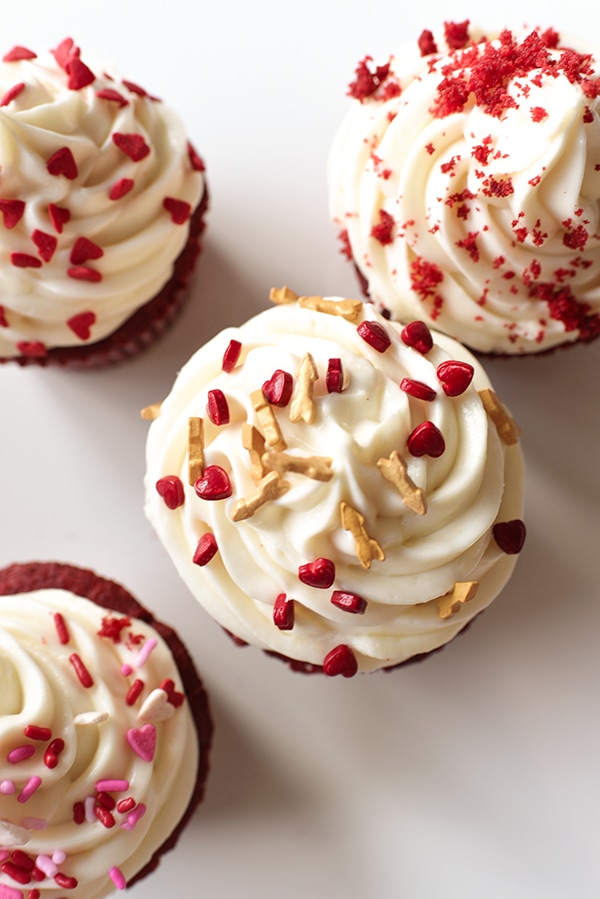 How to Make the Best Red Velvet Cupcakes
Preheat your oven to 350° F and line muffin tins with 16 cupcake liners. Whisk together your dry ingredients in a medium bowl and set them aside. These include:
Cake Flour: Cake flour has a lower protein content than all-purpose. Because it's lower in gluten, it helps your cupcakes have a lighter crumb and a less chewy texture. Here's how to make cake flour if you don't have any in your pantry.
Baking powder: This leavening ingredient helps the cupcakes rise!
Salt: Salt adds flavor and it helps strengthen the proteins and provide structure.
Red Cocoa Powder: I always use this Guittard rouge cocoa powder. I love the flavor and that it adds a hint of red color to the batter. If you're not using this, use a natural cocoa powder (not one that's been Dutch processed) for the best rise.
Cream the butter and sugar together at medium speed in a stand mixer until the mixture is light in color. This will take about three minutes. Then, you'll add the vanilla extract, egg, and red food coloring.
Butter and Sugar: Some red velvet cupcake recipes call for oil, but I prefer unsalted butter because I think it tastes better. Your butter should be at room temp. If you don't want to wait for it to warm up, pop it in the microwave for 5 to 8 seconds. (You always want to use unsalted butter when baking, so you can control the amount of salt in your recipe.)
Egg: I use a large egg at room temperature. To quickly bring your egg to room temp, place it in a bowl of hot water for ten minutes.
Vanilla Extract: I know pure vanilla extract is expensive. But it really does make a difference when it comes to flavor. I usually get my vanilla extract from Trader Joe's. I think it's the same as the Nielsen-Massey vanilla if you don't have a TJs near you.
Red food coloring: You can actually make red velvet cupcakes without food coloring and they'll taste the same. But, if you want red cupcakes, use a few drops of Americolor's Super Red.
Turn the mixer speed to low and add half of your dry mixture. Then, add half the buttermilk. Repeat. Finish by combining the baking soda and vinegar together in a small bowl, and adding this to the mixer. Turn the speed to high for 15 seconds, then portion into a lined muffin pan and bake.
Buttermilk: Buttermilk is essential when making red velvet cupcakes. It adds moisture, it helps make it tender, it brings out natural red color hidden within your cocoa powder, and buttermilk's acidity reacts with the baking powder to help the cupcakes rise.
Baking soda and vinegar: In addition to buttermilk and baking powder, the baking soda and vinegar are the final two leavening ingredients you'll need to produce a cupcake with that light, airy texture. The vinegar also enhances their red color.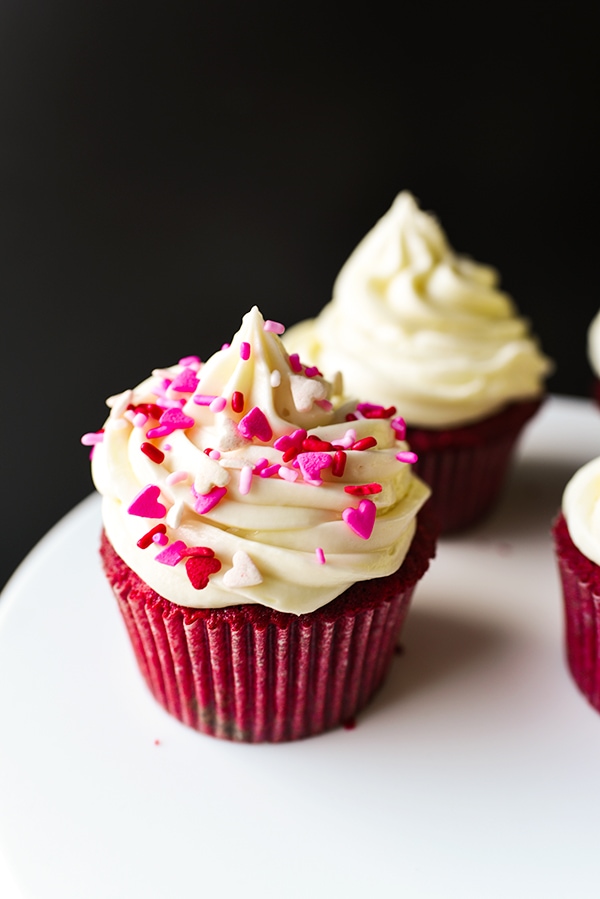 How Long Do Red Velvet Cupcakes Last?
They're best eaten fresh on the day you bake them. But, if you have leftovers or make them ahead of time, you can store them for 2-3 days in a cupcake carrier or a cake pan with a lid. Make sure to keep them in a cool, dry location (but not in the fridge as that will dry them out). Sorry, all of Florida.
Can I Use This Recipe to Make a Red Velvet Cake?
I wouldn't recommend using this recipe to make a cake.
These cupcakes are incredibly light and fluffy, but that's also why they don't work as a cake. In fact, they're so airy that when you remove the cupcake liner, they will start to get a bit wobbly and sink a little.

Red Velvet Cupcakes with Cream Cheese Frosting
Print Recipe
These light, moist red velvet cupcakes are delicious on their own, but top them with cream cheese frosting, and they're positively irresistible.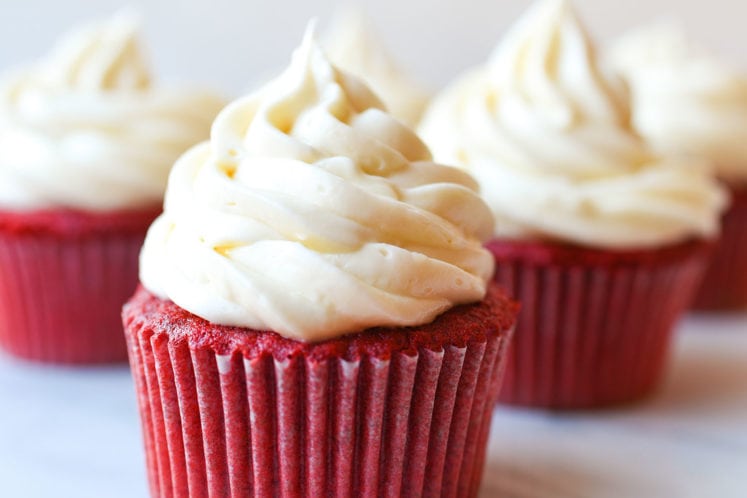 Servings: 15 cupcakes
Ingredients
Red Velvet Cupcakes
1 1/3 cups cake flour (160 g)
½ tsp. baking powder
¼ tsp. coarse kosher salt
1 tbsp. red cocoa powder
¾ cup sugar
½ cup unsalted butter (room temperature)
1 tsp. vanilla extract
1 large egg
3-4 drops red food coloring
½ cup buttermilk (divided)
½ tsp. white vinegar
½ tsp. baking soda
Cream Cheese Frosting
5 Tbsp. unsalted butter (cold)
8 oz. cream cheese (cold)
2 Tbsp. sour cream (cold)
1¼ cup powdered sugar
Instructions
Red Velvet Cupcakes
Preheat oven to 350° F (177°C). Line muffin tins with 15 cupcake liners.


Combine cake flour, baking powder, salt, and cocoa together in medium mixing bowl. Sift mixture. Set aside.


Pour buttermilk into ¼ cup measure. Set aside.


Place vinegar in small bowl. Set aside.


Cream butter and sugar in stand mixer fitted with the paddle attachment at medium speed until light and fluffy.


Add egg to batter. Mix for 30 seconds until combined.

Add vanilla and red food coloring. Scrape down sides of bowl.


Turn mixer speed to low. Add half of flour mixture. Add buttermilk. Repeat. Let combine for 30 seconds. Scrape down sides of bowl.


Add baking soda to vinegar. Stir. Immediately add to batter. Turn mixer speed to high for 15 seconds.

Portion out batter into muffin tins using ¼ cup measure.


Bake for 15 minutes or until tops bounce back slightly when touched. Remove from oven.


Let cool on cooling rack for 10 minutes, then remove from tin to let them cool completely.
Cream Cheese Frosting
Chill mixing bowl in fridge for 10 minutes.

Beat cold butter for 30 seconds on medium high.

Add cold cream cheese. Beat for 90 seconds.

Add vanilla and sour cream. Beat for 30 seconds.


Add powdered sugar and beat on low for 10 seconds. Turn speed to high and beat for 80-90 seconds.


Transfer cream cheese frosting to piping bag and decorate cooled cupcakes using 1M tip.
Notes
If you want to decorate the cupcakes as pictured, double the cream cheese frosting recipe.
Nutrition Facts
Red Velvet Cupcakes with Cream Cheese Frosting
Amount Per Serving (1 cupcake)
Calories 280 Calories from Fat 144
% Daily Value*
Fat 16g25%
Cholesterol 57mg19%
Sodium 218mg9%
Carbohydrates 32g11%
Protein 3g6%
* Percent Daily Values are based on a 2000 calorie diet.
Did you make this recipe?
Leave a review below, then take a photo and tag @letseatcakeblog on Instagram so we can see it!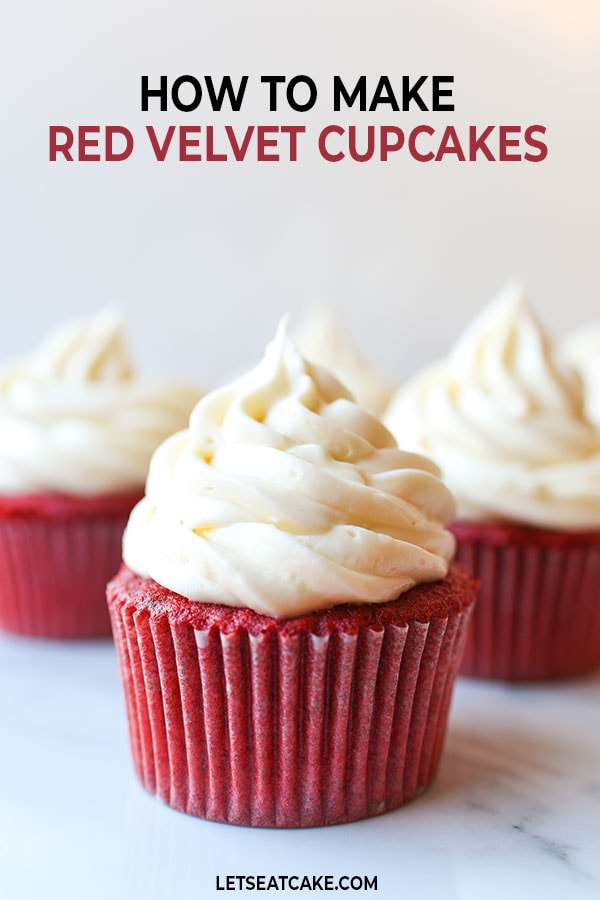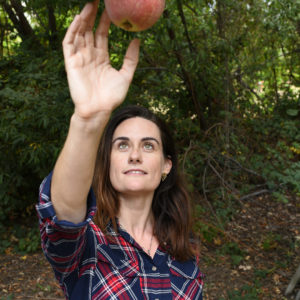 Latest posts by Rebecca Swanner
(see all)