These mini Key Lime Cheesecakes with a pretzel crust are so summery! The fresh key lime juice adds the perfect amount of tartness and since they're no-bake, they're ideal when it's way too hot to even think about turning on the stove.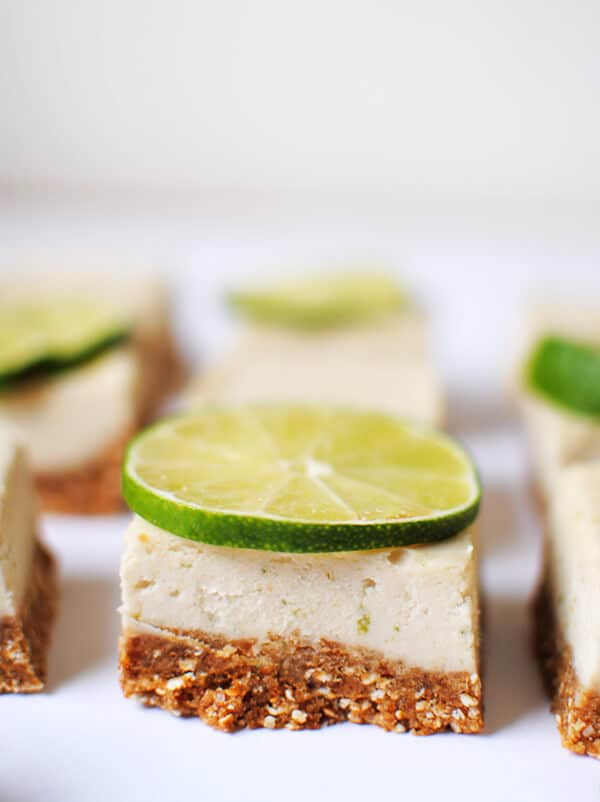 I should let you know up front, though that these Cheesecake Bars are vegan. Now if you're not into vegan baking, just hold on. I'm not vegan, but these are hands-down delicious. I brought them to my coworkers and a number of them asked me for the recipe… which is when they were surprised to discover the Key Lime Bars were vegan!
How to Make Mini Key Lime Cheesecakes
For these no bake Mini Key Lime Cheesecakes, you'll need a food processor and 5 limes (that's enough to give you 1/2 cup of juice). If you can't find key limes or want a less tart cheesecake, swap them out for regular limes.
Before you start, give yourself enough time to prep the coconut cream. The night before you want to make the no bake bars, put a can of coconut milk in the fridge, and make sure not to shake it. When you open it later for the recipe, the coconut milk will have separated and the thick coconut cream will be on top.
Spoon 1/3 of the coconut cream into the food processor and transfer the rest to Tupperware so you can use it in another recipe like The Candid Appetite's Chicken Meatball Tikka Masala (I uh mentioned I'm not vegan, right?).
You'll make this recipe by first prepping the cashews that will combine with the coconut cream to make the creamy cheesecake-like filling.
Place the cashews in a bowl and pour boiling water on top. Set the bowl aside while you make the pretzel crust.
After you make the pretzel crust by combining all of the ingredients in the food processor, press them evenly into a parchment lined 8×8 baking pan, and place it in the freeze for an hour. If you don't want your crust to be super thick, you might have some left over. This is great as an ice cream topping or just to munch on while watching iZombie… which I totally didn't do. What?
While the crust almost done freezing, make the cheesecake filling by draining the cashews and combining them with the other ingredients in the food processor until the mixture is smooth. Pour this over the pretzel crust and place the pan back in the freezer until the Key Lime Cheesecake Bars are firm. After this, they can be stored in an airtight container in the fridge for up to 3 days.
Is There a Difference Between a Key Lime and a Regular Lime?
Um, yeah! Here are the key differences:
Key limes (also known as the Mexican lime, West Indian lime, or Omani lime) are more tart than other lime varieties.
They are slightly smaller than other limes.
They're the most common lime found around the world… except in America, where Persian limes are the most popular.
Can you substitute regular limes?
If you want to substitute key limes for regular limes, use regular limes for half of the amount of juice the recipe calls for and fresh lemon juice for the other half.
How much juice is in a lime?
No matter what type of limes you're using you'll get about 2 tablespoons of juice and 2 teaspoons of lime zest per lime. (Side note: If you're making a whole key lime pie, you'll need about a pound of key limes which is about 20-22 limes.). It's easier to get the juice out if you microwave them for 30 seconds first… and by all means use a citrus juicer, not your hands!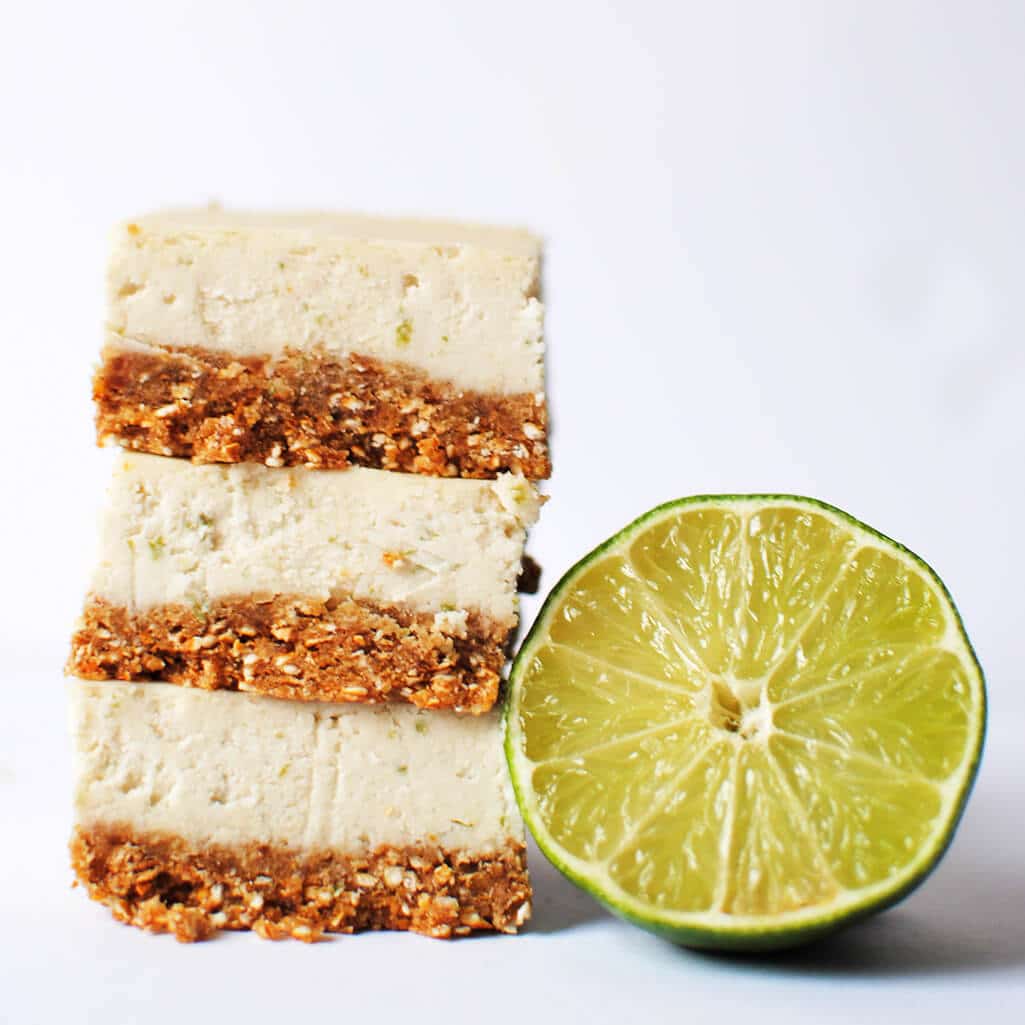 Mini Key Lime Cheesecakes
Print Recipe
These Mini Key Lime Cheesecakes are the best summer dessert!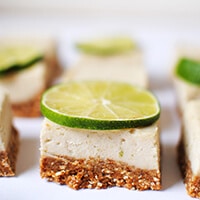 Servings: 16 squares
Ingredients
Key Lime Cheesescake Filling
1 can coconut milk (chilled for 8 hours, do not shake)
1 cup cashews
½ cup lime juice (from 5 regular or key limes)
1 Tbsp. lime zest
1 Tbsp. orange juice
¼ cup maple syrup
½ cup coconut oil
1 tsp. vanilla extract
1 pinch salt
Pretzel Crust
1½ cups pretzels
14 dates (pitted)
¼ tsp. salt
3 Tbsp. maple syrup
2 Tbsp. coconut oil (divided)
Instructions
Key Lime Cheesescake Filling
Place cashews in small boil. Boil water. Pour water on top of cashews and set aside for one hour. Make crust.


Drain cashews.


Open coconut milk and spoon out 1/3 cup of separated coconut cream from top of can.


Blend coconut cream, cashews, lime juice, lime zest, orange juice, maple syrup, coconut oil, vanilla extract, and salt in food processor until no lumps remain.
Pretzel Crust
Blend pretzels, dates, salt, maple syrup, and coconut oil in food processor until mixture sticks together when pressed.


Press crust evenly into parchment-lined 8" x 8" square pan. Place in freezer for one hour to firm. Make filling.

Key Lime Cheesescake Assembly
Pour filling on top of crust and place in freezer until firm. Slice and serve.

Notes
For this recipe, you'll start the filling by soaking the cashews, then you'll create the crust. When the crust is almost done freezing, you'll make the rest of the filling, pour it into the firm crust, and return the bars to the freezer. Cut and serve when the filling is firm.
Nutrition Facts
Mini Key Lime Cheesecakes
Amount Per Serving (1 mini cheesecake)
Calories 216 Calories from Fat 144
% Daily Value*
Fat 16g25%
Saturated Fat 9g56%
Polyunsaturated Fat 1g
Monounsaturated Fat 4g
Sodium 117mg5%
Potassium 177mg5%
Carbohydrates 26g9%
Fiber 2g8%
Sugar 16g18%
Protein 3g6%
Vitamin A 50IU1%
Vitamin C 4.1mg5%
Calcium 20mg2%
Iron 1.4mg8%
* Percent Daily Values are based on a 2000 calorie diet.
Did you make this recipe?
Leave a review below, then take a photo and tag @letseatcakeblog on Instagram so we can see it!
More Cheesecake Recipes
One More Reason I Love These Key Lime Bars
I love these for so many reasons, but one more is that they're significantly less fussy to make than regular cheesecake! Which is good, because I'm in the middle of moving.
Moving is the worst, right? You have to play Tetris with all of your belongings and then the moving fairies make things disappear in between the time they go into the box and arrive at the next place. I moved last September and still haven't found my Fitbit charger.
At least I found a lovely loft-style condo and really just can't wait to start taking photos in there. The light is great, the walls are bright white, and it's in the heart of Silver Lake. So excited. Of course, that means that over the next few weeks, my current place is going to become a sea of boxes.
So, I made these Key Lime Cheesecake Bars so that I can just reach into the fridge and grab something sweet when I've reached my packing limit for the day.
What do you like to have on hand when you're packing?
Save
Save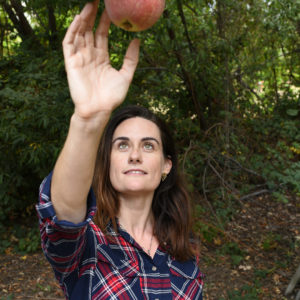 Latest posts by Rebecca Swanner
(see all)