Love cheesecake? These no bake Key Lime Cheesecake Bars are great for summer. They're perfectly creamy, tart and the perfect dessert when it's too hot to cook.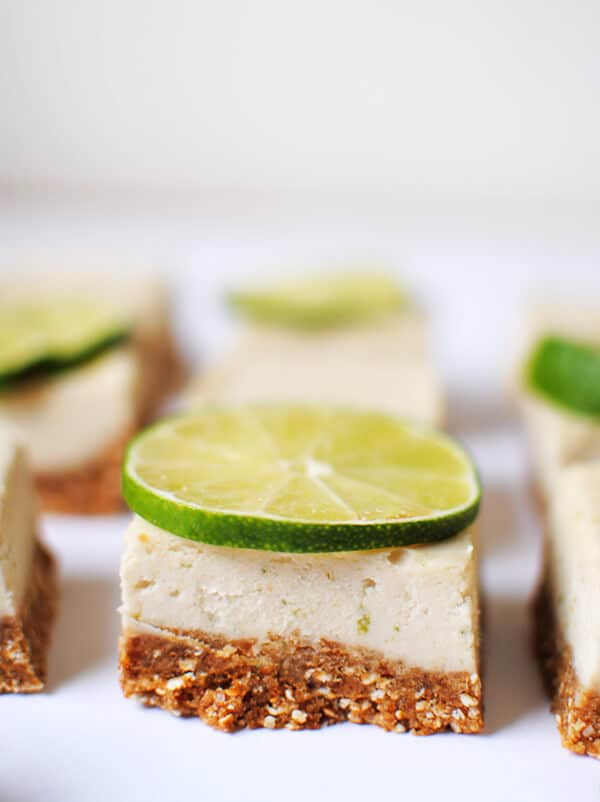 Usually, I hate moving. I mean, it's the worst, right? You have to play Tetris with all of your belongings as you carefully pack them into boxes, and then the moving fairies make things disappear in between the time they go into the box and arrive at the next place. I moved last September and still haven't found my Fitbit charger.
And now I'm moving again. But this time, I'm really excited about it. I found a lovely loft-style condo and really just can't wait to start taking photos in there. The light is great, the walls are bright white, and it's in the heart of Silver Lake. Sooooooo excited. Of course, that means that over the next few weeks, my current place is going to become a sea of boxes. And at the end of it all, I'm going to want something light and refreshing (ok ok and maybe pizza). Like these no bake Key Lime Cheesecake Bars.
These Key Lime Cheesecake Bars are the second vegan dessert I've made this year. Now if you're not into vegan baking, just hold on. I'm not vegan, nor am I raw, but these are hands-down delicious. And, I promise you that if I hadn't told my coworkers they were vegan (they asked for the recipe), they wouldn't have known. The filling is super creamy thanks to the coconut milk, coconut oil, and cashews and because it's no bake, you get to skip all the fussiness of baking a regular cheesecake. I encourage you to give them a go. Oh, and you don't have to use key limes if you don't to squeeze the teeny tiny limes! Regular limes work equally as well.
How to Make Key Lime Cheesecake Bars
For this no bake Key Lime Cheesecake recipe, you'll need a food processor (or possibly a blender, but I haven't tested it with a blender, so you'll have to let me know if that's a hot mess or if it works).
Before you start, give yourself enough time to prep the coconut cream. Put a can of coconut milk in the fridge overnight or longer, and make sure not to shake it. When you open it later for the recipe, you'll find the coconut milk has separated and the thick coconut cream is on top. Huzzah.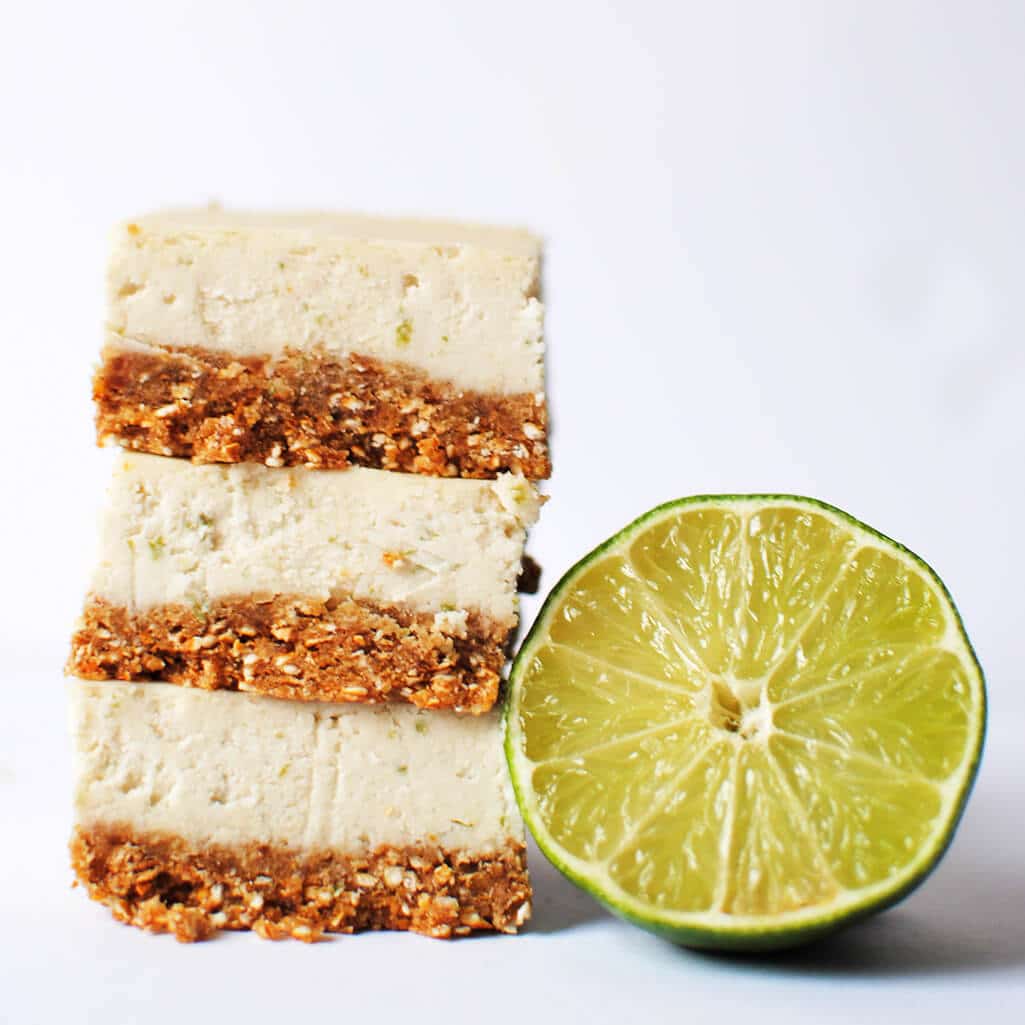 When you're ready to begin making the vegan cheesecake, prep your cashews by placing them in a bowl and carefully pour boiling water on top. Set the bowl aside.
Then, make the pretzel crust. Put the pretzels, dates, salt, maple syrup, and coconut oil in the food processor and blend until the ingredients are fully combined. It should stick together when you squeeze it. Once it does, press the crust into a parchment-lined 8×8 or 9×9 pan. Place your pretzel crust in the freezer for an hour to harden. If you want to make a round cheesecake, use a 9″ springform pan, and consider multiplying the recipe by one and a half.
(I didn't want to make the crust super thick and used an 8×8 pan, so I had about 1/2 cup of crust left over. Do with this what you will. I might have snacked on it while watching iZombie. Maybe.)
When your pretzel crust is hard, make the creamy cheesecake filling. Drain the cashews and place them in the food processor along with orange juice, lime juice, lime zest, the remaining maple syrup and coconut oil, coconut cream, vanilla, and a pinch (1/8 tsp. or less) of salt. Blend these together until the mixture is smooth. Pour it over the pretzel crust and place it in the freezer until the no bake cheesecake bars are firm.
Once firm, slice and enjoy your Key Lime Cheesecake! Once they're firm, the vegan cheesecake bars can be stored in the fridge in a airtight container for up to three days.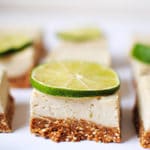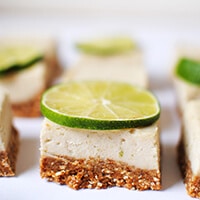 Key Lime Cheesecake Bars
These easy no bake Key Lime Cheesecake Bars are great for summer! It's perfectly creamy, tart, and has a delicious salty pretzel crust.
Prep Time
1
hour
30
minutes
Total Time
1
hour
30
minutes
Ingredients
1/3

cup

coconut cream

from can of coconut milk

1

cup

cashews

1.5

cups

pretzels

thin rods or twists

14

dates

pitted

1/4

tsp.

salt

plus one pinch

1/4 cup + 3

Tbsp.

maple syrup

1/2 cup + 2

Tbsp.

coconut oil

1/2

cup

lime juice

(use regular or key limes)

1

Tbsp.

lime zest

1

Tbsp.

orange juice

1

tsp.

vanilla extract
Instructions
Place coconut milk in fridge for at least 8 hours.


Place cashews in small boil. Boil water. Pour water on top of cashews and set aside.


To make crust: Blend pretzels, dates, salt, 3 Tbsp. maple syrup, and 2 Tbsp. coconut oil in food processor until mixture sticks together when pressed.


Press crust into parchment-lined 8-inch square pan. Place in freezer for one hour.


To make filling: Drain cashews. Blend cashews, lime juice, lime zest, orange juice, 1/4 cup maple syrup, 1/2 cup coconut oil, coconut cream, vanilla, and pinch of salt in food processor until no lumps remain.


Pour filling on top of crust and place in freezer until firm. Slice and serve.

Nutrition Facts
Key Lime Cheesecake Bars
Amount Per Serving (1 slice)
Calories 216
Calories from Fat 144
% Daily Value*
Total Fat 16g 25%
Sodium 117mg 5%
Potassium 177mg 5%
Total Carbohydrates 26g 9%
Protein 3g 6%
* Percent Daily Values are based on a 2000 calorie diet.

Save
Save